Anyone who suffers from Plantar Fasciitis knows how painful it can be. But, thankfully, you'll find the best sneakers for plantar fasciitis in this article – to make sure your feet are both comfortable AND stylish.
As the seasons are about to change, and you may find yourself wearing sneakers more often these days if you're working from home, or simply heading out for some fresh air and a walk, now is the perfect time to take a look at some of the latest styles of sneakers for plantar fasciitis…
Whether you are looking for sneakers to add some comfort and style to your everyday outfits, or you need the bet running shoes for plantar fasciitis, there are plenty of great options here.
What is plantar fasciitis
Before moving onto the sneakers, what exactly is plantar fasciitis? It's a condition which can affect every aspect of life, making walking or running painful.
The main symptom is pain around the bottom of your foot, particularly on your heel and arch.
But, not only are there lots more shoes available these days which provide foot arch support, they are also hipper than they have ever been.
Sneakers are very on-trend this season and can be a great option if you suffer from Plantar Fasciitis. As with any clothes or shoes, it will be about finding the perfect fit for you.
Even if you don't suffer from plantar fasciitis, you may find that you are more comfortable in these sneakers which offer additional arch support.
There are also lots more ideas in this piece on the best plantar fasciitis shoes for women over 40.
How to choose plantar fasciitis sneakers
While everyone's feet are different and finding the perfect pair of plantar fasciitis shoes can be a question of trial and error, there are some general tips from foot experts on finding a pair of sneakers:
1. One of the best tips is to wear arch support shoes all of the time.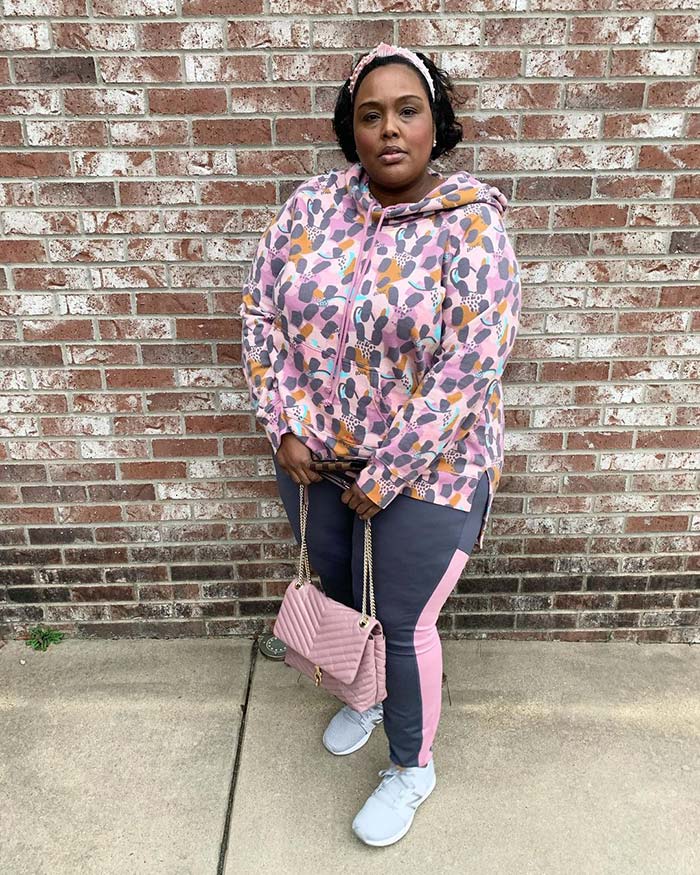 Whether you're doing the shopping, exercising, going to work or heading out to dinner, choose shoes which have good arch support. Your shoes need to distribute your weight over your whole foot, not just your heel.
Jennifer (above) looks stylish and comfy in her pale blue sneakers which pick up the blue in the pattern on her jacket.
Check out this printed pullover hoodie and wear it with this similar pair of leggings, New Balance sneakers, handbag and headband.
2. Think about cushioned insoles.
If you need to modify the sneakers you already have in your wardrobe, buying cushioned insoles can provide extra support.
The Vionic inserts (below) have plenty of good reviews from women who say they offer good support and keep feet cool.
Vionic 'Active' Full-Length Orthotic Insole
3. It's vital to choose a pair of sneakers which offer good heel support.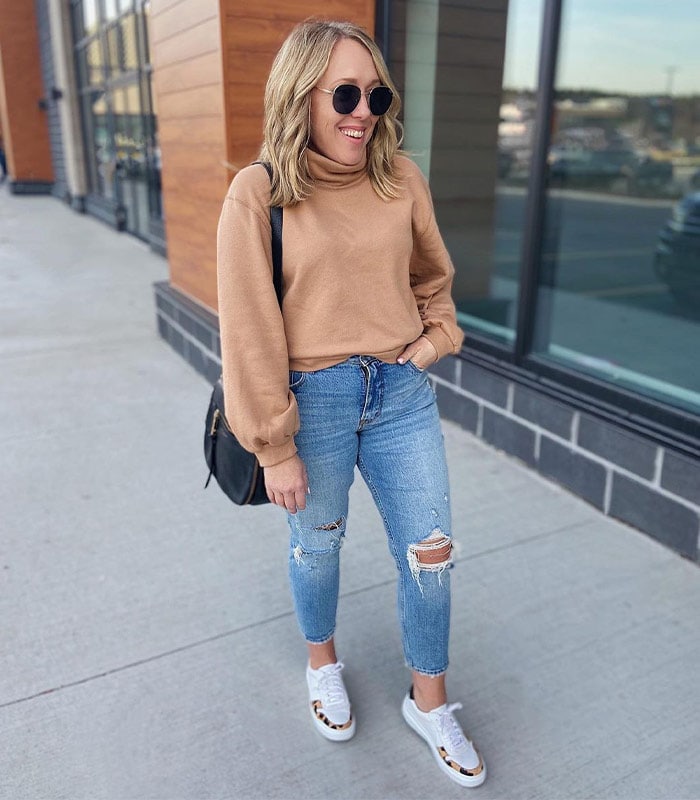 Because Plantar Fasciitis causes shooting pain in the heel, it is vital to choose sneakers with great heel support. The heels should act as shock absorbers to prevent more damage to your foot.
Squeeze the heel counter which sits at the back of the shoe. If it collapses easily, then it's probably not a good choice.
Tracey (above) is wearing a pair of Cole Haan GrandPro Rally sneakers which have a cushy memory foam footbed.
Complete her look with this similar turtleneck sweater, jeans, shoulder bag and sunglasses.
4. Look for good grip on the soles of your sneakers.
Any trips or falls could do extra damage to your heels, making the condition even worse.
Abi (above) opts for a pair of chunky sole sneakers in black and white.
Check out this similar sweater, puffer jacket, pants, sneakers and handbag.
5. Don't think you have to compromise on style.
When it comes to plantar fasciitis shoes, there are more brands and styles than ever before in stores, most of which look no different to 'normal' footwear!
Whether you suffer from plantar fasciitis or not, a pair of sneakers which have good heel support can look incredibly stylish.
Mandie (above) opts for a pair of print sneakers which match her jacket.
Steal her look with this similar mock neck top, jacket, jeans, sneakers and necklace.
6. Extra rigidity in the sole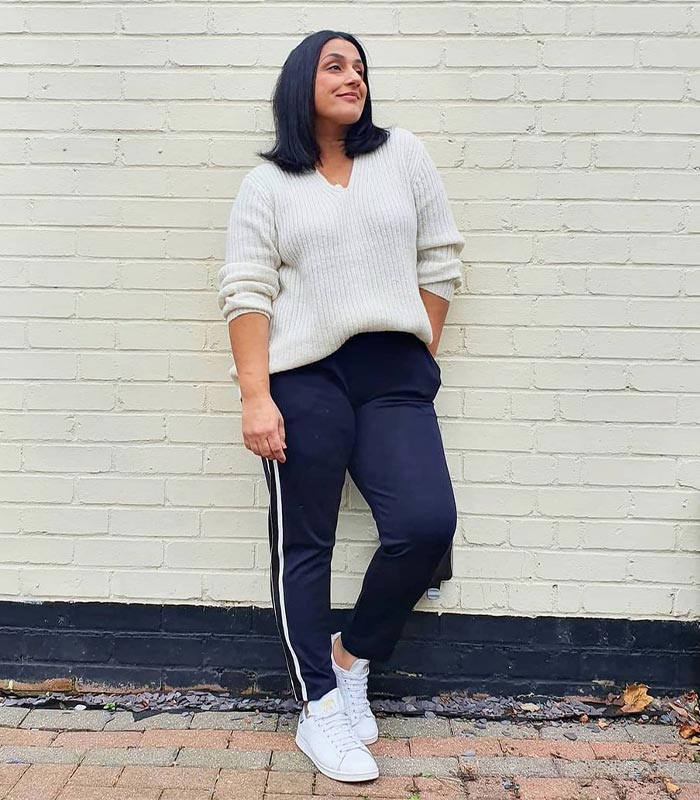 While you obviously want to be able to move freely, making sure that your sole is fairly rigid can help to control the range of motion, to keep your foot and ankle in alignment and prevent your plantar fascia from over-stretching.
Jas (above) chooses a classic navy and white outfit.
Recreate her outfit with this similar sweater, leggings and sneakers.
7. A rocker style
A shoe with a "rocker motion" sole can help to protect your plantar fascia from stress as it allows for a smooth rollover movement without putting extra pressure on the mid-section of your foot.
However, some people can feel off balance when wearing them, so it's really all down to personal preference.
8. Lacing can help
Shoes which give you more choice in terms of how tight you tie them can help too – either lace-ups, or velcro styles.
Kimba (above) chooses cobalt blue lace-up shoes.
Check out this similar tunic top, check pants and sneakers.
On THE ROGER Advantage Tennis Sneaker
The best plantar fasciitis sneakers to choose now
Now that you're thinking about what to look for when searching for the best plantar fasciitis sneakers for your feet, let's take a look at some styles which combine all, or some, of the attributes above, as well as looking stylish enough to wear everyday.
Slip-on plantar fasciitis sneakers
Slip-on sneakers are great for adding a casual vibe whether at home or on vacation, but where you don't want to wear sneakers which look too sporty.
The Naturalizer Selah slip-on sneaker are comfortable and easy to wear.
Naturalizer Selah Slip-On Sneaker
Embellished sneakers for plantar fasciitis
Just because your feet need a little extra support, that doesn't mean they should have to forgo fashion! Embellished sneakers were a huge trend on the runways for spring and summer.
Luckily, the brands which make arch support shoes have embraced the trend for more-is-more embellishment seen on the runways at the likes of Gucci, Balenciaga and Dolce & Gabanna.
The Kurt Geiger London eye slip-on sneaker (below) is sure to be a talking point, as well as being comfortable.
Kurt Geiger London Eye Slip-On Sneaker
walking shoes for plantar fasciitis
If you're a keen hiker, do a lot of walking, or walk around the course while playing golf, then you'll want to choose a pair of sneakers which offer high levels of support for your activities.
Choosing sports shoes which add a pop of color can add some fun to your exercise outfit.
The Merrell Zion hiking sneaker has contoured cushioning to keep your feet supported.
best running shoes for plantar fasciitis
If you run, or do athletic exercise of any kind, this can obviously be so much more difficult if you suffer from plantar fasciitis. You can be in so much heel pain that you no longer want to exercise.
The Altra Torin 4.5 Plush running shoe has a cushioned footbed to absorb impact.
Altra Torin 4.5 Plush Running Shoe
tennis shoes for plantar fasciitis
If tennis is your sport of choice, you may find you simply can't manage a full match anymore because of your foot pain.
But choosing a pair of tennis shoes for plantar fasciitis which are specially designed to offer support if you suffer from a foot condition or need arch support.
The Vionic Tokyo Sneaker has the brand's comfortable Orthaheel technology.
classic white sneakers
A pair of white sneakers will go with absolutely everything in your closet, from your jeans and pants to skirts and dresses.
The ECCO sneakers (below) have shock-absorbing technology and anatomical shaping as well as on-trend color-blocking.
Platform sneaker
Platform sneakers have been on trend for the past few seasons and are still very much in style for the upcoming spring and summer months.
If you want to add a bit of height without wearing heels, the JSlides platforms (below) could be perfect. They're fitted with a gel-filled, arch-supporting insole.
Mid top sneaker
If you like to wear sneakers, but it's really the weather for boots, a mid top or high top sneaker could be the ideal style.
ECCO's mid top sneaker (below) features built-in arch support and has fantastic reviews from women who say they go with everything.
high tops
Miz Mooz's sneakers (below) are another good option if you're looking for a high top. They come in a good choice of colors including neutrals and a moss green. Reviewers say they are cool, cute and comfy.
Miz Mooz Laurent High Top Sneaker
toggle sneakers
Vionic's London sneaker (below) are easy to get on and off because of their toggle design, and would be ideal for everyday wear or for exercise.
Red satin sneaker
A pop of red is a fantastic way to add interest to any outfit. If you're looking for a sneaker style that is a little dressier than the norm, Alegria's sneaker (below) comes in a satin material with a ribbon rather than laces.
gold sneakers
Metallic sneakers are not only super stylish, but they go with absolutely everything in the same way as any other neutral. The gold sneakers from Seychelles (below) feature a cushioned insole.
fitflop sneaker
Many plantar fasciitis sufferers swear by the FitFlop brand to relieve heel pain. The Rally sneakers (below) come in a choice of brights and neutrals. I like the contrast between the white sole and black uppers in these ones.
Naturalizer sneaker
Animal print is always on trend. The Naturalizer sneakers (below) will elevate even the simplest of outfits.
Plus they have Naturalizer's signature contour technology that includes a contoured footbed with arch and heel support.
Clarks sneakers
Clarks is always a good go-to brand for comfort footwear. The wedge sneakers (below) are particularly on trend right now, as well as coming in a burgundy shade perfect for the cooler months.
Clarks Un Rio Strap Wedge Sneaker
Plantar fasciitis shoes – Nike
Of course, Nike sneakers are one of the most iconic brands you can choose, but they're also one of the most comfortable. The Nike Air Max (below) have an air cushioned unit on the heel as well as a cushioned footbed.
Nike Air Max 270 Premium Sneaker
New Balance shoes for for plantar fasciitis
New Balance is another brand recommended by podiatrists and by women who suffer from plantar fasciitis.
The heel of these New Balance sneakers has a comfortable, snug feel which many women with plantar fasciitis appreciate.
New Balance W840V3 Running Shoe
Skechers shoes for plantar fasciitis
Skechers is another recommended brand for heel pain. The D-Lites sneakers (below) have a retro style which is on trend for the upcoming season, as well as a memory foam sole.
Skechers D'Lites Memory Foam Sneaker
Brands for foot arch support
There is a big choice of brands which make foot arch support shoes and many of you have already told us about your favorites.
Based on experience, and lots of useful comments from you, some brands you might want to try are Ecco, Fly London, Naot Footwear, Earthies and Keen.
Naturalizer also has many sneakers which are on-trend this season, as does Geox and Frye.
There are more suggestions in this extensive guide to arch support shoes.
Plantar fasciitis inserts
If you have shoes you love but have relegated them to the back of your wardrobe because they are no longer comfortable, then you might want to think about buying insoles or inserts for plantar fasciitis.
Have you found the perfect plantar fasciitis sneakers? Let me know which brand of arch support sneakers you wear!
Continue reading:
Like this article on the best sneakers for plantar fasciitis? Save it on Pinterest!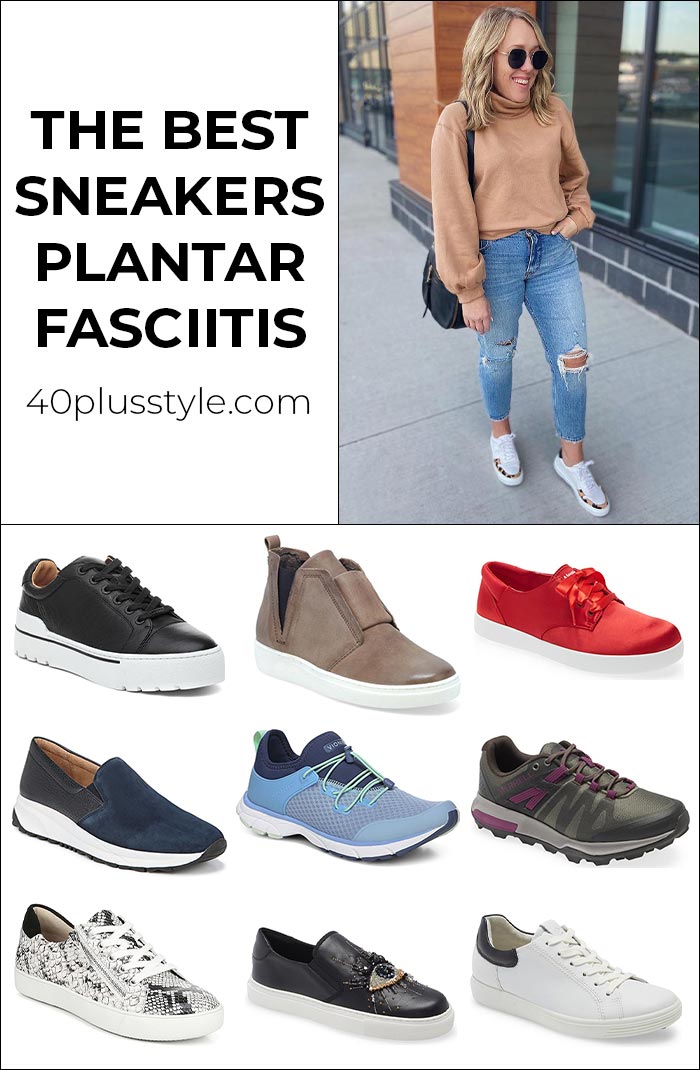 Feature image by Tracey
Want to get more articles from 40+style in your inbox, subscribe here.
You can also connect with 40+style on Facebook, Instagram or Pinterest.
Support 40+style by using the links in our articles to shop. As an associate for Amazon and many other brands, we receive a small commission (at no cost to you) on qualifying purchases which enables us to keep creating amazing free content for you. Thanks!