Sneakers are still incredibly popular. In this article, let's discover how to wear sneakers and where to buy the best sneakers in store now.
Sneakers are sold in all kinds of heights, colors and patterns and many even had inbuilt heels to give you extra height.
It's fashionable to wear sneakers with anything. Jeans, pants, skirts and dresses.
Can women over 40 wear sneakers?
Of course you can! Sneakers are great for women of all ages.
They are the ideal option for a nice walk in the park or a casual outfit for an activity. Also, sneakers are now so hip that you can either dress them up or down.
You will want to balance them with the right clothes though to achieve the right harmony between casual and chic.
How to wear sneakers
Before I show you some of the best sneakers in stores now, and take inspiration from stylish 40+ women wearing sneaker outfits, here are some general tips on how to wear sneakers with your everyday outfits.
Cuff your jeans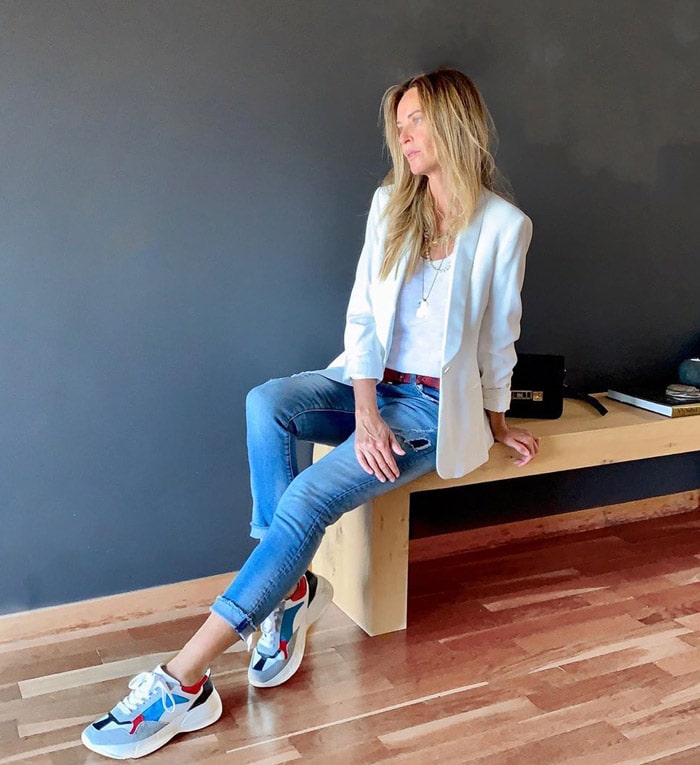 If you're making a style statement with your sneakers, make sure they are seen.
The easiest way to do this is the choose jeans which stop at your ankle bone. Or, if your jeans are longer than that, just roll that up slightly. That way, you will show off not only your sneakers, but what is likely to be the slimmest part of your leg.
Estrel (above) wears a pair of Steve Madden sneakers in her outfit which mixes the formality of a blazer with a casual pair of jeans and sneakers.
Recreate her look with this similar tee, blazer, jeans and necklace.
Keep your gym or exercise sneakers separate
Of course you can wear sneakers out of the gym, but I would keep the sneakers you wear for exercising and those for day-to-day dressing separate.
That way, your favorite sneakers won't have that fresh-from-the-gym smell, and they will stay cleaner and wearable for longer.
Wear with skirts and dresses
You don't have to keep your sneakers to pair with your jeans and t-shirts. Wearing your sneakers with a dress or skirt is a good way to make a dress outfit more casual for everyday wear.
Melinda (above) wears a pair of 'Old Skool' sneakers from Vans.
Check out this printed ruffle skirt that you can wear this similar tee, handbag, scarf and earrings.
The best sneakers for 2020
Sneakers are currently having a fashion moment and I do think it's fantastic that sneakers are so on trend.
I'm not one who believes in the old "beauty is pain" adage. I won't make myself uncomfortable in the name of style or fashion, so I rarely wear high heels.
You can see below that many of the big-name designers chose to feature sneakers on their catwalks for Spring and Summer 2020.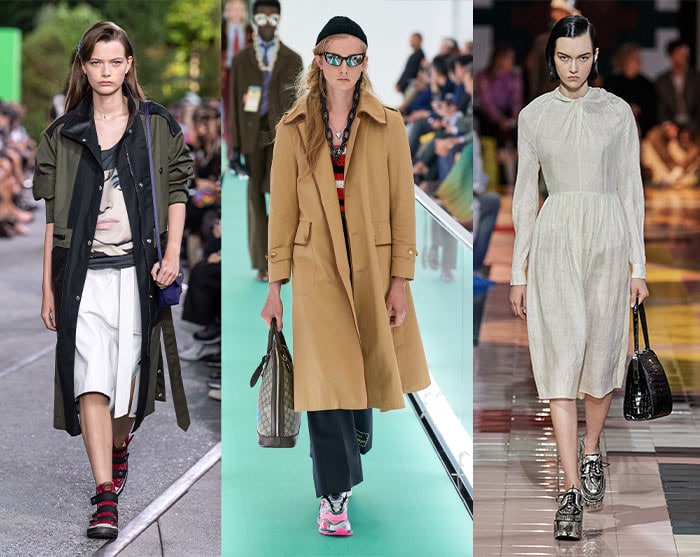 For more inspiration check out this piece on the best shoe trends for SS 2020.
Below are some of the best sneakers I found online and that you can buy right now. Use as inspiration on how to wear sneakers or enjoy your shopping!
Top 10 absolute classic sneakers
Below you will find 10 timeless classics. Choose a pair of these, and you can be sure they will be on trend for many years to come.
Keep reading for my favorite sneakers just released for this spring and summer.
1. Converse low tops
Converse low tops first came out in the 1950s, so you can be sure they won't be going anywhere anytime soon.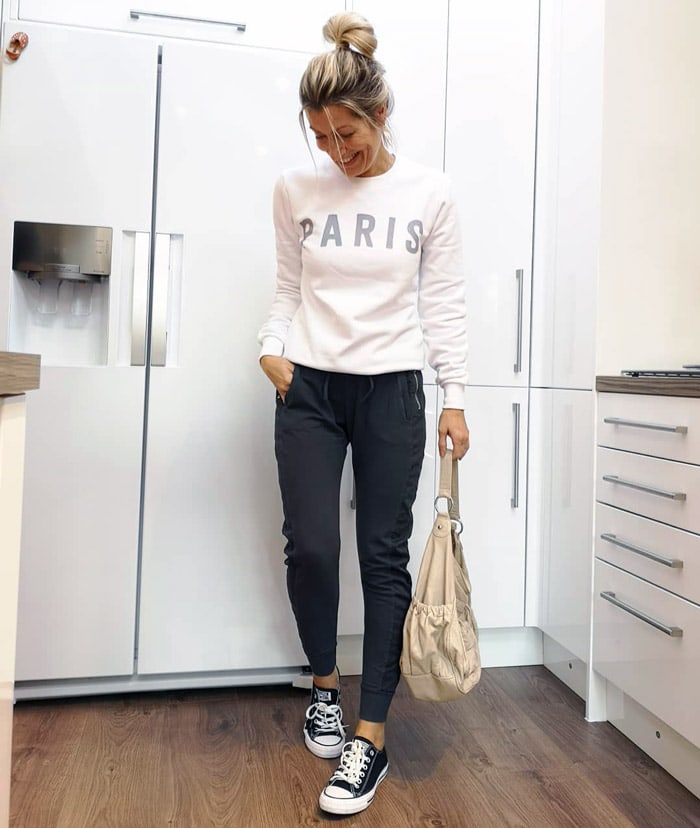 Abi (above) is wearing a pair of Converse sneakers with her jeans and logo top.
Check out this similar sweater, jogger pants and handbag to steal her look.
2. Superga
Superga is well over 100 years old, and these pumps look great no matter what your age. Kate Middleton is a big fan of the Superga Cotu style with their canvas uppers and gum soles.
3. Vans
Starting life in the 1960s as the Van Doren Rubber Company, selling direct to the public from a corner shop in California, Vans soon gained a huge following among the skateboarding crowd.
Its slip-ons gained popularity when they were worn by Sean Penn who played a surfer dude in Fast Times Ridgemont High. Vans have also been worn by everyone from Julia Roberts to Ringo Star.
But you don't have to be a movie star or a skater to wear them. These iconic Vans slip-ons look great with pretty much everything.
4. Nike's Air Force 1
Clearly, there are plenty of styles you could choose from Nike's range. But the Air Force 1, named after the presidential aircraft is arguably the most iconic of them all. A good choice if you like a retro-style sneaker.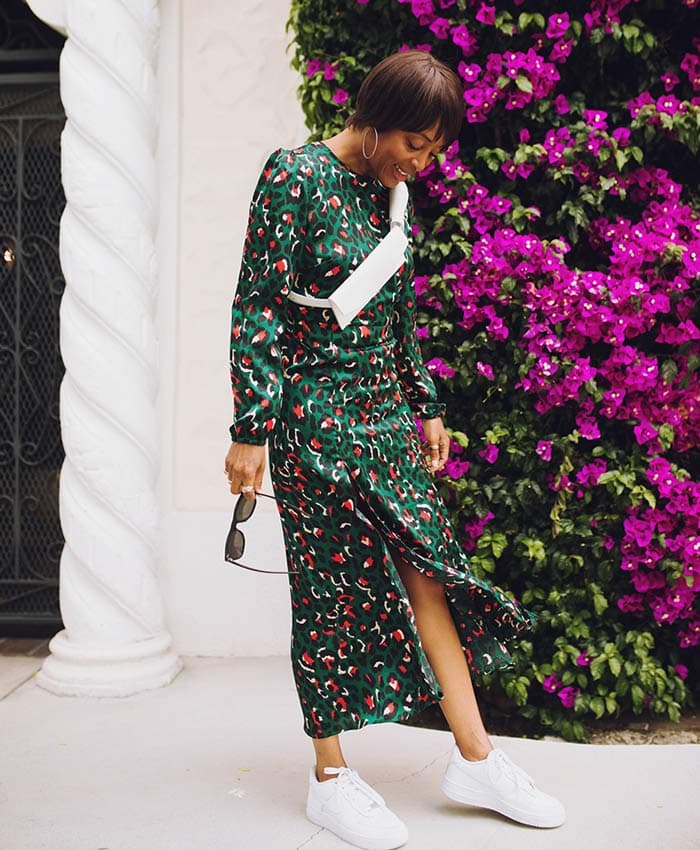 Air Force 1 Sage Low Platform Sneaker
Kim (above) wears her Air Force 1 sneakers from Nike with a midi dress.
Get her look with this similar dress, belt bag and earrings.
5. Keds
If you aren't a Superga kind of gal, then maybe you prefer Keds. Everyone from Marilyn Monroe to Audrey Hepburn has been spotted in a pair of Keds, so you're definitely in good company if these are your sneakers of choice.
6. Adidas – Superstar
Originally a basketball shoe, Adidas' Superstars have been re-imagined time and time again. Wear with everything from jeans to dresses and skirts.
7. Adidas – Stan Smith
Another classic from Adidas, Stan Smiths began life not on the basketball court, but on the tennis court. Now, you're more likely to see them worn out and about everyday.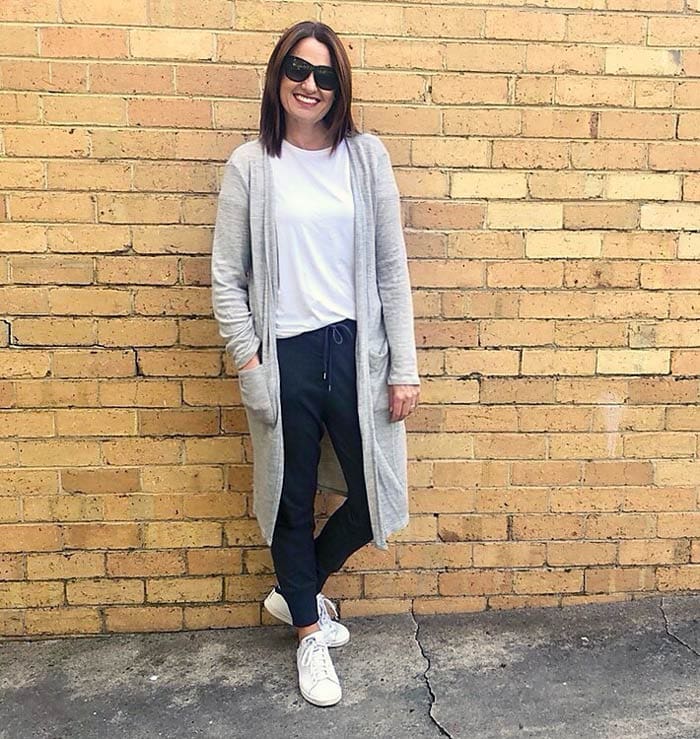 Karen (above) wears the Stan Smith sneakers in a white colorway.
Check out this similar tee, jogger pants, cardigan and sunglasses.
8. Puma suede classic
Nike is known for its tick, while Puma is instantly recognizable for the swoosh along the side of its sneakers. The Puma suede classic has now been around for more than half a century, and is available in some beautiful new colors for spring and summer.
9. New Balance Evergreen
If you prefer your sneakers to look more athletic, then the New Balance Evergreen 574 is enduring, classic and comfortable.
10. Veja
While Kate Middleton loves her Supergas, Megan Markle is a big fan of Veja. The brand is definitely the new kid on the block when it comes to sneakers, having been launched in 2005, but they have fast become an instant classic.
Meghan wears them with both jeans and dresses. Just be aware that most reviewers say these need breaking in so wear for a little in the house for a few days first.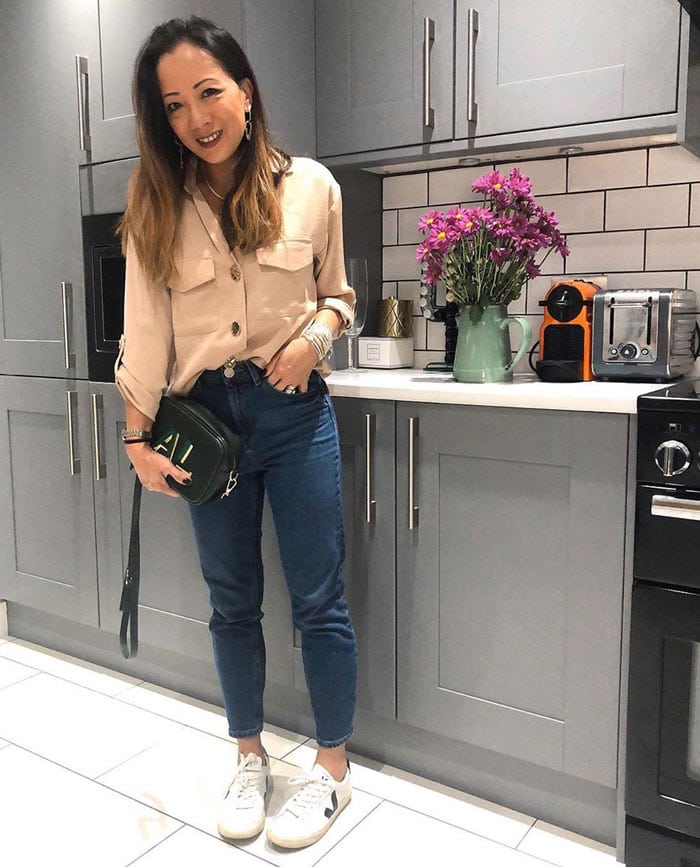 Abi (above) wears the Esplar sneakers from Veja.
Complete her look with this similar button-down shirt, jeans, crossbody bag and earrings.
The best sneakers for Spring and Summer
Of course, you don't have to stick to the classics. Here are my 10 picks of new styles for this season.
I'll also give you some more ideas below on how to wear sneakers as part of your everyday outfits to make sure you combine comfort with style.
1. Low top sneakers
Low tops sneakers can be more comfortable when the weather starts to get a little warmer. Choosing a pair in a pale or a pastel shade can inject an instant feeling of spring into your outfit.
2. Slip-on sneakers
A slip-on sneaker is an easy style to wear with everything from jeans to dresses. The chunky soles on these Eileen Fisher sneakers give them an on-trend vibe.
For more comfortable shoe options take a look at this piece on the best shoes with arch support to walk in all day.
3. White sneakers
A white sneaker is a complete classic which will never date, so you can afford to think of these as an investment piece for your closet.
They will look just as good worn with midi dresses as with your jeans.
STEVEN New York Bass Platform Sneaker
4. Sporty sneakers
If you are looking for a pair of sneakers to improve your fitness on your daily walks, how about a pair of FitFlops?
The rocking design of the soles mean they can help tone your legs as you walk. They're also often recommended if you suffer from Plantar Fasciitis as the motion of the shoe means you don't put as much pressure on your heels.
FitFlop F-Sporty Uberknit™ Sneaker
5. Platform espadrille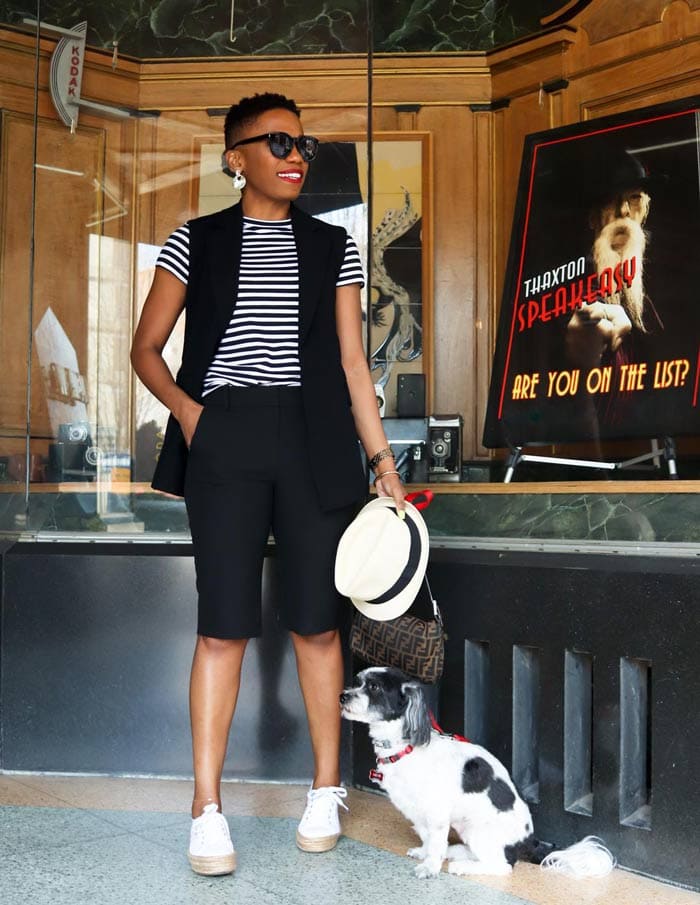 Platform sneakers are particularly on trend right now and can be another good way to add a bit of fun to your outfit while also adding height.
Plus, the espadrille detailing definitely adds a summer feel to your sneakers.
Psyche wears her espadrille sneakers with a classic outfit of striped top and shorts. She even manages to match her dog to her outfit.
Steal her look with this similar platform espadrilles, tee, vest, bermuda shorts, sunglasses, earrings and hat.
Kenneth Cole New York Kamspadrille Platform Sneaker
6. Floral
For a touch of romance, you could always add a floral detail to your sneakers. You're sure to gt compliments on these Ted Baker London sneakers.
Ted Baker London Circee Sneaker
7. Gold sneakers
Metallics can be considered a neutral in the same way as black, white or tan, as they go with everything.
While silver has been on trend for a number of seasons, gold was more prevalent on the spring/summer catwalks for this year.
8. Suede
While you may be loath to wear suede if the weather is very rainy, it can be a lovely material to wear when the weather starts to improve.
9. Textured sneakers
If you don't want to opt for a suede pair, these Naturalizer sneakers offer an alternative way to add some texture to your outfit. I think they would look particularly stylish with a pair of white pants.
Naturalizer Marianne Slip-On Sneaker
10. Snake print
Animal prints are always on trend. I like the chunky sole of these Paul Green low tops, as well as the slight sheen.
Paul Green Ally Low Top Sneaker
What to wear with sneakers
Now that you've chosen your favorite pair of sneakers, what should you wear with them?
While it used to be the case that sneakers were strictly for exercise, or for very casual wear, the lines are definitely blurred now between casual and more formal attire.
Sneakers are a really useful piece of footwear to have in your closet to dress down an outfit.
So, you can wear your sneakers with pretty much everything from jeans to dresses.
Sneakers with jeans/pants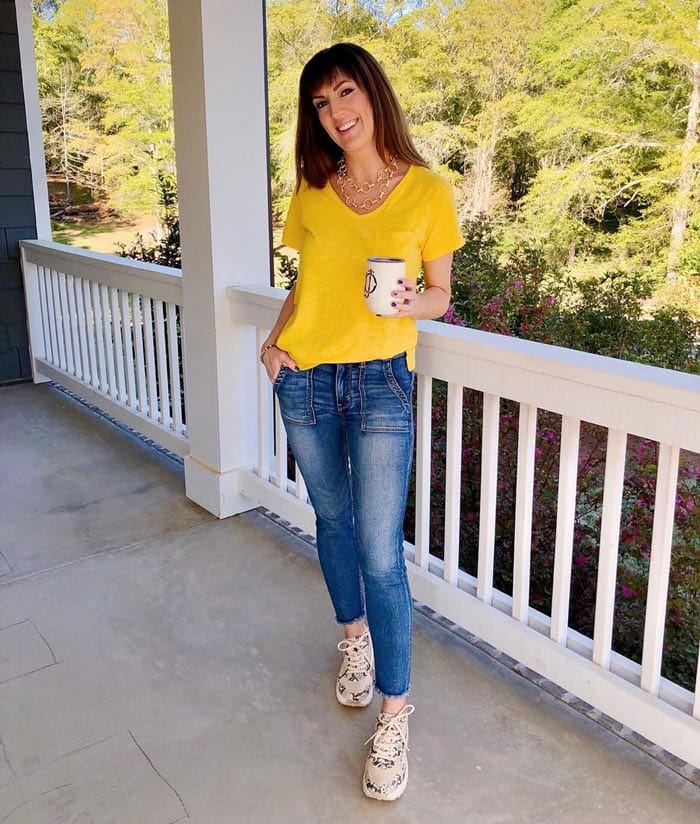 Jennifer (above) looks fabulous in her sneakers and skinny jeans.
Check out these similar sneakers, tee, jeans and necklace.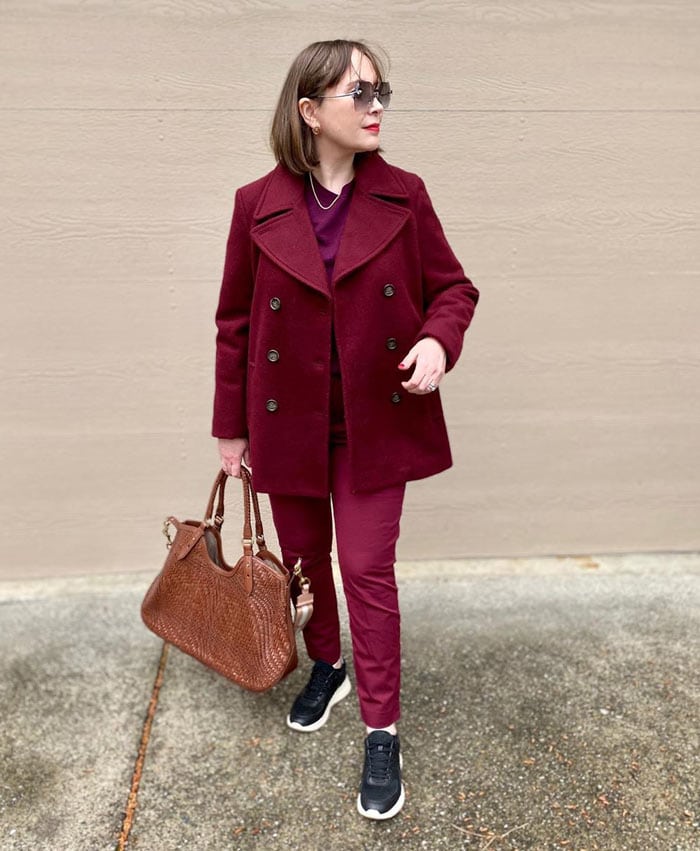 Oxana (above) opts for an all burgundy look and pairs with black sneakers.
Steal her look with these similar sneakers, coat, pants, handbag and sunglasses.
Sneakers with a dress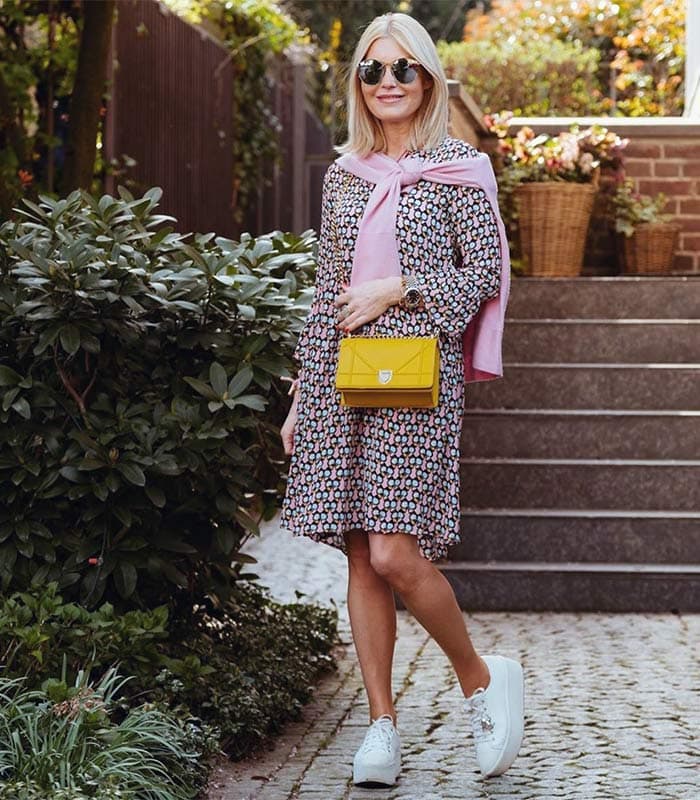 One of the trickiest looks to get right can be pairing sneakers with a dress or a skirt.
I'd go for more delicate styles of sneaker with a dress, rather than big, clunky sneakers.
Having said that, Petra (above) looks absolutely stunning in her chunky sneakers and dress, which show off her slim ankles.
Check out these printed dress options from Eliza J and Boden that you can wear with these similar platform sneakers, cardigan, crossbody bag and sunglasses.
Treat your sneakers like any other shoe when it comes to finding a pair to flatter. So, if a high-top will end at the widest part of your ankle, go for a pair of sneakers with a lower height, for example.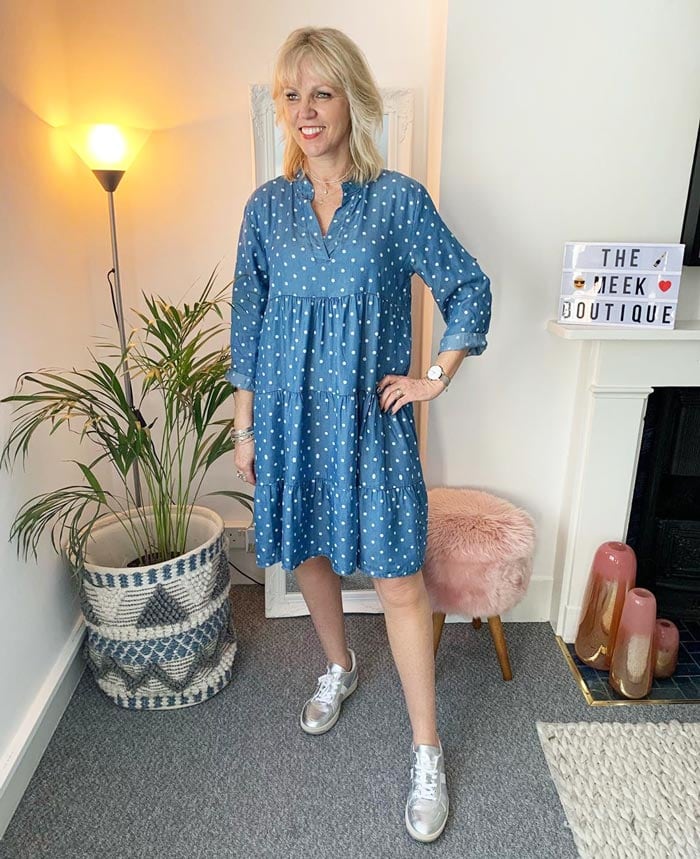 Lynne (above) chooses a pair of silver sneakers with her blue polka dot dress.
Check out this dress that you can wear with this similar pair of silver sneakers.
Sneakers worn with skirts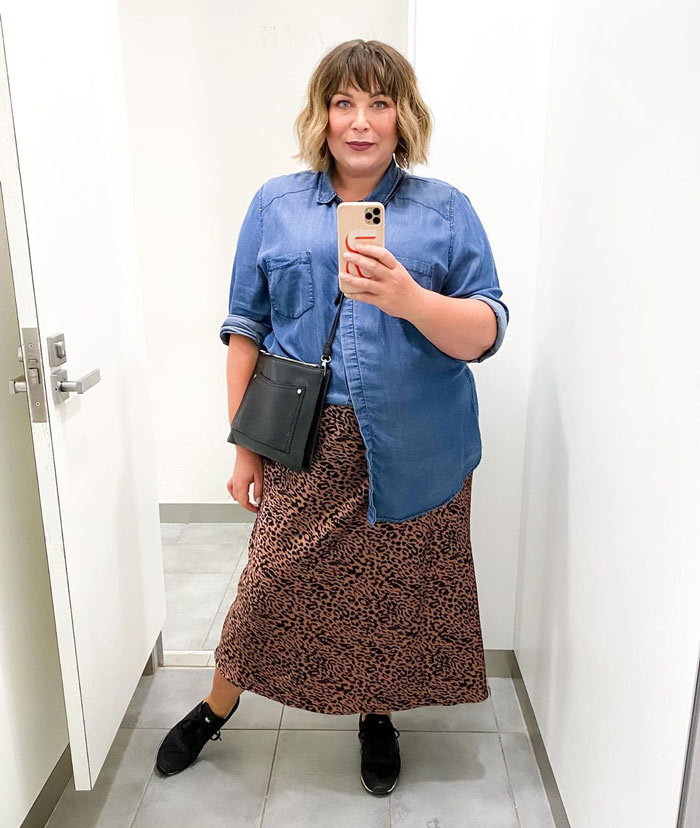 If you want to wear a fit-and-flare skirt, for example, but you think it would look too dressy for every day, you could always pair with sneakers and a sweater.
Sara (above) teams her maxi skirt with sneakers and a denim shirt for a look which perfectly mixes formal with casual.
Recreate her look with these similar sneakers, denim top, skirt and crossbody bag.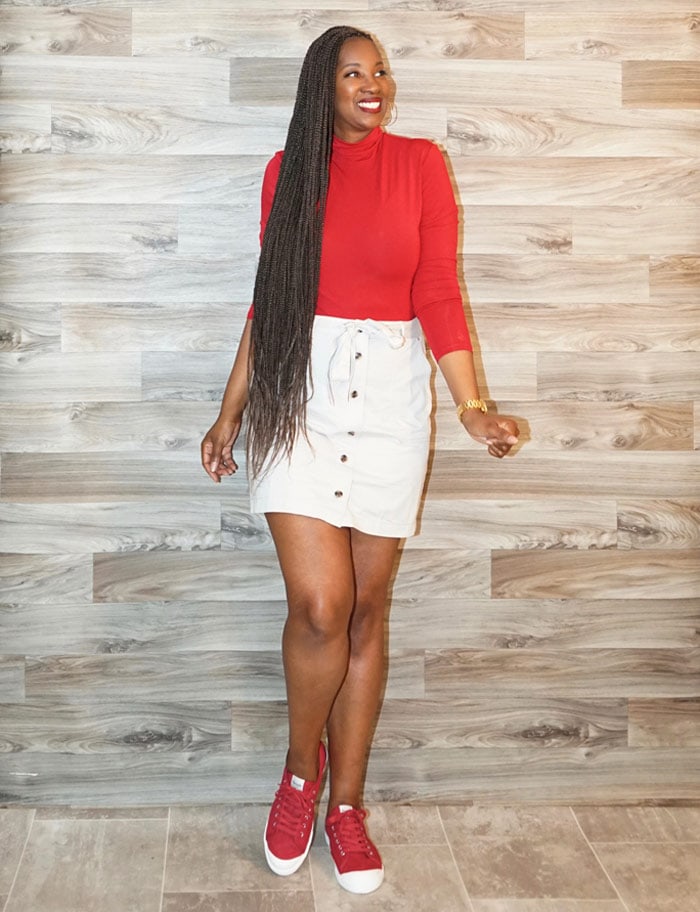 Tanasha (above) opts for a pair of red low tops and matches them to her top.
Check out this similar long sleeve top, skirt and sneakers.
With leggings
Sneakers always look great with leggings, and make for an incredibly comfortable pairing.
Krista (above) opts for a classic plaid shirt with shiny leggings and slip-on sneakers.
Get her look with these similar slip-on sneakers, shirt and leggings.
Also take a look at how to wear leggings for women over 40.
Kimba (above) chooses sporty sneakers with her printed leggings.
Check out these similar sneakers, tunic top, leggings, sunglasses and necklace.
With loungewear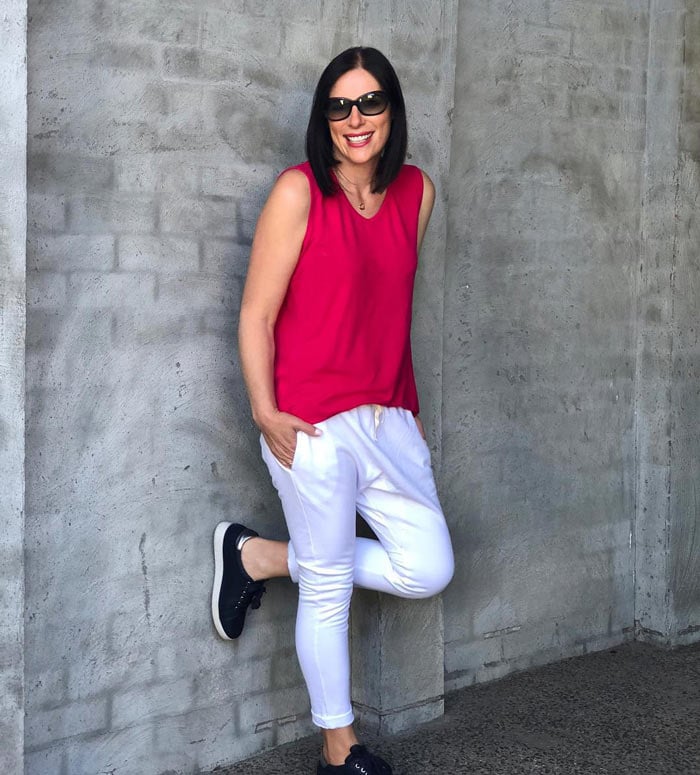 Gabbi (above) wears a pair of Kurt Geiger London sneakers with her loungewear.
Check out this similar tank top, jogger pants and sunglasses to complete her look.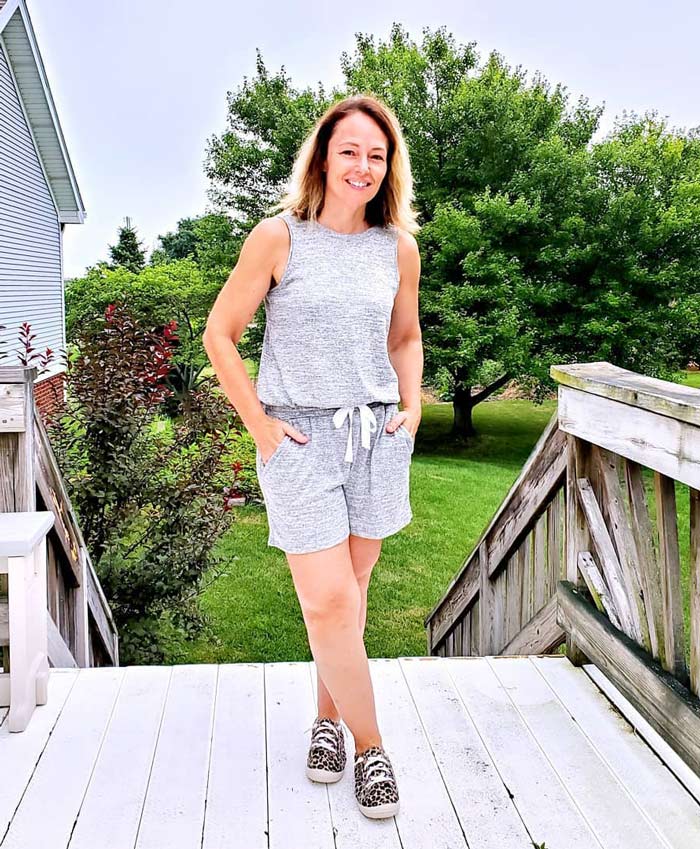 Jenny (above) wears a playsuit with her leopard print sneakers.
Check out this similar romper and sneakers.
There's more inspiration in this article on the best loungewear for women over 40.
With a suit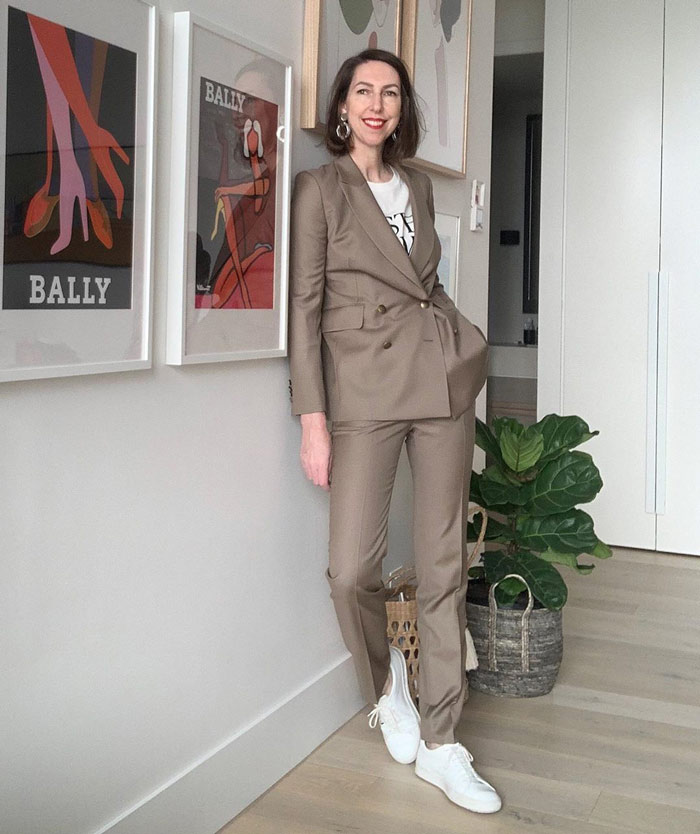 Sally (above) gives her suit a youthful look by teaming it with sneakers.
Get her look with this similar blazer and trousers from SUISTUDIO and pair with these similar sneakers and earrings.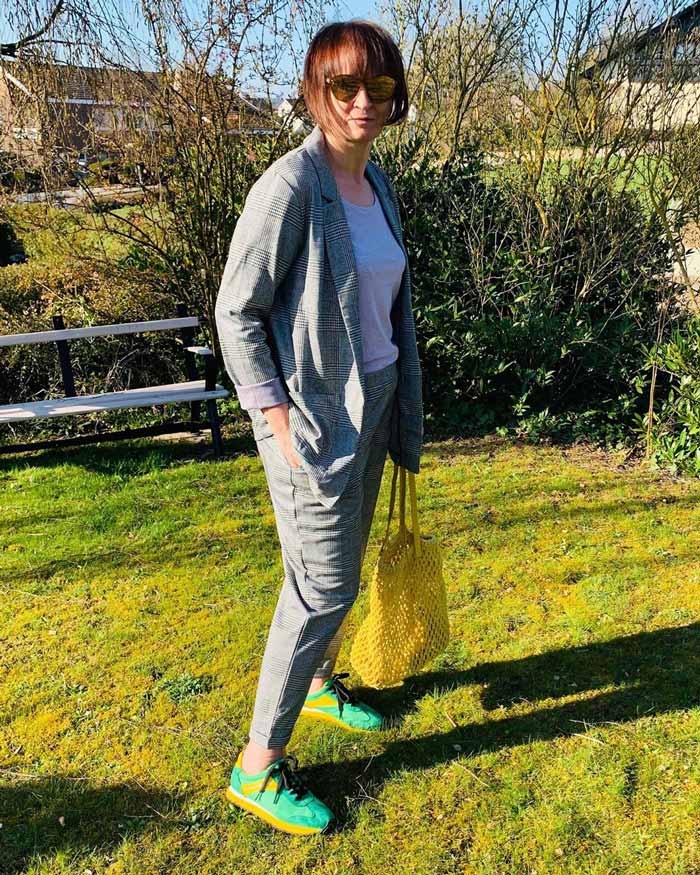 Alexandra (above) shows another way to wear a suit with sneakers.
Check out this similar suit set and sneakers.
How will you wear your sneakers this summer?
Continue reading:
Like this post on how to wear sneakers? Share it on Pinterest!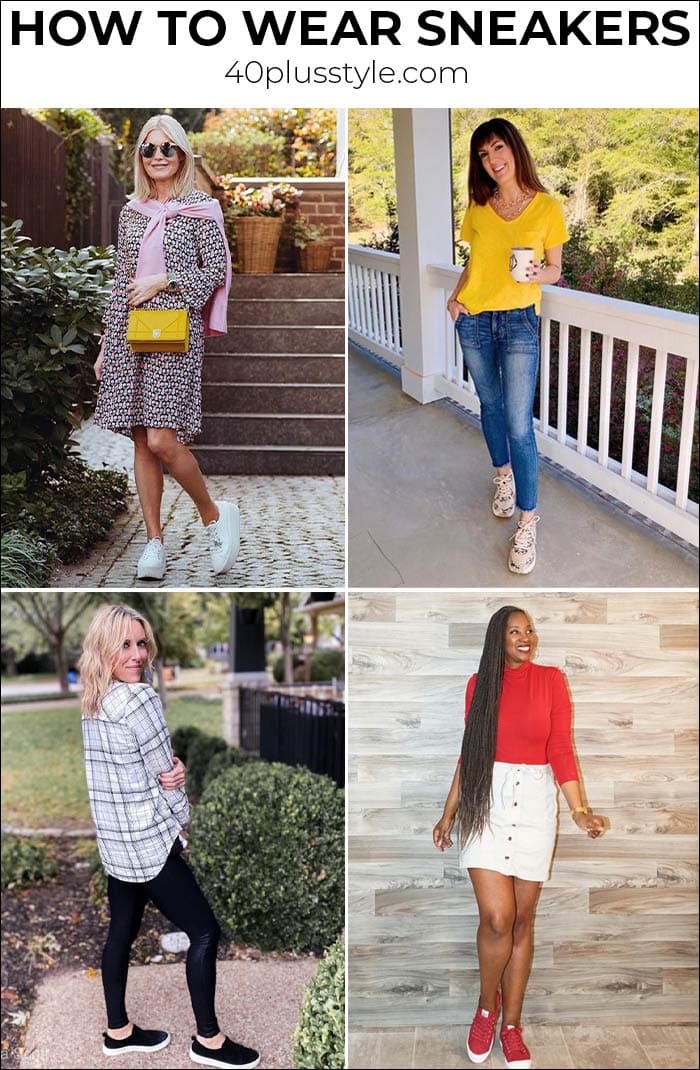 Feature image by Petra
Want to get more articles from 40+style in your inbox, subscribe here.
You can also connect with 40+style on Facebook, Instagram or Pinterest.
Support 40+style by using the links in our articles to shop. As an associate for Amazon and many other brands, we receive a small commission (at no cost to you) on qualifying purchases which enables us to keep creating amazing free content for you. Thanks!