Sneakers are still incredibly popular. In this article, let's discover how to wear sneakers and where to buy to buy the best sneakers in store now.
Sneakers are sold in all kinds of heights, colors and patterns and many even had inbuilt heels to give you extra height.
It's fashionable to wear sneakers with anything. Jeans, pants, skirts and dresses.
Can women over 40 wear sneakers?
Of course you can! Sneakers are great for women of all ages.
They are the ideal option for a nice walk in the park or a casual outfit for an activity. Also, sneakers are now so hip that you can either dress them up or down.
You will want to balance them with the right clothes though to achieve just that right balance between casual and chic.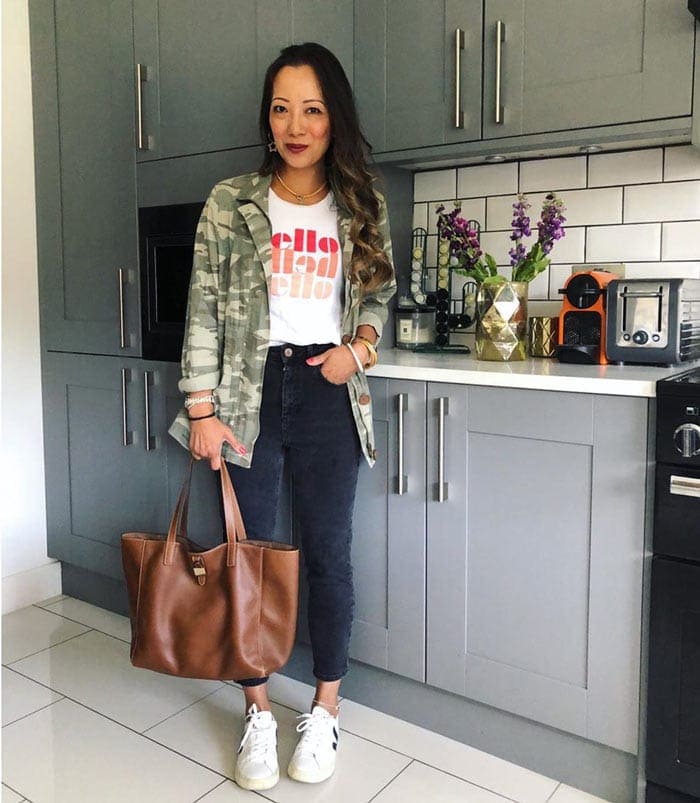 Abi (above) chooses to wear white sneakers from Veja to pair her camouflage jacket, casual tee and jeans.
How to wear sneakers
Before I show you some of the best sneakers in stores now, and take inspiration from stylish 40+ women wearing sneaker outfits, here are some general tips on how to wear sneakers with your everyday outfits.
Keep your gym or exercise sneakers separate
Of course you can wear sneakers out of the gym, but I would keep the sneakers you wear for exercising and those for day-to-day dressing separate.
Cuff your jeans
If you're making a style statement with your sneakers, make sure they are seen.
Jen (below) shows off her sneakers by wearing a cropped denim jeans. You can find a similar yellow sneakers here.
The easiest way to do this is the choose jeans which stop at your ankle bone. Or, if your jeans are longer than that, just roll that up slightly. That way, you will show off not only your sneakers, but what is likely to be the slimmest part of your leg.
Wear with skirts and dresses
You don't have to keep your sneakers to pair with your jeans and t-shirts. Wearing your sneakers with a dress or skirt is a good way to make a dress outfit more casual for everyday wear.
Georgette (above) goes bold with mixing prints. You can check out this similar leopard print sneakers that you can try to pair with your outfit.
The Best sneakers for 2019
Sneakers are currently having a fashion moment and I do think it's fantastic that sneakers are so on trend.
I'm not one who believes in the old "beauty is pain" adage. I won't make myself uncomfortable in the name of style or fashion, so I rarely wear high heels.
You can see below that many of the big-name designers chose to feature sneakers on their catwalks for winter and fall 2019.
Burberry – Gucci – Off-White
For more inspiration check out this piece on the best shoe trends for Fall 2019.
Below are some of the best sneakers I found online and that you can buy right now. Use as inspiration on how to wear sneakers or enjoy your shopping!
The best sneakers for winter and fall
I think sneakers are often seen as something to wear during fair weather – particularly if you have a pair of white sneakers and you don't want to get them splashed with rain.
But, they can also be a good option for fall, and even for winter, if you choose the right pair.
Petra (above) shows off a white-sneaker outfit style, mixing white, blue and orange. Check out a similar white pair here.
As most of you will soon be heading into fall, I've opted for sneakers which are either on trend for this fall, or which will be a good option even if the weather isn't great.
My top 10 latest sneakers
Here are my 10 picks for this season. I'll also give you some more ideas below on how to wear sneakers as part of your everyday outfits to make sure you combine comfort with style.
wedge sneakers
When you think about wedges, you probably think about summer shoe choices such as espadrilles.
But, wedge sneakers can be a good option for you if you want a casual shoe but you still want to add a little bit of height.
Linea Paolo 'Felicia III' Wedge Sneaker
platform sneakers
Platform sneakers are particularly on trend right now and can be another good way to add a bit of fun to your outfit while also adding height.
Plus, the platform heel means your sneakers will be raised off the ground a little which could help to protect them from the elements during winter and fall.
You could wear two trends in one piece by opting for a platform and animal print.
slip-on sneakers
A slip-on sneaker is an easy style to wear with everything from jeans to dresses.
Choose a texture or print such as snakeskin or crocodile if you want to bring your look up-to-date.
This style is a classic which also has good arch support.
For more comfortable shoe options take a look at this piece on the best shoes with arch support to walk in all day.
Dr. Scholl's 'Scout' slip-on sneaker
white sneakers for women
A white sneaker is a complete classic which will never date, so you can afford to think of these as an investment piece for your closet.
Veja is a favorite brand of Meghan Markle who wears them with both jeans and dresses.
Just be aware that most reviewers say these need breaking in so wear for a little in the house for a few days first.
designer sneakers
I'm not one to buy designer brands simply because they are a certain brand. Nor am I one who likes a lot of branding on my clothes, shoes and accessories.
But, that's not to say that I don't appreciate the quality of a good designer piece.
If you opt for a sneaker style that is classic and timeless, you can afford to think about it in cost-per-wear rather than simply the initial cost.
Givenchy 'Urban Street' low top sneaker
waterproof sneakers
If you are wearing your sneakers during winter and fall, you will definitely want to make sure that they are waterproof.
You don't want them to be ruined when the first drop of rain falls. Blondo is a good brand to look out for when it comes to waterproof sneaker options.
Blondo 'Giselle' waterproof sneaker
leather sneakers
Leather is obviously another good option for winter and fall as it can be easier to keep clean than fabric.
You could opt for an on-trend pair featuring print or a pop of color.
most comfortable sneakers
The whole point of wearing sneakers, as well as looking casually stylish, is to make sure that you are comfortable.
Opt for a pair which gives your feet the support they need, whether you need heel cushioning or additional arch support.
Vionic 'Kani' perforated slip-on sneaker
Find lots more options on our list of comfortable walking shoes.
neon sneakers
Bright colors were particularly on trend for winter and fall for 2019.
You can also check out this piece to see the best colors and neutrals for winter and fall 2019.
For a more subtle take on the neon trend, you could choose a sneaker with neon accents rather than an all-over-color.
Jeffrey Campbell 'Sprinter-B' rally sneaker
women's high top sneakers
A high top is a good choice for winter and fall as you can wear it in the same way you would an ankle bootie.
Steven Madden 'Caliber' high top sneaker
What to wear with sneakers
While it used to be the case that sneakers were strictly for exercise, or for very casual wear, the lines are definitely blurred now between casual and more formal attire.
So, you can wear your sneakers with pretty much everything from jeans to dresses.
Sneakers are a really useful piece of footwear to have in your closet to dress down an outfit.
Tania (below) goes all blue in this look. You can get her sneakers from Asics.
So, if you want to wear a fit-and-flare skirt, for example, but you think it would look too dressy for every day, you could always pair with sneakers and a sweater.
How to wear sneakers with a dress
One of the trickiest looks to get right can be pairing sneakers with a dress or a skirt.
I'd go for more delicate styles of sneaker with a dress, rather than big, clunky sneakers.
Plus, treat them like any other shoe when it comes to finding a pair to flatter. So, if a high-top will end at the widest part of your ankle, go for a pair of sneakers with a lower height, for example.
Here are some great ideas from stylish 40+ women on how to wear sneakers with a dress.
Lizzie (above) opts for a more athletic type of sneaker style from Nike, and wears hers with a denim dress.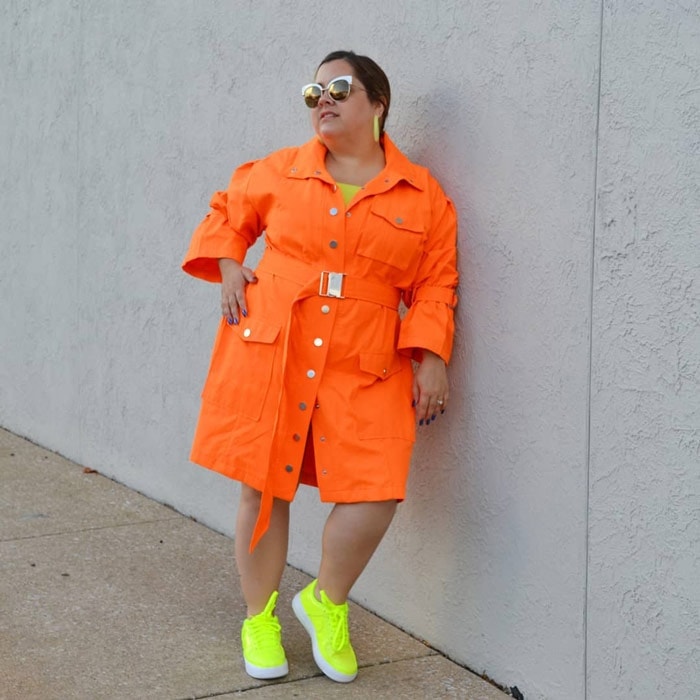 Cassie (above) gets into the neon trend with a pair of bright sneakers from Nike, teamed with an equally bright dress.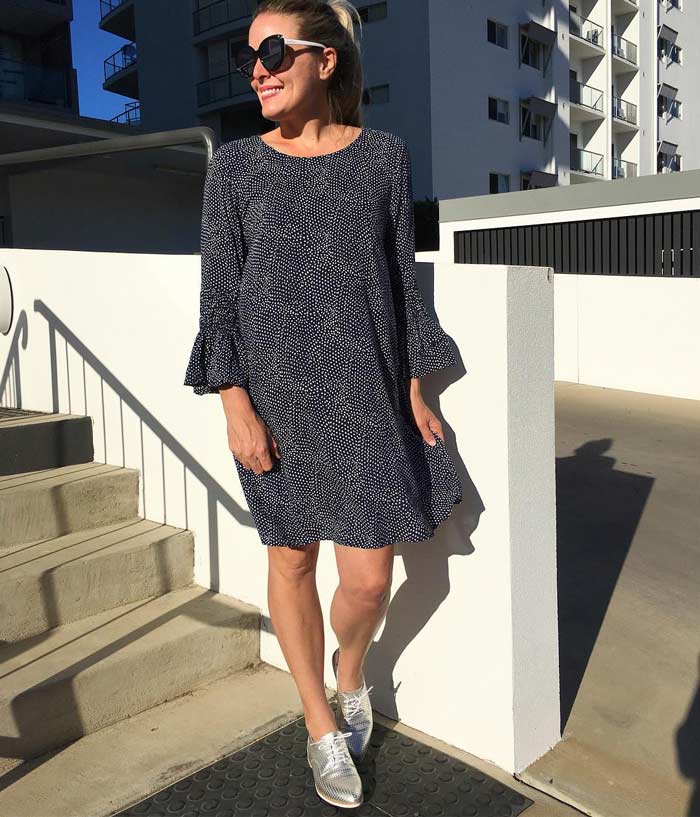 Kristen (above) opts for a pair of shoes which blur the boundaries between sneakers and brogues. I always think silver shoes look particularly stylish. Check out this pair as an alternative.
Melinda (above) chooses the perfect pair of neutral sneakers to go with her yellow dress. Get a similar pair of sneakers here from Ecco.
"If you've been inspired by her style take a look at this piece on how to wear yellow."
Sandra (above) teams a striped dress with sneakers. You can get a similar pair of gray slip-ons here.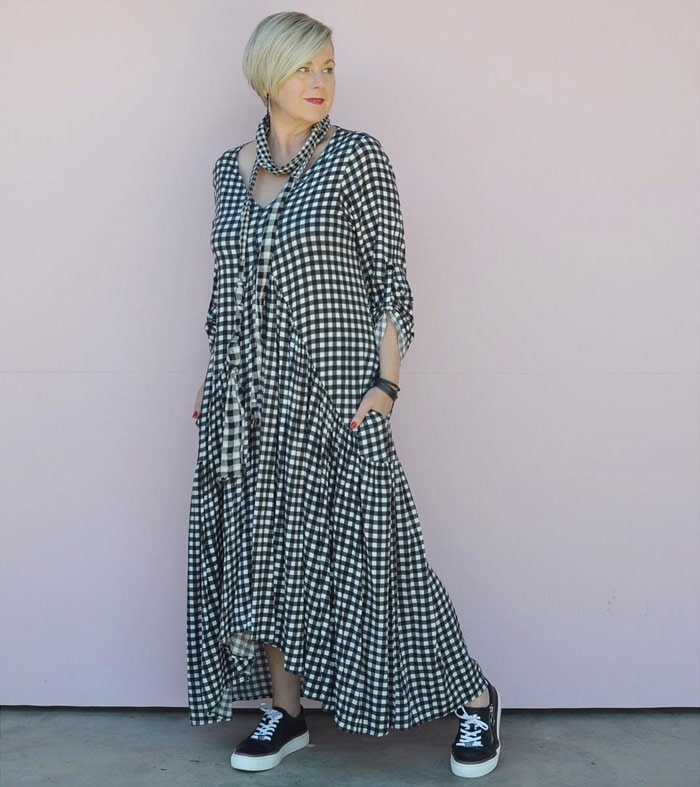 Deborah (above) opts for a check maxi with her sneakers. Check out a similar pair of black platform sneakers here.
Gitte (above) looks lovely in polka dots and a pair of Converse high top sneakers.
Do you know how to wear sneakers this fall? Or will you give them a miss?
Like this post on how to wear sneakers? Share it on Pinterest!
Feature image by Lizzie
Want to get more articles from 40+style in your inbox, subscribe here.
You can also connect with 40+style on Facebook, Instagram or Pinterest.
Support 40+style by using the links in our articles to shop. As an associate for Amazon and many other brands, we receive a small commission (at no cost to you) on qualifying purchases which enables us to keep creating amazing free content for you. Thanks!