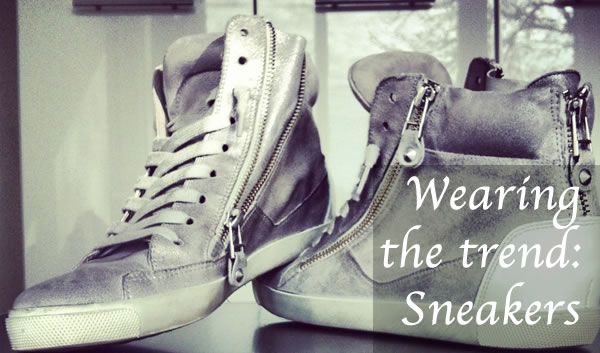 While shopping in Holland it was clear that sneakers were everywhere. They sold them in all kinds of heights, colors and patterns and many even had inbuilt heels to give you extra height.
My friend Saskia was celebrating this trend when she found her longed for Kennel & Schmenger sneakers (see above) which she had first spotted in Berlin. 
I must admit I'm sitting on the fence when it comes to this trend. I have never been a huge sneaker fan and don't find much use for them in Singapore. Wearing sneakers leans too much to the casual side for me so I tend to stick to hip sandals and flats when I want to be sporty.
Can women over 40 wear sneakers?
That said, I still own a pair of high Nike sneakers that I dusted off and gave a better place in my closet. They are the ideal option for a nice walk in the park or a casual outfit for an activity. Also, sneakers are now so hip that you can either dress them up or down.
So the quick answer is yes, of course you can wear them. But I would not make them too casual or too young, since you don't want to look like a teenager. Here are some ideas to get you started.
I have actually given myself an idea here as I very much like the middle option for a casual afternoon of sightseeing or shopping in Europe. Perfect for my holidays! I guess I will be on the lookout for a low pair of sneakers as well…
Below are some of the best sneakers I found online and that you can buy right now. Use as inspiration or enjoy your shopping!
Will you embrace the sneakers trend or give it a miss?