I got such an amazing response and some wonderful tips on my article on pretty nails for women over 40, that I wanted to share some of the best suggestions on how to care for your own nails and do a manicure at home so you can give yourself a great, professional-looking manicure at home…
How important is looking after your nails and doing a manicure at home?
Are you someone who doesn't mind what your nails look like? Or do you only feel well-groomed if your nails are at least neat and tidy, if not painted?
Overall, most 40+ women who discussed this in the comments and in the 40+ Style Facebook community felt that grooming gets more important as you get older.
Suzanne says: "I truly believe that the older you get, the more 'well groomed' you need to be to look your best," while Heather adds: "I never use to care, but now that I'm older, all the little details are so important."
I tend to agree.
So how should you look after your nails and do a manicure at home?
It's all about taking care of your nails with proper care. I like to share some of my own tips and some wonderful suggestions from 40+ Style readers on how to do your own manicure at home.
The always superbly groomed Catherine from Not Dressed As Lamb feels that the secret to good nails, is to keep the cuticles healthy. Many of the tips below were shared by her.
How to strengthen nails before giving yourself a manicure at home
Before I get onto your manicure routine, if you feel you need to strengthen your nails, there are many things you can do to improve their condition.
Diet is super important, and getting plenty of varied nutrients can improve your nail health. To give them a helping hand along the way, you can also choose a nail cream especially designed to strengthen your nails. Use it regularly and your nails will be in the perfect condition for your manicure.
Onyx Professional Hard As Hoof Nail Strengthening Cream
Manicure steps
Now that you have made sure your nails are strong, below are the steps to follow to give yourself a home manicure:
1. Rub in hand cream every time you wash your hands
Washing your hands regularly can dry out your skin. And, as we're all washing our hands much more than usual given the current situation, I'm sure your hands may be feeling dryer than usual.
Keep a bottle of hand cream in your bathroom along with your handwash and be sure to rub in your hand lotion every time after you wash your hands.
If you get a lotion that you love and which smells lovely, then hand washing won't seem like such a chore.
2. Nail treatment: Apply a good cuticle remover
Don't cut your cuticles because this can leave your nails vulnerable to bacterial infection. Instead, apply a good cuticle remover – either liquid or paste, whichever is your preference.
3. How to do a manicure at home: Push your cuticles back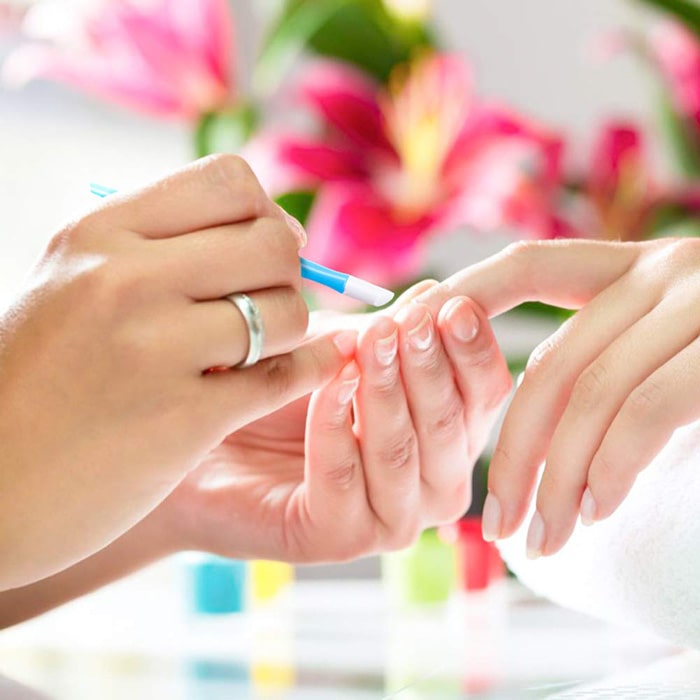 After you've applied cuticle remover, push them gently back with a wooden or plastic cuticle stick. Don't use metal as you could damage your skin or your nail.
Timoo Rubber Cuticle Pusher Nail Cleaner (30 pcs.)
4. Tips for nails: Buff your nails with a 3-sided buffer
Now give your nails a good polish with a 3-sided buffer. That way you create a wonderfully smooth surface for your polish. Or, you can just leave them au naturel as this step will give them a natural shine.
I like Onsen's Japanese nail buffer, which is simple to use and has instructions on the side! Simply file with the silver side, smooth with the colored side and then shine with the white side.
Onsen Professional Nail Buffer Block
5. Nail care products: Rub in plenty of cuticle cream
Combining moisturizing benefits along with anti-fungal properties, cuticle cream is an essential for protecting your nail health.
Badger – Certified Organic Cuticle Care
6. How to get healthy nails: File your nails
Use a glass file to file your nails. File regularly rather than cutting with scissors or clippers. Give it a try! When you stop cutting your nails, you should see that their condition will improve enormously.
Mont Bleu Premium Set of 3 Crystal Nail Files
7. ALWAYS ALWAYS ALWAYS use a good base coat
Never paint your nails without applying a good base coat first. A base coat will create a barrier between your nails and the nail polish, protecting them and preventing your nails from peeling and becoming stained. This is particularly important if you like to wear a darker polish.
8. How to do a manicure: Mind the gap!
Time to choose your favorite color. When painting, don't allow the polish to touch or seep into the cuticles. A tiny gap between the polish and your cuticles will look neater and will allow your nails to breathe.
9. DIY manicure: Hold your breath
Giving your nails a perfectly neat finish is simply down to painting them on a flat surface, holding your breath (briefly) and lots of practice!
10. The best nail polish? If in doubt, go for neutrals
If you don't have a lot of time, or a very steady hand, then forget about French manicures (too fiddly!) and choose a really neutral, almost skin-like color.
This will hide a multitude of sins and look very modern. Revlon's Elegant is a perfect shade.
11. Fix your nails
The last thing you want is to touch anything with your nails before they are properly dry – as you'll ruin all of your hard work.
You can use a nail polish spray to dry them more quickly. Or, another good tip is to plunge them into a bowl of very cold water.
12. Use a cotton bud
If you do make any mistakes, you can simply use a cotton bud dipped in nail polish remover to remove excess polish. Or better still, a small, round, flat artist's brush perfects the edges beautifully (Sam likes to use a nail polish remover pen, which is like a thick felt tip pen you can use around the edges of your nails to tidy things up a bit once your polish has dried. But, Catherine feels that the pens get too loaded with polish too quickly).
Fran Wilson Nail Tees Applicators
13. Apply a clear top coat
Apply your top coat to finish. And then another coat every other day to keep your polish from chipping.
Seche Vite Dry Fast Top Nail Coat in Clear
14. And finally, remove
Remove the nail polish after 4-5 days maximum, and let the nails breathe at least overnight before painting again.
Buff them straight after removing the polish and apply the hand and cuticle cream again. Even if you don't paint them a color, I'd recommend always keeping a clear base/strengthening coat on them to protect the nail from general bashes. This will stop them from splitting too!
Karma Organic Beauty Natural Soybean Lavender Nail Polish Remover
Gel manicure at home
If you're already pretty confident about doing your own home manicure, and you would like a really professional finish, you could think about giving yourself a gel manicure at home.
You will need a special lamp to properly dry the gel onto your nails. I like the look of this starter kit although I have no experience using it. Plus, make sure you have an acetone-based remover at home when you do want to take the gel off.
Done well, your gel manicure should remain chip free for up to two weeks.
Coscelia Gel Nail Polish Starter Kit
When to find the time for your nail care?
Heather likes doing it in the evening after dinner when there isn't much to do and there is time for them to dry, while Catherine has made painting her nails a ritual during her lunch break at work.
How about you. When do you find time to give yourself a manicure?
Which nail care products to use?
Do you have a favorite nail care brand? I've already shown you some of mine in the 14 steps above.
How about you? What brands do you love to use to keep your nails healthy and beautiful.
Continue reading:
Like this post on how to care for your nails? Share it on Pinterest!
Want to get more articles from 40+style in your inbox, subscribe here.
You can also connect with 40+style on Facebook, Instagram or Pinterest.
Support 40+style by using the links in our articles to shop. As an associate for Amazon and many other brands, we receive a small commission (at no cost to you) on qualifying purchases which enables us to keep creating amazing free content for you. Thanks!