Finding the best fitting jeans to truly flatter your shape can feel like an impossible task.
In this article we highlight some of the best fitting jeans for your body type.
Have you found the best fitting jeans yet?
Most of you are probably still searching for THE pair of jeans for you.
But, if you have found the best fitting jeans – the perfect pair of denim to tuck your tummy in, give your bum shape and make your legs look shapelier than ever – then tell us what your favorite brand and style is, along with what your body type is in the comments at the bottom.
You my also like to check my  guidelines on how to wear jeans over 40
The problem is that jeans look very different depending on who is wearing them.
The brand, style, cut, length and wash which looks amazing on your stylish friend may look less than fabulous on you.
A lot of that is down to body type.
If you are struggling to figure out what your body shape is, this guide will help find your body type 
Thinking about which shapes and styles will suit your own body type can really help you to narrow down which jeans styles to opt for. And if you're struggling to pinpoint your body type, focus on what you are trying to achieve and which areas of your body you want to play up or play down,
Best jeans for women of all body types
If you have a pear shape, then your hips and thighs are likely to be your widest point, while your shoulders will be narrower.
One of the major problems you are likely to face is that your jeans may fit your hips but not your waist.
The key is to look for a contoured cut for the perfect fit. Rather than being cut straight across at the waistline, jeans should follow your natural curves.
For more advice check our article on dressing the pear shape body
Bootcut jeans
Bootcut jeans can be a great look for you as the width on the bottom of the legs will balance out your shape nicely.
Black jeans
As a pear shape you may want to opt for a darker wash denim because using a darker shade on your bottom half and a lighter shade on top will also help to balance out your figure and ensure you don't look too bottom-heavy.
Opt for blacks, darker blues and deeper shades such as burgundies and olive greens.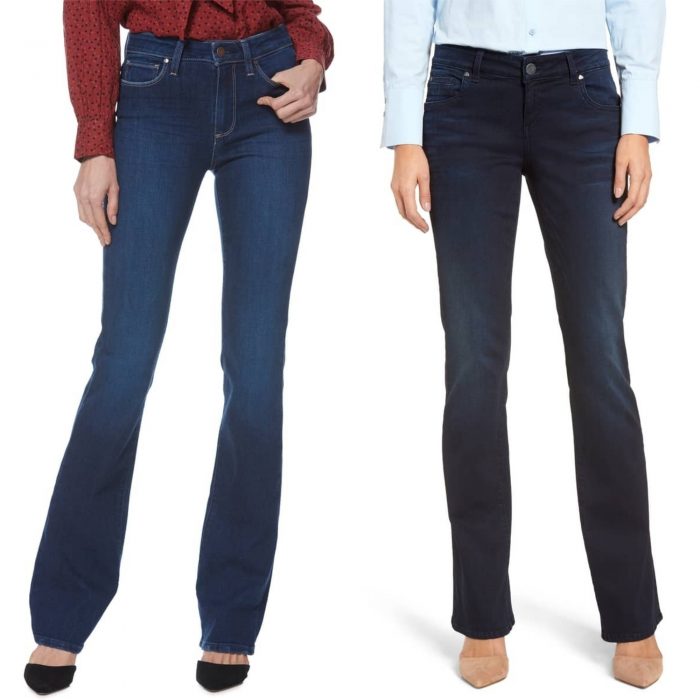 Paige transcend bootcut jeans – KUT from the Kloth stretch bootleg jeans
When you have an apple shape, you are likely to have no defined waist and weight will tend to settle around your belly area.
If you would like to downplay your tummy and are concerned about a muffin top, then it's best to avoid low rise styles.
For more ideas check our article on how to hide your belly.
Choose a pair of jeans which has a firm, but comfortable, fabric in the tummy area as this will help to suck you in.
On the plus side, you are likely to have slim hips and thighs which you will want to highlight.
Choose jeans which are tailored and either straight legged or flared. Trouser jean styles will look great on you.
Find out what are the best tummy control jeans in stores now.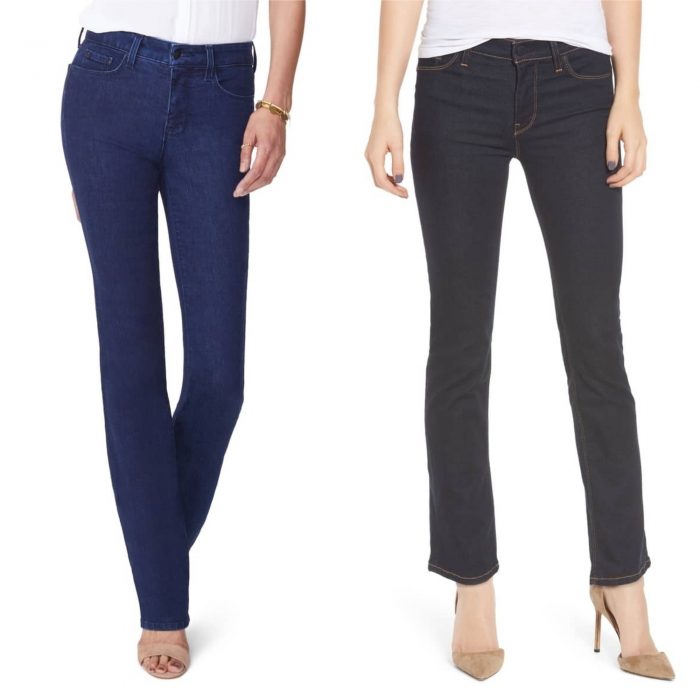 NYDJ Marilyn jeans – Hudson jeans
Best jeans for the inverted triangle
If you are an inverted triangle shape, then your shoulders will be wider than your hips.
You are likely to want to balance out your body shape. To do this, you will be looking to downplay your shoulders and increase the look of width on your bottom half.
Wide or bootleg jeans will work well for you.
Jennifer Baker looks magnificent in her wide leg jeans below.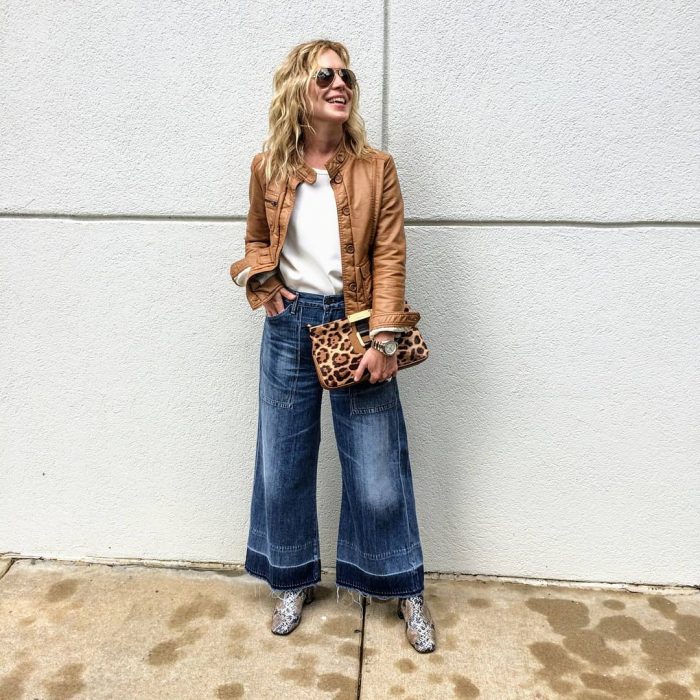 Cropped wide leg jeans – Palazzo jeans
To know more about dressing for this shape check our tips for dressing the inverted triangle.
White jeans
You might also want to invest in a pair of white jeans if you don't already have some in your closet.
Just as the pear shape can look at balancing out the figure by dressing in darker colors on the bottom, you can do the same by dressing in paler colors on your bottom half.
These Levis jeans are very popular on amazon and are a great basis for many outfits.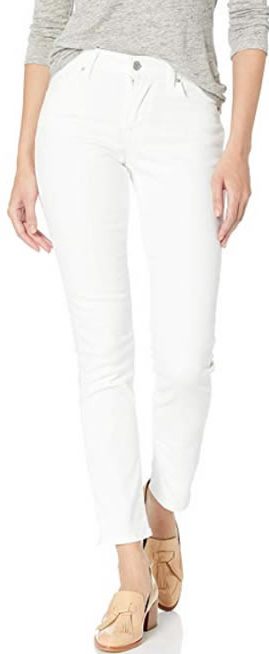 Best jeans for the hourglass
If you have an hourglass body shape, then you have a body type that is often seen as the most ideal.
Your hips and shoulders will be a similar width, but you will have a defined waist so that your figure curves in and out.
Want more tips check our tips for the hourglass figure.
Best jeans for curvy women
You might face the same problems as the pear shape when it comes to finding a perfectly-fitting pair of jeans. If your jeans fit around the hips, you may find they are too big at the waist.
Hourglass figures will look lovely in stretch denim jeans to keep your tummy in and accentuate your curves.
Many jeans now come in curvy styles which taper in at the waist to make sure you get a good fit. The placement of back pockets can also make a difference.
Because your body is proportionate, you will suit any jeans style you want to wear. Marilyn Monroe always looked fantastic in a range of styles from boyfriend jeans to cropped skinnies.
As with all elements of dressing, it is really about playing up what you love and downplaying the parts of your body you aren't so keen on.
If you love having a curvy bottom, then you could opt for pockets with embellishments, or if you want to downplay this area, you could choose jeans with wide, plain pockets on the back.
Avoid any styles which are cut too low on the waistband.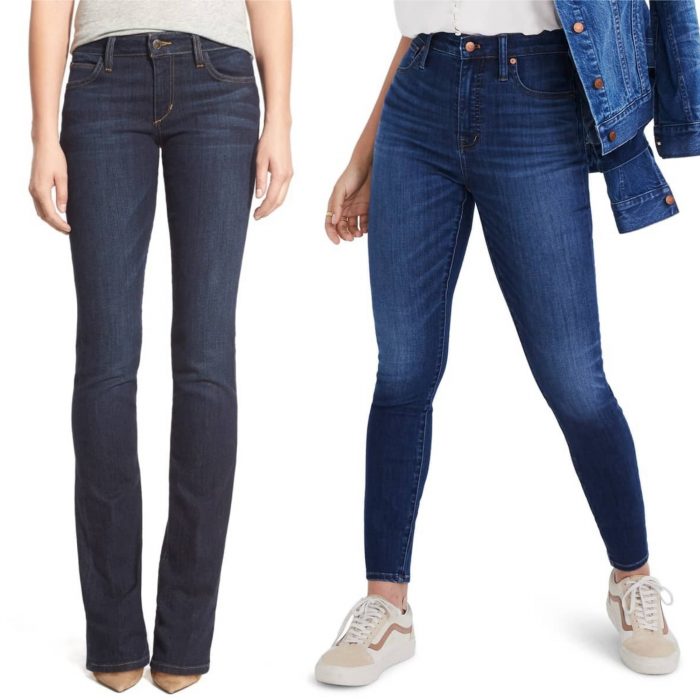 Madewell curvy jeans – Joe's honey curvy bootcut jeans
Best jeans for the rectangle body shape
If you have a rectangle body type, then your hips and shoulders will be a similar width and you will have no defined waist.
Your bottom tends to be flat so you can choose whether or not you want to add extra shape with your jeans.
You are lucky in that you have one of the easiest body types to dress as you can choose to emphasize your lack of curves, or you can choose to add curves with the clothes you wear.
Skinny jeans
You can really wear any jeans style you want. If you want to play up your rectangular figure, then you could opt for skinnies.
I like these ones from Lucky Brand.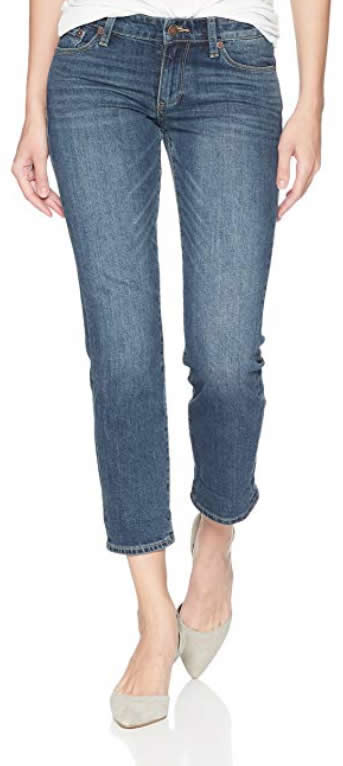 Cropped jeans from Lucky Brand
Crop flare jeans
But if you want to add curves then you can choose slightly flared jeans to create some shape.
Cropped flares can also be a good option for you as they create another line across your calves, which can help to break up the angular look of your body.
Mid to low rise styles will usually work best for you. Look for pockets on the hips and bottom if you want to create a look of curves. If you have pockets which are set wider apart on the bottom, this can make you look curvier.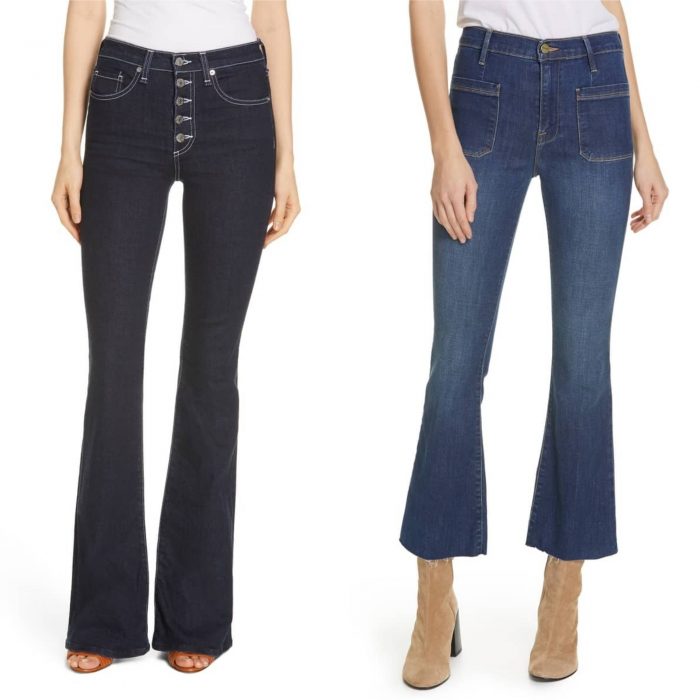 Le Bardot patch pocket crop jeans – Veronica Beard  flared jeans
What are the best fitting jeans you have ever found? Let me know in the comments below.
Like this article on the best fitting jeans for women? Save it on Pinterest!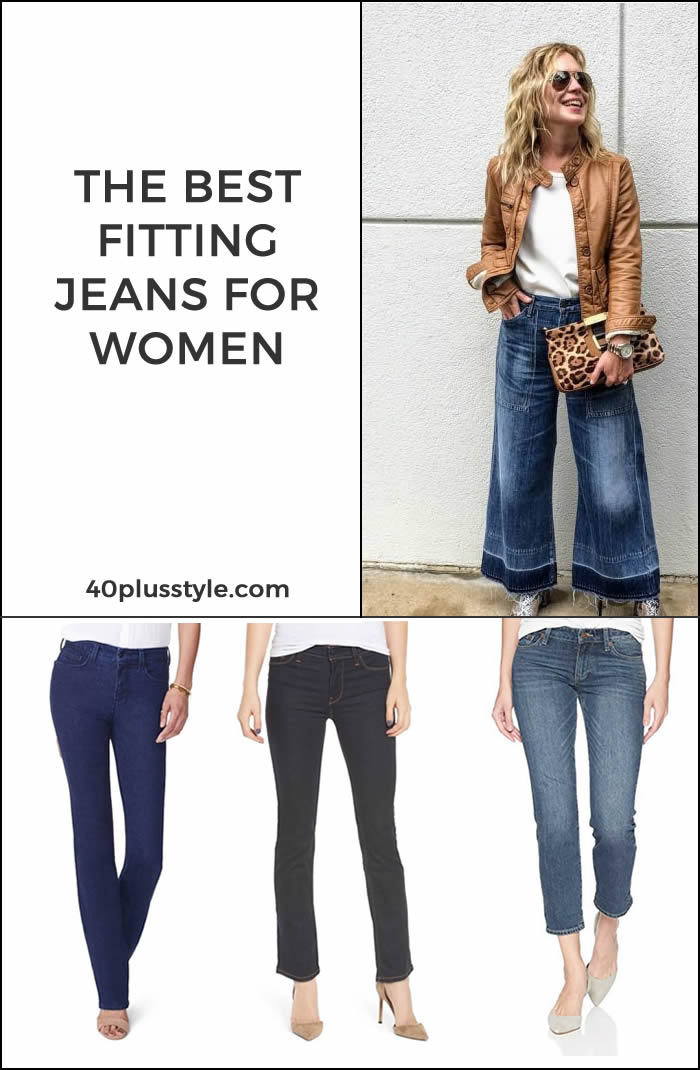 Feature image: @justifyingjen
Want to get more articles from 40+style in your inbox, subscribe here.
You can also connect with 40+style on Facebook, Instagram or Pinterest.
Support 40+style by using the links in our articles to shop. As an associate for Amazon and many other brands, we receive a small commission (at no cost to you) on qualifying purchases which enables us to keep creating amazing free content for you. Thanks!