I don't know about you, but I'm always fascinated to hear how couples first met each other.
That's exactly what Ari Seth Cohen's latest book Advanced Love is about. Well, that and how these couples have grown together over decades of partnership.
Cohen is also the author of Advanced Style.
His latest work really is a beautifully written, heart-warming tome with stunning photography from the author who set out to show that love is bound by neither the constraints of time or age.
And, those who attended the launch party for Advanced Love were also beautiful, showing that just as love grows stronger with age, style has no expiration date.
It was suggested that attendees dressed to a "prom" theme, although everyone interpreted that in their own way.
I'm sure you'll recognize many of these stylish women as they have been featured here on 40+ Style in the inspirational style interviews.
A statement-making hat
Often if you have a hero piece in your outfit, you can keep the rest of your look relatively simple.
Here, a purple hat makes the impact, while it is worn with a classic white shirt. You can see more of this outfit in the images below.
Thinly veiled
Beatrix Ost is an artist and a writer who likes to show off her artistic side through her flamboyant outfits.
Here, she keeps her outfit entirely monochrome, but despite the lack of color, you definitely wouldn't say that it was lacking interest.
She wears a checked two-piece suit that could also be worn as separates and teams this with a striped scarf in the same colors.
The piéce de résistance is the hat, complete with a veil. The checks created by the fishnet mirror the checks in the outfit.
Clearly Beatrix is a big fan of checks.
Tulle-y Scrumptious!
The theme of prom has been interpreted here through the use of a full tulle skirt. The same shade is picked up in the stylish wrap and layered necklaces.
Birds of a feather
Clearly these two have been taking a leaf, or should that be feather, out of each other's style books.
Both are equally stylish, but in their own unique ways. The birds on the denim jacket add extra interest, while the detailing on the purple hat looks almost like feathers because of the way it is folded.
Print mixing
This outfit has a lot going on, but it still works because the prints and patterns which are mixed keep to the same color family.
The hat really is a star piece, which picks up the whites and florals in the rest of the outfit.
There's more advice here on how to mix patterns and prints.
In harmony
This couple's style really is in total harmony.
While hers has a vintage feel thanks to the shape of the dress, the pillbox hat, the corsage, and the brooches, his also has a vintage vibe because of the ruffles on his shirt, while the pops of red in his outfit perfectly match hers.
Making a statement
Both of these looks (below) feature statement necklaces as a finishing touch.
Dayle (on the left) has a passion for the arts, and that always shows in her style. Here, she wears her trademark round glasses, which suit her face so well. They are embellished on the sides, which is a great option for evening wear.
Her dress is pleated in such a way that it looks like a beautiful rose, and her outfit is completed with a floral necklace and stacked bangles. You can read more about Dayle and her style in this interview.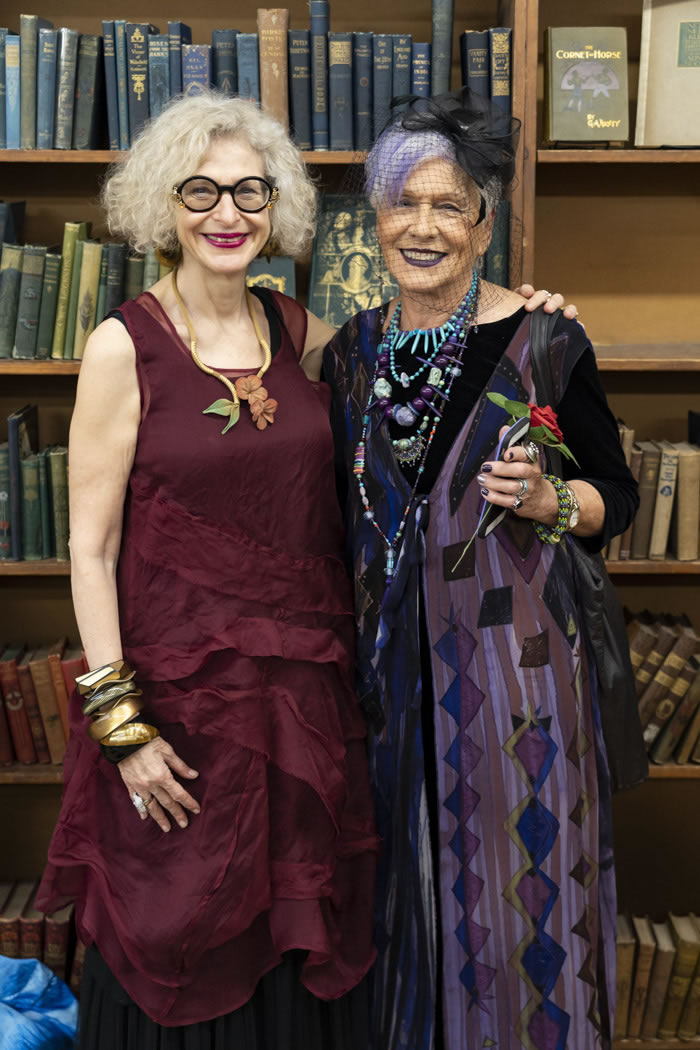 Flowers and silver
Carola Vecchio and her partner Andre are one of the couples chosen to feature in Cohen's new book.
She has previously said she is a fan of the 40s and the 60s, and her floral headband here does have a playful 60s feel.
Carola keeps the rest of her outfit fairly classic in a silver dress accessorized with pearls, while her partner's shirt color picks up the hues of her headband.
The outfit Carola chose to wear for the launch of Cohen's previous book as just as stylish. You can see for yourself here.
Carola has not just intriguing style, but also a fascinating family history. Her father is the late Charles R Boxer, who was Britain's chief spy in Hong Kong in the run-up to World War II, while her mother was the American journalist and The New Yorker's China correspondent Emily Hahn.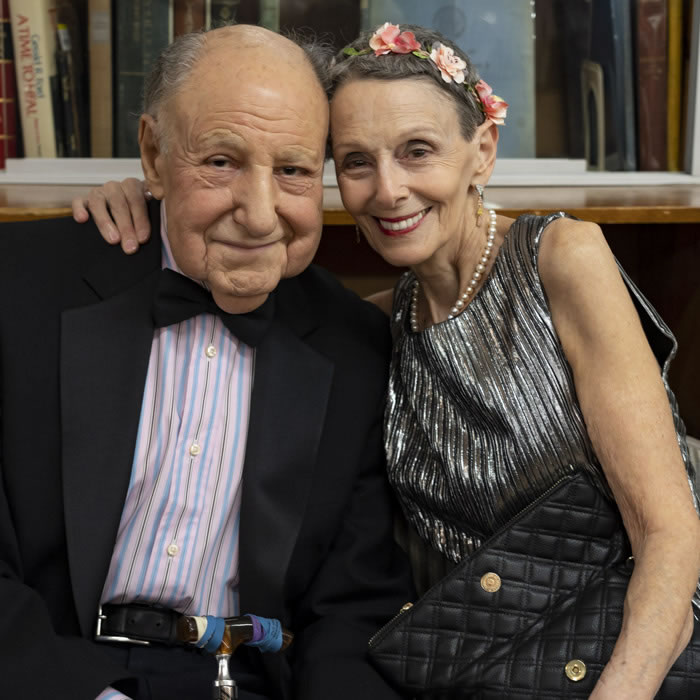 Through the decades
This outfit manages to be modern yet vintage at the same time. The headband and the art deco styling of the necklace have 1920s vibes, while the jumpsuit, if styled differently, could be 70s.
Artist and designer Carol Markel is usually known for her love of graphic prints. Here, she keeps her color palette simple, yet stylish.
You can read more about Carol's style in this interview where she talks about the most important components of her style.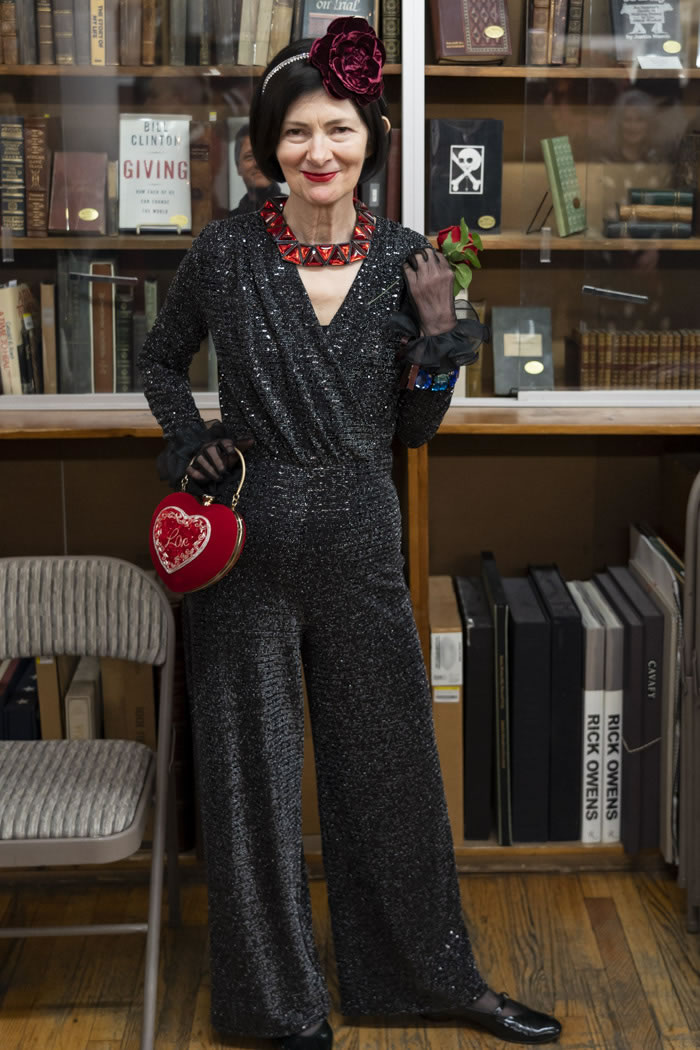 Two roses
The old saying of a rose between two thorns definitely doesn't apply here. There are just two roses!
Both Dayle (left) and artist Nita Angeletti (right) have turned to nature for their inspiration. While Dayle wears flowers in her necklace, Nita has decided to wear them in her hair.
Nita, who has her roots in theater, is renowned for wearing jewelry made with dolls.
Pretty in pink
Clearly, this is a couple who like to coordinate! New Zealander Tutti Frutti has already appeared in Cohen's previous work on style.
Here, she has opted for a pink turban, while her partner has chosen a more subdued palette, with a pop of pink on his shoes to match her outfit.
Feathers and fur
While many outfits had a vintage style at the book launch, this one almost had a modern Medieval vibe because of the feathered hat and long coat.
It is accessorized here with an orange scarf, which picks up the tones in her glasses.
Classic elegance
This couple have gone for a look which exudes old-school glamour.
While he is perfectly polished in his tuxedo and bow tie, she has opted for a black and gold look featuring a star motif. The gold headband finishes off the outfit perfectly.
The author explains his vision
Ari Seth Cohen is in his 30s, so he's a little young to be in the right demographic to be featured in his own books.
But, the author and photographer was so inspired by his own stylish grandmother that he headed out onto the streets of New York to "capture the sartorial savvy of the senior set".
A blog and several books later, including the inspirational Advanced Style book, and he is still determined to show that you can be stylish, creative and vital at any age. His latest book, Advanced Style, is a look at the often-ignored partnerships of older couples.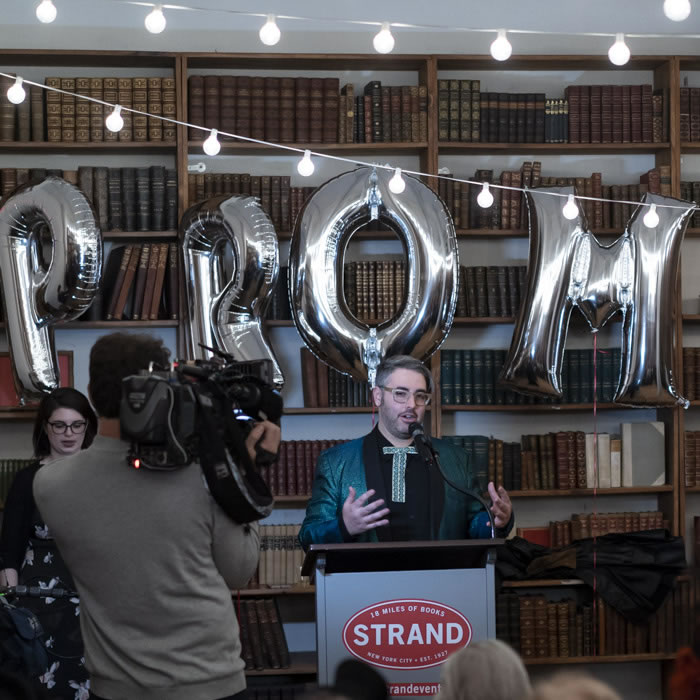 What would you wear this book signing of Advanced Love? Which of these is your favorite look?
Like this article? Save it on Pinterest!
Photography by Denton Taylor
Want to get more articles from 40+style in your inbox, subscribe here.
You can also connect with 40+style on Facebook, Instagram or Pinterest.
Support 40+style by using the links in our articles to shop. As an associate for Amazon and many other brands, we receive a small commission (at no cost to you) on qualifying purchases which enables us to keep creating amazing free content for you. Thanks!