There's always a cool lady that turns heads as she walks by in her effortlessly put together outfit.
She's smart, stylish and has an eye for color and pattern. She has put together different prints and patterns and somehow it looks fabulous>
Do you ever wish you can mix fashion prints and patterns like an expert? It's not as hard as it looks. Let's discover how to mix print and patterns today.
Mixing prints and patterns like an expert
Learning the art of mixing patterns couldn't come at a better time.
Designers have been featuring more beautiful patterns and fashion prints recently.
70s fashion with its love of stripes and patterns is on trend, as well as florals and graphic, grid prints. With so many good prints in style to choose from, it's time to get bold and try combining your favorites.
You can see here the prints that are on trend in this piece on the 12 best trends for fall 2019 for women over 40.
Guidelines on how to mix prints and patterns
I have one rule that serves me best when I mix fashion prints and patterns: keep colors cohesive.
This rule is what saves me from making an obvious fashion faux-pas.
Five of my easy, secret ways to a cohesive color story that makes me look like a master at mixing prints include…
Sticking to two colors.
My favorite color combo for mixing prints is black and white.
Picking one busy item
Picking the busiest print item and coordinating it with a simpler pattern piece that has fewer colors in it.
Choosing same brand pieces
Mixing and matching patterns from the same store or brand. This will help you not clash, since most brands often work with a limited color range each season.
Layering with a solid color
Breaking up the different printed pieces by layering a solid on top to quiet down all the pattern.
A good way to do this is with a coordinating solid jacket or cardigan, where only a touch of pattern from the top shows through.
Have someone else do the thinking for you
Buying a dress where the fashion print is already mixed for you.
Here are some ideas for fashion print mixing
In the collage above:
Top: Vince – Skirt: Ten Sixty Sherman – Bag: Sondra Roberts – Shoes: Etienne Aigner
This look works because of the muted color palette which all works together. You could have difficulty combining two sets of vertical stripes but choosing a top with horizontal stripes and a skirt with vertical stripes works.
Some prints like stripes and dots are naturals for mixing.
Start with the naturals and build up to bolder prints as you get more confident.
Some favorite, versatile prints that are easy to mix with almost any pattern are:
Polka dots
Stripes
Grid patterns
You can use these three patterns to mix with more complicated prints like busy florals, swirls or abstract prints.
Below are more ideas for you on how you could these patterns together. These stick to the same color palette, with a pop of yellow, for a cohesive look.
Floral top: Karen Kane – Dotted pants: Akris Punto Cardigan: Tommy Bahamas – Yellow stripe jacket: Anne Klein – Shoes: Nine West
Another idea on how to successfully mix prints and patterns is all about repetition.
Try making a whole outfit out of different stripes or nothing but polka dots together. There are two ways to do this:
Use a large pattern for the top with the same pattern in a smaller scale for the bottom, or vice-versa
Use the same scale for both patterns, but keep the colors the same. A fun, inventive way to do so is by using a white skirt with black polka dots with a black top with similar sized white polka dots. The mirror effect of the pattern's colors in reverse is interesting and unique.
The outfits below use the same color palette, with a pop of red in the accessories.
If you decide to stay monochromatic with your pattern mixing, have some fun with a bold accessory statement like a brightly colored belt or contrasting shoe, like above.
Pants: Vince Camuto – Asymmetrical peplum top: City Chic – Polka dot long sleeves blouse: Frame – Ruffle puff sleeve blouse: Gibson – Clutch: Ted Baker London – Shoes: Sam Edelman
A capsule wardrobe for mixing prints and patterns
Here are some ideas if you are looking to put together a capsule wardrobe where everything works either together, or you can also pair tops and bottoms with the block-colored pieces you already have in your closet.
Printed and patterned tops
I've stuck to a palette featuring black, white, red and blue here to ensure that everything is easy to coordinate.
These are some of the easiest prints to mix. Look out for stripes, polka dots and florals.
Halogen tie detail wrap blouse – Anne Klein stripe knit top – Leith floral peplum top – Nic + Zoe Mark your Calendar print top
Printed and patterned pants and skirts
When it comes to pattern mixing, you can opt for smaller patterns on your skirts and pants and larger patterns on your tops, or vice versa.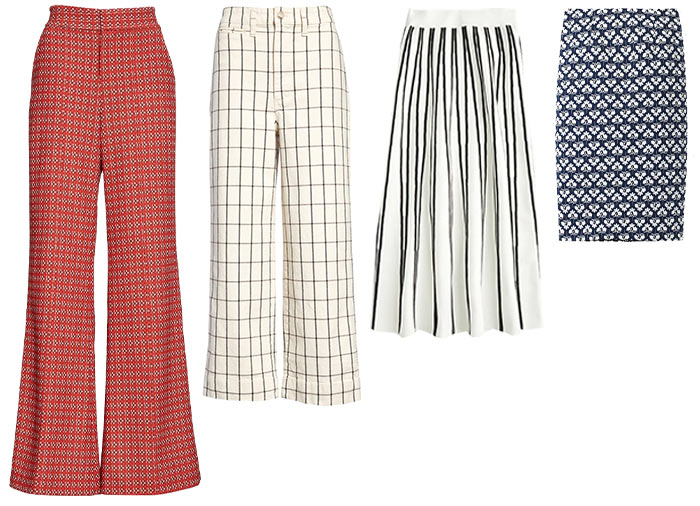 Alice + Olivia wide leg pants – Madewell windowpane crop pants – Boden print pencil skirt – J. Crew flare sweater skirt
Accessories to use with your printed and patterned clothes
If you are print and pattern mixing, I would try to keep the rest of your accessories relatively simple and cohesive so that your outfit doesn't end up looking too busy.
Sticking to a color palette of three colors, including your accessories, is a good way to get started with more pattern mixing.
Lele Sadoughi circle station necklace – Kendra Scott drop earrings – Madewell leather tote – Rachel Parcell swiss dot scarf
Shoes to wear with your printed and patterned clothes
When it comes to your shoes, you could opt to keep your outfit neutral, and add a pop of color with your shoes.
Or, you could opt for neutral shoes so that they don't take the attention away from the rest of your outfit.
Linea Paolo wedge pump – Fly london sandal – Marc Fisher LTD loafer – Allegra James slingback pump
How to mix prints and patterns like an expert – A capsule wardrobe
Here are some outfits created from the pieces chosen above.
Read our ultimate guide to creating a capsule wardrobe that works best for you.
40+ women wearing prints and patterns
Below are some fabulous examples of 40+ women who have stylishly mixed prints and patterns using different techniques.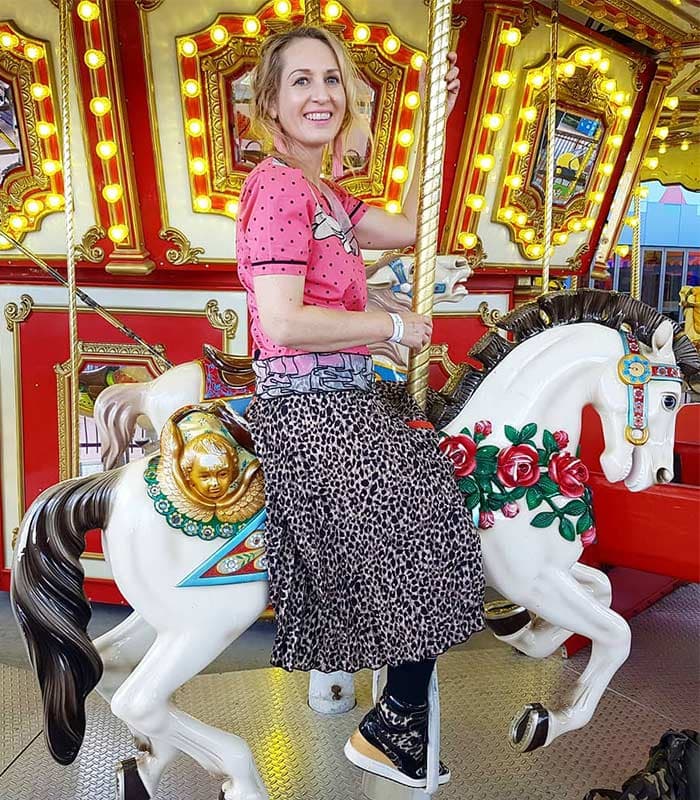 Megan (above) looks like she's having so much fun at the fair! She shows that a leopard print piece can be used as a neutral with most other prints and colors. Get a similar leopard print skirt here.
Georgette (above) has tried one of my favorite techniques – the mirror image technique.
Her skirt is black with white polka dots, while her top is white with black polka dots. She also coordinates her striped shoes, and adds color with her red jacket.
Get a similar polka dot skirt here.
Dora (above) demonstrates how well polka dots and stripes go together. Here is a similar striped long sleeved top.
Galiya (above) has teamed a zebra-print top with a skirt featuring animals. It works because it follows the same theme. She picks up the yellow stripes in her skirt with her yellow bag. Here is a similar print top.
Kimba (above) shows one of this seasons big trends, checked wide-legged pants, worn with a striped top. Checks and stripes are a great combination to try. Check out a similar pair of wide leg windowpane pants here.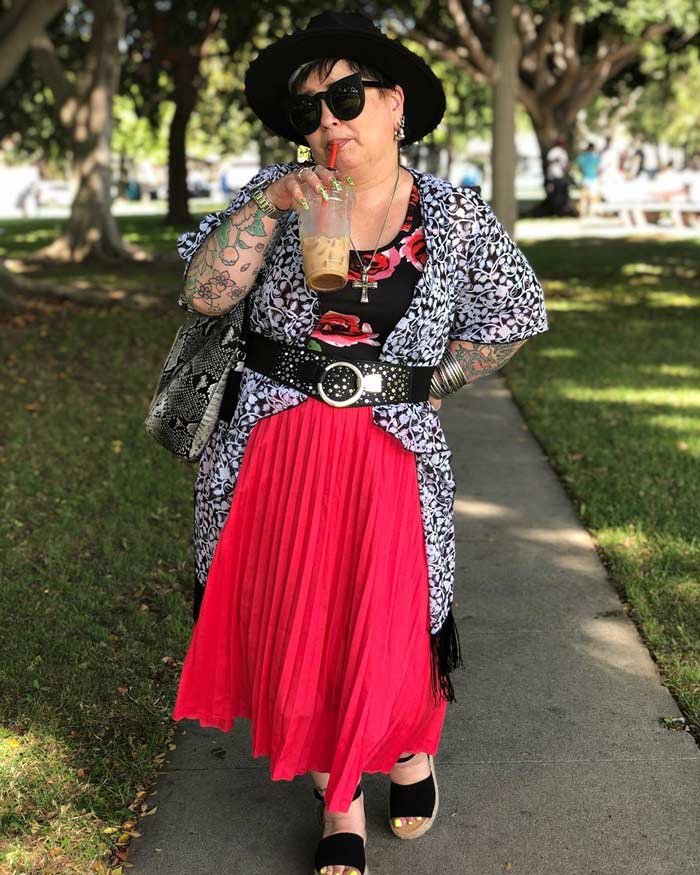 Erin (above) makes sure that her prints all go together by sticking to a color palette of pink, black and white. Here is a similar printed cardigan with fringe ends.
Petra (above) also makes sure her prints go together by keeping to the same tones. The pink shades tie her whole outfit together. Get a similar tweed jacket here.
Eve (above) has chosen a dress where the print mixing is already done for her. Get a similar floral tie waist dress here.
Greetje (above) shows how polka dots and stripes go beautifully together. She adds interest with her yellow bag. You can find a similar skirt here.
This woman shows her midriff in a very tasteful way. Only showing just a hint and making the look chic with her accessories.
Absolutely loving the skirt with this blouse. Or is it a dress? Great glasses too.
Superb blouse and fabulous knee-length skirt. Great use of accessories too.
Fabulous bold dress, great accessories and beautiful smile!
A bold look that works really well for this woman.
Chic and understated but oh so effective!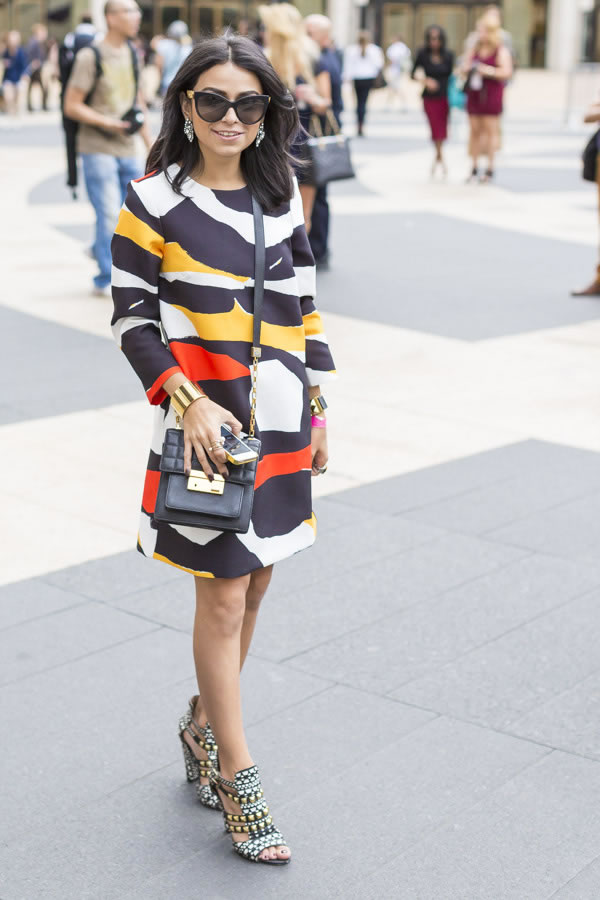 Loving the colors of this dress and great shoes!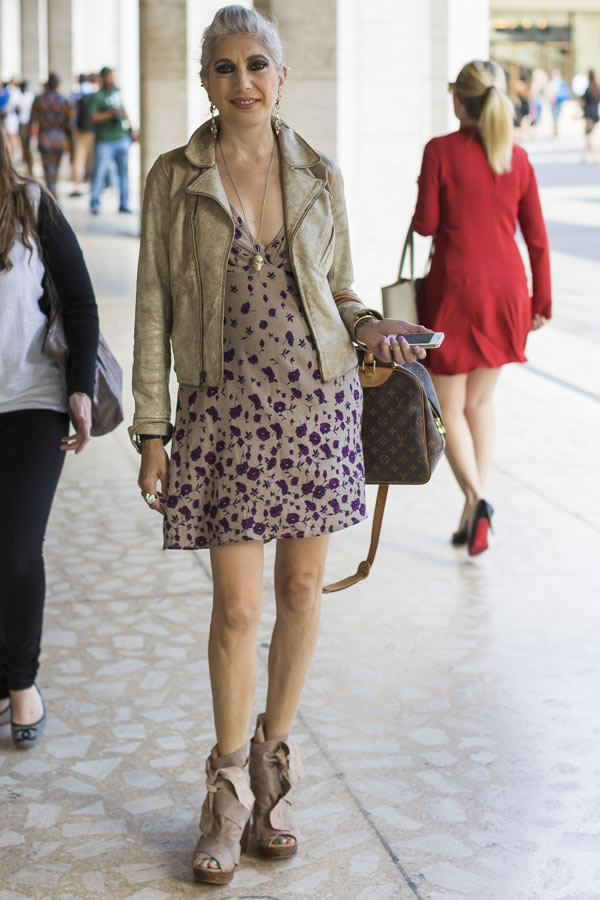 Love the young and hip vibe of this woman. The juxtaposition between the leather jacket and flowery dress and classic handbag makes for a very interesting look.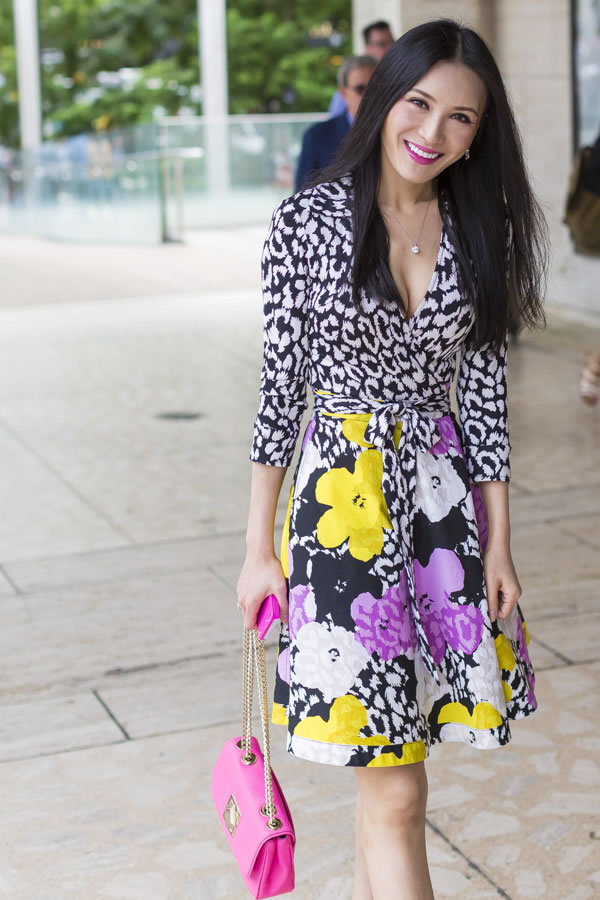 This woman's gorgeous smile is as bright and sparkly as her fabulous dress. Love the statement handbag.
Last but not least, I love the sculptural outfit of this chic woman and adore that necklace!
I asked a few other style experts who love to mix patterns on how they do it. Here is their advice:
Los Angeles based stylist Ali Levine:
"You don't necessarily have to stick to the same color, but try shades based around a central color palette or theme. The easiest being neutrals to build around. Once you've mastered putting prints together in blacks, browns, and even grays, it'll be much easier to step up to shades of purple, blues, reds, etc… and eventually mix up colors too!"
Singapore based Lindsay Narain, founder and designer of the women's label VAUGHAN:
"Stripes in a complimentary color palette will befriend your houndstooth without a second thought – especially if the two prints are contrasting in size (for example, a thick, bold stripe with a smaller houndstooth). Layer a striped sweater over your houndstooth blouse, or pair the latter with a horizontal striped skirt. If you keep it in the same color family, you can't go wrong."
Lauren Vacula (above), mixed print lover and fashion blogger at A Lovely Side Project:
"Take notice of the size of the prints you're working with. Pair a smaller print with a larger print (think thin stripes with bold florals) and vice versa (delicate polka dots with a substantial ikat print). Varying print scales will keep your outfit looking interesting instead of too busy."
Annette Harris, a Washington DC stylist and Certified Image Consultant
Annette trained under Stacey London, famous stylist and host of TLC's "What Not to Wear". She offers my favorite advice:
"Own the look! Looking confident is half the battle to stylishly mixing and wearing prints."
How will you mix prints this season?
Like this post on how to mix fashion prints and patterns? Share it on Pinterest!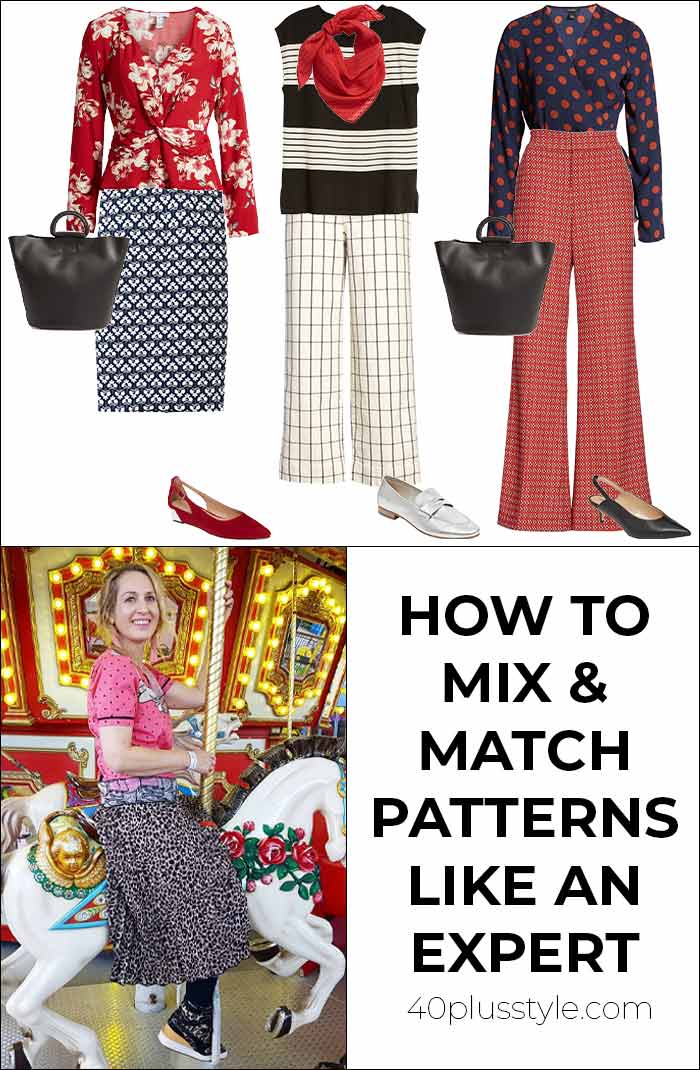 Streetstyle photos by Denton Taylor
Feature image by Megan
Want to get more articles from 40+style in your inbox, subscribe here.
You can also connect with 40+style on Facebook, Instagram or Pinterest.
Support 40+style by using the links in our articles to shop. As an associate for Amazon and many other brands, we receive a small commission (at no cost to you) on qualifying purchases which enables us to keep creating amazing free content for you. Thanks!