Printed pants are still on trend. But how to wear printed pants in a way that's not overwhelming and stylish?
How to wear printed pants
Printed pants are still very much in fashion and they are fun to wear.
However, I do see these pants as a trend that is not exactly within my personal style personality which is why I only own one pair of patterned pants.
Choosing the right printed pants for you
You may already love print pants, or you may not yet have a pair in your closet.
But, even if you've never worn printed pants, you are sure to be able to find a print which suits you.
If you love florals and have a romantic style personality, you could opt for beautiful flowers on your patterned pants, whereas if you have more of a classic style, you could choose polka dots, for example.
If your style tends to be more contemporary, then a striped or geometric pair might be for you, while if you love your style to have an edgier feel, you could choose an animal print.
Kim (above) wearing a striped wide leg pants to complete her casual look. You can check out this striped pair for a similar look.
There are so many options in so many different prints at the moment. And, the great thing is, they're all on trend, so it really doesn't matter which print you pick.
First, here are 10 of the best printed trousers to choose from
plaid pants
I always think plaid pants come into their own for fall and winter, when they look great teamed with rich autumnal shades and a pair of booties.
But, there are also plenty of stylish summer options out there.
I would simply choose a lighter weight fabric, rather than the heavier wool-blend you are likely to wear in winter, and opt for softer colors or a softer, more flowing shape such as a wide-legged style.
Rather than a traditional plaid, you could think about a windowpane or gingham check.
Bailey 44 plaid crop flare pants
Sally (above) wears checked trousers for a day-to-night look. Check out this pair of perfectly polished check pants here for a similar look.
striped pants
I love the look of striped pants right now. These are a great option if you aren't keen on florals or swirling prints.
Marks & Spencer striped ankle trousers
Erica (above) adds color to her look by wearing stripe pants featuring yellow and blue. Try this alternative to get her fantastic style.
Read more about Erica in her style interview.
floral pants
Floral pants are a classic style for summer vacations. But, if you opt for a style with a darker background, you will also find your pants are easy to take from day to evening.
You would wear with sandals for day, or you could add heels and a silk tank or shirt with a blazer for evening.
Danielle (above) wears a lovely pair of wide-legged floral printed pants. Here is an option to get this tie-waist pants look for yourself.
leopard pants
When you think about using print, leopard print is one of those all-time classics that will always remain on trend.
If you are thinking about a leopard print for summer, you could opt for a pastel or paler shade of leopard print, rather than the traditional brown, beige, black or orange.
Karen (above) wears a relaxed leopard print trousers. This is a style which would look great for summer or fall. Get a similar pair here.
snake print pants
Another classic print is, of course, snake print. In fact, over the past couple of seasons, snakeskin patterns have, arguably, been more on trend than leopard print.
These would work for summer but would also look lovely with a sweater and booties for winter and fall.
Alice + Olivia snake print skinny pants
printed jeans
If you live in jeans, you don't have to give them up in favor of printed pants.
There are plenty of jean options right now which have a print.
JEN7 by 7 for All Mankind floral skinny jeans
Hallie (above) is wearing a polka dotted track trousers from Madewell.
printed palazzo pants
A pair of printed palazzo pants is a very versatile option for your closet.
For summer, these could be a good vacation buy, but you could also dress them up for a more formal event by teaming them with heels and a stylish blazer.
Alena (above) looks chic in this paisley printed satin pants. Get a similar piece here.
printed flare pants
A pair of crop flares is a modern way to wear your printed pants.
For more ideas take a look at this piece on how to wear cropped pants.
patterned pants (if you don't like patterned pants)
Perhaps you don't see printed pants as a natural part of your style.
If that's the case, you could always opt to add a very subtle print instead of anything too flamboyant.
Ann Klein dot patterned trousers
If you are just thinking about dipping your toe in the water when it comes to printed pants, then choosing a very subtle pattern could be a way to feel more comfortable in the style.
Geometric printed trousers
If you aren't one for florals or more romantic patterns, you could always choose a geometric shape, which will sit well with your style if you have a Eurochic or an architectural style personality.
On the other hand, if you have more of a glam style personality, you may like a more flamboyant print.
Veronika (above) looks sophisticated in her green printed satin pants. Here is a pair of pants in a similar fabric with a nice print.
Patterned pants are a versatile option
The great thing about printed pants is that they are such a versatile option to add to your closet.
You could wear a pair of print pants and a blazer to work. Or, you can choose a pair to wear on the beach over your swimsuit on vacation.
Or, you can wear at a formal summer event. You could, for example, choose a beautiful floral pair of pants and team with heels and a silk top to wear at a wedding or a day at the races. They can be a stylish alternative to a dress.
What to wear with your print pants
Obviously, you need a top to go with your print pants. And, there are really two ways you can go. You can either opt for a plain top and let your pants do the talking.
Or, you can choose a patterned top, and have fun with some print mixing.
Plain tops to wear with your patterned pants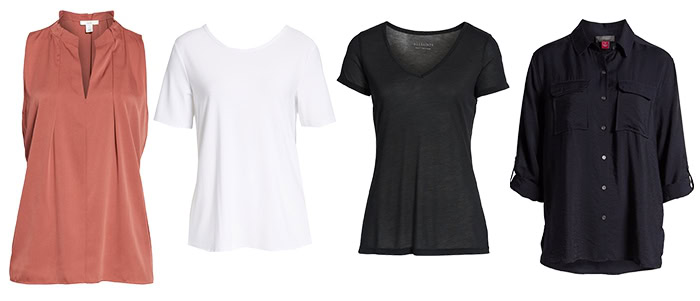 Lewit silk blend top – Halogen tie back top – AllSaints black tee – Vince Camuto utility shirt
Patterned tops to wear with your print pants
Eileen Fisher silk and cotton top – Tailored silk blend top – Lewit clip pattern blouse – Eileen Fisher stripe sweater
Shoes, bags and accessories to wear with your printed pants
Chocolat Blu sandals – Naturalizer booties – Madewell tote – Vessel tote – Kendra Scott pendant necklace – Kendra Scott hoop earrings
9 patterned pants outfits featuring the pieces above
Read our ultimate guide to creating a capsule wardrobe that works best for you.
What you wore!
The wardrobe mistress (via Sunny from Home-Where Story begins) is wearing very ingenious printed pants (below).
She wears a pair of "Flip-Side" reversible jeans; floral on one side, plain on the other with a lipstick-red vintage top, accessorized with a hat from Wild Bills Emporium, Dexter navy flats, Indian fabric purse and miscellaneous jewelry.
Get a similar pair of floral jeans here.
Alice (Happiness at Midlife) is a true print mixer (below). See how fun and chic these printed pants look with her printed tops!
You can check out this similar pair of leopard print pants from Blank NYC (above) and these geometric patterned pants (below) if you want to cop Alice's style.
Gitte (below) wears a checkered pants with a belt. Here is an alternative you can check out that is in a different colorway.
Abi (below) paired her camouflage pants with sneakers and a blazer and it looks great! Copy this style with this similar pair of pants.
In summary here are some brief guidelines on how to wear printed pants
Smaller or more one toned prints are easier to wear and combine. These kind of pants can also easily be mixed with other prints on top.
The smaller the print, the more slimming the look.
A great way to wear printed pants is wear a neutral one color top. It is my preferred way to wear printed pants.
Printed pants can easily be dressed up or down. Just wear a t-shirt for a very casual look or a fancier top and blazer for a more chic look.
Cropped printed pants look great with heels to elongate the legs.
If you are afraid of tiring of the print too quickly, buy reversible pants!
Do you like this casual outfit formula featuring patterned pants? Which of the above looks is your favorite?
Like this article on patterned pants? Share it on Pinterest
Feature image by Gitte
Want to get more articles from 40+style in your inbox, subscribe here.
You can also connect with 40+style on Facebook, Instagram or Pinterest.
Support 40+style by using the links in our articles to shop. As an associate for Amazon and many other brands, we receive a small commission (at no cost to you) on qualifying purchases which enables us to keep creating amazing free content for you. Thanks!