Printed pants are very much on trend this summer. But how to wear printed pants in a way which is chic and stylish rather than being overwhelming?
How to wear printed pants
Printed pants were seen on many of the designer runways this season, and they are fun to wear.
However, I do see these pants as a trend that is not exactly within my personal style personality which is why I only own one pair of patterned pants.
Below are some of the printed pants styles seen on this season's catwalks, varying from tropical prints, to glamorous florals through to retro styles with more than a nod to the 70s.
Dolce & Gabbana – Dries Van Noten – Paco Rabanne – Marc Jacobs
Choosing the right printed pants for you
You may already love print pants, or you may not yet have a pair in your closet.
But, even if you've never worn printed pants, you are sure to be able to find a print which suits you.
If you love florals and have a romantic style personality, you could opt for beautiful flowers on your patterned pants, whereas if you have more of a classic style, you could choose polka dots, for example.
If your style tends to be more contemporary, then a striped or geometric pair might be for you, while if you love your style to have an edgier feel, you could choose an animal print.
There are so many options in so many different prints at the moment. And, the great thing is, they're all on trend, so it really doesn't matter which print you pick.
Tips for wearing printed pants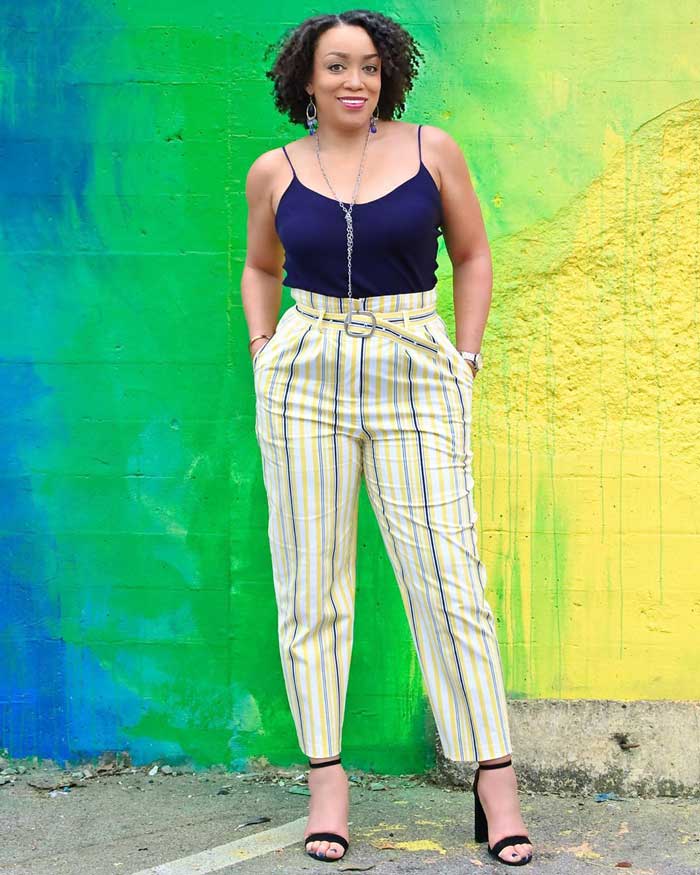 To ensure that you look fabulous in your patterned pants, below are some of the factors to consider when choosing a pair of printed trousers, or putting together an outfit from your closet.
Erica (above) adds color to her look by wearing stripe pants featuring yellow and blue. She opts for a classic way to wear printed pants by choosing a top which picks out one of the colors in her trousers.
Recreate her outfit with this similar top, belted pants, ankle strap sandals, necklace and earrings.
1. Printed pants are fabulous for summer
Of course, you can wear printed pants whenever you want to, at any time of year. But, they are a style which particularly lend themselves to the summer months. Add a pair of sandals and a tank top and you're ready to go.
2. Color coordinate
An easy way to make sure your bold pants outfit looks coherent is to ensure you are coordinating your colors. Pick one color in your pants and use this shade for you top. You could pick another color for your shoes and accessories.
3. If in doubt, wear with a plain top
If you ever aren't sure what to wear with your printed pants, the easiest look to create is to wear a solid color top.
4. Keep the size of the print in mind
One of the reasons that printed pants can be tricky to wear is because of the type and size of print you may choose. You can go big and bold, but you could find your pants look like they are wearing you rather than the other way round.
Big prints can also draw the eye across, making you look wider than you are. One print you could choose if you are concerned about this is a vertical stripe, or you could choose a smaller print such as a small polka dot.
5. Pattern mixing
If you do decide to go bold with your pants, you could create a real statement with your whole outfit by pattern mixing. For tips on which patterns and prints go with each other take a look at how to print mix like a pro.
6. Keep your whole look balanced
As with any outfit, it's important to think about creating a flattering silhouette. Many printed pants come in wide, flowy styles, meaning you are likely to look better with a more fitted top. Or, if you opt for skinny, printed jeans, you could choose a wider tunic, for example.
15 of the best printed pants & trousers to choose from
Now that you are thinking about the type, color and style of printed pants you may like, below are 15 of my favorites in stores now. While I only have one pair of printed pants in my closet at the moment, these may persuade me to add another!
1. Plaid pants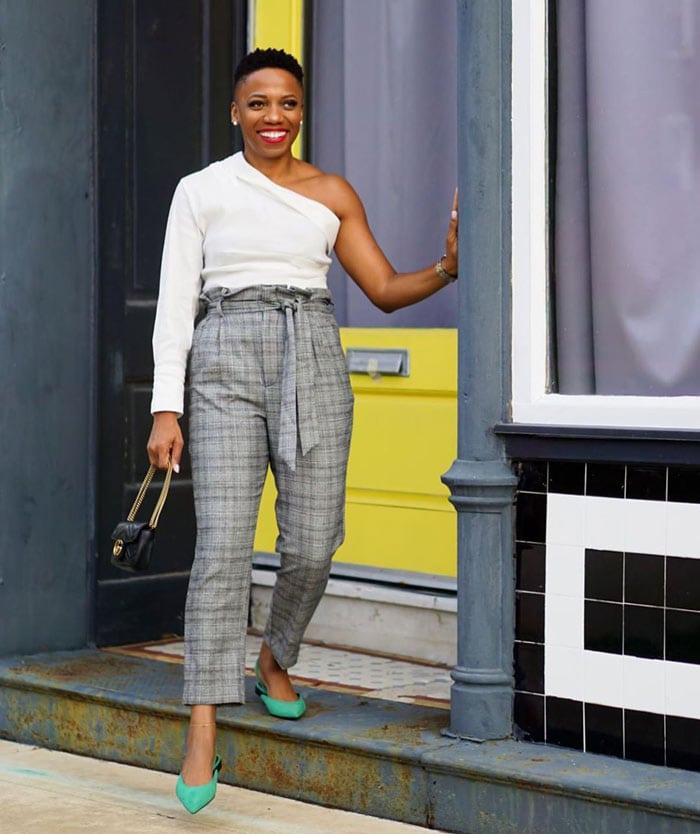 I always think plaid pants come into their own for fall and winter, when they look great teamed with rich autumnal shades and a pair of booties.
But, there are also plenty of stylish summer options out there, as demonstrated perfectly by Psyche (above). I love the way she has added a fresh pop of color to her outfit with her low-heeled pumps.
Get her look with this Gucci bag, similar one shoulder top, pants and sandals.
I would simply choose a lighter weight fabric, rather than the heavier wool-blend you are likely to wear in winter, and opt for softer colors or a softer, more flowing shape such as a wide-legged style.
Rather than a traditional plaid, you could think about a windowpane or gingham check.

Nordstrom plaid ponte crop leggings
2. Geometric printed trousers
If you aren't one for florals or more romantic patterns, you could always choose a geometric shape, which will sit well with your style if you have a Eurochic or an architectural style personality.
On the other hand, if you have more of a glam style personality, you may like a more flamboyant print.

Marks & Spencer geometric cropped trousers
3. Striped pants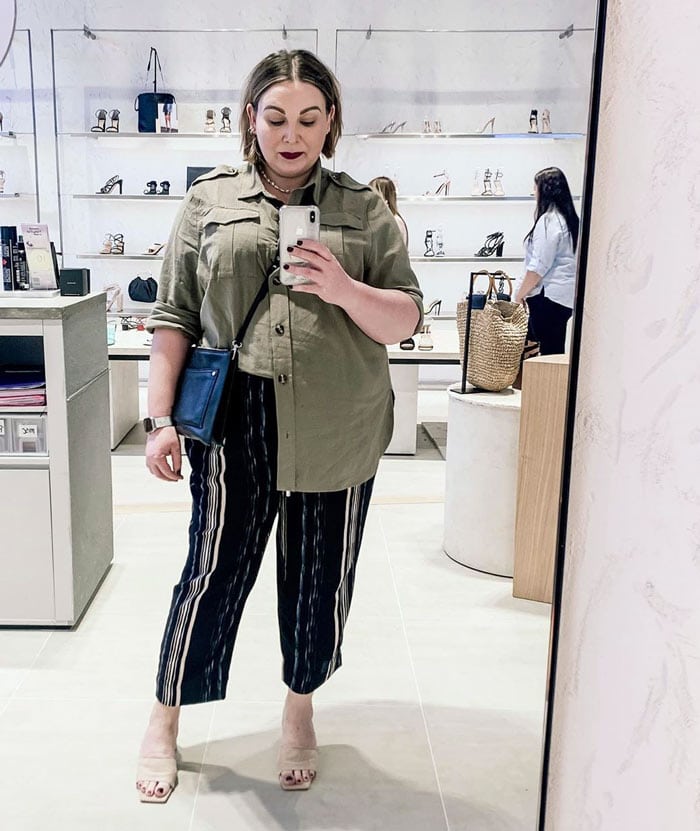 I love the look of striped pants right now. These are a great option if you aren't keen on florals or swirling prints.
Sara (above) shows off a half tuck with her stripe pants.
Check out this similar shirt, pants, sandals and crossbody bag.

Marks & Spencer striped trousers
4. Floral pants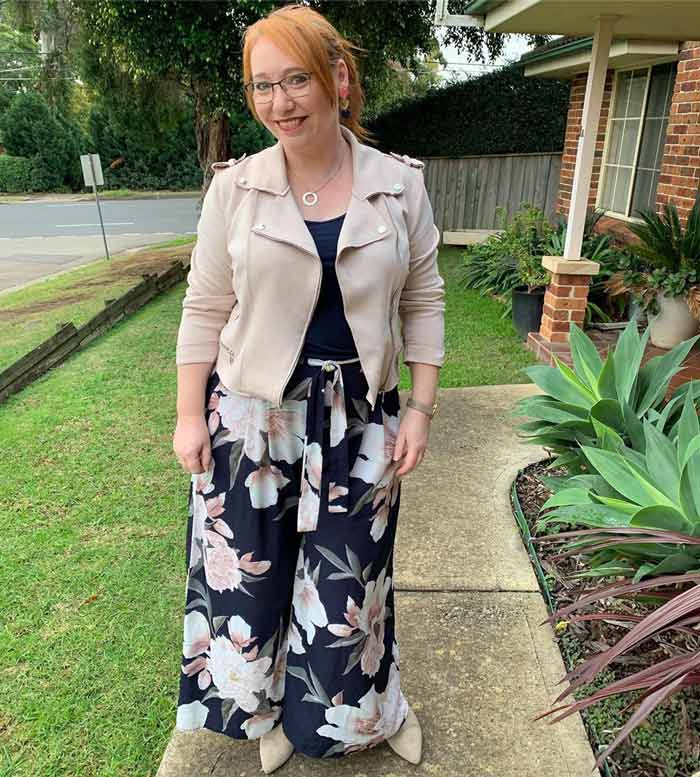 Floral pants are a classic style for summer vacations. But, if you opt for a style with a darker background, you will also find your pants are easy to take from day to evening.
You would wear with sandals for day, or you could add heels and a silk tank or shirt with a blazer for evening.
Danielle (above) wears a lovely pair of wide-legged floral printed pants and adds a moto jacket for extra warmth.
Check out this similar moto jacket and pants to recreate her look.

5. Printed skinny jeans
If you live in jeans, you don't have to give them up in favor of printed pants.
There are plenty of jean options right now which have a print.

6. Gingham pants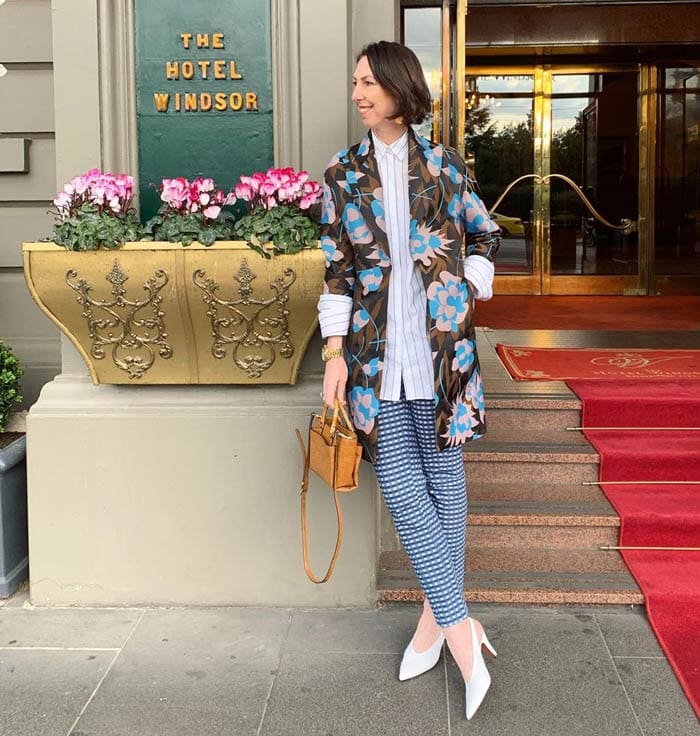 Sally (above) displays a lesson in perfect print mixing. She mixes checks, stripes and florals. However, her outfit remains harmonious because she sticks to a color palette.
Check out this similar shirt, pants, jacket, slingback pumps and handbag.

7. Summer print trousers
One of the biggest trends seen on the catwalks for summer 2020 was tropical and palm prints. You could always keep the rest of your outfit neutral and pair with black or white.

Marks & Spencer palm print tapered trousers
8. Leopard pants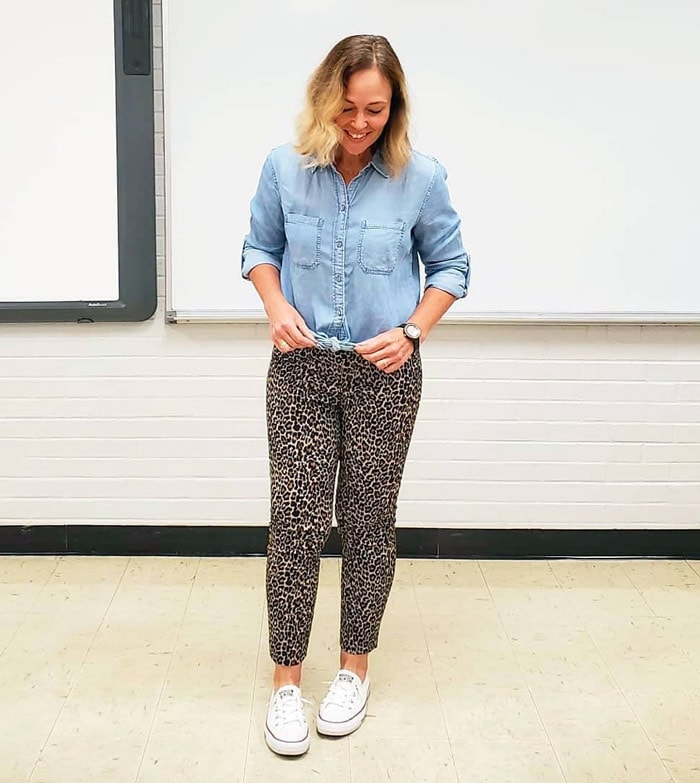 When you think about using print, leopard print is one of those all-time classics that will always remain on trend.
Jenny (above) teams her leopard print pants with a denim shirt and sneakers for a stylish, casual look.
Steal her look with this similar denim shirt and pants, and wear with a pair of Converse sneakers.

9. Pleated pants with print
If you usually love the look of a maxi skirt, then a pair of wide-legged pleated pants could be a great style to try.

10. Polka dot trousers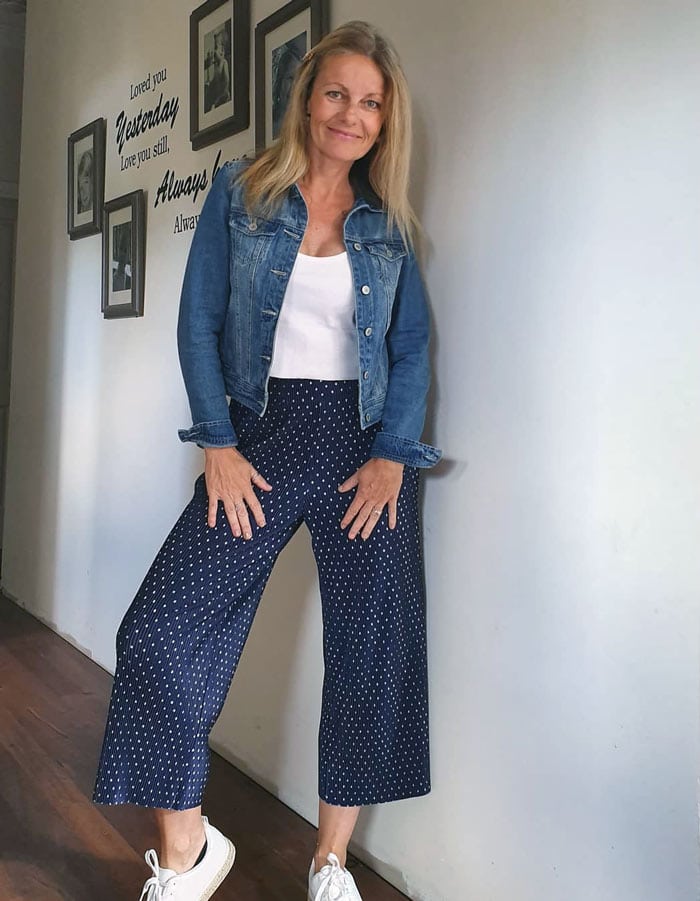 Polka dots are another print that is always on-trend, so you can be sure you will wear your polka dot pants for many years to come.
Shelley (above) adds casual flair to her polka dot pants with her denim jacket and sneakers.
Check out this similar denim jacket, wide leg pants and sneakers.

Alice + Olivia wide leg trousers
11. Beach pants
If you're looking for a beach cover-up, then a pair of printed pants can be a great option. You can pop them over your swimsuit and head for lunch (just as soon as we are all able to travel, of course).
There are more flattering beach cover-up ideas in this article.

Mountain Warehouse printed beach pants
12. Linen pants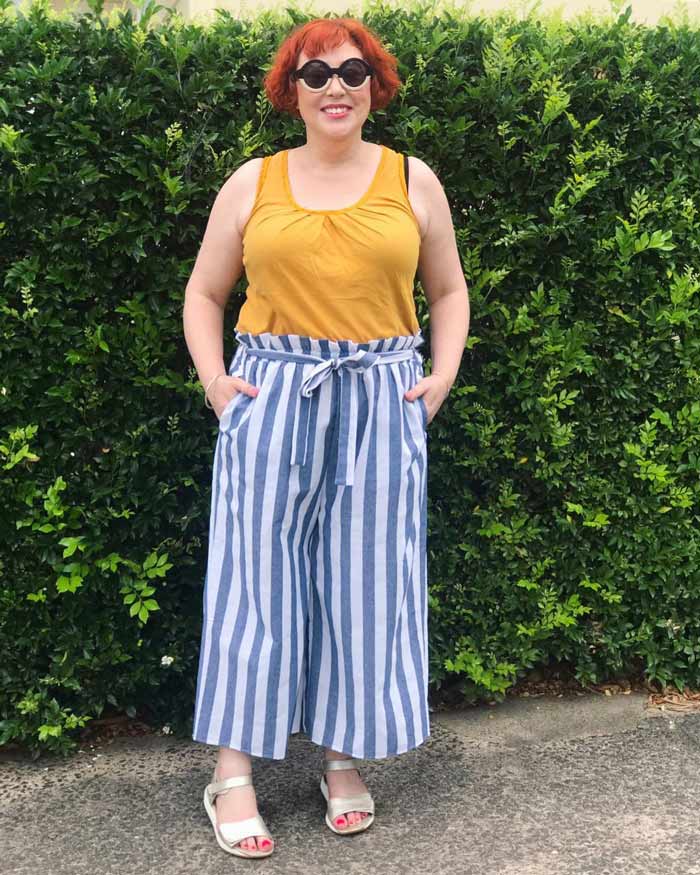 If you're looking for a pair of printed pants for summer, linen is always a great option.
Kimba (above) wears a pair of striped wide leg pants to complete her casual look.
Check out this tank top and striped pants for a similar look.

13. Palazzo pants
A pair of printed palazzo pants is a very versatile option for your closet.
For summer, these could be a good vacation buy, but you could also dress them up for a more formal event by teaming them with heels and a stylish blazer.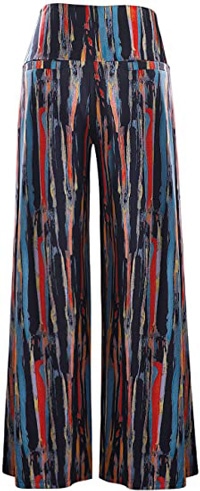 Arolina wide leg palazzo lounge pants
13. Printed silk blend pants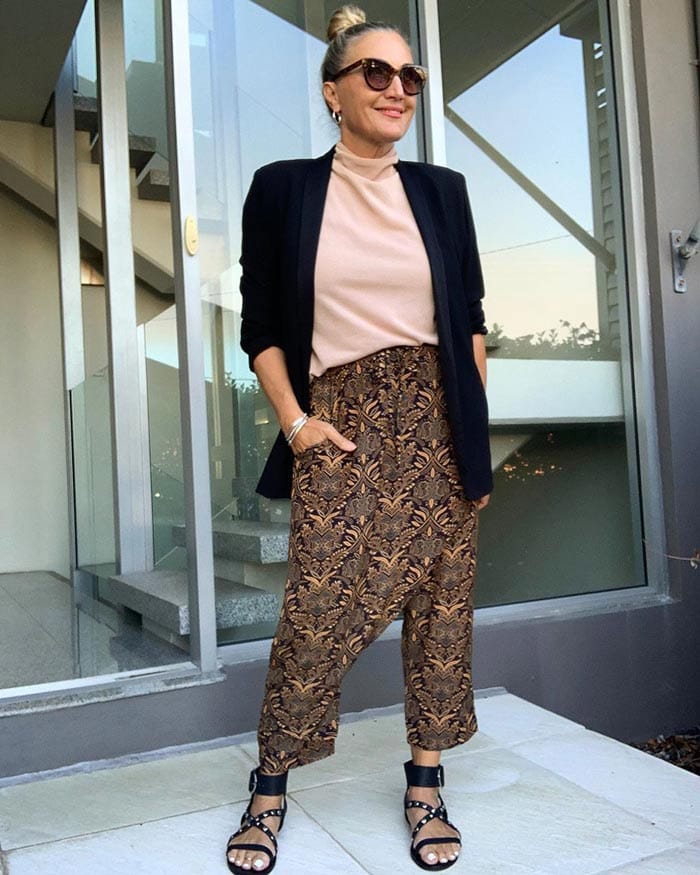 Silk, or a silk blend is another lovely fabric choice to stay cool during the summer. Melinda (above) chooses a stylish pants/skirt hybrid.
Recreate her outfit with this similar turtleneck top, blazer, printed pants and sandals.

Rebecca Taylor paisley fleur silk blend pants
15. Satin pants
For a more formal look, how about a pair of satin printed pants. If you are looking for an outfit for a special occasion, you would always choose a pair of patterned pants rather than a dress or skirt.

Lafayette 148 New York floral satin wide leg pants
Patterned pants are a versatile option
The great thing about printed pants is that they are such a versatile option to add to your closet.
You could wear a pair of print pants and a blazer to work. Or, you can choose a pair to wear on the beach over your swimsuit on vacation.
Or, you can wear at a formal summer event. You could, for example, choose a beautiful floral pair of pants and team with heels and a silk top to wear at a wedding or a day at the races. They can be a stylish alternative to a dress.
What to wear with your print pants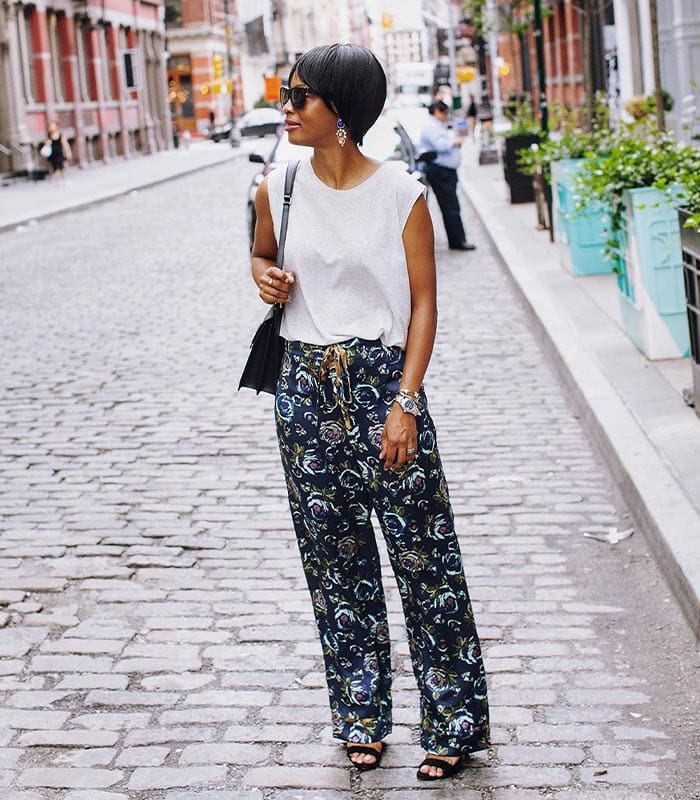 Obviously, you need a top to go with your print pants. And, there are really two ways you can go. You can either opt for a plain top and let your pants do the talking.
Or, you can choose a patterned top, and have fun with some print mixing.
Kim (above) shows how perfectly a white t-shirt can go with printed pants.
You can try out these satin pants from Lafayette 148 New York and wear with this similar shirt and bag.
Plain tops to wear with your patterned pants

Halogen v-neck blouse – 7 For All Mankind silk blend shirt – Vince silk boxy top – VERO MODA flutter sleeve blouse
Patterned tops to wear with your print pants

Halogen v-neck blouse – Nordstrom Signature button-up shirt – SeSe tunic blouse – All in Favor floral satin top
Shoes, bags and accessories to wear with your printed pants

Jewel Badgley wedge sandal – Sole Society slide sandal – Nordstrom leather clutch – Clare V. embossed leather clutch – The Marc Jacobs mini leather tote – Set & Stones drop earrings – Kendra Scott drop earrings – Loren Stewart sphere drop earrings
9 patterned pants outfits featuring the pieces above
Below you can see many of the printed pants featured above put together into a capsule. There's a mixture of looks, showcasing plain tops along with a little pattern mixing.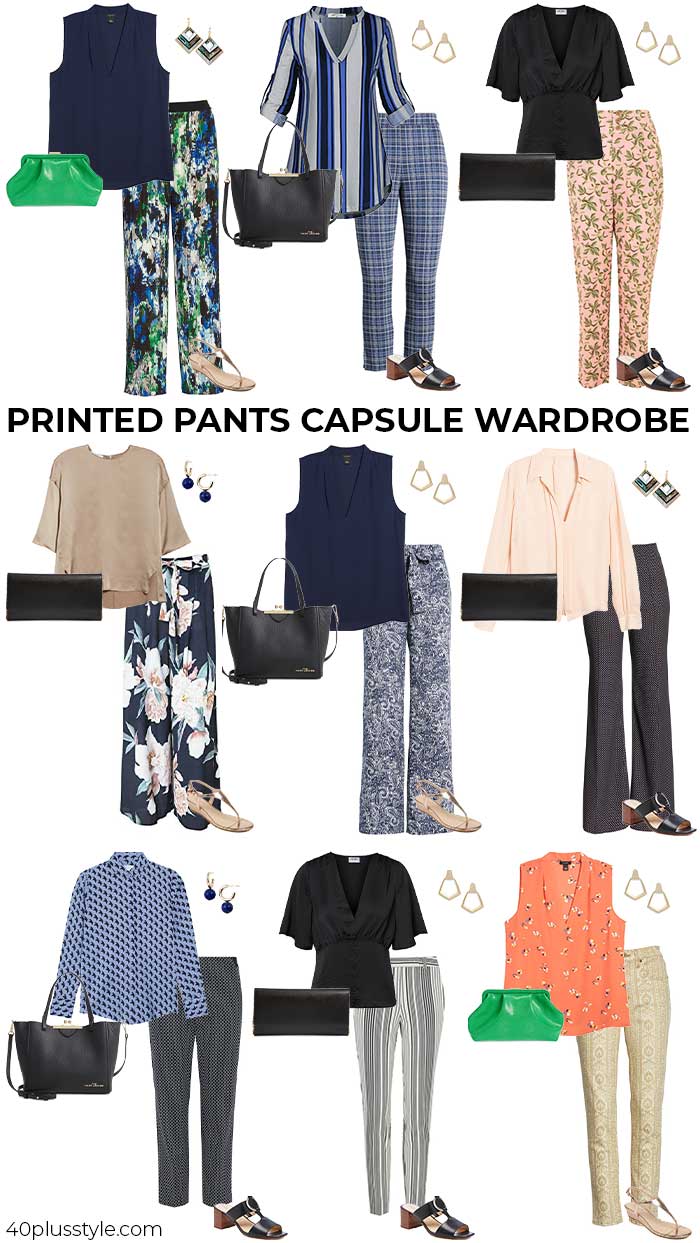 More print pants inspiration
the outfits below are past season, but you can see that printed pants are a timeless buy as these would all look just as hip now.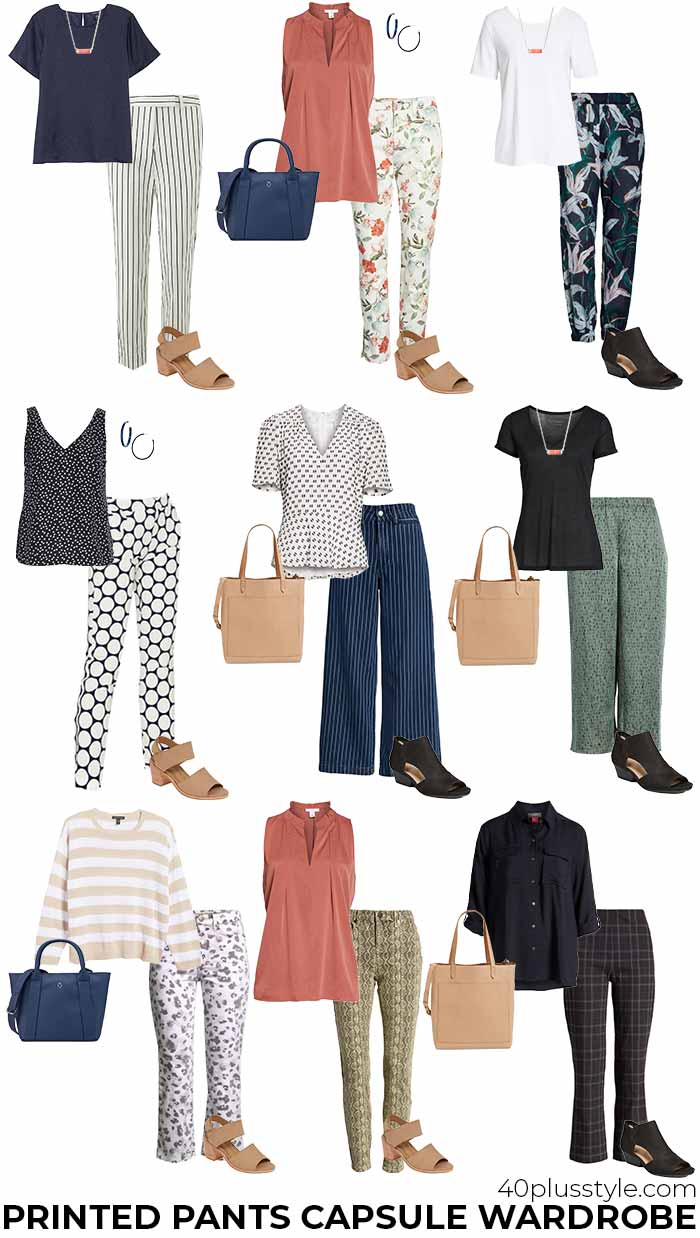 Read our ultimate guide to creating a capsule wardrobe that works best for you.
In summary here are some brief guidelines on how to wear printed pants
Smaller or more one toned prints are easier to wear and combine. These kind of pants can also easily be mixed with other prints on top.
The smaller the print, the more slimming the look.
A great way to wear printed pants is wear a neutral one color top. It is my preferred way to wear printed pants.
Printed pants can easily be dressed up or down. Just wear a t-shirt for a very casual look or a fancier top and blazer for a more chic look.
Cropped printed pants look great with heels to elongate the legs.
If you are afraid of tiring of the print too quickly, buy reversible pants!
Do you like this casual outfit formula featuring patterned pants? Which of the above looks is your favorite?
Continue reading:
Like this article on how to wear printed pants? Share it on Pinterest!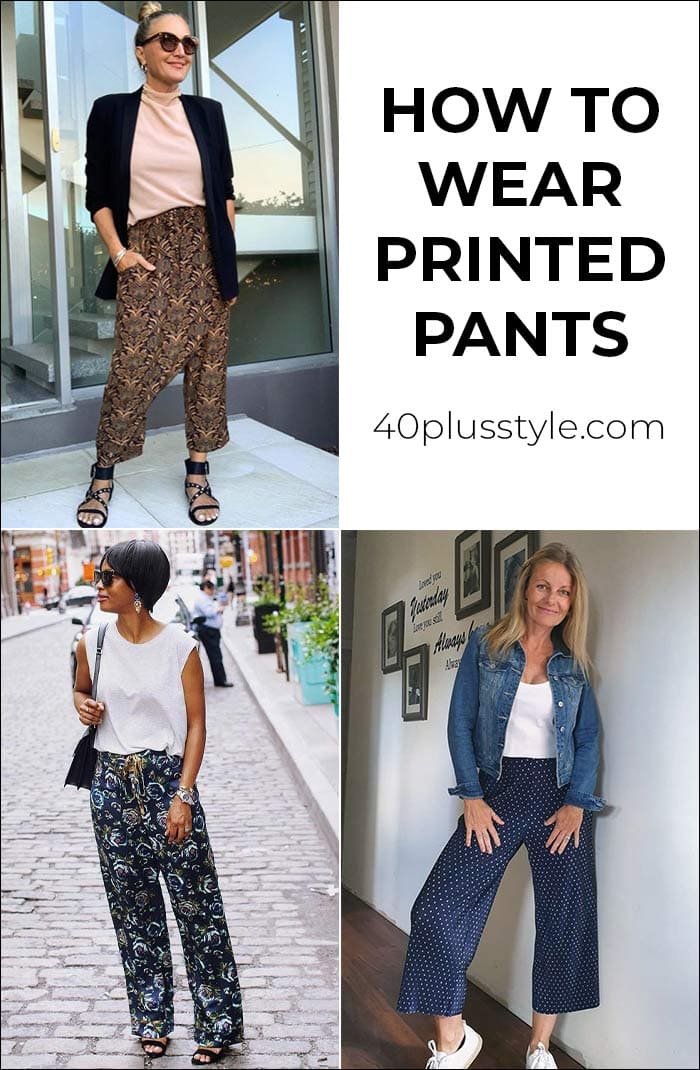 Feature image by Kim
Want to get more articles from 40+style in your inbox, subscribe here.
You can also connect with 40+style on Facebook, Instagram or Pinterest.
Support 40+style by using the links in our articles to shop. As an associate for Amazon and many other brands, we receive a small commission (at no cost to you) on qualifying purchases which enables us to keep creating amazing free content for you. Thanks!