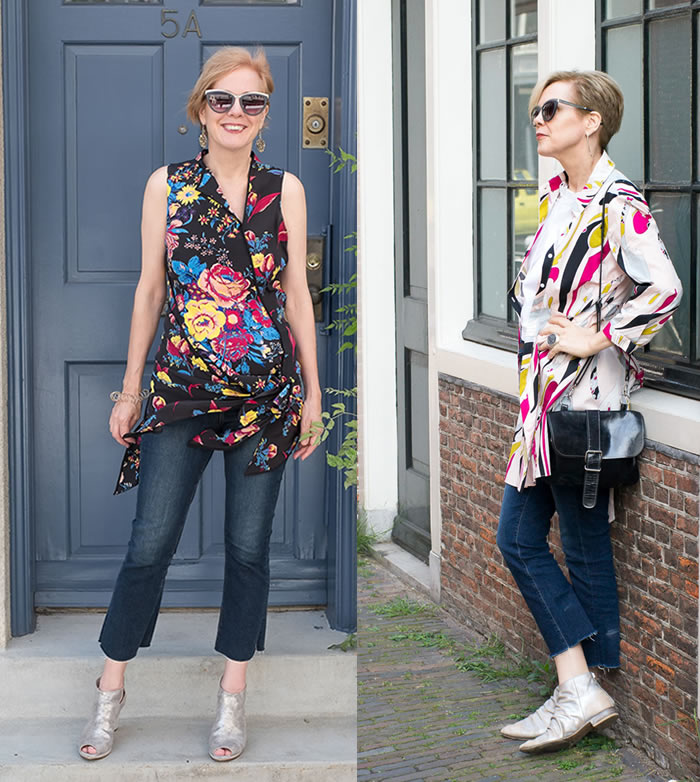 An update to my popular article on cropped pants and capris as they are still very much on trend!
Capris and cropped pants are notoriously hard to wear and they can be unflattering on many women. Yet shops are currently full of these cropped pants and the trend is continuing into summer and fall 2018 with wider cropped pants getting increasingly populr. Should you wear them anyway? And if yes, how can you wear capris?

Why can capris be unflattering?
Capris are cropped pants that stop above the ankle but usually well below the knee. They are different from cropped pants like bermudas which stop above the calf and are less challenging to wear.
Why can capris be  unflattering:
First and foremost they shorten your legs! For almost all women a silhouette with a longer leg line is more flattering.
They can highlight chunky calves as they are likely to end at this part of your leg.
So why are they so on trend right now?
Figure flattery is usually not on top of the list of designer's priorities so here are some of the reasons:
The overall look of capris tends to be quite trendy
They are playful and geeky
They can be sexy too with the revealing of the ankle bone
They look fabulous with booties, which are still very much on trend for 2018.
They are more associated with fun and style
They keep you cooler in summer
How to wear capris?
If you like the trendy and playful vibe of capris and decide to wear them, how can you do so while maintaining a flattering silhouette?
Here are some guidelines that will help.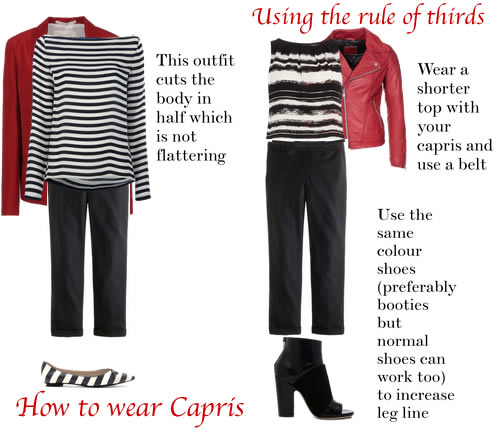 For the most flattering look make sure that your capris are tapered. If they follow the natural leg line they will look much better. If you like the look of wide trousers (I do) then go for a full leg, but for cropped pants and capris I stay to a very tight leg line.
One way to overcome the leg shortening effect is to wear higher heels. Wide cropped pants especially look better with heels.
Try to create a rule of thirds with your dressing. Your top part is usually 1/3 and your bottom part 2/3. But you can also create a 2/3 top 1/3 bottom silhouette. You achieve the 1/3-2/3 look by tucking in your top of the cropped pants. I also like to wear my capris with a long tunic or dress which creates the 2/3-1/3 silhouette.
If there is not too much contrast between your shoes and your legs, your legs will appear longer. Shoes without straps are more leg lengthening as well. You will see that I don't follow that rule so much myself as I prefer my high heel shoes with straps. I feel this still works when I wear heels, but if your legs are very short you may want to apply this tip as well.
Higher booties are very effective with cropped pants and stop the shortening effect of cropped pants, especially if you choose them in the same color as your pants.
When wearing cropped pants that are flared or wider, be sure to wear a shorter top. High waisted cropped pants look fabulous with tops that end at the waist. For more tips read this article on how to wear wide cropped pants.
Who should not wear capris or cropped pants?
Of course everyone can wear them, but if you like to have a flattering silhouette I would advise on not wearing capris when:
You have very short legs.
Your legs are proportionally short to the rest of your body and you're not wearing heels or a very short top (for more info see also vertical body types).
In principle though, almost everyone can wear capris or cropped pants so long as you take your body into account and make adjustments accordingly to create the silhouette that flatters your body and proportions.
What to wear with your capris?
To give you some ideas on how you can wear capris and cropped pants I will show you some of mine. To make it extra fun I will show you both the capri / cropped pants version of an outfit and a version in which I wear normal length pants.
In both photos I'm wearing the same shoes, so you can see the exact difference. You be the judge on what looks best or which look you prefer! These images are older, but I thought I would still include them here as they illustrate the difference between full length pants and cropped pants so clearly.
Combine capris with a tunic or short dress
This is one of my favorite ways to wear capris. I like the 2/3 – 1/3 silhouette it creates and capris certainly make this a more trendy look.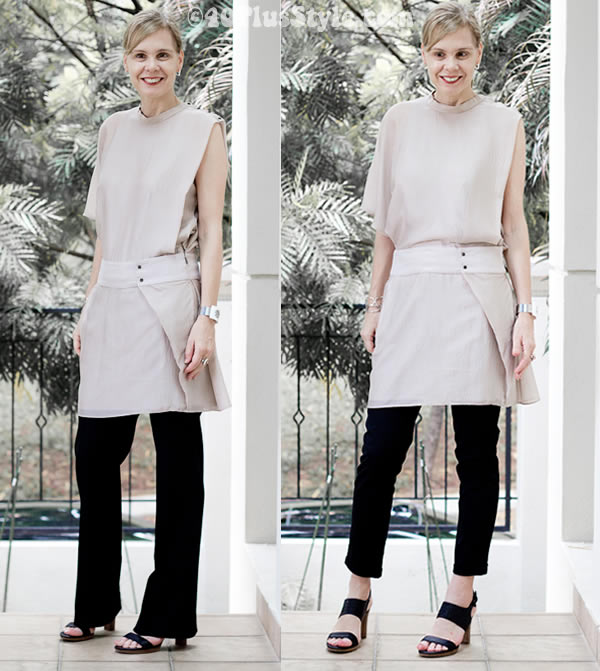 Calvin Klein short dress / tunic with Zara long pants and Zara capris

Wear with a short or tucked in top
Capris usually look good with a funky top tucked into your trousers. The bulkiness at the top of these particular white capris add a bit more fun to the look. Why not add a polkadot belt as well for even more fun! You can clearly see that the cropped pants here create a more trendy and quirky look as well if that is what you are after. Please note that my wide pants are too short for these high heels. My legs would look much longer if the pants almost reached the ground as they should do!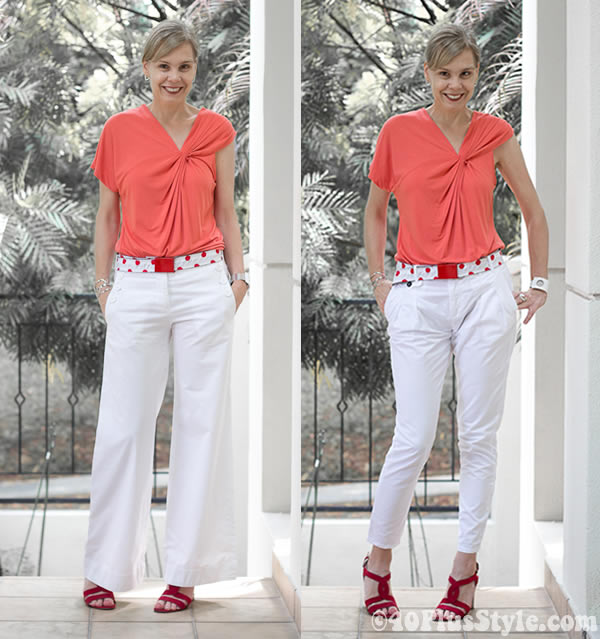 Orange top from Alldressedup, paired with (left) wide legged Kookai pants and (right) Zara cropped white pants

Wear them in an elegant, classic way with a statement necklace
This look is more elegant and classic in my opinion, caused partly by the simple black and white combination and the woollen fabric of the capris. The necklace makes this outfit hipper.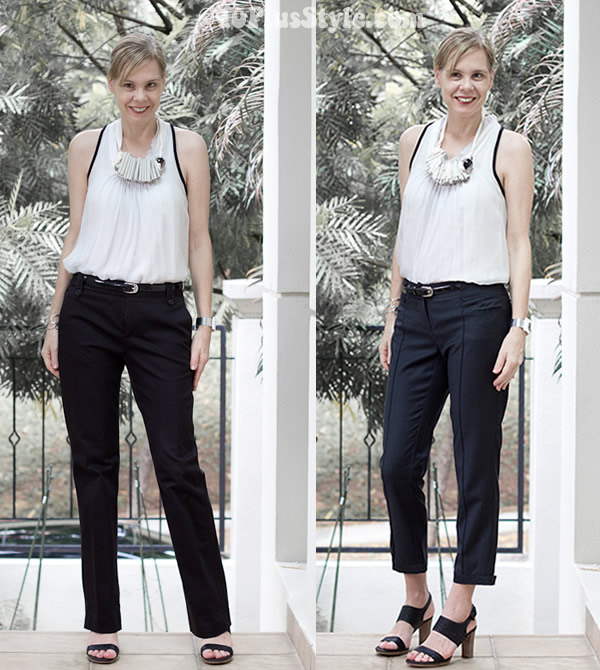 Silk top and necklace from Alldressedup. Pants (left) from kookai and (right) Alledressedup

Give them a bit of a bohemian look
This tunic / short dress gives the capris a more boheminan feel, even more so when it is combined with long wider pants.
Dress bought in Seminyak, Bali, pants (left) unknown (right) Zara, necklace Alldressedup, shoes Zara

How to wear capris and cropped pants – lots of ideas!
Cropped flare pants
These are my favorite cropped pants right now. They are my cropped flare jeans by Paige.  (these are similar) I wear these with longer tops and sorter ones, with jackets and without. They look great with different types of shoes too. (for more of my favorite jeans brands and favorite ways to wear them check out my article on how to wear jeans over 40).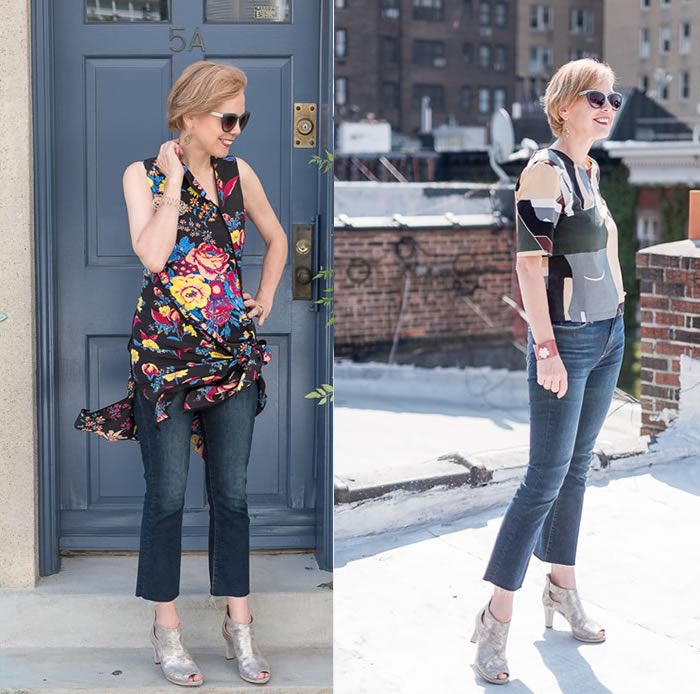 Wide cropped jeans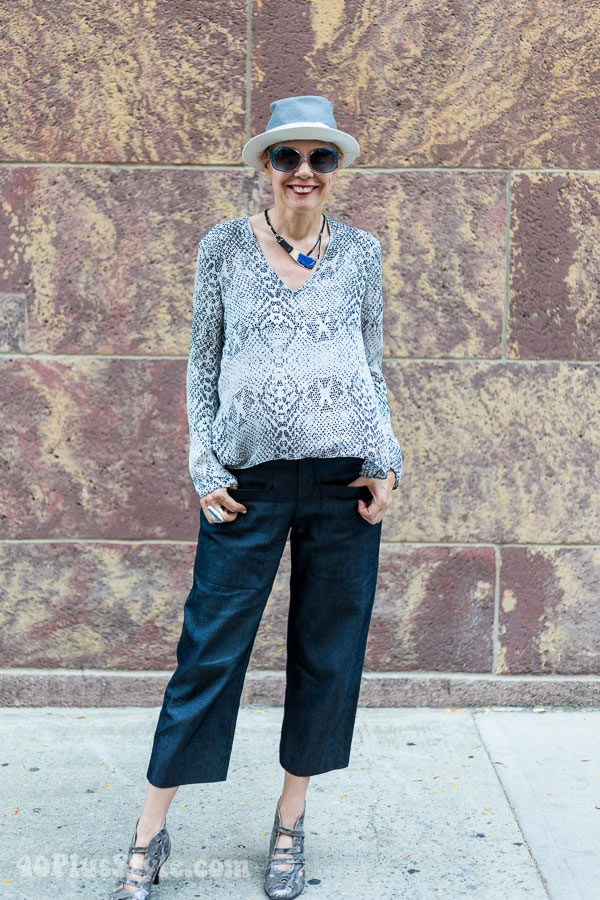 Despite its leg shortening characteristics I have embraced wide cropped pants for a few of my looks. Wearing them is even more challenging than normal cropped pants but what all my looks have in common is that the top is short in the front or tucked in.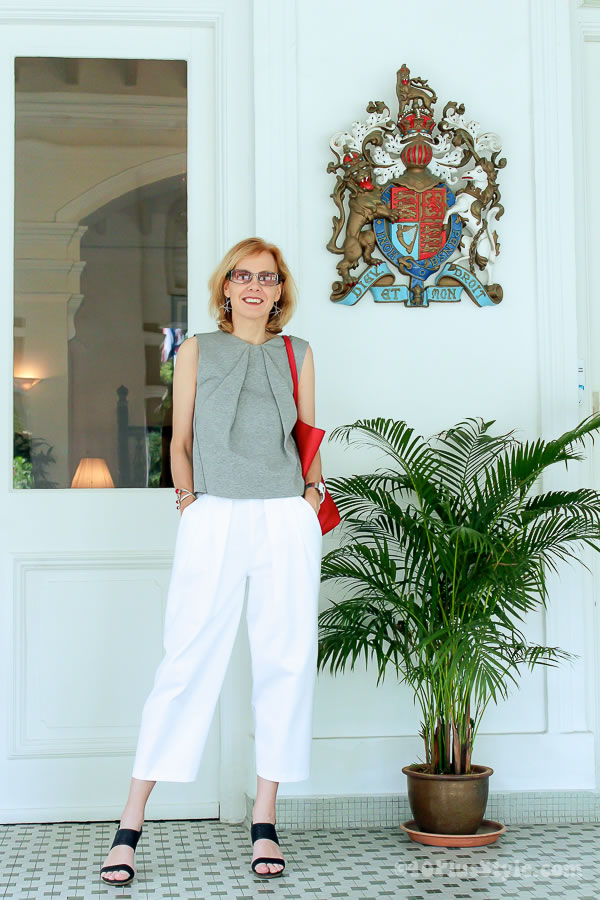 I feel that is essential with wider cropped pants like these ones in order to keep a streamlined and flattering silhouette. Cropped pants will always be more challenging to wear than full-length pants and wider cropped pants even more so.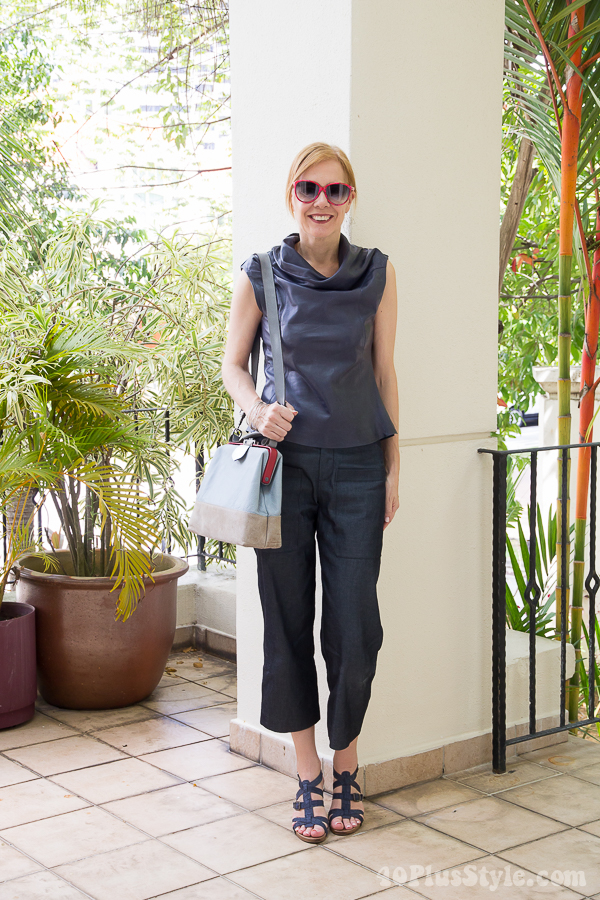 What you want to do, is to try and achieve the right balance within your outfit to come closer to the golden ratio in dressing and create a balance that comes close to 1/3 – 2/3 (a concept I explain in a lot more detail in my style course). That way you can achieve an overall silhouette that is at least flattering enough and will allow you to wear outfits that are currently fashionable or just fun to wear.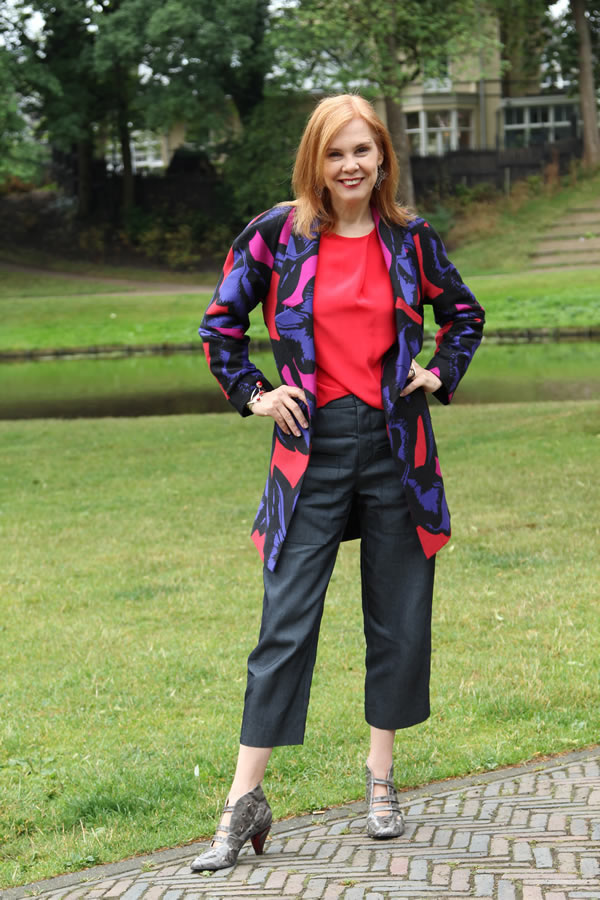 Skinny cropped pants
Below are a few more examples of how I have worn capris and cropped pants recently and in the past.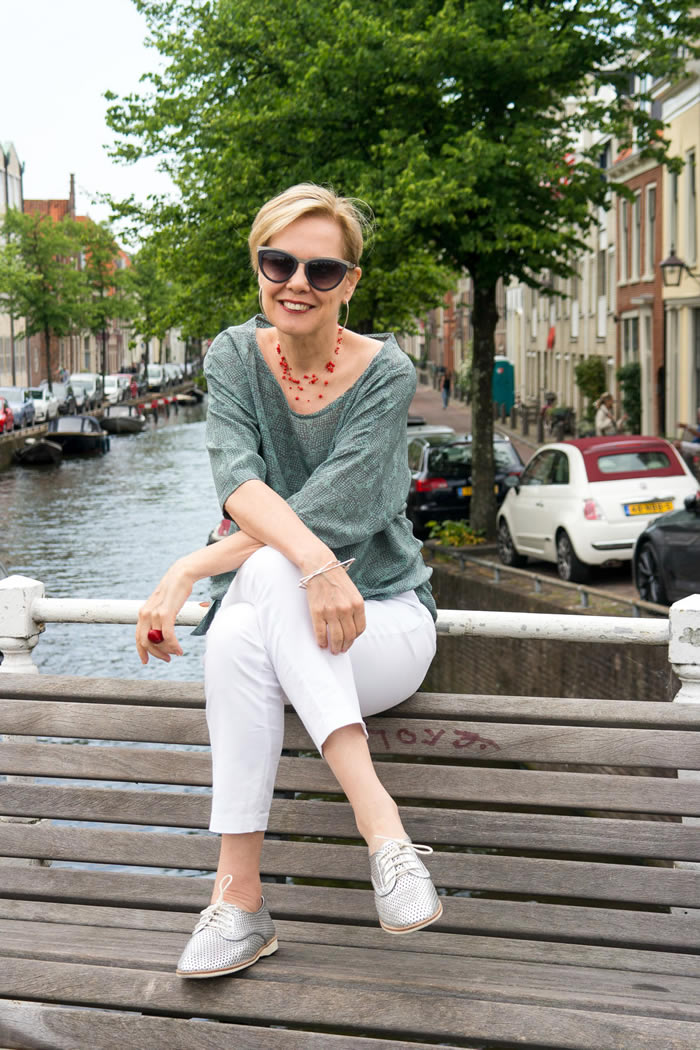 My white Zara cropped pants are still going strong. Here worn with my new Rollie shoes which are super light weigh (highly recommended).
With longer tops
With a simple top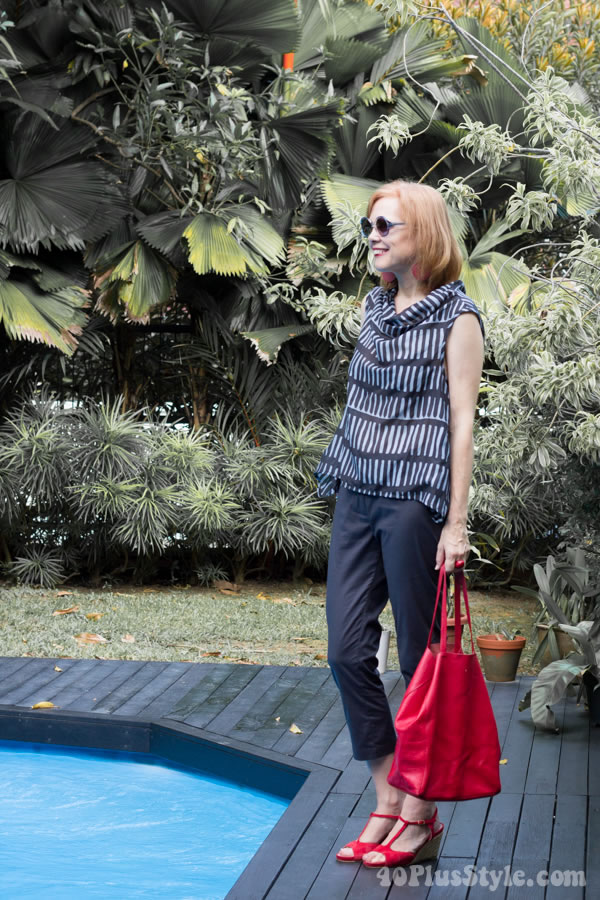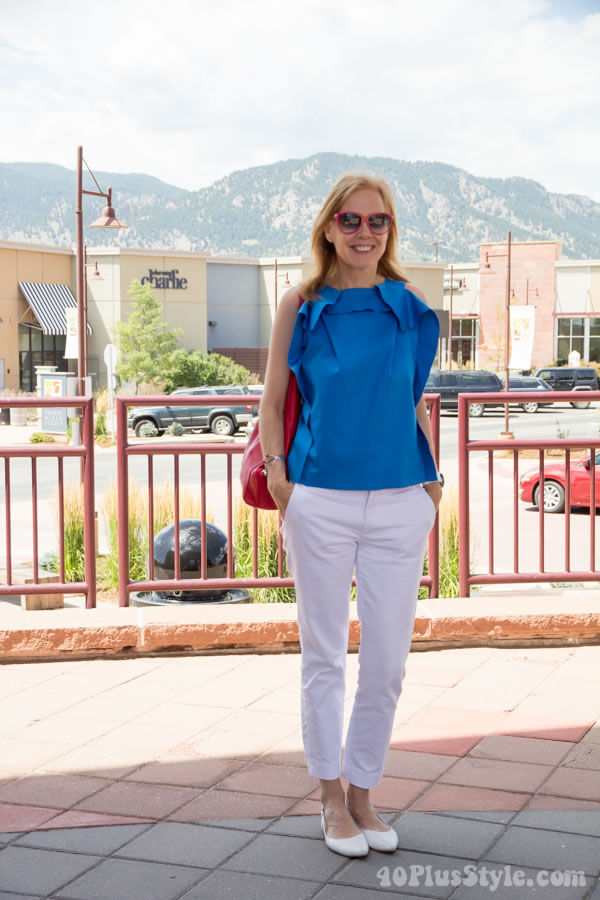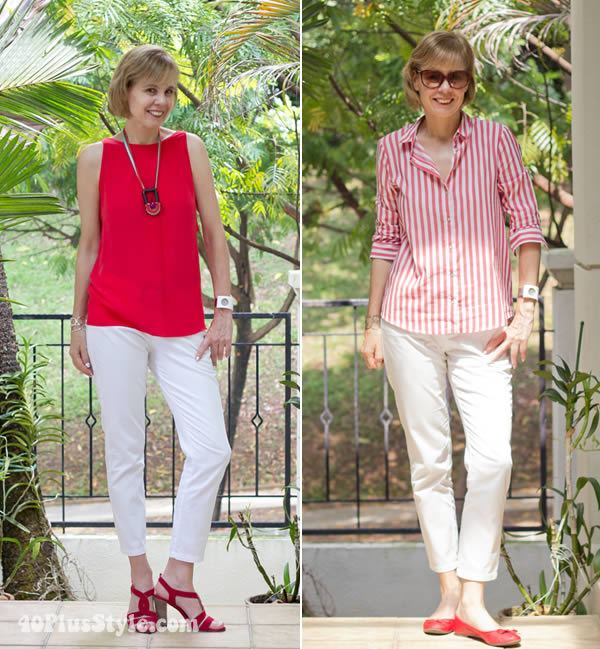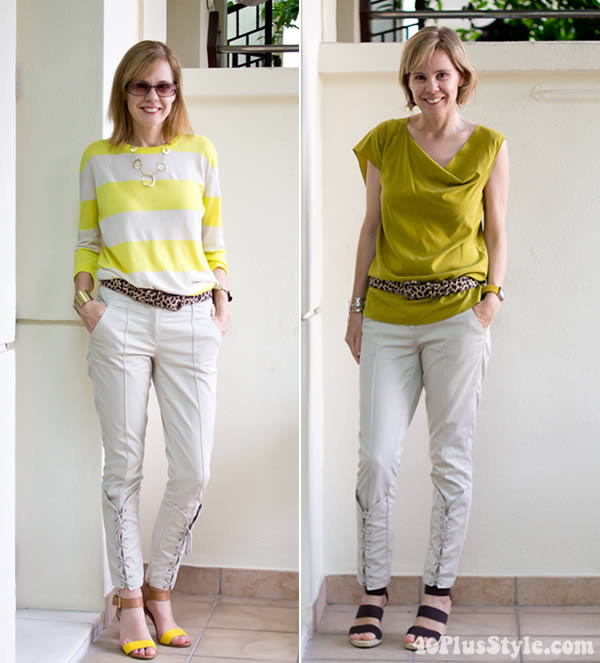 Capris worn with tunics or short dresses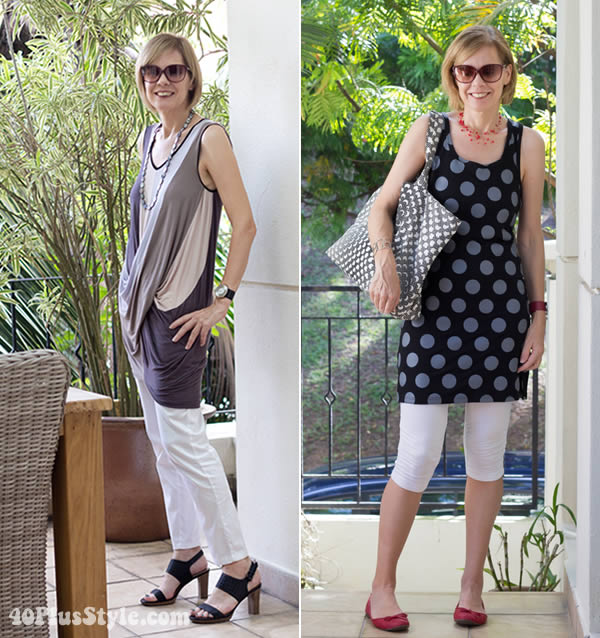 Combined with jackets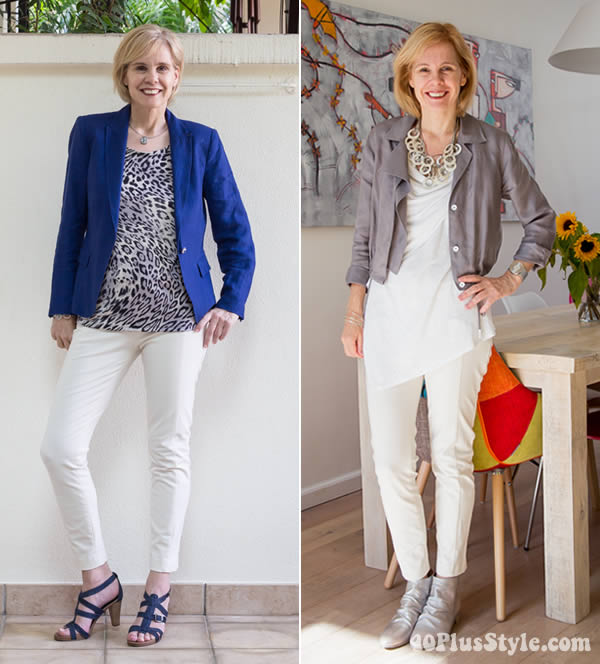 3 quarter pants or clamdiggers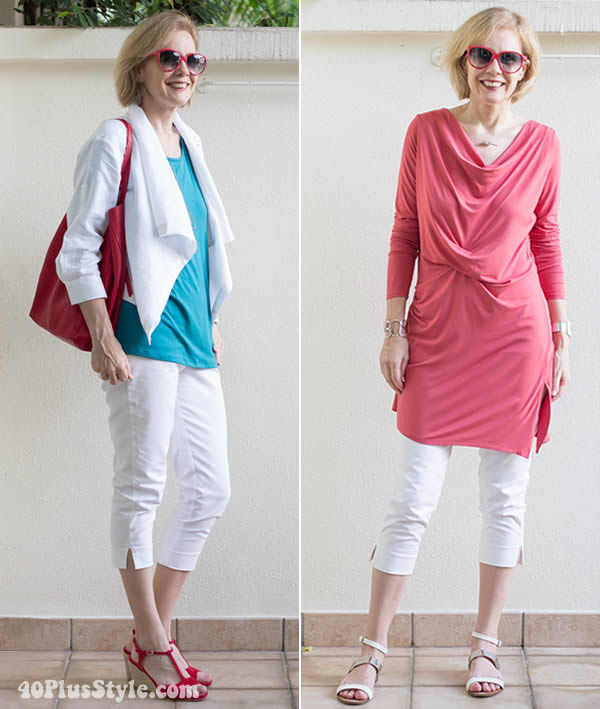 White capris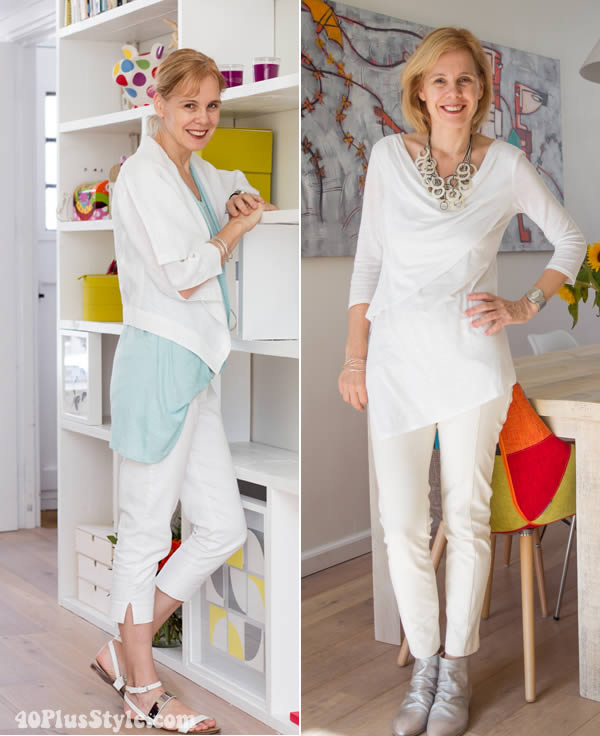 Black capris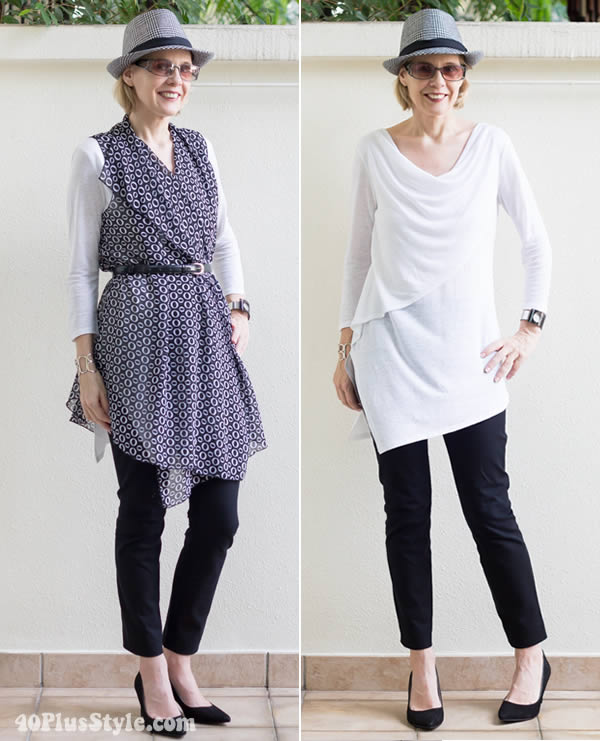 Green capris
Cropped leggings
These look best with a wider and long top and can be very flattering. They are perfect for warmer weather.
These Second Nature Capri leggings  from Stella Carakasi are super fab. Not too thin and very stretchy and comfortable. They are also great for tucking in your tummy. You can pair them with one of their asymmetrical tops and a long camisole. Enter the coupon code 40PLUS15 for an extra 15% off all orders and receive free shipping in the US! One use per customer.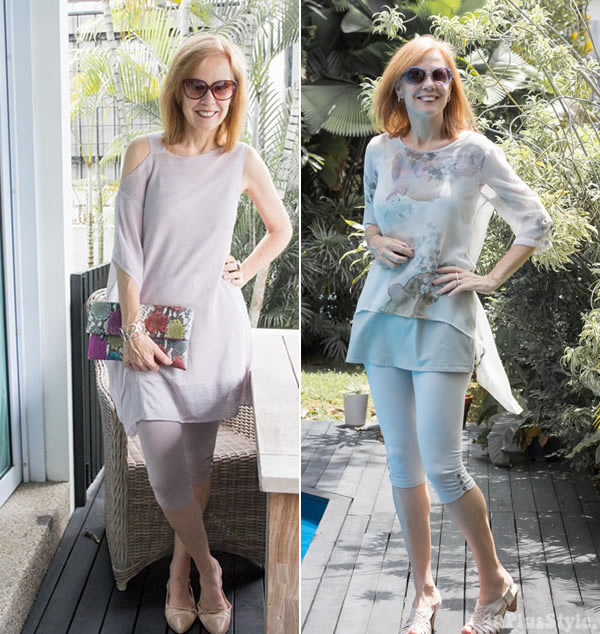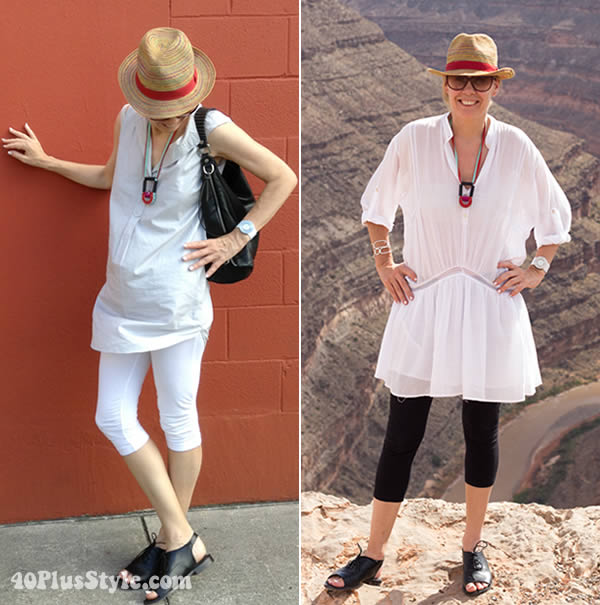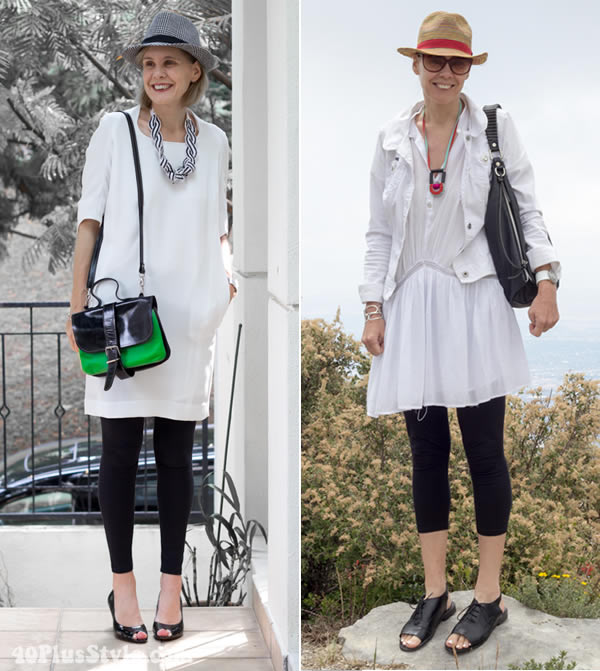 For more tips on wearing leggings, check the article how to wear leggings after 40.
All of the above looks can be found in the What I wore section of this site.
Capris you can buy right now
Here are some capris you can buy right now online.


Some final thoughts
While looking at the images my conclusion on wearing capris and cropped pants would be that they look a bit hipper and more fun, while my long trousers combinations are more elegant and provide the nice long leg silhouette.
Currently in 2018 they are still very much on trend and many of my pants are now cropped in some ways.
Please bear in mind ladies that all these are just guidelines. Always let your eyes be the judge if the outfit with capris looks good on you. Some of you may even be able to rock your capris outfits without following any of them. And if you are in a a funky mood or just want to have fun with your clothing and don't mind forfeiting the perfect silhouette, then that's fine too. These guidelines will just let you be aware of the challenges of wearing capris so that you can work with those and make it work!
While doing this exercise myself, I actually discovered some fun new combinations in my cupboard as well. Why don't you do the same and shop your closet to see if you can come up with some great capris outfits!
Will you be wearing capris this season? 

P.S. Want to get our full comprehensive guide on how to wear all kinds of pants the right way and what shoes to wear with them? Be sure to request our free style guide below!
Like this article? Save it on Pinterest!