Whether you're looking for a casual day dress, or a dress for a special occasion, what are the most flattering dresses for women over 40, 50 & beyond? Well, it will depend on your body type to an extent, but there are some styles that are universally flattering. Let's take a look in this article at the most flattering dresses for women over 40.
How to choose the most flattering dresSes
Thankfully, there are plenty of stores that realise not everyone wants tiny mini styles or very tight, unforgiving dresses.
Amazon even has a whole section dedicated to dresses for older women, and there are some good suggestions there featuring the most flattering dresses for women with sleeves and draping.
So, what should you consider when choosing your most flattering dress?
1. Think about your body shape
There are plenty of styles that are flattering for all figures. However, that's not to say you shouldn't consider your body type and what will suit your shape best. If you aren't sure, take a look at how to determine your body shape. You can also check out the best summer dresses for your body type.
2. What do you want to emphasize and what do you want to cover?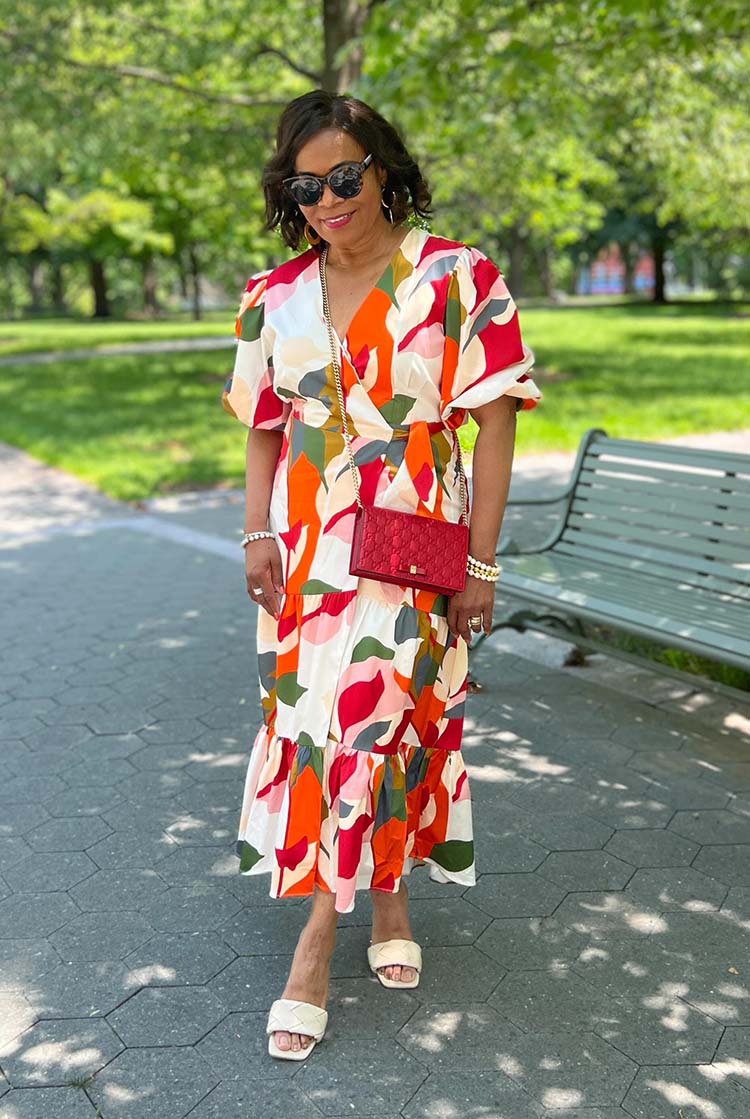 Eugenia @theeageofgrace above (read her style interview here) looks fabulous in a print wrap dress that would suit all figures.
Check out these dresses from Maggy London, Du Paradis and PRETTYGARDEN that you can wear with this similar pair of sandals, sling bag, earrings and sunglasses.
When choosing flattering dresses for women over 40, consider what you like and what you don't. For example, you might want to show off your legs, but hide your belly, or you might like your shoulders, but want to downplay your bust.
3. Do you want sleeves?
If you don't want to bare your arms, there are plenty of dress styles with sleeves. You can see our round up in this article on the best dresses with sleeves. Or, if you have a sleeveless dress but still want to cover-up, you could look at how to cover up a formal outfit.
4. Look for draping, ruching and asymmetry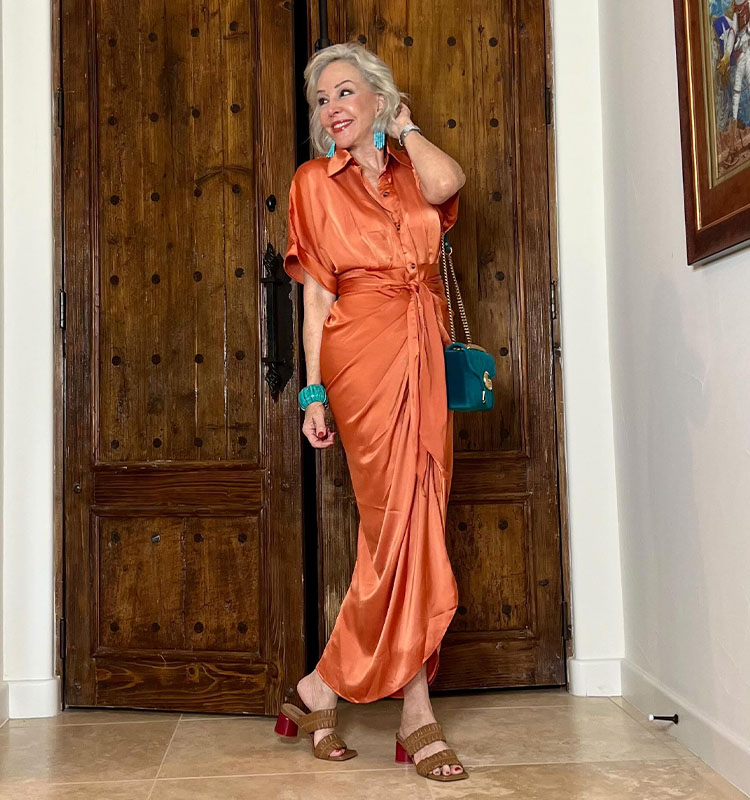 Sheree @shesheshow above opts for a draped maxi dress and adds pops of turquoise that contrast perfectly with the orange shade.
She is wearing a maxi dress from Amazon, earrings from Kendra Scott and bracelet from Etsy. Check out this similar bag and sandals to complete the look.
Choosing a ruched or draped dress is a great way to cover up any 'imperfections' like a little bit of a belly. There are more belly-hiding ideas in this article.
5. When will you wear it?
If you are choosing a new dress, do you want a style for weekends, vacations, work days or an event? Choose a style to suit the occasion.
The most flattering dresses for women
Now, let's look some of the most universally flattering styles you could choose in stores now.
Wrap dress
A wrap dress is a great option because the v-neck, and waist cinching styles suit all figures. It can skim over pear shaped hips, flatter curves if you are an hourglass, or create curves for a rectangle figure.
The Karen Kane cascade style (below) is always popular, and is usually available in navy, black or red. It has plenty of positive reviews from women who say it is one of the best dresses for women over 50 because it drapes beautifully and is a dress that everyone should own.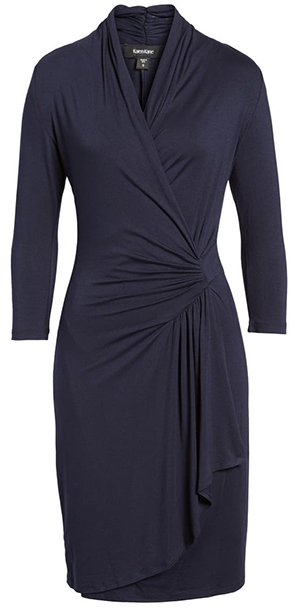 Karen Kane Cascade Faux Wrap Dress
shirt dress
A shirt dress is both modern and flattering. You can alter the fit to suit by unbuttoning some of the buttons at the top to create a v-neck, altering exactly where you tie the belt, or wearing open as a duster jacket.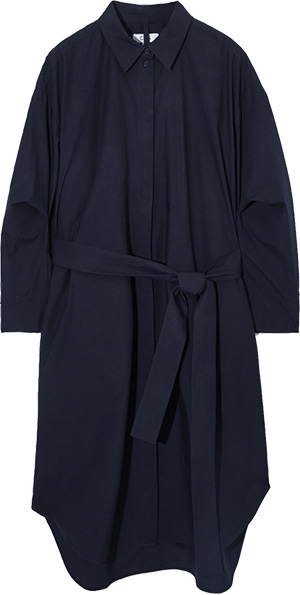 COS Deconstructed Midi Shirt Dress
Susanne @textelle above (read her style interview here) choosing a knee-lengh shirt dress and accessorizes with bright shoes and statement jewelry.
Steal her look with this similar linen shirt dress (another option here), sandals, tote, necklace and earrings.
maxi dress
A maxi dress is easy to wear but adds instant glamour. Keep your look hip and modern by choosing a graphic print. You could either wear a dress that skims over your tummy, or you could add a belt if you like to emphasize your waist.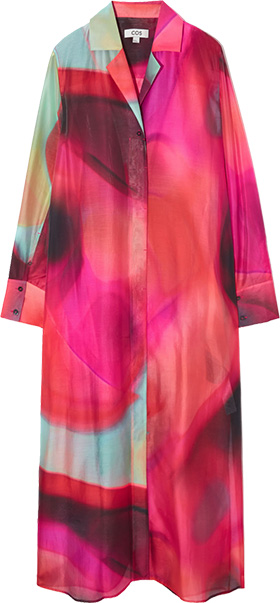 linen dress
Linen is a great option if you want to stay cool during the summer months as it dries quickly. The Eileen Fisher dress (below) would look good worn with a bold statement necklace.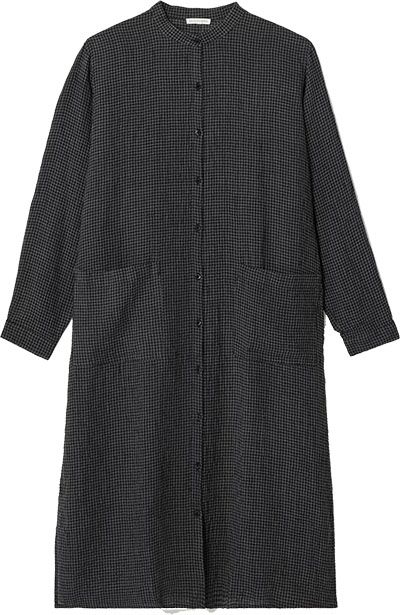 Eileen Fisher Puckered Organic Linen Mandarin Collar Shirtdress
Asymmetric dress
Asymmetric lines can create a slimming, elongating effect. Plus, the ruching and draping on the COS dress (below) adds to the flattering effect.

COS Asymmetric Gathered Midi Dress
off the shoulder dress
Even if there are parts of your body you aren't keen on showing off, perhaps there are other parts, like your shoulders, that you like. You could choose an off-the-shoulder dress like the option below.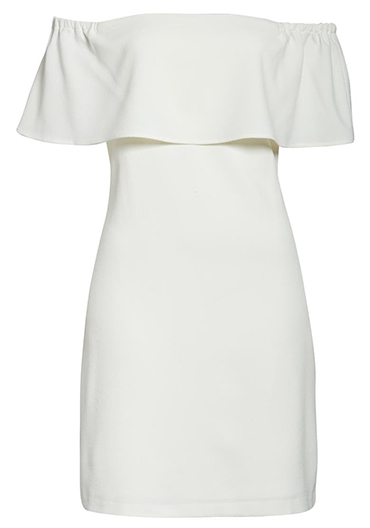 Charles Henry Off the Shoulder Dress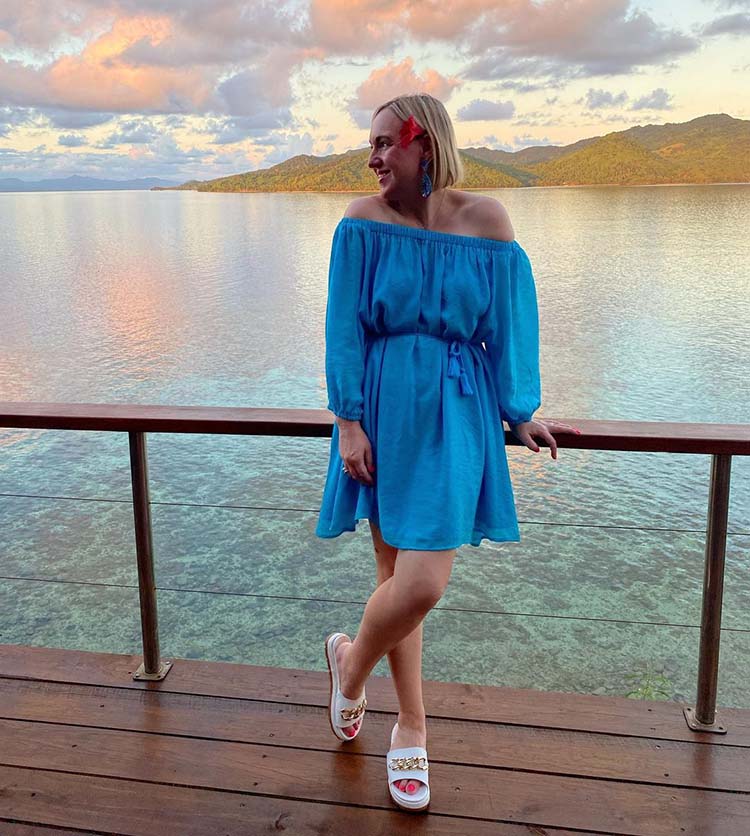 Kylie @ above shows how an off-the-shoulder style could be perfect for your summer vacations.
Recreate her outfit with this similar dress (other options here and here), sandals and earrings.
Denim dress
Wearing your denim in different ways, other than jeans, is very on trend at the moment. The Massimo Dutti dress (below) could be particularly flattering if you want to create curves, as the pockets and belt add shape.

Massimo Dutti Topstitching Linen Dress
A-line dress
An A-line dress, like the linen blend option (below) is a good choice if you want to skim over your belly. You could wear the gray dress below with a modern, statement necklace, and wedge sandals.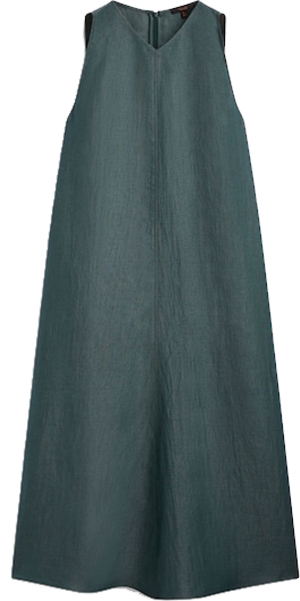 Massimo Dutti Linen Blend Dress
JERSEY MAXI DRESS
The jersey maxi dress from Loveappella has been a popular choice for a few seasons now. This same style tends to be released in different colors each season. The v-neck is flattering, while it fits at the slimmest part under the bust, and skims over the belly. Plus, as it is jersey, it shouldn't crease if you want to pack into your suitcase. Reviewers say it is both comfortable and flattering.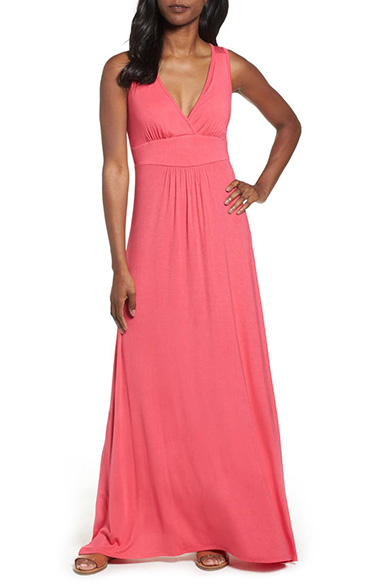 Loveappella V-Neck Jersey Maxi Dress
Print maxi dress
Another curve creating, or curve flattering option for you. The cap sleeves, ruched bust, flare hem and cinched waist on the J.Crew dress (below) will either create an illusion of curves if you don't have them, or fit and flatter your curves if you do.

J.Crew Collection Tie-Neck Gingham Maxi Dress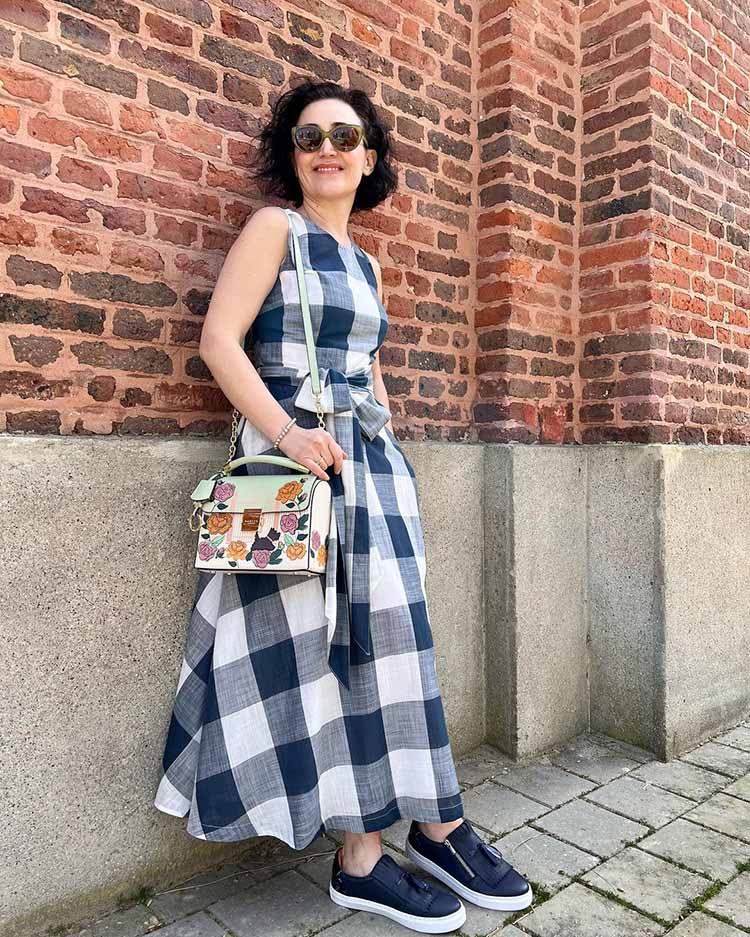 Emms @beautifuleveryday_uk above chooses a check maxi dress and adds casual flair with her sneakers.
Steal her look with this similar plaid dress (another option here), sneakers, bag and sunglasses.
Graphic print dress
Choosing a big, bold print is a good way to look modern while helping to hide a little bit of a tummy.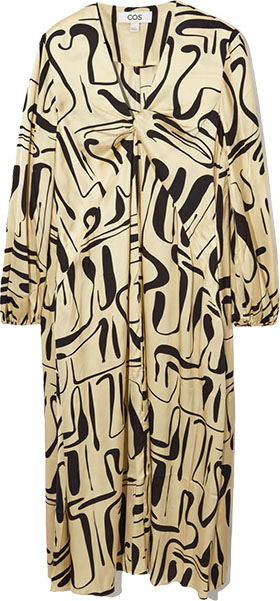 Asymmetric neckline
You could look out for asymmetry on the hemline of your dress, but an asymmetric neckline can also add a stylish point of difference.
Dress the Population Ruth Asymmetrical Neck Midi Dress
Asymmetric hemline
Another option for you with an asymmetric hemline. This Eliza J dress (below) could work well for you if you have an inverted triangle figure, as it will create some volume around your hips and thighs.

Eliza J Asymmetric Ruffle Hem Cocktail Dress
tie font midi dress
Adding a tie to your dress can help to emphasize or hide parts of your figure. For instance, the tie on the Boden midi dress (below) will help to create curves at the bust, while skimming over the belly.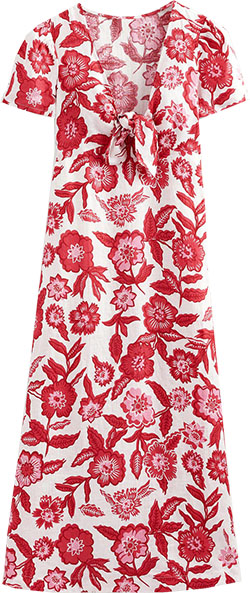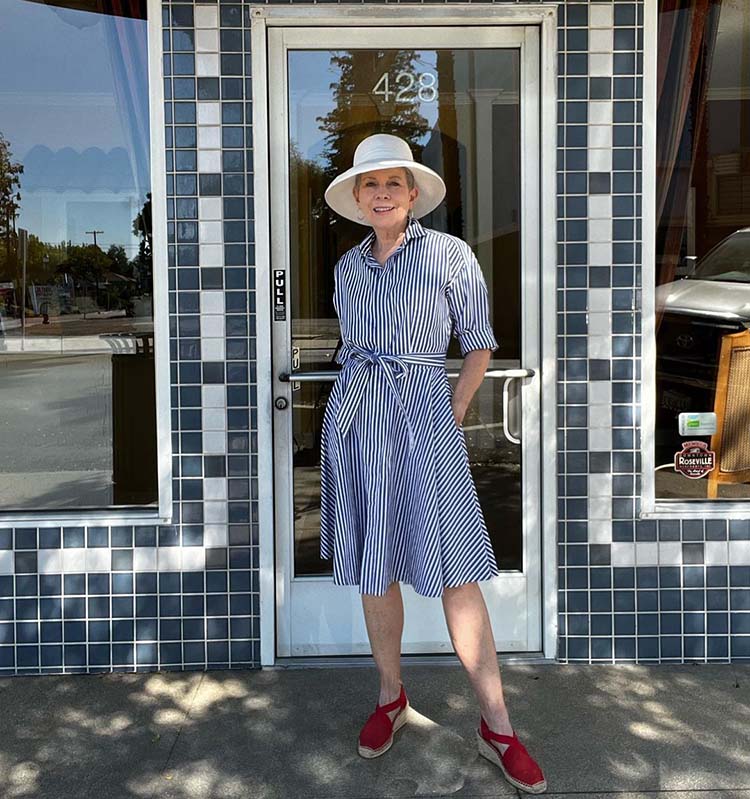 Eileen @eileenternullo above wears a striped shirt dress. Choosing stripes that run vertically or diagonally can create an elongating, slimming effect.
Get her look with this similar shirt dress (another option here), espadrille sandals, sun hat and hoop earrings.
Tie side dress
Looking out for a dress where you can change exactly where and how you tie your dress can be a flattering choice, as the knot creates a draped effect.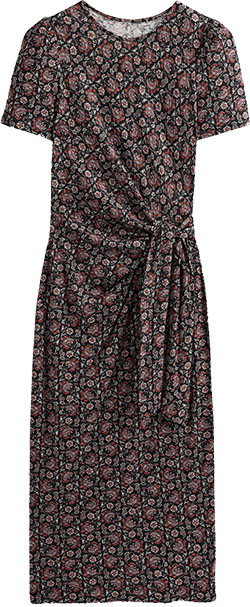 High low hem wrap dress
A longer wrap dress choice for you this time. The Fraiche by J dress comes in a choice of colors, and features a stylish v-neck, arm coverage, and a modern high-low hem.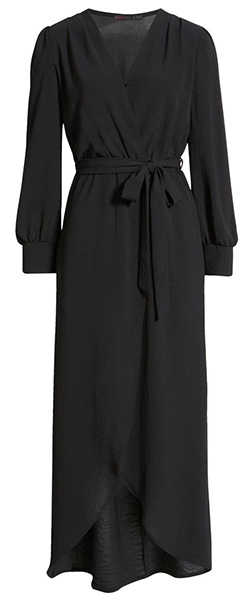 Fraiche by J Wrap Front Long Sleeve Dress
casual long dress
For an everyday, or vacation wear, casual dress, you could try the HUSKARY dress (below), which skims the body rather than clinging. Reviewers say it looks beautiful across the neckline and shoulders, while fitting loosely overall.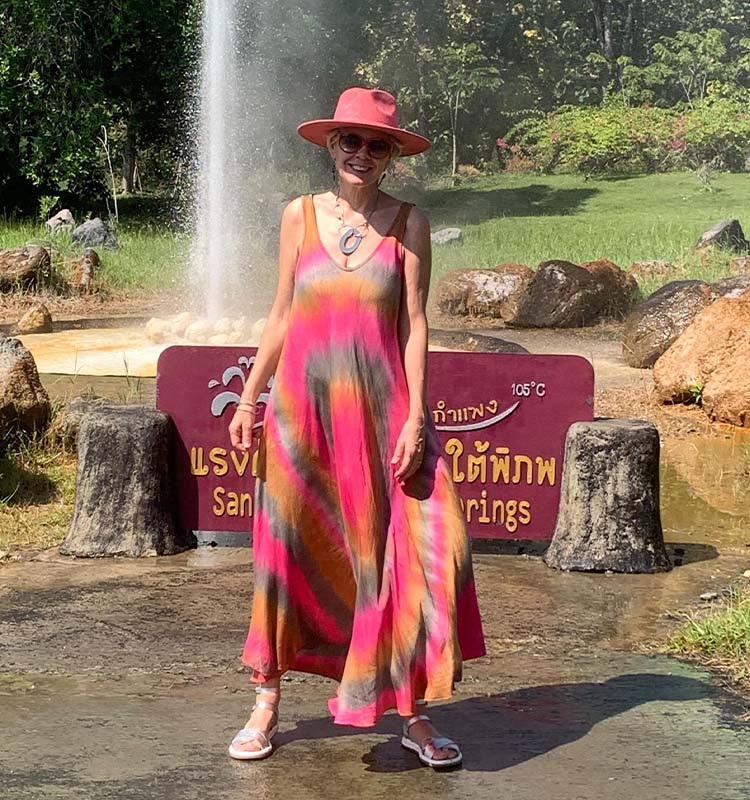 similar dress (other options here and here), sandals, hat, necklace and sunglasses
Flutter sleeve maxi dress
If you prefer to cover your upper arms the flutter sleeve maxi dress (below) could work. It comes in a good choice of colors, and reviewers say it is light and airy to wear without being sheer.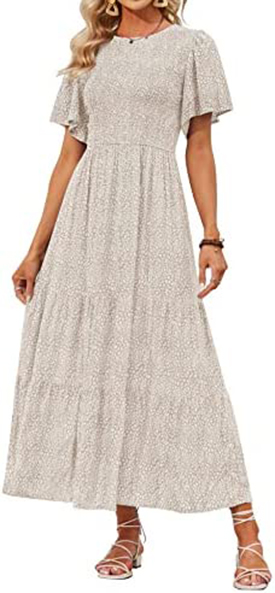 ZESICA Printed Flutter Sleeve Maxi Dress
Short sleeve ruffle dress
For summer evenings, or a day time event, you could dress the ruffle maxi dress (below) up with heels and a clutch, or down with sneakers and a moto jacket. Reviewers say it is flattering even if you have a little bit of a tummy.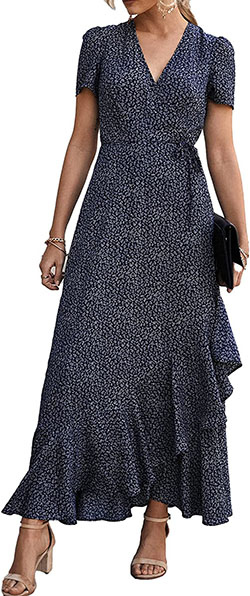 PRETTYGARDEN Wrap Ruffle Maxi Dress
V-neck wrap dress
For an easy-to-wear, pull-on style, you could try the v-neck rayon dress (below), which comes in a good choice of colors and has a little spandex to help it retain its shape.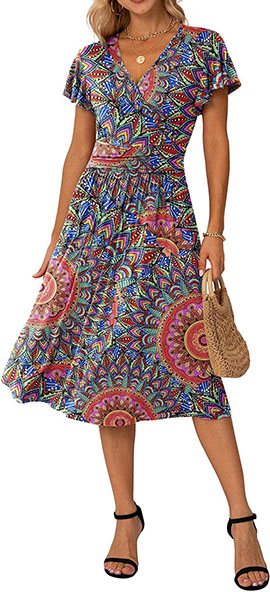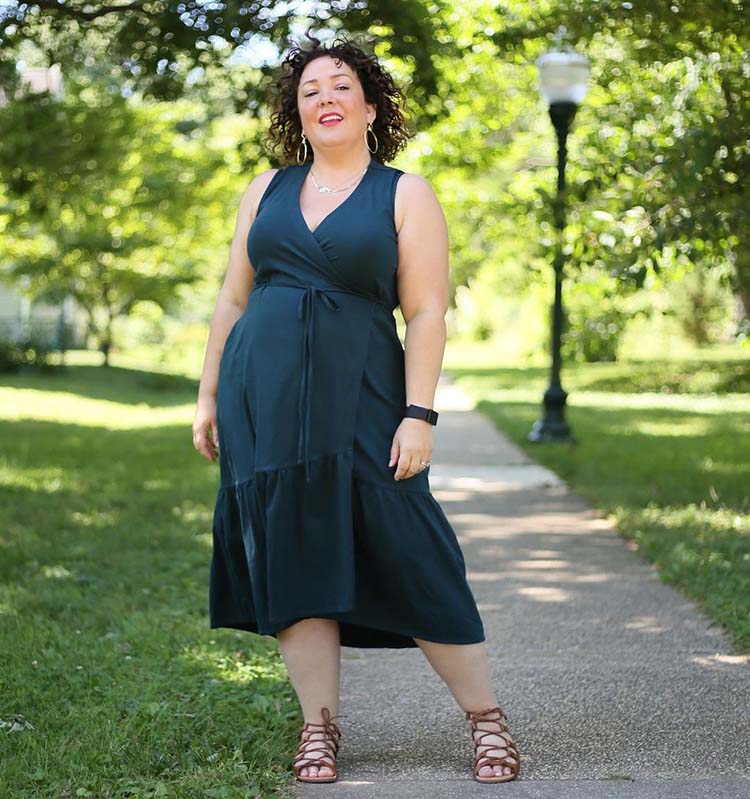 Alison @wardrobe_oxygen above (read her style interview here) chooses a wrap style that would be flattering on any body type.
Recreate her outfit with this similar wrap dress (another option here), sandals and earrings.
most flattering dresses for women to wear over leggings
Don't discount shorter styles altogether. A shorter dress can look great worn over leggings. You could wear the Sam Edelman dress (below) with these Second Nature Capris or Ready to Wear leggings from Stella Carakasi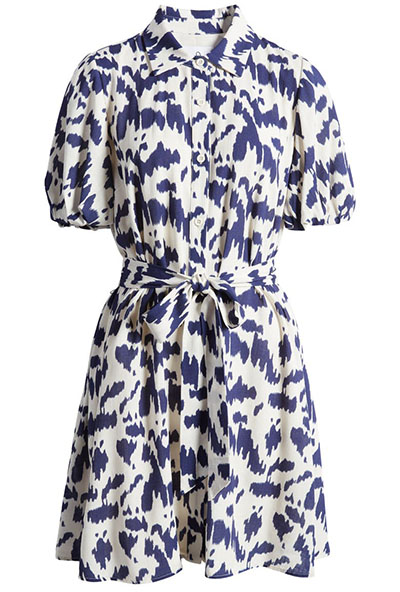 Sam Edelman Ikat Tie Waist Shirtdress
red dress
Red always gets you noticed for all the right reasons, and the Boden dress (below) is a figure-flattering option with its v-neck and tie waist.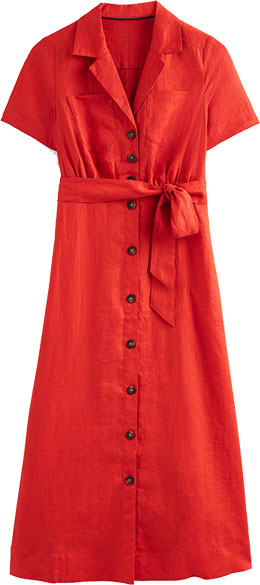 Boden Revere Collar Maxi Shirt Dress
Good brands to look out for when shopping for dresses for women over 50
If you're looking for dresses for women over 50, then some good stores to take a look at are…
What is the most flattering dress you have in your closet? What do you think the best dresses for women over 50 are? Let us know in the comments below.
shop the most flattering dresses for women over 40 below:

Continue reading:
Like this article on the most flattering dresses for women over 40? Share it on Pinterest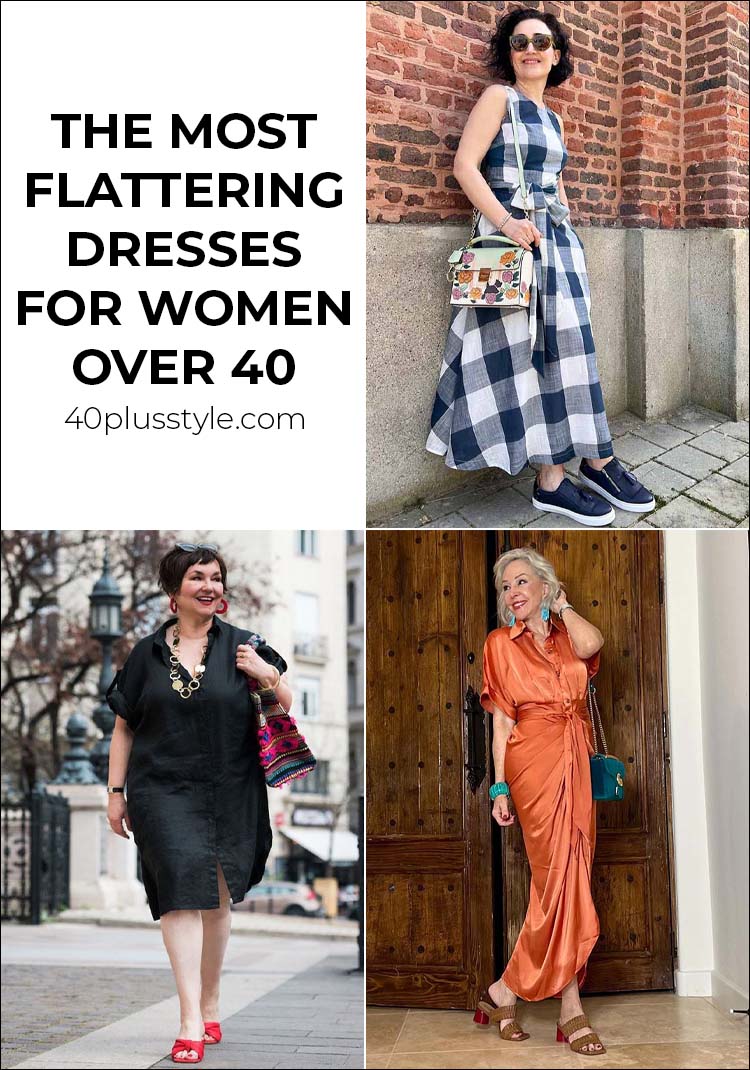 Feature image by Sheree @shesheshow
Want to get more articles from 40+style in your inbox, subscribe here.
You can also connect with 40+style on Facebook, Instagram or Pinterest.
Support 40+style by using the links in our articles to shop. As an associate for Amazon and many other brands, we receive a small commission (at no cost to you) on qualifying purchases which enables us to keep creating amazing free content for you. Thanks!