Is you body more rectangle shaped than hourglass, and would you like add more shape with your clothes?
In this article I show you how to dress the rectangle body shape and give you lots of ideas on how to create more shape with your clothes.
You have a rectangle body shape when:
You have no defined waist
The hips tend to have a similar width as the shoulders
You do not have a lot of curves
Your bust tends to be small or average
Your bottom tends to be flat
This is one of the easier body types for dressing.
Rectangle is my most dominant body shape (with pear shape being my secondary).
Still not sure? Find out how to determine your body shape
Why you're in good company
Many models tend to have this body shape or the inverted triangle shape.
A lot of clothes will usually suit you and fit you well, although some of the taller women may have trouble finding clothes that fit properly.
Suzie (above) wears a classic moto jacket which is great for most body shapes.
Get this similar moto jacket, v-neck top, maxi skirt and lace-up gladiator booties to copy her look.
Take a look at how to dress when you are tall.
Dressing the rectangle body can still be a challenge
Still, many rectangles will find dressing a bit more of a challenge as they are likely to get extra weight around their tummies as they age (usually after menopause).
As a rectangle, you will want to create more curves and a pleasing silhouette. You can do this by defining the waist and creating curves on the bottom or top.
On the other hand, you can also get away with a straight look and surrender the waist line altogether, which is a look that I'm quite fond of.
Asymmetric styles are great for the rectangle body type. Check some of the best asymmetric clothes here.
What not to wear?
Avoid shapeless clothes
If you want to add curves then avoid straight dresses, but you can also opt for the waistless look!
Two main strategies
There are two main strategies for dressing your body if you have a rectangle shape.
The first is to forget about adding curves and to play up your long, lean lines.
Kylie (above) does this perfectly with her long vest, while still managing to define the waist.
Steal her look with this similar blouse, long cardigan/vest, wide leg pants, belt and sandals.
Also take a look at the best sleeveless vests for more inspiration.
You could also do this by wearing a shift dress with a long cardigan over the top, for example.
Another option for the rectangle body type: Create some curves
The second option is to actually create some curves.
You can do this through the clothes you wear and the details they have on them.
For example, you could wear a boat neck top with a pair of wide legged pants and a belt. That way, you will look like you go out, in and out again like an hourglass.
Now, onto which specific clothes, shoes and accessories will be good for you if you have a rectangle body shape.
Which garments are good for a rectangle body shape?
Let's get into more detail and look at clothes that are good for the rectangle body type.
Tops for the rectangle body shape
Use strong blocks of color to help define your body. For more tips take a look at how to color block.
As for most body types, be sure to wear a good bra to define what bust you have. Also take a look at how to dress if you have a small bust.
Wear tops and jackets that emphasize the waist.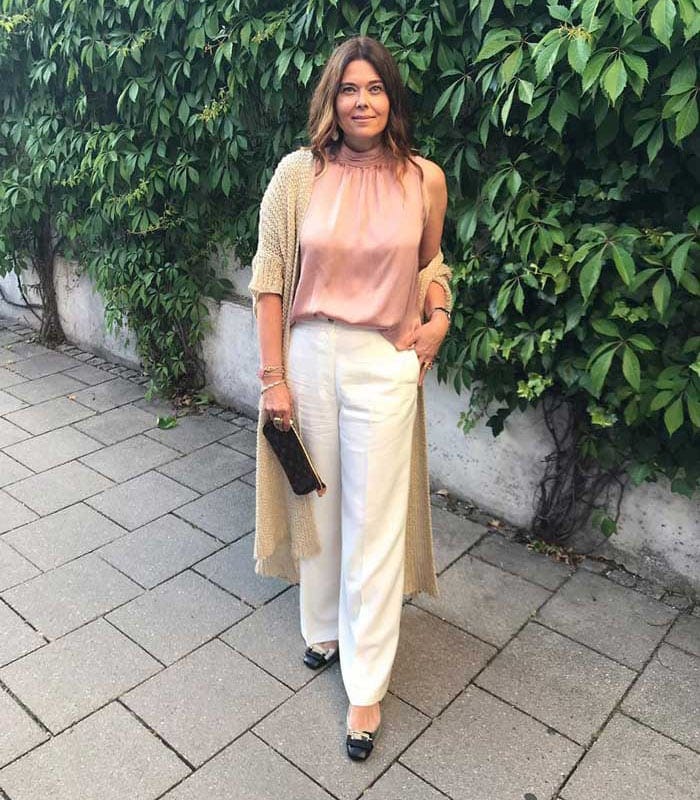 Elke (above) wears a halterneck with a longline cardigan.
Steal her look with this similar silk top, pants and long cardigan.
You can use some shoulder padding (don't overdo it though)
Medium to high necklines usually work well, especially if you have a small bust and long neck
If you like to create the illusion of bigger breasts, choose tops with pockets, rushes, pleating and other front details
Halter necks will also give the appearance of a bigger bust and show off your back
Accessorize with belts around the waist. Heavy belts can be really good if you're also long-waisted
If you have no waist at all, then a belt is best avoided
3/4 sleeves usually work really well for a rectangle
Blouses can look really good if they are tucked in
Chelsea28 twist front sleeveless – All in Favor double pocket shirt – Paige satin top – Ted Baker London tie neck blouse
Sweaters for the rectangle figure
No matter what your body shape, you will need a cozy sweater when the weather turns cold.
You're lucky in that you can choose any shape of sweater – you can either choose fitted to add more shape or a looser style.
Sarah (above) tucks her sweater into her jeans to emphasize her slim waist.
Check out this similar sweater, jeans and booties.
Madewell stripe pullover sweater – Love by Design bubble sleeve cardigan – Halogen back detail sweater – STAUD button shoulder sweater
Coats for a rectangle body shape
Choose a coat with a good waist or that is belted at the waist
Any jacket tailored around the waist will look great
You are lucky as you can wear pretty much any coat. You can choose to create a waist with tailoring or a belt.
Or you can opt for a jacket like a moto or denim jacket to layer over your outfits.
Jo (above) opts to create straight, sleek lines with her coat.
Recreate her look with this similar coat, mock neck top, wide leg pants and flats.
Blank NYC moto jacket – Kenneth Cole maxi coat – Topshop blazer – Vero Moda plaid long jacket
There's more inspiration here in how to choose a coat.
Pants and jeans
You can also wear a tight skirt or pants to highlight the curves that you DO have.
You can wear almost any shape trousers but slightly flared trousers will look great on you as it will add more shape to your body. Low to mid waisted pants are usually best.
Aroob (above) chooses straight jeans and emphasizes her waist. She accessorizes with a Chanel handbag.
Check out this similar long cardigan, jeans and sneakers.
Wit & Wisdom bootcut jeans – 1.State wide leg pants – Citizens of Humanity skinny jeans – Baum Und Pferdgarten plaid flare pants
Dresses, skirts and jumpsuit for rectangle body shape
Shift dresses and empire line dresses work well, but I also like to break the rule with dropped waist dresses!
You can create a waist with a belt.
Or you can skim over your waist completely, disguising the fact your waist isn't much slimmer than your bust and hips.
As well as dresses, jumpsuits will look great on you. Try a halterneck style to show off your shoulders.
You can wear shorter shirt dresses over jeans or skinny pants.
A-line skirts work really well for this shape.
A knee-length pencil skirt that tapers in at the side will also add some curves and look good.
If you like the waistless look, you can opt for straight skirts and shirt dresses.
Suzanne (above) shows off a drop-waist style.
Get this similar dress, layered necklace and flats to steal her look.
Haryln asymmetrical satin dress – Sam Edelman asymmetrical wrap dress – Eliza J asymmetrical sheath dress – Julia Jordan halter jumpsuit –
Vero Moda asymmetrical ruffle skirt
Shoes to go with your rectangle body shape outfits
Of course, you have a huge amount of freedom when it comes to your shoe choices.
It really depends on where you want to draw attention. If you want to add a pop of color, you could choose bright shoes.
You are also likely to be able to wear shoes with an ankle strap if you have slimmer ankles and calves as you don't need to worry about visually cutting a line across your legs.
You may also opt for curvier and rounded options like ballerinas and pumps.
Erica (above) chooses an on-trend pair of ankle booties which create a triangular shape on the foot.
Recreate her look with this similar cardigan, jeans, necklace and peep-toe booties.
AquaDiva over the knee boot – Soludos ankle strap pump – David Tote bootie – Tretorn sneaker
Accessories
Again, there are no hard and fast rules when it comes to the accessories you team with your outfits.
@pgill205 (above) styles her outfit with leopard print.
Steal her look with this similar jacket, jeans, boots, scarf and hobo bag.
You can opt for classic styles or add some femininity with your bag choices and colors.
You can also choose feminine jewelry to contrast with what may be an athletic figure, or you can go for modern, geometric pieces.
Coach leather tote –Topshop boxy bag – Echo felted scarf – Nordstrom cashmere wrap – Tory Burch pearl drop earrings – Rebel Nell drop earrings – Akola pendant necklace – Rachel Parcell panama hat
Please note that the guidelines above are for general guidance only. Everyone is different and you certainly don't have to stick to the above guidelines to dress well.
Outfits for the rectangle body type using the pieces above
We created a complete capsule wardrobe for the rectangle body shape from all the items we featured above.
Read our ultimate guide to creating a capsule wardrobe that works best for you.
Want more ideas, check out the video and other inspiration collages below
Ruth gives tips on how to dress the rectangle body shape.
P.S.: To find out more about your unique style and what would suit your body type and personality I highly recommend our style course.
How do you dress your rectangle shape? Let us know!
Continue reading:
Like ths article on how to dress the rectangle body shape? Save it on Pinterest!
Feature image by Elke
Want to get more articles from 40+style in your inbox, subscribe here.
You can also connect with 40+style on Facebook, Instagram or Pinterest.
Support 40+style by using the links in our articles to shop. As an associate for Amazon and many other brands, we receive a small commission (at no cost to you) on qualifying purchases which enables us to keep creating amazing free content for you. Thanks!