This is our latest article in the how to dress for your body shape series. This time we will have a look at the rectangle body shape, also called the banana or ruler.
You have a rectangle body shape when:
You have no defined waist
The hips tend to have a similar width as the shoulders
You do not have a lot of curves
Your bust tends to be small or average
Your bottom tends to be flat
This is one of the easier body types for dressing.
Many models tend to have this body shape or the inverted triangle shape. A lot of clothes will usually suit you and fit you well, although some of the taller women may have trouble finding clothes that fit properly. Still, many rectangles will find dressing a bit more of a challenge as they are likely to get extra weight around their tummies as they age (usually after menopause).
As a rectangle, you will want to create more curves and a pleasing silhouette. You can do this by defining the waist and creating curves on the bottom or top.
On the other hand, you can also get away with a straight look and surrender the waist line altogether, which is a look that I'm quite fond of.
What not to wear?
Avoid shapeless clothes
If you want to add curves then avoid straight dresses, but you can also opt for the waistless look!
Which garments are good for a rectangle body shape?
Top
Use strong blocks of color to help define your body
As for most body types, be sure to wear a good bra to define what bust you have
Wear tops and jackets that emphasize the waist
Choose a coat with a good waist or that is belted at the waist
Any jacket tailored around the waist will look great
You can use some shoulder padding (don't overdo it though)
Medium to high necklines usually work well, especially if you have s small bust and long neck
If you like to create the illusion of bigger breasts, choose tops with pockets, rushes, pleating and other front details
Halter necks will also give the appearance of a bigger bust and shows off your back
Accessorize with belts around the waist. Heavy belts can be really good if you're also long waisted
If you have no waist at all, then a belt is best avoided
3/4 sleeves usually work really well for a rectangle
Blouses can look really good if they are tucked in
Shift dresses and empire line dresses work well, but I also like to break the rule with dropped waist dresses!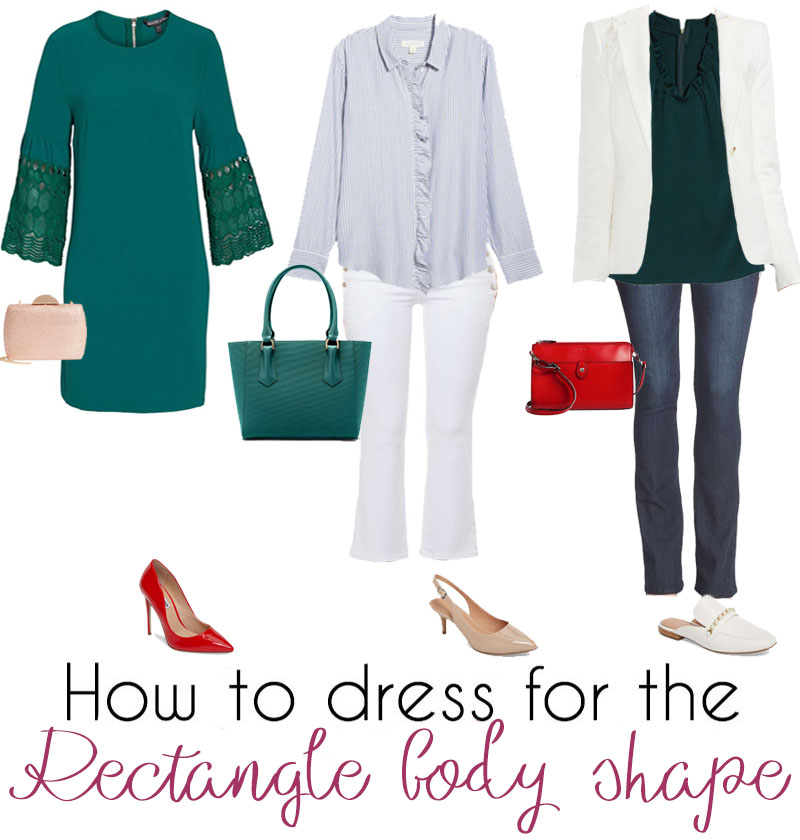 Look 1: Felicity & Coco teal shift dress – Nina Pacy clutch bag – Steve Madden rose gold heels 
Look 2: Treasure & Bond stripe ruffle shirt – Zion crop flare jeans – Dang Dover teal tote – Halogen slingback mules
Look  3:  Boss silk top – Wit & Wisdon bootcut jeans – Vince Camuto blazer – Lodis crossbody bag – Linea Paolo mule
Bottom
A-line skirts work really well for this shape
You can also go the other way and wear a tight skirt or pants to highlight the curves that you DO have
You can wear almost any shape trousers but slightly flared trousers will look great on you as it will add more shape to your body. Low to mid waisted pants are usually best.
A knee-length pencil skirt that tapers in at the side will also add some curves and look good
If you like the waistless look, you can opt for straight skirts and shirt dresses
For shoes, opt for curvier and rounded options like ballerinas and pumps.
Look 1: Adrianna Papel halter dress – Madewell long necklace –Riamse red sandal – Barbour tote – Kate Spane red rim glasses
Look 2: Dorothy Perkins coat – Halogen wide leg pants –AYR striped sweater – Vince Camuto black bootie
Look 3: Anne Klein asymmetrical sweater – Halogen white cotton pants – Steve Madden gray sandals – Dagne bag
Rectangle is my most dominant body shape (with pear shape being my secondary) so if you want more inspiration on what looks good on the rectangle body shape, then visit the What I wore section of this site.
Please note that the guidelines above are for general guidance only. Everyone is different and you certainly don't have to stick to the above guidelines to dress well.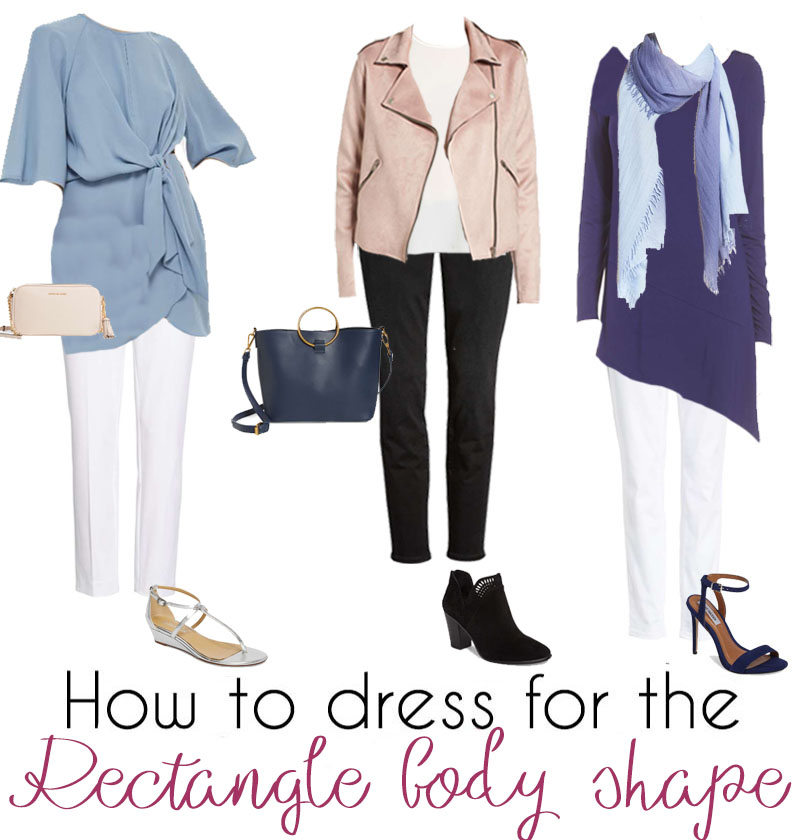 Look 1 : Bryce silver t-strap sandal –  Topshop tie front midi dress –Halogen ankle pants – Michael Kors medium ginny bag
Look 2: Member's Only pink biker jacket – 1822 skinny jeans – Vince Camuto white blouse – Vince Camuto black booties – Street Level ring tote
Look 3: Eileen Fisher blue tunic – Eileen Fisher ombre scarf – Eileen Fisher skinny jeans – Steve Madden Blue ankle strap shoes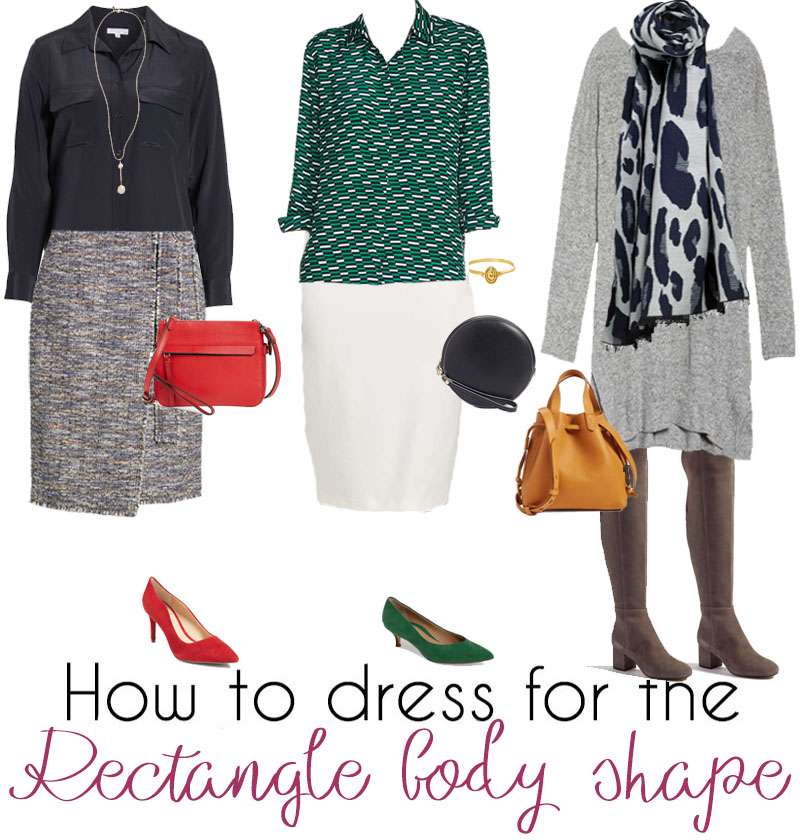 Look 4: Emerson Rose tweed pencil skirt – Emerson Rose top – Vince Camuto cherry red shoe – Vince Camuto cherry red bag – Canvas pendant necklace
Look 5:
Maje green print blouse –  Vince Camuto white pencil skirt – Vionic green kitten heels  – Sole Society black crossbody – Steve Madden Gold bangle
Look 6:
Mary and Mabel sweater dress – Halogen over the knee boot – Helen Kaminski leopard print scarf – Madewell black bag
Some older examples of outfits for the rectangle body type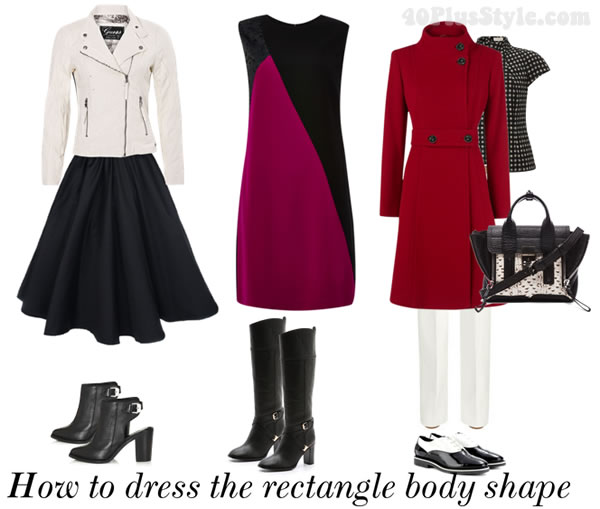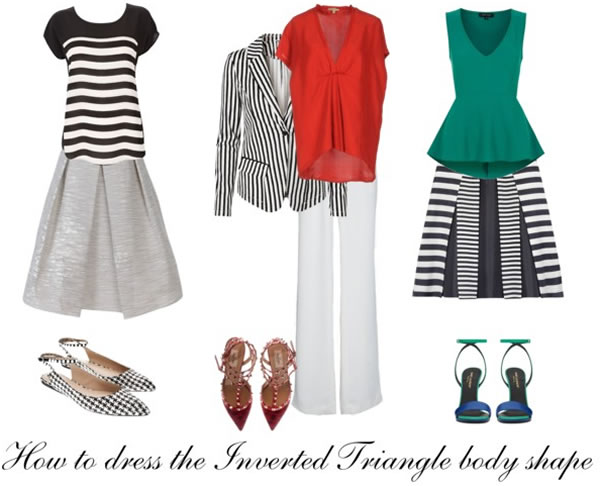 How do you dress your rectangle shape? Let us know!

P.S.: To find out more about your unique style and what would suit your body type and personality I highly recommend our style club! 
Like this article? Save it on Pinterest!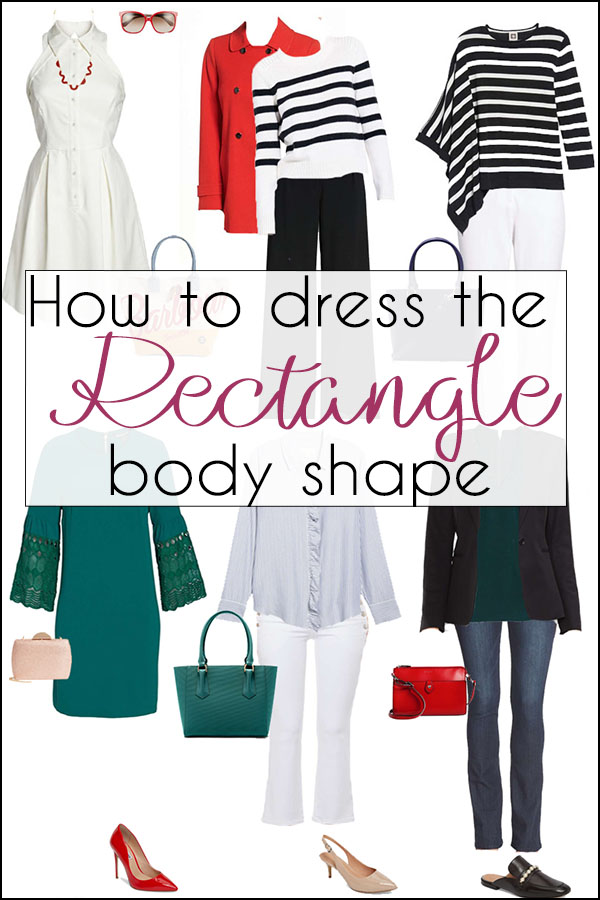 P.S.: To find out more about your unique style and what would suit your body type and personality I highly recommend our style course!