Wearing a tunic or short dress over skinnies and leggings is one of my favorite looks as I find it an easy, comfortable, flattering and often very stylish look to wear. This article shows you how to wear tunics and dresses with pants to create a timeless, yet up-to-the-minute look.
This outfit formula can both be worn in a dressy way as well as casually chic.
Layering a dress over pants looks chic, as well as helping to keep you warm. So, it's the perfect look for transitional weather.
This fashion forward way of dressing can mean you can still wear your favorite lightweight dresses even before you reach the summer months or into fall.
So, if you struggle to decide between wearing a dress or wearing pants, you don't have to. You can do both.
Read on for plenty of inspiration on how to wear your dresses over pants as well as a capsule closet featuring tunics and mini dresses worn over pants.
You can wear a short dress over pants!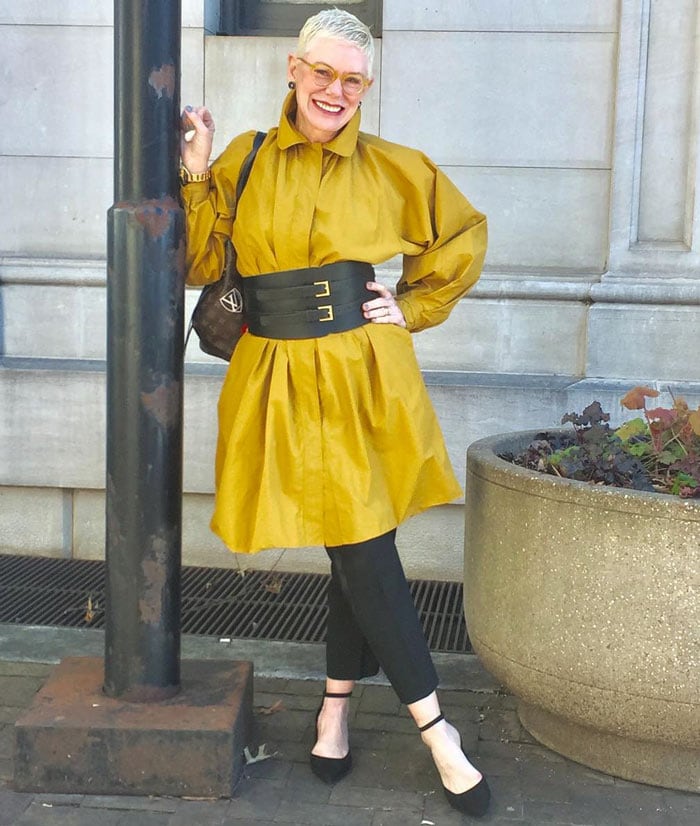 Jeanne (above) wears an above-the-knee shirt dress which she belts over her pants.
Check out this yellow dress from Amazon that you can wear with this similar pair of pants, ankle strap flats and belt.
I find wearing a dress over pants such a versatile and comfortable outfit combination as it means you can still wear the shortest of dresses without worrying about whether they are appropriate or not. Also check how to wear a short dress over 40.
So, just what is the rule on wearing mini dresses over 40 or beyond?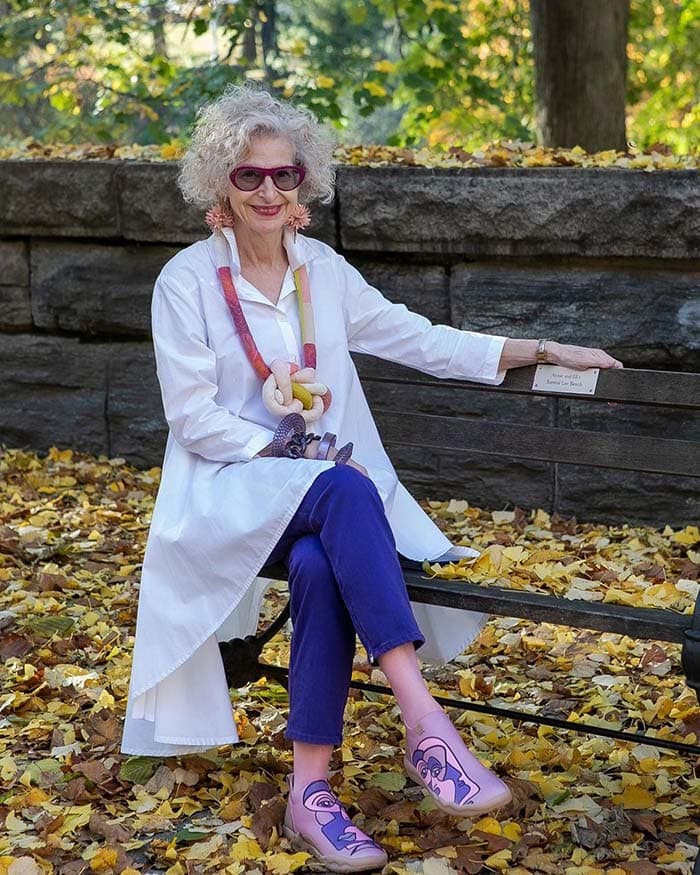 Well, if you've been reading here for a while now, you'll know that I'm not one for setting hard and fast rules.
For me, style is all about finding what works for you, your body and your lifestyle, so it's more about offering guidance to help you find your own style rather than telling you what you should and shouldn't wear.If you want to wear a mini dress, you go for it!
But if you feel that you no longer want to show off quite so much of your legs, wearing pants under your (mini) dresses is a great way to wear them.
Dayle (above) opts for a high-low dress over her pants.
Steal her look with this similar tunic dress, pants, booties, necklace, earrings and sunglasses.
Catwalk looks featuring short dresses over pants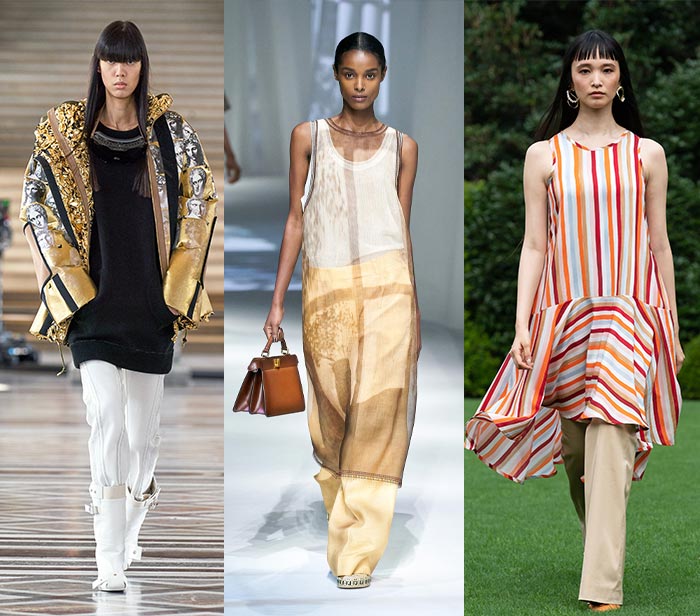 Louis Vuitton – Fendi – Adeam
Wearing dresses or tunics over pants is a style trend which featured on the runways for both spring and autumn 2021.
Louis Vuitton (left) opted for shorter dresses over pants while Fendi (center) choose a transparent top layer and Adeam (right) went for a longer style.
A few tips on how to wear dresses and tunics with pants
Now that you've seen a few examples of how you can wear your tunics or dresses over pants, below are a few things to think about.
Pay attention to proportion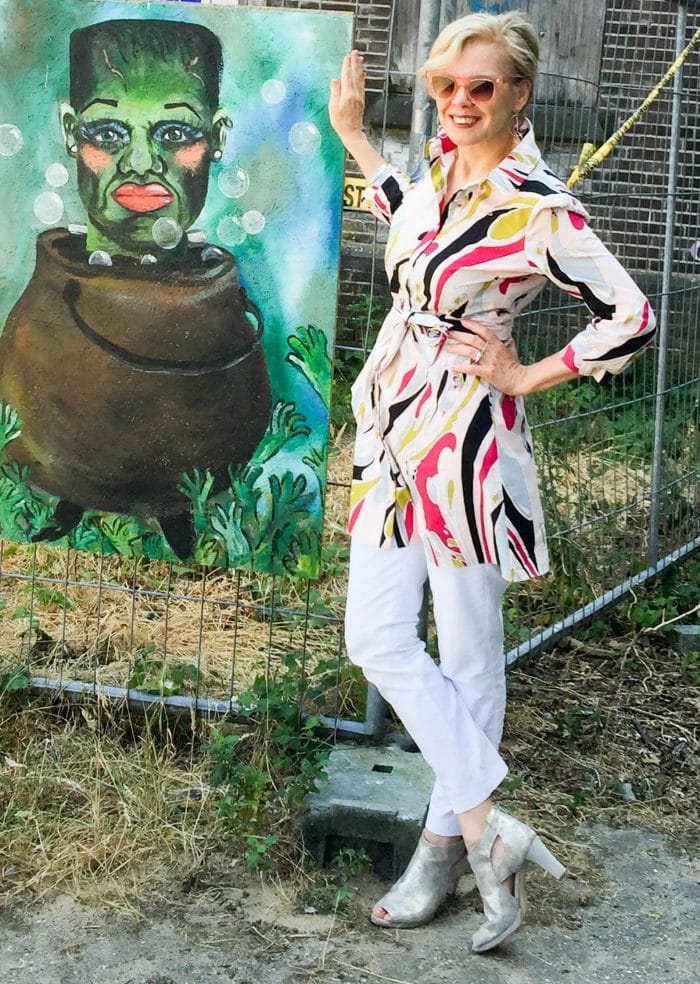 There are no clear-cut rules, although the 1/3-2/3 principle can help.
I often refer to this as the rule of thirds.
Whenever you look in the mirror and think your outfit is a bit "off" but you can't put your finger on why, it's likely to be down to proportion.
So, rather than creating outfits that essentially cut your figure into two halves, think about dressing in thirds.
The 'dress' takes up about 2/3 of the outfit and the pants 1/3. That is usually a flattering silhouette. You often find that the closer you can get your outfit to that ratio, the more flattering it is. But you don't have to get it perfect, the just have to play with the proportion so that it's flattering enough.
To recreate my look above, check out this tie waist dress from Calvin Klein, and wear it with this similar pair of jeans and booties.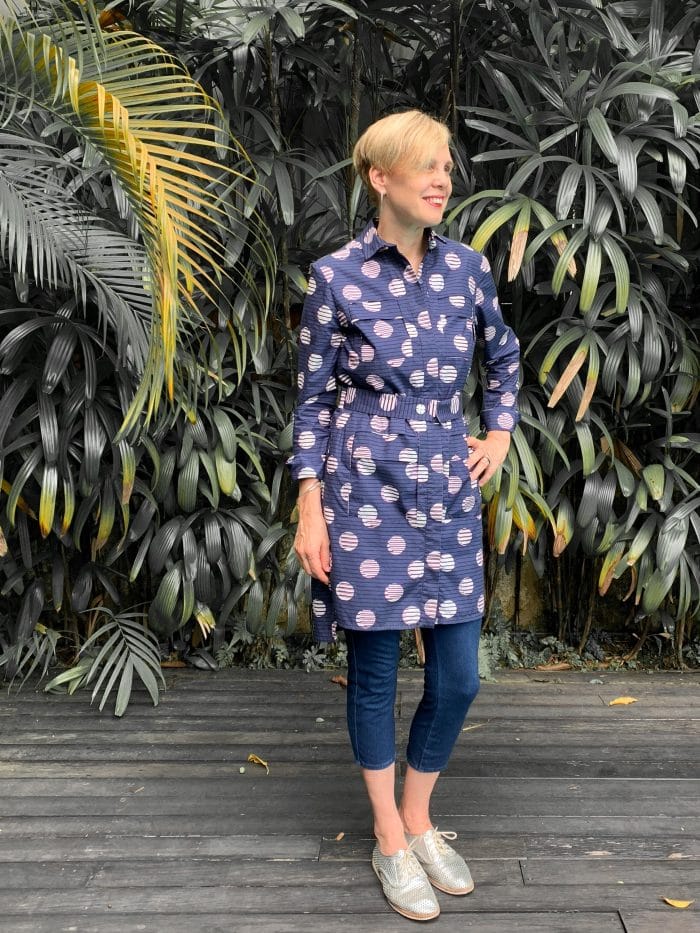 You can see that the proportions in the image above are also not perfect but they're still flattering.
You can try out this belted dress from Club Monaco, and pair it with this similar pair of crop jeans and derby shoes.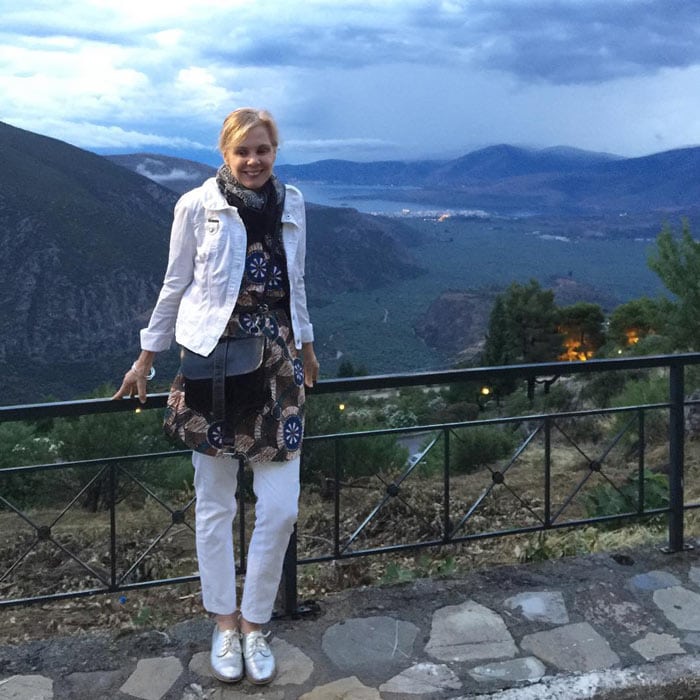 You can add an extra layer on top if it's colder. In the image above, the jacket would ideally be a bit shorter so it would be 1/3 of the overall outfit, but it's still flattering enough.
Shorter women usually look better with shorter tunics and dresses. Trust your instinct when you look in the mirror.
Get my look with this similar dress, denim jacket, jeans and shoes.
If you are petite, there are plenty more tips in how to dress when you are petite.
Want to learn more on the rule of thirds?
Please note, many women find this rule of thirds a bit tricky to understand and implement. That is why I pay a LOT of attention to this in my style course with lots of examples and clear explanations.
If you want to learn how to create more flattering outfits that are in balance with your body shape, you may consider taking my style course.
Try a wide, short dress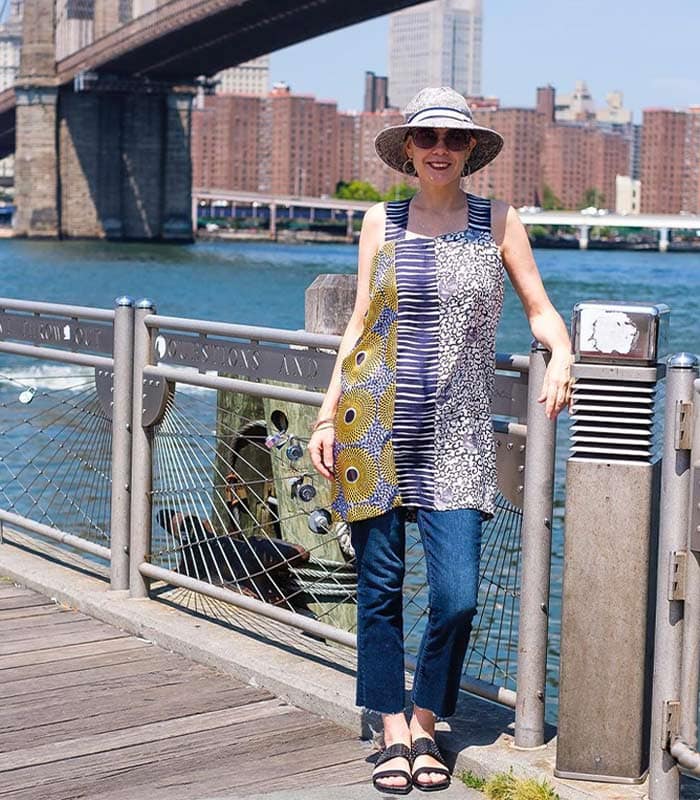 This look can be easiest to pull of with a wider, short dress that rests on the middle of your upper legs (like mine above).
However, other options can work well too, including longer peplums and longer dresses.
Check out this sleeveless dress you can wear with this similar pair of jeans, sandals and hat.
Wearing a longer dress over pants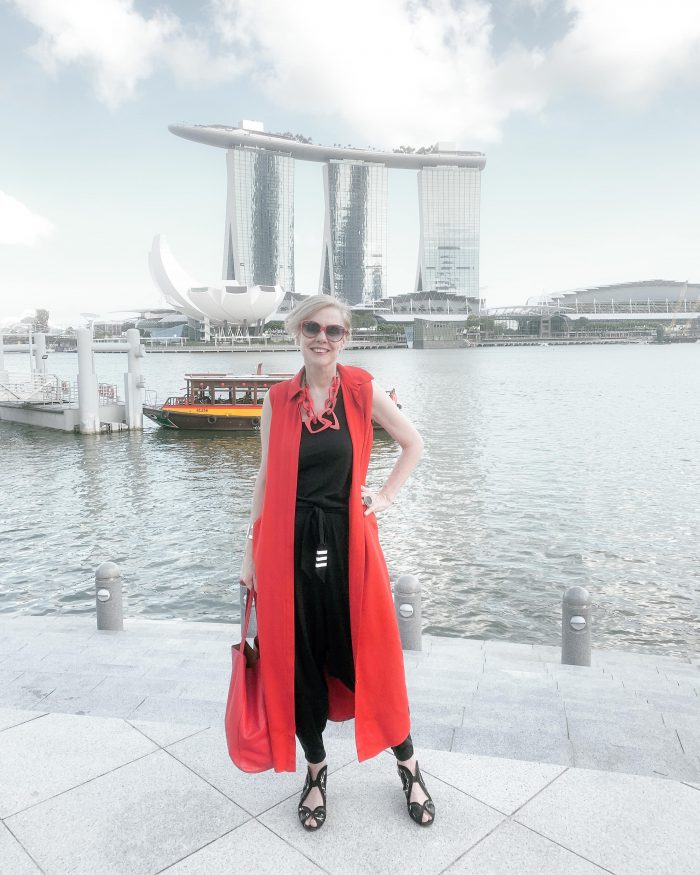 Longer dresses are a bit trickier to wear over pants as you're breaking the rule of thirds, so silhouttes tend to be a little less flattering. However, you can wear them in different ways.
I'm loving wearing this longer dress as a sleeveless vest over my jumpsuit.
Recreate my look above with this similar jumpsuit, long vest, sandals and tote.
What about your waist?
You can choose to surrender your waist by wearing a tunic or dress which skims over it, or choose a style which nips in at the waist. Both options will work if you add enough structure in your outfits (see above examples).
Get even more creative with your dresses!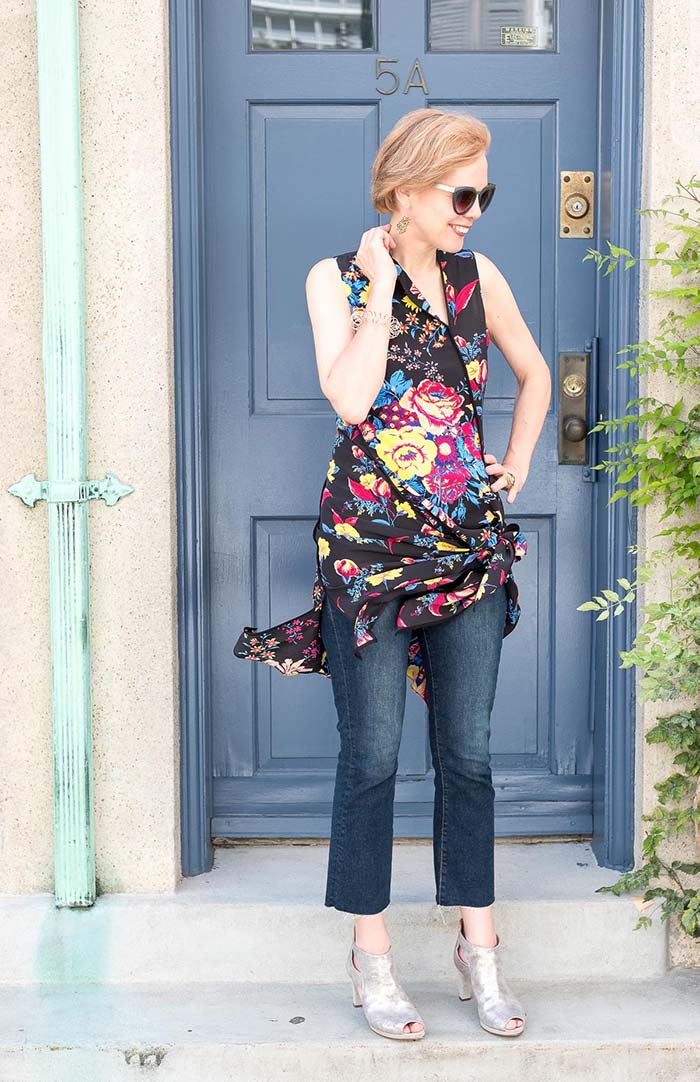 If you dress is wide or has slits, you can be creative in other ways, like tying a knot.
As you can see in my photo above, I turned this colorful floral dress into a super hip top by tying a knot on my hips.
Check out this floral dress you can try and wear it with this similar pair of jeans and booties.
Tunics to wear over pants
Tunics are shorter than dresses and are ideal to wear over skinny pants or leggings especially.
Here too, you want to keep the rule of thirds in mind.
Although it's usually easier to opt for a wider top over skinny pants, wide over wide can also work when you keep the rule of thirds in mind.
What tunic to pick?
When it comes to selecting tunics or short dresses, there are really no hard and fast rules. You could choose loose tunic styles, or you could opt to add a belt and highlight your waist.
You could try longer tunic-style shirts, or asymmetric tops. The most important thing is to create a good balance within your outfit.
This is not such a popular look that there is a special section on Amazon called tunics to wear with your leggings from Amazon.
Below are some examples of the types of tunics you could choose.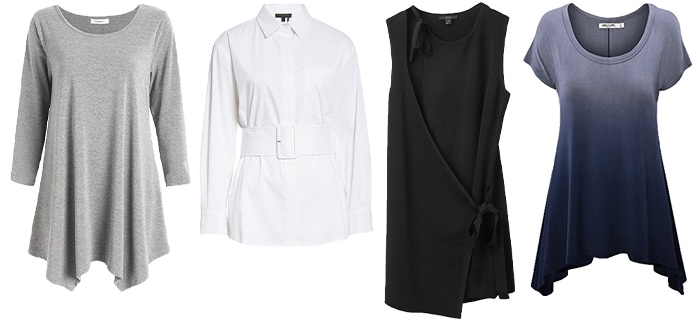 Esenchel 3/4 sleeves tunic top – Donna Karan New York belted tunic blouse – COS wrap vest top – Made By Johnny asymmetrical hem ombre tunic tee
Short dresses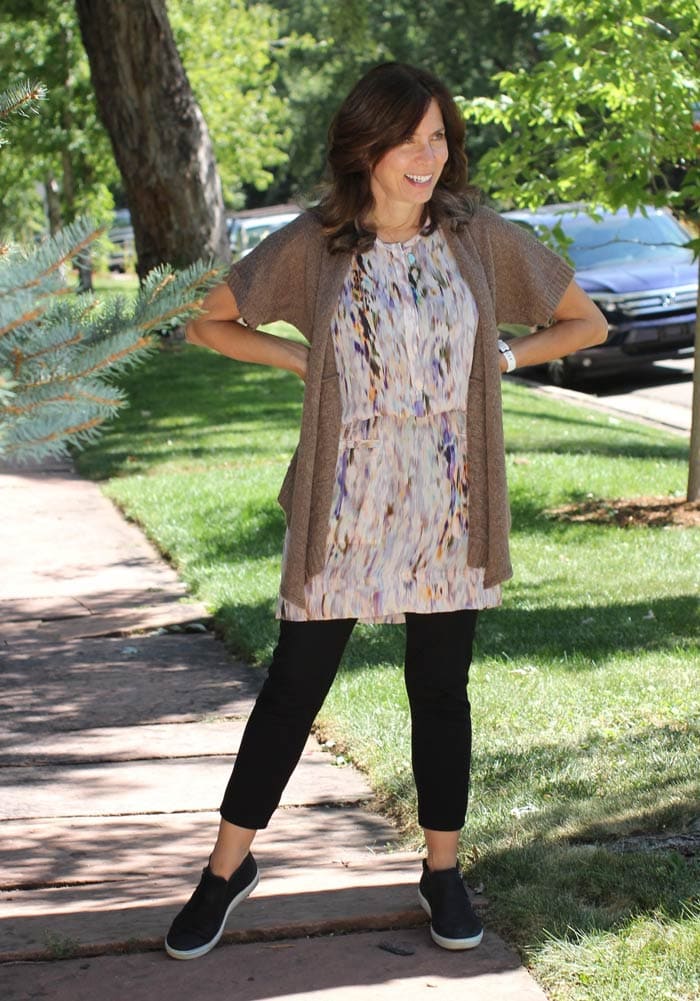 Short dresses are great candidates for 'tops' too as I've already shown you above with my own outfits.
You could opt for anything from waistcoat dresses to coat styles and wrap dresses.
Any type of short dress could work so long as you balance the rest of your outfit. With some dresses you may need to get more creative (like making them shorter with a knot). Pay attention to volume, the rule of thirds and silhouette.
When you get a few minutes, try some on from your closet. You may have some that you've pushed to the back of your wardrobe because you feel they are too short. These could look lovely over pants.
Ana (above) wears a mini dress over straight-leg pants.
Check out this similar dress, crop pants, cardigan and slip-on sneakers.
Take a look below at some of the dress styles you could choose over your pants.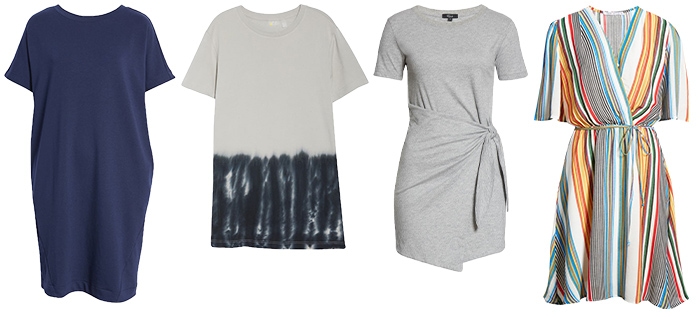 Caslon crewneck T-shirt dress – Zella tie dye T-shirt dress – Rails tie waist T-shirt dress – Fraiche by J stripe faux wrap dress
Bottoms to wear with tunics or short dresses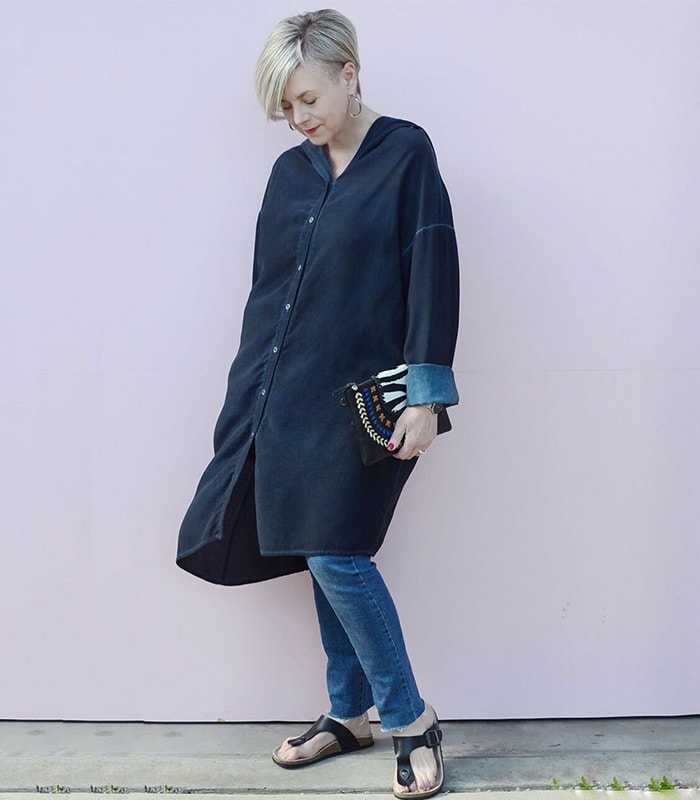 The easiest way to get started with this look is to wear a looser fitting dress or tunic over form-fitting pants.
I like to wear tunics and short dresses over jeans, leggings, tailored and wide-legged pants.
Deborah (above) wears an over-sized shirt dress over skinny jeans for a casual, stylish look.
Recreate her look with this pair of Birkenstock sandals and wear them with this similar shirtdress, jeans and clutch.
Wider pants can be an option too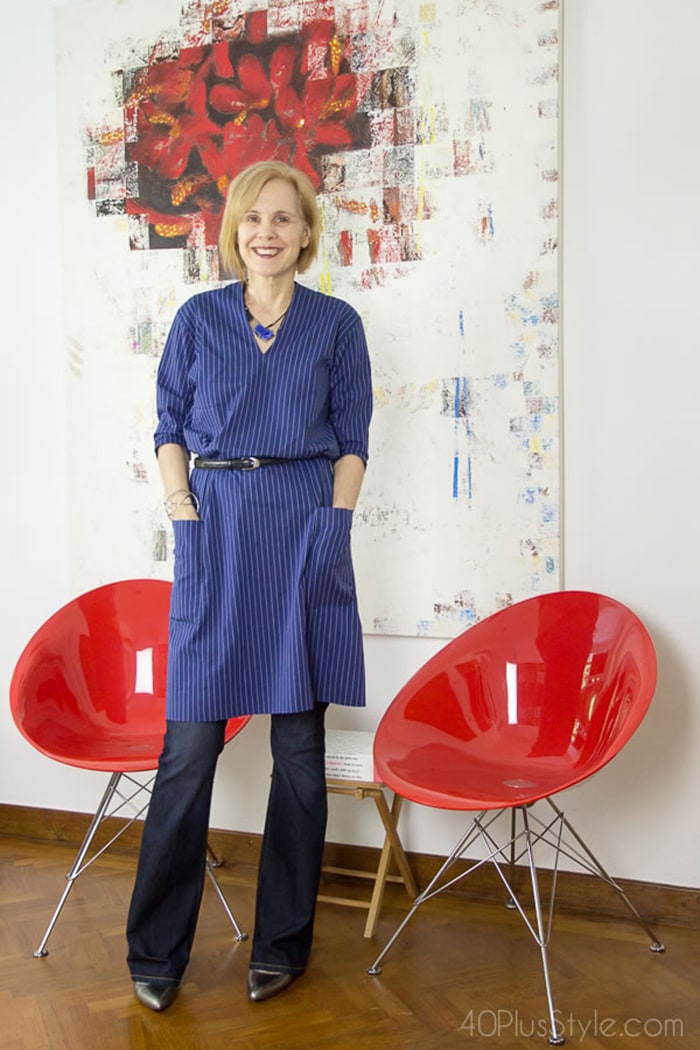 You can wear a short dress over wider pants too. Here is older striped dress from COS (similar here) that I wore in different ways. Here is a similar dress you can try.
It's worn with a pair of bootcut jeans (similar here). The belt (similar here) gives the dress structure and I like this new silhouette that goes in and out.
Below are some pants and leggings that would be perfect to wear with your tunics and dresses. I have put everything together in a capsule at the bottom of this article.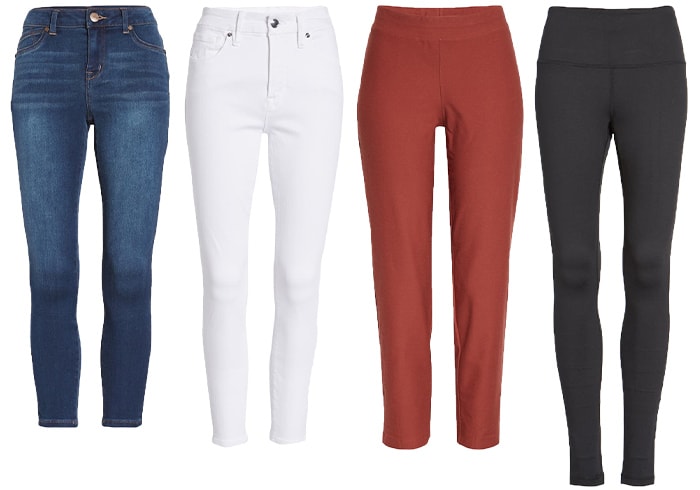 1822 Denim crop leggings – Good American crop skinny jeans – Eileen Fisher slim ankle pants – Zella high waist leggings
Shoes to wear with tunics or short dresses over pants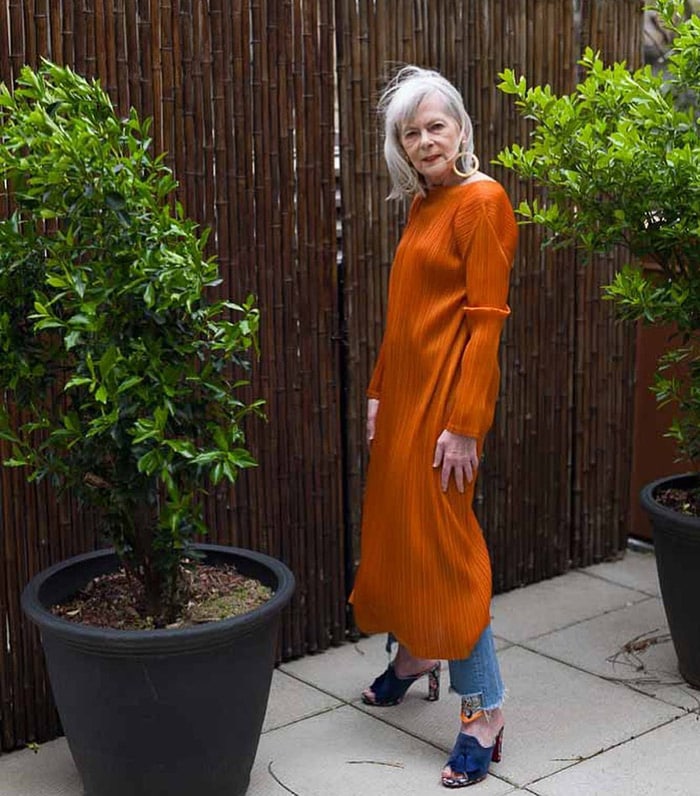 Again, you can really play around with the shoes you choose.
I like to keep a modern aesthetic by opting for booties, brogues or platform sandals.
Lyn (above) shows how a longer dress can look fabulous over your pants. She teams her outfit with on-trend heeled mules.
Recreate her outfit with this similar dress, jeans, sandals and earrings.

Louise et Cie sandal – Clarks platform sandal – Steve Madden ankle strap sandal – FitFlop sneaker
Accesories to use with tunics or short dresses over pants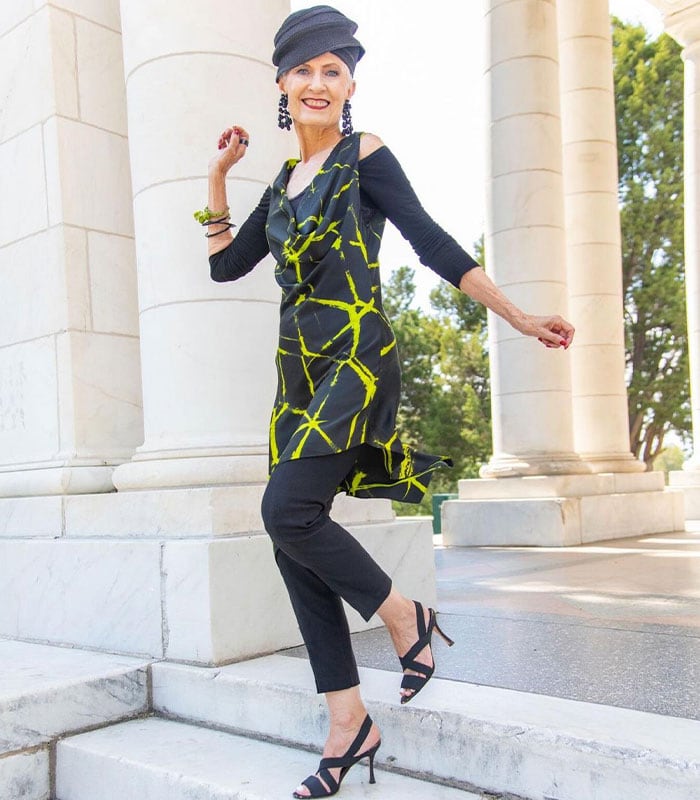 Of course, you can team your look with any accessories. But, I particularly like the look of a tunic top worn with contemporary, statement jewelry.
Judith, The Style Crone (above) is also a great fan of the tunic over skinnies look. It is one of her signature outfits, proving that this look has no age limit.
Here is a printed long top you can layer with this similar long sleeve top, and pair it with these similar heels and head wrap.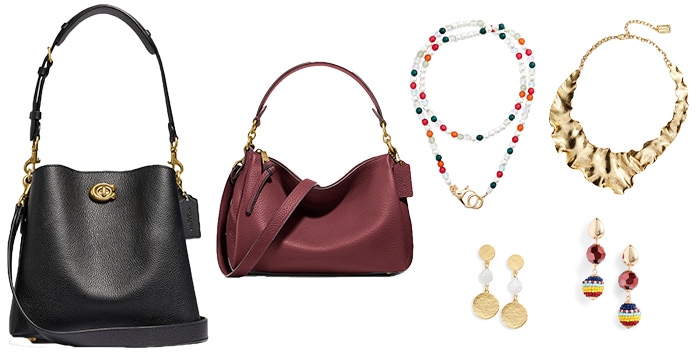 COACH leather shoulder bag – COACH leather crossbody bag – Open Edit beaded wrap necklace – Karine Sultan gold plate collar necklace – Knotty beaded drop earrings – Karine Sultan mixed metal earrings
Capsule wardrobe
The great thing about wearing tunics or dresses over pants if you can have fun and play around with your look. So there are plenty of ways you could mix and match.
Here are 9 outfits featuring tunics or short dresses over pants – using the pieces from above – to get you started.
You can see you can easily mix and match the different tunics and dresses around with alternative pants to create countless outfits.
I have deliberately teamed the tie-dye tunic (with the black at the bottom) with the black leggings as this creates a leg-lengthening effect.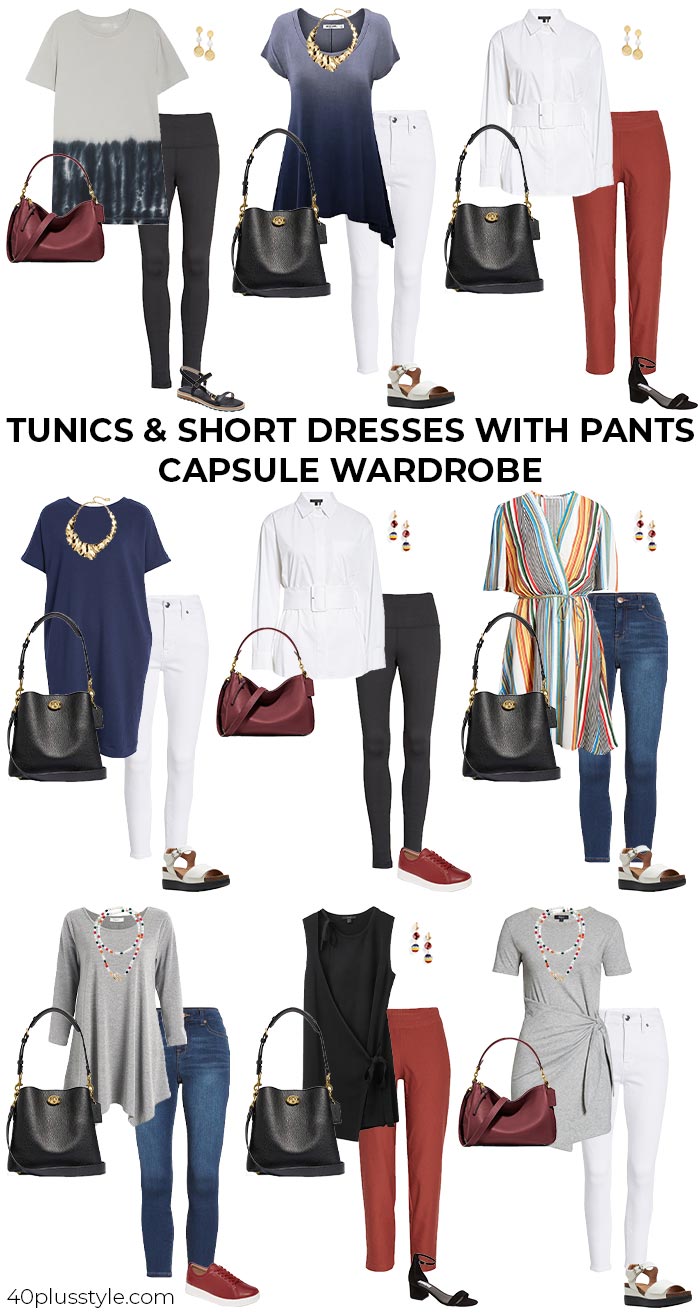 shop all items above here:

More dresses over pants inspiration for you
Below is an earlier dresses over pants capsule for you. While many items are past season, it should still provide inspiration for you when putting together your outfits.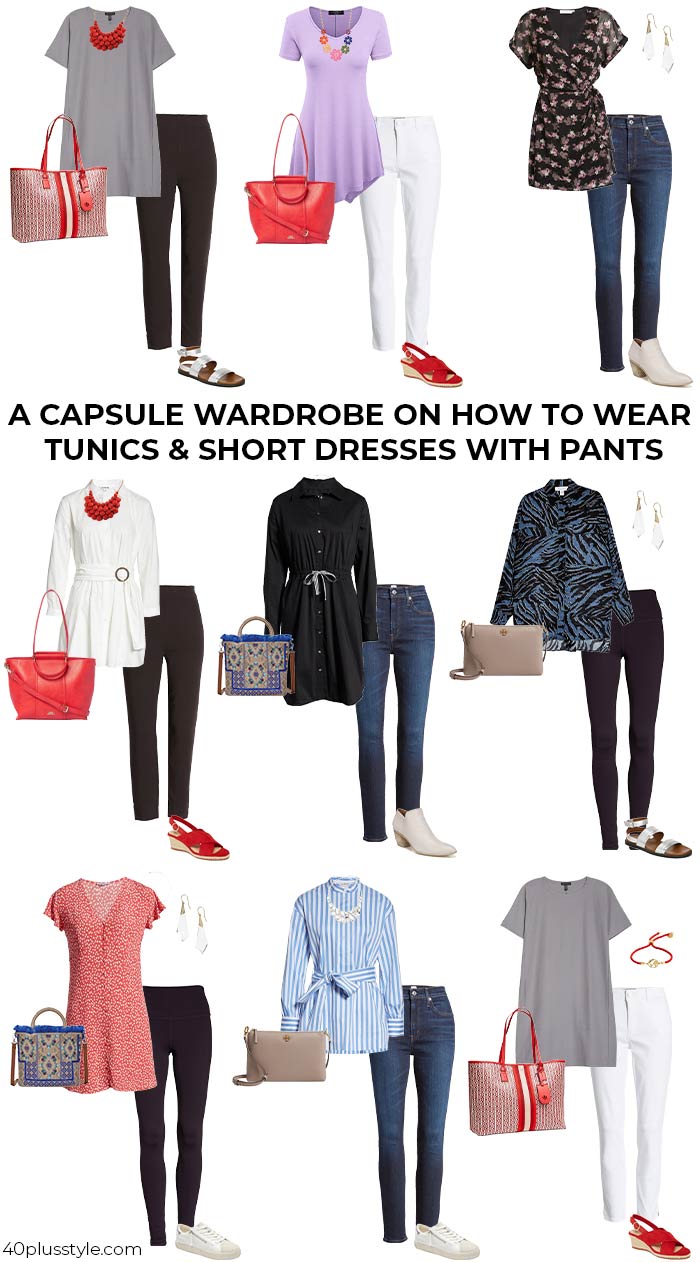 Read our ultimate guide to creating a capsule wardrobe that works best for you.
More examples on how to wear tunic and short dresses over pants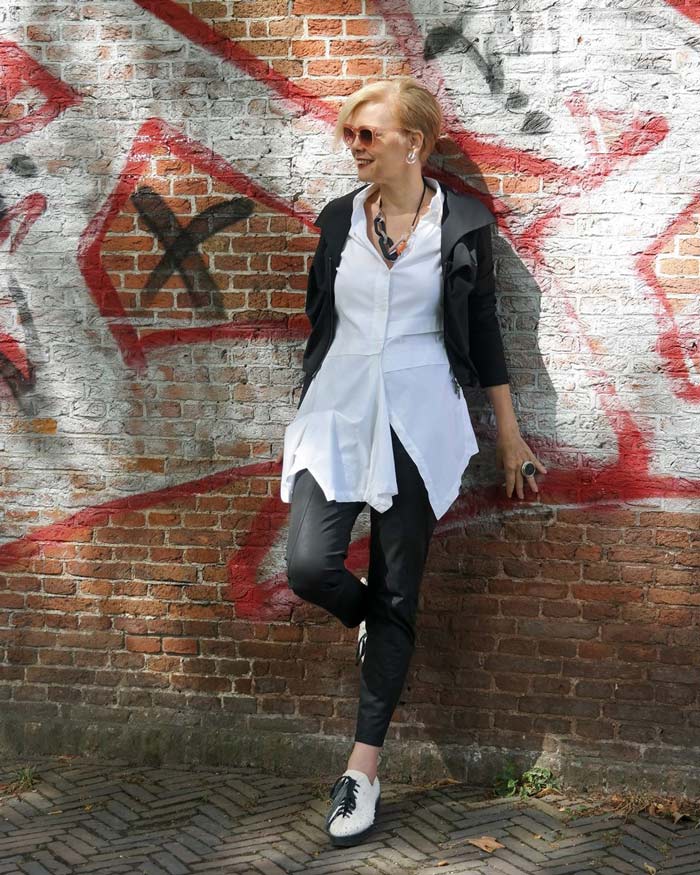 This tunic top (above) is one of my favorite pieces. It gives a fantastic twist on the classic white shirt.
If you're looking to ease into the dresses-over-pants trend, the best way to do it is to keep your pants fitted as mine are in the outfit above, because this will stop your outfit looking too bulky.
The easiest dress to start with is a shirt dress because then you can simply wear your dress over your pants in the same way you would a shirt and either belt it over the top, or you could loosen a few of the bottom buttons.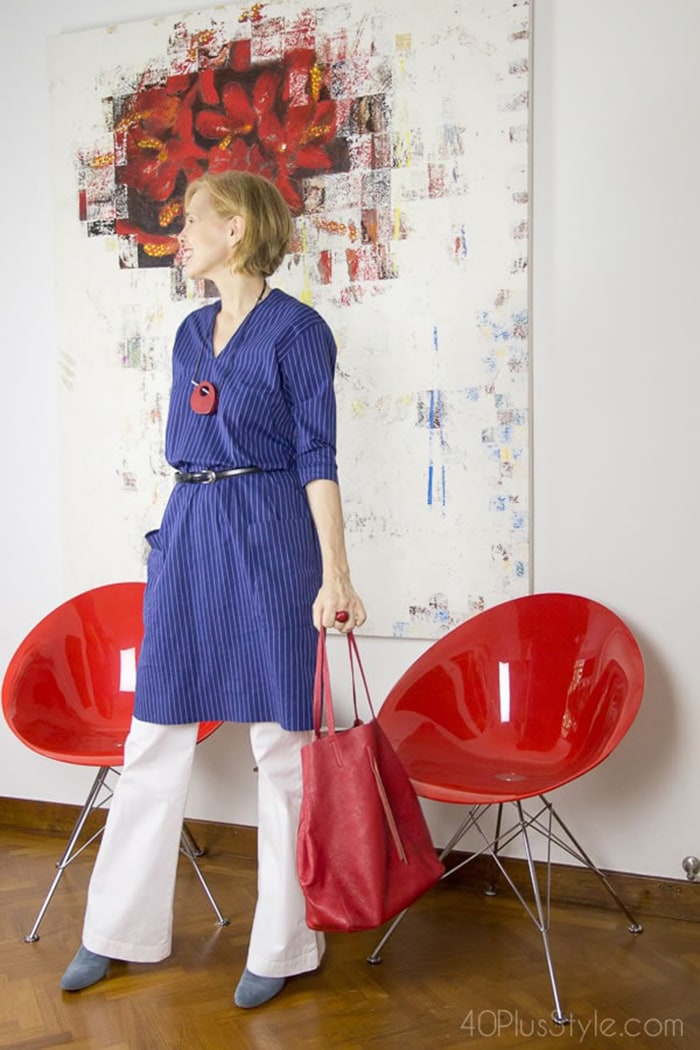 Here's another example of how you wear a dress over wider pants too. Of course it's important to give your look structure which I'm doing with the belt.
The heels help to give me some height and compared with the belt (which I belt quite high) it gives the appearance of nice long legs.
If you've never tried to wear long tunics or dresses over pants before, give it a try!
Overall, what I would encourage you to do, is just to play with this look and have fun.
Try a few combinations from your closet and see if it works. You may just be pleasantly surprised.
Do you like to to wear tunics or a short dresses over pants? I'd love to hear how you style yours.
Continue reading:
Like this post on how to wear tunics and short dresses over pants? Share it on Pinterest!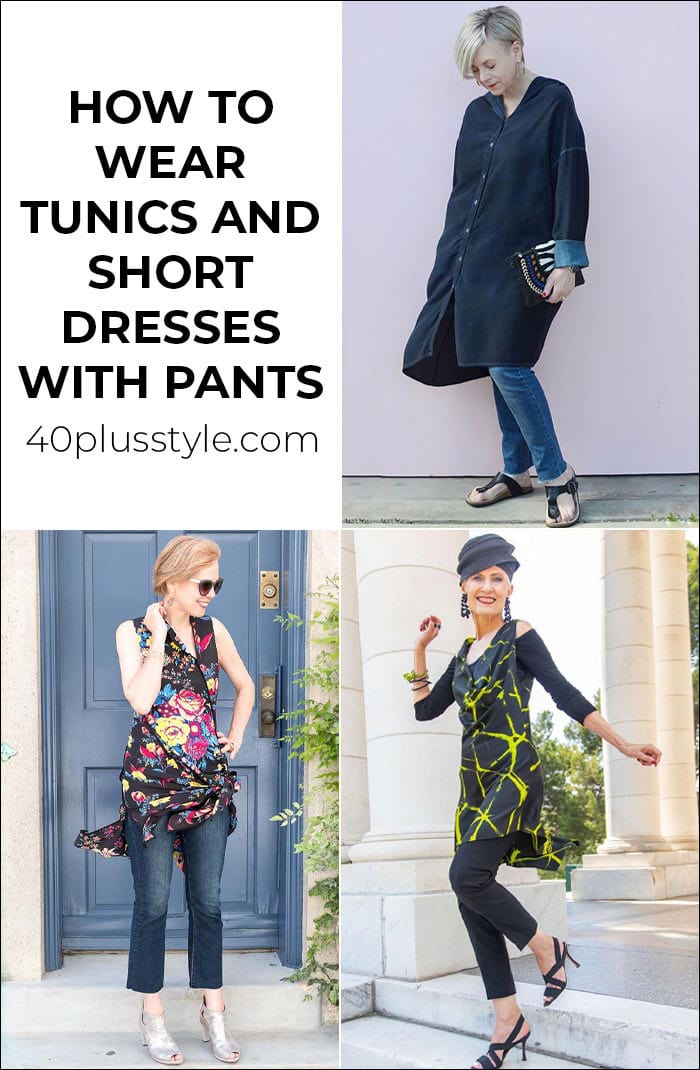 Feature image by Judith, The Style Crone
Want to get more articles from 40+style in your inbox, subscribe here.
You can also connect with 40+style on Facebook, Instagram or Pinterest.
Support 40+style by using the links in our articles to shop. As an associate for Amazon and many other brands, we receive a small commission (at no cost to you) on qualifying purchases which enables us to keep creating amazing free content for you. Thanks!