Wearing a tunic or short dress over skinnies and leggings is one of my favorite looks as I find it an easy, comfortable, flattering and often very stylish look to wear.
When you check the What I wore section on this site you will find numerous examples.
This outfit formula can both be worn in a dressy way as well as casually chic.
Layering a dress over pants looks chic, as well as helping to keep you warm. So, it's the perfect look for transitioning from summer to fall.
This fashion forward way of dressing can mean you can still wear your favorite lightweight dresses well beyond the warmer months of the year.
If you struggle to decide between wearing a dress or wearing pants, you don't have to. You can do both.
You can wear a short dress over pants!
I find this such a versatile outfit combination as it means you can still wear the shortest of dresses without worrying about whether they are appropriate or not. Also check how to wear a short dress over 40.
So, just what is the rule on wearing mini dresses over 40 or beyond? Well, if you've been reading me for a while now, you'l know I'm not one for setting hard and fast rules.
For me, style is all about finding what works for you, your body and your lifestyle, so it's more about offering guidance to help you find your own style rather than telling you what you should and shouldn't wear.If you want to wear a mini dress, you go for it!
Here are some ways I've worn a short dress or tunic over pants
This tunic top (above) is one of my favorite pieces. It gives a fantastic twist on the classic white shirt.
If you're looking to ease into the dresses-over-pants trend, the best way to do it is to keep your pants fitted as mine are in the outfit above, because this will stop your outfit looking too bulky.
The easiest dress to start with is a shirt dress because then you can simply wear your dress over your pants in the same way you would a shirt and either belt it over the top, or you could loosen a few of the bottom buttons.
Below is another way I have worn a shirt dress over pants.
Another good thing about this look is it means you can still wear mini dresses if you no longer want to wear them just with bare legs or tights. You don't have to consign your shorter dresses to the back of your closet.
Plus, it's actually very on-trend this season.
Catwalk looks featuring short dresses over pants
Jil Sander – Alexander McQueen – Balmain
Judith (The Style Crone) is also a great fan of the tunic over skinnies look. It is one of her signature outfits, proving that this look has no age limit.
This outfit (below) also shows that you don't have to surrender your waist either. I love how Judith mixes the chic (hat and dress) with the casual (jean jacket and skinnies) and created this really casually chic look which is perfect for a stroll in the park.
Ana (Mrs American Made) loves to wear her printed tunics with skinnies and long boots.
A few tips on how to wear short dresses and tunics with pants
Now that you've seen a few examples of how you can wear your tunics or short dresses over pants, here are a few things to think about.
Pay attention to proportion
There are no clear-cut rules, although the 1/3-2/3 principle can help.
In fashion, this is often referred to as the rule of thirds.
Whenever you look in the mirror and think your outfit is a bit "off" but you can't put your finger on why, it's likely to be down to proportion.
So, rather than dressing so that your outfit choice essentially cuts your figure into two halves, think about dressing in thirds.
When you layer your dress over your pants, it is likely that you will have your dress taking up two-thirds at the top and your pants taking up a third. But, if you opt for a particularly short dress, this could be the other way around.
Shorter women usually look better with shorter tunics and dresses. Trust your instinct when you look in the mirror.
Below this outfit could break the rule of thirds. But because there is extra length on the sides of the top and I've broken up the lines with a white jacket, the proportions still work.
Here is another example featuring the same white jacket.
Try a wide, short dress
This look can be easiest to pull of with a wider, short dress that rests on the middle of your upper legs (like mine below).
However, other options can work well too, including longer peplums and longer dresses.
What about your waist?
You can choose to surrender your waist by wearing a tunic or dress which skims over it, or choose a style which nips in at the waist. Both will work.
Above and below are two looks which belt at the waist.
How to wear a short dress or tunic over wider pants
You can wear a short dress over wider pants too. Here is older striped dress from Cos that I wore in different ways.
It's worn with my bootcut Paige jeans. The belt gives the dress structure and I like this new silhouette that goes in and out.
Wearing it over skinnies is another no-brainer for this dress. These are cropped skinny jeans from Uniqlo. Super comfortable and very easy to combine with your longer tops in spring and summer. The fuchsia accessories give the look some extra color which is good for my complexion.
These whiter jeans are even wider but I really like this wide over wide silhouette at the moment. Of course it's important to give your look structure which I'm doing with the belt.
The heels help to give me some height and compared with the belt (which I belt quite high) it gives the appearance of nice long legs.
There are just so many options with this look that it is difficult to give clear-cut guidelines.
Below I'm having fun playing with different layers.
What I would encourage you to do, is just to play with it and have fun.
Try a few combinations from your closet and see if it works. You may just be pleasantly surprised.
Tunics to wear over short dresses
When it comes to selecting tunics or short dresses, there are really no hard and fast rules. You could choose loose tunic styles, or you could opt to add a belt and highlight your waist.
You could try longer tunic-style shirts, or asymmetric tops.
Bobeau shirtdress – Eileen Fisher shift dress – DJT tunic top
– Treasure & Bond tunic shirt
Short dresses
Tunic tops are designed perfectly to be worn over skinnies and leggings. Check out our article on how to wear leggings for more tips on this.
But you can also try wearing your short dresses over your pants.
You could opt for anything from waistcoat dresses to coat styles and wrap dresses.
Any type of short dress could work. When you get a few minutes, try some on from your closet.
Topshop belted blazer dress – French Connection check dress – French Connection floral dress – Ann Klein wrap dress
Bottoms to wear with tunics or short dresses
The easiest way to get started with this look is to wear a looser fitting dress over form-fitting pants.
I like to wear tunics and short dresses over jeans, leggings, tailored and wide-legged pants.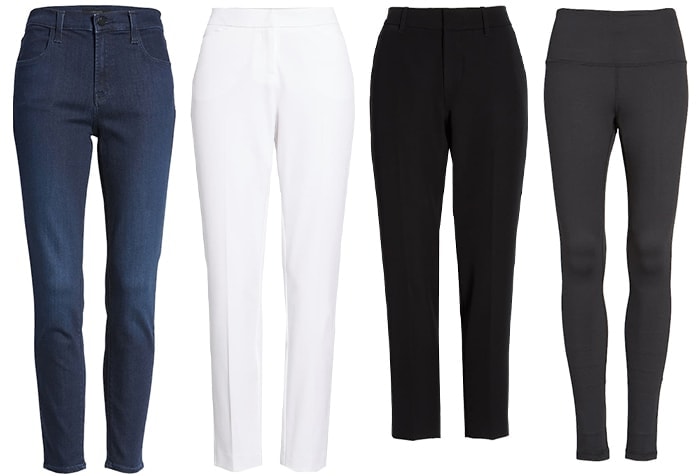 J Brand crop skinny jeans – Vince crop trousers – Halogen ankle pants – Zella high waist leggings
Accesories to use with tunics or short dresses over pants
Of course, you can team your look with any accessories. But, I particularly like the look of a tunic top worn with contemporary, statement jewelry.
Lele Sadoughi triple hoop pendant necklace – Kendra Scott statement necklace – Madewell geo chain earrings – Kate Spade leather tote
Shoes to wear with tunics or short dresses over pants
Again, you can really play around with the shoes you choose.
I like to keep a modern aesthetic by opting for booties, brogues or platform sandals.
Fly London sandals – Rollie Oxford shoes – Eileen Fisher bootie – Topshop sneaker
Capsule wardrobe
9 outfits featuring tunics or short dresses over pants – using the pieces from above.
Read our ultimate guide to creating a capsule wardrobe that works best for you.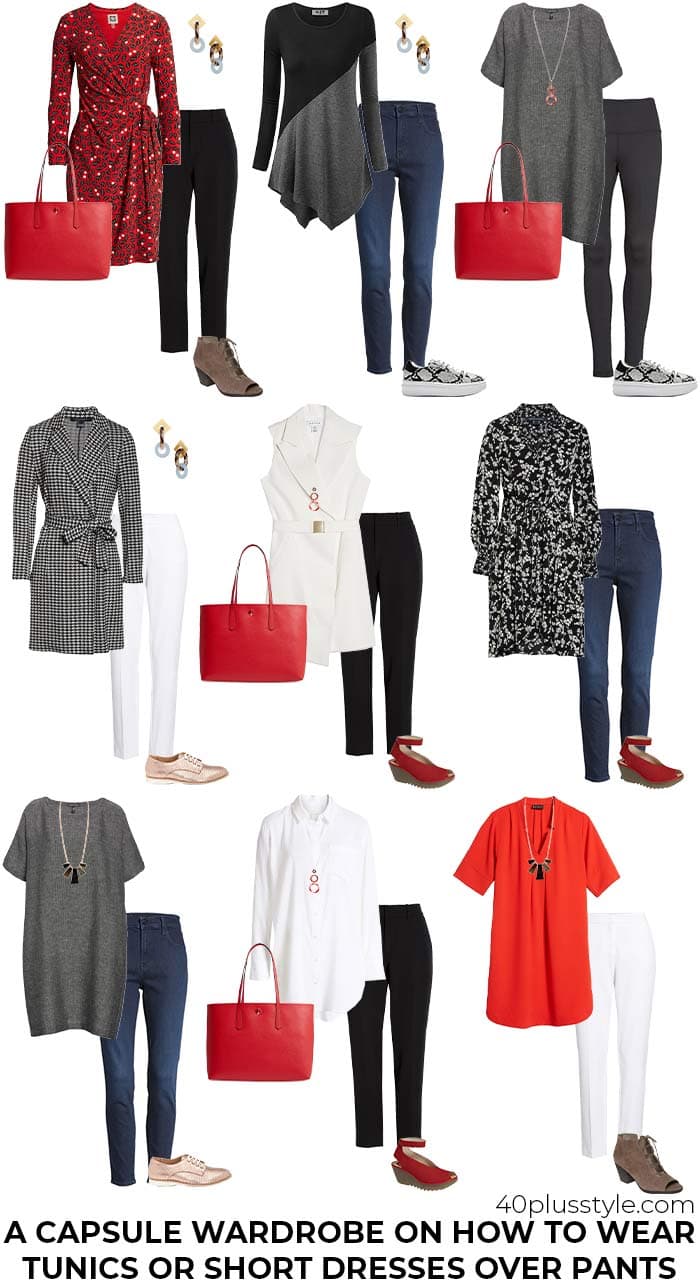 Do you like to to wear tunics or a short dress over pants ?
Like this post on how to wear short dresses and tunics over pants? Share it on Pinterest!
Want to get more articles from 40+style in your inbox, subscribe here.
You can also connect with 40+style on Facebook, Instagram or Pinterest.
Support 40+style by using the links in our articles to shop. As an associate for Amazon and many other brands, we receive a small commission (at no cost to you) on qualifying purchases which enables us to keep creating amazing free content for you. Thanks!