Have you ever seen a short dress in the shops that you would love to wear but the dress is just way too short?
You may still be able to buy it! Instead of wearing it as a dress on its own, you can wear your dress over pants instead.
On certain occasions you can wear it as is, but on others there is just so much you can do with a wonderful short dress.
Here is older striped dress from Cos that I wore in different ways.
It's worn with my bootcut Paige jeans. The belt gives the dress structure and I like this new silhouette that goes in and out.
When I come across an item I like and I see countless ways that I can wear the piece, it makes for an easy buying decision.
That was the case with this striped dress.
It's made out of a stretchy material which makes it very comfortable to wear.
The dress is short and came without a belt but I instantly saw its opportunities as a tunic.
Since it has sleeves, it can be worn for warmer and cooler weather situations.
It can also be worn as a dress on its own, but since I'm one of those women who doesn't particularly like to show the knees, I don't think I will wear it much in this way unless I'm heading for a beach resort. I do like the look of the dress with these fuchsia kitten heels though.
I'm much more likely to wear this over pants. And I particularly like it with my bootcut Paige jeans. The belt gives the dress structure and I like this new silhouette that goes in and out.
Wearing it over skinnies is another no-brainer for this dress. These are cropped skinny jeans from Uniqlo. Super comfortable and very easy to combine with your longer tops in spring and summer. The fuchsia accessories give the look some extra color which is good for my complexion.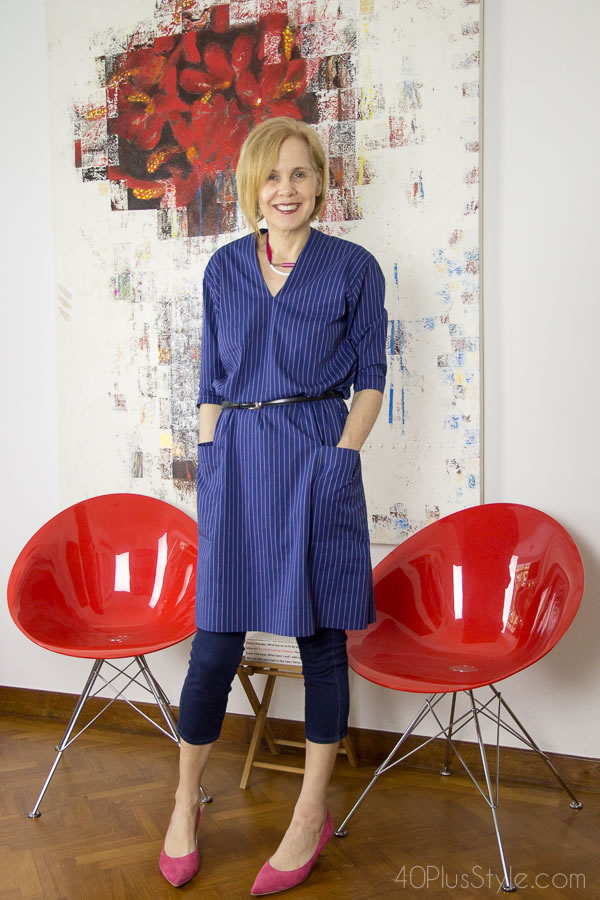 These whiter jeans are even wider but I really like this wide over wide silhouette at the moment.
Of course it's important to give your look structure which I'm doing with the belt. The heels help to give me some height and compared with the belt (which I belt quite high) it gives the appearance of nice long legs.
This dress is a great example of how one new items can instantly refresh your wardrobe. All other pieces in on this page are at least one year old.
Some of the best short dresses in stores now
Here are just a few of the versatile short dresses I've spotted in stores now.
If you're having a day when you love your legs and you feel confident, you may wish to wear them as they are. But, they're also very flexible options for wearing over pants and leggings.
Tunic dress
A versatile dress that you can belt to create a different look.
Long sleeve dress
A wrap dress is always flattering. While this one is short, it does have long sleeves so won't leave you feeling too "exposed".
Speechless long sleeve wrap dress
Red dress
Leopard print is always a style staple and this dress has an unusual take on the trend because of the red background.
Tips for wearing your short dresses
To sum up, here are a few more tips on what you can put under your dresses as well as some more general thoughts on wearing short dresses.
Wear them with opaque tights
If you aren't so confident about your legs anymore or don't like your knees, you could wear them with opaque tights and booties.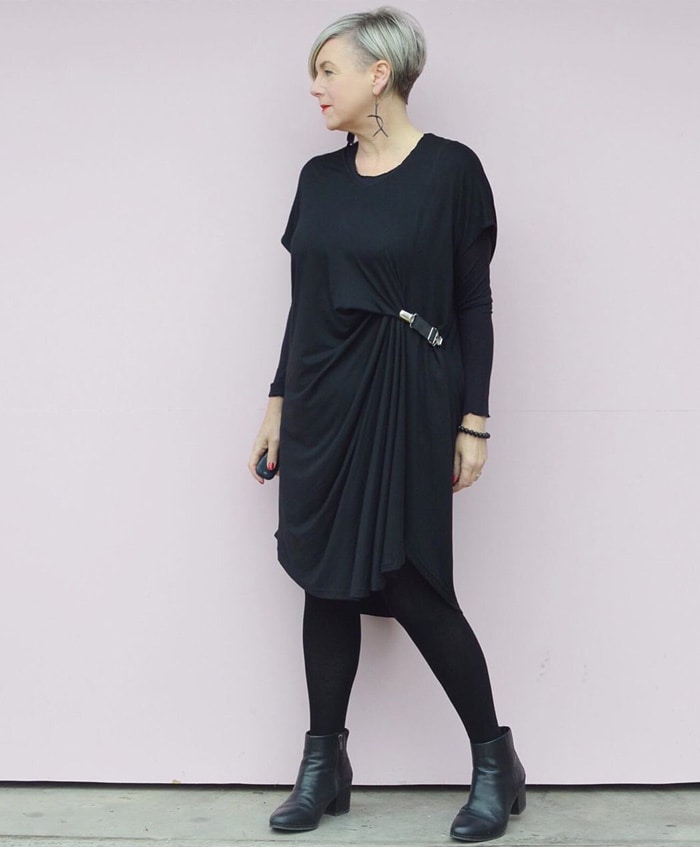 Deborah (above) wears a front draped tunic with cashmere tights.
With leggings
Another option is to wear your short dresses with leggings.
With pants
The dresses over pants outfit is particularly on trend for winter and fall 2019 with lots of designers opting to showcase this look.
This gives you so much more versatility when it comes to your closet because you can wear your dresses over skinny or wide pants or over jeans.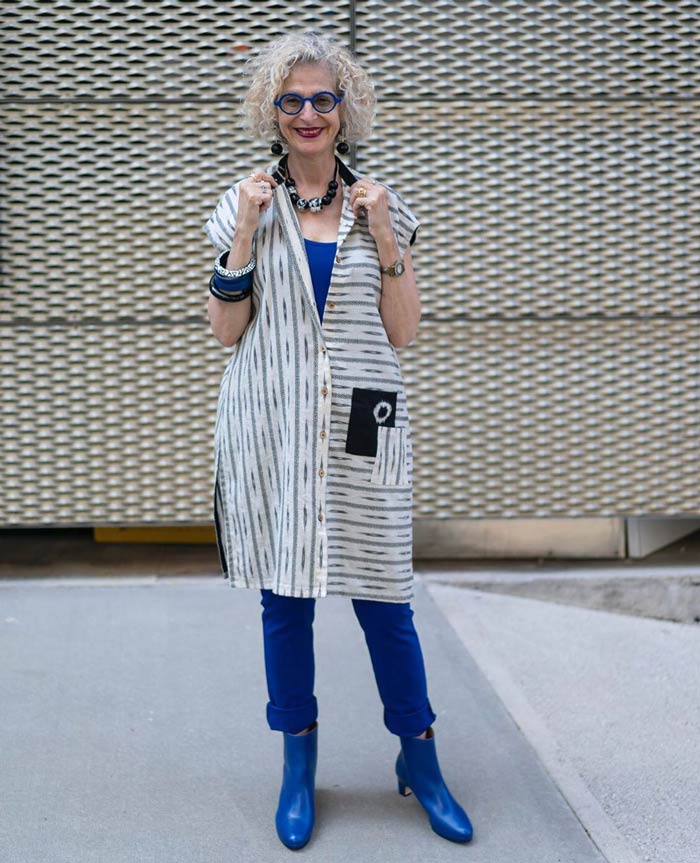 Dayle (above) wears a pair of cropped blue jeans over a button-down printed dress and finishes off her look with statement accessories.
Think about your sleeves
If you aren't wearing your short dress with leggings or pants, but feel confident enough to wear it as it is and show off your legs, you might want to think about covering up your arms so that you still feel you have enough coverage on your body and you keep your look classy.
Don't throw those short dresses out just yet
If you have just pushed your short dresses to the back of your closet, don't consign them just yet. Why don't you have a bit of a play around with styling them over pants? You never know, you might just discover some new outfit combinations that you love.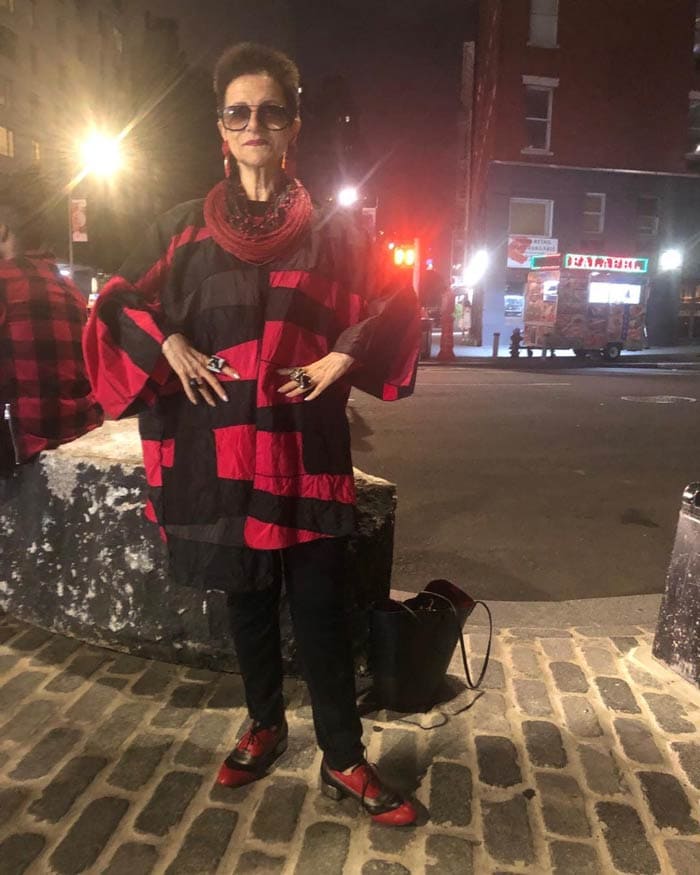 Diana (above) looks gorgeous on this all red and black outfit.
Don't follow the rules
I'm sure you've read plenty of articles and heard plenty of people say that you shouldn't wear a short dress after a certain age. But who says? If you feel fabulous in it, you should go ahead and wear it however you want.
Do you still wear a short dress?
Related articles:
Want to get more articles from 40+style in your inbox, subscribe here.
You can also connect with 40+style on Facebook, Instagram or Pinterest.
Support 40+style by using the links in our articles to shop. As an associate for Amazon and many other brands, we receive a small commission (at no cost to you) on qualifying purchases which enables us to keep creating amazing free content for you. Thanks!