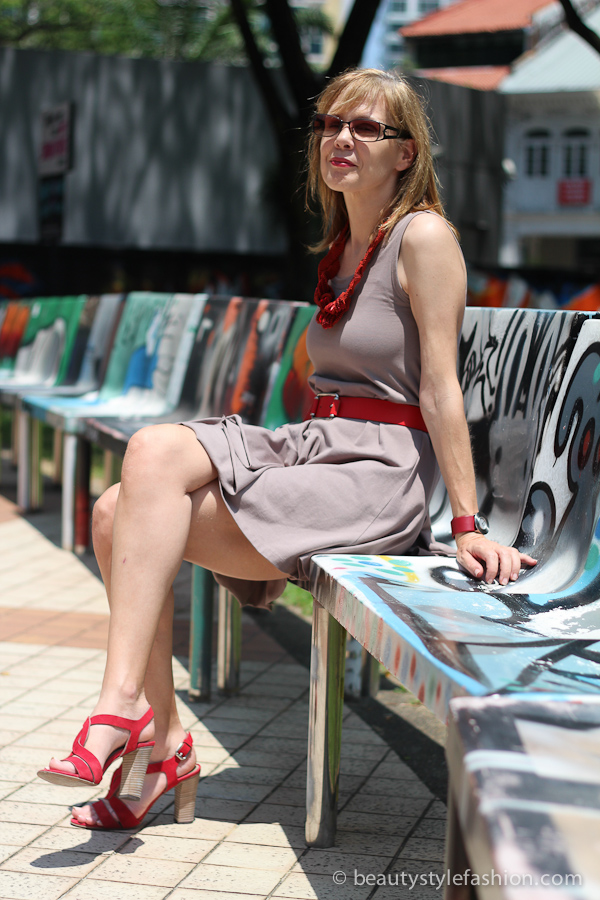 I recently visited the US where I bought a fun naturally coloured dress at JNBY. I liked this dress because it has a lot of fun detail happening in the front and back. It was playful and trendy. But was it appropriate for a woman over 40? I wasn't sure but the dress was on sale so I bought it anyway.
When my friend and I decided to go for lunch and go hunt for more fun places to take photographs in Singapore, I decided to wear it. I wanted to add to my previous post on wearing more colour so I chose to wear this dress with my new red high heels, added a belt, a coloured watch and voila! My plain coloured dress now looked very colorful!
But there was still the issue of the shortness… However, I felt good that day and since we were going to do a little bit of a 'photoshoot', I decided to wear the dress as it is. There are no strict rules when it comes to dressing over 40, but some could argue that this dress is a bit too short for me. On the day though, I felt good and had fun, so I think I got away with it.
Photos by Anja van der Vorst
But it also got me thinking. There are days when I may not want to show my legs and dress a little more lady like. So how can you and I wear a short dress like this on all occasions? I played with a few options:
1. In the first picture you see me wearing the dress with skinny white pants. This is quite a funky and sporty look.
2. In the second look I combined the dress with a black skirt. This is a far more elegant lady like look.
3.  The third look is possibly my favorite alternative. The dress is combined with striped long pants and high heels. This look makes me look tall, trendy, yet very elegant in my opinion.
So this proves that you need not necessarily leave a great dress that may be a little too short for you in the shop. On certain occasions you can wear it as is, but on others there is just so much you can do with a wonderful short dress.
How about you? How do you wear short dresses? And what is your favorite look of the ones listed above?