Dresses are great garments. Rather than having to think what you need to wear, you can just pick a dress and put it on and you're done! But dresses have one disadvantage. For people like me, who get very bored with an outfit very quickly, dresses are more difficult to remix.
Or are they?
I have actually found quite a few ways to remix my dresses so they appear fresh and new and look like a different outfit.
Here are a few options on how you can remix a dress and create a different look:
1. Wear a (different) belt
Some dresses look completely different when you wear them with a belt. Or if they already have a belt that came with the dress, change to a different belt.
Recently I wanted to wear my red silk dress again for the Problogger cocktail party. However, this was not a very formal occasion and my dress can look a bit too chic. So I wanted to dress it down a bit. Since the dress needs a belt, using a different belt than the dress' own was an obvious solution. The green dress below comes with a matching green belt but can easily worn with others as well.
2. Wear it over pants
Another way to remix your dress is to wear it over pants. I showed you examples before on how you can wear short dresses after 40 by wearing them over pants.
I love wearing dresses over pants and you can see how I did it with my green dress and also with my purple dress recently.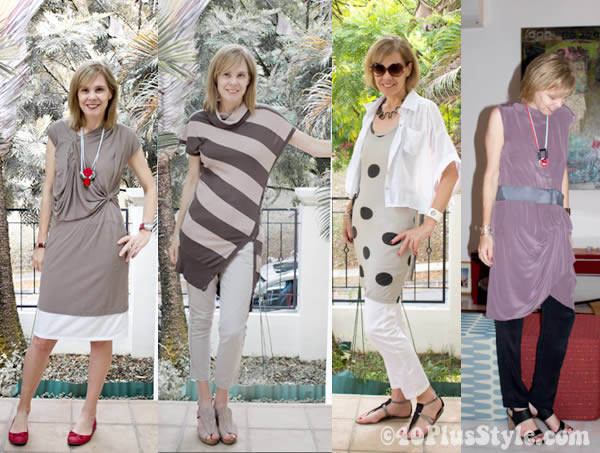 3. Wear it over another dress or skirt
This trick works well when you have 2 dresses of different lengths. I use this trick to wear some of my shorter dresses that I no longer like to wear by themselves. (see picture on top)
4. Dress it up with a scarf
This is not a trick I use very often, but it is another way to give your dress a different vibe.
5. Wear something over the dress
This can be a jumper, shirt or jacket. There are so many options here, so start experimenting with what is already in your closet. Dresses can be quite particular so will not look good with all jackets and tops. Bulky sweaters are a hot trend for winter and can give a surprising new look to some of your straighter dresses.
6. Change the shoes
Shoes will also change the look of your dress. Classic pumps will make it more chic and classic while short trendy booties will make it look more modern or edgy. Try some shoes that you would normally not pick with your dress and see how it looks!
7. Combine with a hat!
Hats add something special to an outfit. They can add more style, more sophistication or more fun. A great trick to use if you have worn your plain dress too many times and it calls for something extra.
8. Wear with some great statement jewellery
Great statement jewellery can also transform a dress. Perhaps try on your most classic dress and combine with a hip statement necklace. The contrast between the 2 styles can make for a really interesting new combination.
9. Combine with a different bag
A bag can also really change the look of your dress. Try seeing how it looks with a very structured bag and a very soft bag and try different colours.
Do you remix your dresses into different outfits and how do you do it?

Want to get more articles from 40+style in your inbox, subscribe here.
You can also connect with 40+style on Facebook, Instagram or Pinterest.
Support 40+style by using the links in our articles to shop. As an associate for Amazon and many other brands, we receive a small commission (at no cost to you) on qualifying purchases which enables us to keep creating amazing free content for you. Thanks!