Readers of this site will know that I'm a fan of wearing a short dress over pants. They are also an excellent way to wear your leggings if you want to be very comfortable in your outfit or dress very casual.
I needed a very casual outfit to see my son compete at a tennis tournament. There is no point looking too overdressed on an occasion like that when everyone else is wearing shorts and t-shirts. Still, there is no need to wear those same shorts and t-shirts either, if you like to have fun with your clothes and don't mind looking a bit different from everyone else.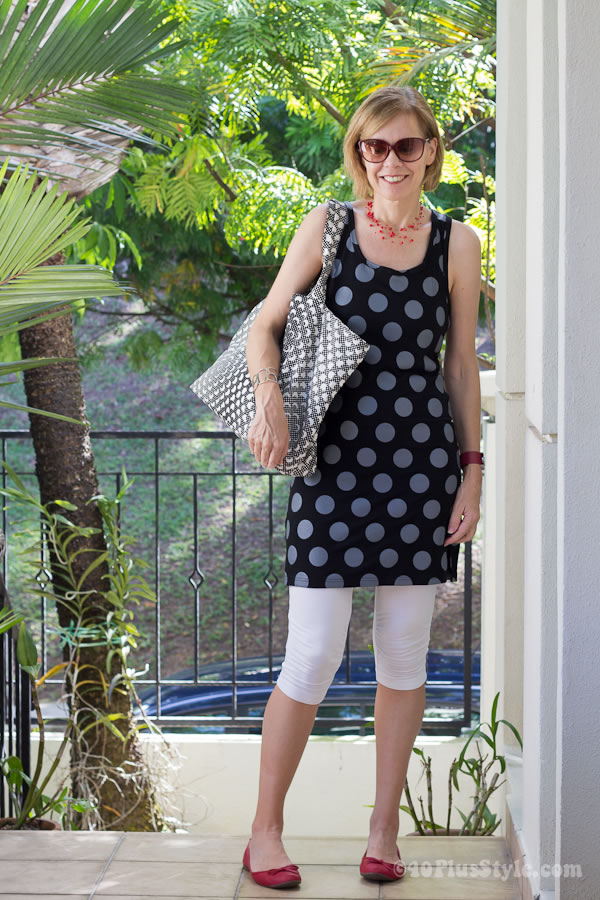 You need to think outside the box a bit and make just a little bit of extra effort.
The outfit also had to comply with the following requirements.
It needed to be:
Very cool. Remember, it's super humid and hot here in Singapore and I was going to be outside all the time.
Comfortable. I would be sitting on benches etc. No point in wearing something fancy or something you can't bend in.
Somewhat sporty. To fit in the vibe of the event. Leggings suit the bill in my book.
Fun. No need to wear something boring even if you are going to a casual event.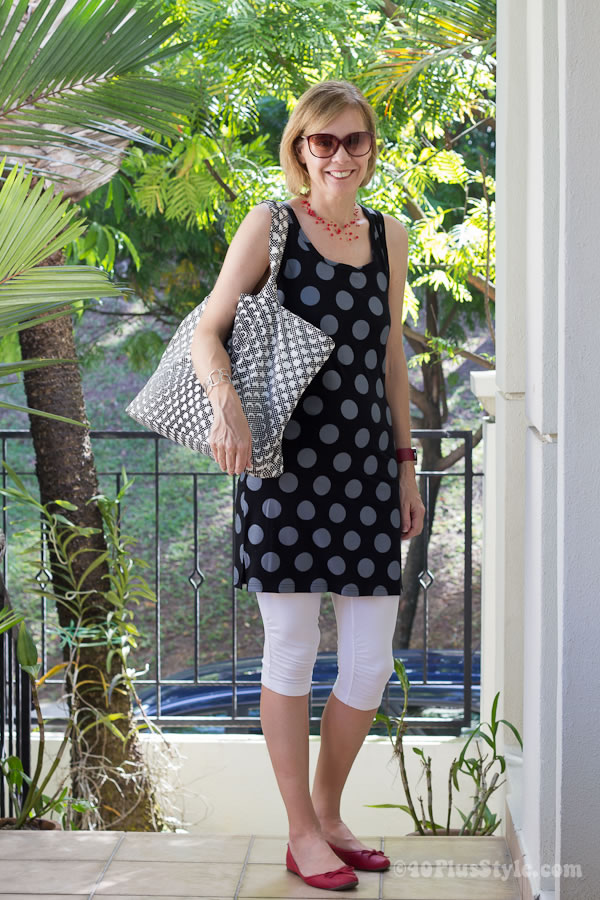 I almost never wear leggings. I often find them too casual and too body hugging and prefer skinny jeans or tapered trousers to leggings, which I feel create a nicer overall silhouette. But for the reasons explained above, leggings were very appropriate here.
I opted for below-the-knee leggings as these are cooler and the most flattering. (I also don't own any long white leggings). I specifically bought these white leggings with draped knees as I find the overall look of below-the-knee leggings with these drapes more flattering.
Finally, I added a bit of coloour (as usual) with accessories and shoes to the otherwise black, grey and white outfit. Just a bit of red makes all the difference. The graphical bag adds a little extra interest by adding some texture and a bit of pattern mixing.
And voila, an outfit that is comfortable, cool, hip, sporty, yet fun.
This kind of outfit will never become a true favorite as I favor more dressy looks nowadays, but for the occasion this seemed like a good fit. I have also taken it on my holiday as it doesn't wrinkle and will be very comfortable on our explorations.
Do you make an effort to make your casual outfits fun and just a bit different?

Want to get more articles from 40+style in your inbox, subscribe here.
You can also connect with 40+style on Facebook, Instagram or Pinterest.
Support 40+style by using the links in our articles to shop. As an associate for Amazon and many other brands, we receive a small commission (at no cost to you) on qualifying purchases which enables us to keep creating amazing free content for you. Thanks!