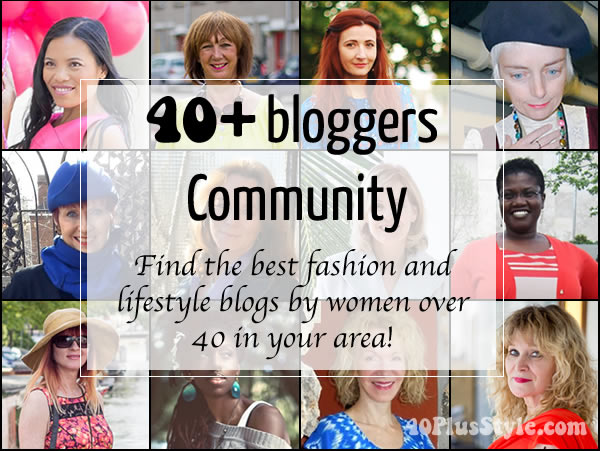 Welcome to the fabulous blogging community of 40+ women!
When I set up this site I always wanted to create a stylish outlet for women over 40 and a community where they can all get together and talk about style and life.
To that end I have featured many fabulous 40+ women and style bloggers in our style interview series and have created a list of over 40 bloggers.
Although the sites are randomly arranged (with featured style stars currently at the top), you can easily put the bloggers in alphabetical order by clicking the arrows above a column.
You can also search by keyword or arrange by country or name. Great if you want to find out who is blogging in your area!
TAs the list was getting very big I have now split the list into Fashion and Style bloggers and Lifestyle bloggers.
Please note that we are no longer updating this list so we do not accept any new submission.
If you notice any broken links or blogs that have not been updated since a year, please let me know as I like to keep this list error free and up-to-date.
If you like to get to know the most stylish 40+ bloggers a bit better, be sure to check out the 40+Style interview series, where more than 60 bloggers share all their style secrets!
Happy blogging and I look forward to meeting you on the web!

Fashion and style bloggers over 40
| Blog name | First name | Country (state) | 40+Style Interview |
| --- | --- | --- | --- |
| 40 plus and fly | Alease | | |
| Happiness at midlife | Alice | US (CA) | How to rock a pencil skirt |
| Spashionista Report | Alicia | US | How to look stylish in a wheelchair |
| Sydney Fashion Hunter | Allison | Australia | |
| Matchy Matchy Midlife | Alyssa | | |
| Amber of Butane Anvil | Amber | | |
| AKVjewelry - Adorn, Inspire, Uplift | Amy | Israel | |
| Mrs American Made | Ana | US (CO) | How to look fabulous and suport local industry |
| She is addicted to clothes | Ana | | |
| Asbury Lane Style | Andrea, Cathy, Pat | US (TX) | |
| You Look Fab | Angie | US (WA) | How to mix modern with classic |
| Fashion Me blog | Angie | | |
| Kremb de la Kremb | Ann | Hongkong | How to feel confident & beautiful and tell stories with your clothes |
| Blue hue wonderland | Ann | US | How to look elegant and arty |
| looking fabulous @50 | Anna | Australia | |
| Anna's Island Style | Anna | UK | |
| Playing with scarves | Anne | US (MI) | How to wear scarves |
| Anne's blog | Anne | UK | |
| Frump Factor | Anne | | |
| Catwalk Schoolgates | Anne Marie | UK (England) | |
| Lady of Style | Annette | Germany | How to look corporate yet modern and hip |
| The F-word Paradox (Blog for AQ Ottawa Image Consultants) | Annette Quinet | Canada | |
| Louise Cook | anti-agingonlyanumber | | |
| Not Forever 21 | Archana Kacker | India | |
| Fashion Thriftology eRoom | Audrey | US (AL) | |
| Fringeology | Audrey | | |
| Over 40 fashions | Barb | | |
| Fashion Adventures At Any Age | Beata | UK (London) | |
| The Citizen Rosebud | Bella | US (WA) | How to dress like a true individual |
| Bella gets real | Bella | | |
| Style at a certain age | Beth | US (CA) | American classic with a modern twist |
| Fashion Schlub: From Frumpy to Fabulous | Bettye Rainwater | US (NY) | |
| Beverly like Hills | Beverly | US (CA) | How to look hip in mainstream brands |
| Silvergirl | Brett | US | |
| My Small Wardrobe | Carelia | US (NC) | How to mix vintage with trends |
| Cougar Vintage | Carla | | |
| Evolve Your Image | Carol | US (WA) | |
| Style Revival | Caroline | Australia (Melbourne) | |
| A lovely little wardrobe | Carrie | US (TX) | |
| Carrie Fabulous | Carrie | | |
| Not dressed as lamb | Catherine | UK (England) | How to wear color in abundance |
| Joly Look | Catherine | Belgium | |
| The Middle Page | Cathy | US (TN) | Casual with a twist – A style interview with Cathy |
| Bay Area Fashionista | Cathy | US (CA) | |
| Minister of Style | Cathy | | |
| Style Nudge | Cherie | US (NJ) | |
| Style Nudge | Cherie | | |
| die-edelfabrik | Chrissie | Germany | |
| Le Vaisseau Selenite | Christel | | |
| Thrifted or Scripted | Christine | | |
| Fashionable and stylish over 40 | Claire | UK | |
| Stylevity | Claire | UK | |
| Clairejustineoxos | Claire Justine | | |
| My Chic Style | Claudeen | | |
| Claugary | Claudie | US (NJ) | |
| Cori Burchell | Cori | | |
| Whats Up Cork | Corki Delosreyes | US (CA) | |
| The dress Muse | Cynthia | US (TX) | |
| Be fabulous daily | Cynthia | | |
| Rocking Over 40 | Cynthia Correa | US (CA) | |
| Whosaprettygirl | Darlene | US (NM) | |
| AquamarinaStyle | Darlene Messinger | US (CA) | |
| Summy DE Time | DaVonne | US (MD) | |
| Fab40ward | Dawn | US (MD) | |
| Fashion should be fun | Dawn Lucy | US (CA) | How to have fun with fashion |
| She accessorizes well | Debbi | | |
| Recovering Shopaholic | Debbie | US (CA) | How to shop less and get a better wardrobe |
| Fashion 101 | Debbie | US (WI) | |
| Fashion Fairy Dust | Debbie | US (PA) | |
| Living On Heels | Debbie Jones | US (TX) | |
| Stylish Murmurs | Deborah | Australia | How to look great in black and white |
| Fabulous after 40 | Deborah | Canada | |
| Love Fashion and Live | Deborah | US (ID) | |
| Decoding dress | DeeDee | | |
| Pumps & Studz | Delilah | US (CO) | Fabulous style has no age or size limit! |
| Denise's Dressing Room | Denise | | |
| OgoVintage | Denise | US (FL) | |
| Pull Your Sox Up | Desiree | | |
| Finding your style | Diana | Australia (Sydney) | |
| Plus Size UK | Diane | UK (N.Ireland) | |
| Fabulous ashionista | Diane | | |
| Dressed In Faith | Dianna Miller | US | |
| The daily fashion and/or beauty tip | Donnachloe | | |
| Senior Style Bible | Dorrie | US (NV) | How to become a style icon at 80+ |
| E'Beth Goad Wardrobe Stylist | E'Beth Goad | Japan | |
| Following Augustine | Elaine DeBock | Canada | |
| Fabulous Finds | Elena | | |
| Mz Savvy Style | Elizabeth | US (GA) | |
| Elizabeth Fitzsimmons | Elizabeth Fitzsimmons | US (WA) | |
| What Lizzy Loves | Elizabeth Yeowart | England | |
| Plusblack | Elle | UK | |
| My daily costume | Elle | | |
| Style Splash | Emma | UK (England) | |
| My life and my style | Emmalyn | US (CA) | |
| Erica B's DIY Style! | Erica | US (AL) | |
| Insanely Erika | Erika Calderas | US (TX) | |
| BusBee Style | Erin | US (TX) | |
| The Age of Grace | Eugenia | US (PA) | How to embrace elegance and grace |
| Fashionista Over 40 | Evelyn | US (MN) | |
| Searching the Inner Me | Fernanda | | |
| Avenue 57 | Fiona | UK | |
| Is this mutton? | Gail | UK | |
| 2 sisters talk fashion | Genece & Patricia | US (IL / NV) | |
| Grown and curvy woman | Georgette | US (PA) | How to dress for the curvy body type |
| The Dutch lady of fashion | Gigi | | |
| Two Thousand Pennies | Gill | UK | |
| Bespoke baroke | Gina | | |
| Rustic and Refined Living | Gina Ward | US | |
| So what to twenty | Glenda | | How to look effortlessly chic |
| Stylosophy | Glenyse | | |
| Curvitude | Goody | | |
| Estilo Depois dos 40 | Gr Nascimento | Brazil | |
| No Fear of Fashion | Greetje | Netherlands | How not to fear fashion |
| Hauptsache warme Füße! | Gunda | Germany | |
| The Style Confessions | Heather | US (CA) | How to get body confidence |
| Frantic but Fabulous | Heidi | US (MD) | |
| Lane as Grace | Hope | Australia | |
| Inside out style blog | Imogen | Australia | |
| meyrose - fashion, beauty and me | Ines | Germany | |
| Fashion Bistro | Iris | US (CA) | |
| Fashion sabbatical Dress | Irmin | Netherlands | |
| Finding Lola 7 | Isabelle | US (NY) | |
| Petite Silver Vixen | Jacqueline | UK (England) | |
| Yellow Brick Runway | Jacqueline | US (CA) | |
| Mummabstylish | Jacqui | United Kingdom | |
| Take it /or/ leave it | Jaime | Israel | |
| More than turquoise | Jamie | US | How to look hip after after 40 |
| Fort Smith Stylista | Jan | | |
| My Midlife Fashion | Jane | UK | |
| The small fabric of my life | Jane | | |
| Janestyle Club | Jane Lee | Hongkong | |
| Outer Sparkle | Janet | | |
| Angelqueen | Janie | Denmark | |
| JLJ Back to Classic | Janis | US | |
| Never growing old | Java | | |
| Shop your closet by Jaymie Ashcraft | Jaymie | US (MI) | |
| Gracefully 50 | Jeannie | US | How to look great in neutrals and look effortlessly chic |
| Fab Review | Jeannine | US (NJ) | |
| Style Cue | Jen | | |
| AfrockinNZ | Jenni | New Zeeland | |
| A Pocketful of Polka Dots | Jennie | US (SC) | |
| MAW search for style | Jennifer | US (CO) | |
| Bonjour 40 | Jennifer | US (NC) | |
| A Vintage Vanity | Jennifer | US (IL) | |
| Malcriada | Jennifer | | |
| Elegantly Dressed and Stylish | Jess | US (NC) | |
| Wrapped In Scarlet | Jessica | US (PA) | |
| This Season's Gold | Jessica L | US (NY) | |
| Grownupglamour | Jill | Australia (TA) | |
| Everything just so | Jill | | |
| Poppy's Style | Joanna | US (GA) | How to embrace urban and edgy style |
| Joanna Avant, Style | Joanna Avant | US (VA) | |
| Jodie's Touch of Style | Jodie Filogomo | US (CO) | |
| Fashion Beyond Forty | Joely | US (KS) | |
| Joicefab | Joice | US (NJ) | |
| Fabulously Chic Over 50 | Jonet | US (SC) | |
| Chic at any age | Josephine | UK / France | How to look chic at any age |
| The Style Crone | Judith | US (CO) | How to wear hats |
| Stuck with luck | Julia | Greece | |
| The Velvet Runway | Julia Rees | UK/ France | |
| My Life In Shoes | Julie | US (CA) | |
| sew country chick | Justine | US (CA) | |
| Highly Irregular Style | Kaffesoester | Denmark | |
| She Thought She Could - So She Did | Karen | US (CT) | |
| Did you make that? | Karen | | |
| Wise Women Style | Karen | US (FL) | |
| The chronicles of Lady K | Kari | | |
| 40 is the new 30 | Kelly | | |
| J'adore Couture | Kim | US (CA) | |
| Girls of a certain age | Kim | US | |
| The LIFB Issue | Kirsten | Germany | How to have fun with style |
| Barking Dog Shoes | Kirsten | US (IL) | |
| Kitty's vintage & kitch | Kitty | | |
| Forever 45 | Kristen | | |
| The Together Act | Kristen | US (CO) | |
| Highland Fashionista | Kristin | UK (Scotland) | How to get your own unique style |
| Latrenia Bryant | Latrenia | US (FL) | How to embrace your natural hair |
| Notes about styling | Laura | Netherlands | |
| As time goes... buy | Laura | | |
| Fabulous365 | Laura | US (CA) | |
| For those about to shop | Laura | | |
| Who planned this | Laura | | |
| Laura Dunn | Laura | US (CA) | |
| The Styleseer | Lauren | US (CA) | |
| Ponderosa Princess | Laurie | | |
| Vanity and Me | Laurie | UK (England) | |
| Vanity and Me | Laurie | UK | |
| Time to blossom | Laurie | | |
| High Heels Style | Lea | | |
| Lena Penteado | Lena | Portugal | |
| A labour of life | Linda | Canada | |
| Nice dress! Thanks, I made it!! | Linda | US (BC) | |
| Adrienne 49 Plus | Linda Solimine | US (NY) | |
| Shorr Style | Lisa | | |
| 40+ fashionista | Lisa | | |
| Dreamz~n~Wishz | Lisa | US (WA) | |
| Peridot Skys | Lisa | US (KS) | |
| The Sequinist | Lisa Lennkh | UK (England) | https://40plusstyle.com/how-to-achieve-a-style-that-sparkles-a-style-interview-with-lisa/ |
| Fashionable Lorybug | Lori | | |
| Style Savvy DFW | Lori | US (TX) | |
| Colour Queen | Lorna | UK | |
| Daisy Blue Dreams | Lorraine | Scotland | |
| Looks of LoveT | LoveT | Austria | |
| Accidental Icon | Lynn | US (NY) | How not to become invisible |
| Lynn's Vintage Habit | Lynn Holland | England | |
| practical paralegalism | Lynne | | |
| Symposium40 | Maggie | US (IL) | |
| Maggie Alderson Style Notes | Maggie | | |
| Pinot Noir Fashion | Małgorzata | Poland | |
| Share My Chic | Margaret | US (NY) | |
| A fool for fabric | Margy | US (CA) | |
| Looking Stylish | Maria | UK (England) | |
| My Closet Catalogue | Maricel | US (CA) | |
| Elegant40 | Martina | Czech republic | |
| m-iwear | Martina | Austria | |
| Curlybyrdie Chirps | Mary | US (IN) | |
| FearieMB | Mary Beth | | |
| Stylefinder | MaryMichele | US (NC) | |
| Forties Style | Marzena | Ireland | |
| Forties Style | Marzena Fabisiak | Poland | |
| Decorate "Me" AgeMazing Stylist To Boomer Divas like "Me" | Maureen Kocsis | | |
| Valley of the Shoes | Mavjen | US (PA) | |
| My empty bag | MCarmen | Spain | |
| Bag and Beret | Melanie | Canada | How to get creative with your outfits |
| Fabulous Florida Mommy | Melissa | | |
| The Yogastic Shopping Planner | Mette | Denmark | |
| The Barefaced Chic | Michelle | Uk | |
| Retro Chic Mama | Michelle Tyler | London | |
| Misja B | Misja | Netherlands | Minimalist style with a touch of classic and art |
| Colour Makes People | Monica | Norway | |
| by styling amsterdam | Monica | Netherlands | |
| modetask | Monika Börsch | Germany | |
| modetask | Monika Börsch | Germany | |
| Design Closeup | Nadia | | |
| Fancy Nancy Fashion Safari | Nancy | US (IN) | |
| A day in the life of me | Nancy | | |
| fashion food and other stuff | Nancy | Netherlands | |
| Nancy s Fashion Style | Nancy Baten | Netherlands | |
| In the writer's closet | Natalia | US (WA) | How to play with your style |
| One woman's Style | Natasha | | |
| High Latitude Style | Nicole | USA (AK) | How to dress for cold weather |
| Moved by Style | Nicole | US (TN) | |
| Circa Vintage Clothing | Nicole | | |
| My Darling Pencil Skirt | Nicole | Russia | |
| Fifty Fabulous | Nicolene | South Africa | |
| Fifty Fashionable | Nicolene | | |
| Trendbubbles | Nicolette and Desiree | Netherlands | |
| NikkiFreeStyle | Nikki | US (GA) | How to wear prints and colors with confidence |
| Styling you | Nikki | Australia (Queensland) | |
| Jacket Society | Nora | US (CA) | How to wear a jacket |
| Sew and Live | Olga | Russia | |
| My O.N.O. Lifestyle | Olga, Nicki , Ornella of myonolifestyle | Greece | |
| Oliva Style Blog | Oliva Style | Croatia | |
| Over 50 feelling 40 | Pam | US | How to reinvent yourself at 50 |
| Patina and Hue | Pamela | (US (UT / TX) | How to reinvent yourself at 50 |
| Project Minima | Pao | | |
| Style 416 | Patricia | Canada | |
| Not dead yet style | Patti | US (MI) | How to stay visible and consistent in your style |
| My Style Aesthetic | Paul | | |
| Fashion over 50 | Paula | US | |
| Age of Style | Petra | Netherlands | |
| PVDO Blog | Pranome van den Oord | Netherlands | |
| My Fashion Fingerprint | Rachael | US (IN) | |
| Trying for sighs | Rachel | | |
| it's all Fine. Whatever tickles the fancy. | Rena | US (CA) | |
| Top Age Model | Renate Zott | Germany | |
| My life while shopping | Renita | | |
| Revas rags 2 roses | Reva | | |
| Distinctly Southern Style | Rosemary Davis | Gainesville, Fl USA | |
| Oceanblue Style | Sabine | Germany | |
| Bling Bling Over 50 | Sabine Gimm | | |
| Mispapelicos | Sacramento | Spain | How to have fun with bold colors |
| Fake Fabulous | Samantha | Scotland | |
| Fifty and Fashionable | Sarah | UK | |
| Misfits Vintage</a | Sarah | | |
| Sew Sarah Smith | Sarah Smith | England, U.K | |
| XL Cheap and Chic | Sari | Finland | |
| Mostly Me + Certain Others | Sevi | Netherlands | |
| Communing With Fabric | Shams | US (CA) | |
| Fashion-isha | Sharon | US (NJ) | |
| Focus on Style | Sharon | US (NY) | |
| Ephemera | Sheila | | |
| Forest City Fashionista | Shelley | Canada | How to be your own unique self |
| Still Blonde after all the years | Shelley | US | |
| Shesheshow | Sheree | US (TX) | |
| The Sunflower Mama | Shon | US (SC) | |
| Nzurin Simplicity | Shugunna Alexander | US (IN) | |
| Beast of Style | Silvia | US (CA) | |
| Son' Style | Sonja | Netherlands | |
| Fabulous Femme | Souri | Australia | How to express yourself with beautiful photography |
| Cooooolness! | Spicchlodiluna | Italy | |
| Miss Kittenheel | Steph | Germany | |
| Odyssey | Stephanie | USA (TX) | |
| A colourful canvas | Sue | Canada | How to sew your own clothes |
| Sunny's side of life | Sunny | Germany | |
| Fifty not Frumpy | Susan | US | How to look youthful and hip |
| Une femme d'un certain age | Susan | US (CA) | How to look great in neutrals |
| Susan styles you | Susan | | |
| The Midlife Fashionista | Susan | US (MA) | |
| Over50under20 | Susan Hinesley | US (GA) | |
| A key to the armoire | Susana | US (FL) | How to more innovative in dressing |
| Fashion Come Lately | Susie | US (FL) | |
| Totally Glam Blog | Susy McDonald | Wichita, KS | |
| Suzanne Carillo Style files | Suzanne | Canada | How to look colorful and quirky |
| Ask Suzanne Bell | Suzanne | US (CA) | How to mix bohemian with classicAsk Suzanne Bell |
| Life as we wear it | Suzanne | Australia | |
| Ask Suzanne Bell | Suzanne | US (CA) | |
| Idee Fixe | Suzanne | | |
| Suzanne Mauro | Suzanne | US (PA) | |
| Suzy Turner | Suzy | UK and Portugal | |
| 40+Style | Sylvia | Singapore/Netherlands | Find out more about this site |
| Sylvie Hart - Style Coach | Sylvie Hart | US (OH) | |
| TB Styleworks | Tamara | US (TX) | |
| Tamera Beardly | Tamera | US (CA) | How to crown yourself |
| Silver style | Tammy | | |
| Walking In Pretty Shoes | Tammy | | |
| 50 Is Not Old | Tania | US (VA) | |
| T&tStories | Tanja | Germany | |
| Rags against the machine | Terri | | |
| MeadowTree | Terri Gardner | US (MI) | |
| Elegance Revisited | Tiina | Finland / UK | How to play with your style |
| Tinaspinkfriday | Tina | Germany | |
| The dashing eccentric | Tinyjunco | | |
| Tones Stil - Fashion my Way by Tone | Tone | Norway | |
| Fashion Forward 40 | Tracey | Canada | |
| Love Life Style and Stuff | Tracey | Australia | |
| Versatile Style by Tracey | Tracey | US | |
| Trace - style, create, live | Tracey Dale | US (CA) | |
| The wardrobe wonderer | Tracy | | |
| The Closet Shopper | Tracy | | |
| Please may I | Trayci | | |
| Teatime with Trina | Trina | US (Utah) | How to have fun with fashion and style |
| Thriftanista in the City | Troy | US (GA) | |
| This is Corp Goth | Trystan | | |
| Dude looks like a lady | Ulla-Marie | | |
| Idiosyncratic Fashionistas | Valerie and Jean | US (NY) | How to develop your own unique style |
| Cid Style File | Veronica | US (CA) | |
| Veronica Cid | Veronica Cid | US (CA) | |
| Taxonomy of my wardrobe | Veshoevius | | |
| The Fashionable Mum | Vicki | Australia | |
| We Lesser Mortals | Vicky | UK | |
| Style on V | Vicky | Australia | |
| The Directrice | Victoria | US (WA) | Classic with a twist |
| Coelho and Chang | Victoria & Carlen | | |
| Blue Cat Review | Violet | US (NH) | |
| Vintage Vixen | Vix | | |
| Simply Sassy Style | Wendy | South Africa | |
| Wendy Brandes | Wendy | US | |
| Simply sassy | Wendy | | |
| Funky Forty | Yvonne | Switzerland | |
| My piece of jewelry | Zee | | |
| Living zBeautiful Mix | Zuma | US (CA) | |
Lifestyle bloggers over 40
| Blog name | Cat. | First name | Country (state) | 40+Style Interview |
| --- | --- | --- | --- | --- |
| Denim Crisis | Lifestyle | Abigail | | |
| adrienne49plus | Lifestyle | Adrienne Lawrence | Katonah, NY | |
| Flo & Grace | Lifestyle | Alexa Croft | Colorado | |
| Green with renvy | Lifestyle | Alison | US (MA) | |
| Grey Chic | Lifestyle | Alison | UK (Madeira) | |
| Never say die beauty | Beauty | Allison | US (MA) | |
| Never Say Die Beauty | Beauty | Allison | | |
| Alyssa Barnett Beauty | Beauty | Alyssa | US (CA) | |
| Amy's Creative Pursuits | Lifestyle | Amy | US (WI) | |
| AKVjewelry - Adorn, Inspire, Uplift | Fashion | Amy | Israel | |
| DizzYmaiden's Foodies & Craftsters | Lifestyle | Amy | US (MA) | |
| Amy Krist | Lifestyle | Amy | US (CA) | |
| 40s and Starting Over | Beauty | Ana Millet | Fort Lauderdale, FL | |
| Balaio de Estilos | Lifestyle | Ana Paula | Brazil | |
| You know you're over 40 when... | Lifestyle | Andrea | UK (London) | |
| Attitude 40 | Lifestyle | Andrea | Brazil | |
| MollyRose'n'Honey | Lifestyle | Anette | Denmark | |
| Angel's Opinion | Lifestyle | Angel Wilson | US | |
| Mature Makeup Maven | Lifestyle | Angelina | | |
| Look for the woman | Lifestyle | Anita | US (NY) | |
| Curly Traveller | Lifestyle | Anja | Netherlands | How to look stylish and have fun with accessories |
| Looking Fabulous @ Fifty | Lifestyle | Anna Marcus | Sydney Australia | |
| Inspire Me Today | Lifestyle | Annette | Denmark | |
| Keep Life Simple | Lifestyle | Annette | Australia | |
| Fashion and Fun after 50 | Lifestyle | Antoinette | US | |
| I am curious (mellow) | Lifestyle | Antonia | | |
| Fotoe Pilators | Health | April Williams | USA | |
| SteamTrunkTravel | Lifestyle | Arabella | US (NM) | |
| Over Forty & Under Age | Lifestyle | Asnette | US (FL) | |
| The Succulent Wife | Lifestyle | Audrey | | |
| Best of everything after 50 | Lifestyle | Barbara | US | |
| Bahnwartherhauschen | Lifestyle | Beate | Germany | |
| Narcissista Me | Lifestyle | Becca | | |
| Silicon Valley Lodge | Lifestyle | Becky | US (CA) | |
| Becky's Wunderland | Lifestyle | Becky | US (CA) | |
| Becky's Wunderland | Lifestyle | Becky Hellwig | Germany | |
| Smithellaneous | Lifestyle | Becky Smith | Manteo,NC | |
| Bellepoque | Lifestyle | Belen | Spain | |
| Beryl's Tulsa blog | Lifestyle | Beryl | | |
| Maryland Pink and Green | Lifestyle | Bethany | US (MD) | |
| fortyfiftyhappy | Lifestyle | Birgit Bergmann | Heidelberg/Germany | |
| Queen of the Girl Geeks | Beauty | Bonnie Diczhazy | Cleveland, OH | |
| Wag Doll | Lifestyle | Bridgit | UK | |
| Topknot and Tea | Lifestyle | Browyn Flaherty | Mexico | |
| Caska | Lifestyle | Camilla | US (NJ) | |
| Ginger-Bred | Lifestyle | Candy Costas | Boston, MA | |
| The Timeless Beauty Forum | Beauty | Canie | | |
| Ha Det Gott | Lifestyle | Carina | Sweden | |
| 50 Shades of Unemployment | Lifestyle | Carmen | Australia | |
| Sassy Townhouse Living | Lifestyle | Carolann | | |
| Lifestyle by Caroline | Lifestyle | Caroline | | |
| Second Spring Naturals | Lifestyle | Carrie | US (PA) | |
| Carrie's Lens | Lifestyle | Carrie | US (FL) | |
| Fabfitforty | Lifestyle | Cat Daniel | Essex | |
| Cashmere Lover | Lifestyle | Catherine | UK | |
| Atypical 60 | Lifestyle | Catherine Urbanski | Phoenixville, PA | |
| | Beauty | Catherine Urbanski | Philadelphia, PA | |
| An empowered spirit | Lifestyle | Cathy | | |
| Beauty Ballerina | Beauty | CC Kane | New York | |
| Waste Not Do Want | Lifestyle | Cherie | | |
| Northwest Mountain Living | Lifestyle | Cheryl | US (ID) | |
| Christine Kolek | Lifestyle | Christine | US (TN) | |
| Flowerpowerlife | Lifestyle | Christine | UK (England) | |
| Prime Beauty | Beauty | Cindy | | |
| Prime Beauty | Lifestyle | Cindy | US | |
| nonsoloamorenonsoloamore | Lifestyle | Claudia | US (FL) | |
| Snow in the Air | Lifestyle | Connie | US (CA) | |
| Style through the ages | Lifestyle | Constance | US/NY | |
| Cyn's Spot | Lifestyle | Cyn | US (MA) | |
| My Rose Colored Shades | Lifestyle | Cynthia | US (MI) | |
| Any second now | Lifestyle | Cyrillynn | | |
| 40+ Blog | Lifestyle | Dalia | Mexico | |
| The pretty cute | Lifestyle | Dan | | |
| Dana loves fashion and music | Lifestyle | Dana | Germany | |
| Iridium Apparel - Notes & News | Shop | Daphne | US (SC) | |
| Texas Mama | Lifestyle | Darlene | US (TX) | |
| I never signed up for this | Lifestyle | Darryle | US (CA) | |
| No-Nonsense Beauty Blog | Beauty | Deb | | |
| The Life Edit | Lifestyle | Debbie | UK | |
| Empty Nestereflection | Lifestyle | Debbie | UK | |
| Debbiethisandthat | Lifestyle | Debbie Ross | North Carolina | |
| Girl, Reworked | Lifestyle | Debi | | |
| Beautiful Days | Lifestyle | Deborah Llewellyn | Wales | |
| Beyond Brunch | Lifestyle | Dee | US (DC) | |
| Refreshing Talk | Lifestyle | Denedriane | | |
| Healthy Family Media | Lifestyle | Denise | US (OR) | |
| Silver haired beauties | Beauty | Denton | US (NY) | How to improve your outfit of the day photos |
| Fab 40Plus | Lifestyle | Dez | US | |
| By Dianawi | Lifestyle | Diana | Denmark | |
| Greys and Glitter | Lifestyle | Diana Seidler | Diana Seidler | |
| Zest now | Lifestyle | Diane | US | |
| Diane Penelope: Beauty + Design + Life | Health and Beauty | Diane Penelope Kennedy | Mosman, Sydney, Australia | |
| Inspiration & Realisation | Lifestyle | Donatella | | |
| DameNation | Lifestyle | Donna | | |
| Aging Abundantly | Lifestyle | Dorothy | | |
| OMG Lifestyle Blog | Lifestyle | Elaine | US (OH) | |
| styling fabulous | Lifestyle | Elena Daciuk | San Mateo, CA | |
| Verliebt in Italien | Lifestyle | Elena Proksch | | |
| Stiletto Wheels | Lifestyle | Elle | UK | |
| Project Easier | Lifestyle | Ellen | US (CA) | |
| The socialites Closet | Lifestyle | Ellen | US (VT) | |
| The cooking wardrobe | Lifestyle | Elsie | Australia | |
| Welfare Chic | Lifestyle | Ericka | | |
| Eclectic Evelyn | Lifestyle | Evelyn | US (WW) | |
| Materfamilias writes | Lifestyle | Frances | | |
| Sexy and Fabulous over 40 | Lifestyle | Gianna | | |
| Torino Style | Lifestyle | Giulia | Italy | |
| Glam After 40 | Lifestyle | Glam after 40 | Virginia/USA | |
| Friendship Life & Style | Lifestyle | Heather | | |
| Stylemindchic Lifestyle | Lifestyle | Heather | US (CA) | |
| Chronic Beauty | Lifestyle | Heidi | UK | |
| Tippy Teacup | Lifestyle | Hilary Lorenzo | Florida | |
| overthehilda.ie | Lifestyle | Hilda Smith | Dublin, Ireland | |
| Over the Hilda | Lifestyle | Hilda Smith | Ireland | |
| Hollis hoots and hollers | Lifestyle | Holli | | |
| Hmmm Holly | lifestyle | Holly | | |
| Izzy Muses | Lifestyle | Izzy | Ireland | |
| Aging Backwards | Lifestyle | Jackie | US | |
| Knotty Girl | Lifestyle | Jaime Kay Lozada | Anchorage, Alaska | |
| Blonde Mom Blog | Lifestyle | Jamie | | |
| Midlife Bloggers | Lifestyle | Jane | | |
| Flight-Platform Living | Lifestyle | Jane | | |
| Middle Aged Mama | Lifestyle | Janet | Australia | |
| Grandma2Glamma | Lifestyle | Janet Earling-Bencivenni | Baltimore, MD | |
| Doodle T | Lifestyle | Jeanne Washburn | New Mexico USA | |
| Never felt better | Lifestyle | Jen | | |
| Your heart and health coach | Lifestyle | Jenn | | |
| Princess Pinky Girl | Lifestyle | Jennifer | | |
| A well styled life | Lifestyle | Jennifer | | |
| A well styled life | Lifestyle | Jennifer | US (CA) | |
| Fab and Forty | Lifestyle | Jenny | | |
| Finding myself at 50 | Lifestyle | Jessica | | |
| Patent Purple Life | Beauty | Jo | | |
| A rolling crone | Lifestyle | Joan | US (MA/NY) | |
| Cheeky Street | Lifestyle | Joan Tamburini | Kansas city | |
| The evolving closet | Lifestyle | Joannie | US (CA) | |
| Black Cat Plus | Lifestyle | Jodell | US | |
| Forty + Plus | Lifestyle | Jody | New Zealand | |
| Clothes but not quite | Lifestyle | Joelle | Canada | |
| Life Long Style | Lifestyle | Joey Viljoen | Ottawa, Ontario, Canada | |
| Lifestyle Fifty | Lifestyle | Johanna | Australia | |
| Beautymidi | Beauty | Joke | Netherlands | |
| Joyce's Choices | Lifestyle | Joyce | US (MA) | |
| wehotflash | Lifestyle | JT | US (MA) | |
| Wehotflash | Lifestyle | JT | US (MA) | |
| Still a sassy sister | Lifestyle | Judy | US (FL) | |
| Atlanti Home | Lifestyle | Judy | US | |
| julie-ellen | Beauty | Jules | UK (Scotland) | |
| Julie-Ellen | Lifestyle | Jules | UK | |
| From Drabulous to Fabulous | Lifestyle | Julie | US (CA) | |
| Sew Country Chick | Lifestyle | Justine | US (CA) | |
| Living for Soul | Lifestyle | Jyothi | US ( NY) | |
| The Scarlet Thread 7 | Lifestyle | Kara | | |
| Mika Lane | Lifestyle | Karen | | |
| Mrs looking good | Lifestyle | Karen | US (CA) | |
| Dez & Dot | Lifestyle | Karen Tarver | Rohnert Park, Sonoma County, California | |
| My beauty obsessions | Lifestyle | Karena | | |
| Fab over 40 | Lifestyle | Kari | US | |
| Oh my blog | Lifestyle | Kathi | US (NJ) | |
| Katrina Heptonstall | Lifestyle | Katrina Heptonstall | Sydney | |
| Going global east meets west | Lifestyle | Kel | | |
| Orangiesattic | Lifestyle | Kelly | | |
| Kelly Bmusing | Lifestyle | Kelly | | |
| KeryB.com | Lifestyle | Kery Jackson | California (CA) | |
| The Brand New 40 | Lifestyle | Kia & Gigi | US (CA) | |
| Thoughs of Beauty | Lifestyle | Kim | US (CA) | |
| The Hip Chick Blog | Beauty | Kim | US (VA) | |
| In my 40's & a Thrifter Diva | Lifestyle | Kim | | |
| Pop Cosmo | Lifestyle | Kim & Chloe | US | |
| Caffeinated Book Reviewer | Lifestyle | Kimberley | US (NE) | |
| The haute mamas | Lifestyle | Kimberly | | |
| Day by Day in Our World | Lifestyle | Laura | US (AK) | |
| Books about women | Lifestyle | Laura | Belgium | |
| Mrs MacLeod | Lifestyle | Laura | | |
| Under the suburban sun | Lifestyle | Laura | | |
| The Sage Years | Lifestyle | Laurie | | |
| Flying Pants | Lifestyle | Laurie Fellezs | New York, NY | |
| Hostess of the Humble Bungalow | Lifestyle | Leslie | Canada | |
| Once Upon a Time & Happily Ever After | Lifestyle | Leslie | US (TX) | |
| Fun Fierce Fabulous Beauty Over 50! | Lifestyle | Lily | US | |
| Is this my life? Realy? | Lifestyle | Linda | Canada | |
| Tote Lifestyle | Lifestyle | Lindsay | Canada | |
| Amid Privilege | Lifestyle | Lisa | US (CA) | How to mix classic and tomboy chic |
| Glowology | Beauty | Lisa | UK | |
| Midlife Living Well | Lifestyle | Lisa | | |
| Lola and Paz | Lifestyle | Lisa | | |
| Kick In The Cornflakes | Lifestyle | Lisa | | |
| Beauty 101 by Lisa | Lifestyle | Lisa | US (CT) | |
| The sparkle in her eye | Lifestyle | Lisa | | |
| The Fab 40 | Lifestyle | Lisa | | |
| Following Frida & Other Style Stories | Lifestyle | Lisa White | Chicago, Illinois, USA | |
| Azul by Lissette Ambrosio | Lifestyle | Lissette Ambrosio | Houston | |
| Northside of the country road | Lifestyle | Lizzie | US (MO) | |
| Life with RA is a Pain | Lifestyle | Lor | US (MN) | |
| Womantary | Lifestyle | Lotty-Marie | UK | |
| Ingredients of style | Lifestyle | Louise | Canada (ON) | |
| anti-agingonlyanumber.com | Lifestyle | Louise Cook | California | |
| Stylish Ole Woman | Lifestyle | Lynette | | |
| Evolve Boldly | Lifestyle | Lynn | US (GA) | |
| My vintage habit | Lifestyle | Lynn | UK | |
| Au fil des jours | Lifestyle | Madeco | France | |
| This Is Your best Year | Lifestyle | Marcia Johns | Texas | |
| Restingmotion | Lifestyle | Mardel | | |
| Farbwunder Style | Lifestyle | Maren Göschel | Munech | |
| Margsworld | Lifestyle | Margaret | | |
| TueNight | Lifestyle | Margit | US (NY) | |
| DIY doyenne | Lifestyle | Margot | US (PA) | |
| Mornings with Madge | Lifestyle | Margot | US (PA) | |
| Podemos charlar juntas | Lifestyle | Maria | Spain | |
| Historias de Mulheres | Lifestyle | Maria Menasce | Brasil | |
| 40 Muse | Lifestyle | Mariama | US (NY) | |
| This is your best year | Lifestyle | Maricia | US (TX) | |
| thisisyourbestyear | Lifestyle | Maricia Johns | Fort Worth, Texas | |
| My decorating tips | Lifestyle | Marina | | |
| Catlicious goes natural | Beauty | Marion | Germany | |
| My State of Mined | Lifestyle | Marisa Hare | Campbell, CA | |
| Ninna Lu | Lifestyle | Marissa | US (CA) | |
| 3 Pickles | Lifestyle | Marnie | Australia | |
| Splenderosa | Lifestyle | Marsha | US (TX) | |
| MLCHgarden | Lifestyle | Mary Louise Hagler | Georgia | |
| Autumn Tapestry | Lifestyle | Marye | | |
| Ordinary Woman Extraordinary Life | Lifestyle | Maureen | | |
| Wild Beauty | Beauty | Meli | US (NY) | |
| Mel's makeup blog | Beauty | Melissa | US (FL) | |
| Everyday Savvy | Lifestyle | Melissa | US (MI) | |
| Fresh Air and False Lashes | Lifestyle | Melissa Williams | Fresh Air and False Lashes | |
| Fresh Air and False Lashes | Lifestyle | Melissa Williams | Utah | |
| Toss and listen | Lifestyle | Mercedes | US (MI) | |
| Velvet Nook | Lifestyle | Michaela | Gemany | |
| AllWays in Fashion | Lifestyle | Michelle | US (TX) | |
| Daydreams and Pretty Things | Lifestyle | Michelle | UK | |
| Always in fashion | Lifestyle | Michelle | US (TX) | |
| Meesh's World | Lifestyle | Michelle | US (AZ) | |
| The Barefaced Chic | Fashion | Michelle | Uk | |
| In my primetime | Lifestyle | Mimi | | |
| Moving free with Mirabai | Lifestyle | Mirabai | | |
| Older mummy still yummy | Lifestyle | Monic | Canada | |
| Older mummy still yummy | Lifestyle | Monica | | |
| GlamVolution | Lifestyle | Monica | | |
| Moppis Blog - Aus Freude | Lifestyle | Moppi | Germany | |
| Mrs Jack of all trades daily | Lifestyle | Mrs C | Dubai | |
| Style plus confidence | Lifestyle | Nadia | US (NV) | |
| JuggleMum | Lifestyle | Nadine | UK | |
| Vibesbild | Lifestyle | Nana | Germany | |
| Pink Lemonayd | Lifestyle | Naqia | Canada | |
| When life hands you a pear | Lifestyle | Natalie | US (AZ) | |
| Makeup Mistress | Beauty | Natasha | South Africa | |
| Confessions of a skincare junkie | Lifestyle | Natasha | | |
| Nothing Ordinary Style | Lifestyle | Natashia | US (SC) | |
| Madam Too Much | Lifestyle | Neti Primus | Florida, USA | |
| Someplace Strange | Lifestyle | Nicola | UK | |
| Strawberry Blonde Beauty | Beauty | Nik | UK | |
| Niki Wibrow | Health | Niki Wibrow | Essex | |
| Nikki's nutty thoughts and ramblings | Lifestyle | Nikki | US (MI) | |
| Life's silver lining and I | Lifestyle | Nilla | Sweden | |
| Trend Survivor | Lifestyle | Nina | Greece / US (CA) | |
| SugarPuffAndFluff | Beauty | Nisha Warren | | |
| My intended life | Lifestyle | Ofella | US (FL) | |
| Fifty is the new forty | Lifestyle | Pam | | |
| 50 is the new 40 | Lifestyle | Pam | | |
| Crazy Ravens | Lifestyle | Paula | | |
| Paulanne M | Lifestyle | Paula | | |
| What diid you learn today? | Lifestyle | Pearl | | |
| Pellas Unique | Lifestyle | Pella | US (CA) | |
| My Kurves | Lifestyle | Primus | | |
| The Art Muse | Lifestyle | Rachel | US (CA) | |
| Redcliffe Style | Lifestyle | Rachel | Australia | |
| The art muse | Lifestyle | Rachel | | |
| Embarrassing Disgrace | Lifestyle | Rachel Ann | | |
| The Art Muse | Beauty | Rachel Matos | Los Angeles, CA | |
| Baby Boomster | Lifestyle | Rebecca Olkowski | Los Angeles | |
| Southern Hospitality | Lifestyle | Rhoda | US (GA) | |
| Not Only Twenty | Lifestyle | Rita | Italy | |
| Robin Charmagne | Lifestyle | Robin | | |
| Robyn's nest | Lifestyle | Robyn | | |
| Round and Round Rosie | Lifestyle | Rosemond | US (CA) | |
| Round and Round Rosie | Lifestyle | Rosemund | US (CA) | |
| The Dynamic Divorcee Blog | Lifestyle | Rosetta | | |
| New Frame of Reference | Lifestyle | Sandra | US (MN) | |
| Lifestyle over 40 | Lifestyle | Sara | Israel | |
| Sara leyser | Beauty | Sara Leyser | Bromley/Beckenham | |
| Always a Blue Sky Girl | Lifestyle | Sarah Gorlov | UK | |
| The Polka-Dot Apple | Lifestyle | Sarah-Jane | Australia | |
| Searching for Saraspunza | Lifestyle | Saraspunza | | |
| Shalunya & Boyet | Lifestyle | Shalunya | US | |
| Simplified Organized Styled | Lifestyle | Shana | US (AR) | |
| Paperesse | Lifestyle | Shani | France | |
| Lavender and Pearls | Lifestyle | Sharon | UK | |
| Sheela Writes | Lifestyle | Sheela | US (TX) | |
| The FABulous Journey | Lifestyle | Shellie | US (FL) | |
| Big Girls Guide | Lifestyle | Sherry | US (PA) | |
| DMulheres | Lifestyle | Sheyla | Brasil | |
| Garotas Modernas | Beauty and Lifestyle | Shirley Stamou | Brazil | |
| Wald & Co | Lifestyle | Sonja | Germany | |
| "Phabulous" & Sparkling @ 50 | Lifestyle | Sparkle | US (IL) | |
| Cracked Pot Pieces | Lifestyle | Stacey | US (AL) | |
| Menopause Makeover | Lifestyle | Staness | US | |
| Bold Blind Beauty | Lifestyle | Stephanae | US (PA) | |
| The Beauty of Midlife | Lifestyle | Stephanie | US (OH) | |
| The Write Steph | Lifestyle | Stephanie Robertson | U.S. | |
| Sizzling Towards Sixty | Lifestyle | Sue | Australia | |
| Over 60 and over here | Lifestyle | Sue | Spain | |
| Single Minded Endeavours | Lifestyle | Susan | New Zealand | |
| Mom Wants A Life | Lifestyle | Susan | | |
| Gutsy health | Lifestyle | Susan | | |
| High Heels in the Wilderness | Lifestyle | Susan | Canada | |
| Ava Grace's closet | Lifestyle | Susan | | |
| Style & Life by Susana | Lifestyle | Susana Lopes-Snarey | Australia | |
| So Fine after 40 | Beauty | Susie Riddell | Australia | |
| Susie Riddell | Lifestyle | Susie Riddell | Australia | |
| Chapter Two | Lifestyle | Suzanne | US (UT) | |
| Suzie Utoozie | Lifestyle | Suzie | | |
| My 40'ish (Almost 50) Life Rocks | Lifestyle | Sylvia | US (TX) | |
| Red Lipstick and Coffee | Lifestyle | Sylvia Torres-Smith | Texas | |
| Thrift Shop Commanda | Lifestyle | Tami | US (CA) | |
| Simply Tango | Lifestyle | Tammy | US | |
| Gia Vanne's Gems | Lifestyle | Taylor | | |
| My 40something Life | Lifestyle | TC | US (KS) | |
| Boomer Nails | Lifestyle | Teresa | US (MO) | |
| Thriving and Surviving | Lifestyle | Teri | US (MO) | |
| When a student is ready | Lifestyle | Terr | US (TX) | |
| Boomerinas | Lifestyle | Tina | US (WA) | |
| A femme d'un certain age | Lifestyle | Tish | | |
| Tomeka's World | Lifestyle | Tomeka Haywood | Los Angeles, CA | |
| Making Lemonade | Lifestyle | Tomye | | |
| 1 Momma Sunshine | Lifestyle | Tonya | | |
| Turnaround at 50 | Lifestyle | Tracy | US (CA) | |
| Taylor Made Guide | Lifestyle | Trina | US (TX) | |
| Tiffin & Posh | Lifestyle | Ulla Gaudin | New Orleans | |
| frauenzimmer50plus | Lifestyle | Ursula Smigalski | Germany | |
| Ich tu, was ich kann | Lifestyle | Uschi | Germany | |
| Grit and Glamour | Lifestyle | Vahni | US | |
| Discerning Chi-Chi | Lifestyle | Valerie | UK (London) | |
| Life 4oup! | Lifestyle | Valérie | Germany | |
| Lifestyle Maven | Lifestyle | Vicki | UK (England) | |
| Hell Bent on Happy | Lifestyle | Vicky | | |
| Brilliance Within | Lifestyle | Wendy Hodgson | Manchester, UK | |