Bella is one of my favorite style bloggers. Her unique and warm personality is showcased in every article she writes and her clothes are always truly original creations. You will not believe that this lady is well over 40! To me Bella is a true style original, so I wanted to find out more about how she has created such a truly individual style. Introducing Bella Q from The Citizen Rosebud!
As a point of reference which age group do you belong to or perhaps you are willing to share your age?
I have always been willing to share my age. I am 47 years old.
Can you tell us a bit more about your blog. Why did you start a personal style blog?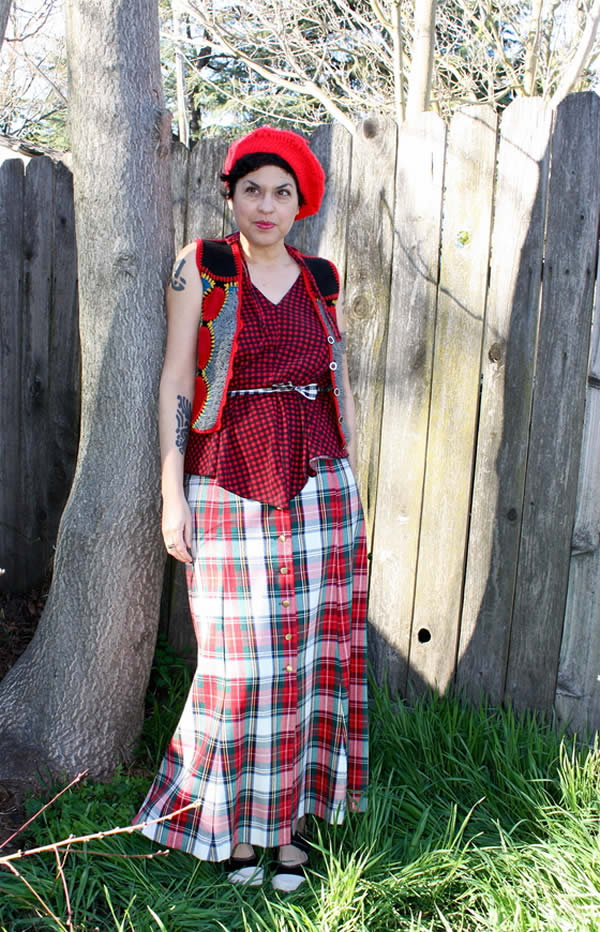 The blog started as a way to promote vintage clothing I was selling (still available at Bella's Etsy shop) but it's taken a life of its own. I write about personal style, blogs I love, and local, sustainable fashion.
You call your blog The Citizen Rosebud. Why did you choose to call it that?
Well, I love film and film history and Citizen Kane is a reference to art house culture. "Rosebud" is the mysterious last words that start off the movie, the punchline so to speak. And I kind of liked the masculine edge of the Citizen playing against the femme floral quality of the Rosebud. I think it fits me and my blog pretty well. I am about building community and sustainable style.
How would you describe your style?
"Everyday eccentric"
I feel that you have a very unique style that is always truly you, but also always very different. What do you seek to achieve when you dress?
Self expression. I "dress to express." I dress to play, to have fun. I've loved clothes ever since I was a little girl, and the appreciation of fashion, as a vehicle on character has a perennial appeal to me.
What would you define as the main components of your style? What makes an outfit truly Bella?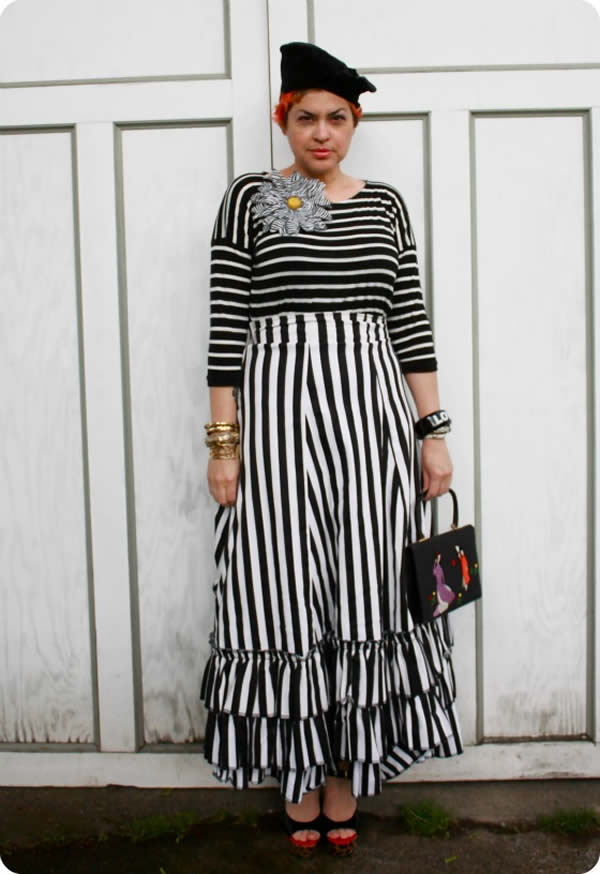 Someone once described my way of dress as "dressing like a doll." There is some truth to that. I have a tendency to dress costumey, a bit overblown and on the ridiculous side. I don't have a job in which I need to appear to fit in, so it is easy to dress rockabilly one day, and Harajuku princess the next. I think the main components of my style is playing with the classics worn in an eccentric way. For example, I love polka dots, but before it was the trend I was mixing them goofball style with every other print imaginable: stripes, florals, plaid. Since the blog, I've become known for my way with pattern mixing, but before the Citizen Rosebud I wore more solids and monochromatic outfits. I love a well made classic garment worn in an unconventional way.
How do you go about choosing your clothes and what inspires your outfits?
I am committed to sustainability. I've thrift shopped most my life- my grandma was an avid garage saler/thirft shopper, and I think I inherited my love for a good hunt. I have a limited budget so I cannot afford many new sustainable labels, but I can afford a great buy at the secondhand store. I pretty much love vintage, specifically the 1930's, 1940's and 1960's. So many of my outfits are inspired from those eras.
Do you take things like colour profiling or body type into account when you dress?
I know how to dress my body. I've always felt that it was more important to wear something you look good in, than something that was "in." For example, I've got a thick waist-line so when the empire waistline was in, a few years ago, I loved the trend. Now it is not in, but I wear high waisted dresses still because I look good in them. Bottom line: you need to look not just good but great. Trends that don't end in that result must be discarded.
How do you think that others can achieve a truly individual style that is unique to them?
There are two things a person must do to achieve a truly individual style
WEAR WHAT LOOKS GREAT ON YOU, and
WEAR ONLY WHAT YOU LOVE.
e3C/ol>
Those two elements contribute to producing a signature wardrobe that will give you years of wear. To wear what looks great on you means you need to know your body, and learn what types of clothes look good on that type of body. It also means to see yourself properly. Don't be in denial about weight gain or loss, embrace the present you, and dress that beautiful body, as is. Wearing only what you love will add pas3ion to your wardrobe! If you love plaid, wear plaid. If you love yellow, wear yellow. Maybe most yellows don't look good on you? Find THE yellow that does, and put it in your closet. When your closet is full of garments you love, your wardrobe will "look" like you!
Would you say you have a signature style? And if yes, what are the main elements?
I call my style "Spinster Chic." It's part Librarian, part school girl and all over the map! My style is oddball and quirky, but made from classic elements. I love the classics: a good blazer, a well made dress, a classic silhouette, and classic prints: florals, stripes, plaid. But I wear them in a total off-the-wall and eclectic way.
Has your style changed at all after turning 40?
It changed when I turned 30. Dressing even more costume-y in my youth, I tried to dress like a grown up when I hit the big 3-0. So now I try to look a touch more than conventional than I did in my youth.
Do you believe in dressing 'age appropriately' and what does it mean to you?
I believe more in dressing "situation appropriately. Dress for the occasion. Since I've looked younger than I am most of my life, I have come to the conclusion that that's is partly because I "dressed young." I tried for a few years to stop wearing minis and short shorts and found the bermudas I was wearing to replace my cut-offs actually made me look older, frumpier, and out dated. Dress for your body and dress for the occasion and enjoy whatever age you are blessed to be living in.
Would you say that at this stage of your life you are now more, or less interested in fashion, style and the way you look?
Well, I am less interested in fashion as fashion and by that I mean fashion as a consumptive act. I am BORED beyond tears by blogs that are about consuming products, but am absolutely smitten with style bloggers who are exploring their style and sharing their style journey with others. They are using fashion as a vehicle in my opinion, and it is taking them to new heights of self expression and discovery.
Why is the way you look important to you?
One: I am vain. Two: I am an artist. I love beauty and to be delighted by delightful things. As a person who has been obsessed with clothing and dressing and fashion history since I was a child, dressing and looking a certain way is important to me because it cultivates my creative spirit. And, I like looking/dressing like no one else.
Which outfit on your site is your favorite outfit and why?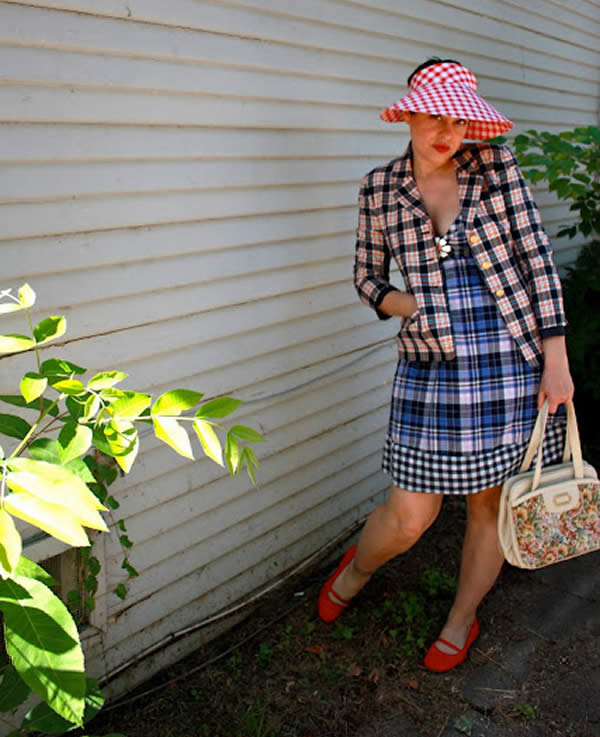 Well, sometimes it feels like my favorite outfit is always the last outfit. That said, my "Bobby Burns" is probably my favorite on the blog for two reasons. It was a privotal point for The Citizen Rosebud because I was using my outfit as a local cultural reference; an homage to a town character, Sacramento jazz musician Bobby Burns, and it is when the Citizen was elevated above my own personal style and started on the road of representing something larger.
Do you follow trends? And if yes, which trends excite you at the moment?
I like to keep abreast of trends. I like to know "what's in" and what's out. And for fun, sometimes I'll play with a trend. Case in point these tribal mania. It's "in" but it's not necessarily my style, but I've rocked a few tribal looks, just because I can. Trends that I LOVE: polka dots. Polka dots with stripes, with florals, with leopard. The trend of platform wedges. Vintage inspired clothing is a "trend," and as a lover of vintage, I like that. A trend I am predicting for Fall is paisley! But note it is a classic so it never really went out of fashion did it?
Do you have any fashion and style tips for women over 40?
My main fashion tip for women over 40 is to inves4 in quality garments and accessories. Stay updated, but wear quality and you'll wear it for years. My style tip for the +40 woman is to dress a better version of yourself: ALWAYS look your best!
Do you plan to continue with blogging and how do you see your blog develop over the coming years?
Oh, yeah, The Citizen Rosebud is in it for the long haul. I would like to see it become more of a community effort, and less "Bella Q."kI want to cover more sustainable and ethical lifestyle choices, not just about fashion. I'd also like to see the Citizen evolve into more of a culture blog, and less of a fashion blog. I've got a way to go to get there, but that's what I'm shooting for.
Anything further you would like to add?
I'd like to add that blogging has given me the added boon of connecting with like minded (and stylish) spirits like you! The benefit of friendships and community that come from blogging has been priceless. I treasure it so. And I treasure you and what you are doing with +40 Style!
Note from Sylvia: Wow, these certainly were some inspiring answers. Thank you Bella for taking the time to answer these questions with so much detail and passion! Don't forget to check out her blog at The Citizen Rosebud!
How are you planning to dress like a true individual?

Like this post? Share it on Pinterest!
Want to get more articles from 40+style in your inbox, subscribe here.
You can also connect with 40+style on Facebook, Instagram or Pinterest.
Support 40+style by using the links in our articles to shop. As an associate for Amazon and many other brands, we receive a small commission (at no cost to you) on qualifying purchases which enables us to keep creating amazing free content for you. Thanks!