The name of Trina's blog, Teatime with Trina, says it all. Her blog feels like a gathering of friends and her colorful outfits represent her warm, outgoing personality. I wanted to know more about what inspires her fahsionably fun and classy style and why she started blogging. Enjoy!
Can you tell us a little bit more about yourself?
I would say I'm basically a very happy, optimistic and outgoing person. I spent my so-called career days as an educator, teaching 6th grade and then high school english. Although the most rewarding career happened when I decided to take on the role of full time mother. I would never call it 'stay-at-home- mom because there were very few hours I actually spent at home. I now do a wonderful job at 'supporting my husband's working habit'. I do lots of traveling, volunteer work at the local library and service for our church. I enjoy being creative, decorating, reading and entertaining friends. I'm most happy when I get to spend time with my granddaughter, who by the way, is so much fun to shop for.
As a point of reference which age group do you belong to or perhaps you are willing to share your age?
I'm now in the 50Plusstyle age group. I'm now 51.
Can you tell us a bit more about your blog Teatime with Trina and why you created it?
I actually began my blog from the urging and suggestion of several friends to share some of my decorating, entertaining, and 'how I put outfits together'. I seriously had no idea what I was doing when I first hit post on my first blog post. I'm still learning but I have come a long way. As you and my readers can see, Teatimewithtrina is not just a style or fashion blog, it's also a gathering of friendship ideas. I have a passion for decorating and entertaining and blogging has been a fun way to share some of my creative outlets. Although, as we all know, putting an outfit together, is the most fun creative outlet of them all.
How would you describe your own style?
I guess I would say it is fashionably fun with a classy twist. I like to have some fun and be a bit unique but I still want to keep it classy.
What would you consider the most important components of your style?
Shoes, ha. I do love shoes. I will not even share how many pairs I own, it's embarrassing. I think shoes are the icing on the cake for any outfit, they can make or break any given ensemble you've put together. A quick change of shoe can completely give the same outfit a whole new spin. I also love to pattern mix and add accessories. I like to feel completely put together, like I've put the final touch on a piece before I leave the home.
Where do you live and how does that influence your style?
I live in Salt Lake City, Utah. We have 4 distinct seasons so I would say that alone influences my style. I've told my husband that I really should have 4 different closets. We do have great shopping centers here which is probably the reason you will find quite a few fashionably conscious people walking around. I think we're known to be a bit more conservative with our dressing, but it's never been a problem to still be creative and classy.
Do you feel you have a signature style?
I personally wouldn't say so, but then I get several friends who will say, 'That outfit is so Trina". In fact, my cute 73 year old dad called a few days ago to say he wondered into a store downtown that had my signature on every display. By the way, he was in Anthropologie, which he said was an overpriced thrift store.
What inspires your outfit choices the most?
Probably the weather, when it is sunny and warm, I can't wait to dress more fun and creative. My other inspirations come from observing others, through blogging, magazines and shopping.
Do you take things like color profiling or body type into account when you dress?
Oh, yes! At 51 I have learned what colors look best on me, therefore I try to keep them closer to my face. Do I always do this? No, but it does help. It has helped with building a wardrobe and shopping, I do know which colors to bypass. As for body type, I'm petite (like 5'3″) and I'm not ever going to be any taller, dang. I've just learned what type of pants and skirts look best on a small frame. Some great trends, like menswear and longer jackets I could never make work for me.
Has your style changed at all after turning 40?
Yes. As I have gotten more mature, my style has become more classy. I'm not afraid to try new things, in fact I thoroughly enjoy new trends, I've just found that I like to keep it toned down a bit. Fashioably fun with a classy twist. When I turned forty I had a 15 year old daughter, which helped with this. I didn't want to leave the home wearing something she or her girlfriends would be wearing. I think the best way to describe this is with jeans. I wouldn't buy a pair of jeans most high school girls are wearing, unless they want to borrow my gap jeans.
Do you believe in dressing 'age appropriately' and what does it mean to you?
I probably just answered that above. I don't believe in putting an 'age' on style or fashion, I think it's all in what makes you, as an individual, feel good. I work with many 20-30 year old young ladies and many have asked to shop in my closet, so I guess that's a nice compliment.
Would you say that at this stage of your life you are now more, or less interested in fashion, style and the way you look?
I've always loved fashion and style. My dream job was to be store displayer, just to be able to dress mannequins and decorate window displays would be so much fun (the hours were not so great though). I still spend lots of time thumbing through style and fashion magazines to keep up what's new.
Why is the way you look important to you?
The way you look is an expression of who you are, what you love. It's a way to show the world your inner personality. It's the best way to show you have self confidence and creativity.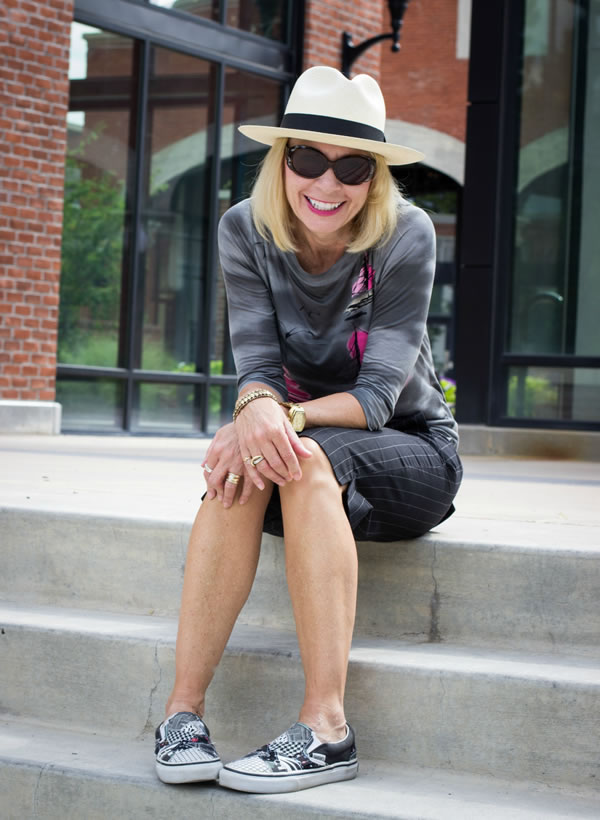 Which of the outfits on your blog are personal favorites and why?
The Pink dress because it's a prime example of knowing what colors look best on me.
The one with the cravat hat, once again a good color choice.
Showing how to wear a jacket as a cape because it shows the classier side of me.
Sneakers because it shows my carefree personality.
My black and white suit is another classy look.
Witching hour is great for showing a tea party outfit attire.
Carefree and Easy going is a little Boho kind of look.
Do you follow trends? And if yes, which trends excite you at the moment?
I do follow trends, don't we all? Although by the time you reach 51, you kind of know what's going to work for you. I have also found that if you shop your closets you can pretty much put your signature on any given trend. This season I'm loving the sneakers with everything look, as well as the aviator sunglasses. I'm quite tempted to jump on board with a new pair of birkentstocks as well.
Do you have any fashion and style tips for women over 40?
Be yourself, no matter what every one else is wearing, your personality should shine through with your style.
Don't forgot to add a bit of fun to an outfit, like a pop of color, jewelry, eyewear, and shoes!
What are your plans for your blog and how do you see it develop over the coming years?
I would really like to find a good schedule for blogging, some kind of pattern to what and when I will post. I'm hoping to get that working in the near future. I had no idea blogging could be so much fun and that you would actually meet and become friends through this world of blogging. I hope to build friendships everyday.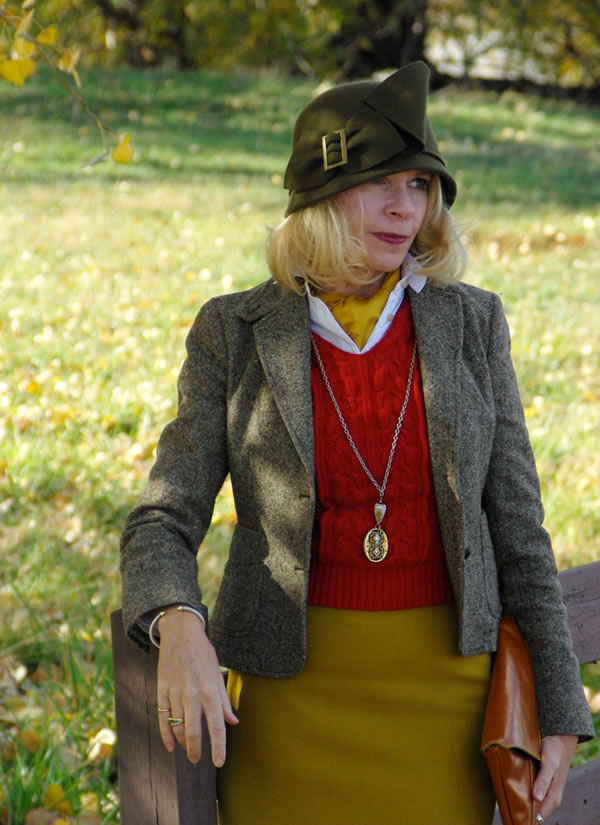 Anything further you would like to add?
Only to thank you so very much for taking the time to interview me. Your site was the first one I pulled up to help me get started and you have been such an asset in every way. Thank you, thank you, thank you!
Be sure to check out Trina's fabulous blog Teatime with Trina now!
Which is your favorite outfits of Trina's?

Like This Post? Share It On Pinterest!

Want to get more articles from 40+style in your inbox, subscribe here.
You can also connect with 40+style on Facebook, Instagram or Pinterest.
Support 40+style by using the links in our articles to shop. As an associate for Amazon and many other brands, we receive a small commission (at no cost to you) on qualifying purchases which enables us to keep creating amazing free content for you. Thanks!