It was about time I featured the fabulous Angie, a true 40+ style icon and blogger extraordinaire at YouLookFab. I was very keen to learn more about her minimalistic modern classic style. I'm sure you will enjoy this interview as much as I did, as Angie can talk very clearly and eloquently about fashion and her style choices. Enjoy!
Can you tell us a little bit more about yourself?
I'm Dutch by nationality, but have lived in Asia, Africa and Europe, and currently live in the US in a the fab city of Seattle. I studied Psychology at University and Fashion Design after that. I've been in the international fashion industry for 22 years (as a designer, fashion buyer and consultant before becoming a fashion stylist). Today, I run YouLookFab with my husband Greg, and also work one to one with clients. The two sides of what I do — in person with my clients and online with everyone else — enrich each other in a wonderful way. I love my job. It gives me great joy to help people find their style and have fun with fashion.

As a point of reference which age group do you belong to or perhaps you are willing to share your age?
Of course. I'll be 44 on the 9th of July. An '80s teen — those were the days.
Can you tell us a bit more about your blog and website Youlookfab and why you created it?
My husband Greg suggested that I start a blog as we were coming back from a trip to NYC. I replied, okay, although I didn't actually know what a blog was at the time. Greg built YLF from scratch as his labour of love to me and the blog launched in 2006. He left Microsoft four years ago to work on YLF and other projects, and the rest, as they say, is history.
Youlookfab has since grown into a bustling global community about fashion and style. Our content provides tangible style advice for fashion lovers across all ages and walks of life. When we started YLF, I wanted the focus to be on our readership, and not on my own outfits, and that's still our focus today. I do post one of my own outfits every fortnight to show our readership that I walk my talk. But my style is not the focus of YLF.
Another big part of YLF is the ability for our members to collect, organize and chat about items they find in online stores. A little like Pinterest, but much more focused on fashion. We launched this recently and it has been very exciting to see people using it.
How would you describe your own style?
I'm a Modern Classic who enjoys having fun with trends.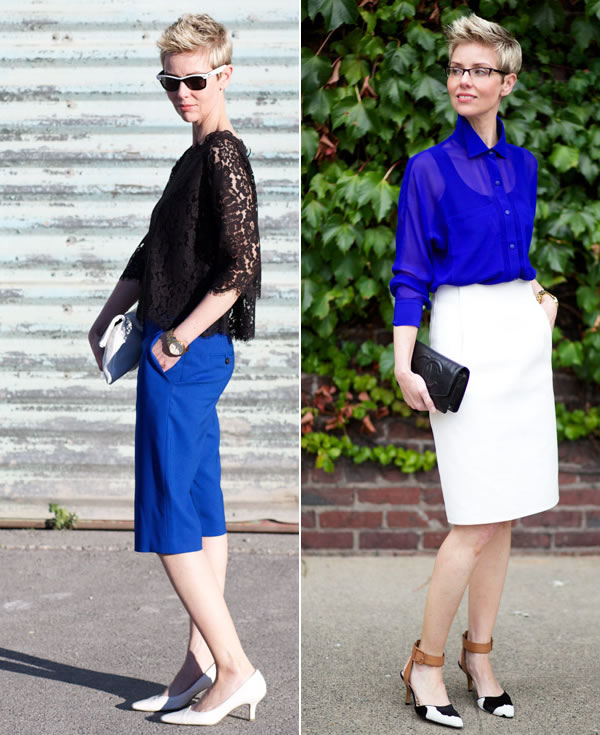 What would you consider the most important components of your style?
The items that I purchase and the outfits that I wear must for the most part reflect my style descriptor: Modern, Crisp, Simple, Bold and Dressy.
My style preferences are a mixture of androgynous tomboy and ladylike pretty, which are polar opposite vibes, yet work for my style as long as the result is refined and polished. No hard-edge. I like to underpin trendy pieces with a classic support act. I enjoy wearing high-end and low-end items in one outfit. I love a well made piece, sour colours, simple designs, straight lines, angular drape, a strict integrity, handbags, all shades of white, fluid fits, and comfortable shoes. I don't wear high heels, sandals, finger nail-polish, jewellery or dark lipstick.
Where do you live and how does that influence your style?
I live in Seattle, where it's wet and cold for a good part of the year. I'm always wrapping up with knitwear and toppers, and making sure my feet are warm and dry. That's why I have a good assortment of boots, knitwear, jackets and coats. If I Iived in a warmer city, I'd wear dresses, skirts, sleeveless tops and open shoes more frequently.
You are very disciplined when it comes to your wardrobe and don't own a large amount of clothes. Why is this important to you?
I'm a control freak who does not like untidy clutter, so I need to know exactly what I have from one glance at my closet. It makes me happy and calm to see a well organized and curated wardrobe. I've found that working with fewer items is more manageable. And repeating outfits is something I do frequently too.
How do you manage to be so disciplined? Do you ever feel you need more variety?
I'm very exposed to style variety because I'm a fashion stylist who shops and works with a range of clients for a living. Actually, working with clients across all age groups, lifestyles and style personas makes my style preferences even more focused. When you eat, sleep and drink fashion and style like I do, you have to make sure that you don't tire of what you purchase. It's one of the reasons I am continuously drawn to updated classics. I address the need for variety by incorporating a good dose of modern and current, which usually means cherry picking the trends that tickle my fancy.
The last few years you have chosen not to wear a lot of jewelry and usually only wear your watch and a ring. Why did you make that decision? Are you ever tempted to wear a necklace or bracelet?
Not at all. I LOVE keeping my "jewellery style" to a watch and wedding ring. I bat for Team Less Is More, and decided four years ago – when I turned 40 – to really put that into action. The drama of my style is from the head up – a punk 'do and specs that I wear most of the day because I don't wear contacts. That's plenty accessorizing for someone who prefers a simple outfit.
What inspires your outfit choices the most?
Having fun with fashion.
Do you take things like color profiling or body type into account when you dress?
Instead of creating a conventionally flattering outfit, I prefer to focus on self expression and create outfit proportions that are just flattering enough. That way I can also be physically more comfortable and have a larger assortment of options at my disposal. Although I am regular height (5ft 6), I have a slight frame that can look overwhelmed at the drop of a hat. I need to make sure that there is sufficient structure elsewhere in the outfit when I'm wearing oversized silhouettes.
I'm not big on colour profiling. I wear colours that make me happy. And if they aren't my best colours, I wear them with a shade of white and brighter lipstick to make them more flattering.
Has your style changed at all after turning 40?
Yes. I hit 40 and decided that I liked gold more than silver – after wearing silver for thirty years and virtually no gold at all. Gold looks better on my skin tone so I have some making up to do.
Furthermore, I'd rather have the quality and craftmanship of a well designed simple piece shine, than wear lots of bells and whistles. Plus I make absolutely no compromises with my feet. I have fussy feet and must wear comfortable shoes.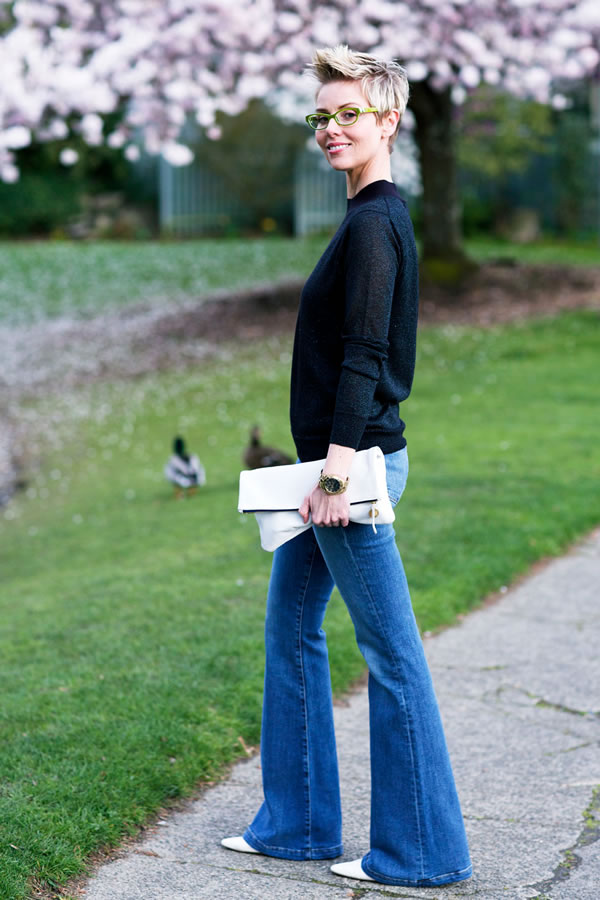 Do you believe in dressing 'age appropriately' and what does it mean to you?
Age appropriate dressing to me means wearing outfits that look grown-up. That translates into adding a sophisticated element to any outfit, be it casual or dressy.
Would you say that at this stage of your life you are now more, or less interested in fashion, style and the way you look?
I have more fun with fashion every year, and expect that trend to continue. Yes, my body is aging, and its hard to come to terms with that when your mind feels more alive and fit than ever. But you can't turn back the clock, so I choose to get on with it and embrace the next phase of my appearance. We can have fun with fashion and style at any age. My 70-plus year old clients are proof of that, and amongst the most stylish women I know.
Why is the way you look important to you?
I have an appreciation of all things aesthetic. If I take great care choosing the crockery I use to serve our food, or the decorations in our house, the way I dress and groom myself is important to me in the same way. Dressing is also a powerful form of self expression, and an opportunity to have fun.
Which of the outfits on your blog are personal favorites and why?
It was hard to choose my favourite outfits so for simplicities sake, I've chosen the four most recent outfits we've posted on YLF, and added an equestrian look that is close to my heart. Here's a link to the thumbnails of my outfits for a quick gloss over.
Do you follow trends? And if yes, which trends excite you at the moment?
Absolutely. At the moment, I am especially enjoying the bumper knitwear trend, fluid and boxy fits, pastels, sporty-luxe items, ankle strap footwear, and white-out.
Do you have any fashion and style tips for women over 40?
Assess how an item or outfit makes you feel as well as how it looks because style comes from the inside out, and not the other way around. If something makes you feel fabulous, wear it.
Thank you so much Angie. I thoroughly enjoyed reading your answers and learning more about you. Be sure to check out Angie's Site Youlookfab for lots more fashion inspiration!
Which of Angie's featured outfits is your favorite?

Like This Post? Share It On Pinterest!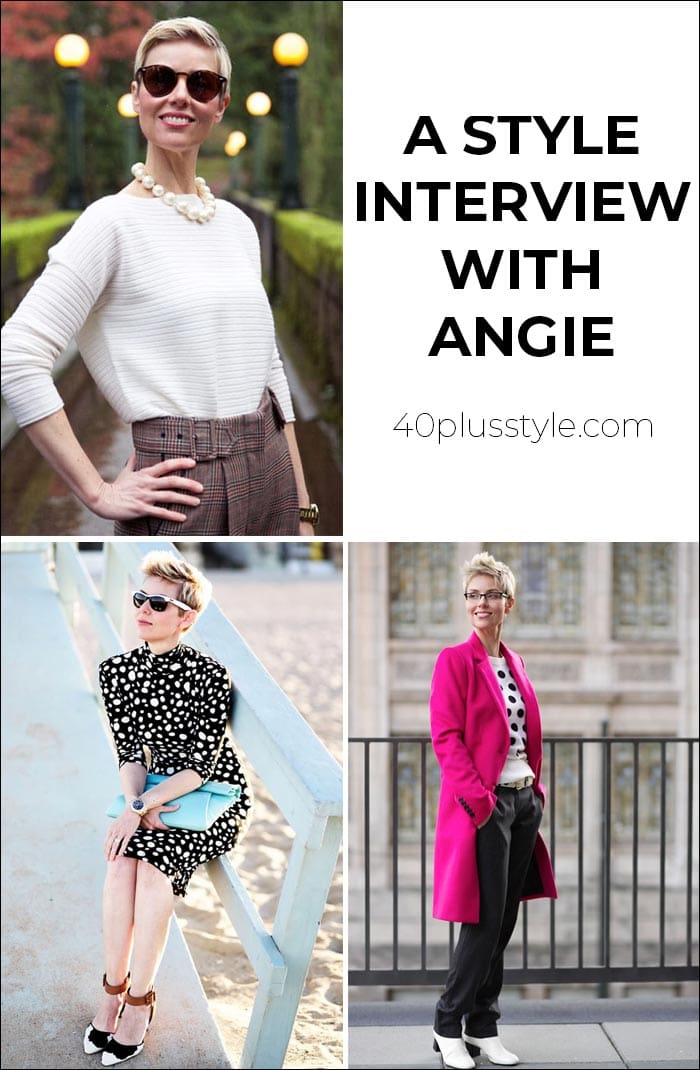 Want to get more articles from 40+style in your inbox, subscribe here.
You can also connect with 40+style on Facebook, Instagram or Pinterest.
Support 40+style by using the links in our articles to shop. As an associate for Amazon and many other brands, we receive a small commission (at no cost to you) on qualifying purchases which enables us to keep creating amazing free content for you. Thanks!