Melanie Kobayashi is truly an inspiration.
You will find something new every time you open her blog and will be surprised every time. Not only by her very creative outfits, but also by her story lines, that are original, creative and often very funny.
I wanted to learn more about her creative flair and see how I and other women can add more creativity to their outfits. Her answers are truly inspiring and I can assure you, that you are in for a good read that may just give you some 'aha' moments and creative ideas. Enjoy!
Hi Melanie. Thanks for taking the time out to answer a few questions for 40PlusStyle.com. Can you tell us a little bit more about yourself?
I live with "O" in downtown Vancouver, Canada, and I'm a sickening optimist, except when I'm not. My current passions, apart from dressing up, are abstract expressionist painting and playing badly in my art band, Just Bad Enough.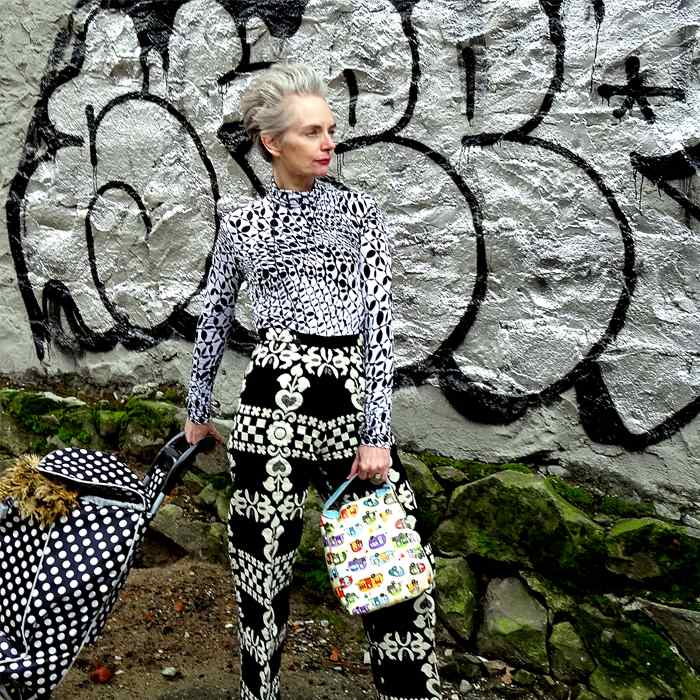 As a point of reference which age group do you belong to or perhaps you are willing to share your age?
I'm 50.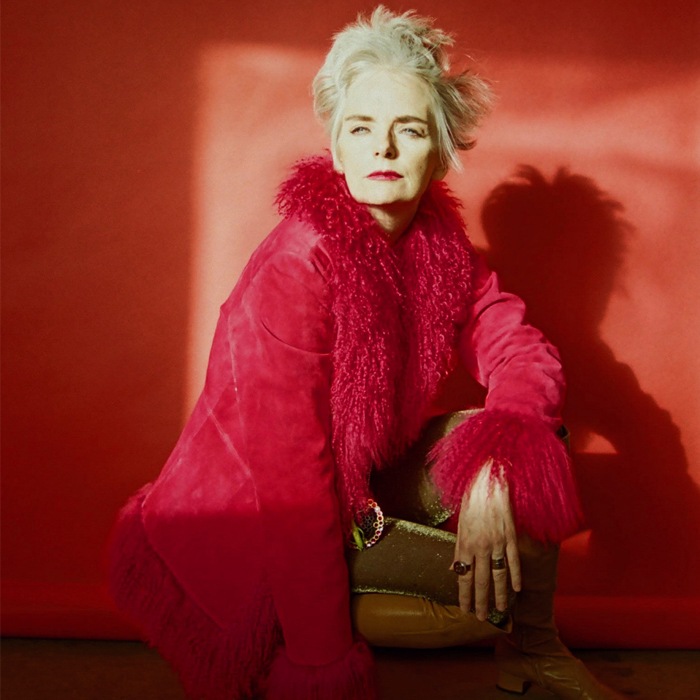 Can you tell us a bit more about your blog(s). Why did you start a personal style blog and also a street style blog?
I started my blogs to capture and extend the ripples of joy I get from wearing things that make me happy and from people in the city who shine with personality and style – the positive energy loops created from the simple act of wearing things we love are overwhelming. I also craved meeting people who feel the same way.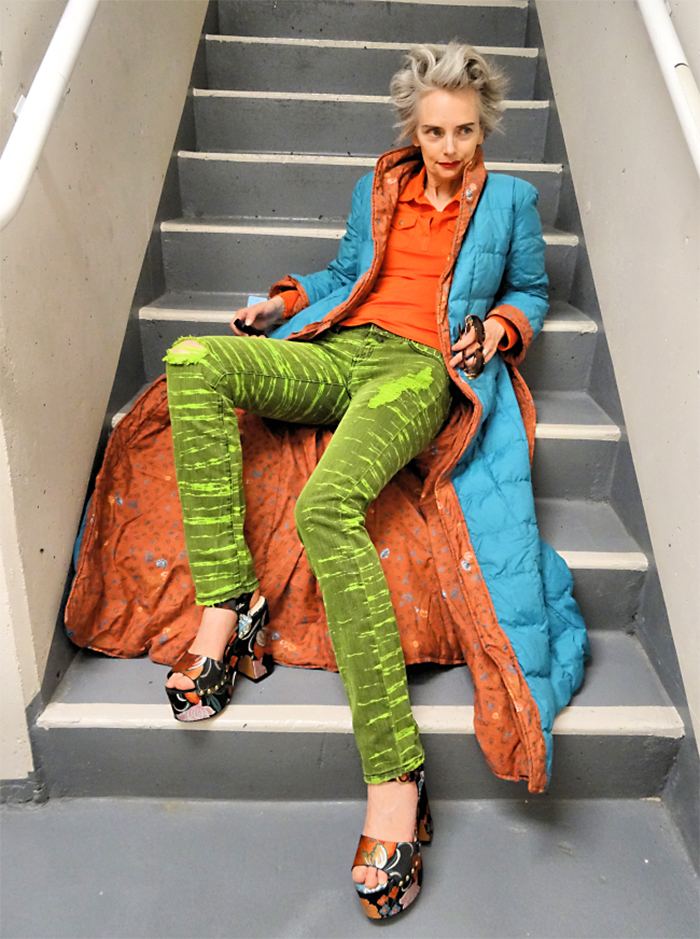 You call your blog Bag and a Beret. Why did you choose to call it that?
When I first started the blog I was going to wear a paper bag over my head with a beret on top in my photos because I didn't want people to know who I am, and I have always been uncomfortable having my picture taken. I started two trial blogs featuring just outfit sketches and cartoons before I got the courage to open Bag and a Beret.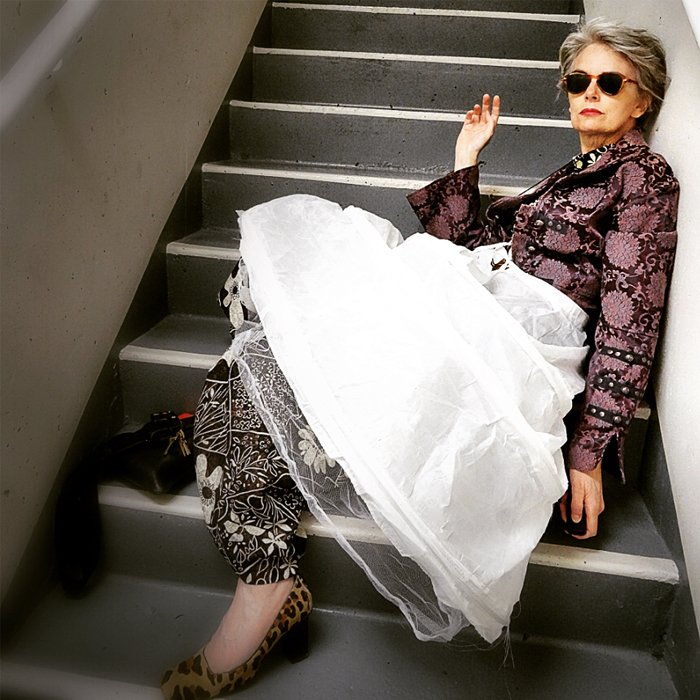 How would you describe your style?
Very emotional, very amorphous – Jackson Pollock one day, Paris chic the next, Patti Smith the next…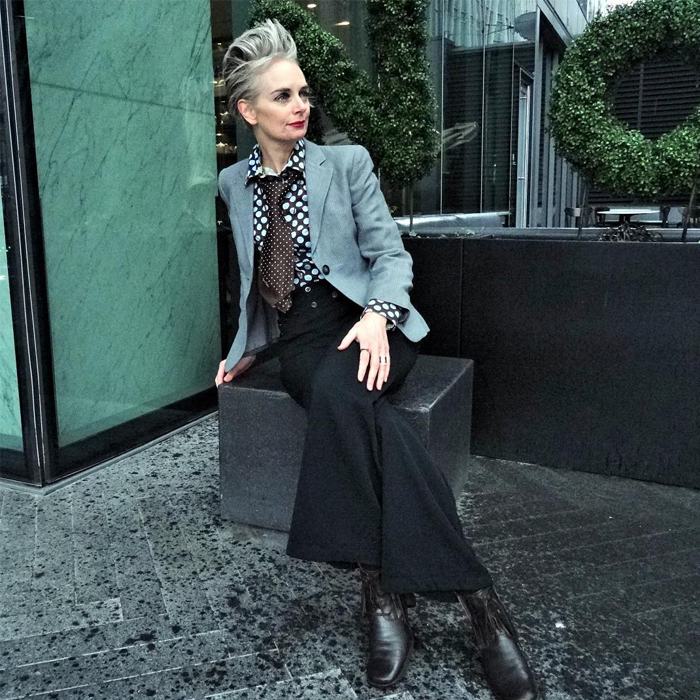 How do you go about choosing your clothes and what inspires your outfits?
I choose items that reflect my mood, the weather, my appetite, and art projects I'm working on, although I also sometimes slip into cycles based on colour, pattern, structure, or eras. I am inspired by beauty in all its forms – art, architecture, film, music, dance. I enjoy thrifting so I look for pieces that have been well made and cared for. A good fit is unnecessary if I think I can belt or hike or cut a piece into a pleasing form.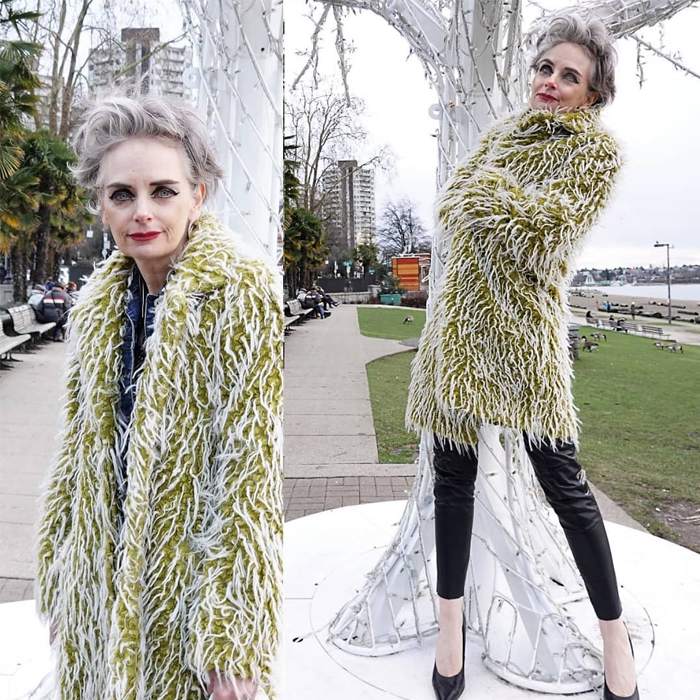 What would you define as the main components of your style? What makes an outfit truly Melanie?
One somewhat characteristic thing I do is frame an outfit of disparate pieces with a dark beret, gloves, and shoes. These limb caps act the same way as art frames: they formalize the central canvas and prevent the colours from spilling off my appendages. The beret has been a signature piece as well. Strangers frequently ask me if I'm from Paris.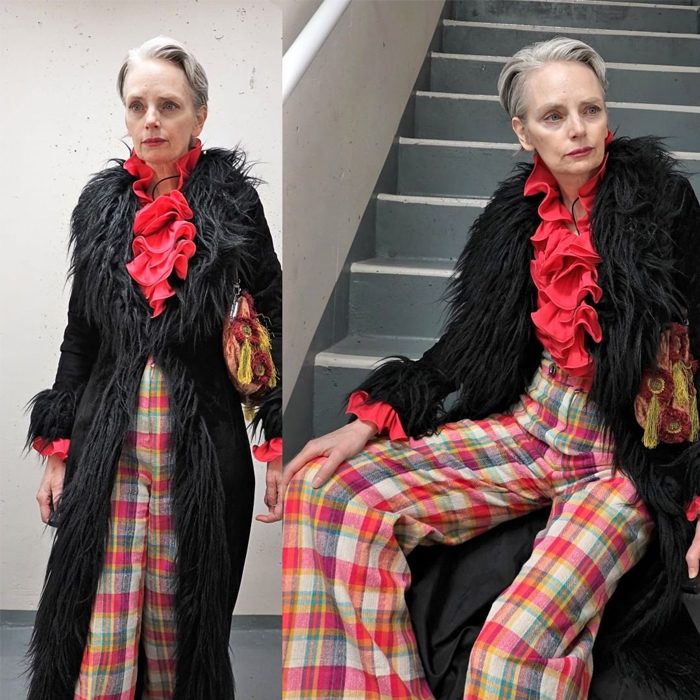 You are very creative with your outfits and always find new ways to combine items. How did you get to be so creative? And how do you apply that creativity on to your clothes?
I've always enjoyed making things, 2D and 3D, and there is an artistic streak in the family in general – mad inventors, poets, and musicians. When I realized that clothes too are merely paint for my body, I started applying abstract expressionism to my wardrobe. I learned to follow my instincts, not logic, as I do in painting, in making my clothing choices.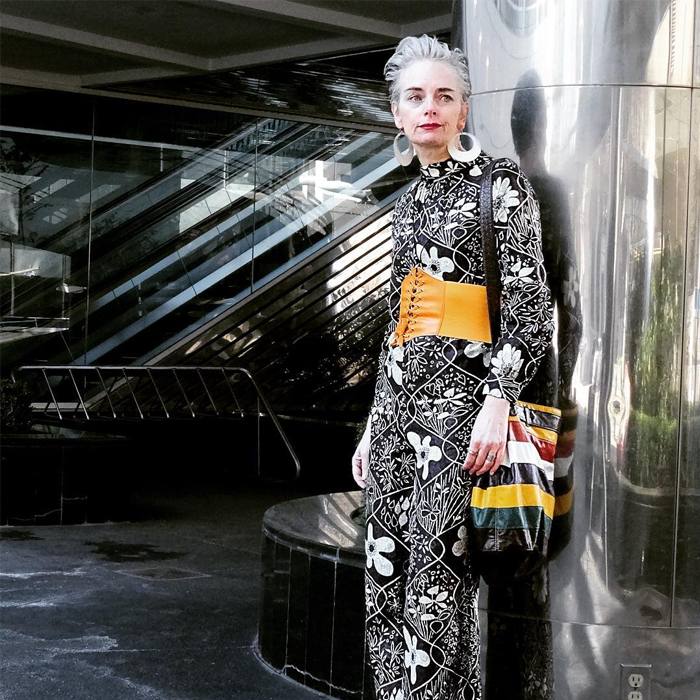 How can others who may be a bit stuck with the same outfits get some of your creative flair and come up with new combinations?
This is a good question for someone who wore mom jeans for a couple of dark years. These are some of the lessons I learned:
Buying something OUTRAGEOUS, no matter how small, can take you far. In my case I slowly built on the tingling sensation I got wearing my first "break-out" piece, bright mustard-coloured tights, to get where I am now. Baby steps.
Closet jamming, where you throw your clothes together in a jumble, often results in exciting new random combinations.
Playing dress-up at home, in a safe environment, especially with inexpensive thrifted items that allow you to stretch your creativity without commitment, is a great way to loosen up – best done with friends (and chocolate and snackies and drinks, and a hidden camera?!).
Naughty underwear creates a fantastic Mona Lisa smile! (Not that I would know…LOL)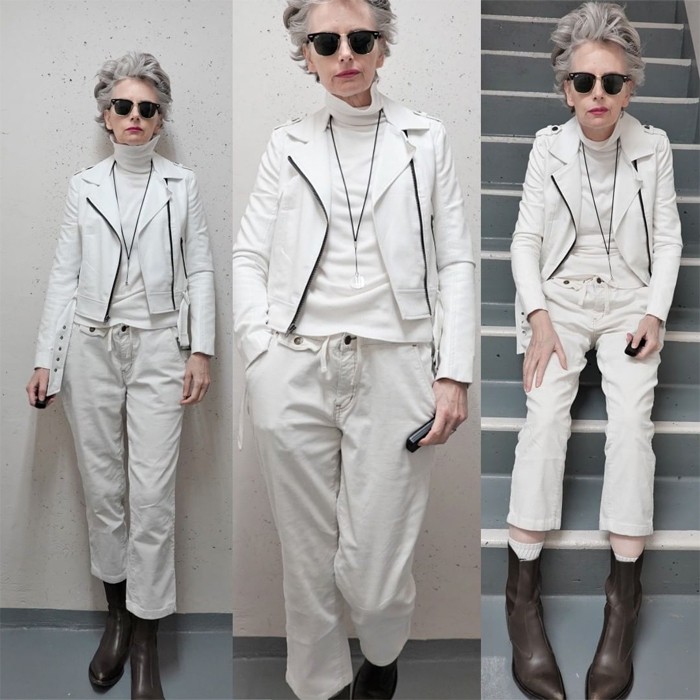 As well as your clothes, your photos and story lines are often very creative too. How do you get your ideas?
I go on a daily inspiration walk which incorporates street style scouting, and sketching and writing in my journal in a café to develop my art projects and flex my divining rod for beauty. My ideas spring purely from my mood during this "me" time.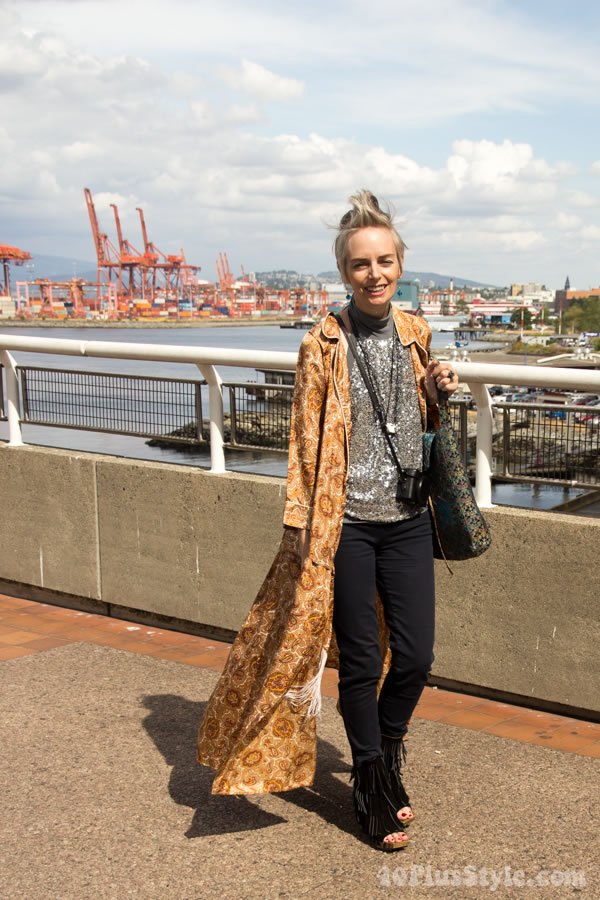 Sometimes I will imagine myself strolling along to a movie soundtrack or becoming a particular character. If I style-eye a particularly dazzling individual on the street, that also adds to my blog vision. Banishing negative thoughts and people is essential!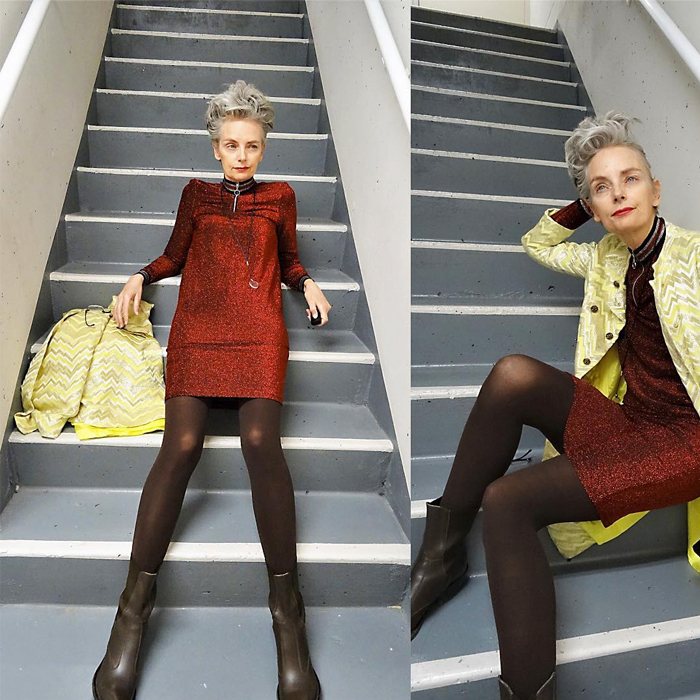 Do you wear the same outfit multiple times or do you strive to create something new every time?
I do wear the same outfit multiple times, maybe with slight modifications, not only because I love the combination but to relive the positive vibe from a previous wearing.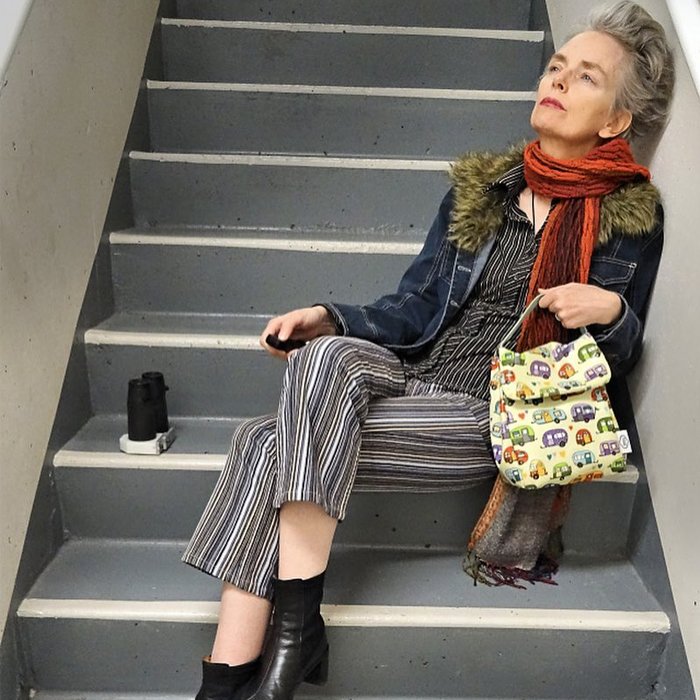 How do you think that others can achieve a truly creative style that is unique to them?
Follow your heart above all. If you enjoy trends, adapt them to your own idiosyncrasies. In my view, while style rules may provide a safe framework to work from during experimentation, some day they may not only cramp your wardrobe but also your imagination and sense of adventure in general. Listen to your instincts.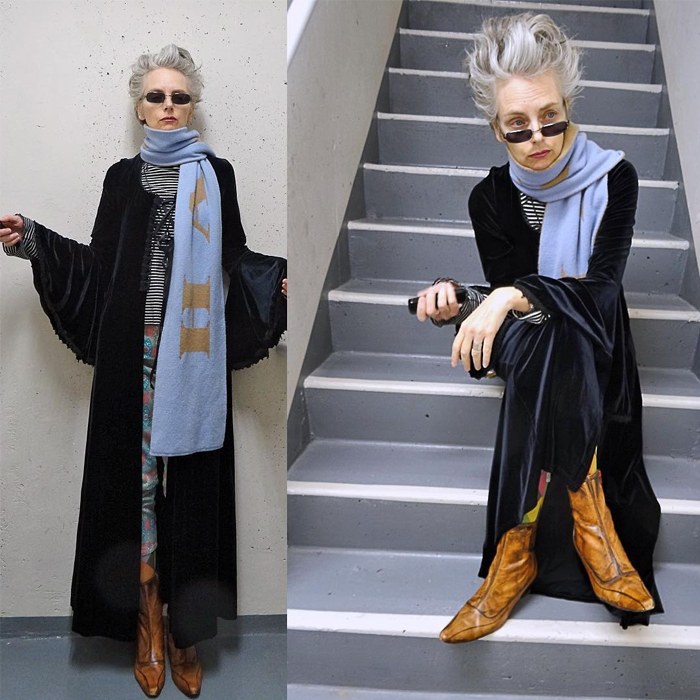 Do you take things like colour profiling or body type into account when you dress?
No.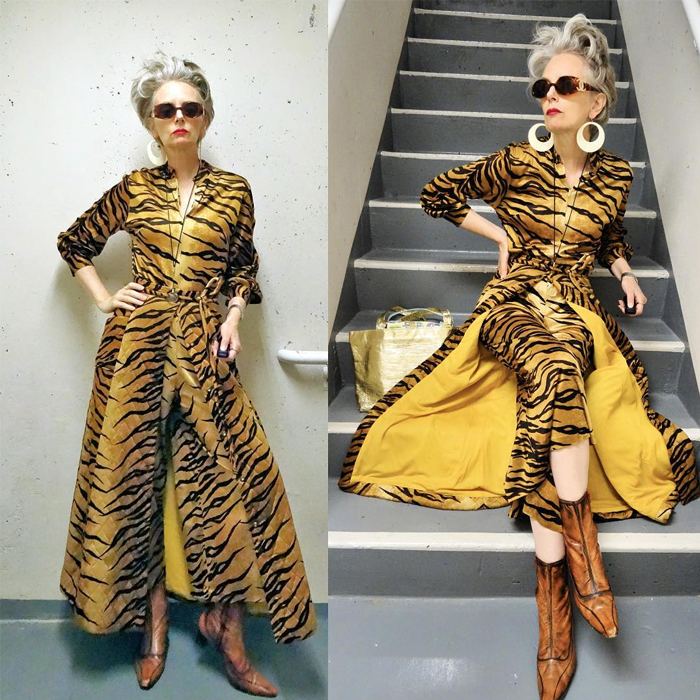 Has your style changed at all after turning 40?
One hundred percent. It wasn't turning a particular age that triggered the change; it was more a personal awakening triggered by chaos around me. I consciously decided to distill that outside energy for good, to accept the chaos and live large in my art, in my personal style, and in my relationships with light-seeking people.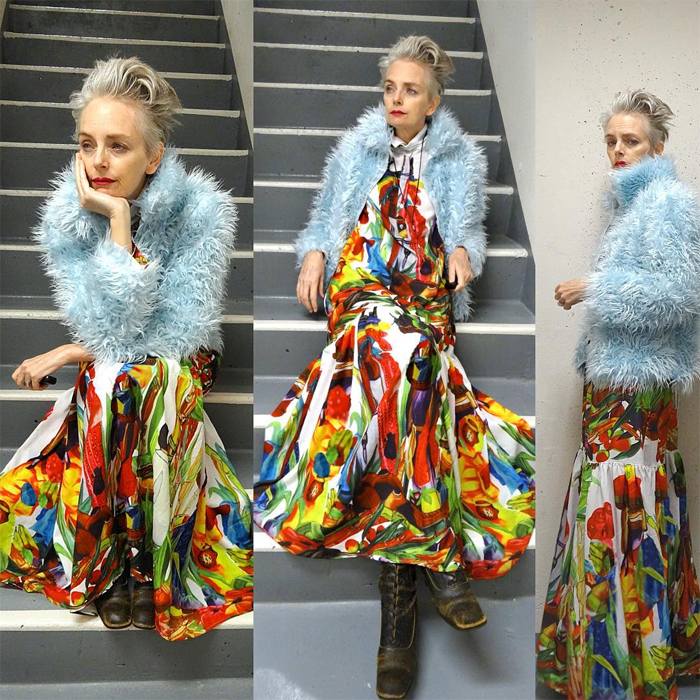 Do you believe in dressing 'age appropriately' and what does it mean to you?
No. I dress for my mood every day, but I can say I'd rather be dressed as lamb or even a toucan than mutton any day if it makes me feel good. People who don't like my style can look away, look away! Having said that, I don't like to see young girls dressed very provocatively. As adults, freedom of choice should be celebrated.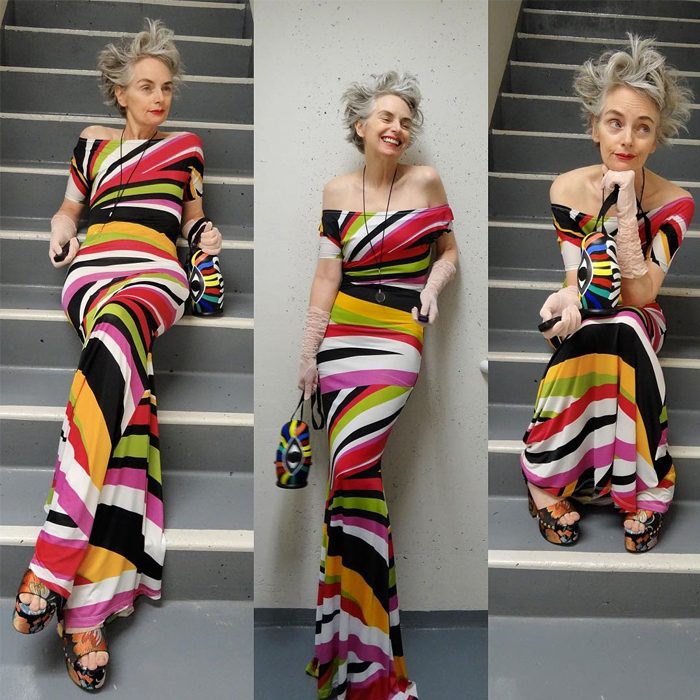 Would you say that at this stage of your life you are now more, or less interested in fashion, style and the way you look?
I am definitely less interested in fashion and more interested in how I present my sense of self through what I wear. Usually I am indifferent as to how others perceive me, although I am fascinated how stylistic changes alter those perceptions, which I sometimes address in art projects. Ironically, dressing to please myself attracts far more positive attention than dressing to fit in or please others. Self confidence is a powerful thing – like magic.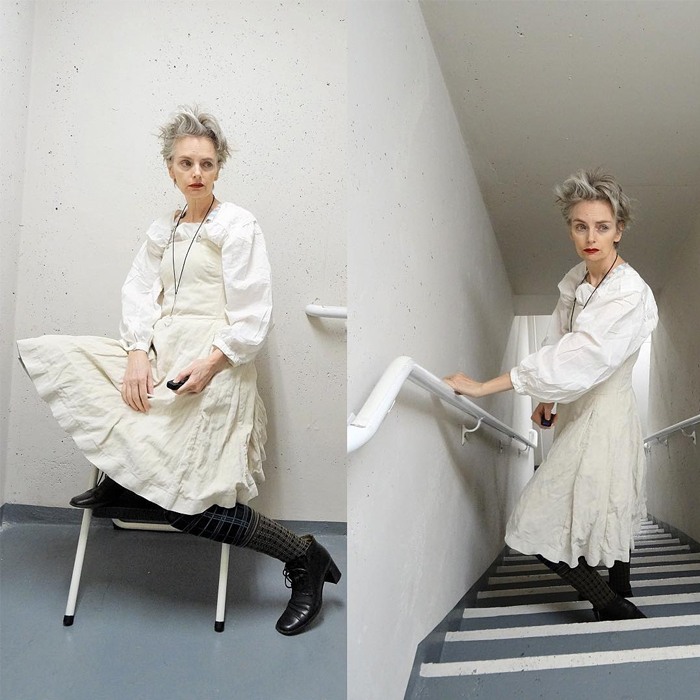 Why is the way you look important to you?
I believe in presenting my best self to the world. A woman whom I style-eyed once said to me, "Nobody ever crossed the street to meet a personality." Dressing in a way that makes me shine attracts the kind of people who make me shine even more, and I hope that I make them shine more as well. That's what it's all about.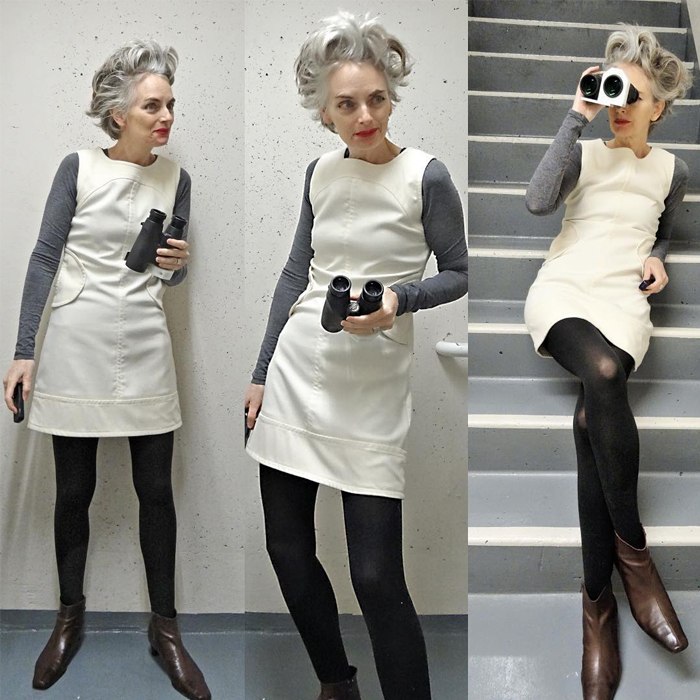 Which outfit on your site is your favorite outfit and why?
My ballerina dress so far is a favourite, not because I like the outfit best but because it represented crossing another barrier. The first time out I stayed close to home, but the next time I wore it downtown and it felt natural. I'm always learning – it's not just the clothes you wear, but HOW you wear them that creates an environment of ease. If my mind is whispering, "Would you like to dance with me later in the fountain?" people respond to that invisible positive energy.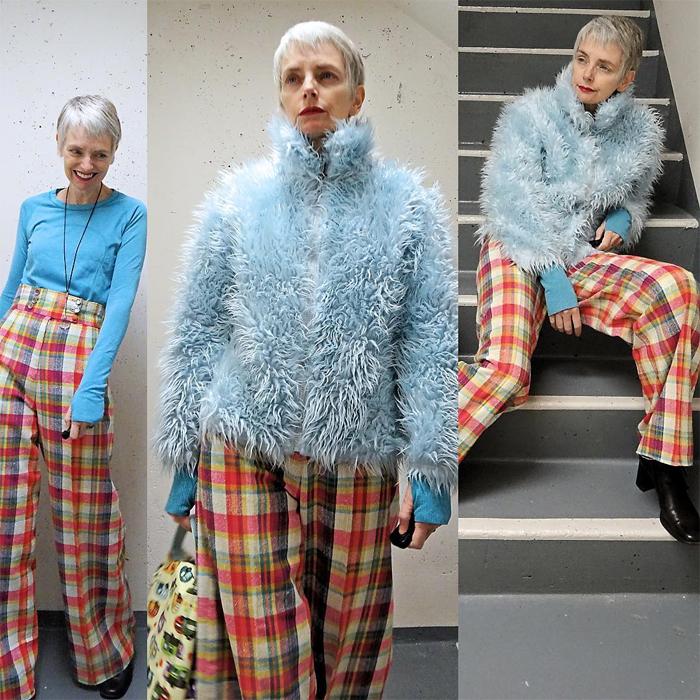 Do you follow trends? And if yes, which trends excite you at the moment?
No. I haven't bought a fashion magazine for many years. Trends create a sameness that is anathema to my own independence of thought and expression. I would rather be a trendsetter by breaking all the rules, which is the most fun and liberating approach of style for me, although sometimes I'll pick up a trend by osmosis. It's insidious! LOL.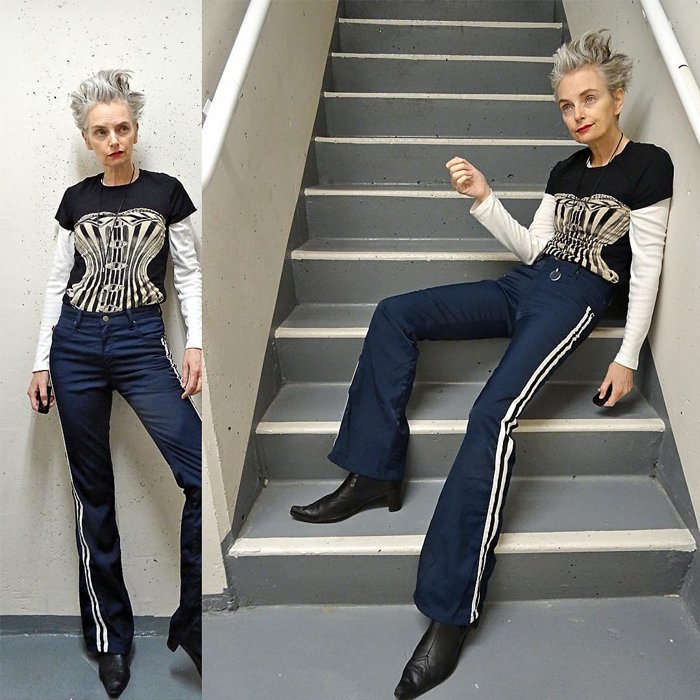 Do you have any fashion and style tips for women over 40?
Again, follow your heart. If you want to get more wild in your clothing choices, you can start small. Also, style confidence is as much about appreciating how much other people shine as it is about shining yourself. If you compliment others with sincerity, the positive energy boomerangs back to you, which will give you extra strength in all aspects of your life, including your personal styling. More magic!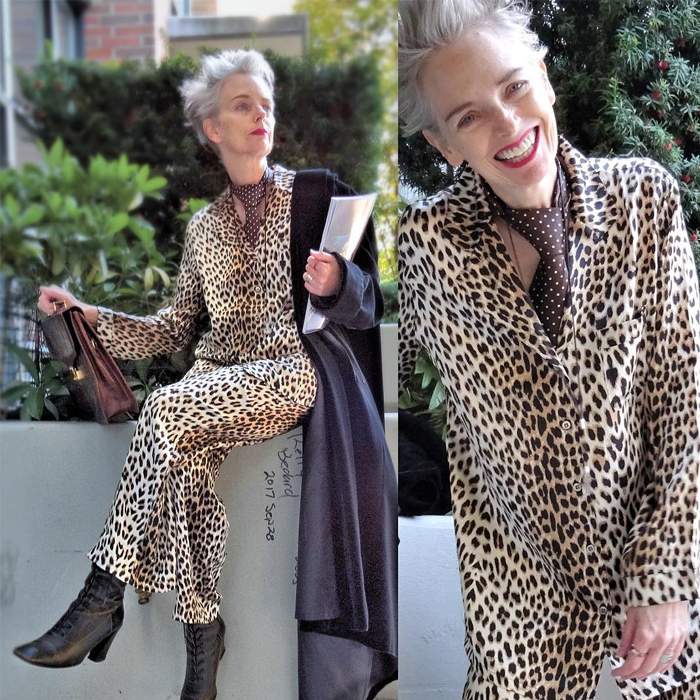 Do you plan to continue with blogging and how do you see your blog develop over the coming years?
I can't tell you how much I enjoy the community I've found in blogging. I've met many strong, witty, all-round-beautiful women from all demographics in the world. As long as I feel that I'm growing from blogging, I'll continue doing it. I would like my blog to become more interactive and I'm working on a project to that end right now. I would also like to incorporate more of my art/sound projects. I can't see myself covering "fashion" but I certainly would change my tune if I were invited to attend Paris Fashion Week! So now you know – I'm all talk, talk, talk… LOL!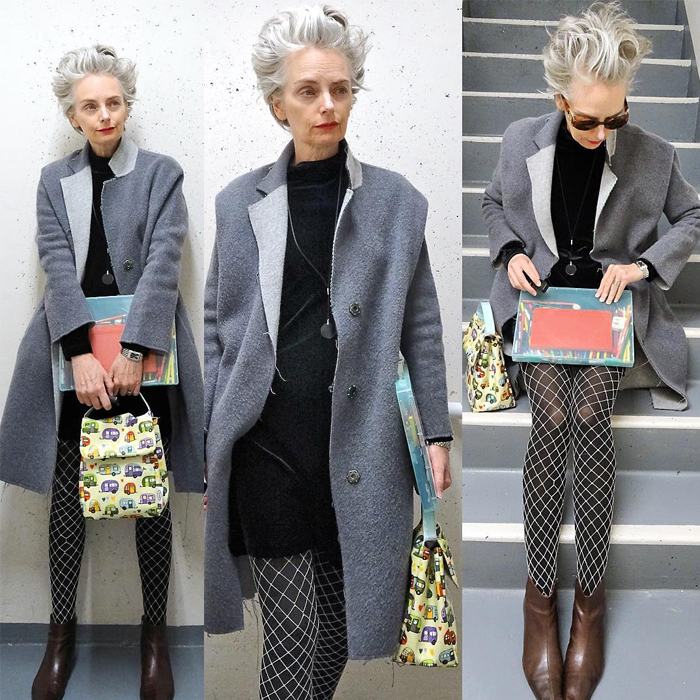 Anything further you would like to add?
Thanks for letting me share my style adventures here. It's really an honour. You're definitely one of those amazing women I was talking about, Sylvia!
Note from Sylvia: I so enjoyed her answers. It almost makes me reconsider my own style (which is more subdued and minimalist), but I feel it's important to stay true to my own style and will just need to be creative in a minimalist way! I just loved this quote:
 "Dressing in a way that makes me shine attracts the kind of people who make me shine even more".
So important and something I certainly want to do as well!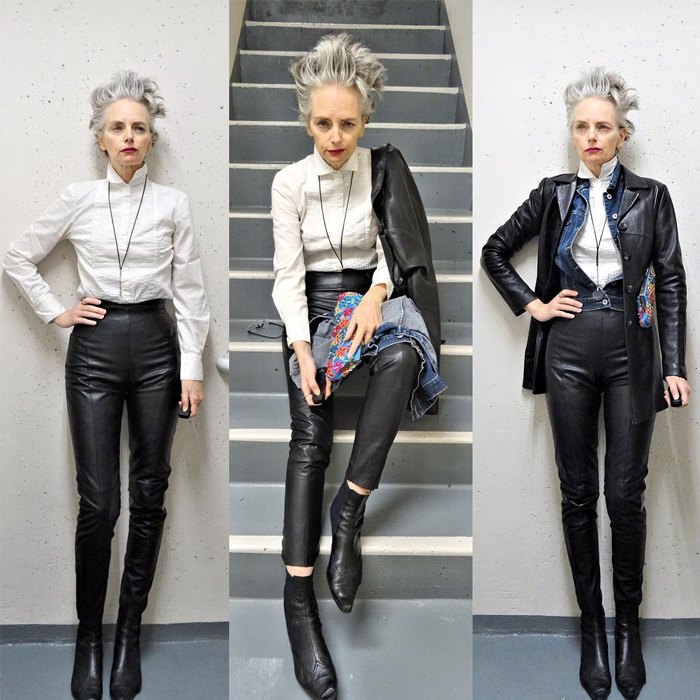 Want to discover more about Melanie? You can heck my beauty interview with her.
Don't forget to check out her blogs Bag and a Beret  and Instagram.
How about you? Will you be more creative with your outfits? What resonated most with you from this interview?
Did you you enjoy this article on how to be more creative with your outfits? Share it on Pinterest!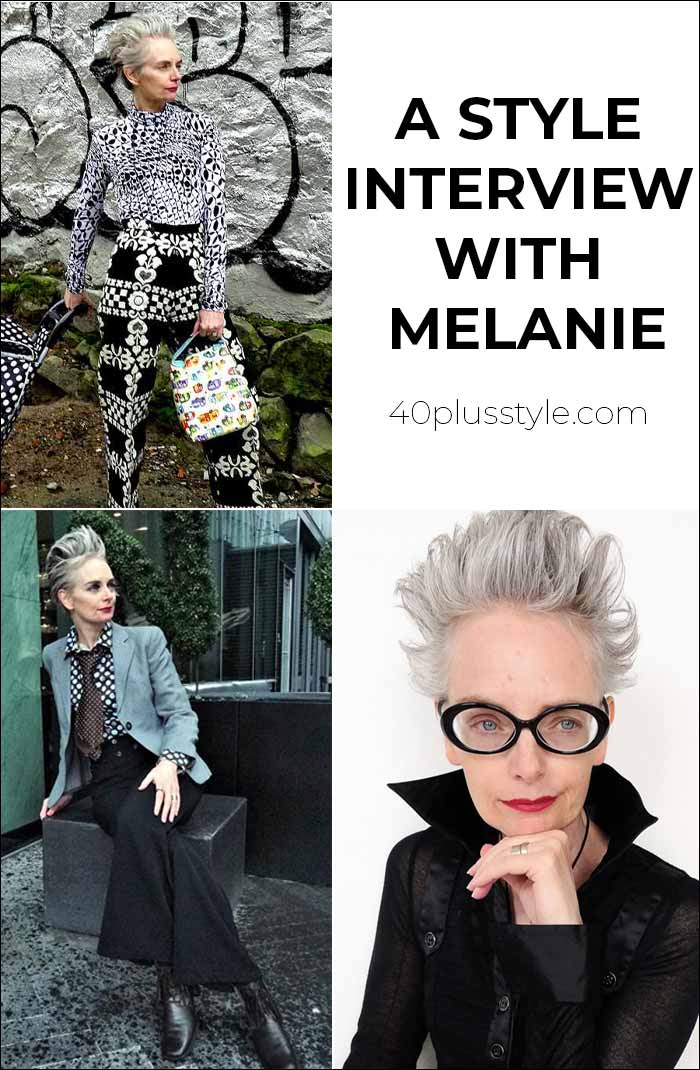 Want to get more articles from 40+style in your inbox, subscribe here.
You can also connect with 40+style on Facebook, Instagram or Pinterest.
Support 40+style by using the links in our articles to shop. As an associate for Amazon and many other brands, we receive a small commission (at no cost to you) on qualifying purchases which enables us to keep creating amazing free content for you. Thanks!