I have featured Melanie a few times before. She is a creative genius when it comes to fashion and style. But she has a few beauty tricks up her sleeve too, like how she styles her hair, so let's discover those today!

Can you tell us a little bit about yourself?
I'm a style hedonist. I pretty much wear what I want, when I want.
A menswear tux and tie? Sure. A pink sequin gown? Why not? – preferably with sneakers.
I often stumble into unexpected adventures as a result of my passion for self-expression, from auditioning for TV ads, to modelling, to attending galas, all of which I chronicle on my social media, with big laughs along the way.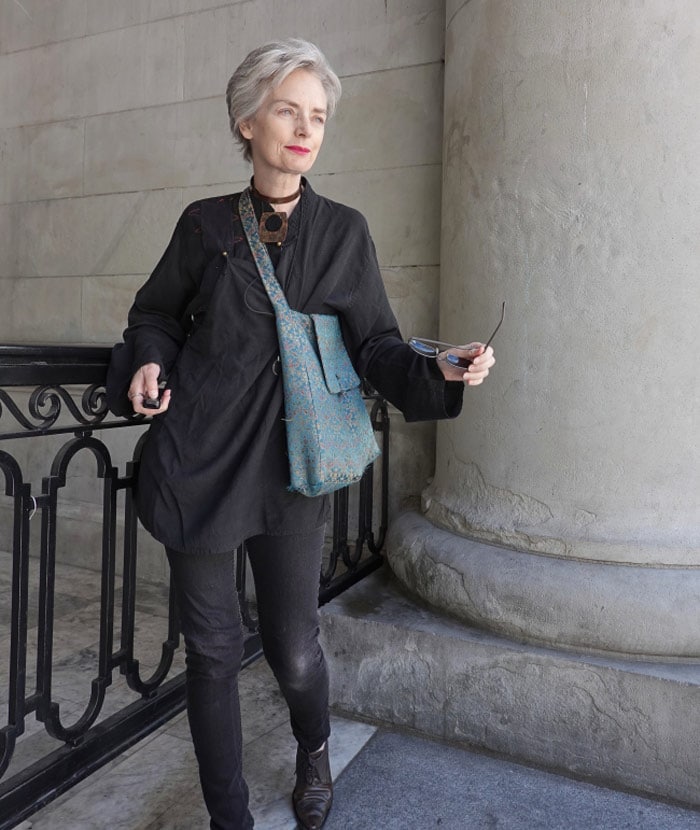 The streets and alleys of Vancouver are my playground for photography and weird artsy videos. Finally, I do motivational speaking on the joys of rule-breaking, and wanna-be divas turn to me for my frump-busting skills. I live in Vancouver, Canada, with my calm husband.
As a point of reference, which age group do you belong to or perhaps you are willing to share your age?
I am 55. I kiss my Seniors' Pass, even though admission is still rather limited. A drug store and a local restaurant are so far the only jackpots I've found.
What kind of beauty personality are you?

I am Phyllis Diller and Tilda Swinton, with a dash of Amélie (film character), and David Bowie. I can be all or nothing, depending on my mood. I don't usually do neutral unless I'm sick or in hiding mode.
How much time do you spend on average on your grooming / beauty routine?
The time I spend often depends on how late I am running. It can last from 10 seconds to 30 minutes. On average, it takes about 5 minutes, excluding hairstyling.

Has your beauty routine changed much from when you were younger?
When I was eight years old I piled on the blue eye shadow; I still do sometimes, but I've added pink, lime, black, gold, and other tropical colours to the mix, and my mum doesn't give me heck when I wear it.
I tend now to avoid cream eye colour because it collects in my lines of divinity (wrinkles). And a stubby magic wand of lipstick, usually red, has been a lifelong companion. I could never use soap – it usually burns like acid. Not much has changed.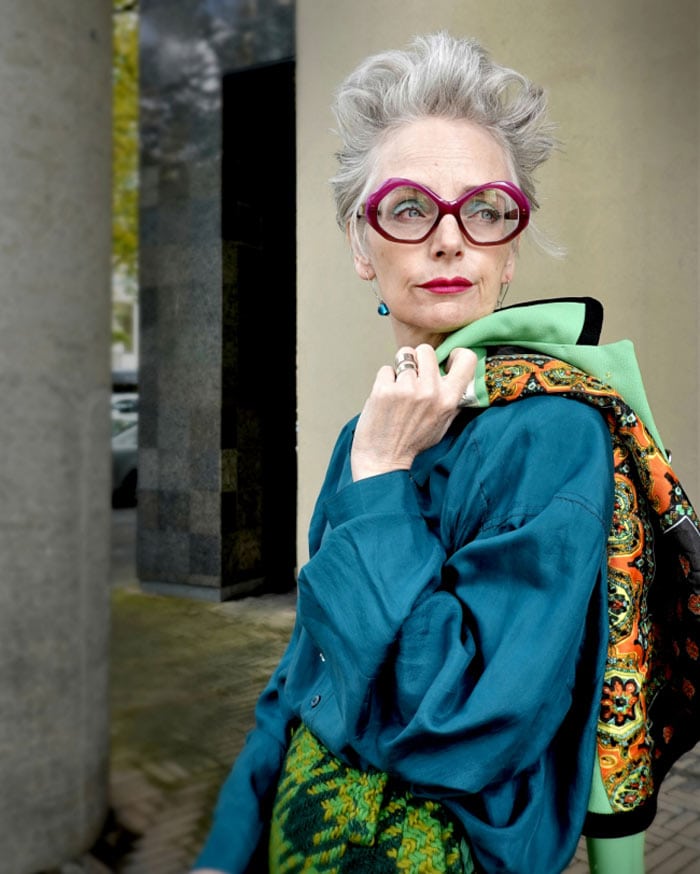 What is your current beauty routine?
Each morning I wash my face with water, then before I go out I slap on some lip liner and lipstick, and maybe dark brow pencil to frame my eyes. I rarely wear foundation and concealers because they suffocate my skin – I rely on the lips and brows to distract from my complexion.
I sometimes apply the full works: eye shadow, liner, and mascara. I'd definitely wear them more if removal didn't require a Satanic ritual.
In the summer I colour my nose white with stick-style sunscreen. I also swear by the rejuvenating effects of freshly-brushed teeth.

How do you look after your skin and what is your favorite product?
My favourite skin product is water. I don't use night creams or moisturizers. If my skin ever feels scrapy dry, for example, after swimming in chlorinated or salt water, I may apply a dab of Lancôme Nutrix Tube moisturizer or an all-natural moisturizer my friend made me.
To remove makeup I use olive oil on makeup pads and cotton swabs. For deep-space makeup excavations I may require Aveeno Active Naturals Moisturizing Bar, fragrance-free bar soap for dry skin.
How do you look after your hair and what are your favorite products?
I wash my hair every other day with Aveeno Active Naturals Moisturizing Bar. I don't use rinses. I blow dry on high heat with finger-combing and apply got2b products depending on the hairstyle I'm going for. I don't often comb or brush my hair.
How do you achieve your signature tower hair?
There are two ways: lightweight and heavy duty. For lightweight, when my hair is already dry in a flat pixie style, I run a dab of got2b Glued Spiking Glue through my upside-down hair.
For longer-lasting, heavy-duty styling, I dry my wet hair upside-down on high heat, while back-combing into a peak with my fingers.

When my hair is almost dry, I massage in a dab of got2b Ultra Glued Styling Gel and finish drying. Then, when my hair is dry-dry, I rub in a final dab of the got2b Glued Spiking Glue for extra long lasting peaky hold.
How important is makeup to you? Is it part of your daily routine?
I love makeup. Adore it. I almost never go out without lipstick.
Makeup has transformative power, not just on physical looks; it also affects how I move through the world. If I'm wearing black lipstick and shadow, I'll tend to walk with a rock-star swagger.

Reds may add a bounce to my step, like an impish Amelie.
Sometimes I do fun, over-the-top makeup experiments, which give me ideas for daytime wear, such as coloured or white eyebrows or white eye shadow.
Which make-up products do you use and which are currently your favorite?
YSL's matte lipstick 208 and YSL liner 21 are my current favourites for daily wear.
Other favourites are Mac matte lipsticks and liners, and their cake colours.
I also sometimes use Sephora Make Up Forever 12-colour makeup kit.
I'm experimenting with Look Fabulous Forever makeup as well. So far I just use cheapo drugstore mascara, and I use eye liner as a brow pencil.

Which products do you use for the night? (if any)
None.
If you could just give 3 beauty and grooming tips to women over 40, what would they be?
1. Dark or bold lipstick adds high drama
Especially when paired with strong eye makeup. It doesn't hurt to kick up the colour even for daytime wear. If I see one more YouTube how-to on tasteful makeup for mature skin I might scream. There is room for diversity here.

2. Matte lipsticks and liner have super-long staying power
What you sacrifice in terms of moisturizing properties, you more than make up for with longevity. Plus, matte liners are great for drawing outside the lines à la Joan Crawford and Bette Davis.
3. Coloured hair gel is a great way to add punch to your look, and it only lasts until your next wash
Where can we find out more about you?
I have a personal style blog and an Instagram account. There are links to other media coverage about me in the PRESS link on my blog.

I also have an on/off Vancouver street style/culture blog. Finally, my online fashion spoof magazine, VOGOFF, is at vogoff.homestead.com and my artworks are at melaniekobayashi.homestead.com.
Thanks Mel for sharing your beauty secrets with us!
Which is your favorite beauty look of Mel?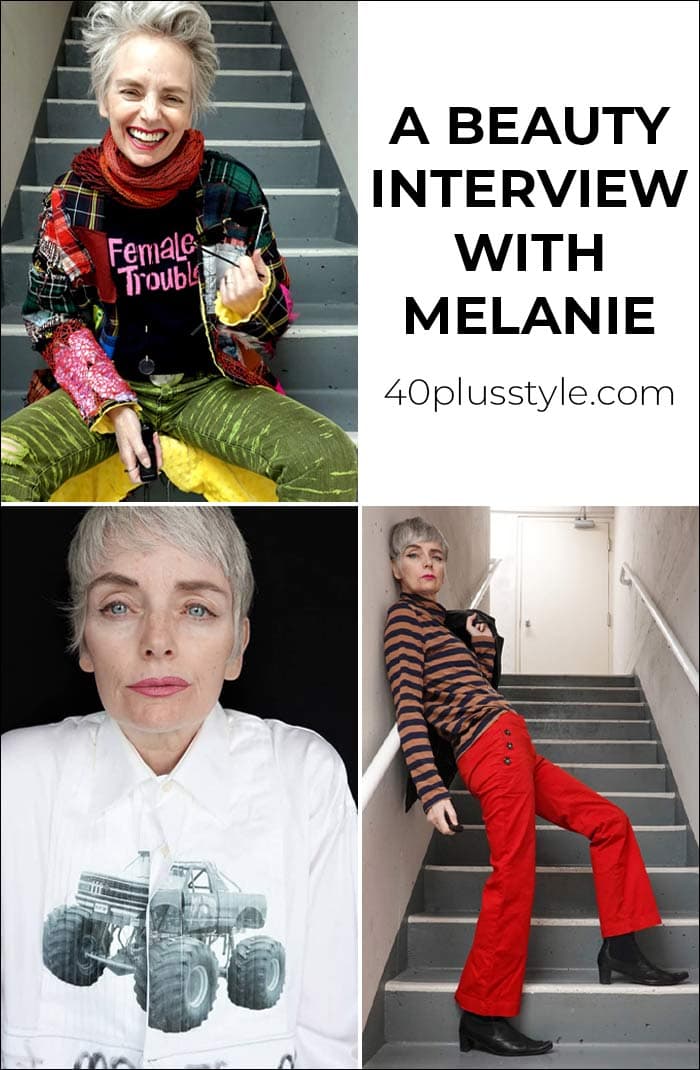 Want to get more articles from 40+style in your inbox, subscribe here.
You can also connect with 40+style on Facebook, Instagram or Pinterest.
Support 40+style by using the links in our articles to shop. As an associate for Amazon and many other brands, we receive a small commission (at no cost to you) on qualifying purchases which enables us to keep creating amazing free content for you. Thanks!