Cynthia is one of the members of the 40+Style club and she describes her style as classic with a twist. She loves mixing and matching basic pieces with accessories and is a poster girl for how to dress the apple shape. I think you will love this interview!

Can you tell us more about yourself?
My name is Cynthia Gainey. Friends call me Cindy. I was born and raised on a farm in Raleigh, NC. At that time, Raleigh was not much more than a small southern town. In the last 20 years the city has grown tremendously with wonderful shopping, arts, restaurants, and a professional hockey team.
At 17 my family relocated to north central Florida where I attended college, had a family, and started my career in the corporate finance and insurance. About twenty years ago, I relocated back to Raleigh with my two beautiful daughters and still work for the same employer.
As a point of reference which age group do you belong to, or perhaps you are willing to share your age?
I don't mind sharing my age at all. I am 54 years young! I was actually excited to turn 50 several years back. That's when I really "got grown" to use a southern term. Simply put, I had finally grown into my confidence. Also, I was excited to sign up for AARP and start getting those discounts! Laugh.
I have an affirmation that I will share. I always say, "it's fine to grow older as long as you don't look like it."
Can you tell us a bit more about why you joined the 40+ style club?
Based on the affirmation referenced above, I've always wanted to look my best. At 50, I felt like it was time for a refresh. For years, I had been reading magazines. Then blogs started popping up.
Now we have communities, such as the 40+ Style Club. The club is a fabulous way to learn how to up your style – and in a very supportive environment. I have really grown fond of the coaches and members. The club is a new family for me.
How would you describe your own personal style?
At the core, I have a classic style. But, I like a little twist with my classic style. What does all this mean? I love basic core pieces including slacks, jeans, skirts, dresses, ankle pants and crop pants in either black, brown, or white. These are my workhorses, extending my wardrobe.
I generally invest (during a sale, if possible) in these pieces. I once learned about cost per wear, and get great value out of these items. I also LOVE to wear classic yellow gold chain necklaces, bracelets, earrings, and pearl anything. The twist comes with color. My tops and scarves are always colorful.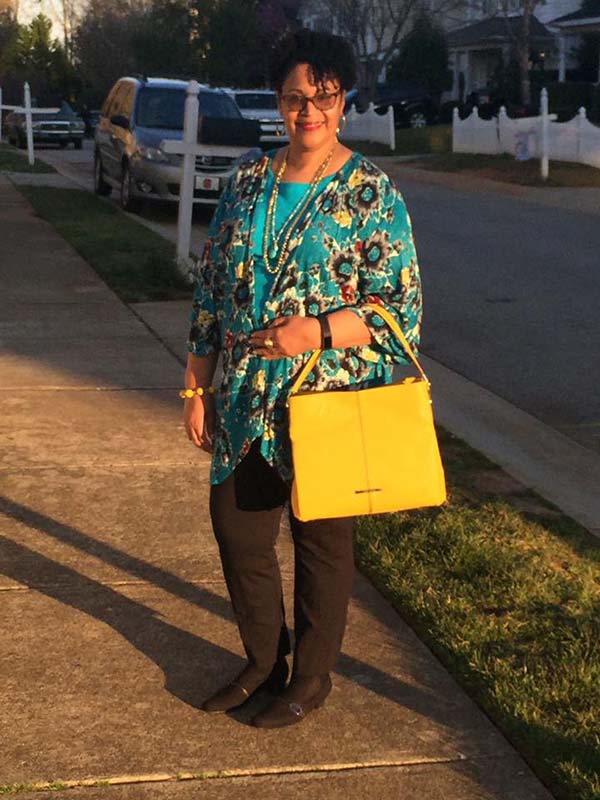 I have many bracelets and pashminas, too. I actually have a pashmina in every color and/or variation thereof. No kidding. You can pick them up anywhere for as little as $9.99 USD. That's a steal to add a bit of drama, interest and fashion! Another investment item for me are my handbags.
I generally prefer classic shapes. I have several nice black handbags, but buy a few colorful purses, too, including burgundy, saddle brown, and even turquoise and yellow.
Can you tell us a little bit more about your style journey?
Growing up on a farm, fashion was not a focus. My mom hated shopping and would purchase the basics only. I was tall, thin, wore glasses as of age 11 and had terrible acne.
Confidence was an issue for me. I started reading magazines around 13 or 14 … Seventeen, Essence, Glamour and Ebony. At about 17, I graduated to buying Vogue magazine. I read everything I could about fashion, beauty, hair, and skincare. I also got a part time job, and I started buying my own clothes, makeup, skincare and haircare products.
It's really been a passion of mine to look my best for the better part of four decades. It has helped my confidence so much. Another affirmation I keep in mind is that, "when you know better, you do better." Once I had the knowledge and a personal budget, I did do better.
What would you consider the most important components of your style?
Investment core pieces, colorful tops, jewelry and a gorgeous lipstick.
Where do you live and how does that influence your style?
As mentioned earlier, I live in Raleigh, NC, which is in the southeastern United States. Because I live in the southern United States, I like to buy versatile pieces that I can wear at least 3 of our 4 seasons.
I just add and subtract layers as needed. Of course shoes and jackets (or lack thereof) change with the seasons.
Do you feel you have signature style?
Yes. I am classic with a twist. While I'm drawn to classic pieces, I like a little unexpected something. That's usually presents itself in my color combinations. Friends and coworkers often tell me I have a gift for putting together unusual color combinations that really work well together.
What inspires your outfit choices the most?
I'm a budget girl! Raising two children as a single parent after my divorce required that I had to work to make every purchase count. That doesn't mean I haven't made some regret purchases. But I have always known where to invest. Since I am an apple shape, I have to invest in bottoms.
I wear an 11 narrow shoe, so I tend to spend a bit on basic shoes. Also, shoe options can be very limited. For example, I really don't have any comfortable dressy evening sandals. So there are times that I have to make a nice pair of black pumps work. I do that by wearing a gorgeous top with palazzo pants and beautiful, blinged-out accessories.
That pulls the eye up and away from my feet. We have to work with what we've got , right? For work and everyday, I've learned that I can mix lower end tops with more expensive bottom pieces and no one can tell.
Do you take things like color profiling or body type into account when you dress?
Yes, I do! I've had a couple of color-analysis sessions through the years with local style coaches, based on my skin, hair, and eye color I am considered autumnal coloring. However, as style mentor Ruth Essex has shared in the 40+ Style Club, I can also wear jewel tones because of my dark hair.
I wear medium to dark saturation colors. I do look nice in light blues and greens and corals. Probably because of my brown eyes.
I've learned a lot about body shape from the 40+ Style Club. This has been fantastic information. During my younger years I was a pear shape. With my transition to my older body, I am now an apple. So I really struggled with nice fitting tops until this year with the kick off of the 40+ Style Club. I'm slowly building up a new wardrobe of tops.

And folks are always commenting that I look like I've lost weight. While I have lost some, I truly believe there's some optical illusion going on based on Sylvia's style secrets! Another great tip I've learned from Sylvia is the rule of thirds (briefly explained in this article but lots more on that in the club). This has to do with length proportion, and it's a game changer!
What is your current body type and height and what are your best tips for dressing for these?
I am an apple shape with an average bust. I carry most of my weight in my abdomen. I do have shapely thighs and legs, which is not always common for apple shaped women. I'm tall at 5'7''. I am plus-size 18. Pants should be more high waisted for apple shaped ladies. I can get away with boot cut (due to my thighs) or slim cut pants, but the high waist makes the difference.
It diminishes muffin top. For the tall plus size gal, look for tall length pants. Petites should follow suit with shorter length pants. If necessary buy the next length up and have them hemmed. Even though I am 5'7'', I often buy tall slacks and have 3 inches taken off. I only need about an extra inch.
Start exploring asymmetrical tops. These lengthen you, hide your tummy, and are very on trend. Also, consider a third layer, which includes cardigans, boyfriend shirts, lightweight leather jackets, and blazers. I'm not a huge blazer girl, but I love a denim jacket, cardigans, and open boyfriend tops.
Do you have any favorite brands?
I'm not brand loyal. But as a tall plus size apple, I shop at Lane Bryant, Torrid, and Nordstrom for dress slacks, skirts, and dresses. Sometimes Talbots will have a nice fitting dress. I buy tops from Nordstrom and Belks Department stores. Cardigans come from Lands End Catalog. I like Old Navy for denim jackets. I only buy jeans from the NYDJ website or Nordstrom.
Everyday t-shirts are the Target Merona brand. I find that the Mossimo brand is cut more to fit juniors. If you have a hard to find shoe size, try Auditionshoes.com or Maryland.com. I've been shopping with them for years, and they have all price points, and a good selection of shoes.
Has your style changed at all after turning 40?
Yes. I update my style about every 5 years or if my weight changes. That may seem a bit long for some, but with a classic style, I only need to add a few on trend items each season. Some seasons I buy more than others. I also tend to update my hair style. I am always updating my makeup and skin care.
Do you believe in dressing "age appropriately" and what does it mean to you?
I do believe in dressing age appropriate. To me that means making sure that my clothing length and silhouettes are proper for my age and stature. It's not a very cute or confident look to constantly tug at your hemline.
Why is the way you look important to you?
Simply put, looking nice builds my confidence and is way for me to express self care. I also want to set a positive example for my daughters.
What is your beauty routine and what are your favorite beauty products?
I do a face mask once a week. I love Burt's Bee's Intense Hydration and Bare Minerals Dirty Detox. I will also make kitchen masks with avocado, canned pumpkin, eggs, honey, olive oil, and banana. I'm known for mixing up a kitchen face mask. I also save my tea bags and chill them in the refrigerator for use on my eyes. I'm a bit of a DIY.
I use inexpensive face wash and wipes. Right now I'm using Neutrogena Naturals Face Wash and Makeup Remover Wipes. I don't consistently use face serums or toners. I use a luxurious face cream at night made by Arbonne International, which is purchased from a consultant.
In fact, I am a licensed consultant just so I can order my nutrition and beauty products directly. I use Bare Minerals BB cream for day. I have a lipstick wardrobe with too many brands to name. They range from drugstore to department store brands.
Do you follow trends? And if yes, which trends excite you at the moment?
I'm not a trendy shopper, but I do love to be on trend. Sometimes that means adding a few new pieces in seasonal Pantone colors, which I did this spring and summer. I purchased tops and a handbag in the Pantone green, blue, and yellow spring color palette respectively.
I purchased a gorgeous patterned scarf with the very on trend stripe and floral motif, as well as Pantone hued shoes. That's really all I needed to update my core pieces other than a pair of white ankle jeans my daughter gifted me for Mother's Day from NYDJ.
Do you have any fashion and style tips for women over 40?
As the affirmation and printed frame art says, "Be You Tiful." To me, that means taking care of yourself and don't get caught in a fashion or beauty rut, nor being too trendy. Be true to yourself, but also be open to exploring something new. Shop your closet and find new ways to put your clothes together. Give color a try. It will add vibrancy to your look and attitude.
After shopping your closet, be intentional with your purchases. Will you really use what you bought? Do you love it? Does it bring joy to you each time you see or where it? Can you wear it with at least three other items in your wardrobe?
That's true for any fashion or beauty purchase you make. Start small. Slow and steady wins the race even in the fashion game. Once you learn what works for you, you will be on autopilot with the three piece rule on new purchases.
How has the style club helped you ignite your style?
I have been able fine tune my personal style with the coaches and the club Facebook community. It is such a learning and nurturing environment. I also became brave enough to wear white pants. Being plus size, I used to be afraid to wear white bottoms. I've been liberated!
What are some of the main things you have learned?
I've learned how to dress my current body shape. I've learned about power of proportion. And I've learned to make sure that I can see all my clothes, shoes, and accessories so that I know what I have. I just decluttered and reorganized my jewelry last weekend. It has made a world of difference. Next are shoes.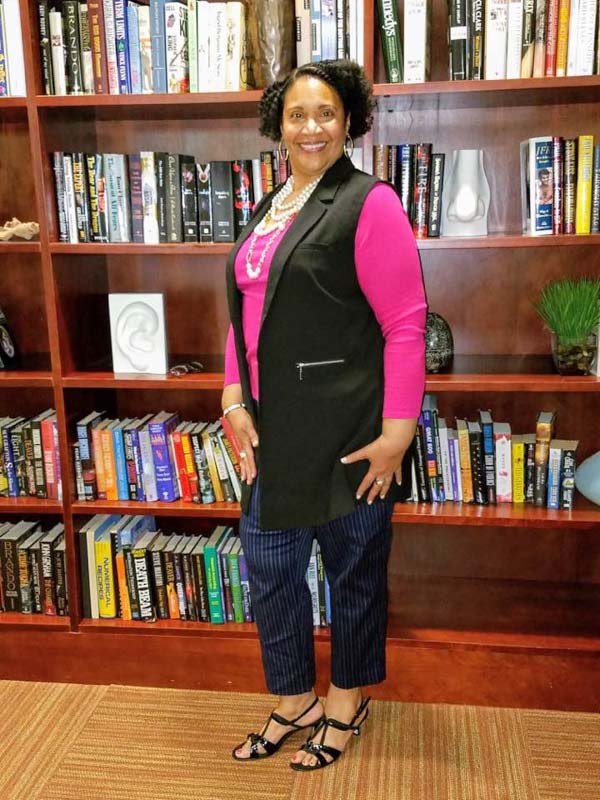 Would you recommend the 40+ Style Club?
Without a doubt. There are so many resources. You can work at your own pace. The challenges create hands on learning experiences. And the value is fantastic.
I have hired personal style coaches before. I've learned more from the 40+ Style Club than I have with style coaches that I paid $150+ an hour. Kudos to Sylvia and the team! And thank you to the ladies that are part of the 40+ Style Club for your encouragement and feedback.
Thanks Cynthia for your fab style inspiration and advice!
Which of Cynthia's looks do you enjoy the most?

Like this post? Share it on Pinterest!
P.S. If you like to ignite your style and get monthly style training and style challenges, you may like to join the 40+Style Club! You will get to interact with many women of the club in the private member community. You can join and get instant access to all training and challenges here.
Want to get more articles from 40+style in your inbox, subscribe here.
You can also connect with 40+style on Facebook, Instagram or Pinterest.
Support 40+style by using the links in our articles to shop. As an associate for Amazon and many other brands, we receive a small commission (at no cost to you) on qualifying purchases which enables us to keep creating amazing free content for you. Thanks!