If you have been following me for a while, you know that I love asymmetrical clothing. They are just a bit edgier and fun and very flattering too.
In this article I will show you how to wear asymmetrical clothes and show you some of the best pieces in stores right now.
Asymmetry is still very trendy this season. In fact, it's very trend every season. It's a look which never dates, and it's one of my favorite looks.
Today let's look at the benefits of asymmetric clothing and what it can do for your style. I will also highlight some of the best pieces available right now in case you would like to incorporate some asymmetrical style into your own outfits.
So why do I like asymmetry so much and think it would be great for you too?
1. Asymmetric dresses and tops will instantly add an arty vibe to your outfit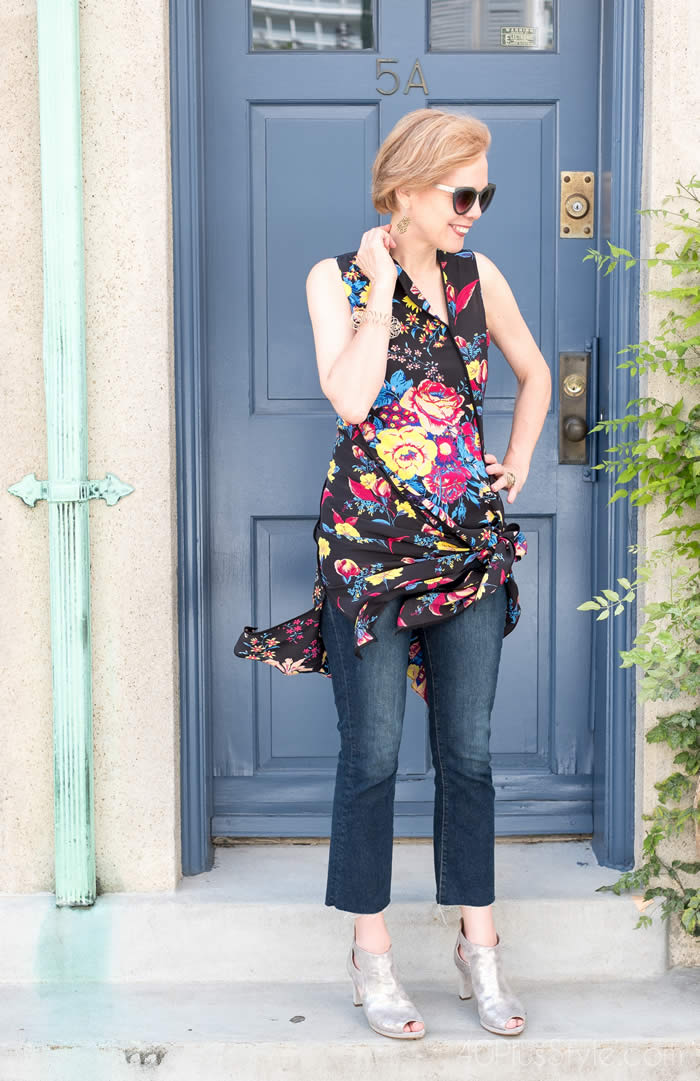 Since asymmetrical clothes are a bit different than 'normal' clothes, they will automatically help you stand out. Through wearing something asymmetrical I know that you have a bit of an edge and don't just want to dress like everyone else.
I'm wearing my asymmetrical dress as a top over jeans. Dress DVF (no longer available) Jeans Paige. Booties Liliane. Photo by Denton Taylor.
2. Asymmetrical clothing is edgier and therefore adds a young and hip element
I always think it's a good idea to add a 'hip' element to your look. It makes you look current and youthful. The great thing about asymmetrical clothes is that they are always hip. They are timeless. Some seasons it may be more fashionable than other seasons, but it's always current. I never tire of my asymmetrical clothing.
For more tips on how to look hip after 40 take a look at this article.
3. Asymmetrical clothing creates interesting vertical lines which have a slimming and elongating effect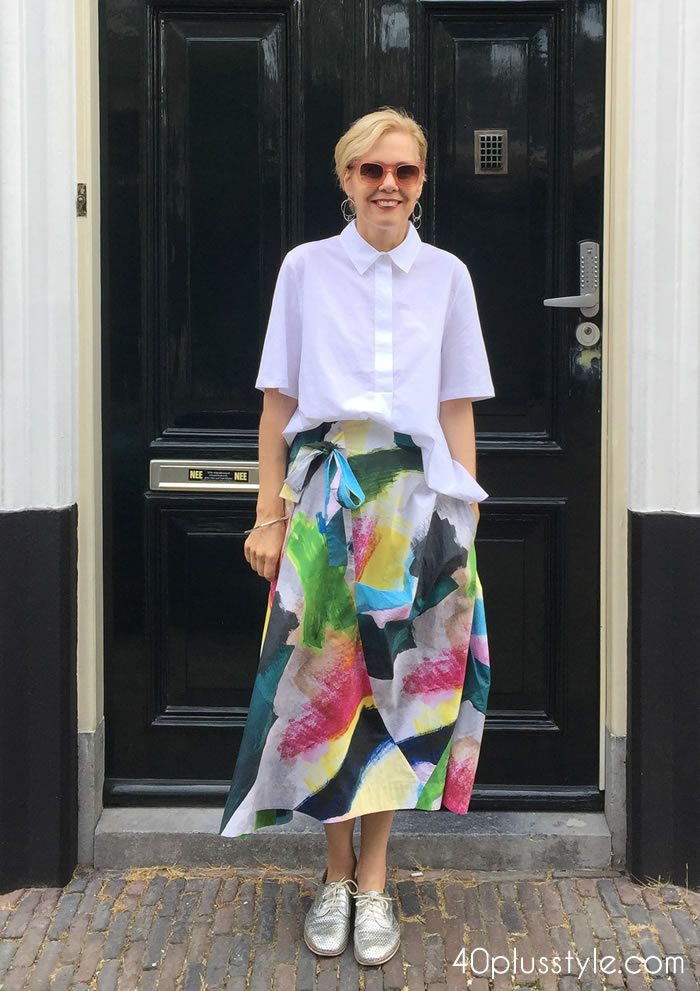 Unlike 'normal' tops that create horizontal lines in your looks, asymmetrical clothes create vertical lines. These are much more flattering! For example, you want to avoid ending your top at the widest part of your hip, which will make you look bigger than you are.
You will also want to avoid breaking yourself in half by having your tops too long. Semi tucking or tying a know can avoid this and will turn your tops into asymmetrical top.
You can always create an asymmetrical effect by semi tucking your top. Skirt and blouse from COS (no longer available). Super comfortable shoes from Rollies.
4. Asymmetric dresses and tops are excellent to wear over skinny jeans and leggings and can be a great way to camouflage a tummy.
If you like to wear longer tops but want to avoid breaking yourself in half, then asymmetrical tops can be a great solution. You still get the length but as the top starts much higher on one site, you don't get the boxy effect of a top that's too long.
More ideas here on how to hide a belly with the right clothes.
5. They are the perfect layering piece as they will allow for some of the other layers to show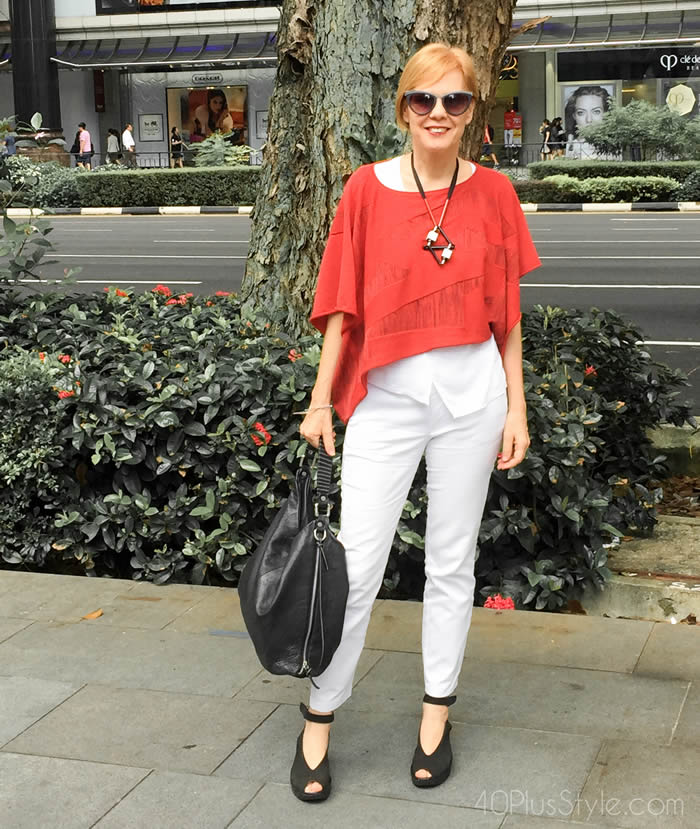 Having fun with layers is so much easier with asymmetrical tops and will make your looks more dynamic.
Cropped top from Stella Carakasi (similar here), white pants from Zara, Yala wedges from Fly London.
How can you wear asymmetric clothing?
Asymmetry is now used in so many different types of clothes so there are lots of possibilities:
1. Asymmetrical dress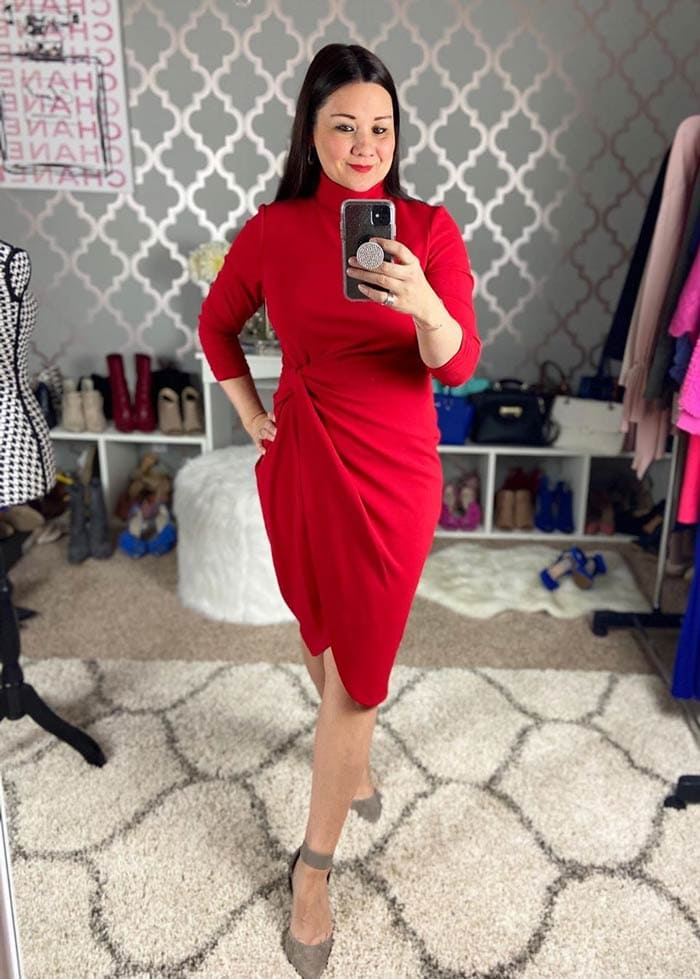 Asymmetric dresses have that little something extra! They are different, more edgy and more flattering.
Wear to a party as is or dress it down by adding a jean jacket for lunch with friends.
Suzie (above) adds some asymmetry with the flattering side knot and hemline.
Check out this drape hem dress from Amazon that you can pair with this similar pair of ankle strap pumps.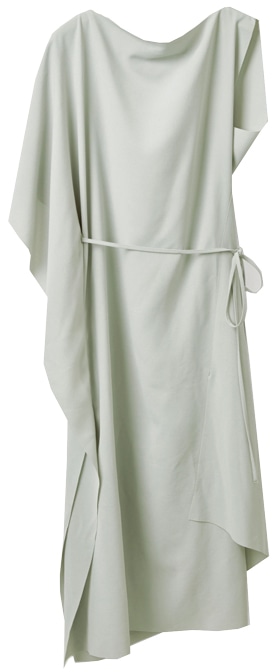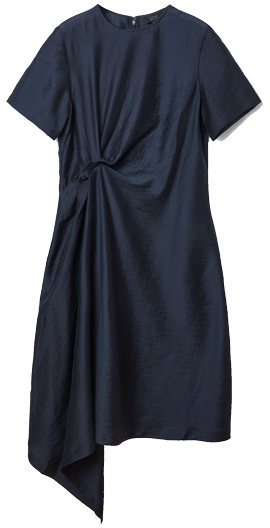 Stella Carakasi dress (another option here)
2. Asymmetrical shirts
An asymmetric top can turn a simple outfit into something special and is often very effective in hiding a belly!
If you like to be a bit more subtle with your asymmetry then this shirt (below) with a high-low hem is perfect. Great to wear on its own and to layer with a jacket or cardigan.
3. Asymmetrical tank top
You can still add some asymmetry to your outfits during the summer months. This simple asymmetric hem tank top (below) would look lovely with white jeans.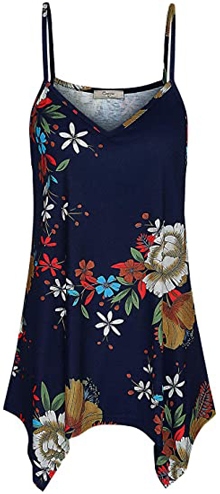 Cestyle asymmetrical hem tank top
4. Asymmetrical tunic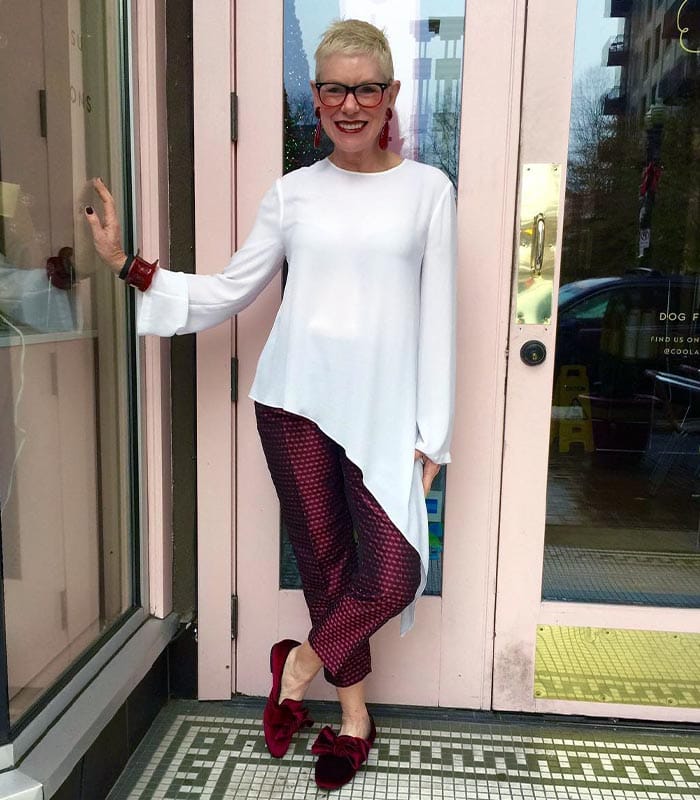 An asymmetric short dress or tunic that can be worn over pants or skinny jeans is an easy way to create a very stylish outfit.
Comfortable and hip, asymmetrical tunics and long sweaters are easy to wear over skinnies and leggings. I love this simple and sleek tunic from Amazon that's available in various colors. I'd wear with leggings and contemporary jewelry.
Jeanne (above) opts for a white tunic featuring dramatic asymmetry.
Recreate her look with this similar tunic, pants, loafers, earrings and bracelet.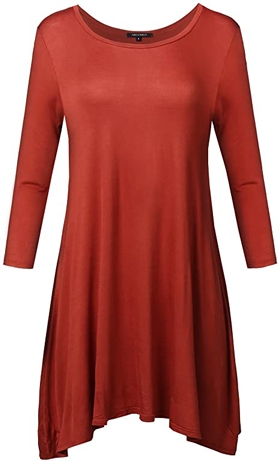 5. Asymmetrical blouses
An asymmetrical blouse is a great option for all age groups. You don't have to wear yours with shorts. You could style with jeans or a classic pair of black pants.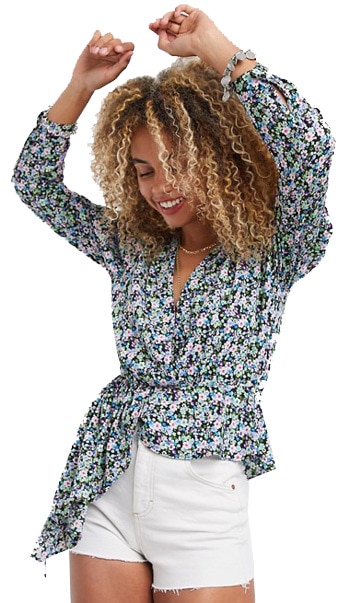 ASOS asymmetrical hem wrap detail blouse
6. Asymmetrical sweater
Sweaters are super comfortable but can sometimes be a bit dull. Not when you add a bit of asymmetry though. This sleeveless sweater style (below) from Stella Carakasi is a good option for summer.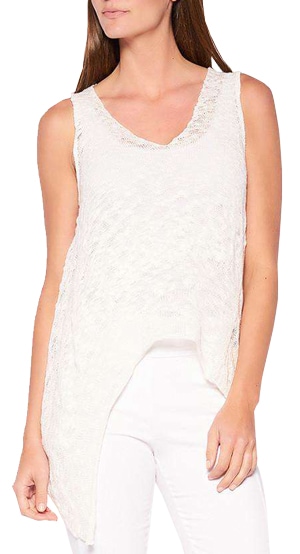 7. Asymmetrical jacket
A good jacket is essential for any wardrobe in all seasons and an asymmetrical jacket can offer just that edge that your outfit needs.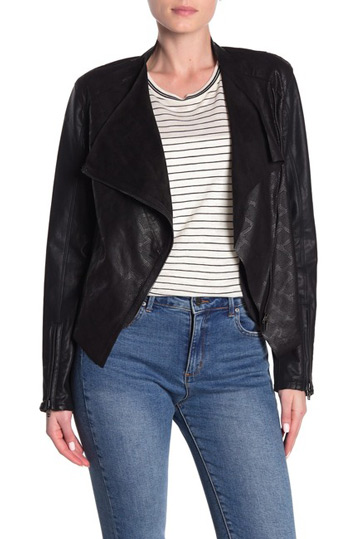 8. Asymmetrical pants
While you may not automatically think of pants when you consider asymmetrical clothing, jeans and pants with an uneven hemline are particularly on trend this season.
Deborah (above) opts for asymmetry in both her top and her pants, and adds an extra on-trend element with her woven shoes.
Steal her look with this similar asymmetrical top, pants, slides and earrings.
9. Asymmetrical jumpsuit
I love a good jumpsuit and this one is gorgeous and will be sure to make you stand out at your next party. A lovely option for any summer events.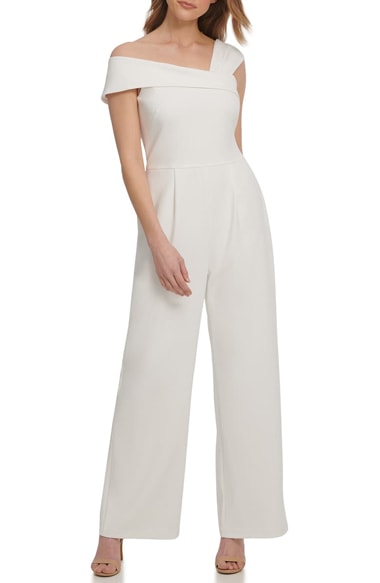 Vince Camuto asymmetrical neck wide leg jumpsuit
10. Asymmetrical skirt
A skirt featuring asymmetry can be incredibly flattering. You could opt for a high-low style if you like to show off your legs, or a style where the hemline dips at one side.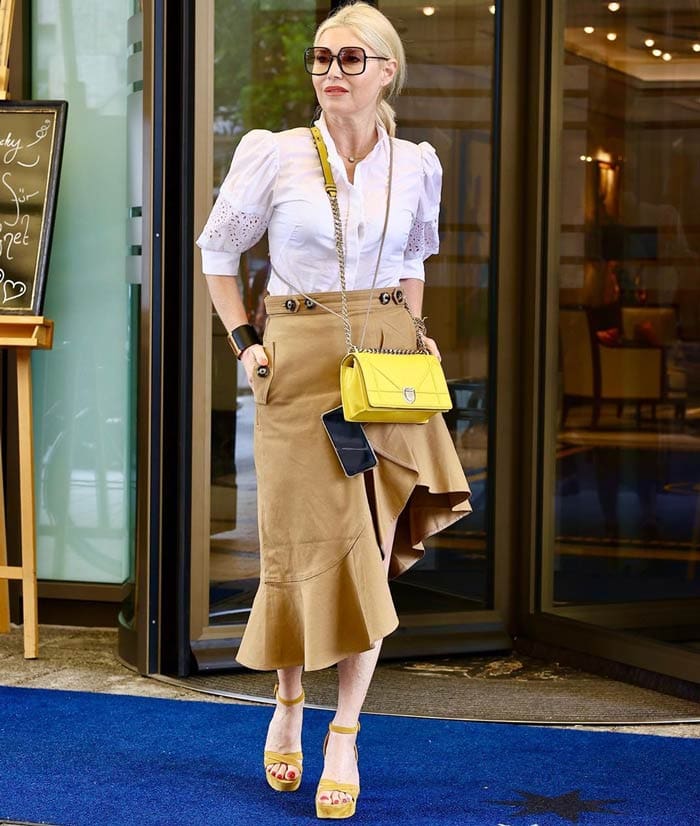 Petra (above) teams her asymmetrical ruffle skirt with a puff-sleeve blouse.
Recreate her outfit with this similar blouse, skirt, sandals, crossbody bag and sunglasses.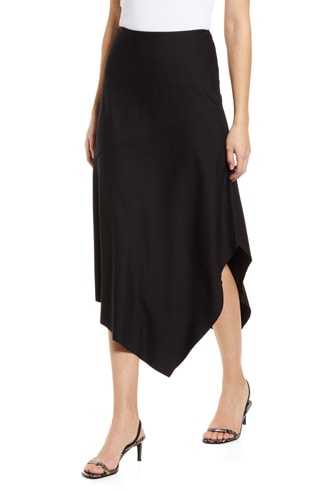 Lyssé handkerchief hem midi skirt
11. Asymmetrical swimsuit
Now that we're into swimsuit season, if you are lucky enough to be going on vacation, or just relaxing by the sea or pool anywhere, how about adding some asymmetry with a one shoulder style?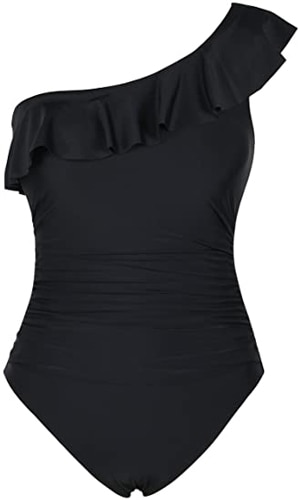 Hilor asymmetric ruffle bathing suit
Read our article on the best bathing suits for over 40.
12. Asymmetrical shoes
Shoes are a perfect way to add asymmetry to your look as well as your clothing. Asymmetrical strappy sandals were among the key shoe trends for summer 2020.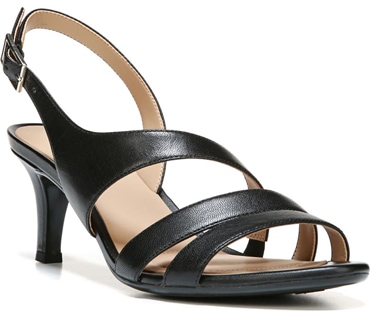 For many more comfortable shoe brands check out my list of shoes that offer arch support.
13. Asymmetrical bag
If you like to add a bit of asymmetry in a subtle way, you will love this bag, which features an asymmetrical fastening.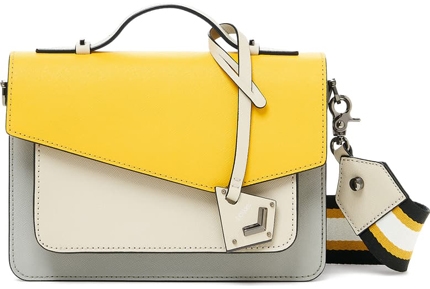 Botkier colorblock leather crossbody bag
14. Asymmetrical necklace
Want to take baby steps with asymmetry? You can always start with an asymmetrical jewelry piece or wear your scarves in an asymmetrical way!
GlassPalaceArts asymmetric double layer necklace
Great shops for asymmetrical items include:
I found quite a few more pieces I loved and you can shop them in the boutique below.

Do you like asymmetry in your clothing?
Continue reading:
Like this article on asymmetrical clothing? Share it on Pinterest!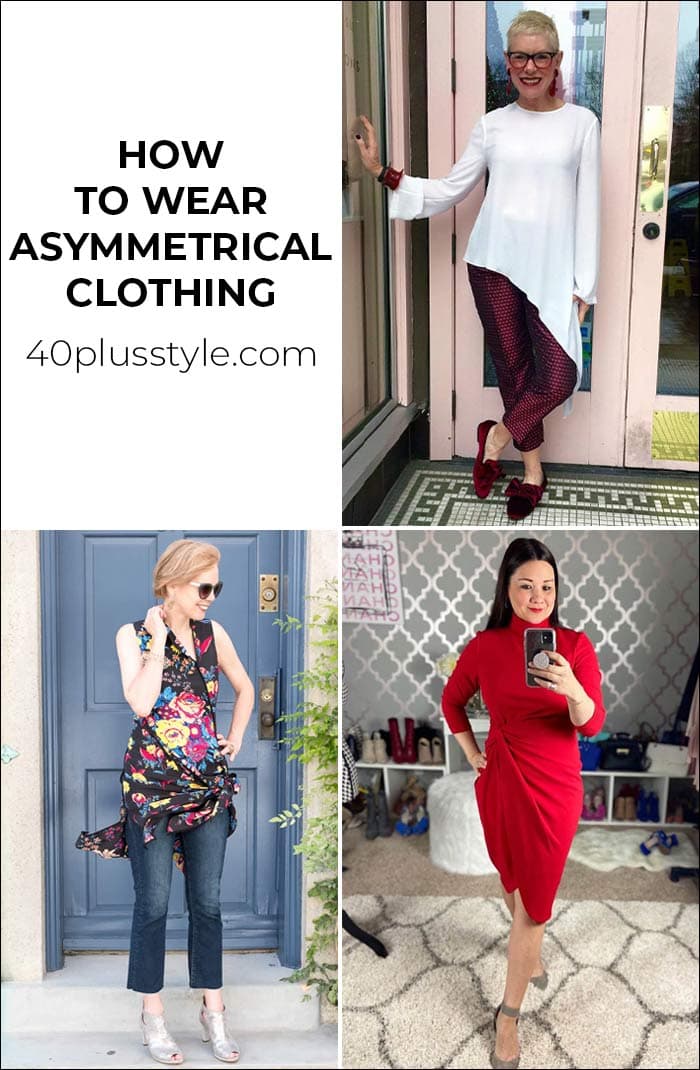 Feature image by Jeanne
Want to get more articles from 40+style in your inbox, subscribe here.
You can also connect with 40+style on Facebook, Instagram or Pinterest.
Support 40+style by using the links in our articles to shop. As an associate for Amazon and many other brands, we receive a small commission (at no cost to you) on qualifying purchases which enables us to keep creating amazing free content for you. Thanks!