Now that we've moved into the warmer months (for many of you), it's time to think about updating your white denim – you'll find some of the best white jeans for women below to add to your closet.
A pair of white jeans can be the perfect way to add some extra style and a feeling of freshness to your outfits during the summer. But, of course, you can wear them anytime of year.
How to wear white jeans
While denim trends may change, white jeans are a style staple every summer. But I'd also consider wearing them in colder seasons too to give your outfit a point of difference.
Before I look at the best white jeans to choose this season, first here are a few tips on wearing white jeans.
1. Check they aren't see-through
Okay, I know this is an obvious one. But, sometimes when we are looking in the mirror at home or the store changing room, we concentrate on our front view.
Make sure that your underwear isn't showing through from behind. You may have to invest in some thong style or short style white or nude underwear to make sure you can't see it. You'll find no-show underwear recommendations in this article.
2. White jeans are for any season
The old saying used to be that you shouldn't wear white after Labor Day.
But, this "style rule" has fallen by the wayside. There's no reason you can't rock a pair of white jeans during winter.
Greetje @no_fear_of_fashion above (read her style interview here) opts for a green sweater and matching bag with her white jeans. Her booties mean she can wear her outfit for transitional weather.
Recreate her look with this similar top, jeans, booties and handbag.
3. Make sure the fit is perfect
White, more so than black denim, for example, does tend to emphasize if the fit of your jeans isn't quite right.
So, try on as many pairs as you need to make sure yours are the right ones for you, whether you choose skinnies or a wider fit.
Want to see how to wear white pants in general? Check our extensive guide on how to wear white pants and see lots of examples!
Below are the some of the best white jeans available in stores right now
Just as with blue denim, or any color denim for that matter, there are so many different styles of white jeans to choose from, that you are sure to find the perfect match for you to fit and flatter your figure.
Skinny jeans
White skinny jeans are a style staple which will look great tucked into boots for transitional dressing. Find more tips on how to wear skinny jeans here. If you have great legs, but feel self conscious about your tummy area, you can always wear with a tunic.
Tanasha @prettytallstyle above shows off a flattering way to wear your white jeans, with a long cardigan.
Recreate her look with this this similar top, jeans, cardigan, sandals, belt and bag.
The Levi's skinny jeans (below) are designed to hold their shape. Reviewers say they like the amount of stretch and that they aren't see-thru.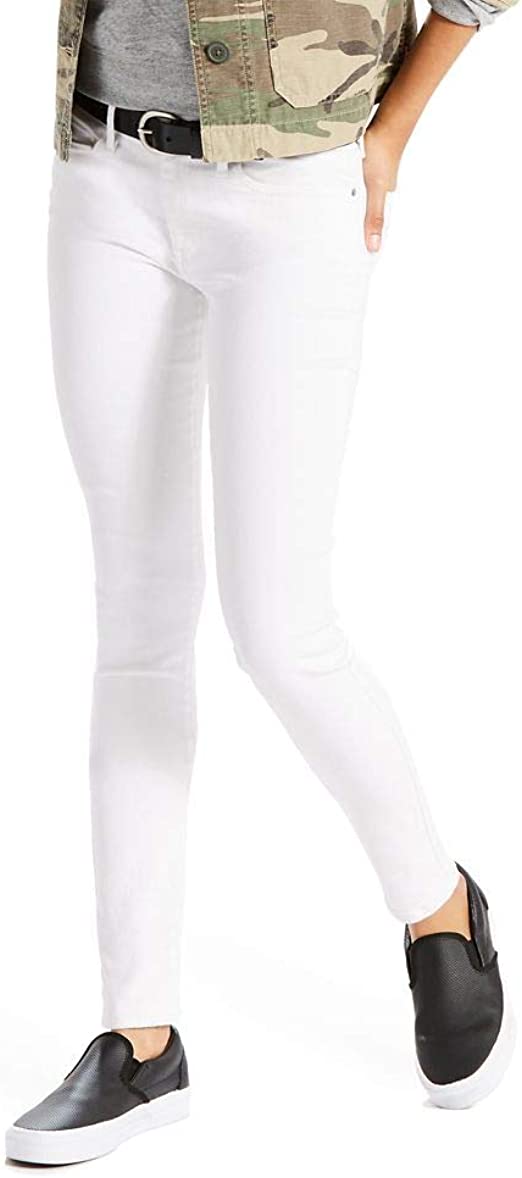 Levi's Women's 711 Skinny Jeans
slim jeans
If you don't want to go for skinnies but like a slim fit, the Gloria Vanderbilt jeans (below) could be worth considering. They are a timeless style which is ideal for summer, and are designed to tuck in the tummy and lift the butt.
Gloria Vanderbilt Amanda Classic High Rise Tapered Jean
White cropped jeans
A pair of white cropped jeans can be an incredibly stylish option for spring and summer.
It's unlikely you will go from wearing long jeans and boots straight to shorts and sandals. Showing off a little bit of ankle is a great way to start to reveal a little bit of skin as the weather warms up.
Plus, for many women, the ankle can be the slimmest part of the body, so it can be really flattering to show it off.
You can try on a few pairs to see which one is most flattering. This will generally be if the crop ends at the slimmest part of your leg. Check more tips on how to wear cropped pants here.

Democracy Ab Solution Crop Jeans
Straight leg
A straight leg pair of jeans will never go out of style. They were last bang-on-trend during the 90s and are definitely making a comeback this season. Straight leg jeans tend to look more flattering worn with a heel rather than sneakers.
Sylvia @sylviacolella above (read her style interview here) looks incredible in her white jeans and heels.
Steal her look with this similar top, jeans, ankle strap pumps and handbag.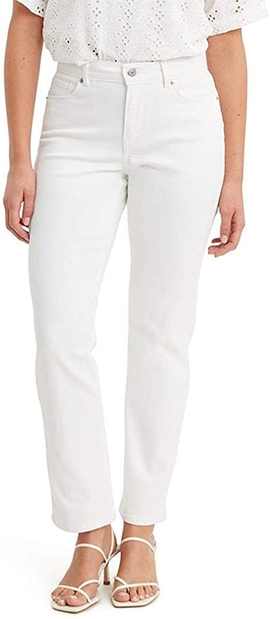 Bootcut jeans
While bootcut fell out of favor for a few years as skinny jeans seemed to be the only style on trend, they are definitely making a comeback, and can be a very flattering shape.
Bootcuts are great for so many different body shapes. They can add balance to your figure if you are a pear shape, for example, or create curves if you are a rectangle.
When worn with a bit of a heel, they can be very lengthening if you want to create the illusion of having longer legs.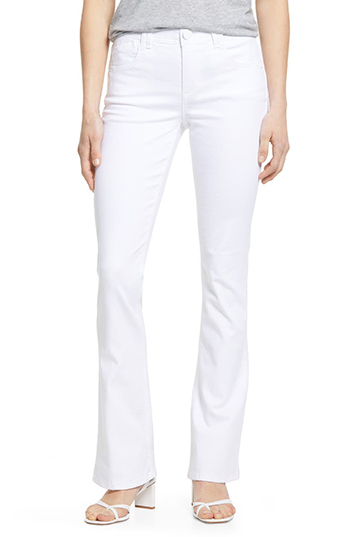 Wit & Wisdom Ab-Solution Itty Bitty Bootcut Jeans

Cello Juniors Mid Waist Skinny Fit Bootcut Pants
High rise jeans
A high rise is not only on trend right now, but it can help you if you want to tuck in your tummy a little, or disguise a muffin top.
I definitely prefer a high rise rather than the kind of low rise jeans worn by Brittany Spears in the 90s!
If you are an hourglass or a pear shape, or example, it can be tricky to find jeans which fit at both the hips and the waist. This is because if you find the right fit for curvy hips, they can gape at the waist.
Reviewers say the Lands' End jeans (below) are lightweight making them a good choice for summer,
Lands' End High Rise Straight Leg Ankle Jeans
Boyfriend (or girlfriend) jeans
A style staple of Jennifer Aniston, who wears her boyfriend jeans all the time, you can add a blazer if you would like to add a more refined look to your outfit.
Alison @wardrobe_oxygen above (read her style interview here) opts for an all-neutral outfit.
Check out this similar sweater, jeans, flats, bag, earrings, belt and sunglasses.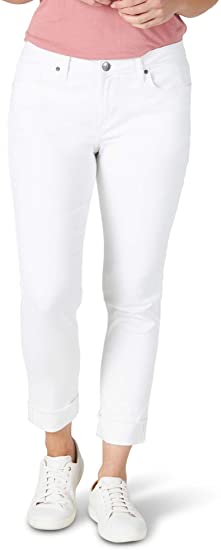 Riders by Lee Indigo Fringe Cuff Boyfriend Jean
Off-white jeans
If white is, well, too white, either because of the reason I talk about below when looking at winter white jeans, or because you feel an ivory suits your skin tone better than a bright white, you can always look for a pair of off-white jeans which are more of a cream, or which have pink, beige or gray undertones.
Bandolino Misses Mandie Signature Fit High Rise Straight Leg Jean
Mavi Jeans Barcelona High Waist Wide Leg Jeans
White wide legged jeans
Wide-legged pants are definitely back in style for 2022, after what seemed like season-upon-season of skinny jeans.
This is great news if you are looking to create the illusion of longer legs. If you tuck your top in to your jeans and wear a pair of heels underneath, you can make your legs look like they go on for miles.
Reformation Reworked Pleat High Waist Jeans
white jeggings
If you want a pair of white jeans to wear longer tunic style tops with, a pair of jeggings could be the way to go. The No Nonsense jeggings (below) have a smoothing waistband.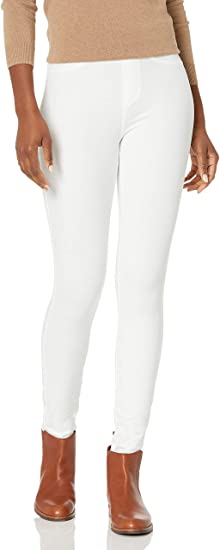 No Nonsense Stretch Denim Leggings
Check out our article on how to wear leggings for more style ideas.
shaping
You'll have seen that many of the options above are designed to slim the tummy area or lift the rear. The Levi´s jeans (below) are another well-reviewed shaping option.
Levi's 311 Shaping Skinny Jeans
White shorts
If you're enjoying some warmer weather, or you're lucky enough to be heading away on a staycation or vacation, a pair of white denim shorts could be perfect to add to your summer wardrobe.
Fonda @savvysouthernchic above shows off a classic blue and white look.
Get her look with this similar top, denim shorts, sandals, tote, earrings and hat.
Also take a look at the most flattering shorts for women over 40 for more inspiration.
What to wear with white jeans
Really, it might be easier to answer what not to wear with white jeans, because there are so many different ways you can wear them.
They look beautiful worn with taupes and metallics for spring and summer, but you can also wear with black booties for winter – although I'd balance this out with a darker top. You could wear your white skinnies with tan or gray knee-length or over the knee boots.
You can tuck in your casual tee shirts, you can wear with tunics or you can opt for a more formal top and heels for an evening out.
They are particularly great for summer vacation wear. But, I also love to wear white jeans during winter as this adds an unexpected element to your outfit.
The possibilities for white jeans are endless. They really are one of the hardest working pieces in your closet.
Prefer blue jeans? Check out article on the best fitting jeans.
Tops to wear with your jeans
You can wear any color at all with your white jeans, but you'll see that I've stuck to a color palette of greens and navy with orange adding a pop of color.
Halogen Woven Tank Top – Karen Millen Pintuck Short Sleeve Woven Top – Halogen Satin Button-Up Shirt – COS Oversized Curved Hem Blouse
Coats & cardigans
Unless you live somewhere very warm, you're likely to need outerwear, even during the summer.
Natalia @nodin.stylish.me above opts for a pair of cream jeans.
Get her look with this similar shirt, jeans, blazer, sneakers, handbag, necklace and sunglasses.
Halogen Open Ruched Sleeve Crepe Blazer – COS Boxy-Fit Cropped Jacket – COS Longline Tailored Waistcoat – Bobeau Luann Open Front Cardigan
Shoes to go with your white jeans
Any shoes at all will go with white, whether you want to add a pop of color or choose an all-neutral look.
DREAM PAIRS Pointed Toe Slip on Flats – Kenneth Cole REACTION Card T-Strap Wedge Sandal – JOY IN LOVE Low Heels Pumps – PUMA Carina Sneaker
Accessories to wear with your jeans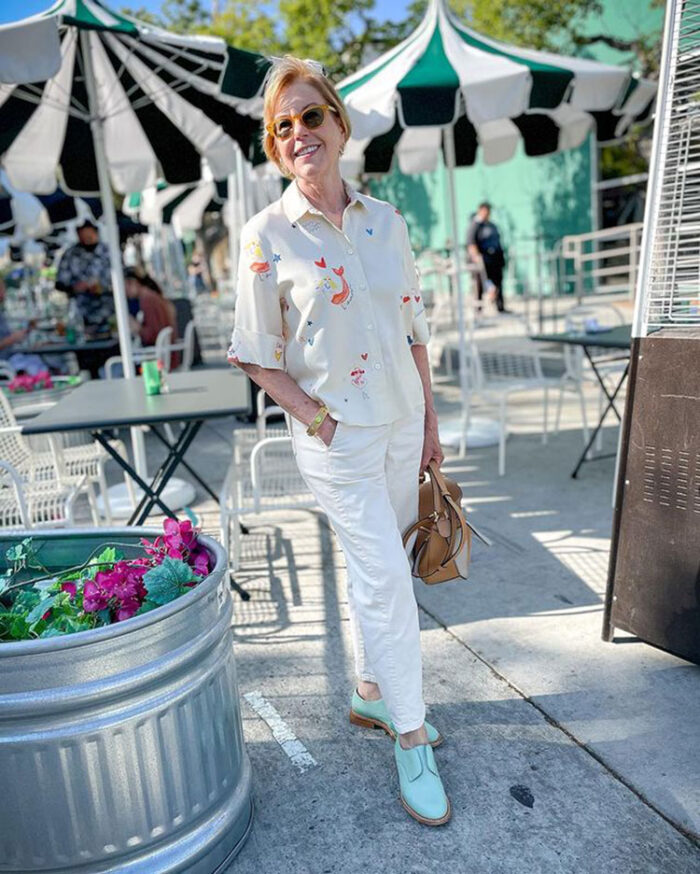 Again, your choices are limitless when choosing accessories to wear with your white jeans. You can choose any color at all.
Susan @susan_unefemme above opts for blue shoes and a tan bag with her white jeans.
Check out this similar shirt (another option here), jeans, shoes, handbag and sunglasses.
BOSTANTEN Genuine Leather Bucket Handbag – The Drop Southampton Zipper Foldover Clutch – Befen Genuine Leather Wristlet – Amazon Collection Sterling Silver Teardrop Earrings – Nine West Silver-Tone and Black Agate Frontal Necklace – PANTONIGHT Long Chiffon Sheer Scarf Gradient
A capsule wardrobe featuring white jeans
Below you can see how you can put your white jeans capsule together in a palette of neutrals, blues, greens and orange.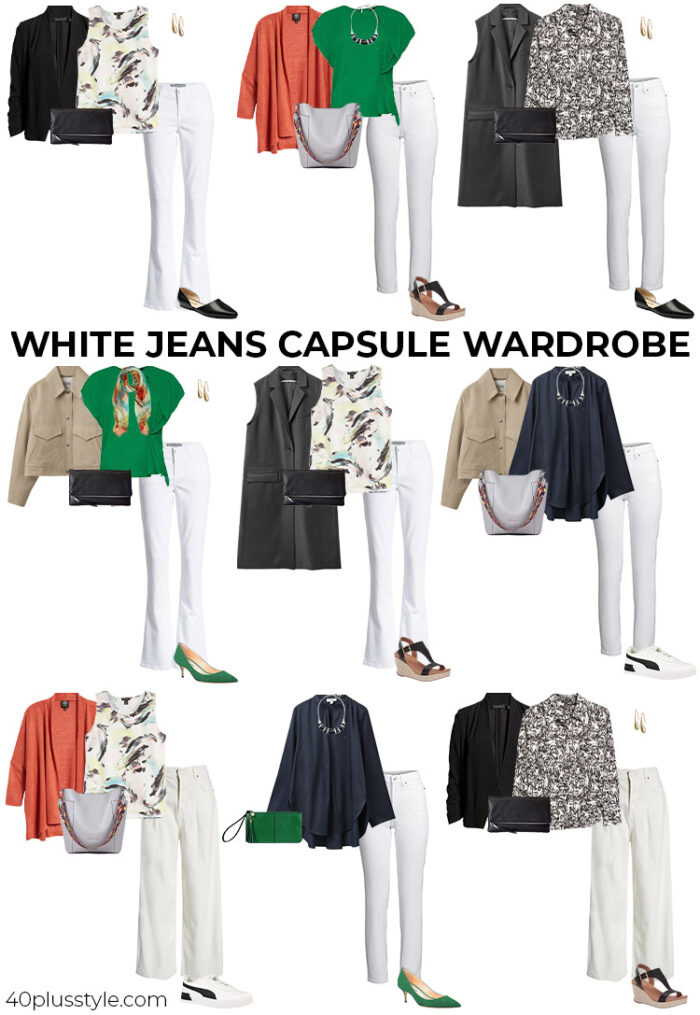 shop SOME OF THE items above here:

more white jeans selections:

More white jeans outfits inspiration
Take a look at these past season white jeans capsules for more inspiration. Although these clothes are no longer available online, you may find similar pieces in your wardrobe to mix and match outfits.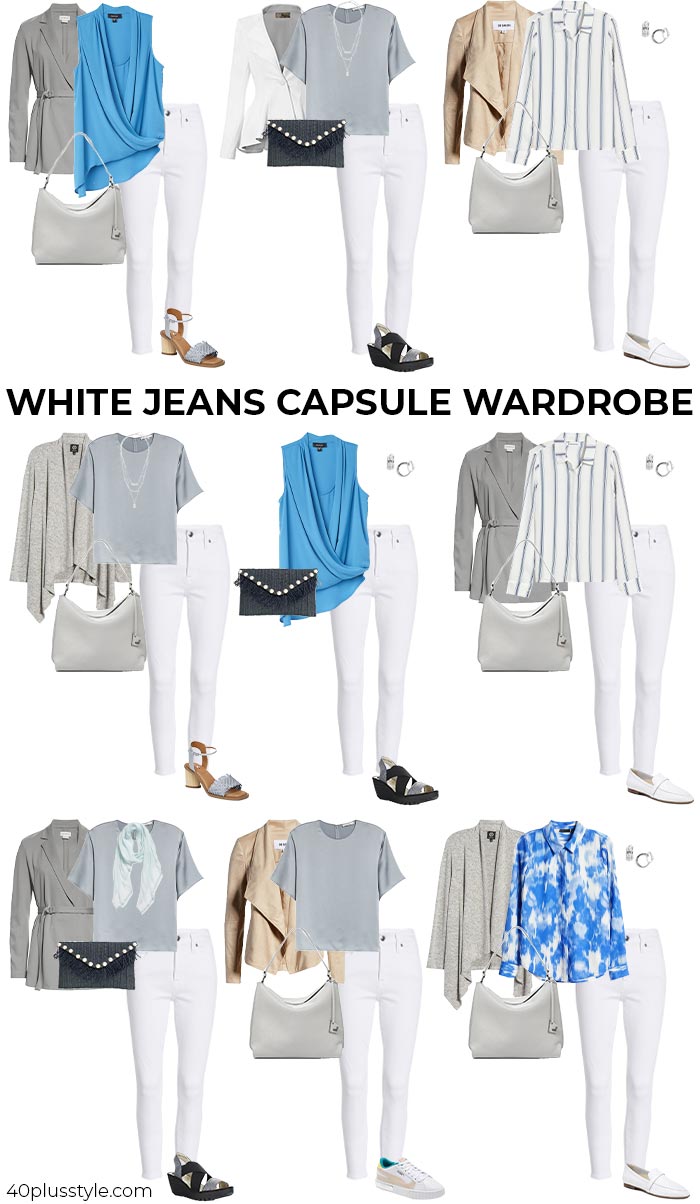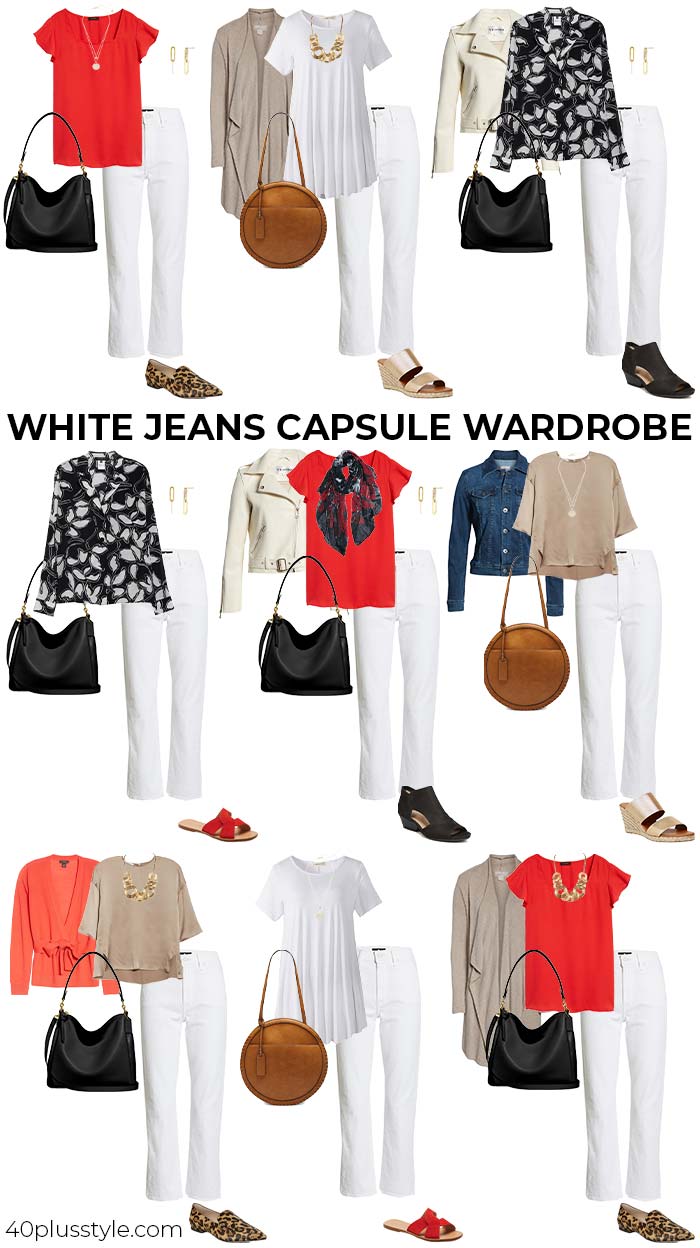 Or how about whites and pinks?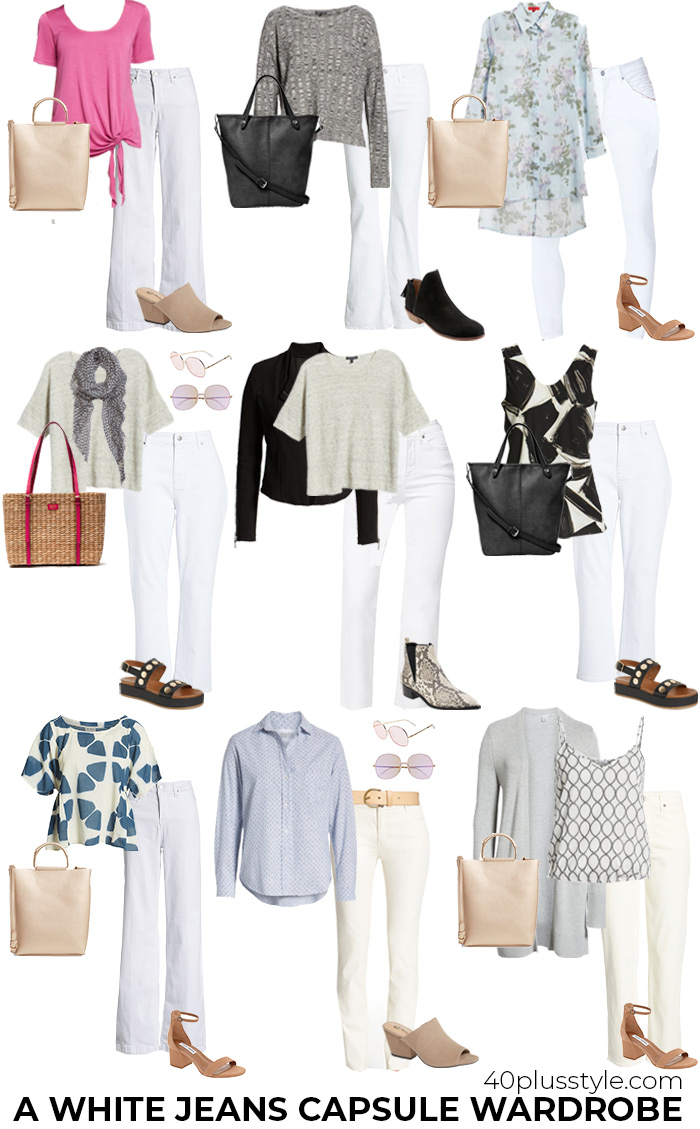 Not sure how to create your own capsule wardrobe? Read our ultimate guide to creating a capsule wardrobe that works best for you.
What do you think are the best white jeans for women? What are your favorite brands? how do you style your white jeans?
Continue reading:
Like this article on the best white jeans for women over 40? Share it on Pinterest!
Feature image by Tanasha @prettytallstyle
Want to get more articles from 40+style in your inbox, subscribe here.
You can also connect with 40+style on Facebook, Instagram or Pinterest.
Support 40+style by using the links in our articles to shop. As an associate for Amazon and many other brands, we receive a small commission (at no cost to you) on qualifying purchases which enables us to keep creating amazing free content for you. Thanks!