Being tall has plenty of advantages. But, it also has its challenges, particularly when searching for well fitting clothes. When it comes to finding the perfect fit for your jeans, it can be hard to find a pair that fits in the legs, and that have a long enough cut from crotch to waist. If you're 5'8" or above, tall jeans are likely to fit you better than regular. Take a look below for the best jeans for tall women.
Tips for finding jeans if you are tall
There are several things to look out for when searching for jeans for tall women.
For more general tips, also check our article on how to dress when you are tall
Look at the inseam
This is the important measurement for you when you're looking for jeans. In many stores, it's become harder to find long inseams, because cropped styles are very much on trend.
For you, you may find that a regular length is a cropped length on you, which makes it tricky to find a full length pair that fits properly. You'll want to look for inseams that start at around 32-inches. Of course, if you want to wear your jeans with heels, you may want to go even longer.
If you aren't sure, then measure yourself at home from your groin, down to your ankles, or wherever you want the hemline of your jeans to end.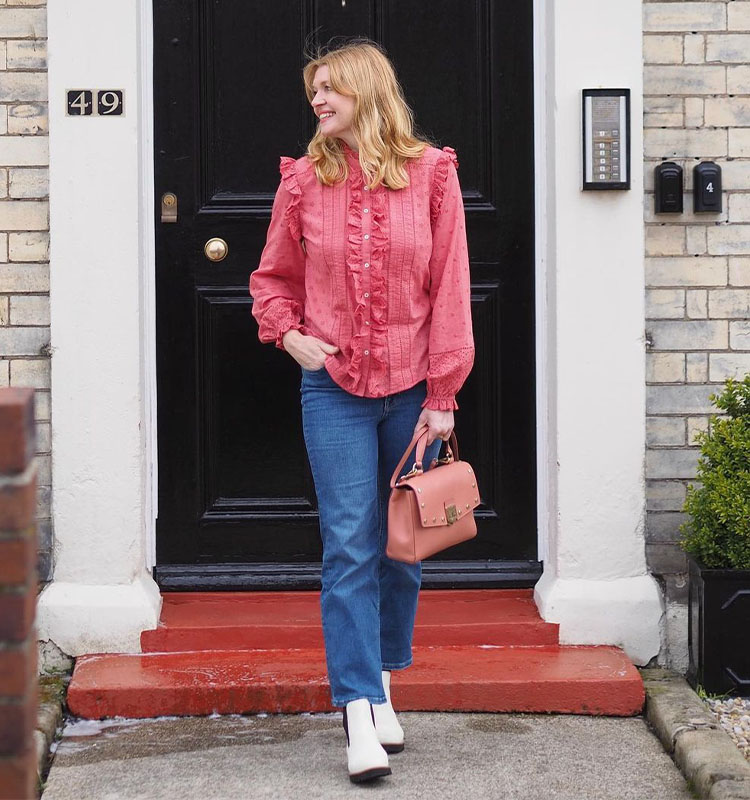 Lizzy @whatlizzyloves above (read her style interview here) opts for a pair of jeans that end just above her booties. If you wanted to show off a little ankle with this look, you could always turn up your jeans.
Recreate her outfit with this similar pair of jeans, blouse (another option here), boots and handbag.
What style to choose
Because you have long legs, any jeans will look great on you. You don't have to worry about making your legs look shorter. You could emphasise your long legs with a pair of skinny jeans, or with bootcuts or flares.
Or, if you want to create balance – perhaps because you have a shorter torso and longer legs – one option is to create a visual 'line' across your legs with a cropped pair of jeans. This will have the effect of making your legs appear a little shorter (although they will obviously still look long).
Greetje @no_fear_of_fashion above (read her style interview here) chooses a classic bootcut style of jeans, and makes her legs look even longer by wearing heels underneath.
Get her look with this similar pair of jeans, top, blazer, pumps, tote and belt.
The best jeans for tall women
Now, let's look at some specific jeans you could choose, that all have the length you need.
Long Tall Sally
A great starting point is a store that specializes in clothes for taller women, as you'll find the measurements are very much geared towards longer lengths. Long Tall Sally has a great range of jeans, including the wide leg jeans below, which come in three different leg lengths, up to a 38-inch inseam.

Long Tall Sally BEA Stretch Wide Leg Jeans
Levi's
Skinny jeans can really emphasise long, slender legs when you wear them with your top tucked in. If you have days where you want to create a different silhouette, then you could wear a longer shirt, tunic or dress over the top.
The Levi's jeans (below) come in a good choice of waist and hem lengths, up to 34-inches, and are designed to flatter, hold and lift.
Levi's 721 High Rise Skinny Jeans
Lucky Brand
Lucky Brand generally have a range of inseam lengths to choose from for each of their styles, making it easy to get a look that is tailored to your legs, and where you want the hem to end.
Lucky Brand Mid Rise Sweet Boot Jeans
Marie-Louise @mrsmlmode above opts for a mid-wash blue for her bootcut jeans, and gives them a little western flair by choosing a cowboy style.
Check out this similar pair of bootcut jeans, top, coat, booties, tote, necklace and belt.
MOTHER DENIM
You'll find that each style of Mother Denim jeans comes in a different hemlength, so don't assume they will all fit the same. But, it is easy to find a pair that will fit you if you're tall, particularly as the description usually says how tall the model is. Just make sure you check the inseam before you check out. The cream wide jeans (below) have a 34.5-inch inseam.
Mother Denim The Hustler Roller Heel
FRAME
Finding jeans that are cropped in the right place at your ankles, and aren't just accidentally cropped because you couldn't find a pair of jeans in your leg length, can be tricky. The model wearing the FRAME jeans (below) is 5ft 8inches, and you can see they sit well at her ankles.
liverpool los angeles
A pair of raw hem jeans can add an on-trend element to your jeans. You could always keep the rest of your outfit very smart to give your outfit an interesting mix of formal and casual. The Liverpool Los Angeles jeans (below) have a classic bootcut shape and a 32-inch seam.
Liverpool Los Angeles Hannah Frayed High Waist Flare Jeans
joe's
If you're looking for a cropped length, then the Joe's jeans (below) could fit the bill. You could mix the formality of your outfit and wear these casual mom jeans (below) with a smart blazer and heels.
Joe's The Stellie High Waist Raw Hem Crop Straight Leg Jeans
wRANGLER
The Wrangler jeans (below) are a great choice, no matter how tall you are, as they come in a wide choice of leg lengths, up to a 38-inch inseam. Reviewers say they're thrilled to have finally found a pair of jeans with the correct inseam. One, who is 5ft 11inches said the 36-inch inseam was just right for her.
Wrangler Western Mid Rise Stretch Straight Leg Jeans
LEE
If you like a high rise pair of jeans to keep your tummy tucked in, then the Lee jeans (below) come in a huge range of sizes. reviewers say they have a good stretch and keep their shape.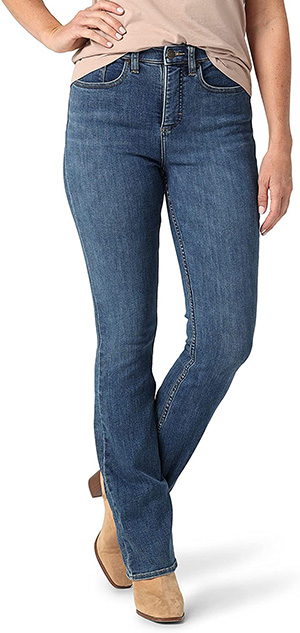 Lee Ultra Lux High Rise Bootcut Jeans
Troy @thethriftanista above (read her style interview here) chooses a pair of jeans that fit exactly at her ankles and adds a smart blazer and heels.
Recreate her outfit with this similar pair of jeans, tee, blazer and pumps.
WALLFLOWER
The Wallflower jeans have a 34-inch inseam if you select the long option. They come in a good choice of blues and blacks, and they are designed to fit curves so should be a good choice if you are a tall hourglass or pear shape.
WallFlower Curvy Bootcut Mid-Rise Insta Stretch Juniors Jeans
Old Navy
A pair of black skinny jeans will never go out of style. You can wear with longer tunics or tops. Plus, they're good for tucking into your knee-length boots. The Old Navy jeans (below) come in petite, regular or tall.
Old Navy Extra High-Waisted Rockstar 360° Super-Skinny Jeans
GAP
Another good go-to if you're looking for tall lengths is Gap, which offers petite, regular and tall options in many of its jean styles. For a straight denim look that's not too skinny, not too baggy, you could try the 90s style (below).
GAP Mid Rise Organic Cotton '90s Loose Jeans
aNINE BING
Designer jeans can often be longer because it is expected that if you have invested in a pair of jeans, you will be happy to invest in taking them to be hemmed to get the length you want. The Annie Bing jeans (below) are cut for a high rise and a straight fit.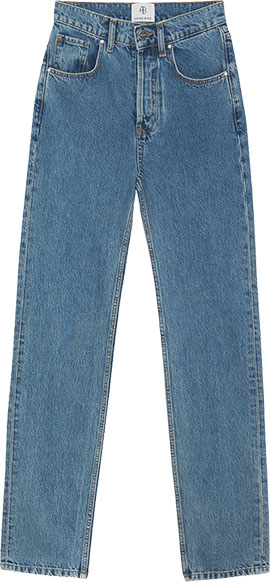 Banana Republic
A wide crop length is very on trend right now, and the Banana Republic jeans (below) come in a petite, regular, or long, so you can choose dependent on how long your legs are. You could wear with flat or heeled sandals for spring and summer, and booties for winter.
Banana Republic The Wide Leg Crop Jeans
Ann Taylor
If you're tall, many stores can assume you also have model-like proportions, but Ann Taylor knows that you may be both tall and curvy. The bootcut jeans (below) have a fuller cut at the hip and thigh, so could be a good choice if you are pear shaped.
Ann Taylor Tall Curvy Sculpting Pocket Mid Rise Boot Cut Jeans
LOFT
You can choose the Loft jeans fit to suit your figure. First, select whether you want a regular or curvy fit, and then you can choose your leg length.
Taboo Denim
If you're tall, TABOO DENIM is a good brand to look out for. The tall jeans (below) come in a skinny fit and a classic mid blue that will stay on trend for years to come.
Katie (member of 40+ Style Community in Facebook) chooses a pair of skinny jeans, and turns them up so they rest just above her ankle booties.
Steal her look with this similar pair of skinny jeans, shirt, denim jacket, belt and boots.
J.Crew
J.Crew is another good brand to look at if you want a tall length, as many of their jeans come in an option of inseams. You could try a skinny flare, and wear with pointed flats or heels.
J.Crew Tall Skinny Flare Jeans
Madewell
Madewell also gives you a choice of whether you want a regular or tall length. So, if you're looking for a cropped pair that looks like it fits you as it should, it's a good brand to try.
Madewell The Tall Perfect Vintage Wide-Leg Crop Jeans
Torrid
Torrid comes in clothes sizes from 10 to 30, so if you are tall as well as looking for a pair of jeans to fit your curves, it could be a good store to browse. The jeans (below) are designed to fit above the ankle, so the inseam for tall women is 29-inches.
Torrid Perfect Boyfriend Ankle Premium Stretch Mid-Rise Jeans
topshop
Topshop has a bit of a reputation as being a store for teenagers. However, they do have a good tall range and can offer a particularly good fit for rectangle and inverted triangle figures.
ASOS
Just like Nordstrom, because ASOS has such a huge range of clothes, you can filter by the cut you are looking for to narrow down your search to tall options only. The tall flared jeans (below) come in a length length of 36-inches, as shown on the 5ft 10-inch tall model.
shop the items above here:

Do you have any recommendations for the best jeans for tall women? You can let us know in the comments below.
Continue reading:
Like this article on the best jeans for tall women? Share it on Pinterest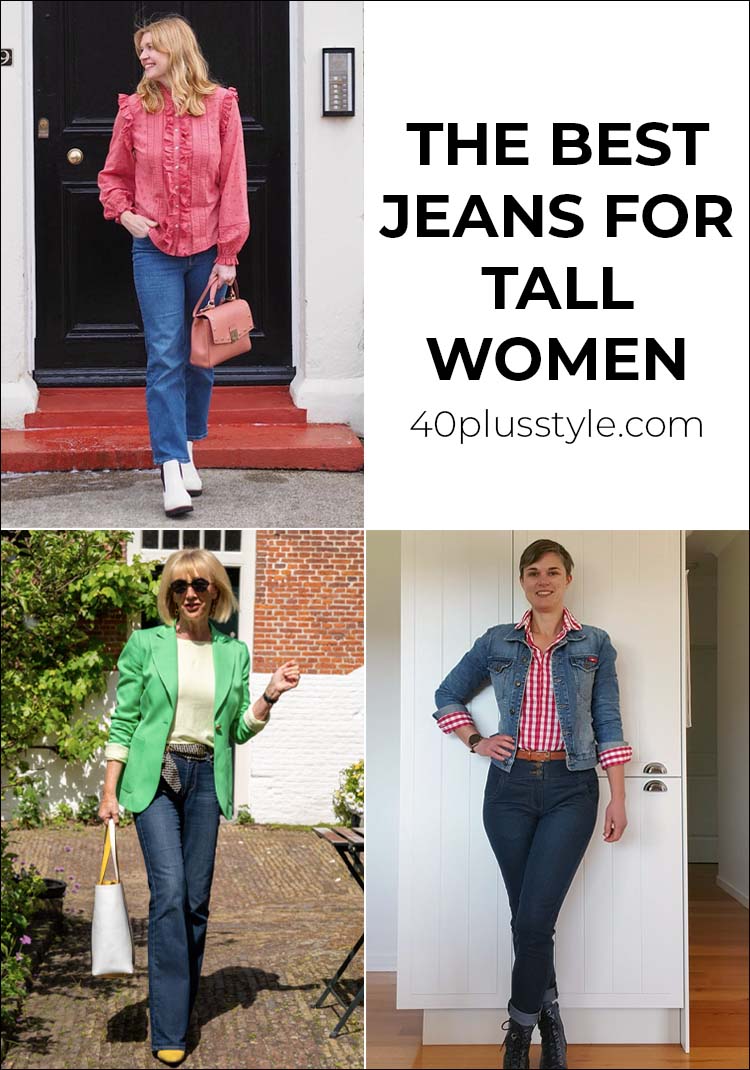 Feature image by Lizzy @whatlizzyloves
Want to get more articles from 40+style in your inbox, subscribe here.
You can also connect with 40+style on Facebook, Instagram or Pinterest.
Support 40+style by using the links in our articles to shop. As an associate for Amazon and many other brands, we receive a small commission (at no cost to you) on qualifying purchases which enables us to keep creating amazing free content for you. Thanks!