Today I interview Lizzy who has a very feminine and romantic style. She shares how she became a lot more confident with herself and her style and gives some fabulous style tips. Enjoy!
Can you tell us a little bit more about yourself?
I am a lone-parent to two teenage children and we live in The Yorkshire Dales. I am a freelance writer and editor and work for a local lifestyle magazine.
I am an optometrist by profession but gave up working in practice when my children were younger but I write a monthly column for an Optometry Journal, so taking me back to my clinical roots.
I have a very small online jewellery business, Lizzy O which sells Danon jewellery, wrap bracelets, pendants and scarves. I love baking and socialising with friends and family.
As a point of reference which age group do you belong to or perhaps you are willing to share your age?
I am 42.
Can you tell us a bit more about your blog What Lizzy Loves and why you created it?
I created it in May 2013 because I have always loved clothes and accessories and I have also always loved writing and sharing so it seemed natural to put all of this together. It is mainly about my style- that of a busy working mum- and how I put outfits together.
I also share days out and trips I had plus occasional restaurant reviews that I do as part of my day job working on the magazine.
How would you describe your own personal style?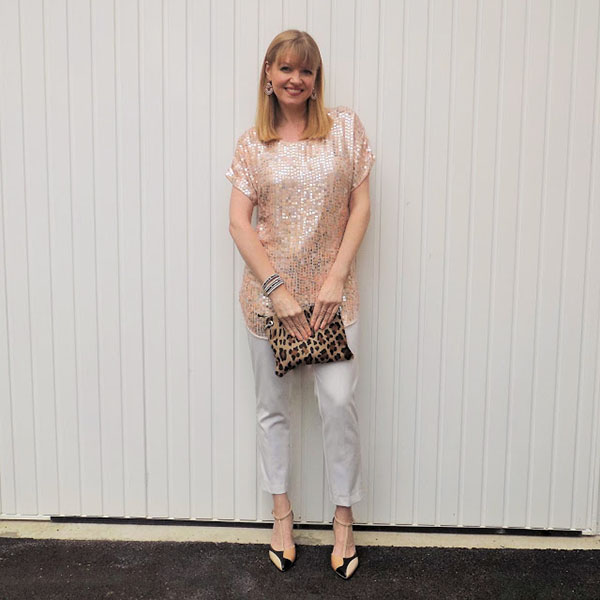 Romantic and elegant.
What would you consider the most important components of your style?
I think my accessories, in particular my jewellery adds a lot to my style as do my shoes. I love shoes and have more pairs than I should admit to.
Where do you live and how does that influence your style?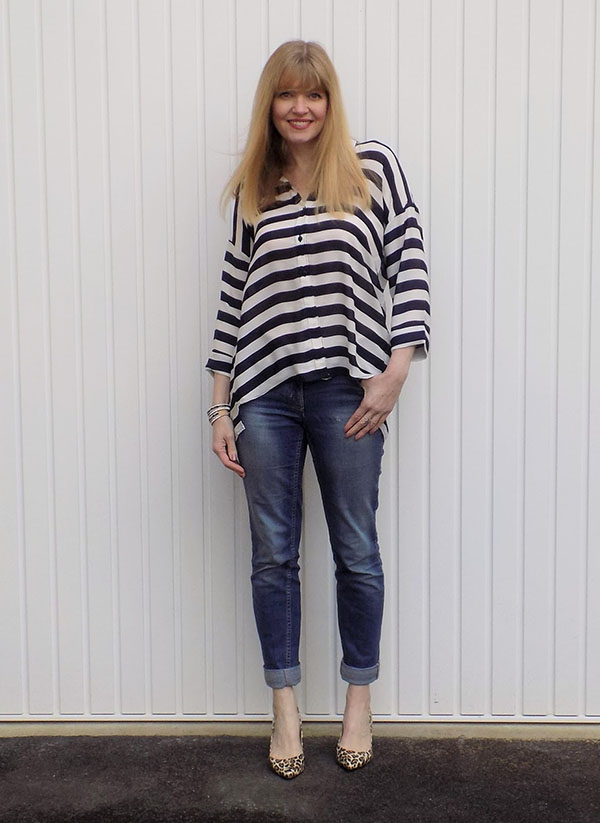 I live in Skipton, a small market town in North Yorkshire. It is quite exposed here so we get cold winters which means I need lots of warm layers.
It is quite rural too with a lot of beautiful walks nearby so I do have a lot of practical clothing including wellingtons, walking boots and waterproofs!
Do you feel you have a signature style?
Yes, I think my signature style is very feminine and romantic.
What inspires your outfit choices the most?
I think the occasion and the weather. I don't particularly follow trends so I chose an outfit to suit whatever I'm doing that day.
Do you take things like color profiling or body type into account when you dress?
A little bit, yes. I know what shades of a particular colour suit me and I know what works with my body shape.
What is your current body type and height and what are your best tips for dressing for these?
I am tall, 5 feet 9 inches and a UK size 10-12. I am slim (quite athletic too) with curves and I have broad shoulders. Halter necks make my shoulders look broader so I avoid them.
I also am careful with the length of skirts and dresses because they can look a little too short because of my height. Being tall means I can wear maxi dresses though which is always a nice elegant option.
Do you have any favorite brands?
Yes, Winser London and Boden. I also love Kate Spade clothing but don't own any!
Has your style changed at all after turning 40?
I think I have finally found my signature style yes. I went through a life-changing experience when I was 40 because I found out my husband of 15 years had been having an affair with my friend.
My confidence was shattered and we divorced. Over the last two years I have realised that this was the best thing to happen to me and now I am the person I always should have been.
I am happier, more confident and stronger than ever and I think this is reflected in how I dress and how I look.
Do you believe in dressing 'age appropriately' and what does it mean to you?
To a certain extent yes. For example, I wouldn't wear skirts as short as I did when I was in my twenties, but that is because my legs don't look the same as they did back then! I think women can wear whatever they feel reflects them and their personality and what they feel "right" in.
Would you say that at this stage of your life you are now more, or less interested in fashion, style and the way you look?
I am more interested. Part of that is because of my blog and part of it is because I feel I can embrace who I am and I can allow myself to shine. It all comes with increased confidence.
Why is the way you look important to you?
Looking good and feeling confident makes me feel better inside and conversely, feeling good on the inside makes me want to dress up! I feel much more confident when I know I look my best.
What is your beauty routine and what are your favorite beauty products?
Elemis beauty products are my favourite but don't always use them. I use a facial wash every morning in the shower followed by a moisturiser with an SPF in it.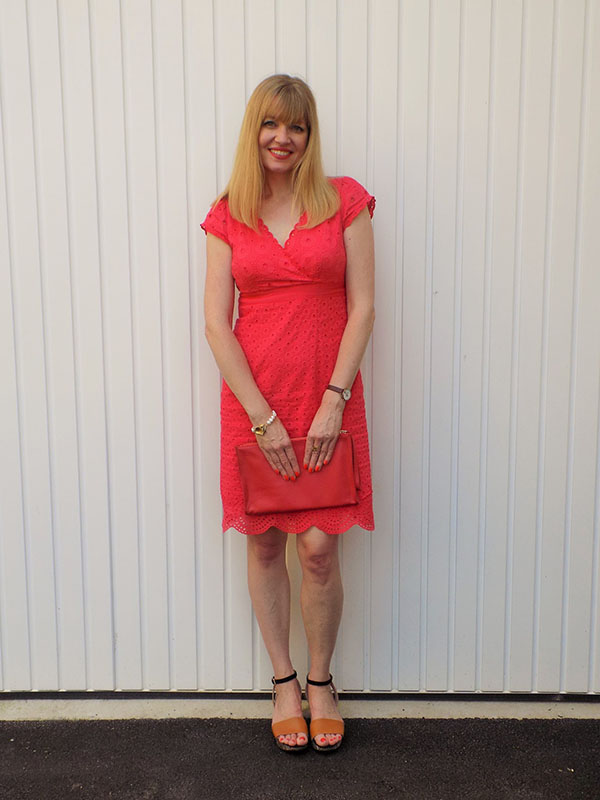 In the evening, I remove my eye make-up with a gel and then cleanse my face with a cleanser which I remove with a hot cloth. I tone and use night cream.
Do you follow trends? And if yes, which trends excite you at the moment?
I keep an eye on trends yes, but don't follow them religiously. At the moment I have been excited about blush pink and rose gold which has been on trend this season.
Do you have any fashion and style tips for women over 40?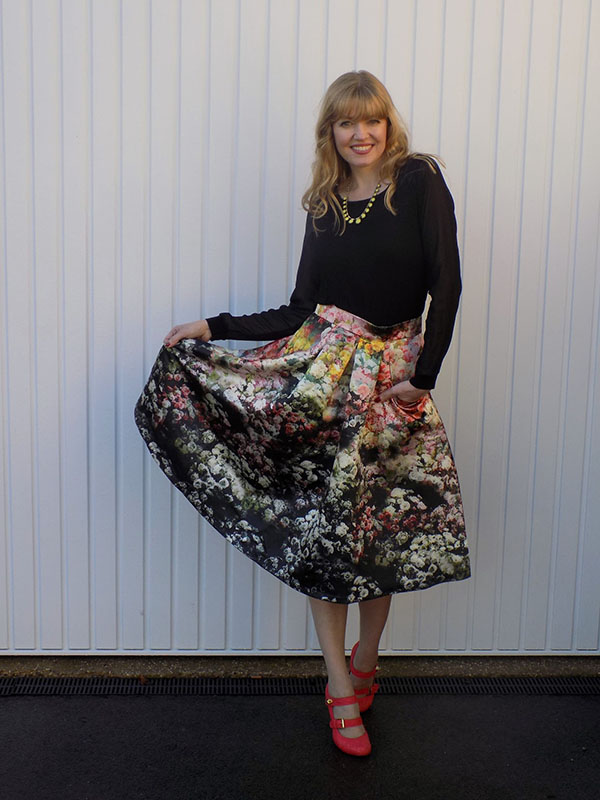 Be honest with yourself and find out what suits you and your body shape. The cut of clothing is more important as we get older because for most of us, our body is not the same as it was 10 years ago.
We all have bits we'd rather hide but equally we all have parts that should be shown off too. Be confident, be yourself and smile.
What are your plans for What Lizzy Loves and how do you see it develop over the coming years?
I plan to run my blog more like a business. It is my passion but it is also very time-consuming so that is my plan for the future, to be able to earn something from it. That's not to say it will all be sponsored posts and collaborations, but there will need to be a certain amount to allow me to maintain it.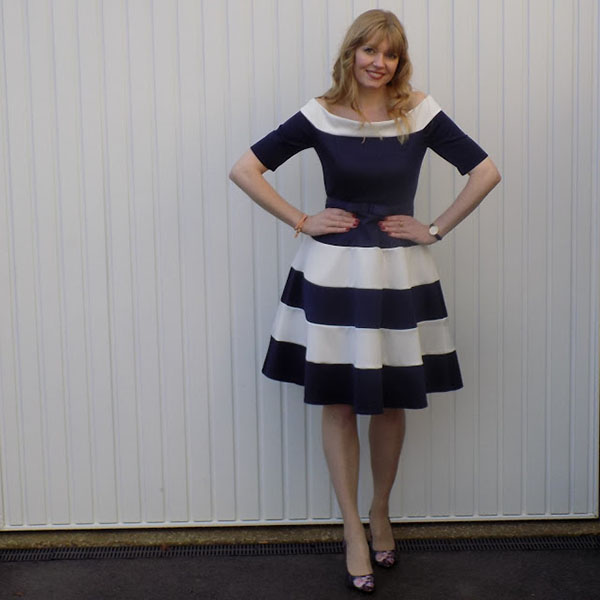 I'd like to improve the photography and I would very much like to become a brand ambassador. I would love my Instagram following to reach 10K by the end of 2016. A tall order but I'm working hard on it.
Be sure to visit Lizzy at What Lizzy Loves and @WhatLizzyLoves for Instagram!

Like this post? Share it on Pinterest!
Want to get more articles from 40+style in your inbox, subscribe here.
You can also connect with 40+style on Facebook, Instagram or Pinterest.
Support 40+style by using the links in our articles to shop. As an associate for Amazon and many other brands, we receive a small commission (at no cost to you) on qualifying purchases which enables us to keep creating amazing free content for you. Thanks!