Our style star this week is the lovely Michelle who loves to do more with the clothes she already has. You will love the many tips she shares on how to build a sustainable wardrobe and how to dress to your strengths. Enjoy this fabulous style interview!

Can you tell us a little bit more about yourself?
I'm Australian but call myself an Aussie Brit because I've lived in the UK for decades & had my 3 children here. I enjoyed a successful career as a hair & make up artist for 20 years then at 38 gave it all up to have my babies.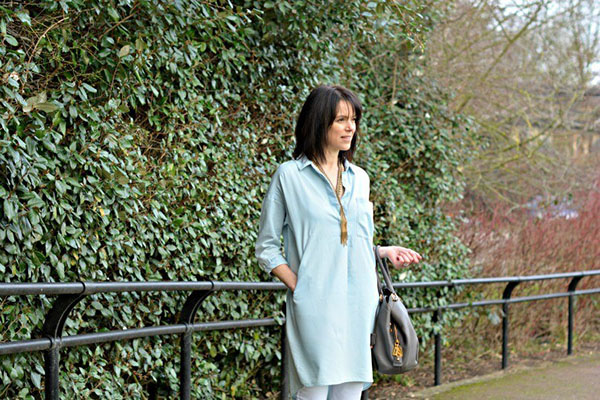 As a point of reference which age group do you belong to or perhaps you are willing to share your age?
I am 48.
Can you tell us a bit more about your your blog and why you created it?
I started blogging just over a year ago because I needed an outlet for my creativity & love of fashion. I've been in love with fashion & design since I was a child & working as a hair & make up artist was very fulfilling.
However the hours are not conducive with the school run if you know what I mean? I couldn't go back to my career, yet I was looking for some form of income that didn't prevent me from continuing my main job as a stay at home Mum. 😉
How would you describe your own personal style? / Do you feel you have a signature style?
My signature style is definitely retro, yet with a modern twist. Although I am partial to any era, it just depends if it suits my body.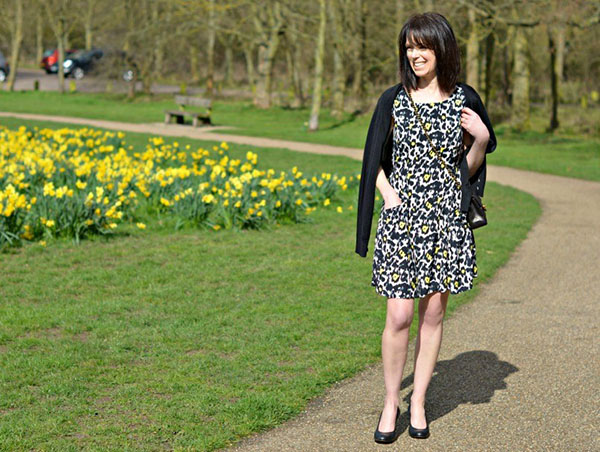 Do you follow trends? And if yes, which trends excite you at the moment?
I never look at "trends" as such. I've spent my life experimenting with style & have found what shapes suit me best but that aren't necessarily on trend. Being over 40 has given me the confidence to wear whatever I like so if I think it looks good then that's pretty much it.
Confidence is the secret. Nothing else matters.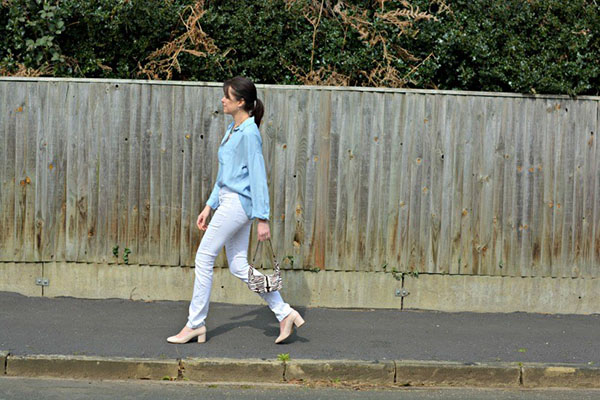 I've always had a talent for creating many outfits out of very few items of clothing and I believe anyone can achieve this. I actually get a kick out of it when I style a new outfit from old clothes!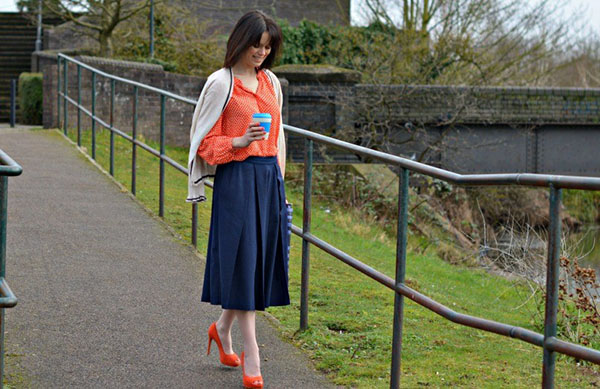 My concern for the environment translates to ethical slow fashion. Therefore I'd like to provide inspiration to my readers in creating a wardrobe that works hard for them.
There's no need to buy a whole new wardrobe every year or every season when you base your choices on collecting pieces for a lifetime of wear. Quality and careful design choices are key.
Has your style changed at all after turning 40?
My body has changed little over the years although I've noticed my skin texture & elasticity has. I'm about 5'8″ My weight has always returned to normal after every baby with very little effort.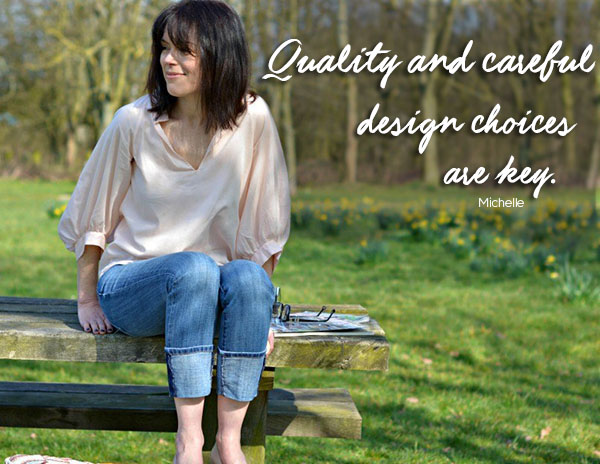 I put this down to 2 things – Having breastfed all 3 children for a total of 5 years & genetic good luck. I still wear pretty much everything I always have.
In fact many of my "fashion" choices have come back in trend 2 or 3 times over. I've been able to pull some rather ancient old loves out of the back of my wardrobe & wear them again.
Do you have any favorite brands?
Some of my favourite High Street brands are Whistles, Jigsaw, AllSaints, French Connection, Maje.
Designers I love are Isabel Marant, Acne Studios, Chanel, Prada, Gianvito Rossi.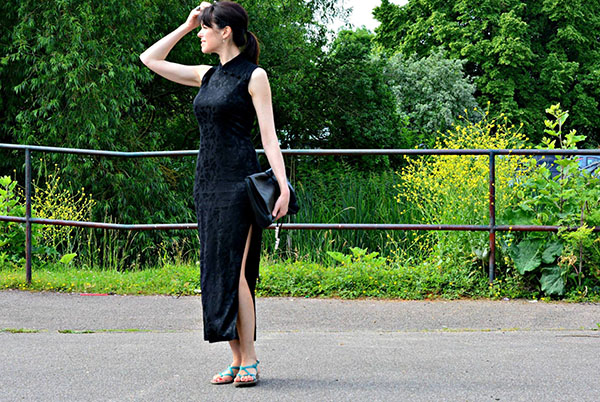 What is your current body type and height and what are your best tips for dressing these?
I take body shape into account when I style my outfit so it will be as flattering as possible. I'm very in tune with my shape because it hasn't really changed. I feel I know my body & what works for me automatically.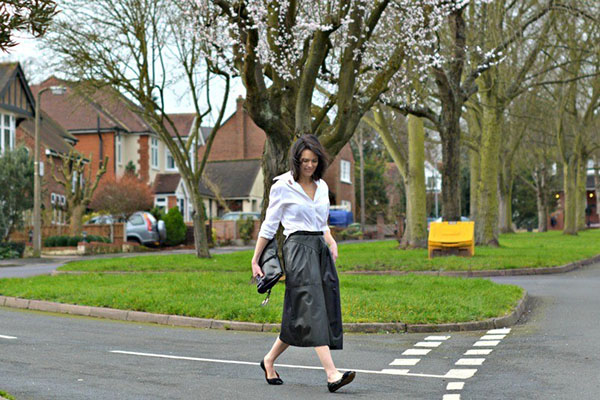 However many women don't feel this way & find it difficult to figure out so they often simply reach for the same things every time. If you're not sure of your body shape think of it as a silhouette.
Imagine the outline of your body from the front & the side then dress as if you are balancing out your proportions – QUITE LITERALLY.
For example if you have narrow shoulders & wide hips – A boat neck top or a V neck top with a peplum & a straight cut knee length skirt will create perfect balance.
There are a million combinations for every single shape. Experimenting in your favourite brands' changing room is a good start. If you need any advice I'm always happy to help, drop me a comment on the blog.
What is your beauty routine and what are your favorite beauty products?
I don't have a beauty routine. I like Bio Oil on my face at night, especially in Winter. I try to use products with as few ingredients as possible.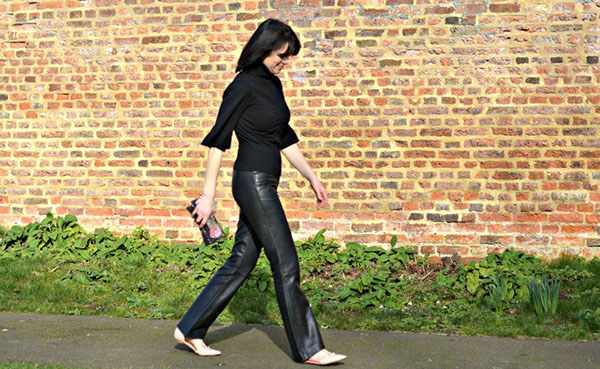 I avoid anything containing micro plastics because they pollute the oceans & sealife so I use Apricot facial scrub which is made from the crushed seed. Exfoliation & broad spectrum sunscreen are my only constant daily routine.
What are your plans for Retrochic Mama and how do you see it develop over the coming years?
I'm turning 50 next year & with RetroChicMama I have found new purpose in my life along with an exciting career. Every day there's something to learn particularly on the technical side of blogging. Although I work many hours perfecting my posts, the days fly by & I adore every minute of it!
What's more exciting, since my following has grown, I realise there are many avenues I can explore in the future. I'm hoping to further the TRAVEL & DECOR aspects of RCM. My dream is to create a home style line as RCM Interiors that inspires women to be bold in decorating their rooms.
Of course first & foremost RetroChicMama will always be about Fashion & Personal Style.
See more of Michelle's daily outfits and lifestyle tips at Retro Chic Mama and @RetroChicMamaBlog