A challenge many women experience is finding pants that fit perfectly when your hip and waist are drastically different sizes.
There are a few approaches you can take.
First, is having your pants tailored. This is certainly a great option for pants you already own (or those without elastic waistband). When buying new pants it's usually best to buy pants that fit the widest part. That way you can ask your tailor to fit the part that is too loose.
A second option (and the one which this post is centered on) is opting for pants with an elastic waistband.
Don't automatically think that an elastic waistband means severely limiting your styling options or that you have to settle for a pair of very, very unflattering pants. Today we will show you the extensive options you have when it comes to selecting pants with elastic waistbands that create flattering and chic looks. From on-trend cropped jeans to wide leg black trousers, most every kind of pant you can imagine comes in elastic waistband styles.
Choosing the right pants means you no longer have to sacrifice style for comfort and function and it means you may be able to find a good fit without having to visit a tailor.
Some quick guidelines to keep in mind:
Keep your body shape in mind when dressing.
If you pick a dressy pair of pants that has a drawstring, it might be best to select a longer top to keep your look office appropriate.
Keep the style rule in mind that it's usually best to combine a lose fit with a tighter or more tailored top. If your pants have a tighter fit a wider top may look better. Treat these pants the same way you would any other style. They might be more comfortable and fit better, however, you should still strive to style them appropriately.
Dressy pants
As mentioned above, there are a number of great elastic waistband options. Typically, if you are going for a dressier option in this style you should aim for pants that do not have those scrunchy type of hems. These can be a challenge when going for an office-appropriate look, and can be more appropriate for casual or after-work hours looks.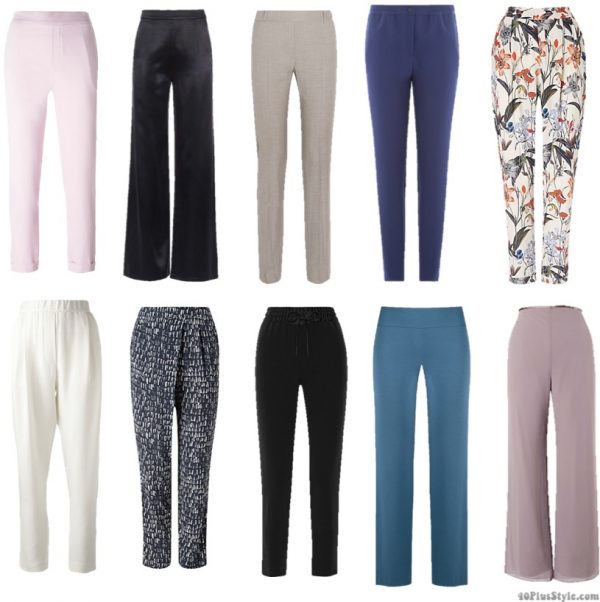 Casual pants
There are also a number of casual options with elastic waistbands. Some styles even create very flat waistband looks that almost appear to be button closure pants.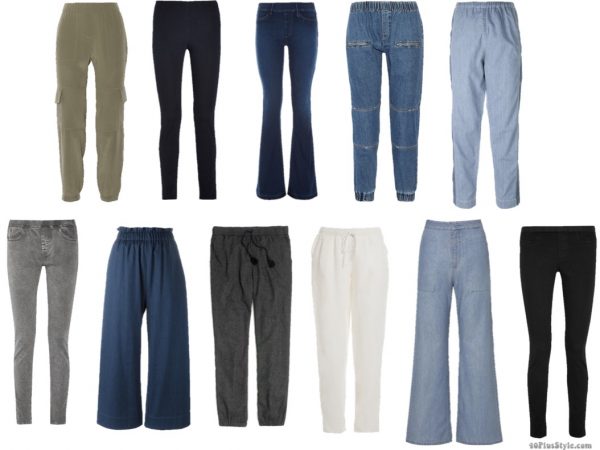 Here are three ways to wear elastic waistband pants in a way that looks absolutely chic and current
To the office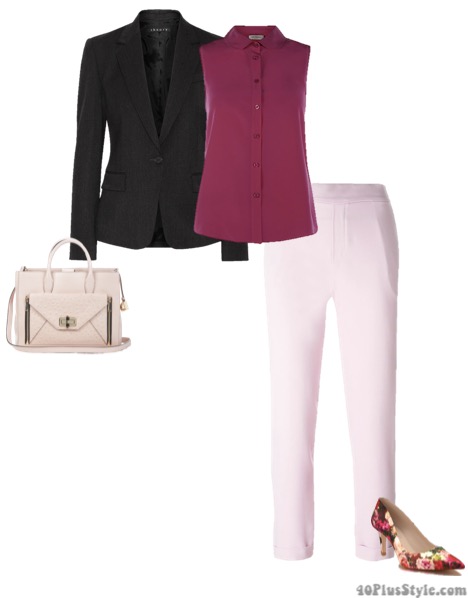 To an evening out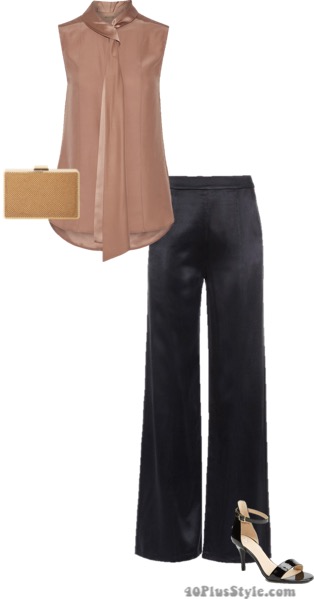 To a day spent in the park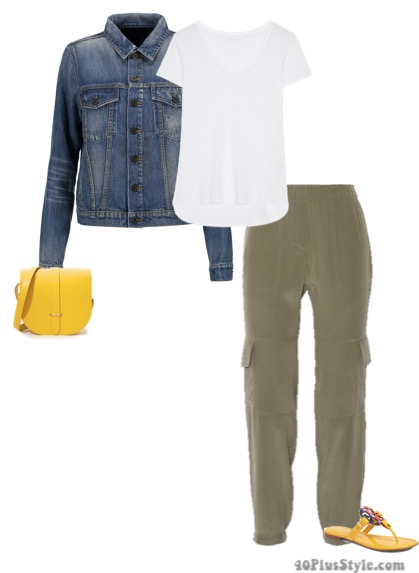 Bonus: The jumpsuit alternative
Another approach you can take is the jumpsuit, which creates a complete look (which you can take a step further by adding a jacket or vest). Select jumpsuits that have elastic waists, drawstrings, and/or belts for loosening or cinching the waist. This allows you to have a customized fit at the waist without having to sacrifice a significant amount of a good fit for your bottom half.
You may find more jumpsuits that are currently available here

Find the looks and clothing items featured in this post here below

What are some your biggest challenges when it comes to dressing your body shape? What is your go-to style trick?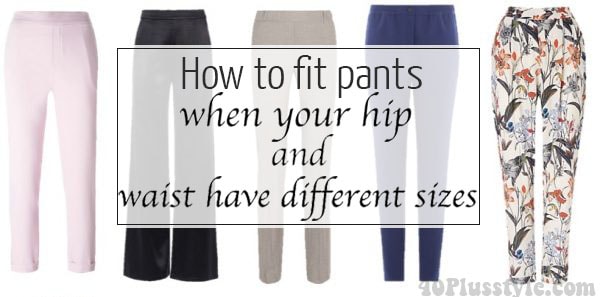 Feature image by Sandra
Want to get more articles from 40+style in your inbox, subscribe here.
You can also connect with 40+style on Facebook, Instagram or Pinterest.
Support 40+style by using the links in our articles to shop. As an associate for Amazon and many other brands, we receive a small commission (at no cost to you) on qualifying purchases which enables us to keep creating amazing free content for you. Thanks!