Jumpsuits for women: Do you love them or hate them? They can be the perfect outfit when you don't know what to wear as you don't need to worry about separates. In this article, you'll find the best summer jumpsuits for women as well as inspiration on how to wear them.
Today I'd like to share some tips and ideas for wearing jumpsuits with you and show you some of the best jumpsuits for women available in stores now.
Why jumpsuits for women are so versatile
What's not to love about a jumpsuit?
It's an outfit all-in-one. There's no worrying about whether the top goes with the bottom. You just throw it on, and off you go!
Plus, you can wear jumpsuits for any occasion. Throw on some sneakers with your jumpsuit for casual days, pop a blazer over the top for more formal occasions and wear with heels for a night out.
There are also some beautiful floral jumpsuits in stores that I have my eye on for summer weddings and barbecues.
Top 5 tips for choosing jumpsuits for women
If you're a jumpsuit newbie, then here are five tips to help you dip your toes into the waters.
1. Try on a few until you find the perfect fit
It is harder to find perfectly fitting jumpsuits for women than many other items of clothing, as you need one where the waistline is on, well, your waistline, and the crotch isn't sitting too low, unless you choose a harem style, or too high as you will be uncomfortable.
Look for summer jumpsuits for women with adjustable straps as these help you to alter the fit to your body.
The most crucial part of picking the right jumpsuit is to find the right fit and there are quite a few options to choose from.
Not every style will fit your personality or body type, so start trying a few of the silhouettes to find out what suits you best.
2. Define your waist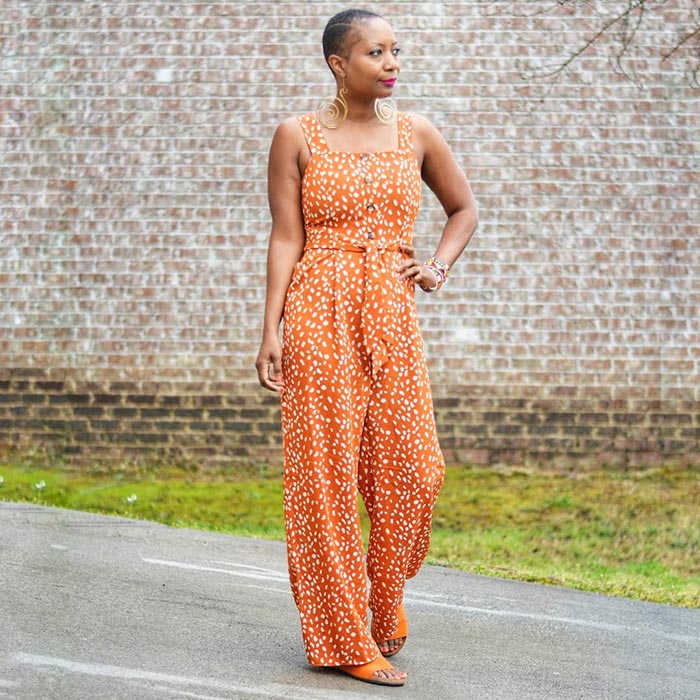 Many jumpsuits for women have a cinched-in waist or a belt so you don't lose your femininity even though you're wearing an all-in-one.
Troy @thethriftanista above (read her style interview here) looks stunning in her burnt orange jumpsuit, worn with matching sandals and statement earrings.
Check out these jumpsuits from Walmart and Amazon that you can wear with this pair of similar sandals and earrings.
3. Pair with a blazer.
This can add lovely long lines, breaking up the look of your jumpsuit with an additional layer. A blazer can be ideal if you have a sleeveless jumpsuit but you want to cover up your arms.
4. Wear a solid color.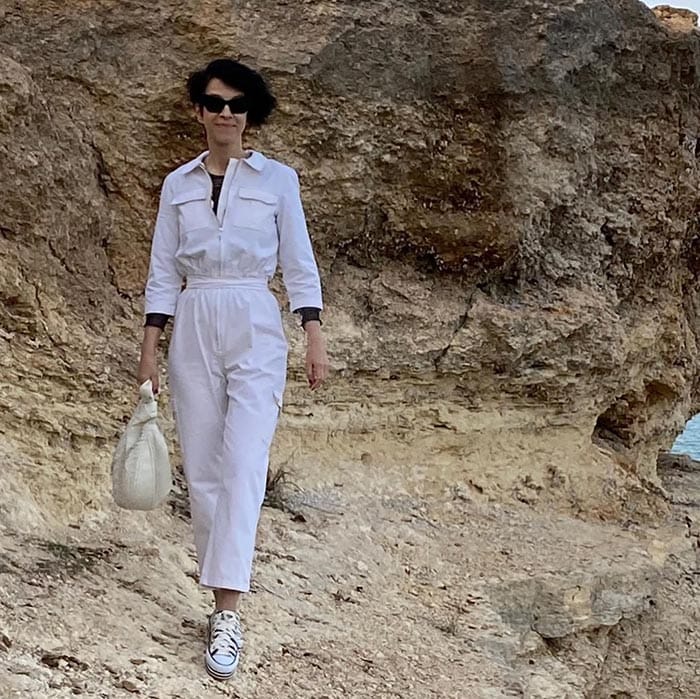 If you're new to wearing jumpsuits than you will probably feel more comfortable in a solid color like navy or white than you would wearing a lot of pattern.
Natalia @nodin.stylish.me above wears one of the most on trend summer jumpsuits for women with her utility style.
Steal her look with this similar jumpsuit, sneakers, handbag and sunglasses.
5. Wear a wide leg jumpsuit with heels to make your legs look longer.
Heels can also elevate your jumpsuit into a look you can wear for formal events.
Below are some of the jumpsuits for women I have my eye on for summer
Now that you're thinking about how you might wear them, let's take a look at some of the most stylish jumpsuits you could choose for summer.
wide leg jumpsuit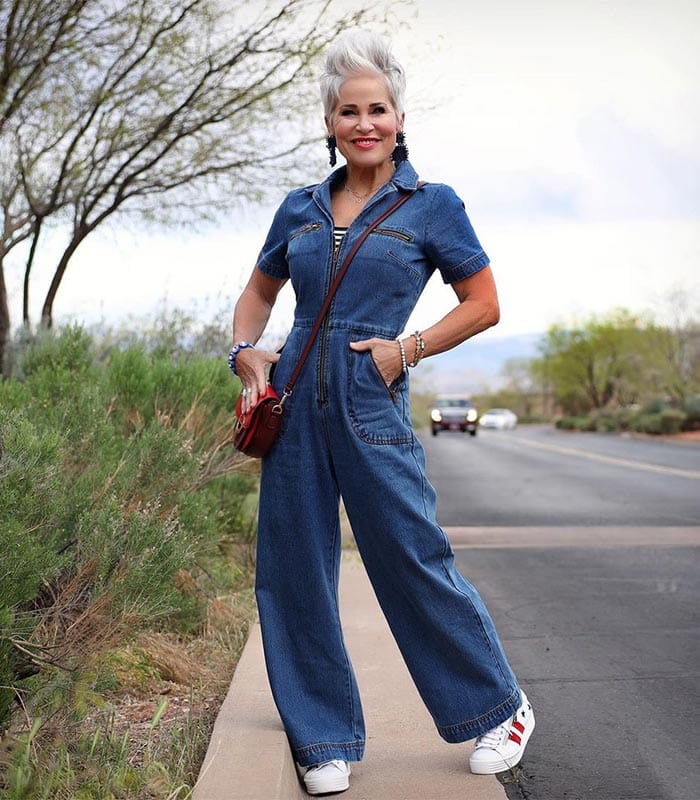 Wide-legged jumpsuits can be very flattering, as you can cinch them at the waist for a classic hourglass feel, even if you don't have an hourglass figure.
You can also give yourself the illusion of having longer legs by wearing heels underneath.
Chic and relaxed, you could wear a wide-legged jumpsuit with heels for summer daytime events, or with flats for a sightseeing vacation.
Shauna @chicover50 above (read her style interview here) wears an on-trend denim jumpsuit.
She is wearing a jumpsuit from Anthropologie. Here is a similar jumpsuit from the brand. Complete her look with this similar crossbody bag, sneakers and earrings.
Tommy Bahama Wild One Wide Leg Jumpsuit
crop jumpsuit
A crop length can be the perfect option for summer to keep you cool and show off a bit of ankle. If you are worried about a crop style making your legs look shorter, you could always wear with a small heel.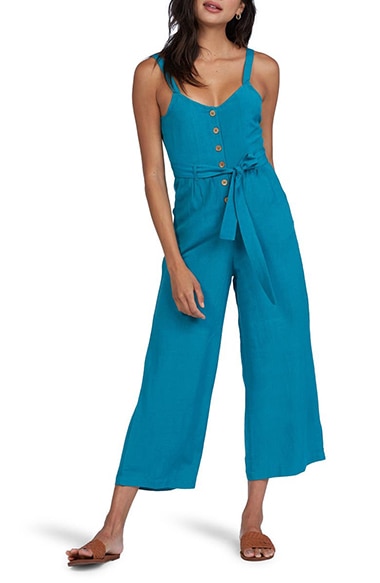 Also, take a look at how to wear capris and cropped pants.
stripe jumpsuit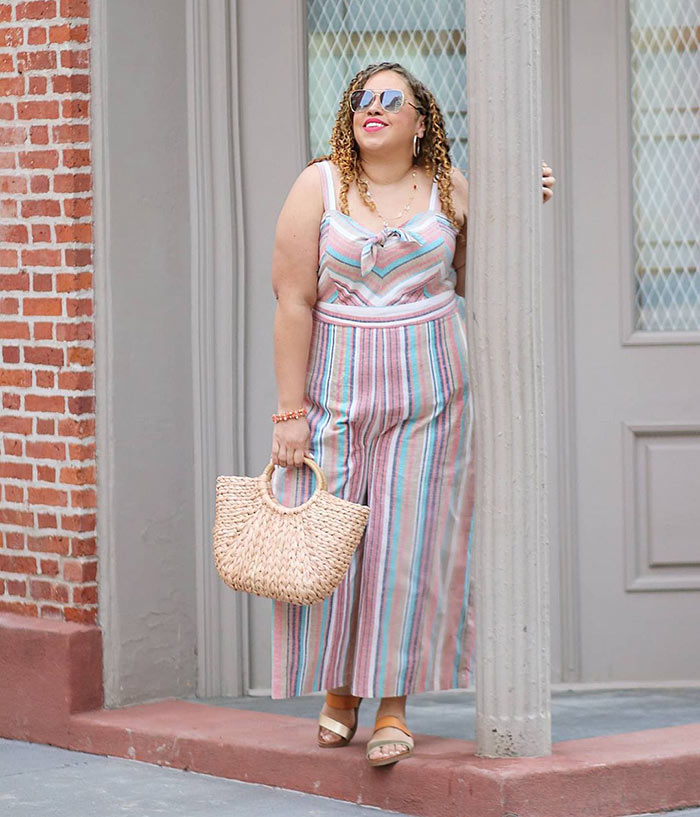 Sandra @lapecosapreciosa above looks incredible in her stripe jumpsuit, which is perfect for summer.
She's wearing a jumpsuit (another option here) and sandals from Lane Bryant and a rattan bag from Amazon.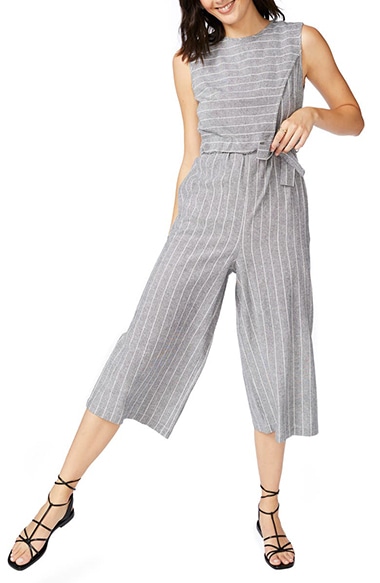 Court & Rowe Pinstripe Crop Jumpsuit
off shoulder jumpsuit
The off-the-shoulder jumpsuit from Amazon (below) would be a good vacation option as you could dress it up or down and it's made from a comfy, stretch spandex material.

PRETTYGARDEN Off Shoulder Elastic Waist Jumpsuit
front tie jumpsuit
If you want to make sure your jumpsuit is flattering, a good option is to choose a tie-waist style like the Fraiche by J option (below).
Fraiche by J Tie Front Jumpsuit
floral jumpsuit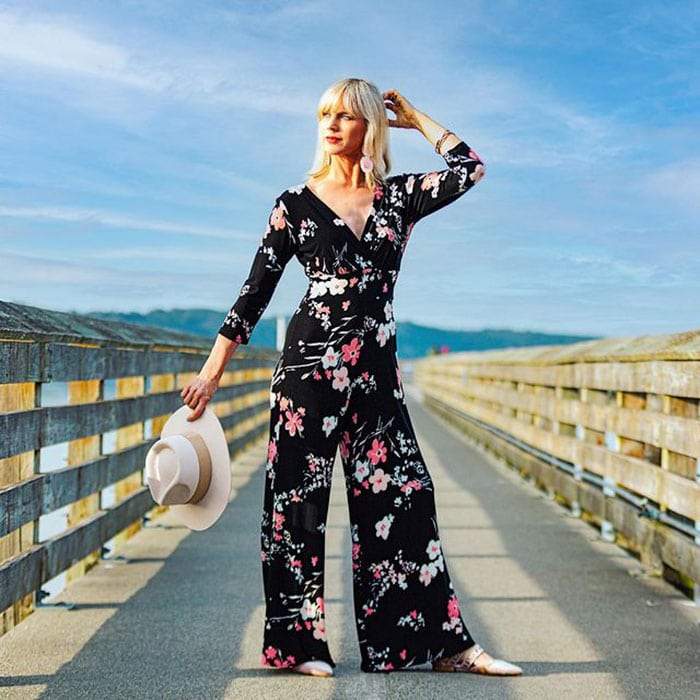 Florals are a lovely choice for the summer season.
Catherine @catherinegraceo above (read her style interview here) shows off a stylish floral jumpsuit with a black background.
Recreate her outfit with this similar jumpsuit (short sleeve alternative here), sandals, fedora and earrings.

Tahari ASL Side Tie Floral Satin Jumpsuit
long sleeve jumpsuit
Just as when you are choosing a dress, you may prefer to cover-up your arms with your jumpsuit. However, it can be trickier to find jumpsuits with long sleeves. The Fraiche by J ruched jumpsuit (below) is one of the few that I've seen with total arm coverage.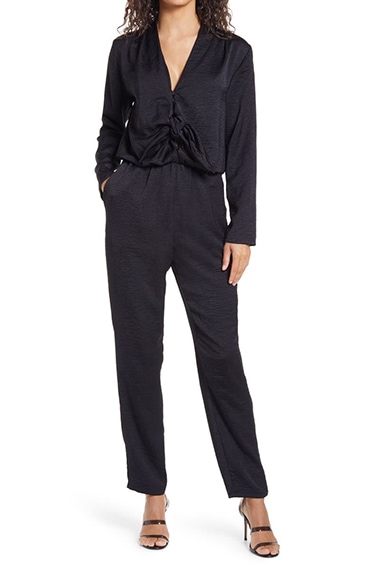 Fraiche by J Long Sleeve Tie Front Jumpsuit
Black jumpsuit
Of course, black is a classic color that you can wear any time of year. A black jumpsuit makes a stylish alternative to a little black dress. For summer, you could team with gold sandals and accessories.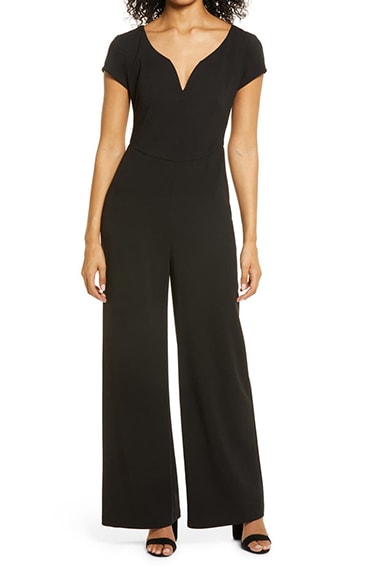 Connected Apparel Cap Sleeve Jumpsuit
white jumpsuit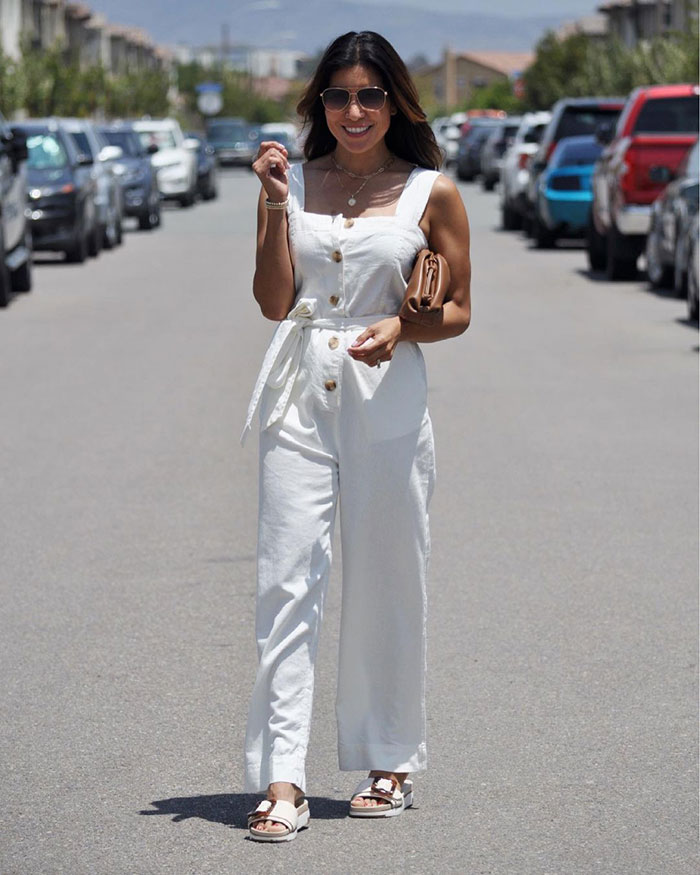 A white dress tends to be synonymous with summer and with vacations, but you can get the same, clean, crisp look from a white jumpsuit.
While white no doubt adds an instant feeling of summer to your wardrobe, it can also be tricky to wear because it doesn't have the same slimming properties as darker hues like navy or black.
If you aren't completely comfortable with all-over white when looking at jumpsuits for women options, you could try adding a long-line blazer as a top layer, which will elongate your silhouette by creating sleek, long lines.
This can skim over any problem areas such as your tummy and hips. You'll also be able to cover your upper arms this way if you don't feel comfortable showing them off.
When looking for a white jumpsuit, the key is to go for quality fabric to ensure that you aren't inadvertently flashing your underwear! Another idea, if you're not ready for all-over white is to choose stripes.
Adaline @sdmomstyles above teams her white jumpsuit with neutral accessories.
She is wearing a jumpsuit from Walmart (another option here) and sandals from Sam Edelman. Complete her look with this similar clutch, necklace and sunglasses.
Julia Jordan Sleeveless Wide Leg Crepe Jumpsuit
blue jumpsuit
Cobalt blue is a stunning shade for summer. You could wear the Halogen jumpsuit (below) with metallic shoes and accessories, or maybe go for a contrasting pop of color like yellow or orange.
navy jumpsuit
Navy is often a softer alternative to black, and suits all skin tones. The wide leg jumpsuit (below) would be flattering on most body shapes.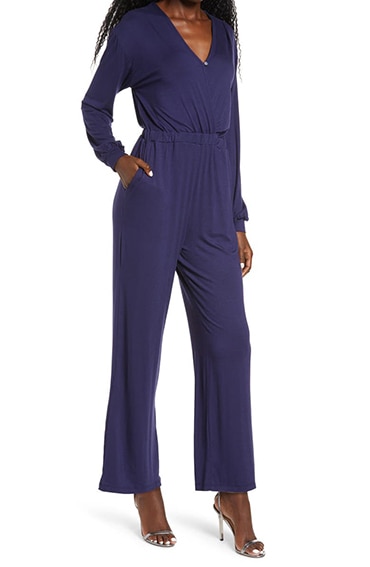 Fraiche by J Long Sleeve Wide Leg Jumpsuit
Red jumpsuit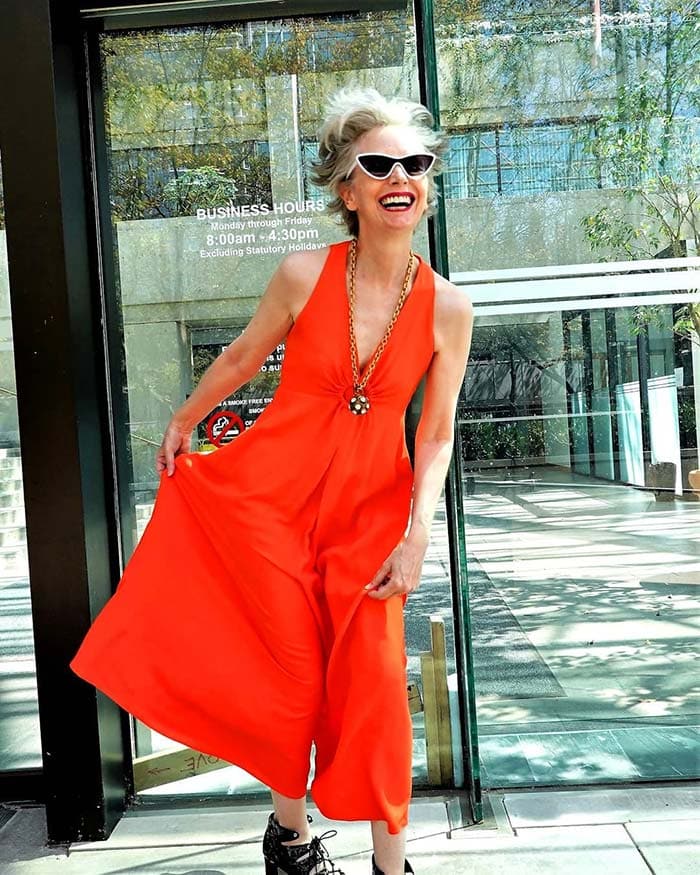 I always think that a red dress makes a bold statement, and the same definitely holds true for a red jumpsuit.
Mel @bagandaberet above (read her style interview here) wears a cropped jumpsuit with statement accessories.
Recreate her outfit with this similar cropped jumpsuit, sandals, necklace and sunglasses.
Or, you could opt for a one-color red jumpsuit like this one below, which could be dressed up or down.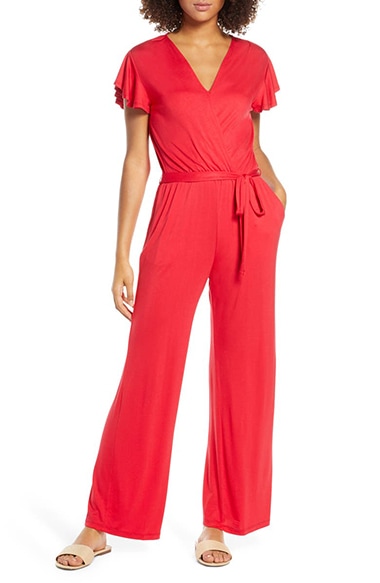 Fraiche by J Flutter Sleeve Jumpsuit
two tone
A two tone look is perfect for the pear shape because you can emphasize your top half and play down wider hips and thighs. The halter neck of the jumpsuit (below) would also be flattering on rectangles and inverted triangles.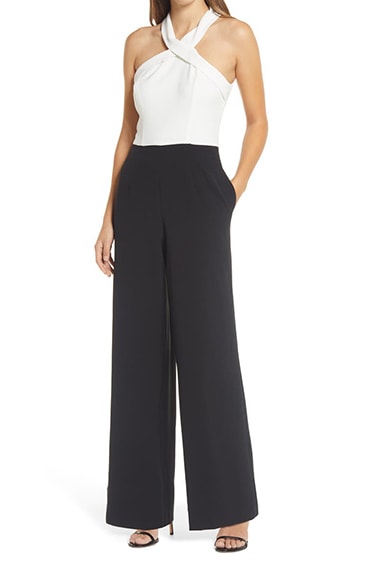 Casual jumpsuit
If you're looking for an everyday jumpsuit, then the PRETTYGARDEN jumpsuit (below) could be the perfect choice. It comes in a good range of colors, and has good reviews on Amazon, with one person pointing out that it is a "socially acceptable onsie" that you can wear out and about as well as for lounging.

PRETTYGARDEN V-neck Wrap Drawstring Waist Jumpsuit
jade jumpsuit
Another Amazon option for you, this time with a vest-style top. Reviewers say it is very flattering even if you have a little bit of a tummy.
Amazon Essentials Sleeveless Wide Leg Jumpsuit
Apricot long sleeve
If you are looking for a dressy jumpsuit, how about the belted option (below) which has a tie waist, wide legs and long sleeves? It comes in a good range of darker shades and neutrals and reviewers say it hides flaws well and helps to hide a bit of a belly.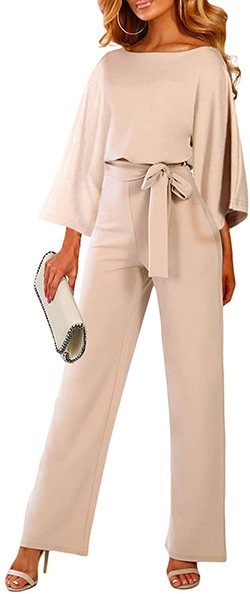 Happy Sailed Belted Wide Leg Jumpsuit
tie dye jumpsuit
Tie dye is particularly on-trend for this summer. The hooded jumpsuit (below) could be a good option for vacations or travelling.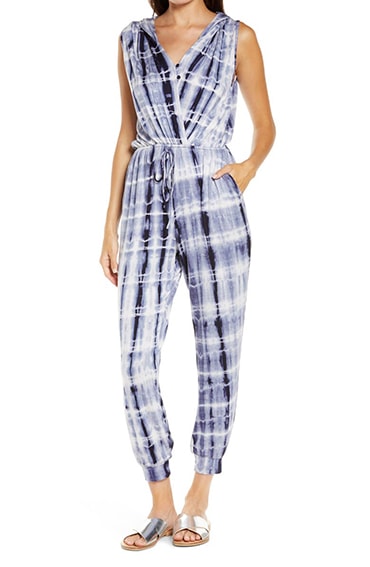 Fraiche by J Tie Dye Hooded Jumpsuit
jumpsuits for women at COS
COS has many fabulous jumpsuits. I recently got myself this style below.

Rompers
Have you considered wearing a romper suit? It's a jumpsuit with shorts rather than pants, essentially. But, the problem can be that the shorts are too short!
I would look for a romper with mid-length or knee-length shorts. If I'm showing off my legs, I prefer a romper with sleeves so there's not too much on show at one time. You could always wear with opaque tights and booties for fall.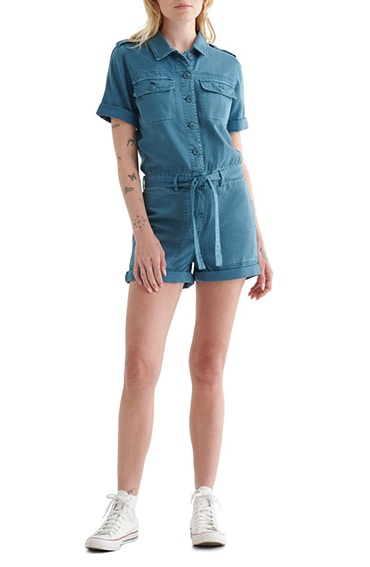 Lucky Brand Rain or Shine Twill Romper
harem jumpsuit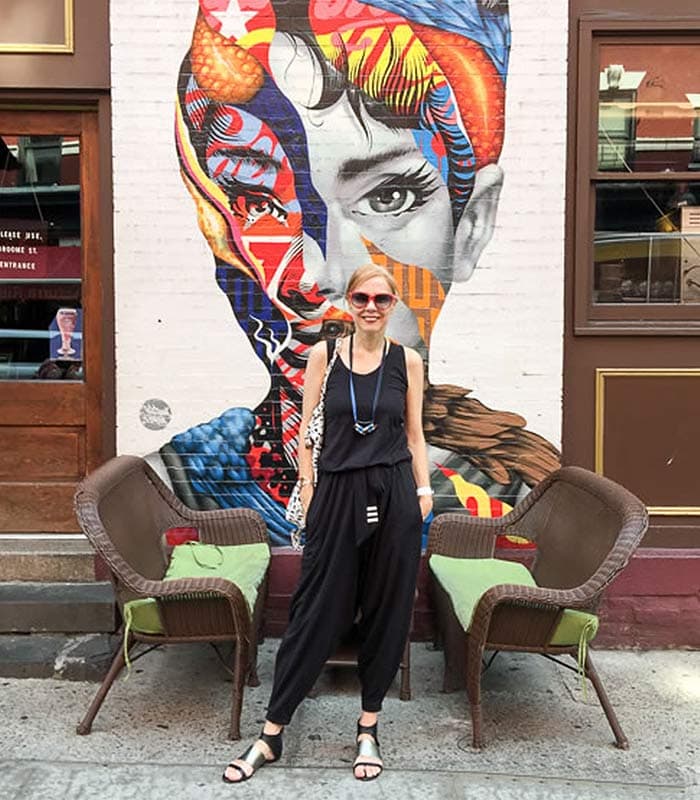 If you want to take an edgier approach to the jumpsuit, you can opt for a harem style. This stretchy jumpsuit is a very comfortable fit with a harem crotch in a jersey fabric. It truly is the most comfortable garment to wear and perfect for traveling.
This jumpsuit looks good on its own or with a short jacket.
It is combined with Sylvia's In Good Company necklace which she has in 2 color combinations and it looks good with both edgier Lisa Tucci shoes, super comfortable Fly London wedges or flat CK Calvin Klein flat shoes.
You can check out this similar harem jumpsuit from Amazon to recreate this look if this is your favorite of these jumpsuits for women.
shop featured jumpsuits for women below:

Do you wear jumpsuits, or are you planning to add one to your wardrobe this summer for the first time?
Continue reading:
Like this article on the best summer jumpsuits for women? Save it on Pinterest!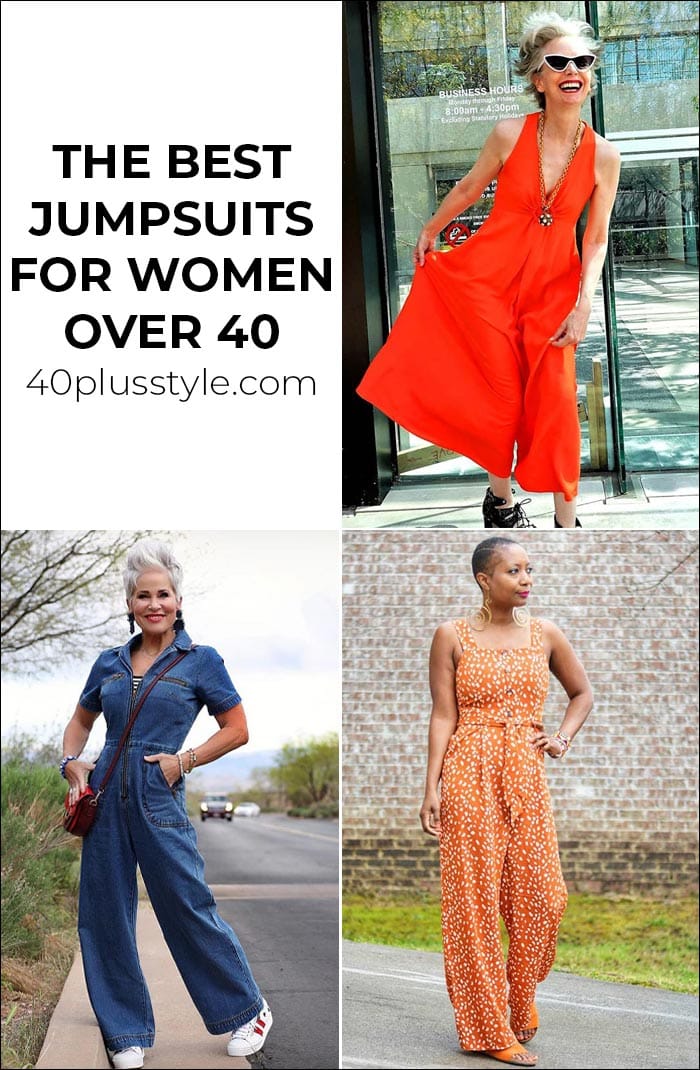 Feature image by Shauna @chicover50
Want to get more articles from 40+style in your inbox, subscribe here.
You can also connect with 40+style on Facebook, Instagram or Pinterest.
Support 40+style by using the links in our articles to shop. As an associate for Amazon and many other brands, we receive a small commission (at no cost to you) on qualifying purchases which enables us to keep creating amazing free content for you. Thanks!