It's one of the most universally flattering colors around and can look less harsh than black. But what is the best way to wear navy blue?
Here are some ideas for you on how to wear navy, including color palettes for you to choose from.
Reasons navy blue is such a fabulous color to wear
Here are just some of the things I love about navy:
Navy is a universal color
Unlike black, which can be harsh, it flatters the vast majority of skin tones.
It looks stylish year-round
While it's not always in stores in great quantities all year, it looks fabulous at any time of year, whether you opt for a navy party dress at Christmas, or you wear a striped navy tee during summer.
It can be formal or casual
You could wear it as a mother-of-the-bride in lovely lace, or you could choose a chunky navy sweater. It's one of the most versatile colors out there!
Navy goes with every other color in your closet
If you are having one of those I-have-nothing-to-wear moments, adding more neutrals to your closet can help you get the most out of the clothes you already have.
Because it's a classic shade, you can afford to think about navy clothes and accessories as an investment that you will keep for years.
Designers showcasing navy blue color palettes
Every season, designers always opt for at least some navy blue outfits, and this winter and fall are no exception.
There are more color trends for fall 2019 here.
Christian Dior – Chanel – Alexander McQueen
Exactly what is navy blue?
Navy blue was first used as a term for the specific shade of dark blue worn by the British Royal Navy.
Now, it is still used to refer to a blue color which is almost black, but you will find there are variations in shade. Some are so close to black that you would think they actually were black from a distance, while others have more blue in them.
Navy blue is always a popular color on the fashion runways, with designers for this fall opting for both lighter shades of navy, and dark navies that are very close to black (above).
Colors that go with navy
So now that I've extolled the virtues of navy, what should you wear with your navy?
What are the colors that go with navy? What matches with navy blue.
Scroll down for some of my favorite navy color combinations, as well as the best navy clothes and accessories in stores now.
With all the versatility offered by navy blue comes choice.
So, just how do you go about narrowing down what you will wear with your navy?
You could take a look at color palettes such as those below and then create an outfit based on your favorite.
What matches with navy? Navy and black
The old adage that you shouldn't wear navy with black is just one of those outdated rules like not wearing white shoes after Labor Day!
It can actually be a very chic combination.
OUTFIT 1 (similar items): crewneck sweater – printed skirt – crossbody bag – knee-high boots
OUTFIT 2 (similar items): satin dress – sequin bolero – crossbody bag – ankle strap pump – beaded triangle earrings
OUTFIT 3 (similar items): turtleneck sweater – high waist wide leg pants – cuff bootie – tote bag – plaid scarf
It's often a very Parisian combination to wear! To stop the two colors from looking as if they are bleeding together, use different textures, or use black as an accessory to your navy.
Psyche (above) wears navy with her black jeans and Gucci shoulder bag.
Get this similar one shoulder top and bootcut jeans to recreate her look.
How to wear navy blue and white
Crisp and clean, navy and white is an incredibly chic combination.
It was, for example, chosen by many of the guests at Prince Harry and Meghan Markle's wedding.
OUTFIT 1 (similar items): turtleneck sweater – crop wide leg jeans – leather bag – suede bootie
OUTFIT 2 (similar items): sheath dress – blazer – suede flat – nylon tote – tassel necklace
OUTFIT 3 (similar items): peasant blouse – cardigan – denim skirt – sneaker – top handle bag
Greetje (above) shows how beautifully navy and white can go together.
Check out this similar blouse, chiffon skirt and pumps.
There are plenty of beautiful navy and white options on the high street. This combination can also go beautifully with other neutrals such as tan and taupe.
Photos (above) by Denton Taylor
How to wear navy blue with neutrals
Another timeless way to wear navy is to pair the color with neutrals. These colors can also provide a great base if you want to add a pop of another color.
OUTFIT 1 (similar items): sleeveless top – drape jacket – satin skirt – crossbody bag – chelsea boot
OUTFIT 2 (similar items): collared shirt – blazer – wide leg trousers – block heel pump – leather tote
OUTFIT 3 (similar items): satin blouse – corduroy pants – clutch bag – bootie – cluster stud earrings
Navy and neutrals can be a great combination whether you are looking for a casual look or something more formal.
You could, for example, wear a beige pencil skirt and navy blouse for work, or you could look at beige or navy chinos for a casual weekend vibe.
Gisele (above) wears her navy with tan accessories.
Complete her look with this similar dress, belt, handbag and pumps.
How to wear navy blue with a pop of color
Of course, navy doesn't have to be worn just with neutrals like black, white and taupe. It can go beautifully with so many colors. For major impact, try wearing with orange, red or yellow.
OUTFIT 1: pocket shirt – wide leg crop pants – bootie – tassel necklace – leather tote
OUTFIT 2: wrap dress – wristlet – slingback pump – pendant necklace – bangles
OUTFIT 3: cashmere sweater – trench coat – bootcut jeans – crossbody bag – low top sneaker
This can be an unexpected color combination but yet a classic one.
Patricia (above) shows that navy also goes beautifully with red.
Check out these skirts from WDPL and Dare2BStylish. Also get this similar sweater, belt and pumps.
With blue
Wearing navy blue with pale blue tends to be something you associate with men's fashion.
There's a classic combination of navy chinos and a pale blue shirt that never dates.
OUTFIT 1: pocket belted shirt – coat – stretch trousers – leather tote – slingback pump – silk scarf
OUTFIT 2: cashmere sweater – wool topcoat – trousers – wool scarf – bow pump – leather shopper
OUTFIT 3: animal burnout top – suede open front jacket – slim jeans – leather tote – loafer
But, navy and pastel blue isn't just for men to wear to work! It's a combination which looks equally classy for women too!
Jacqueline (above) shows how to pair different shades of blue, as well as a pop of leopard print.
Steal her look with this similar dress, blazer and flats.
Navy and cream
As well as navy and pure white, navy and cream is another classic combination.
OUTFIT 1: cowl neck sweater – pencil skirt – coat – knee high boot – nylon tote – spliced scarf
OUTFIT 2: silk shirt – crop pants – sweater blazer – flat – canvas tote
OUTFIT 3: crop top – sweater pants – metallic shoulder bag – pump – pendant necklace
Claudia (above) wears a navy dress with a print along with a cream blazer.
Check out this similar floral dress, blazer, tights, hat and booties to steal her look.
With a print
An easy way to pair navy with another color is to look for a print that does the color mixing for you.
Tanasha (above) looks fabulous in navy and yellow.
Check out this similar off shoulder top, printed maxi skirt and sandals.
Read our ultimate guide to creating a capsule wardrobe that works best for you.
The best navy blue clothes, shoes and accessories in stores now
Next time you think about adding more black to your closet, how about some navy instead?
If you don't have any – or enough – navy in your closet, here are some of my favorite clothes and accessories in stores now.
navy blue dress
Rather than a little black dress, you could opt for a little navy dress.
navy long dress
A long dress in navy is a beautiful option for a formal event.
long sleeve navy blue dress
If you prefer to cover your upper arms, look for a navy dress with sleeves.
There are more dresses with sleeves here.
Sam Edelman asymmetrical wrap dress
navy and white dress
Navy and white will never date.
Club Monaco tipped pleated dress
navy blue blazer
Everyone should have a blazer in their closet, and this navy blue style is an absolute classic.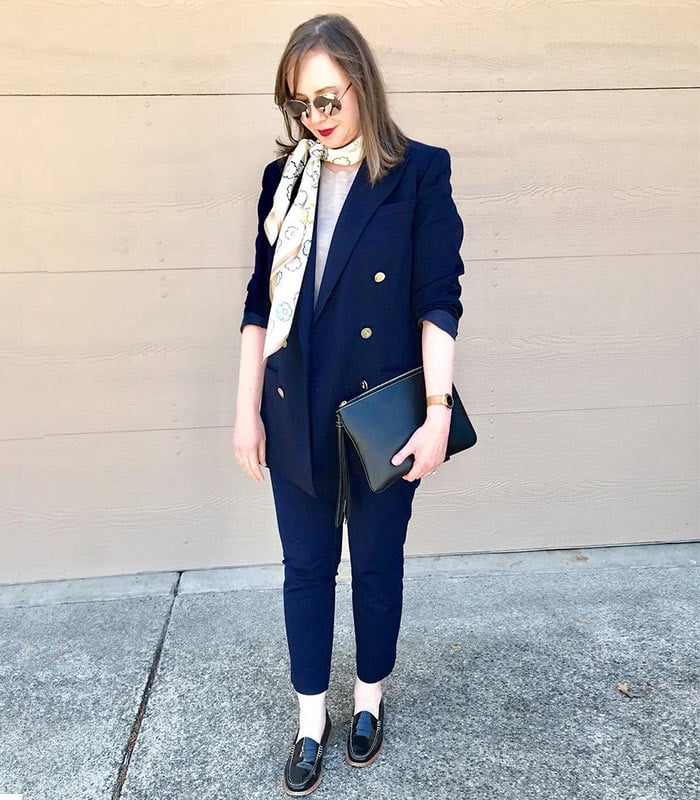 Oxana (above) looks very chic in her navy blazer and scarf.
Get this similar blazer, trousers, scarf and loafers to recreate her look.
navy blue pants
Rather than opting for black pants next time you choose a pair, how about navy blue? They're just as versatile.
navy blue cardigan
Perfect for adding a cozy layer in cooler weather.
navy blue sweater
Look out for detailing such as buttons if you want to add a nautical feel to your outfit.
navy blouse
A navy blue blouse will go with everything from jeans to your black pants to a more bold option such as red.
navy blue jumpsuit
A jumpsuit is a lovely option if you want to wear something different during the party season.
Vince Camuto gathered sleeve jumpsuit
navy blue jacket
A trench coat is one of those wardrobe essentials that will always be a good investment. Rather than classic beige, you could opt for navy.
Lauren Ralph Lauren trench coat
navy handbag
What could be more timeless than a classic tote back in a classic shade of navy?
navy boots
Most women have a pair of black booties in their closet. Try navy for something a little out of the ordinary.
navy blue shoes
A pair of navy blue flats will be a hard-working item in your closet.
navy blue sandals
How about a pair of navy blue sandals for party season? Or to wear with your summer outfits once the weather warms up?
Carvela Comfort slingback sandal
Do you know how to wear navy blue? What are your favorite navy blue combinations?
Continue reading:
The Ultimate Checklist Of Wardrobe Essentials: Which 28 Essential Pieces Do You Need In Your Closet?
Like this article on how to wear navy blue? Save it on Pinterest!
Feature image by Oxana
Want to get more articles from 40+style in your inbox, subscribe here.
You can also connect with 40+style on Facebook, Instagram or Pinterest.
Support 40+style by using the links in our articles to shop. As an associate for Amazon and many other brands, we receive a small commission (at no cost to you) on qualifying purchases which enables us to keep creating amazing free content for you. Thanks!