I discovered Sharryn through Instagram where she shares daily inspiration both from herself as well as other women through her account The Stylish Woman. I love her unique style so of course wanted to know more about her. Enjoy! 
Can you tell us a little bit more about yourself?
I started in fashion at the age of 3 when I found my passion playing with dress ups and makeup as a way to create a different look each day. As a grown up, I now make a living out of helping women find their full potential through their own individual style and image, giving them a level of confidence they may have lost.
When I'm not being girlie, I play wife to a fanatical golfer and hang out with my darling kids and grandkids.

As a point of reference which age group do you belong to or perhaps you are willing to share your age?
To me age is just a number. Maths was never my strength however I figure I must be somewhere over 50??? I stopped having birthdays a long time ago. When it comes to age, I believe women improve as they get older and they should keep trying different looks, explore new techniques and take pleasure in looking their best at all times, no matter what their age.

Can you tell us a bit more about your instagram account The Stylish Woman and why you created it?
I started Instagram purely by accident when a friend of mine showed me how she used it to post images of her creative business. I had never really got into social media before, but fell in love with the idea that I could search for images that appealed to me and then share them through my posts. When others started following along and enjoying what I was sharing, I just kept going. It was pure luck. Now it's almost an obsession.

How would you describe your own style?
Well I guess my style is a bit of a mixture of many things. I'm a little bit chic and a little bit sophisticated with a touch of bo-ho thrown in. I like to make a statement with my style and am petrified of being invisible. I want to be bold and I dare to be different every day. Kinda of like dress up for grownups. It's so much fun!

What would you consider the most important components of your style?
Today, my signature style would be my headscarves and head wraps along with oversized statement sunnies, big jewelry, huge earrings, wide legged pants, shoes and accessories. I have often been called the 'Accessory Queen'. They can change every outfit in so many ways.

Where do you live and how does that influence your style?
I'm from Melbourne, Australia which by no co-incidence is the fashion capital of our country. It is riddled with our own wonderful designers and unique boutiques all selling their own different and unusual clothes. I love being in Melbourne as the unpredictable climate provides lots of opportunities to explore different looks and try out seasonal collections. What a great excuse to dress up each day.

What inspires your outfit choices the most?
I love being someone different each day and adore experimenting with my wardrobe. The biggest influence on what I walk out of the house wearing depends on my mood, how I am feeling and what the weather is dictating. I love being versatile and adaptable – I'll never get bored that way.
Do you take things like color profiling or body type into account when you dress?
Absolutely! This is number one in my rule book. If the shape does not flatter my body, it's out. I make sure everything is always in proportion and use clothes to give the perception I need, even if my real body does not agree. I am fanatical about hem lengths on skirts and pants and making sure any item of clothing I wear compliments me. I feel the same about color. Being a trained color consultant, I know how the right color can make you pop or it can wash you out. I believe that knowing what works for your body shape and what colors you should embrace is one of the greatest assets for all women.

Has your style changed at all after turning 40?
As you know by now, I love changing my look. I have found that as I get wiser (some say older) more than ever I want to make a statement and be noticed. I don't want to fade into the background and using a different hair cut and a change in color is just another way to help me do just this.
Do you believe in dressing 'age appropriately' and what does it mean to you?
I never want my look to be pigeonholed by my age, however in saying that these days I would avoid dressing like a 20-year-old. I think being stylish has no age limit and I wish more women would embrace this mentality.

Would you say that at this stage of your life you are now more, or less interested in fashion, style and the way you look?
I am definitely more interested in how I look today as I feel there is an extra level of confidence that comes with age. As a result, I feel I am more daring these days however if I'm honest, as we get older it takes more time and effort to get out the door each morning – but that just makes me try harder.

Why is the way you look important to you?
The way I look is a direct reflection on how confident I feel. I don't dress up each day to please others, I do it for myself. I want to feel good on the inside and over the years I've worked out that this is much easier when you make an effort on the outside.

Do you follow trends? And if yes, which trends excite you at the moment?
I don't specifically follow trends, however I consider what is popular at the moment and adapt it to my individual style. The longer skirt trend is my favorite at present as it makes me look taller and slimmer. I also love the casual comfortable Japanese inspired look out now that is unique, interesting and modern.

Do you have any fashion and style tips for women over 40?
Here are few of my tips:
Experiment with new looks, new colors, new hairstyles, new make-up and don't get stuck in a time warp.
Find someone whose style you admire and copy her. Eventually your style will involve and will become your own.
Ask friends who dress well for help and tips. You get advice and they will be flattered.
Take pictures of looks that appeal to you then study the shape, color, cut etc. to find out why it is flattering. Keep these images in a scrapbook for reference or inspiration.
Make friends with the shop assistants. They have a wealth of knowledge and can help you so much – if you let them.

Anything further you would like to add?
Style should be fun! Enjoy your clothes and try new things…. Don't be shy. Also, you don't have to spend a lot of money to look and feel great. Some of my best buys have been under $50.

For many more outfits and daily inspiration, be sure to follow her on Instagram at The Stylish Woman.

Like this post? Share it on Pinterest!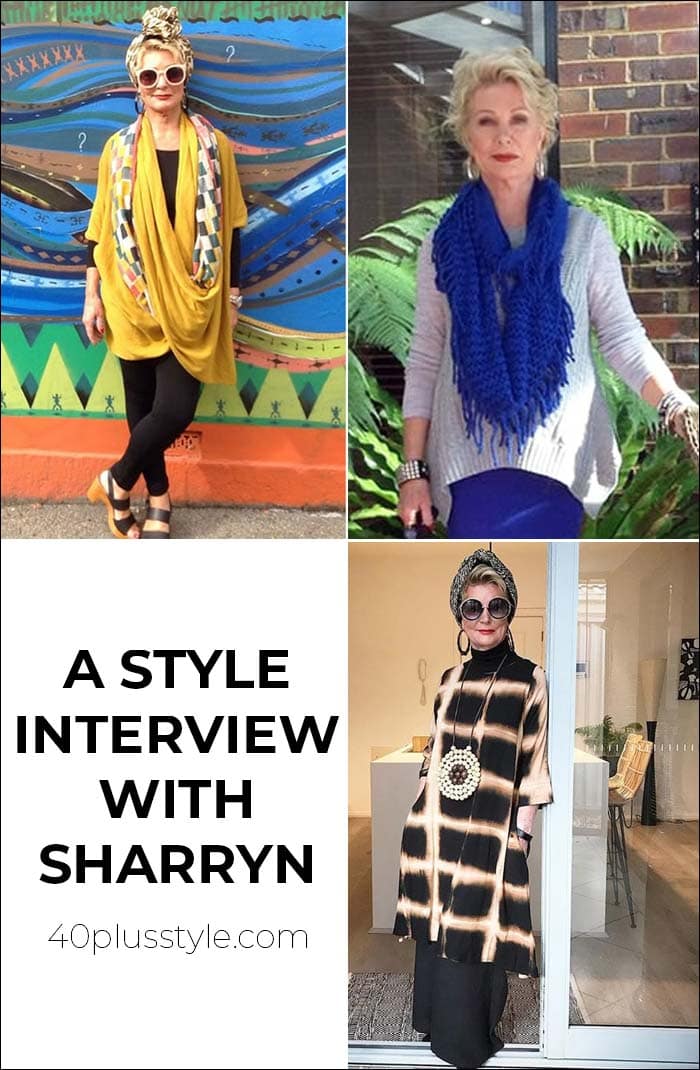 Want to get more articles from 40+style in your inbox, subscribe here.
You can also connect with 40+style on Facebook, Instagram or Pinterest.
Support 40+style by using the links in our articles to shop. As an associate for Amazon and many other brands, we receive a small commission (at no cost to you) on qualifying purchases which enables us to keep creating amazing free content for you. Thanks!