Nothing is as easy and feminine like a great dress. However, many women over 40 don't want to bare their arms.
That does not necessarily mean that you need to buy a dress with sleeves. You can find out in this article  how to cover up your arms while still staying cool when you live in a warm climate.
However, if you prefer to cover your arms, then dresses with sleeves are a great option.
Dresses with sleeves – Do you need them?
I personally believe that most women look great in dresses without sleeves even if their arms are not as toned as they once were.
But I also believe in dressing in a way that makes you feel your most beautiful. If you feel more fabulous and sexy by covering all or part of your arms then I'm all for that as well.
You may also like: How to hide your belly with the right clothes
Another reason you may want to cover up your arms is because of the chill.
I tend to get cold very quickly and the only reason I can wear so many sleeveless dresses here is because Singapore is just so unbelievably hot! I am always sure to bring a scarf or cardigan for the air conditioning indoors though.
What to look out for in a great dress with sleeves?
Choose a dress that enhances your shape
You can discover your body shape here.
A wrap dress or drape dress looks great on many body types as does an asymmetrical dress.
The latter is a personal favorite as it adds something special in my opinion and it creates a nice diagonal line which is very flattering for many women.
I have a great selection of asymmetrical garments listed here.
Choose a fabric that lets you breathe
I personally prefer cotton and silk, but in cooler climates, flowy dresses in polyester can work too. Read this for more info on fabrics.
Pay attention to the silhouette you like to create and the length of your dress
I believe knee-high is a great length for many women over 40, but you may want to go slightly shorter if you are petite.
For more tips also read how to dress when you are petite
If you don't want to be too self-conscious or wear shapewear, choose a dress that is flowier or draped
As I prefer to wear nothing underneath my dress (apart from basic cotton underwear of course), my dresses tend to be drapey and not too tight.
Shorter dresses are great for holidays or the beach but can also do double duty as tunics
I wear this dress mainly over pants.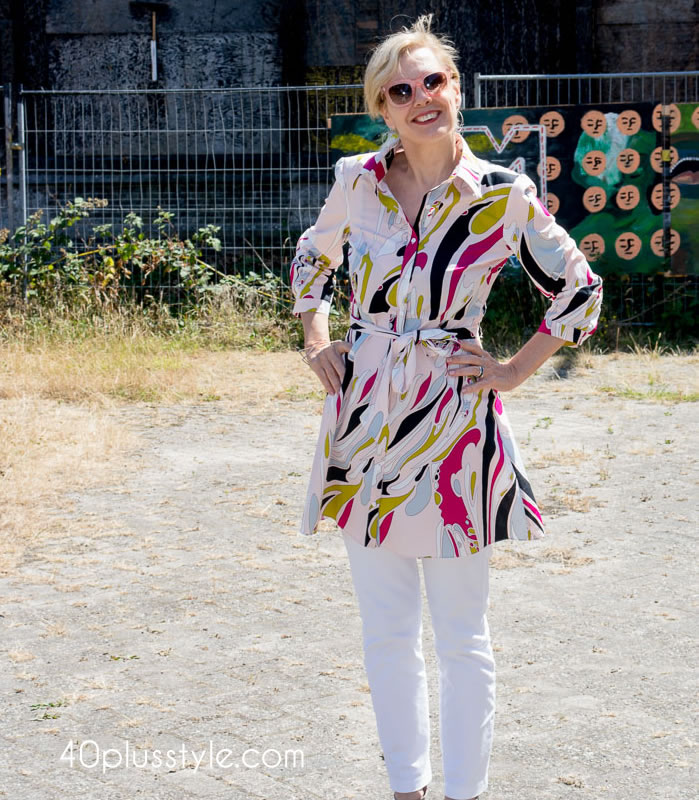 Be sure to check that the dress looks good from the back too!
Many dresses drape beautifully at the front but are very plain at the back. I prefer dresses that flatter both the front and back.
Dresses can be layered and can be worn in several seasons
Some of the dresses featured here can be carried over to fall as well, especially when you can pair them with pants or thick tights (see examples and how to wear tights here). Just add a jacket or cardigan for extra warmth.
The best dresses with sleeves in stores now
Below I have listed some of the best dresses with sleeves that are available in stores now.
Wrap Dresses with sleeves
Printed wrap dress
Silk dresses with sleeves
This silk midi dress is a gorgeous dress that will stand the test of time. Timeless print and colors will make sure that you love this dress for many years to come.
Knee length dresses with sleeves
The dress below is simple but sophisticated with the split detailing and the peplum waist. A perfect canvas for a beautiful necklace.
A fit and flare dress is a good option for many women. This dress has a flattering v-neck and a beautiful shape. Available in various colors and has many good reviews.
Fit and flare dress
Draped dresses with sleeves
A dress with sleeves in one of my favorite colors. This very affordable dress drapes in all the right places.
This high-low dress that is available in many different colors drapes beautifully.
Tunic dresses with sleeves
This tunic dress is probably too short for most women over 40 but it will be great to wear over leggings or skinny jeans. Be sure to accessorize it with some nice jewelry.
Party dresses with sleeves
This set looks like a top and skirt but is actually a dress. Perfect for your next party.
Party dress with sleeves
Here is another option for a party dress. I love the cap sleeves and the embroidery in this dress.
Embroidered dress
More recommendations for summer dresses with sleeves:
Do you currently prefer your dresses with or without sleeves? Any dresses with sleeves you can recommend?

Like this article on the best dresses with sleeves? Save it on Pinterest!
Feature image by @istyl
This article contains affiliate links
Want to get more articles from 40+style in your inbox, subscribe here.
You can also connect with 40+style on Facebook, Instagram or Pinterest.
Support 40+style by using the links in our articles to shop. As an associate for Amazon and many other brands, we receive a small commission (at no cost to you) on qualifying purchases which enables us to keep creating amazing free content for you. Thanks!