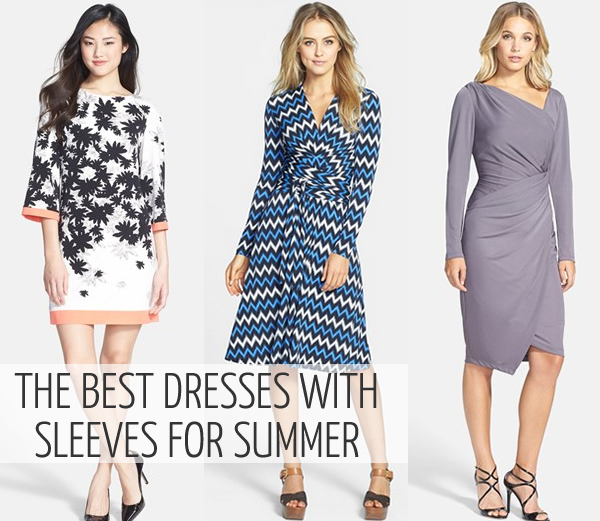 Nothing is as easy and feminine like a great dress. However, many women over 40 don't want to bear their arms. My friend Anja, who is one of them, wrote a great article on how to cover up your arms while still staying cool when you live in a warm climate.
I personally believe that most women look great in dresses without sleeves even if their arms are not as toned as they once were. But I also believe in dressing in a way that makes you feel your most beautiful. If you feel more fabulous and sexy by covering (part of) your arms then I'm all for that as well.
Another reason you may want to cover up your arms is because of the chill. I tend to get cold very quickly and the only reason I can wear so many sleeveless dresses here is because Singapore is just so unbelievably hot! I am always sure to bring a scarf or cardigan for the indoors though.
I went online to find some of the best summer dresses with sleeves. I selected dresses for all kinds of occasions. From going for a summer stroll to a diner date with your partner to a groovy night out.
What to look out for in a great summer dress?
Choose a dress that enhances your body shape. A wrap dress or drape dress looks great on many body types as does an asymmetrical dress. The latter is a personal favorite as it adds something special in my opinion and it creates a nice diagonal line which is very flattering for many women. I have a great selection of asymmetrical garments listed here.
Choose a fabric that lets you breathe. I personally prefer cotton and silk, but in cooler climates flowy dresses in polyester can work too. Read this for more info on fabrics.
Pay attention to the silhouette you like to create and the length of your dress. I believe knee-high is a great length for many women over 40, but you may want to go slightly shorter if you are petite.
If you don't want to be too self conscious or wear shape wear, choose a dress that is more flowy and is draped. As I prefer to wear nothing underneath my dress (apart from basic cotton underwear of course), my dresses tend to be drapey and not too tight.
Shorter dresses are great for holidays or the beach but can also do double duty as tunics. Have a look at my short silk dress with sleeves that I wear by itself and over pants.
Be sure to check out the back carefully too. Many dresses drape beautifully at the front but are very plain at the back. I prefer dresses that flatter both the front and back.
Some of the dresses featured here can be carried over to autumn as well, especially when you can pair them with pants or thick tights. Just add a jacket or cardigan for extra warmth. Happy shopping or use as inspiration for your own outfits. Perhaps you already have a great dress in your closet that would like to have an outing?

More recommendations:
Do you see anything you like? How do you prefer your dresses? With or without sleeves?