Nothing is as easy and feminine like a great dress. However, many women over 40 don't want to bare their arms. That does not necessarily mean that you need to buy a dress with sleeves. If you prefer to cover your arms, then dresses with sleeves are a great option.
You can find out in this article how to cover up your arms while still staying cool when you live in a warm climate. Below, let's take a look at some great dresses with sleeves for all times of year, and any occasion, from casual to work to formal.
Dresses with sleeves – Do you need them?
I personally believe that most women look great in dresses without sleeves even if their arms are not as toned as they once were.
But I also believe in dressing in a way that makes you feel your most beautiful. If you feel more fabulous and sexy by covering all or part of your arms then I'm all for that as well.
Another reason you may want to cover up your arms is because of the chill.
I tend to get cold very quickly and the only reason I can wear so many sleeveless dresses is because I live in Portugal where it is warm for much of the year. And, of course, I still have my favorite dresses from my time in Singapore. I am always sure to bring a scarf or cardigan for the air conditioning indoors though.
Read our tips on how to hide your belly with the right clothes
7 things to look out for in a great dress with sleeves
1. Choose a dress that enhances your shape
You can discover your body shape here.
A wrap dress or drape dress looks great on many body types as does an asymmetrical dress.
The latter is a personal favorite as it adds something special in my opinion and it creates a nice diagonal line which is very flattering for many women.
I have a great selection of asymmetrical garments listed here.
2. Choose a fabric that lets you breathe
I personally prefer cotton and silk, but in cooler climates, flowy dresses in polyester can work too. Read this for more info on fabrics.
3. Pay attention to the silhouette you like to create and the length of your dress
I believe knee-high is a great length for many women over 40, but you may want to go slightly shorter if you are petite. Or, of course, you could opt for an on-trend midi dress.
4. If you don't want to be too self-conscious or wear shapewear, choose a dress that is flowier or draped
As I prefer to wear nothing underneath my dress (apart from basic cotton underwear of course), my dresses tend to be drapey and not too tight.
5. Shorter dresses are great for holidays or the beach but can also do double duty as tunics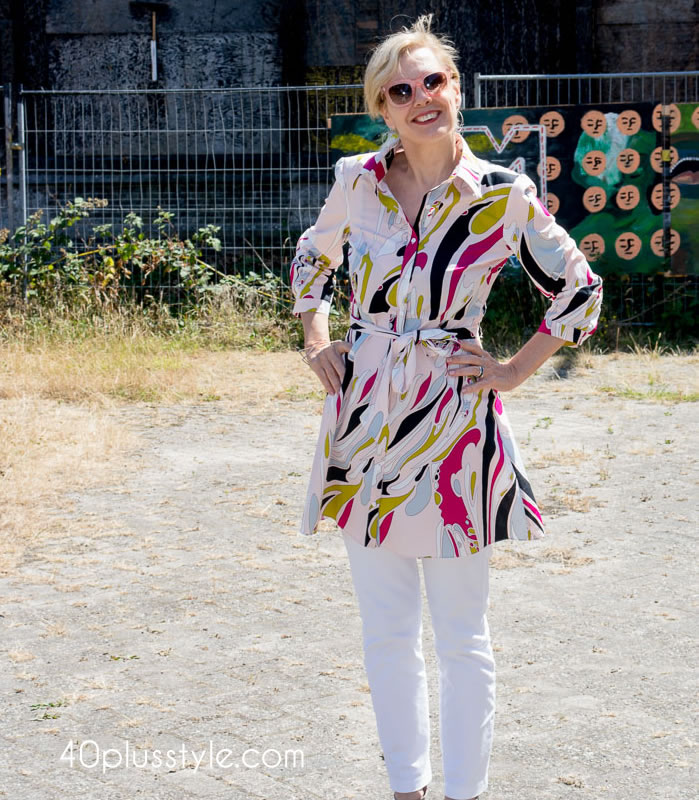 I wear this dress mainly over pants.
Check out this printed dress that you can wear with this similar pair of jeans.
6. Be sure to check that the dress looks good from the back too!
Many dresses drape beautifully at the front but are very plain at the back. I prefer dresses that flatter both the front and back.
7. Dresses that can be layered and can be worn in several seasons
Some of the dresses featured here can be carried over to fall as well, especially when you can pair them with pants or thick tights. Just add a jacket or cardigan for extra warmth.
The best dresses with sleeves in stores now
Below I have listed some of the best dresses with sleeves that are available in stores now.
Wrap Dresses with sleeves
A wrap dress will look great on all body shapes. The three-quarter wrap dress (below) comes in more than 20 different colors and has great reviews on Amazon from women who say it is very flattering and hides a "belly pouch".
Berydress 3/4 Sleeve Sheath Faux Wrap Dress
long sleeve wrap dress
Jess @elegantlydressedandstylish above (read her style interview here) chooses a beaufitul white wrap dress with a high-low hem.
Get her look with this similar shirtdress, sandals, handbag, hat, earrings and neck scarf.
You could try a dress in a darker shade for wintery weather. The Fraiche by J dress (below) comes in the burgundy (below) or you could try navy, red, green or mustard.
Fraiche by J Wrap Front Long Sleeve Dress
Silk dresses with sleeves
This silk midi dress (below) is a gorgeous dress that will stand the test of time. Timeless print and colors will make sure that you love this dress for many years to come.
You could wear with sandals for summer, or pair with tights, ankle booties and a moto jacket or blazer for colder weather.
Nordstrom Signature Button Front Stretch Silk Dress
I also love the classic styling of the striped shirtdress (below), which is perfect if you just like to cover your upper arms.
Club Monaco Tie Waist Silk Dress
Knee length dresses with sleeves
A knee-length dress is often very flattering for women over 40. The Grace Karin dress (below) could be perfect if you are a pear shape as it will make the hips and thighs look proportionately smaller because of the bright color and volumnious sleeves of the top.
If you're looking for a more casual choice, the swing dress (below) would look good with sneakers or booties, and reviewers say the fabric is soft, the pockets are deep and they had lots of compliments while wearing.
AUSELILY Empire Waist Pleated Swing Dress
Tunic dresses with sleeves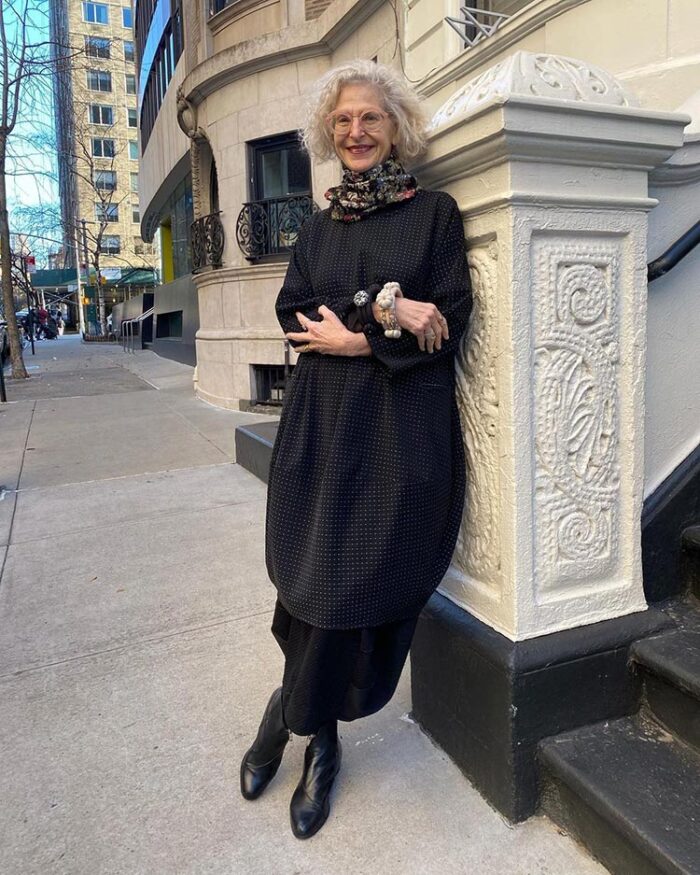 This tunic dress is probably too short for most women over 40 but it will be great to wear over leggings or skinny jeans. Be sure to accessorize it with some nice jewelry.
Dayle @artfulcitystyle above (read her style interview here) chooses a longer dress if you really don't want to wear anything too short.
Check out this similar tunic dress (another option here), boot and scarf.
However, if you are happy to wear over leggings or pants, you could try the shorter gray dress with sleeves (below).
Daily Ritual Women's Jersey Mock-Neck Swing Dress
Draped dresses with sleeves
The Karen Kane cascade wrap dress (below) is definitely a firm favorite with 40+ readers as it drapes in all the right places.
Karen Kane Cascade Faux Wrap Dress
Another draped option is this high-low dress (below) which is available in many different colors and drapes beautifully.
levaca High Low Pleated Loose Swing Casual Midi Dress
Party dresses with sleeves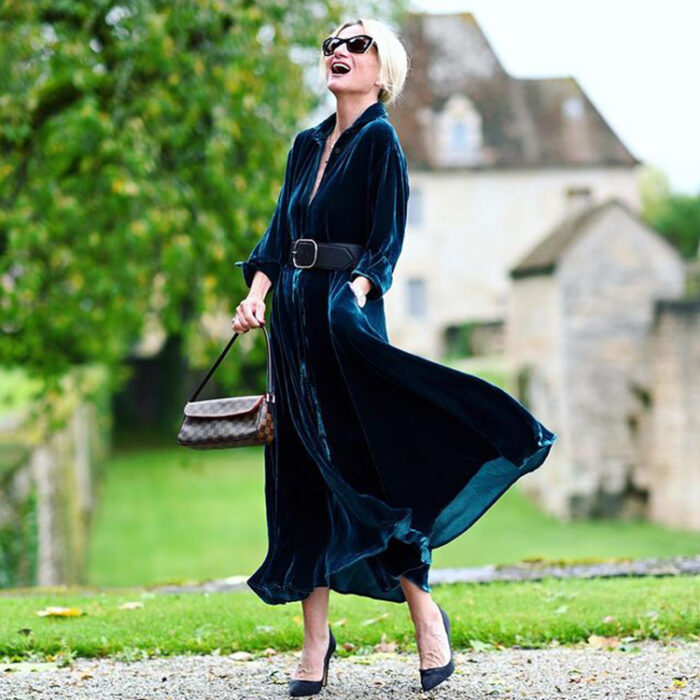 One of the reasons you might be searching for a stylish dress with sleeves is to attend a party or formal event.
Yvonne @funkyforty above (read her style interview here) opts for a velvet maxi dress and accessorizes with a smile.
Steal her look with this similar velvet dress, pumps, belt, bag and sunglasses.
ZABERRY Wrap Long Velvet Evening Dress
Long sleeve midi dress
You could also choose a print dress like the & Other Stories dress (below) which features a flattering cowl neck.
& Other Stories Cowl Neck Midi Dress
Short sleeve dress
If it's warm where you are, or you just don't like showing off your upper arms, you could choose a short sleeve dress like Lizzy @whatlizzyloves above (read her style interview here). She wears a green lace dress from Coast.
Check out this similar pair of sandals and bag to complete the look.
For a classic option, the short-sleeve V-neck dress by Maggy London (below) won't date.
Maggy London V-Neck Draped Sheath Dress
Long sleeve maxi dress
A maxi dress not only adds instant glamor, but it's a very easy way to get dressed as you don't have to worry about putting separates together. The long-sleeve maxi (below) has positive reviews from women who say it is super soft, comfy and flattering.
DEARCASE Long Sleeve Maxi Dress
Long sleeve sequin dress
For a more glamorous choice if you have a party to attend, how about the Karen Millen dress (below), which not only features long sleeves but will also be flattering because of the v-neck and elongating column effect created by the sequins running vertically down the middle.
Karen Millen Embellished & Sequin Detail Woven Maxi Dress
Long sleeve cocktail dresses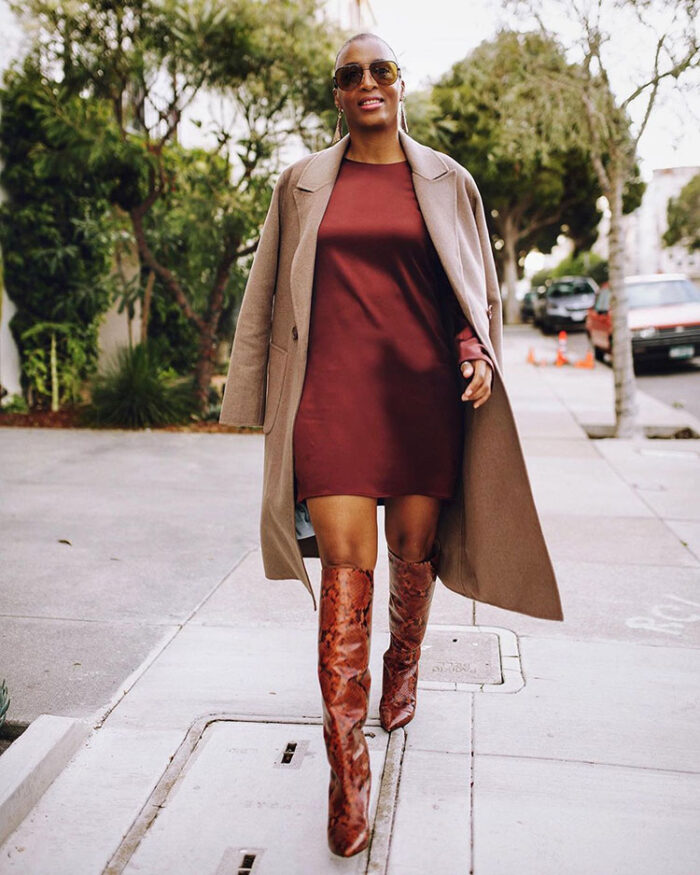 Kim @kimair above (read her style interview here) looks party ready in her short dress and long boots.
Recreate her outfit with this dress, boots, coat, earrings and sunglasses.
If you prefer a longer hemline, but still want to up the glamor stakes, how about the mesh sleeve dress (below)? While you can obviously see through the sleeves, they are very on-trend and do provide some coverage.
Romwe Mesh Sleeve Sheath Dress
Long sleeve lace dress
Another good option for a party is the lace dress below, which features three-quarter length lace arms. It comes in a good choice of colors and reviewers say they wore it for weddings, parties and formal dinners.
Miusol Lace Evening Pencil Dress
Long sleeve floral dress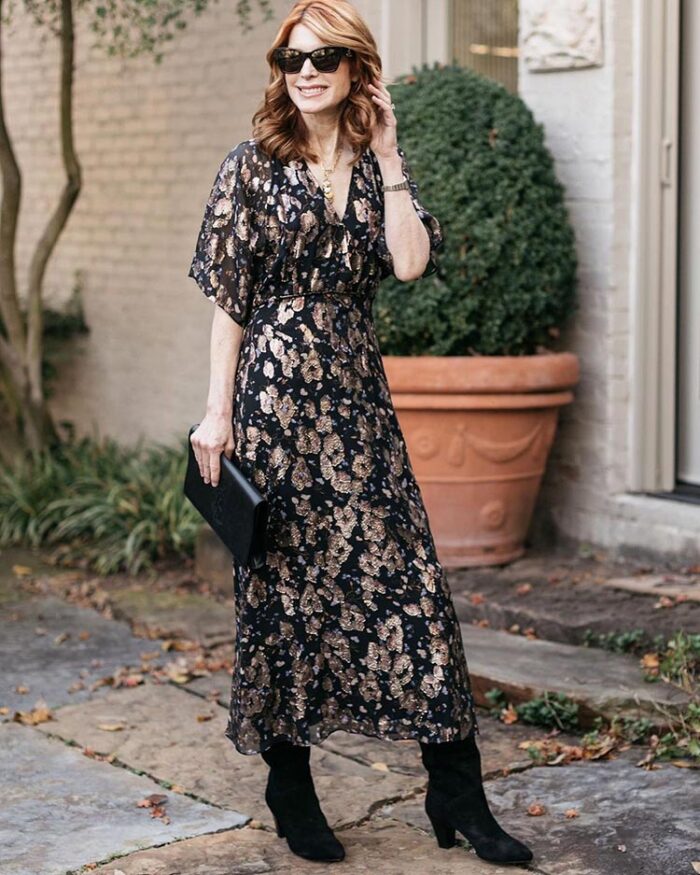 Cathy @themiddlepageblog above (read her style interview here) wears a dress from ba&sh that would be perfect for any season.
Check out this similar pair of boots, clutch, necklace and sunglasses to complete the look.
Another stylish option is the a-line dress (below) which comes in a choice of floral prints, or plain colors if you prefer.
HOMEYEE 3/4 Sleeve Floral A-Line Dress
Womens dresses with sleeves – shirt dress
A shirt dress is always a good option as you can wear in lots of different ways. You could belt the COS shirt dress (below) or wear as it is.
COS Oversized Collar Shirt Dress
Long sleeve short dress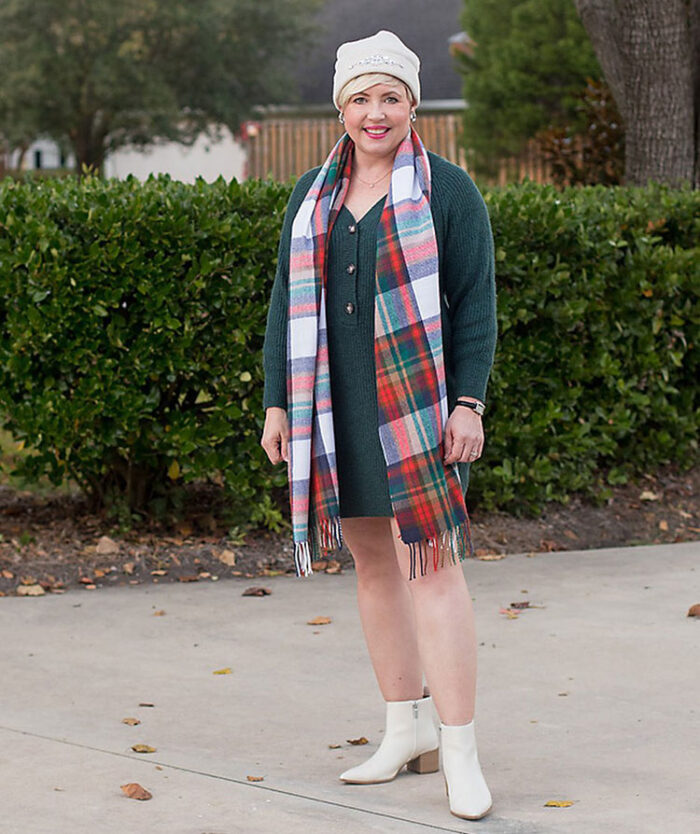 Fonda @savvysouthernchic above chooses a short sweater dress and adds a little extra coverage with her scarf. You could always add a pair of leggings if you prefer.
Get her look with this similar dress (another option here), booties, scarf, beanie and earrings.
PRETTYGARDEN Lantern Sleeve Tie Waist Cocktail Dress
SHORT sleeve dress – casual
As well as your more formal party dresses, you may also want to have some sleeved casual dress options in your closet. You can wear a t-shirt dress like the oversized dress (below) with sneakers, or with sandals for vacations.
Long sleeve maxi dress – casual
Kylie @kylish_aus above chooses a gingham dress with ruched sleeves and pairs with classic white sneakers.
Recreate her outfit with this similar dress, sneakers and sunglasses.
For a dress you can dress up or down, you could look at the pleated waist maxi (below). Reviewers say it is true to size, fits well and is flattering. Some shorter women (5 2″) said they wore with wedges to stop it from touching the floor.
CATHY Casual Pleated Waist Maxi Dress
Flutter sleeve dress
One choice to think about when looking for dresses with sleeves is whether you want tight sleeves or you prefer a looser option like the flutter sleeve dress (below) which would be ideal for a special occasion.
Maggy London Flutter Sleeve Midi Dress
Long sleeve party dress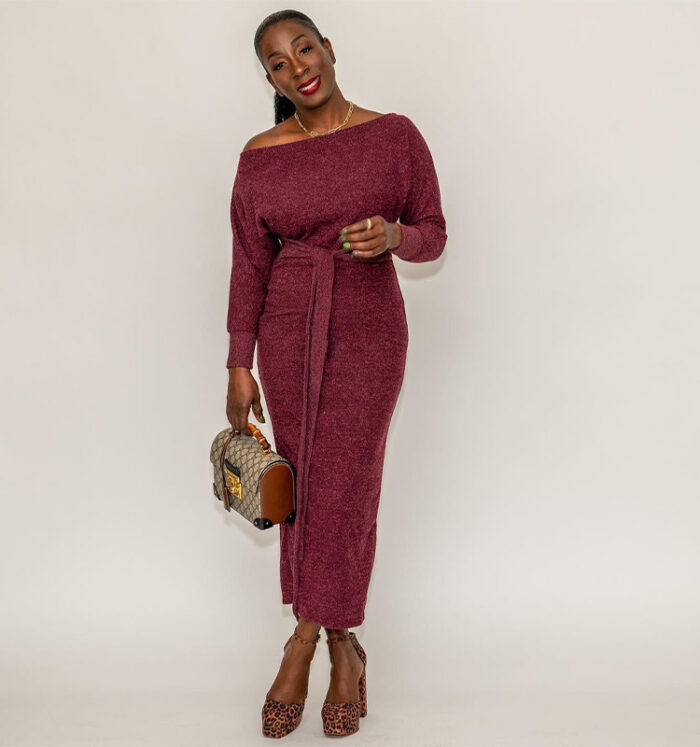 Angela @angelamashelle above looks incredible in her long, belted sweater dress and leopard print heels.
Get her look with this similar sweater dress, sandals, necklace and handbag.
For another party dress option with sleeves, you could try the jersey dress (below) which features long, lace sleeves.
Poetsky Wrap Floral Lace Maxi Dress
high low dress
If you want to add an edgier element to your look, you could try playing with your hemlines and choosing a high-low or asymmetrical hem like the wrap dress below.
VintageClothing Wrap Floral High Low Dress
Fit and flare dress with sleeves
A fit and flare dress is a beauiful option for lots of body types, particularly the pear shape as it skims over the hips and thighs. You could try the plaid dress (below) with opaque tights and booties for winter.
Floerns High Neck Plaid Fit and Flare Midi Dress
Long sleeve dresses for women – Black long sleeve dress
If you like the look of a halter neck dress, but usually avoid them as the style doesn't usually have sleeves, you could try the COS dress (below).
White long sleeve dress
Another classic option for you! The tie waist dress (below) could be worn with sandals for summer or heels and a clutch bag for a more formal event.
Adrianna Papell Tie Waist Crepe Sheath
red long sleeve dress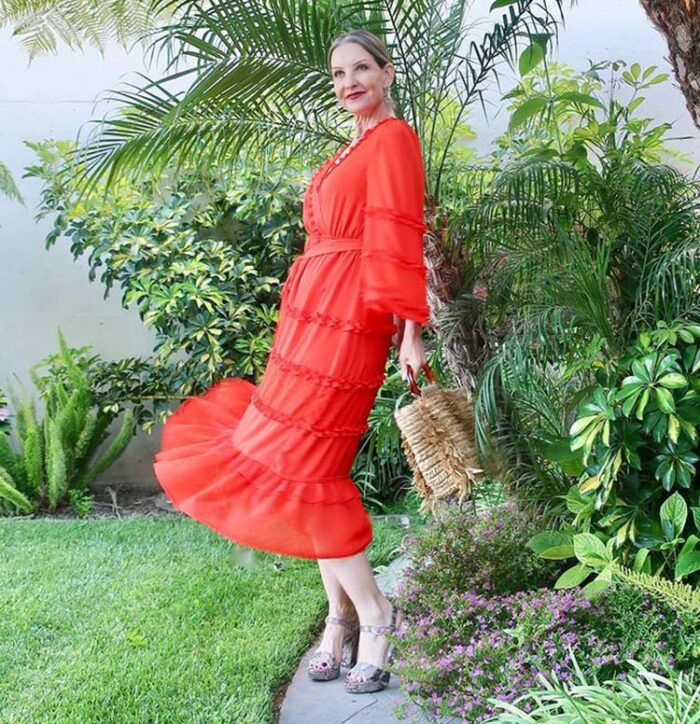 Dawn Lucy @fashionshouldbefun above (read her style interview here) chooses a playful red-tiered dress with her rattan bag.
Steal her look with this similar dress, sandals and handbag.
If you love the bold look of red, you could also try the tie waist dress (below). Reviewers say it is good for different body shapes. One woman, who is a rectangle shape said it created curves while another who is already curvy said it was flattering on her figure.
PRETTYGARDEN Long Sleeve Party Sheath Belted Dress
More recommendations for summer dresses with sleeves:
Do you currently prefer your dresses with or without sleeves? Any dresses with sleeves you can recommend?
shop some of the items above here:
Continue reading:
Like this article on the best dresses with sleeves? Save it on Pinterest!
Feature image by Angela @angelamashelle
Want to get more articles from 40+style in your inbox, subscribe here.
You can also connect with 40+style on Facebook, Instagram or Pinterest.
Support 40+style by using the links in our articles to shop. As an associate for Amazon and many other brands, we receive a small commission (at no cost to you) on qualifying purchases which enables us to keep creating amazing free content for you. Thanks!