Many of my readers keep telling me that they can't find the clothes they are searching for. On the other hand designers have contacted me to give them advice on the kind of clothes for older women that work. What do women over 40 really want to buy?
So I thought it would be a good idea to create the ultimate wishlist of clothes attributes that women over 40 find very important. Perhaps it may inspire designers and will help you all to find the clothes that flatter you and make you smile!
I will start off this list, but please let me know what kind of clothes attributes you are looking for. Which kind of clothes can you not find enough of in the shops? When you think about clothes for older women, what are you really looking for?
These are the kind of clothes attributes I believe women over 40 are looking for
1. Dresses with sleeves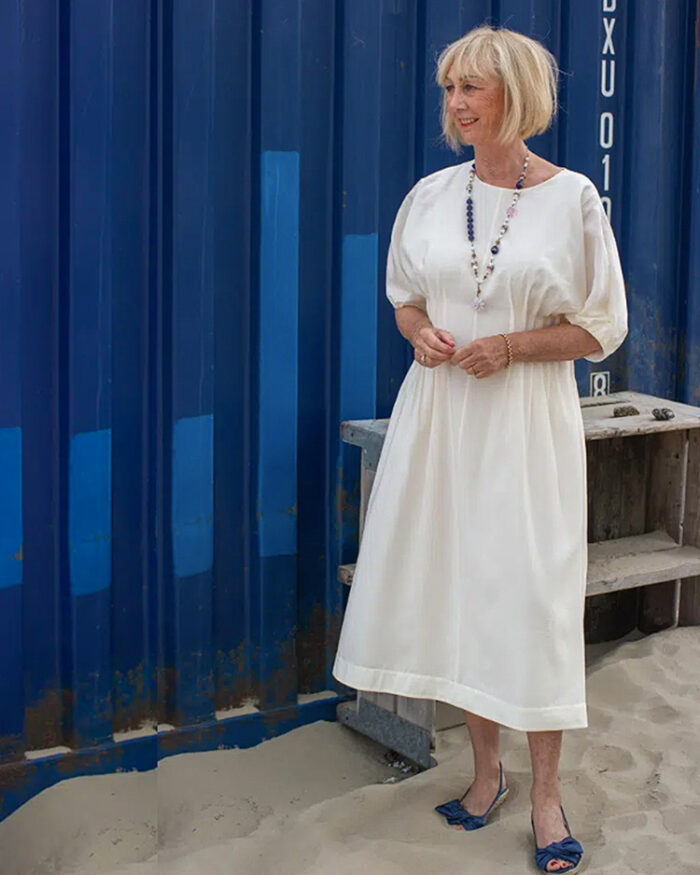 Great dresses with sleeves are not so easy to find and many women over 40 like to cover up their arms.
For summer give us sleeves of all lengths, short, 3/4 and full that are sheer and breezy for warmer weather.
For winter, let's have some dresses with sleeves that we can wear to look stylish and cover up our arms at our festive parties and events.
Greetje @no_fear_of_fashion above (read her style interview here) opts for a white dress with sleeves that end just below her elbows.
Check out these white dresses from COS, H&M and SheIn, sandals and necklace.
You could also try the Grace Karin dress (below) which comes with draped sleeves and is available in white if you want to emulate Greetje's look, as well as darker shades, pastels and brights. Reviewers say it is unique, elegant and feels soft to wear.
GRACE KARIN 3/4 Ruffle Sleeve Pencil Dress
Also, take a look at this article on the best dresses with sleeves.
2. Drapes on all the right places
A personal favorite. Great drape dresses are flattering to many women as they can cover up their tummy area in very stylish ways, making them a great choice on this list of clothes for older women.
The Karen Kane cascade dress (below) is a firm favorite among stylish 40+ women and comes in black, navy or red. Reviewers say it fits beautifully and is good to dress up or down.
Karen Kane Cascade Faux Wrap Dress
3. Skirts and dresses of knee length and longer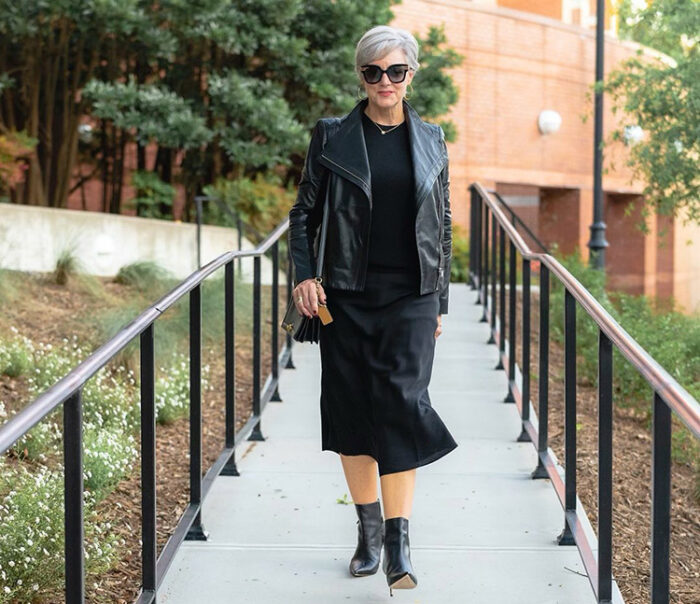 This is one of the most flattering lengths for women over 40 and we need more choice!
Beth @styleatacertainage above (read her style interview here) looks fabulous in her midi skirt and booties.
Check out this similar top, leather jacket, skirt, booties, bag, sunglasses, necklace and earrings.
Check out the best skirt for your body type for more flattering options.
Urban CoCo Basic Elastic Waist A-line Solid Flared Midi Skirt
You might also want to take a look at the best midi dresses for women over 40.
4. Pants with a higher rise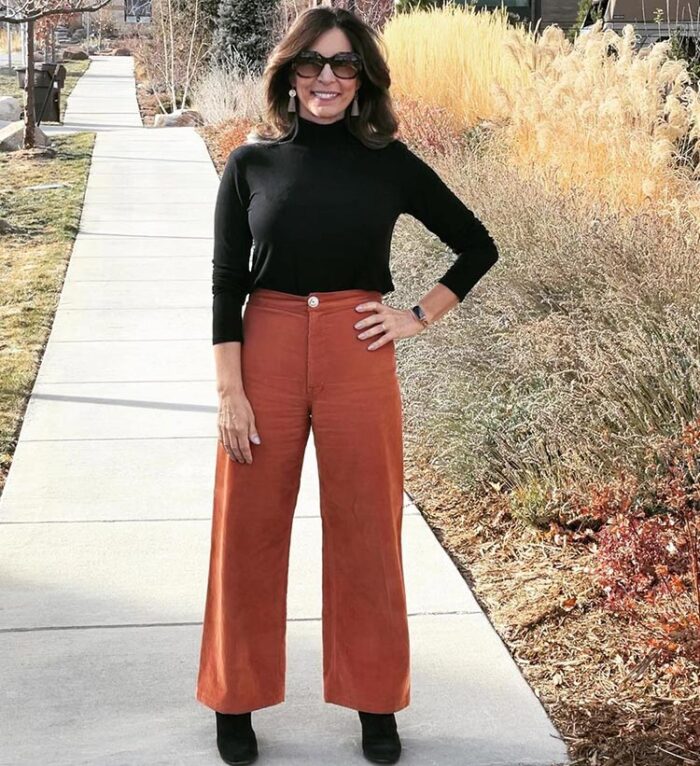 No, we don't want mum jeans, but jeans that are cut too low just give us muffin tops and are uncomfortable! Plus, high rise pants can make your legs look longer.
Ana @mrsamericanmade above (read her style interview here) opts for a pair of on-trend wide pants with a nice high rise.
Steal her look with this similar long sleeve top, high waist pants, booties, earrings and sunglasses.
NYDJ Sculpt-Her™ Pull-On Wide Leg Pants
Read our article on the best pants to hide your tummy.
5. Button down shirts that fit our increasing bust line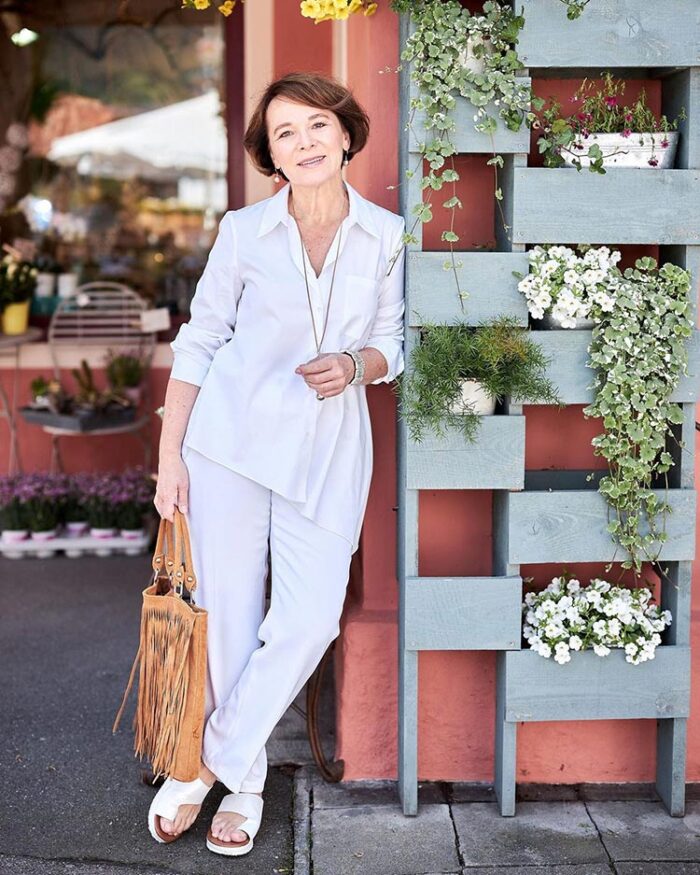 A problem with many tops and dresses is that the bust (across the front) is never big enough relative to the shoulder width and the waist.
Retailers could sell clothes with enough room in the front.
Button down shirts are great classic, versatile garments to own, but they are no good when they don't fit properly and gape at the buttons.
Annette @theladyofstyle above (read her style interview here) chooses a well fitting asymmetric blouse.
Get her look with this similar shirt, pants, sandals, handbag, necklace and earrings.
Everlane The Drapey Square Shirt
6. clothes for older women: Great tunics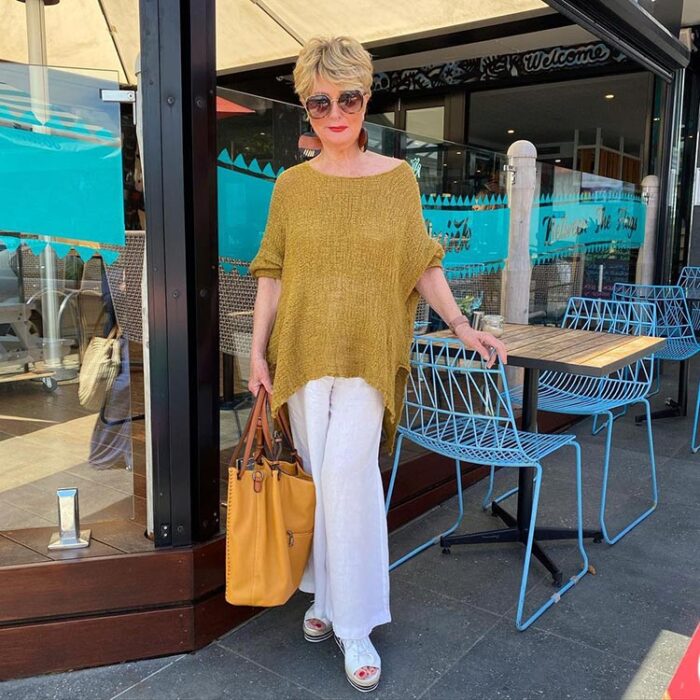 Tunics are great for covering up bellies and to wear with skinnies or leggings. We want more stylish, modern, colourful tunics.
Sharryn @thestylishwoman (read her style interview here) opts for a high-low asymmetric top that you could wear with wide pants, leggings or skinny jeans.
Check out this similar tunic top, pants, shoes, handbag, sunglasses and earrings.
7. Affordable clothes in quality fabrics
Although we may have been able to pull of cheaper synthetic fabrics when we were younger, we look much better now with quality fabrics like good cotton, silk, wool, linen for summer, and cashmere for winter.
We need quality fabrics for all sizes!
COS Colorblock Cashmere Cardigan
8. Wider sleeves on coats, blouses and dresses
We get more practical as we get older. Our coats still need to fit over a full outfit, which means the sleeves should be wide enough to accommodate for several layers. The same goes for blouses and dresses; the sleeves need to fit our arms.
Sylvia @sylviacolella above (read her style interview here) opts for a classic, stylish coat that you could easily fit a cozy sweater under for winter.
Recreate her outfit with this similar coat, leather leggings, boots and bag.
9. Mid heel shoes
I already devoted one whole article to this. We need more fashionable mid heel shoes that are comfortable as well as beautiful!
Sandra @lapecosapreciosa above wears a pair of ankle strap sandals with her leopard printed dress.
Get her look with this similar dress (another option here), sandals, belt and sunglasses.
Check out a comprehensive list of the best arch support shoes.
10. Colour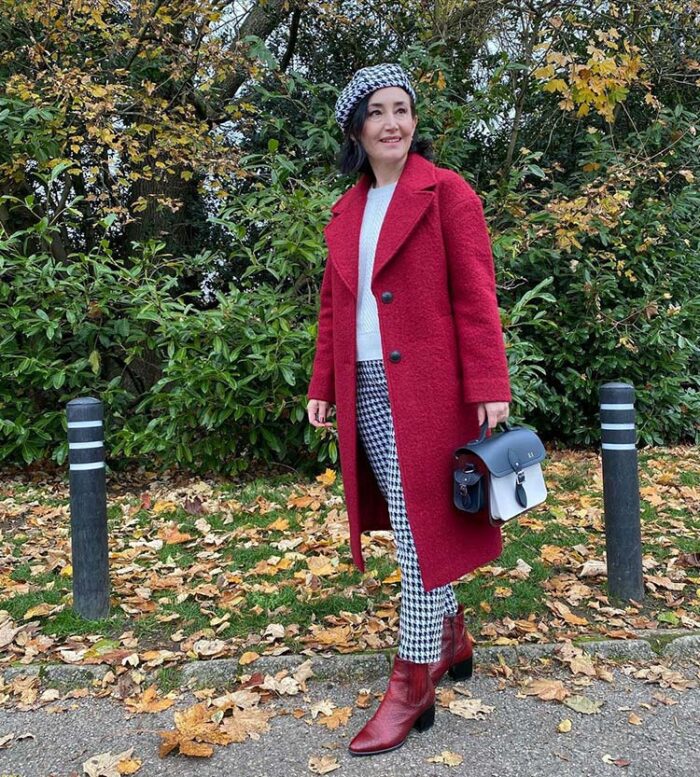 I am often shocked by the vast amount of pure black greeting me in the stores each season. Very few of us will look good with mostly black outfits as they can make you look drained.
Give us more variety in color please.
Emms @beautifuleveryday_uk above pairs her houndstooth pants with a red coat.
Check out this similar sweater, coat, pants, boots, handbag and beret.
Check out our articles on how to wear color.
11. Fashionable clothing in bigger sizes
Not all of us will maintain a svelte figure, but we still want to look hip and modern.
So please don't stop producing at size 10! The Nordstrom asymmetric skirt (below) comes in regular and plus sizes.
Nordstrom Cristina Martinez Print Skirt
12. Substantial fabrics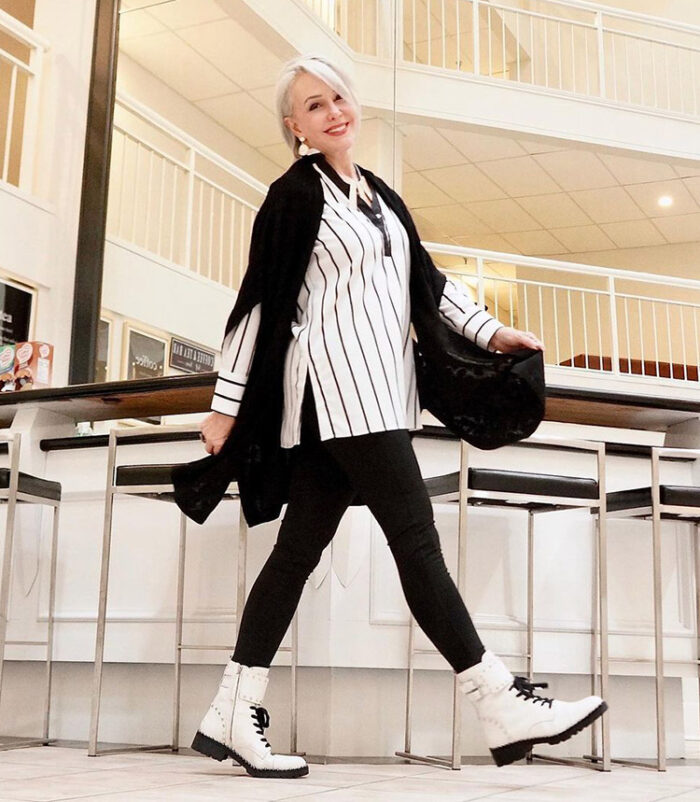 Enough with the tissue-thin cotton and wispy, see-through cashmere! And, even worse, thin leggings that show your underwear. Give us clothes that don't cling to our bulges or require multiple layers of underclothing to look good.
We would also love to have more classic well-structured dresses.
Sheree @shesheshow above opts for a well-structured, layered outfit.
She is wearing a shirt from Chico's (another option here) and boots from ALLSAINTS. Complete her look with this similar leggings, cardigan, necklace and earrings.
FLINXE Fleece Lined Tummy Control Leggings
13. Control panels for our tummies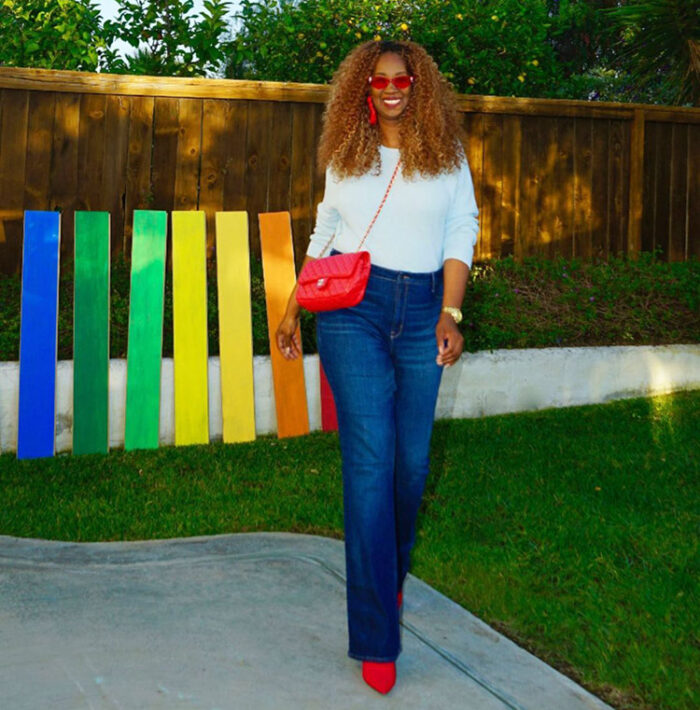 Many of us have soft bellies after pregnancy or just as a result of getting older. We would like a little help in the area bellow the belly button. Jeans, pants or skirts that come with a flattering, inbuilt panel can help to keep everything tucked in.
Tanasha @colorfulheights above wears a pair of bootcut jeans and red accessories.
Check out this similar sweater, jeans, booties, earrings, crossbody bag and sunglasses.
Lee Sculpting Fit Slim Leg Pull on Jeans
Here are more tummy control jeans for you to choose from.
14. Stretch (elastine)
We want to get more comfortable in our clothes and a bit of stretch in our blouses and pants is always welcome to ensure we can get into them easily, they fit well, and keep their shape when we wash them.
Rafaella Supreme Stretch Comfort Fit Pull-On Pants
15. Skirts in something other than a pencil cut
Pencil cut skirts, while sexy, can be uncomfortable and unflattering depending on your bodyshape and size. A-lines, pleats, circles, wraps, dirndls, etc., have all been missing from the scene for a long time.
Catherine @notlamb above (read her style interview here) opts for a pleated maxi skirt.
Get her look with this similar printed top, pleated skirt, flats and sunglasses.
Kate Kasin High Waist Pleated A-Line Swing Skirt
16. Modest V-necks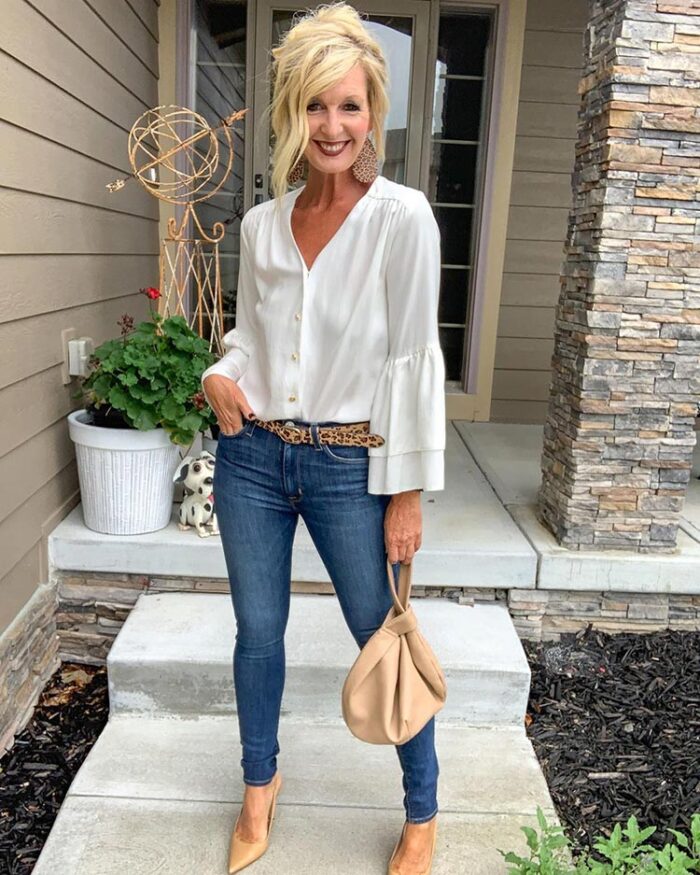 We like V-necks but we don't want them cut so low. V-necks are very flattering but many of us don't like to show a lot of cleavage.
Melanie @melanie.rae.miller above opts for a flattering, on-trend V-neck that stops just above her bust.
Check out this similar blouse, jeans, pumps, handbag, belt and earrings.
17. Show us a variety of models
In addition to all these clothes wishes, show us the clothes on models of different ages, shapes and sizes.
As commenter TC points out, this would ensure higher waists, wider sleeves, more mid-length skirts and lusher fabrics. Just what we all need!
18. Wide enough sleeves
Wide-enough sleeves, not only on coats, but also on blouses, dresses, button-up shirts, etc.
Although I'm fairly small, my arms are no longer thin; most things I try on seem to have sleeves for skinny teenagers' arms.
Madelyn also mentions that although she wants sleeves, she does not want them to extend past her hands.
Wendy @fashionoverfifty.wendy above wears a sweater with pearl detailing on the arms.
Steal her look with this similar sweater (another option here), skirt, boots, earrings and sunglasses.
IWOLLENCE Waffle Knit Ballon Sleeve Lace Top
19. Breathable fabrics
As we age we get more sensitive to unnatural fabrics. However, it's getting harder to find clothes in natural fabrics.
The increasing temperatures also make this point more important.
If you need more convincing check out my list of properties of fabrics, why I don't wear polyester and be sure to read the many comments too.
Alice + Olivia Willa Colorblock Hidden Placket Stretch Silk Top
20. longer length shorts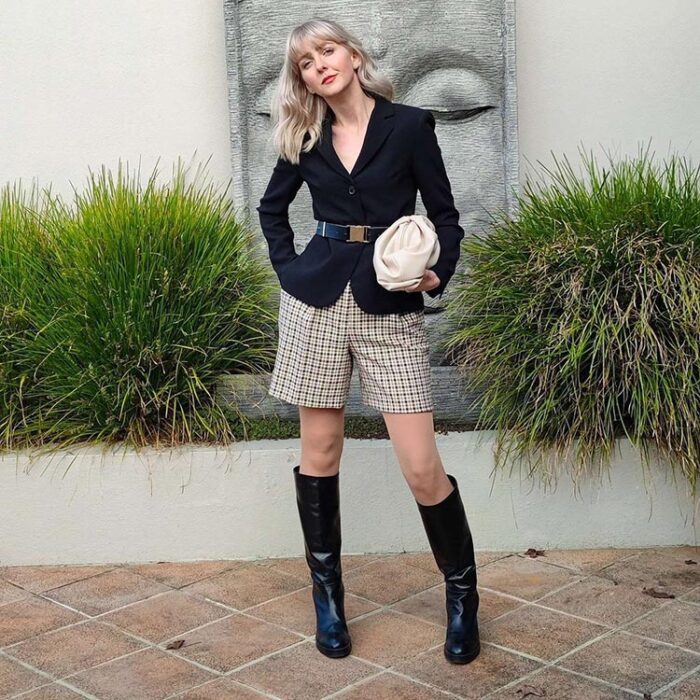 Lots of shorts in stores are definitely made with teenagers in mind. I would really like shorts that are longer than a few inches, and that are flattering and comfortable.
Melissa @melissabultburns above chooses longer length shorts and shows how you could wear them for evening.
Check out this similar blazer, plaid shorts, boots, belt and clutch.
Amazon Essentials 9″ Denim Mid-Rise Bermuda Shorts
Here are our our tips for the best shorts for women over 40.
21. Versatile underwear in many sizes
Bras, smaller cup, but larger around.. 44B, 46B, 46c. Also no line panties in larger sizes like 2x and 3x. We do not want grannie panties!
ALTHEANRAY No Show Underwear Multi-Pack
22. Shapewear in many varieties and colours
We want shapewear that is comfortable and wearable. It would be great if it came in multiple colors so it would be more fun to wear and we could match it with our bras. That way, we can make sure the rest of the clothes on our clothes for older women list look even better when we wear our shapewear underneath.
SPANX Shapewear for Tummy Control High-Waisted Power Short
23. Hosiery options
We know we're not supposed to wear nude-colored hose, so we either go bare-legged, and freeze and expose the world to our spider veins, or we wear black tights. How about something different?
But you could also experiment this season as patterned tights are particularly on-trend, and would help to update your favorite little black dress.
Check out our article on how to wear tights for more inspiration.
24. Clothes that meet these requirements but are still hip!
Although some brands cater to these requirements the clothes are often old-fashioned, boring or just don't have that 'hip' ness what we want.
As Mary writes:
Why must older women dress in such boring, unfashionable ways? Why is that deemed more 'grown-up'? What about creativity and joy and playfulness and even fashion-forwardness? Why must we 'grow out of' all that?
It is not that retailers ignore us (M&S caters for Older Women — if you like the kind of dreary stuff older women are supposed to wear), it is that there is such a heavy expectation that women of a certain age must dress in a particular way irrespective of our personalities and wishes.
I am not an age, I am an individual, and if anything I am more individualistic in my dress now than I was when I was young and too worried about what other people might think.
Read our article on how to dress after 40 and still look hip for more inspiration.
What do you think?
These are all the clothes attributes I could come up with sofar, but I'm sure I have forgotten a few. Have I missed anything on my clothes for older women wishes and wants?
So let me know what you would wish to see more of in the shops and I will add it to the wish list! You never know, this list may just get shared amongst designers.
If we want different clothing to what is currently available, we have to let the designers know!
shop some of the items above here:
I look forward to reading your wishes!
Continue reading:
Do you agree with this wishlist of clothes for women over 40? Share it on Pinterest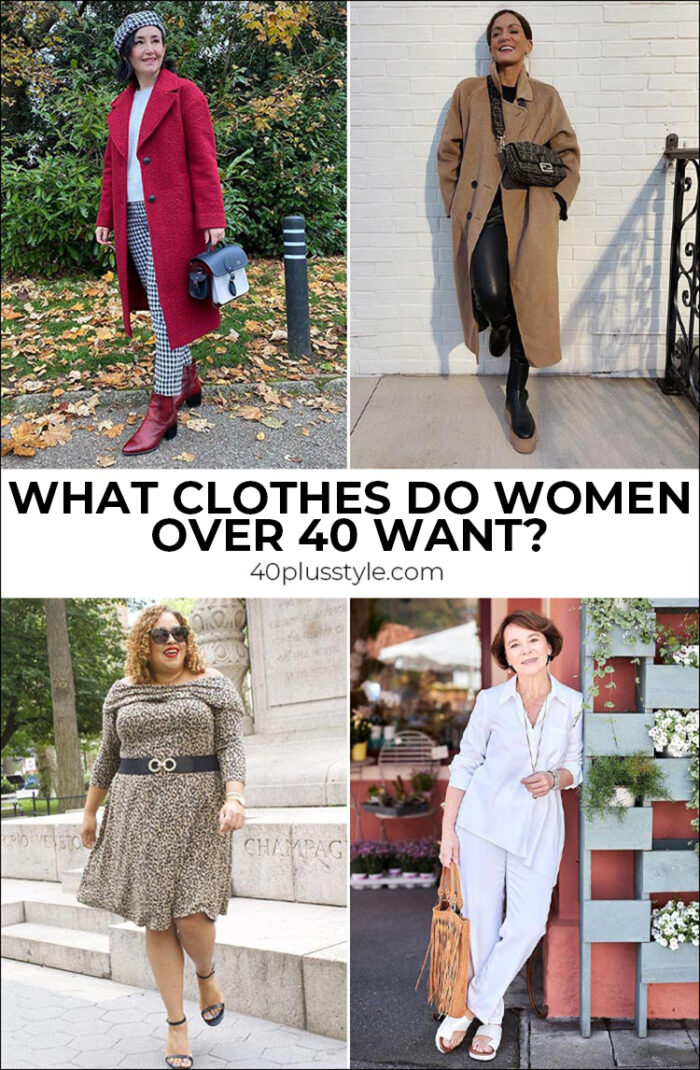 Feature image by Sylvia @sylviacolella
Want to get more articles from 40+style in your inbox, subscribe here.
You can also connect with 40+style on Facebook, Instagram or Pinterest.
Support 40+style by using the links in our articles to shop. As an associate for Amazon and many other brands, we receive a small commission (at no cost to you) on qualifying purchases which enables us to keep creating amazing free content for you. Thanks!