I feel we need to talk about high heeled shoes. Specifically why they need to be so high? Is that really necessary designers? Is it not ok just to add a little height, say 2", do we really need 5". Do those really high heeled shoes really look good on anybody? Do we really want to sacrifice our health and our sanity for fashion?
Why do we need super high heel shoes?
Let's start analyzing.
For height?
If you are short then you would benefit from some extra height. But as I already lined out in my article on how to dress when you are petite, really high heels will not look good on petite women. It will just look out of balance. If you are of average height, around 1.65, you could wear almost any shoe, but I cannot believe that you will be comfortable in heels that are any higher than 9 cm (3.5"). As for the taller women above 1.70, you would also want to wear some heels, but I don't think you would really want to tower over your husband and boyfriends. I personally do not like a tall woman wearing very high heels.
For style?
If you're wearing those really high heels and you look more like you are stumbling, rather than walking, you will not look stylish at all in my opinion. If you have a petite frame or are short in height your shoes will look totally out of balance as well. Not stylish at all.
For posture?
I sometimes hear (I may have even said it myself) that you walk straighter with high heels. However, if you read some of the medical reports on the Internet, it seems that wearing high heels is not good for your posture at all. Have a look at these drawings which were pulbished in the Washington Post. And there is a multiple of other issues as well, which result from wearing high heeled shoes. These issues are only more  highlighted as you get older.
For Fashion?
Yes, with many of these shoes you will definitely make a fashion statement. But again, if these shoes look out of  proportion and you can't walk in them, you look more like a fashion victum, rather than fashionable.
And what about 40+ women?
I still want to look good and yes despite all the risks etc. I still want to wear high heeled shoes in certain occasions. I like the elegance of it and like the extra height it gives to my legs. But I want a decent height! Something I can walk on and look comfortable in. And no, I do NOT want a sensible shoe. I want a decent height shoe, that is trendy, fashionable AND comfortable. And I'm sure so do millions of other 40+ women. It just seems that all the heeled shoes I see in shops these days are for 20+ trend setters and way too high. I can't remember how many times I bumped into shoes I really liked but would never consider buying because they were simply too high.
Here is one of my own examples
The grey and black shoes above are my favorite shoes ever. I have had them for more than 10 (!) years and they still look kinda good. They are great quality, I think they still look current AND they are comfortable. I knew instantly at the time that these were great and luckily I bought 2 pairs. They are starting to look a little bit more worn out now though, but I cannot throw them away, because when I need a heeled shoe that I will be able to walk in for any amount of time, these are always my go to shoes. For years, I have been trying to replace them with new shoes, but I simply cannot find them.
Until about a year ago when I bumped into the black shoes at Zara (above left). Similar design, decent solid heels. Still too high, but it was getting closer to my beloved shoes, so I bought them. Unfortunately, there is a problem with these shoes, they are not the greatest quality and they are made of a special fabric. That fabric cuts into my toes, so these shoes have started to become unwearable.
Yesterday, while I was shopping with a reader who is visiting Singapore from San Francisco (more on that later) I bumped into these Ecco shoes (above right). They looked like my favorite shoes, alas a trendier version, so even though I was not in shoe buying mood, I decided to try them on. They felt comfortable immediately due to some padding in the shoes and in the end I decided to buy them. Remember, it's 10 years since I bought my favorite shoes and I never see anything similar.
Even these shoes are too high heeled as they are 9 cm, 3.5" tall. It's compensated somewhat by the higher and padded sole which makes the actual height about 8 cm (3.1"), but still. I would definitely have preferred them lower. It is a gamble and I'm just hoping that these shoes will be wearable and as comfortable as my beloved old black heels. I can't imagine wearing heels that are higher than this though, so that will be the absolute limit for me. How do women walk in 5" heels?
Designers, if you want 40+ women to buy more shoes, create more mid heel fashionable shoes!
I like shoes. I want to wear fashionable shoes with heels, but whenever I see a shoe I like, it's always too high. I'm sure I would be tempted so much more if designers would just lower their heel height designs a bit . This is also one reason why I do most of my shoe shopping in Holland. Few women in The Netherlands wear these really high heels and they tend to be more practical. So a few more options there in the mid heel range.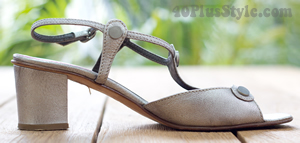 Have a look at these nice heels I bought years ago at Claudia Strater, which are perfectly wearable.
Another great fashionable designer who creates fantastic shoes with lots of color is Hester van Eeghen, Unfortunately, not available for ordering online but definitely a store you need to visit in Amsterdam. (if you're interested I could feature her the next time I visit Amsterdam). Below photos are taken from her blog.
I maintain a list of recommended arch support shoes in my shop. So be sure to check those out!
So what do you think ladies? Do you agree with me? Would you love to see more MID high fashionable shoes in the shops?

Feature image by Jona
Want to get more articles from 40+style in your inbox, subscribe here.
You can also connect with 40+style on Facebook, Instagram or Pinterest.
Support 40+style by using the links in our articles to shop. As an associate for Amazon and many other brands, we receive a small commission (at no cost to you) on qualifying purchases which enables us to keep creating amazing free content for you. Thanks!