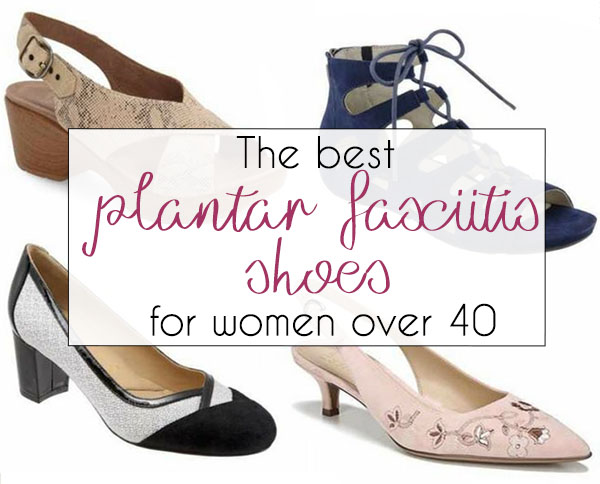 If you leap out of bed, only to want to leap back in again because of a stabbing pain in your heels, then you may well be suffering from Plantar Fasciitis.
But, the good news is that beauty, or fashion, as the saying goes, does not have to be painful! There are plenty of Plantar Fasciitis friendly shoes available which offer support without looking ugly. No one will ever know that you're wearing arch support shoes!
What is Plantar Fasciitis?
A common foot pain problem among runners, it also affects many of us as we hit middle age because our feet naturally start to widen and flatten, putting extra pressure on the ligaments in the foot.
Your feet are also places where you start to lose some padding (if only we could remove some 'padding' from elsewhere and put it in our heels!) so your heel bone isn't as well protected.
What not to wear if you have Plantar Fasciitis
Podiatrists have even coined the term shoe-icide when they talk about wearing ultra high heels. Stilettos are a big no-no if you suffer from Plantar Fasciitis as they raise your foot arch to an unnatural angle.
But, flats are equally problematic. They offer no support for your arches so your Plantar Fascia (the tissues in your foot), can't distribute your weight and movement properly.
What to wear to get Plantar Fasciitis support
Okay, so you can't wear high heels and you can't wear flats! So what should you look out for when choosing Plantar Fasciitis footwear?
Shoes which offer good arch support are vital. While everyone's foot shape is different and you may have to try a few before you find your favorite brand, there are now lots of arch support shoes which look trendy. Here are our favorite shoes for Plantar Fasciitis. But, don't forget to tell us what your favorite shoes and brands are in the comments. Also wanted to mention that we have a separate article on arch support shoes as well, which includes a complete roundup of all brands that offer arch support shoes.
Plantar Fasciitis Insoles
If you have shoes you love, but which don't offer the support you need, there's no need to bin them, or give them away!
There are plenty of insoles on the market but not all offer the same level of support. Look for plantar fasciitis inserts which offer good support in the arch, as this helps to take the strain from the heel. Proper heel support is also vital, and a deep heel cup will provide stability and keep the bones of your foot properly aligned.
Footspa – Nazarroo – Airplus orthotic
Plantar Fasciitis Inserts
Just as choosing the shoe brand which is best for your feet can need a bit of trial and error, not all Plantar Fasciitis inserts fit in the same way. Some well-regarded brands include Tread Labs, Orthaheel, Superfeet, Nazaroo, Profoot and Sof Sole. Powerstep Pinnacle are reported as being particularly good for people with very high arches.
Rather than switching insoles between shoes, many people opt to buy several pairs of inserts and leave them in their favorite shoes.
Plantar Fasciitis Orthotics
SBSOX compression arch sleeves – Compression sleeves – AEX foot brace
Silver shoes for Plantar Fasciitis
Okay, we know silver shoes isn't a category in itself, in the same way as sandals, booties, or flats. But, we love silver shoes for the way they go with anything, and instantly lift an outfit. Plus, we're particularly impressed this season with the silver collection from Naturalizer, where there's a great range of silver sandals, loafers, wedges and heels!
Naturalizer loafer – Naturalizer peep toe – Naturalizer wedge sandal – Naturalizer half d'Orsay flat
Plantar Fasciitis sandals
Just because you suffer from Plantar Fasciitis, that doesn't mean you need to miss out on the latest summer sandal trends. Thankfully, arch support shoes are a lot hipper these days and comfort sandals incorporate the latest trends including chunky soles, metallics and gladiator styles.
Born canna sandal – Dansko Jacinda sandal – Bernie Mev honesty sandal – Earthies cage sandal
Plantar Fasciitis booties
Booties can be a great option if you need some ankle support as well as arch support. They add casual chic to an outfit and look great paired with jeans, or with a summer dress for transitioning from spring to summer.
If you opt for paler colors such as taupe or grey, rather than black, you will instantly look more springlike! If you want to be bang-on-trend, go for Naturalizer's white booties. There were white boots of all heights all over the runways for SS18!
Earth Intrepid peep-toe bootie – Sudini beige bootie – Naturalizer blair bootie – Blondo Liam gray waterproof bootie
Plantar Fasciitis heels
Yes, we know we said you couldn't wear heels. But we meant those skyscraper heels of four inches or more. There are plenty of comfortable options out there if you want to wear heels for a dinner party or, well, just because you want to!
The triple-strap style from Ono is absolutely bang-on-trend not just for this season, but for autumn and winter too. We saw lots of these at London Fashion Week. Meanwhile, Naturalizer's kitten heels are super pretty and a huge tend for spring and summer.
Ono cage pump – Naturalizer slingback kitten heel – Trotters mono pump – Naturalizer criss-cross pump
Plantar Fasciitis flats
I know! We said flats were also a no-no! But, these aren't just any flats. These are flats with arch support and cushioned insoles which will provide more support than a normal flip-flop or sandal, for example.
Mules and loafers are on trend and look great with jeans or cropped pants, while we also love the toe cap styles from Geox and Softwalk.
Naturalizer checked flat – Geox cap toe loafer – Softwalk napa flat – Born cayo mule
There are so many stylish arch support shoes available nowadays and they really don't look any different to 'normal' shoes. It's often advisable to start to look at comfort shoes even before you suffer any foot pain, as a preventative measure.
Do you suffer from Plantar Fasciitis? Which shoe brands and styles do you find gives you comfort from heel pain? Let us know!

Like this article? Save it on Pinterest!