Many women over 40 avoid shorts because they simply don't know how to choose (or style) a pair in a chic and flattering way. But shorts can be fabulous to wear in summer. This guide will tell you where to find the best women's shorts and how women over 40 can wear them.
How to pick the best women's shorts for women over 40
If you're wondering how to find the best women's shorts that would be flattering for your age and figure, let's go over 3 things:
1. Body shape
Most women learn towards one of the 5 different body shapes: apple, pear, rectangle, inverted triangle and hourglass.
Certain shorts will work better on one shape over another. Keep your shape in mind when looking at the styles below.
For instance, you might want to think about a darker colored pair if you are a pear shape, or a pair to fit your curves if you are an hourglass.
If you don't know your body shape, read our article on how to find your body shape.
2. Height
Height can also add to the variable of how to choose the best shorts for your body shape.
Petite women should be more careful of how much fabric the shorts have in the form of bows, pleats and other details, which can overwhelm the frame.
Regardless of height, always consider if the shorts you're trying on are the right length for your height. Remember, for the most flattering silhouette you want to get a 1/3 – 2/3 balance within your outfit and / or within your overall look. (to learn more about this concept check our article on how to wear capris or take the 21 steps style course where we explain this concept in a lot of detail.
Erica @ericabunker above (read her style interview here) looks great in her white shorts and peplum top.
Recreate her outfit with this similar blouse, shorts and heels.
3. Legs
Not being comfortable with showing your legs is probably the top reason most women don't want to wear shorts. And of course the choice if doing so is completely up to you. But if you like the comfort of wearing shorts, and want to wear them despite being reluctant to show your cellulite, veins, scars or other issues, there are solutions.
My favorite solution is just to choose comfort over vanity and don't care about the way your legs look. That is always a choice! If you wear your shorts with confidence, people will notice YOU and not your legs.
However, if you'd rather not showcase you legs, opt for a longer short style.
You can also consider wearing a pair of lightweight tights under a shorter pair of shorts. Wearing tights can be a fashion statement or it can be a way to smooth and conceal veins or scars. The ones Spanx makes will also conceal will also smooth the body fat in your legs.
What length is best for shorts for women over 40?
Chanel – Tom Ford – Hermés
Just as there are many skirt lengths to choose from, anything goes when it comes to the hem length of your shorts.
There were plenty of short shorts on the catwalks for summer and for fall 2022, but also stylish longer length shorts.
So, simply choose the length that flatters you, and which you are comfortable with.
What are the best women's shorts and most flattering shorts for each shape?
Most of you will only wear shorts for summer or for your vacations . I also like to wear shorts as loungewear as I just find them very comfortable.
Let's break shorts down into current styles and who they're best for.
UTILITY women's shorts – Best shorts for a safari holiday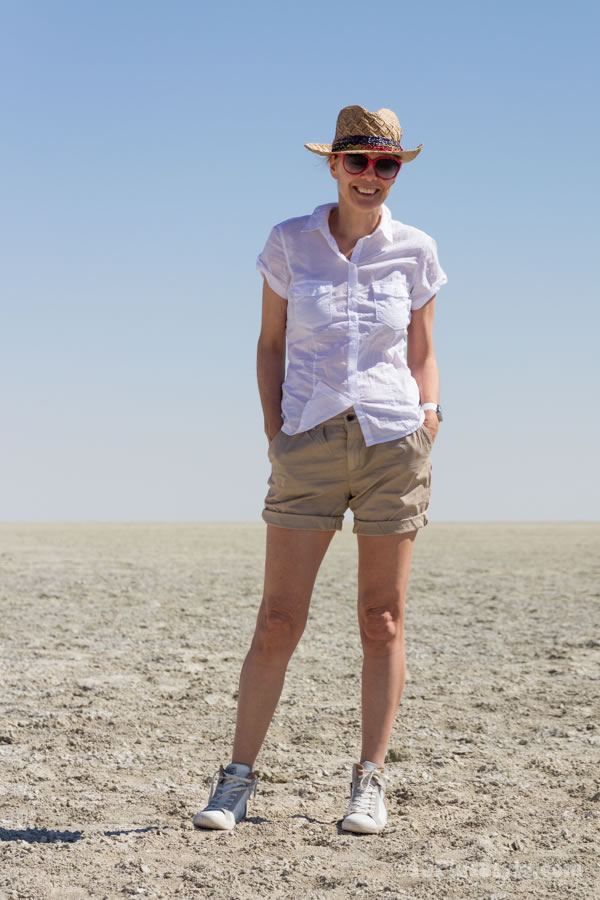 Khaki shorts are ideal for a safari holiday or a walk in the park. Above is how I wore mine during my holiday in Namibia. Check out this similar shirt, shorts, shoes and, sunglasses and hat.
If you love a natural look, then khaki shorts would be a lovely option. I can definitely imagine Jennifer Aniston wearing these ones.
Lee Flex-to-go Relaxed Fit Utility Bermuda Short
High waisted shorts with a flare: the best dressy shorts to go for dinner or on evening walk
I find my high waisted flare women's shorts particularly good for more dressy occasions. Above is how I wore mine on a holiday during the evening for a stroll on the boulevard and outdoor dinner. Recreate my outfit with this similar top, shorts, flats and sunglasses.
What they are: High waisted flare shorts often look like a skirt because of the flared legs and fitted and defined waistline. They're often shorter in length, around mid-thigh. This style is on trend right now and is fresh, flirty and feminine.
What woman should wear this style: It's the perfect style for pear, apple and inverted shapes because it cinches and accentuates the waist, tucks the tummy in and flares at the leg, sort of like an A-line skirt. Although any woman of any shape would find this style flattering of they want to accentuate their waistline! Especially those looking for a pair of shorts that tend to conceal your thighs and hips by draping softly around them.
How to wear high waisted flare shorts: Get your girly game on, because this style is great with feminine accessories. A heel, wedge or dainty mule or sandal would be a great shoe option. Because of all the attention around the waist from this style, keep the top clean, minimal and tucked in. Layering with a shorter cardigan adds polish to the style.
Karen Kane High Waist Pleat Front Shorts
Best women's shorts styles: Bermuda shorts
What they are: Bermuda shorts are slightly fitted, straight up and down in cut, are longer (falling around 1 to 2″ above the knee) and can be worn rolled up or with a cuff. Many companies call any short that is mid-thigh length or longer a bermuda.
What woman should wear this style: The rectangle or hourglass shape woman would find this style flattering, because they aren't cut for the big hips or curves of other shapes. The other body shapes should avoid them, since they could feel too tight around the hips, waist and/or butt area. Most women would then try to buy them in a bigger size and then end up with improperly fitting bermudas.
How to wear bermuda shorts: Depending on your style, bermuda shorts can be dressed up or down. They are versatile enough to be worn with a t-shirt and sandals, in which case you can roll them up, or if they have a nice fabric to them, dress them up with a blouse and wedge heels. I especially love this style with a loose, wrap cardigan, mid-size belt and slip-on flats or sneakers.
The pair above are from Not Your Daughter's Jeans (NYDJ), which is one of my favorite jeans brands. Tighter bermuda shorts tend to be more flattering that really wide ones as wider ones can really widen you and make your look bigger than you are.
I like to wear my longer bermuda shorts in a relaxed casual way with a longer tunic. Perfect for strolling along the beach.
NYDJ Ella Side Slit Denim Shorts
Liverpool Los Angeles Lacie Pull-On Bermuda Shorts
Best women's shorts: Long shorts
You may not want to wear shorts because you don't like the way your thighs look, or simply because you don't feel they are appropriate as you get older.
But, the right pair of long shorts can be flattering, especially if you are happy with the bottom part of your legs.
Not only that, but longer length shorts are very on trend right now.
Hanes French Terry Bermuda Pocket Short
Best women's shorts: Pleated shorts
What they are: A pleated short style has some type of pleat detail to the front of it. The length on this style of shorts can vary. Pleated shorts can be tricky, so the important rule of thumb is to look for a pair without too many pleats, folds or other ornamentation.
What woman should wear this style: This style can be worn by all body shapes. The pleats on the legs are roomy enough to hide imperfections or downplay larger thighs. The shape of pleated shorts is wonderful for petite or rectangle women who may want a little extra volume. The cut is more like a structured skirt. These can be the perfect shorts style for the 40+ fashionista.
How to wear pleated shorts: The secret to this style is to choose a quality fabric and the right fit. A longer, pleated short is a fun and feminine style. But fabric that is too bulky or a pleated short that is too tight or loose can be highly unflattering. For a fashion-forward, avant-garde look, choose a longer knee length style, urban colors like blacks, grays or bold tones and pair with bold accessories.
Pants shorts
What they are: Trouser or pants shorts for women are perhaps the most flattering style of all. They're essentially well-tailored trousers. They vary in style from very short to 1″ above the knee. They are similar to the bermuda short but dressier and often constructed in finer fabrics.
What woman should wear this style: Any woman can wear this style. Even the length is a matter of preference! It's a myth that petite women should wear shorter shorts and taller women should wear long shorts. Go with what you like and feels right for you.
How to wear trouser shorts: The trouser short is so nicely constructed, you may want to tuck in your top and add a belt. This is a great dressier style that can be paired with a lightweight sweater or a jacket for a short pants suit.
In the photo above, you can see how trouser shorts can be given a dressier look.
Check out this similar shirt, shorts, sandals, sun hat and necklace.
Karen Millen Cotton Sateen Wide Leg Shorts
More types of shorts
While these are the main styles of shorts you could opt for, there are of course lots of types of shorts within those categories that you can choose. Here are some of the most popular.
paperbag
A paperbag style usually has a higher waist, which is particularly useful if you want to make your legs look longer.
Boden Paperbag High Waisted Shorts
Lounge shorts
You may be looking for a pair of lounge shorts because you are at home much more than usual at the moment, or because you would like a pair of shorts to exercise in.
Either way, the Barefoot Dreams shorts (below) are very comfortable and come in a choice of neutral shades, making them some of the best women's shorts to choose for a more casual look.
Barefoot Dreams CozyChic Ultra Lite® Drawstring Lounge Shorts
Walking shorts
Do you love to walk around your neighborhood, or further afield? Whether you're heading out for a few errands, sightseeing (when you're able to travel again) or you like to get out for a longer hike, the outdoor shorts below are very well-reviewed, with reviewers saying they are the perfect length for exercising – not too long, and not too short!
They're also a great choice if you like yoga or pilates and you don't want to wear longer leggings when the weather starts to warm up.
Adaline @sdmomstyles above looks comfy and stylish in her shorts lounge suit.
Steal her look with this similar tee, shorts (or you could try this set), sneakers, belt bag and sunglasses.
Willit Water Resistant Outdoor Shorts
mid length
The perfect mid length is often hard to find when you're searching for the best women's shorts.
Karen Kane High Waist Pleated Shorts
printed shorts
A pair of printed shorts could be the perfect way to add interest to your outfit.
Diane @fashiononthe4thfloor above (read her style interview here) mixes prints to create a stylish, cohesive look.
Recreate her outfit with this similar top, high waist shorts and flats.
chino shorts
Just as chino pants are timeless enough to wear year after year, so too are chino shorts.
Lee Regular Fit Chino Bermuda Short
Jean shorts
Jean shorts, or denim shorts, are a style staple which suit women of all shapes, sizes and ages.
And, while you may not want to wear your denim shorts as short as the Daisy Dukes immortalized by actress Catherine Bach in the Duke's of Hazard, there are plenty of longer options which would be flattering.
Beth @styleatacertainage (read her style interview here) shows how you could elevate your jeans shorts by teaming them with a blazer.
Check out this similar shirt, blazer, jeans shorts, pumps and sunglasses.
Treasure & Bond Raw Edge Denim Shorts
Black denim shorts
While you may traditionally think of denim shorts as being blue, you don't have to stick to this shade. You could opt for a black pair instead to bring something a little different to your looks.
You can always wear a lighter, feminine top so your outfit doesn't look too heavy for warmer weather.
TOPSHOP Editor Longline Denim Shorts
White denim shorts
Just as a pair of white jeans are a great option for summer, a pair of white denim shorts will be a lovely addition to your wardrobe for warmer months.
This pair from rag & bone (below) is a timeless classic you are likely to wear for many summers to come.
rag & bone Maya High Waist Shorts
If you love wearing white during the summer, also take a look at how to wear white pants.
High-waisted denim shorts
If you like to make your legs look longer, or you have a torso which is long in proportion to the rest of your body (read what I have to say here about your vertical body type), a pair of high-waisted denim shorts can be very flattering on you.
High-waisted denim shorts are particularly on trend this summer, with celebrities wearing them to festivals and bloggers showcasing them on Instagram.
But, they can also definitely work for the 40+ woman if you opt for a pair which are a little longer in the legs. High-waisted shorts look best with a shirt or blouse tucked into them.
Kate Kasin High Waisted Denim Shorts
Dress capris
As well as wearing shorts for work, you could opt to wear dressier shorts, perhaps for a summer barbecue you are invited to, or for smarter venues and restaurants while on vacation.
Or, if you still want to be cool, but you want a more formal look, you could choose a pair of culottes or capris which come below the knee, rather than shorts. Then, you can wear with a heeled sandal.
Rekucci Straight Leg Comfort Capri
Flowy shorts
A pair of flowy shorts can be lovely if you prefer the material of your clothing to be loose and not to cling too much to your upper thighs.
These can be great for fitting a pear shape, or for balancing out an inverted triangle.
The flowy shorts (below) from Amazon would be lovely for vacations or sunny days in the garden.
Stretch is Comfort Flowy Skort
linen shorts
Linen is always a lovely, light material for summer, making linen shorts ideal for a warm weather vacation.
Eileen @eileenternullo above looks stylish and cool in her linen shorts and wide brim hat.
Recreate her outfit with this similar top, linen shorts and sun hat.
Short shorts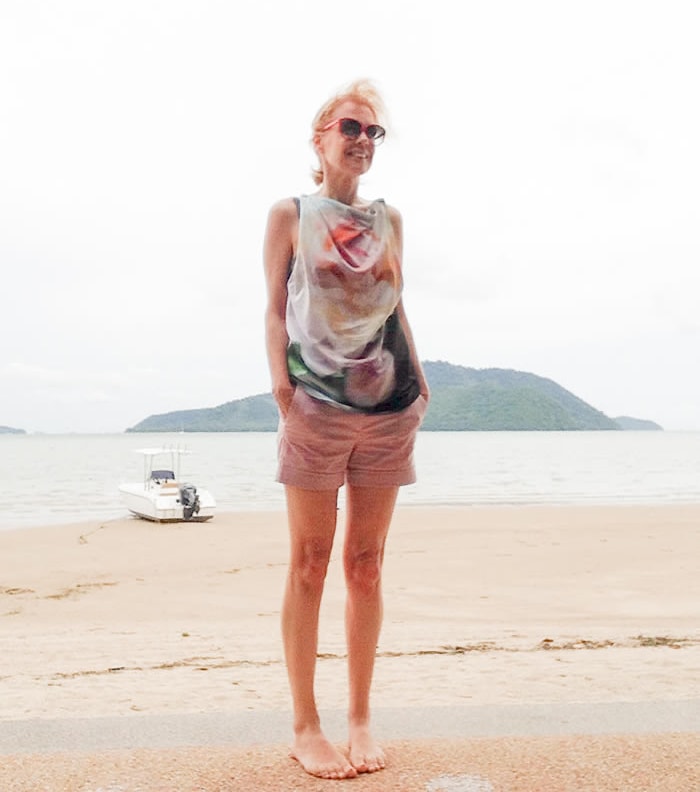 I still like my short shorts especially when I'm at the beach. They feel easy to wear with a colorful t-shirt and it just feels relaxed. Above is one of my favorite shorts looks. You can get a similar pair here.
If you are not keen on short shorts and don't want to wade through dozens of pairs of short shorts, you can narrow down by mid length shorts and long shorts on Nordstrom.
Gloria Vanderbilt Amanda Basic Jean Short
BEST SHORTS FOR THE BEACH
Or, if you want to swim in shorts, how about a pair of board shorts?
See our top picks for the best bathing suits for women over 40 this summer.
Skort
Another option could be to look for a pair of shorts which look like a skirt. That way, you can get away with a shorter length of skirt, secure in the knowledge that you won't be flashing anything you don't want to when you sit down!
Work shorts
Depending on your workplace, if you are working right now, then you may want to look at a pair of shorts you can wear for the office.
I find that a pair of tailored shorts in a darker shade works well. You can wear with heels and team with a smart blouse or shirt for a look which keeps you looking smart enough for the office but cool enough for summer temperatures.
I think they'd be a very versatile pair to dress up or down.
Psyche (@economyofstyle) above is stylish and chic in her shorts suit.
Steal her look with this similar blouse, blazer, shorts and flats.
Hybrid & Company Stretch Bermuda City Shorts
Final tips on how to wear shorts over 40
I leave you with some final do's and don'ts when wearing shorts:
Don't be afraid to invest a few dollars to have your shorts hemmed to the proper length. You'll probably wear them year after year, so it will be worth it.
Don't do short and tight together. If you choose shorter shorts, choose a baggier, looser style. And the tighter the shorts you choose, the longer they should be.
An easy proportion rule of thumb on how to style shorts is: balance short shorts with a longer top and longer shorts with a shorter (or tucked in) top.
Try tights under your dressier shorts for a polished, elegant look.
Flat-front shorts are great for not adding extra bulk to the tummy area
Shop some of the items above here:
Do you enjoy wearing shorts? What are the best women's shorts brands and styles that you've found so far?
Continue reading:
Like this article on the best women's shorts for women over 40? Save it on Pinterest!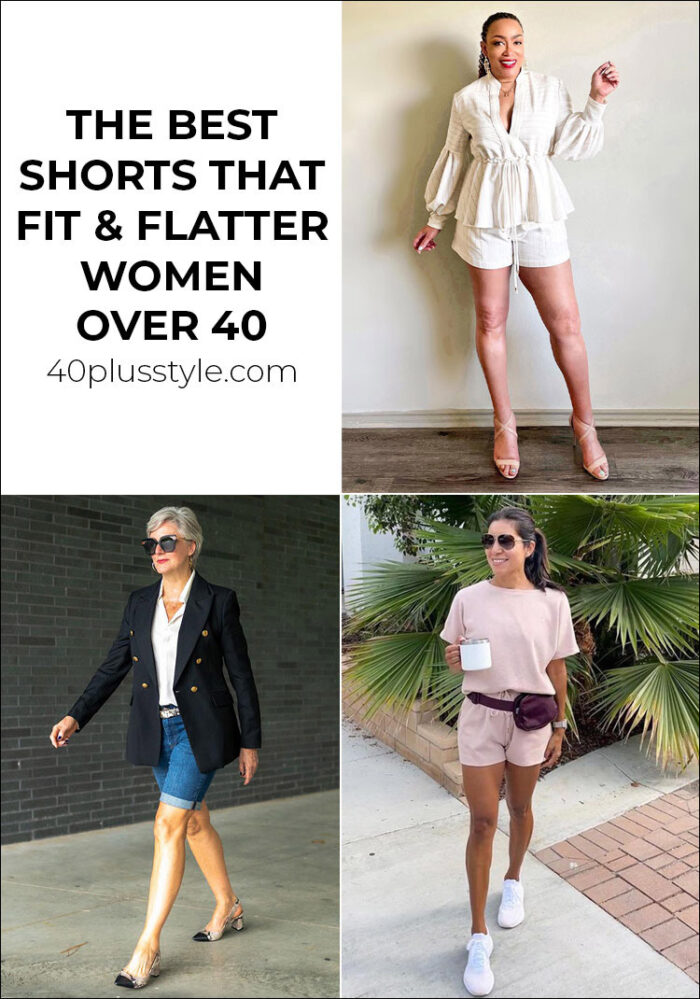 Feature image by Erica @ericabunker
Want to get more articles from 40+style in your inbox, subscribe here.
You can also connect with 40+style on Facebook, Instagram or Pinterest.
Support 40+style by using the links in our articles to shop. As an associate for Amazon and many other brands, we receive a small commission (at no cost to you) on qualifying purchases which enables us to keep creating amazing free content for you. Thanks!