Looking for the best pants and skirts to hide your belly? We've got you covered. In this article, you will find two key strategies to use to find pants and skirts which perfectly fit and hide your belly.
Finding the best pants to hide your belly
A challenge many women experience is finding pants to hide your belly and skirts that fit perfectly when your hip and waist are drastically different sizes or you have a larger tummy.
Another desire is to find pants and skirts that tuck the belly in.
The challenge is to find the best pants that fit. If you have a belly, that often means looking for pants with an elasticized waist.
There are TWO different, but just as effective options you could select.
Pants with an elastic waist
Pants that help tuck the tummy in
First, let's look at pants and skirts which are comfortable and which fit well because they have an elasticated waist.
Second, I will show you some stylish options which actually help to tuck your tummy in and give you a smoother silhouette.
Getting the right fit for your skirts and pants to hide a belly
There are a few approaches you can take.
First, an option to get the fit right is to have your pants and skirts tailored. This is certainly a great option for pants you already own (or those without an elastic waistband).
When buying new pants to hide your belly it's usually best to buy pants that fit the widest part. That way you can ask your tailor to fit the part that is too loose.
A second option (and the one which this post is centered on) is opting for pants and skirts with an elastic waistband.
Angela (above) opts for a pleated skirt which is a style that can help to disguise a little bit of a belly.
Recreate her outfit with this similar top, pleated skirt, pumps and handbag.
Comfortable pants with elastic waistbands
Let me show you the extensive options you have when it comes to selecting pants to hide your belly with elastic waistbands that create flattering and chic looks.
From on-trend cropped jeans to wide leg black trousers, mostly every kind of pants you can imagine comes in elastic waistband styles these days.
An extra benefit of selecting pants and skirts with elastan is that they also help you tuck your tummy in.
Liz (above) keeps her top outside her pants which is a technique you can use if you need to hide a little bit of a tummy.
Get her look with this similar top, jacket, pants and booties.
Elastic waistband skirts and women's elastic waist pants can be super stylish and flattering!
Don't automatically think that an elastic waistband means severely limiting your styling options or that you have to settle for a pair of very, very unflattering pants.
Whereas once, these may have been seen as a styling option only for the very old, and they were made in rather unflattering man-made materials such as polyester, elastic waist pants have come a long way in the style stakes.
Some quick guidelines to keep in mind when looking for pants to hide your belly
Keep your body shape in mind
Just because you are opting for a pair of elastic waist pants, don't forget about what styles flatter your body shape.
You will find elastic waist pants in every style from skinny to bootcut.
Also take a look at how to wear printed pants.
Try a longer top
If you pick a dressy pair of pants that has a drawstring, it might be best to select a longer top to keep your look appropriate.
Kimba (above) looks fabulous in her high-low top and black pants.
Check out this tops from Treasure & Bond and Shein that you can wear with this similar pair of pants, loafers, necklace, earrings and sunglasses.
Or a TIGHTER TOP
Keep the style rule in mind that it's usually best to combine a loose fit with a tighter or more tailored top. If your pants have a tighter fit a wider top may look better.
Karen (above) tucks her top into her waistband.
Steal her look with this similar tank top, pants, sandals and sunglasses.
Style appropriately
Treat these pants the same way you would any other style. They might be more comfortable and fit better, however, you should still strive to style them appropriately.
Women's elastic waist pants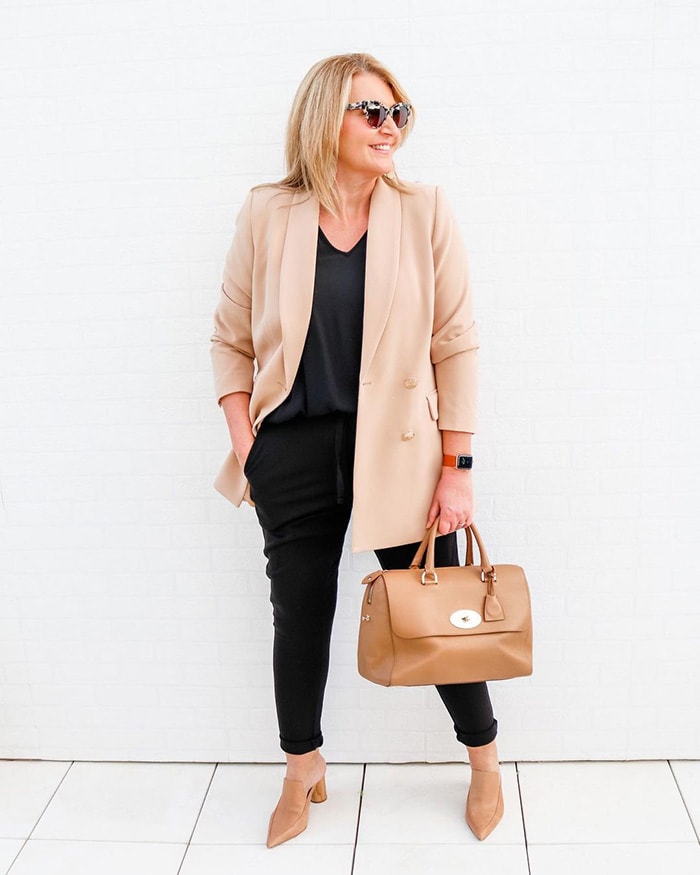 Typically, if you are going for a dressier option in a style with an elastic waist, you should aim for pants that do not have those scrunchy type of hems.
As mentioned above, there are a number of great elastic waistband options.
These can be a challenge when going for an office-appropriate look, and can be more appropriate for casual or after-work hours looks.
A good style to look out for can be pants which look like regular pants at the front, but with an elasticated waistband at the back.
You can still opt for a belt if your pants are elasticated. Just make sure the belt doesn't draw attention to any problem areas.
Many pants come in a style where they look like "regular" button-fastening pants from the front, but they have an elasticated waistband at the back.
As well as traditional elastic waist pants, another option is a stretchy pull-on pants.
There are also a number of casual options with elastic waistbands.
Some styles even create very flat waistband looks that almost appear to be button closure pants.
You will find that drawstring pants with cuffed hems look best styled casually.
Bev (above) shows how you can style a pair of casual pants in a more formal way.
Check out this similar V-neck top, blazer, drawstring pants, mules, handbag and sunglasses.
There are also plenty of elastic waistband pants which are very versatile and which could be dressed up or down.
Pants with an elastic waistband can also be a good option for travel.
Kylie (above) opts for all neutrals and tucks her shirt into her elastic waistband pants.
Recreate her outfit with this similar long sleeve top, linen pants and pumps.
Eileen Fisher straight leg linen pants
NYDJ side slit pull-on skinny jeans
Liverpool Los Angeles drawstring crop utility pants
Elastic waist jeans
Jeans are wonderful but the heavy buttons and thick zippers can sometimes enlarge your belly. Instead opt for elasticized jeans.
You will find that elastic waist jeans come in every style that "regular" jeans do, but jeggings tend to be the easiest style to find.
Paula (above) styles her jeggings with an oversized shirt.
Steal her look with this similar button-down shirt, denim leggings and sneakers.
Jag Jeans pull-on straight leg jeans
Madewell relaxed pull-on jeans
Foxcroft bootcut pull-on jeans
NYDJ straight leg pull-on pants
Chic Classic Collection pull-on pants
Effective belly hiding elastic waistband skirts
Just as with pants, you can find plenty of styles of skirts which feature an elastic waistband.
Skirts too can be very effective in hiding bellies and stretchy skirts are very easy to fit.
If you add a print in the mix, they can be really flattering as they highlight your curves and the elastan sucks in your tummy.
This means you can dress to suit your body type as well as being stylish and comfortable.
Georgette (above) opts for a skirt style that you can usually find with either an elastic waistband or a zip closure.
Get her look with this similar top, leopard print skirt, sandals and straw tote.
Azue A-line elastic waist midi skirt
CHARTOU high waist A-line leopard print skirt
DJT handkerchief hemline midi skirt
SweatyRocks high waist A-line midi skirt
Ruched skirt
Another option is to choose a skirt with some ruching which can help to cover up any lumps or bumps.
Pants that tuck the tummy in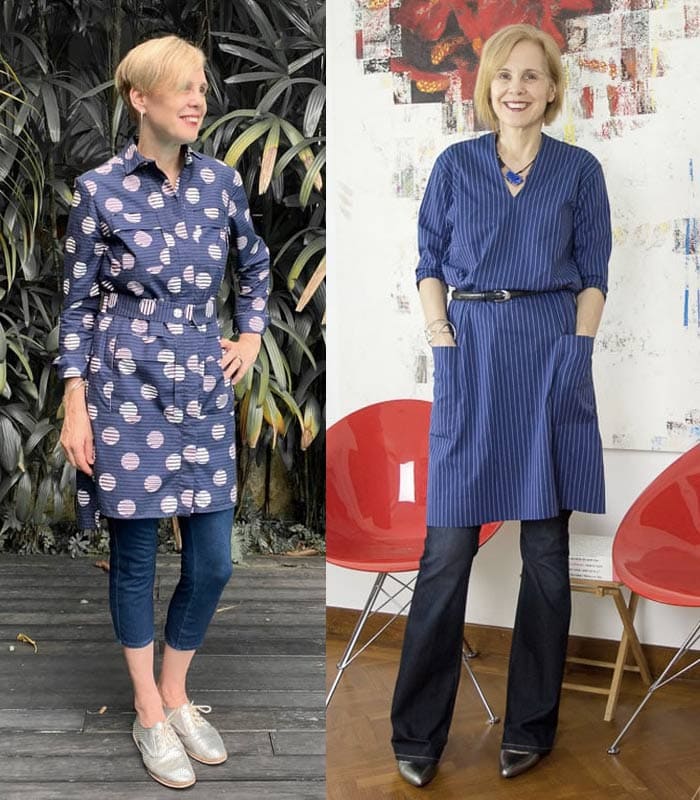 Of course, you don't have to choose an elasticated waist to make sure that your pants or skirts fit your tummy.
Another good option is to look for clothes with "tummy tucking" technology or with a high-rise.
I love my cropped legging pants which I have in a dark and light wash.
Although my bootcut Paige jeans do have buttons and a zipper, the elastized fabric is so good that they do a great job at sucking the belly in.
If you choose jeans that have a high rise, they will do an excellent job at tucking the tummy in.
I'm loving these brands:
Rekucci Ease into Comfort skinny pants
Rekucci Secret Figure pull-on knit straight pants
SLIM-SATION wide band pull-on ankle pants
Some of the examples above in the sections on elasticated waist clothing may have good tummy tucking capabilities, but in this second section, I will specifically talk about pants and jeans that can smooth out your tummy.
Here are a few that I and 40+Style contributors have personal experience with.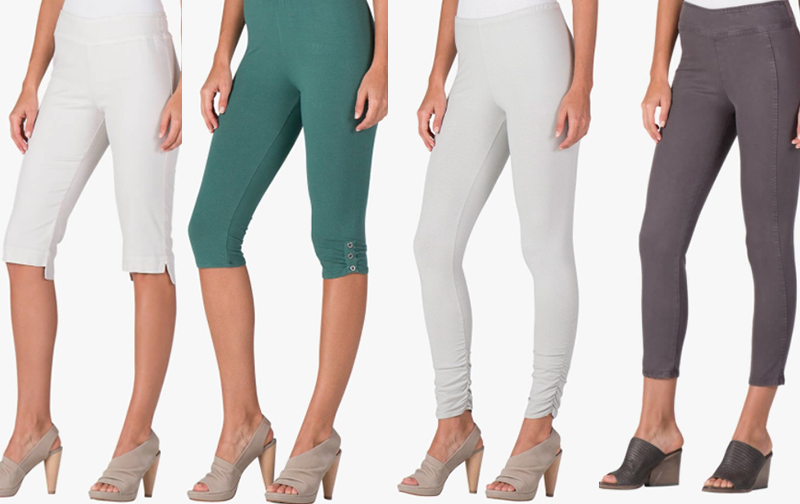 Leggings can do an excellent job at hiding the belly.
I especially love the leggings from Stella Carakasi (pictured above). They have knee versions and long leggings.
I have these in several colors. I use them in casual chic looks and combine them with tunics or layered tops as shown below.
I also wear the knee-high leggings for yoga!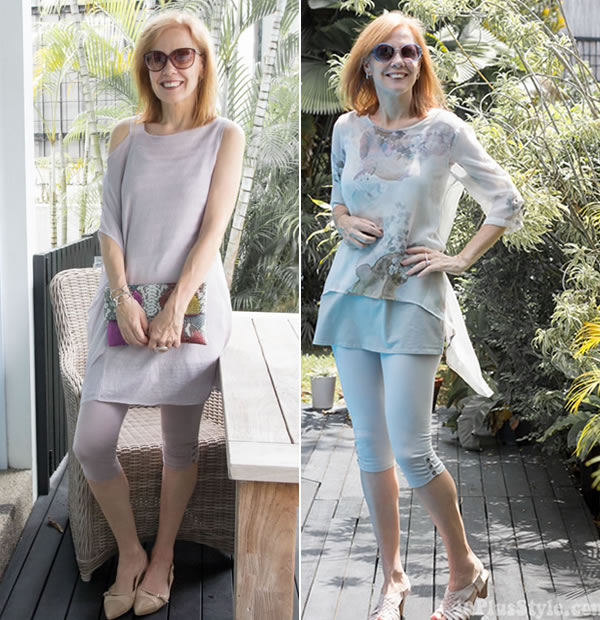 These capris are super stretchy and comfortable but the material is thick enough and do an excellent job sucking the tummy in. They keep their shape very well.
Read more about this in our article on how to wear leggings – an extensive guide.
Tummy tucking jeans
Some of these jeans have an elastic waistband, and some have a regular fastening but are made from stretchier fabric with clever control panels.
The NYDJ range is one of my favorites as it incorporates "tummy tuck" technology.
Below are some more tummy control options for you.
Signature by Levi Strauss & Co. Gold Label Totally Shaping pull-on skinny jeans
Find out what more what are best tummy control jeans in stores now.
shop all items above here:

What are some your biggest challenges when it comes to finding the best pants to hide your belly?
Continue reading:
Like this post on the best pants to hide your belly? Share it on Pinterest!
Feature image by Angela
Want to get more articles from 40+style in your inbox, subscribe here.
You can also connect with 40+style on Facebook, Instagram or Pinterest.
Support 40+style by using the links in our articles to shop. As an associate for Amazon and many other brands, we receive a small commission (at no cost to you) on qualifying purchases which enables us to keep creating amazing free content for you. Thanks!