There's no worse feeling than finding the perfect pair of boots only to find that they won't zip up, or they are uncomfortable to wear! So, to save you from disappointment, you'll find a round-up below of the best wide calf boots for winter and fall.
Do you need wide calf boots?
As you know, the fit of both clothing and shoes varies across brand to brand, so while you may not need wide-fitting boots in one store, you may struggle to zip up another brand's boots.
As a general rule, if your calf measures 16 inches or more, you will probably find a wide calf fitting more comfortable.
Sit down and place your feet flat on the floor in front of you. Then measure your calf around its widest point to get your measurement.
Quick tips for choosing wide calf boots
If you know you need wider boots, what are the other things to look out for when choosing a pair?
1. Look for elastic goring
Many knee-length boots, particularly those for wide calves, are designed with elastic goring at the top to allow for extra stretch.
Also, if you find you are just at the cusp of needing a wide fit, goring can help to make sure your boots don't gape too much. You could also choose ankle boots with goring if you're worried about comfort around your ankles.
2. Remember they might stretch
Make sure you take into account that your boots will give and stretch a little, especially if they are leather.
Susanne @textelle above (read her style interview here) opts for a pair of lined boots for winter weather.
Check out this similar sweater, coat, leggings , boots and beret.
3. Look for laces and buckles
To get a better fit, it's worth looking out for boots which feature laces and buckles because you can adjust these to give your feet or calves more room.
4. Pay attention to the height too
Don't just think about the width when you are buying boots. Also, pay attention to the height.
Make sure you don't choose a pair of boots that end at the widest point on your calves as this will only draw attention to this area.
5. Do you also need a comfort brand?
It's easy to become so focused on the fit on your leg, you forget about your feet.
Make sure if you do suffer from sore feet or a foot condition, to get boots that offer the correct support, such as those with arch support.
Sandra @lapecosapreciosa above chooses flat boots with plenty of room at the ankles.
Check out these lounge sets from Nike (hoodie and pants) and Amazon that you can wear with this similar coat, boots, earrings and sunglasses.
6. Don't forget booties
If you really are struggling to find a pair of boots that fit perfectly, how about a pair of booties instead? That way, you still get the look of boots, but you don't have to worry about them fitting your calves.
The best wider calf boots for winter and fall
Let's take a look at some of the wide calf options you will find in stores now. See if you have a favorite…
Wide calf leather boots
A wide calf, cushioned insole and classic riding boot styling – the Vince boots (below) may be the perfect combination.
Vince Maggie Tall Wide Calf Boots
Mel @curvycartel (above) opts for a pair of classic, low-heeled black boots.
Recreate her outfit with this similar trench coat (other options here and here) and leather boots.
over the knee boots
You don't have to choose knee-length. You could choose a pair of boots that fit just over the knee instead to add impact to your outfits.
The RF ROOM OF FASHION boots (below) will look good worn over your skinny jeans or under your dresses. You can choose 9 colors, including the burgundy shade shown below. Reviewers say they fit well for curvy calves and thighs.
RF ROOM OF FASHION Wide Calf Stretchy Over The Knee Boots
knee high boots
The boots (below) have a low heel for everyday wear, and the lacing means they are easier to get on and off, as well as helping you to alter the fit to suit your legs.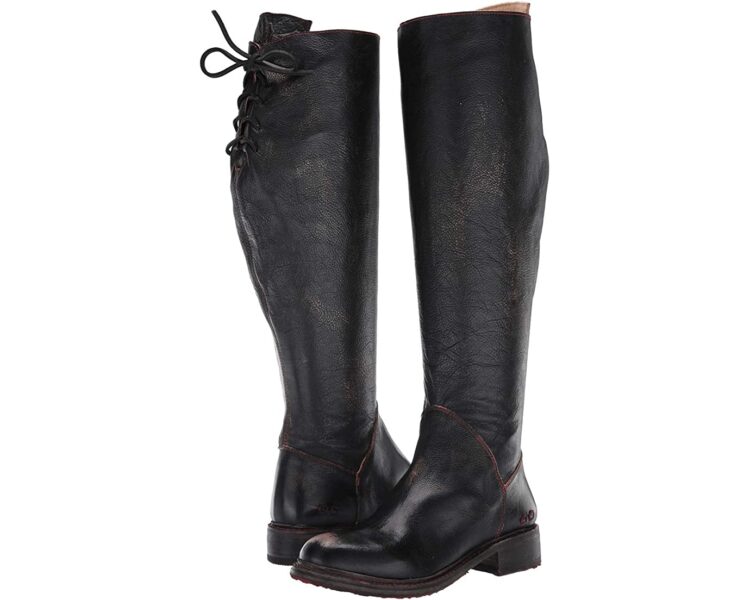 Bed Stu Manchester Wide Calf Boot
Amazon / Zappos
Wide calf rain boots
If you're expecting rainy weather, you may want a pair of rain boots to make sure you stay dry.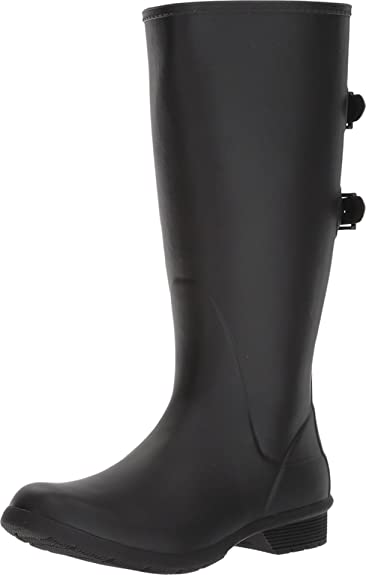 Chooka Versa Wide Calf Tall Boot
Wide calf slouch boots
A number of different boot styles are on trend for fall and winter 2022, including slouchy boots like the Journee Collection boot (below) which come in a good choice of neutral shades.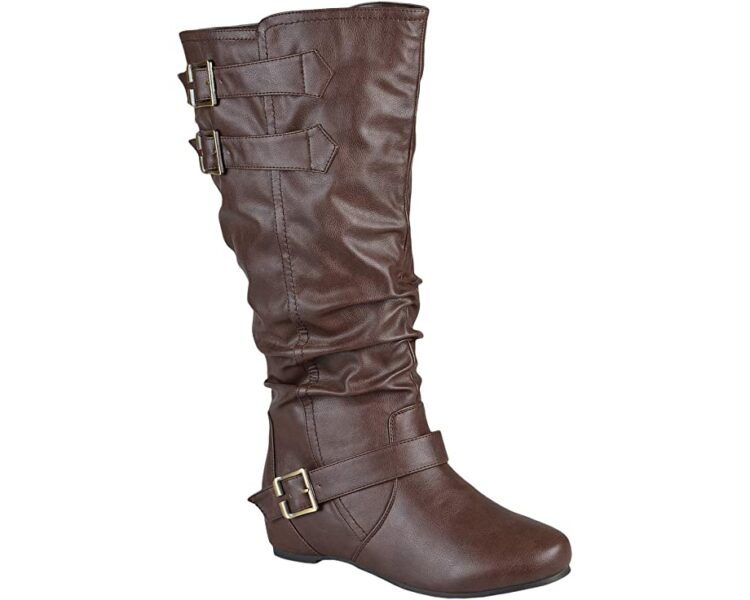 Journee Collection Tiffany Wide Calf Boot
Wide calf riding boots
If you want a classic look, a pair of riding-style boots will be on-trend season after season. The Dr. Scholl's boots (below) come in black or brown, and they have a memory foam insole. Reviewers suggest sizing up.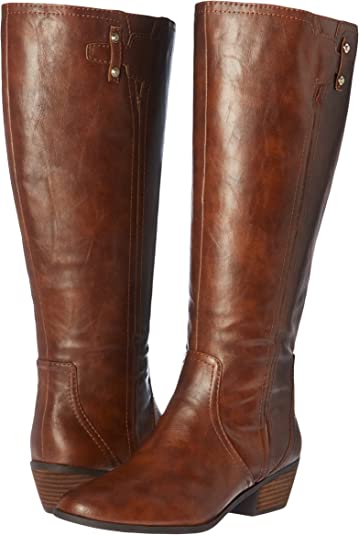 Dr. Scholl's Brilliance Wide Calf Riding Boot
Wide calf high heel boots
If you want a dressier option, the Naturalizer boot (below) have a small heel so they should be easy to walk in, the stepped height at the front adds interest. They would look good worn with your white jeans for winter.
Naturalizer Kyrie Water Repellent Knee High Boot
Eugenia @theeageofgrace above (read her style interview here) shows how you can still wear paler shades and pastels for cooler weather.
Steal her look with this similar dress, coat, boots (another option here), handbag, neck scarf, earrings and sunglasses (another option here).
Wide calf snow boots
If the weather where you are gets very cold, you may also want to think about a pair of cozy snow boots. Reviewers say the JSWEI boots (below) are warm, comfortable, and slip on easily.
Read our article on the 12 best winter boots for women to learn more.
Wide calf suede boots
If you prefer a softer look to leather, you could choose suede or faux suede. I always think the texture of suede works well for fall, although you may want to think about whether it's likely to rain.
The Naturalizer Rena boots (below) come in a good choice of different browns and blacks. Reviewers say they are good quality and they've had lots of compliments while wearing them.
Naturalizer Rena boot
Amazon / Zappos / Nordstrom
Wide calf wedge boots
If you aren't keen on walking in heels, but you prefer to add some height, you could choose a wedge. The piping around the wedge sole of the Naturalizer boots (below) adds interest.
SOUL Naturalizer Approve Knee High Boot
Wide calf cowboy boots
Cowboy-style boots tend to be a bit wider in the calf as they aren't designed to be tightly fitting. Cowboy boots may go particularly well with your outfits if you have a bohemian style personality.
ARIAT West Bound Western Boot
Amazon / Zappos
Wide calf black boots
Black is, of course, one of the easiest boot colors to wear as it should have a slimming effect and will go with everything in your wardrobe. The buckle detail on the RF ROOM OF FASHION boots (below) will draw attention to your ankles rather than your calves.
RF ROOM OF FASHION Wide Calf Knee High Riding Boot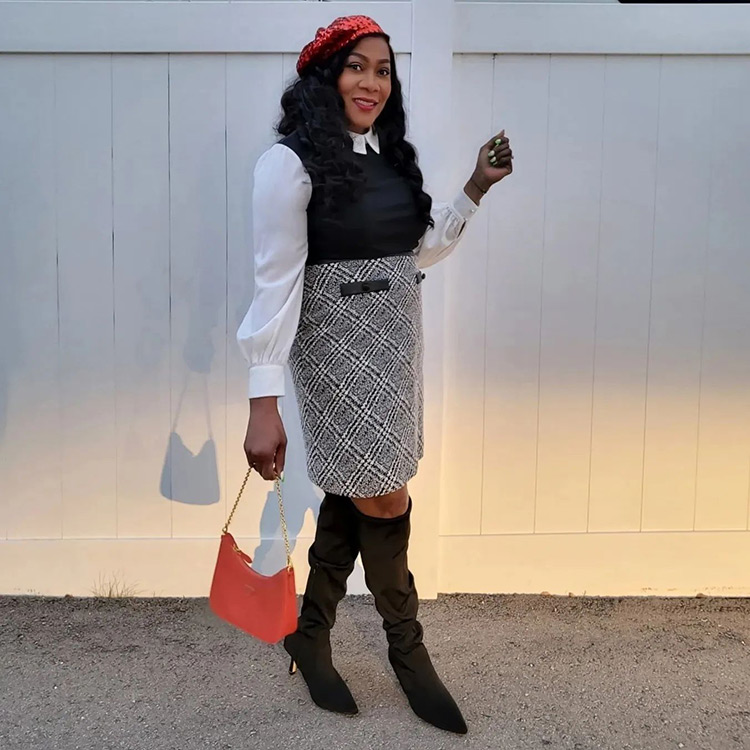 Boma @mrs.gaf above opts for a pair of stylish, ruched, kitten heels boots.
Get her look with this similar shirt, vest, skirt, boots (other options here and here), bag and beret.
Wide calf brown boots
For a more casual style, you could try a pair of biker style or combat style boots. The Luoika boots (below) are well-reviewed from women with wide calves, with many saying they had given up on wearing boots at all until they found these. The buckles draw the eye to different points of the boot rather than your calf, and there's a memory foam insole for comfort.
Luoika Extra Wide Calf Knee High Boots
Red wide calf boots
To add impact to your outfit, how about a pair of red boots? The Impo Namora boot style (below) will certainly get you noticed for the right reasons. If red isn't your color, there are also beautiful neutral shades as well as prints.
Grey wide calf boots
If you prefer gray, you could always try the DREAM PAIRS boots (below), which have faux fur lining to keep you cozy.
DREAM PAIRS Wide Calf Knee High Riding Boot
The best wide calf boot brands
Of course, everyone's legs are a different shape and size, so it may take a bit of trial and error, and trying on lots of pairs before you find the perfect pair for you.
You'll want to make sure not only that they fit your calves well, but also that they are just the right height for you.
For instance, it's generally not a good idea to go for a boot height where the top of your boots hits your legs at the widest part of your calves.
Also, you will want to make sure, particularly if you are petite, that the top of your boots don't hit your knees while you walk (unless, of course, you are going for an over-the-knee style!)
I'm concentrating on knee-high boots here, as obviously you won't have the same sort of problems with booties when looking at calf width.
If you have a favorite brand or pair of boots, don't forget to add your comments to this article so it becomes a definitive guide for other women too!
Naturalizer
Just as Naturalizer is a great option for arch support shoes, the brand is also a good go-to if you're looking for wide calf boots.
You'll find widths in medium, wide and extra-wide, so you can find a pair with a snug fit but which don't cut into your calves.
There are classic riding boot styles, which won't go out of style, so you can choose a pair of boots that will last you for years!
Naturalizer Jessie Knee High Riding Boot
Amazon / Zappos / Nordstrom
Zappos
Zappos carries a big variety of brands with wide-fitting, and you can search by width to make it easy for you to find a pair of boots to fit.
There are also width measurements in inches, so you can measure your own calf to make sure it will fit before you order!
David Tate Branson Extra Wide Shaft Boots
Nordstrom
Another great multi-brand option, Nordstrom allows you to search by width, heel height and shaft height, which makes it easy for you to narrow down your boot choices.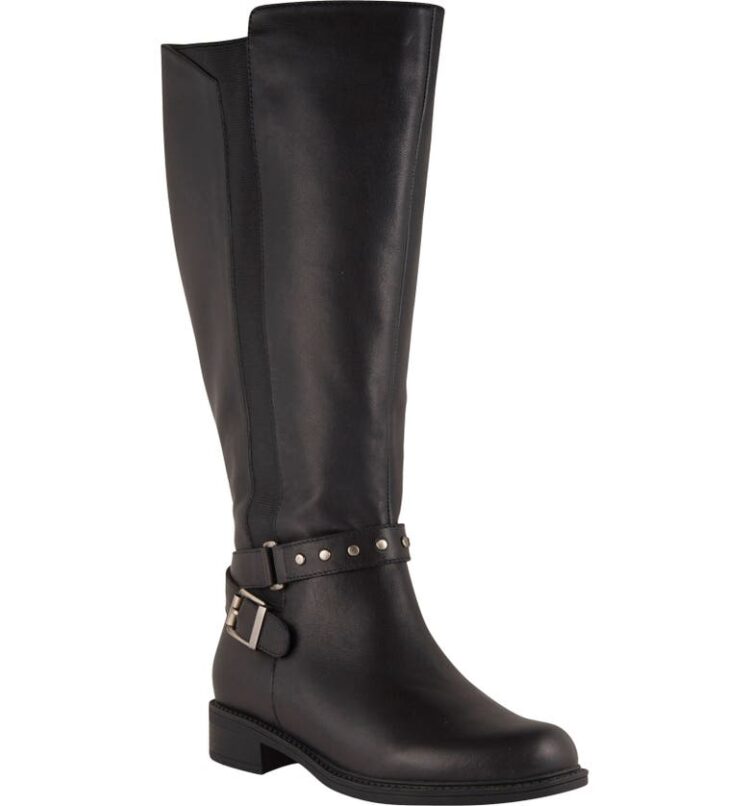 David Tate Kimmy Knee High Boot
Simply Be
As well as being a good plus size option, Simply Be generally stocks around 20 or so knee-high wide-fit boots.
Simply Be Baza Zip Wide Fit Knee High Boot
Kohl's
Kohl's offers another good way of choosing as you can opt for wide fitting or extra wide fitting.
LifeStride Stratford High Shaft Boots
DSW
DSW (or Designer Shoe Warehouse) also allows you to search by width.
It tends to act as an outlet, so you may well find brands including Naturalizer.
But, you may find there aren't all sizes available so best to snap a pair up if you see something you like!
Journee Collection Therese Extra Wide Calf Boot
Amazon
Often an overlooked option for fashion, Amazon is a good choice if you're looking for sizes that aren't always available. Searching on such a vast fashion store will give you plenty of wide-fit options.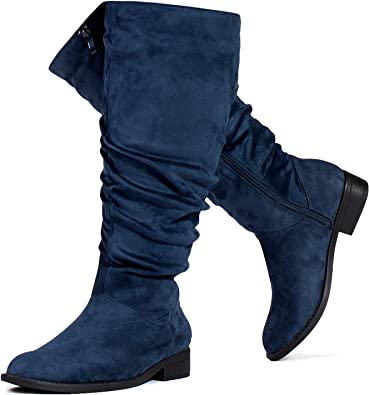 RF ROOM OF FASHION Slouchy Knee High Boots
eloquii
As it stocks curvy sizes, Eloquii knows many of its customers will also be looking for boots that can accommodate a wider calf.
Wide calf boot stretcher
If you already have some boots in your closet which fit nicely on your feet, but are too tight around your calves, have you thought about stretching them out?
HOUNDSBAY Boxer Heavy-Duty Professional Boot Stretcher
Hope you enjoyed this roundup of the best wide calf boots for winter and fall! We would love to hear your recommendations too.
shop some of the items above here:

Do you need wide calf boots? Which are your go-to brands for comfort, fit and style?
Continue reading:
Like this article on the best wide calf boots for fall and winter? Save it on Pinterest!
Feature image by Mel @curvycartel
Want to get more articles from 40+style in your inbox, subscribe here.
You can also connect with 40+style on Facebook, Instagram or Pinterest.
Support 40+style by using the links in our articles to shop. As an associate for Amazon and many other brands, we receive a small commission (at no cost to you) on qualifying purchases which enables us to keep creating amazing free content for you. Thanks!