Finding jeans for a pear shaped body can be tricky. And that's because you need a pair of jeans that fits your bum and hips, while tapering in to fit your waist. However, tricky doesn't mean impossible. Below, you'll find the best jeans for pear shapes that are the perfect choice for your lower half.
Are you a pear shape?
The first thing to establish is whether you're definitely a pair shape, before you start hunting for pear shape jeans. As a pear shape, your hips will be the widest part of your body, and your top half and shoulders will be narrower.
If you aren't sure, then take a look at how to determine your body shape first. You may also want to seek inspiration from how to dress a pear shaped body.
What to consider when choosing the best jeans for a pear shaped body
Before looking at some specific, well-recommended jeans for pear shapes, let's think about what you need from your jeans when you are pear shaped.
1. You need jeans that taper
The biggest issue you face as a pear shape when shopping for jeans is that many jeans are too tight around your hips and thighs, but they gape at the waistband. The good news is there are jeans that are specifically designed to flatter curves, and they are made to taper in at the waist rather than being straight up and down.
2. Darker wash jeans are usually most flattering
If you're a pear shape, it's likely that you want to balance out your figure. Wearing darker wash jeans on your bottom half and then a brighter color on your top is a great way to do this.
3. Bootcuts and flares will suit you best
Another good tip for balancing your figure is to wear bootcuts and flares as these will do a great job of balancing your hips and giving you a flattering silhouette.
4. High rises will flatter your waist
High rise styles are often designed to taper in from hips to waist. Plus, as you are likely to have a narrower waist, they will draw attention to your slim waistline.
5. Look for jeans with some stretch
Because you need your jeans to hug your curves and then narrow to your waist, the best pairs are often those with some stretch to the fabric.
Best jeans for a pear shaped body
Now, let's take a look at some specific styles you could choose…
Wallflower curvy bootcut jeans
The WallFlower jeans (below) have a mid-rise waistband that is contoured to avoid gaping. They come in a choice of lengths and sizes, and reviewers say the fabric is sturdy, and they give a flattering fit. One wearer even described them as the "perfect pair of jeans".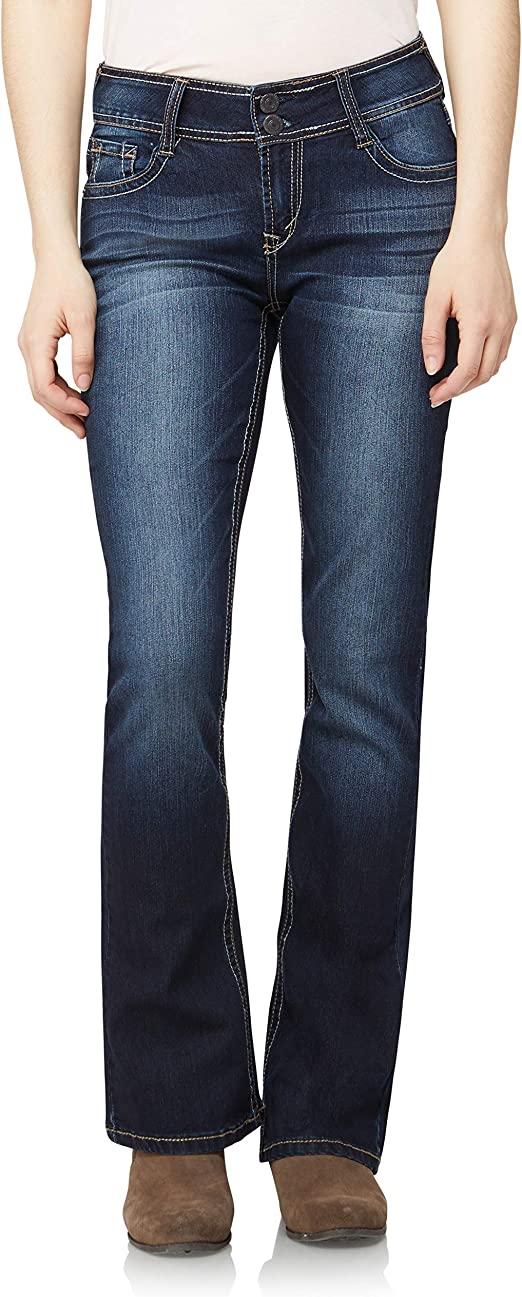 WallFlower Instastretch Luscious Curvy Bootcut Jeans
Vipones
With a cut designed to provide a "buttock-lifting" effect and a high-waisted design, the VIPONES jeans (below) are a good choice for pear shapes as they also have stretch fabric to help with the fit. There's a big choice of blue and black shades and women say they they're a flattering fit. Many said they are long so they would be good if you are tall or want to wear heels underneath.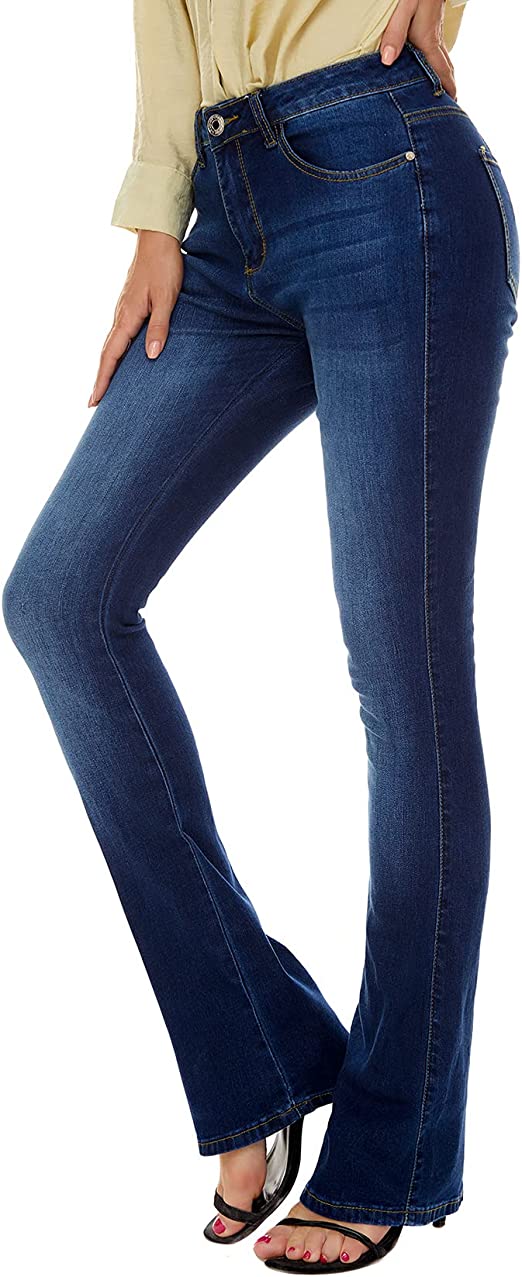 democracy
A crop flare style can be a good choice for warmer weather, or to show off your booties in fall. But the Democracy jeans (below) do also come in a longer option if you prefer. They feature a slimming waistband, and reviewers say they are soft, flattering and timeless. One said they are the most comfortable pair of jeans she has ever owned.

Democracy Ab Solution Itty Bitty Boot Jeans
Paige manhattan jeans
One of our absolute favorite jeans brands is PAIGE. The dark-wash bootcuts (below) are versatile enough for casual days, or you could dress up with a blazer for work or a night out. Reviewers say they are stretchy and look good over your hips and butt.

PAIGE Manhattan High Waist Bootcut Jeans
good American
Good American jeans are especially designed to flatter curves, making them a great choice if your are a pear shape or an hourglass. Choosing black makes them a smart option for casual or dressier days.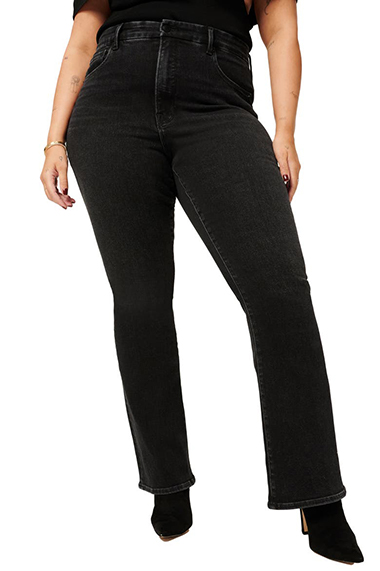 Good American Good Classic High Waist Bootcut Jeans
Boden JeANS
The Boden flare jeans (below) are designed with a relaxed hip and thigh for extra room, and they have a universally flattering – and very on-trend – flared cut.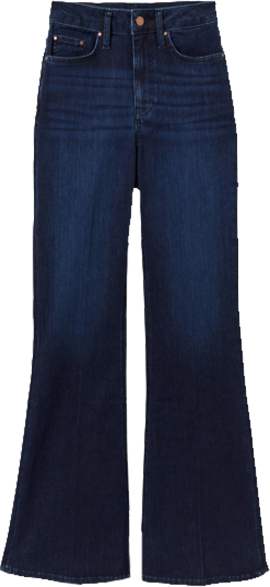 Boden High Rise Fitted Flare Jeans
j.crew curvy jeans
Another good go-to option are the J.Crew curvy jeans (below). They are designed to give definition to the waist while giving enough room to cover your hips, thighs and bum.

J.Crew Curvy Vintage Slim Straight Jeans
Old navy wow bootcut jeans
The Wow bootcuts from Old Navy (below) are a timeless option that won't date. They have a contoured waistband along with shape retention.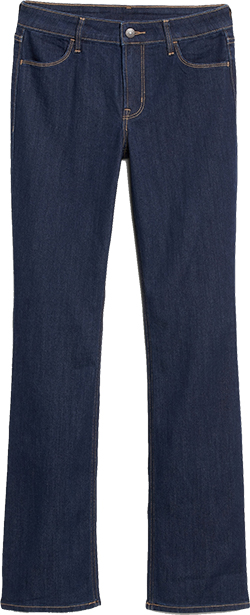 Old Navy Mid-Rise Wow Boot-Cut Jeans
KUT from the Kloth donna jeans
KUT from the Kloth is another 40+ favorite. While bootcuts and flares are a good option for pear shaped women, if you want an alternative, you could opt for a pear of skinnies in a dark blue.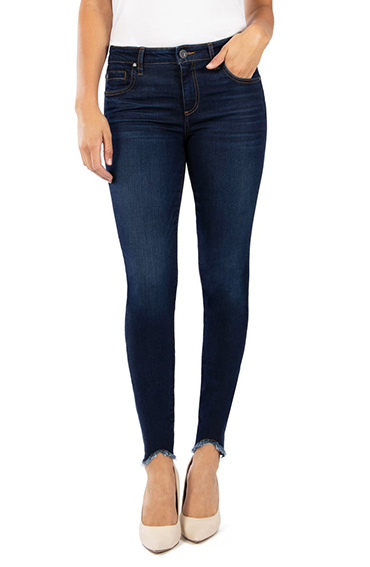 KUT from the Kloth Donna Curved Hem Ankle Skinny Jeans
Madewell skinny flare jeans
The Madewell jeans (below) are designed for an hourglass, and this also makes them good for pear shapes as they are designed for women with larger hips and smaller waists.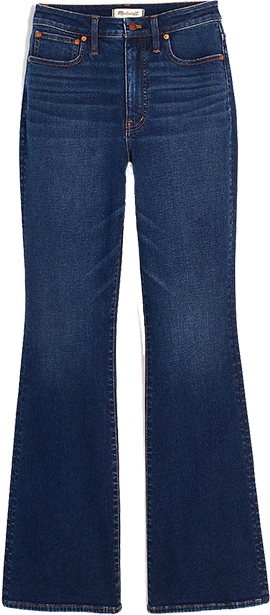 Madewell Curvy Skinny Flare Jeans
Marks & Spencer
The Marks & Spencer jeans (below) have extra stretch so they should hug your curves. They have a crease which gives them a smart trouser feel.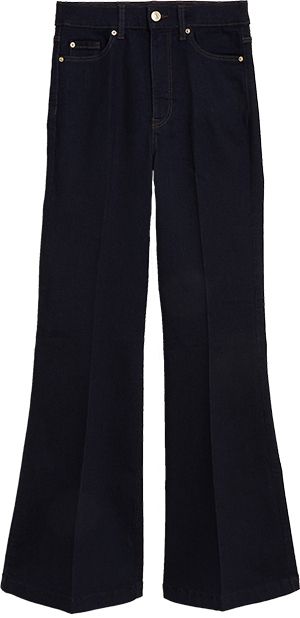 Marks & Spencer High Waisted Flared Jeans
asos DESIGN
The skinny jeans (below) are a plus size option in a high-waisted style with a good stretch around the hips.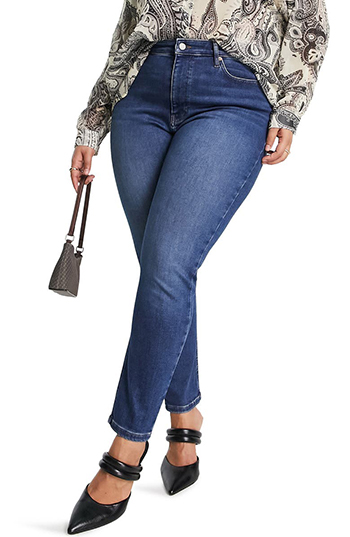 ASOS DESIGN Curve Edit Super Power Skinny Jeans
shop more of the best jeans for a pear shaped body here:

If you have recommendations for flattering, well-fitting jeans for a pear shaped body, I'd love to hear them. Let us know in the comments below.
Like this article on the best jeans for a pear shaped body? Share it on Pinterest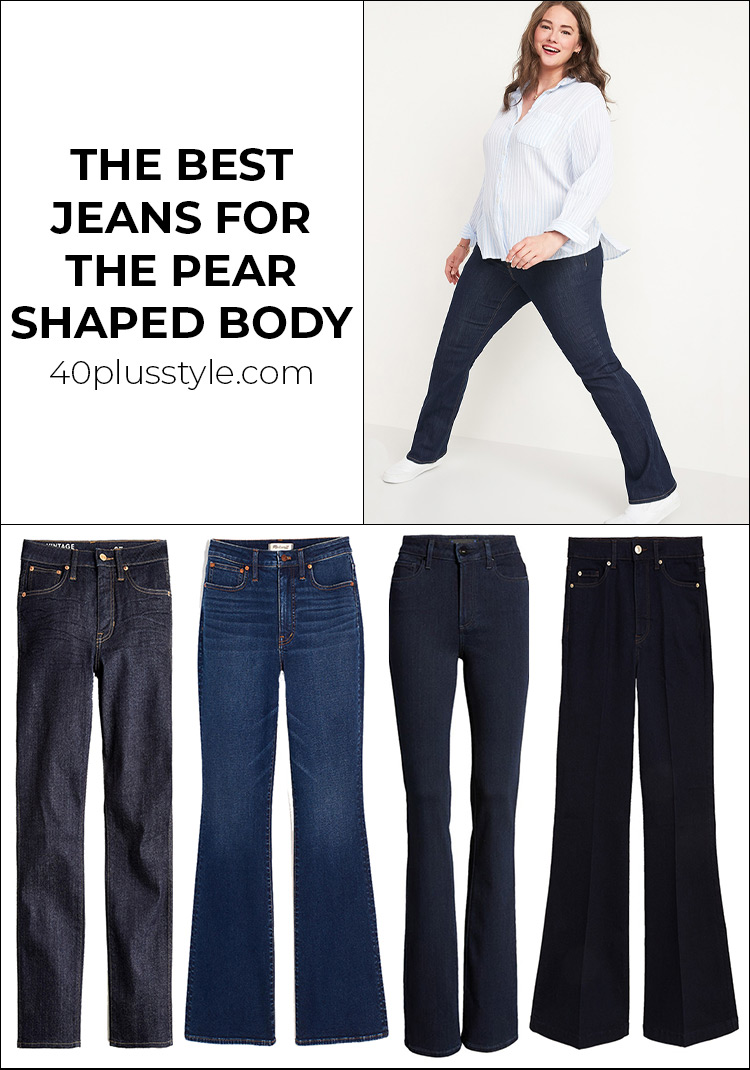 Feature image by Old Navy
Want to get more articles from 40+style in your inbox, subscribe here.
You can also connect with 40+style on Facebook, Instagram or Pinterest.
Support 40+style by using the links in our articles to shop. As an associate for Amazon and many other brands, we receive a small commission (at no cost to you) on qualifying purchases which enables us to keep creating amazing free content for you. Thanks!