A t-shirt is one of the staples of any closet. But that doesn't mean your t-shirt has to be boring. In this article, you will find the best t shirts for women which are more flattering for your figure, no matter what your body shape.
what is a t-shirt?
When thinking about the best t-shirts for women, let's start with the obvious. What is a t-shirt? What sets it apart from any other top? Generally, a t-shirt is a casual top, often made of cotton, that makes a t-shape when you spread it flat (hence the name). However, there are lots of variations on the humble t-shirt that you could try.
What to consider when choosing the best t-shirt for women
Apart from the obvious color choices, what else should you look out for when choosing a t-shirt?
wear a good t-shirt bra
First things first, when putting together your t-shirt outfit, start with what you will be wearing underneath. A good t-shirt bra will ensure your bust stays where it should be (and doesn't look like it is meeting your belly), while providing smooth lines under your t-shirt. Look for a bra with a smooth finish rather than lace, so that it doesn't look bumpy under your top.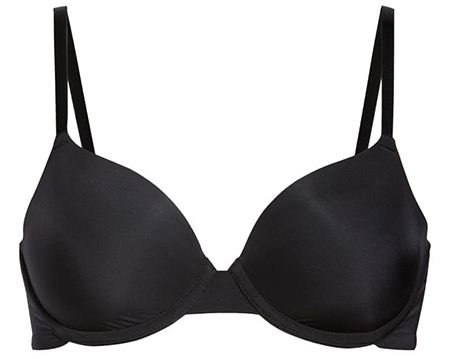 b.tempt'd by Wacoal Fit Underwire Bra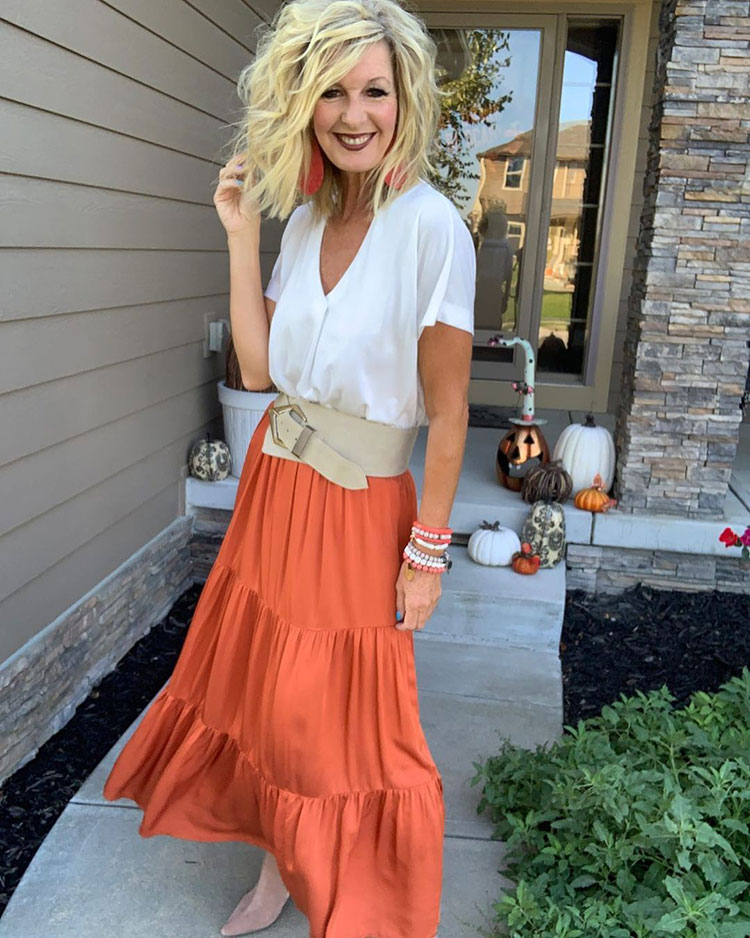 Melanie @melanie.rae.miller above chooses a t-shirt with a crossover effect at the front to wear with her tiered skirt.
Get her look with this similar v-neck shirt, maxi skirt, belt, booties and earrings.
Fabric
Look for quality fabric which isn't see-through, and which will stand being washed countless times. You don't want to have to take your t-shirt to the dry cleaners!
look for versatility
A good t-shirt can be dressed down with jeans and sneakers, or dresses up to wear with a skirt for evening, or a blazer for work.
Best arm-length
Many of us prefer not to show our upper arms when we get older. Choose an arm length which hits your arms as they get narrower, rather than hitting your upper arms at their widest point.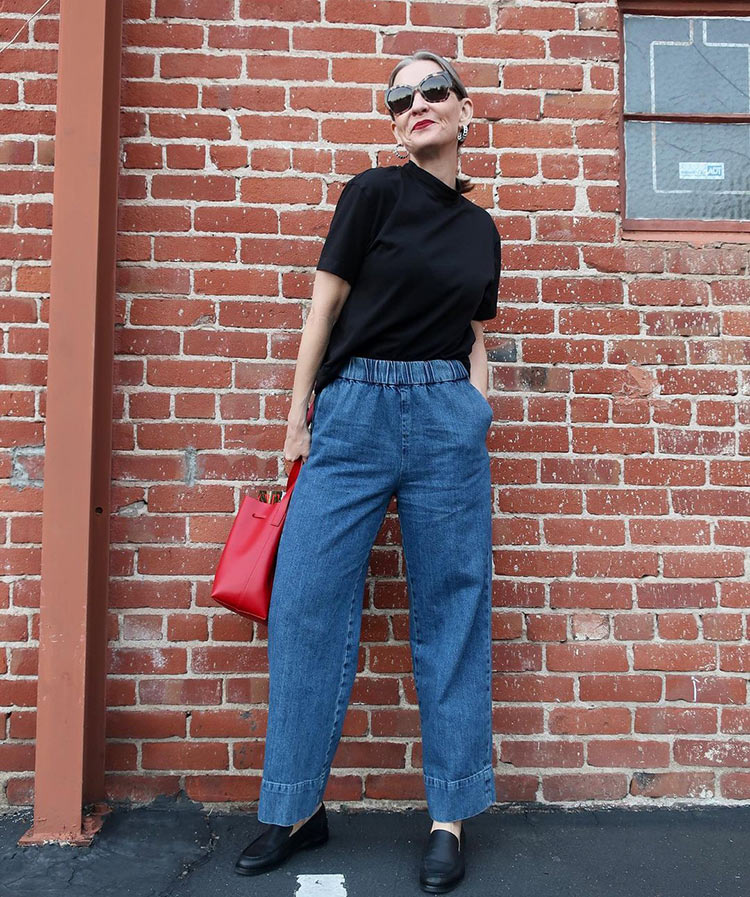 Dawn Lucy @fashionshouldbefun above (read her style interview here) opts for a classic black t-shirt with her jeans.
Check out this similar mock neck shirt, jeans, loafers, handbag, earrings and sunglasses.
Neckline
Not all t-shirts are the same. Even one white or gray t-shirt can be vastly different to another. And, one way you can ensure that your t-shirt flatters you is to pay attention to the neckline.
For instance, a v-neck is generally flattering for everyone, but you might want to consider a boat-neck option, which can look great on hourglass figures or if you are a pear shape.
Length
The length of your t-shirt will also make a difference. Right now crop tops are very fashionable. I recently had fun wearing a crop top that shows my midriff.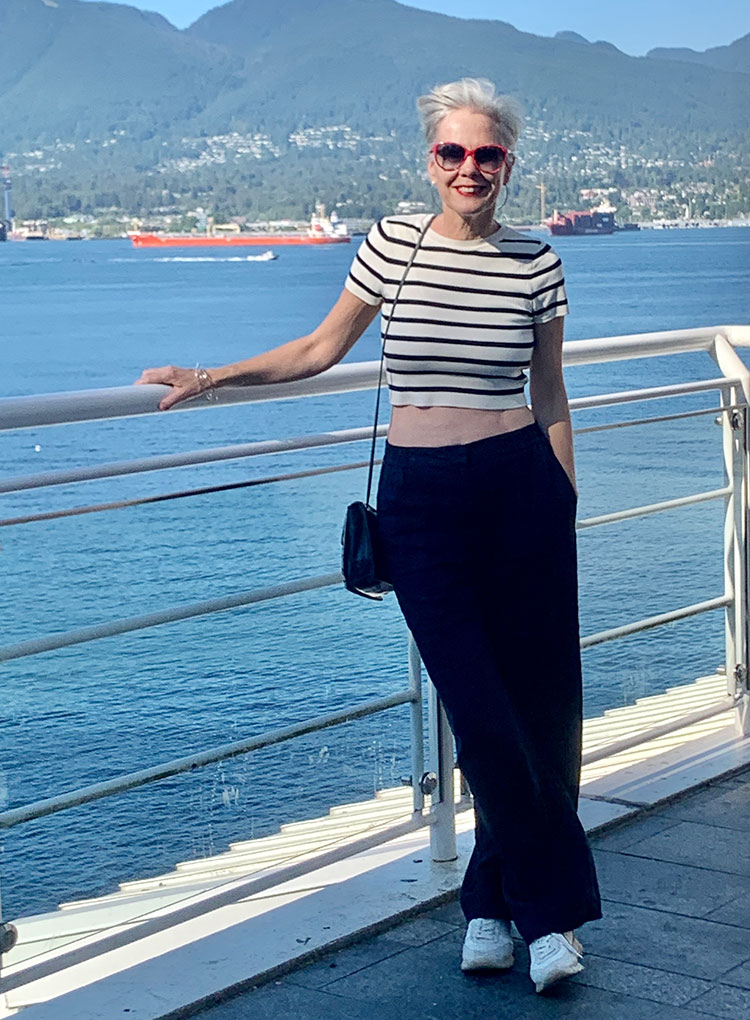 If you'd rather not do that, a wider crop top that ends at the waist is a very flattering option. This makes for an airy, fashionable look while still being able to show off your curves and keep your outfit in proportion.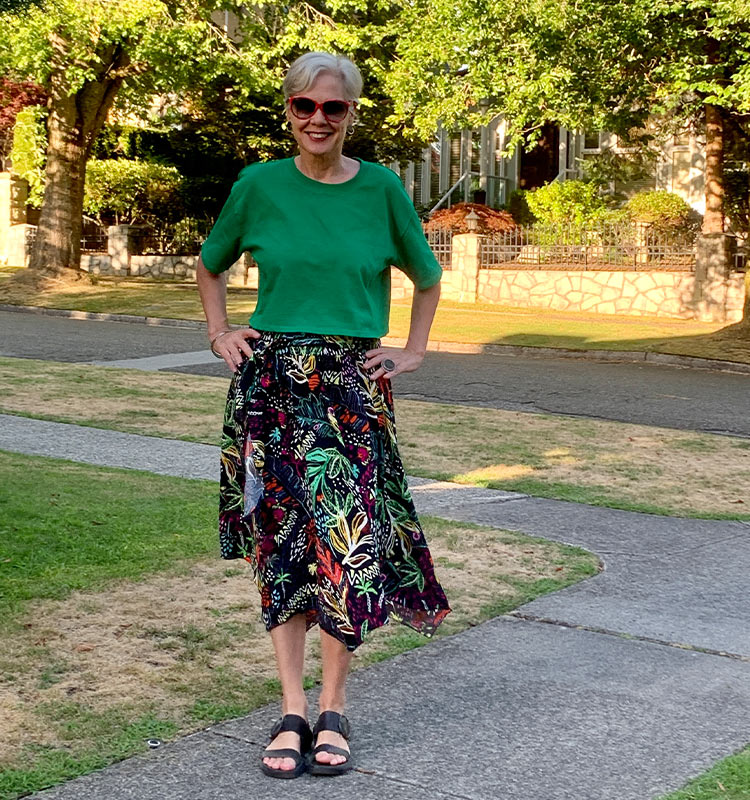 Recreate my look above with this similar tee (other options here and here), skirt, sandals and sunglasses.
Is it a bit different from the norm?
A t-shirt is a great addition to your closet as it goes with so many other items in your closet. You can wear with jeans, shorts or a skirt, or you can layer under a dress.
But, that doesn't mean that you have to choose a t-shirt which is too plain and simple. Look out for detailing such as asymmetry, draping and twists. Take a look at my article on do you need those plain, boring t-shirts?
Types of best t-shirts for women to choose
What are some of the different types of t-shirt you could choose to flatter your figure?
v-neck
A v-neck t-shirt is flattering for most figures. That's because the "v" creates a vertical line that has an elongating effect.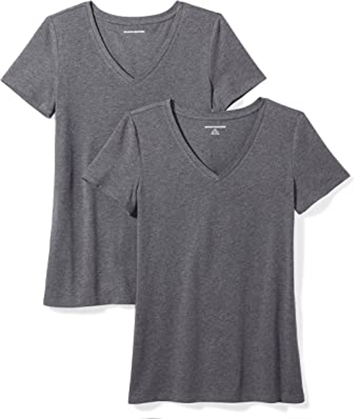 Amazon Essentials Classic-Fit V-Neck T-Shirts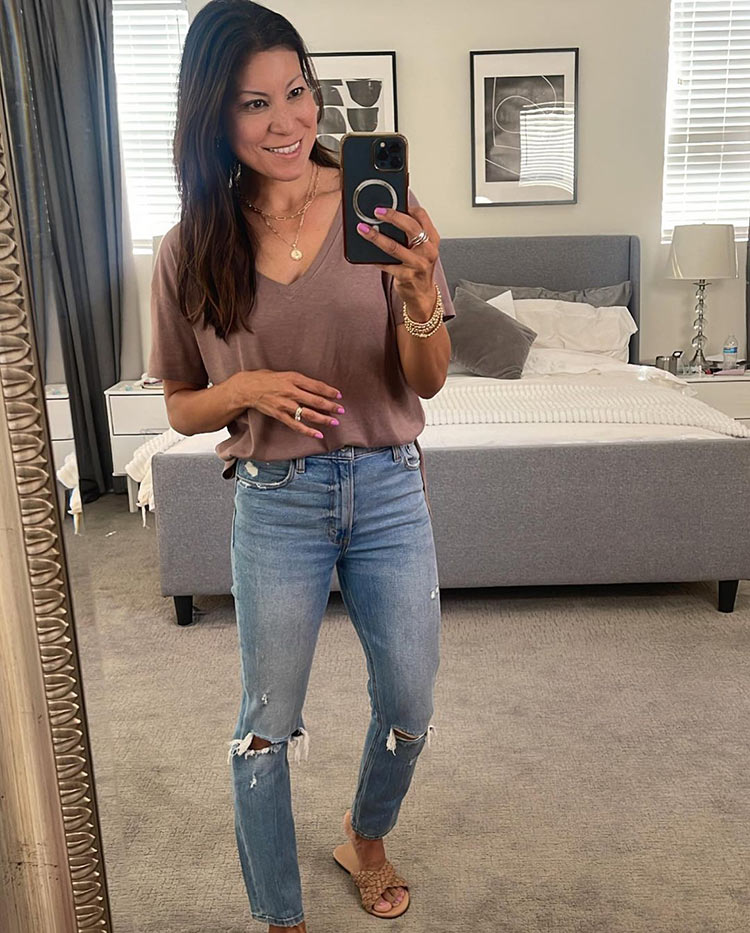 Adaline @sdmomstyles above wears her v-neck with her jeans and sliders.
Recreate her outfit with this similar t-shirt, jeans, sandals and necklace.
Crew or round neck
Another absolutely classic option, the round neck looks good if you have a long neck, and a small or medium bust.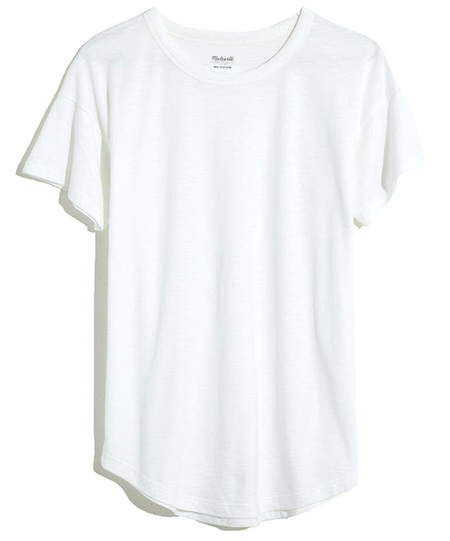 Madewell Whisper Cotton Rib Crewneck Tee
Scoop neck
A scoop neck looks good on most figures, as it lengthens the neck and accentuates your collar bone. It can be particularly good for hourglass figures or if you have a big bust.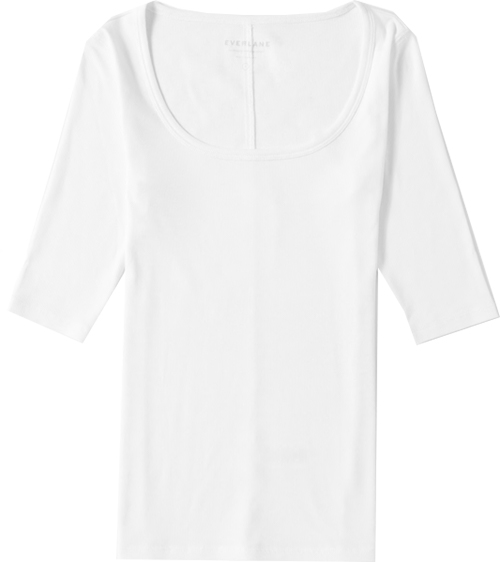 Everlane The Pima Micro-Rib Scoop-Neck Tee
square neck
As it's a lower neckline, the square neck works well if you want to elongate your neck, in the same way as a scoop neck. It also works well for large busts.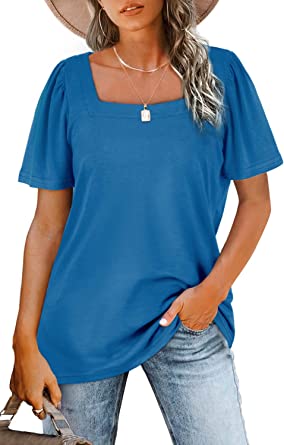 WIHOLL Square Neck Puff Sleeve T-Shirt
boat neck
A boat neck can be a good choice if you want to create the illusion of larger shoulders to balance out your hips, which makes it a good option for pear shapes.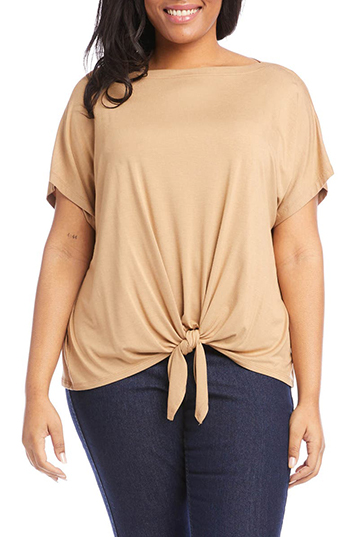 Karen Kane Boatneck Tie Front Top
Regular / Plus Size
henley
While the Henley neckline is traditionally a style geared towards menswear, it can create the same flattering effect as a v-neck, making it one of the best t-shirts for women too. Plus, as long as the buttons open, you can alter how deep the v is to suit you.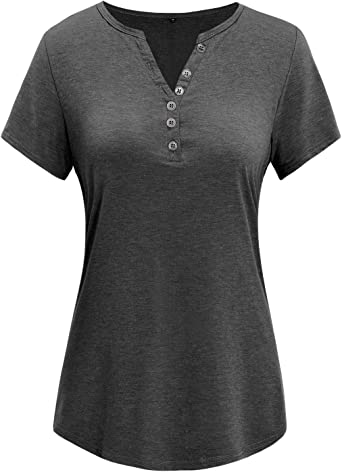 Kylie @kylish_aus above wears her Henley with her denim shorts.
Get her look with this similar tee, shorts, sneakers, hat and sunglasses.
oversized
The oversize tee is particularly on trend right now. As there is excess material, it can add unwanted bulk, so you will want to keep the rest of your look streamlined. Think about wearing your oversized top with leggings or skinny jeans.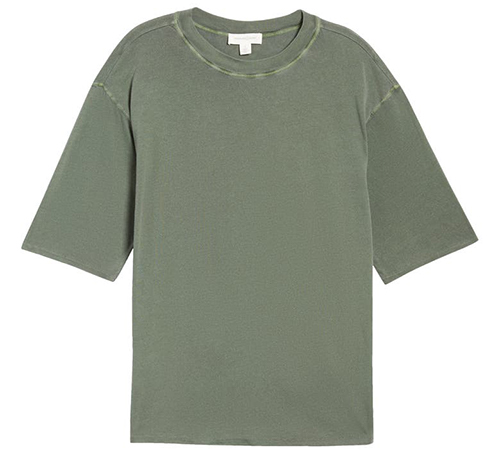 Treasure & Bond Contrast Stitch Oversize Organic Cotton Blend T-Shirt
POLO shirt
Like the Henley t-shirt, you can alter how many buttons you fasten to flatter your figure. The difference between a Henley and a polo, is the addition of the collar.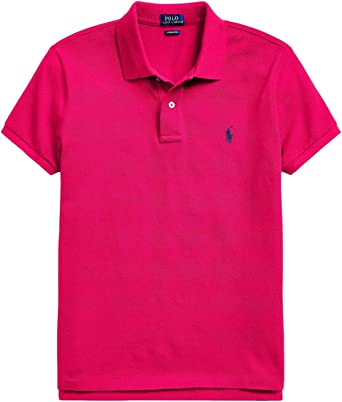 Polo Ralph Lauren Classic Fit Mesh Pony Shirt
Some of the best t-shirts for women to choose this season
Now, let's take a look at some of the t-shirts in stores now that you could choose.
Eileen Fisher SHIRT
Eileen Fisher is always a good go-to for style which won't date. The red t-shirt (below) comes in a modern, slightly boxy shape. You could wear as it is, or layer over a longer shirt.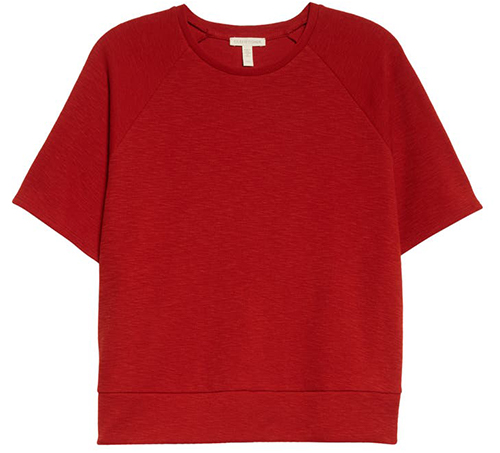 Eileen Fisher Raglan Sleeve T-Shirt
Zella knotted t-shirt
I love the tuck detailing on the t-shirt below from athleisure brand Zella. It comes in a good choice of colors, and you could wear for your workouts or for casual days.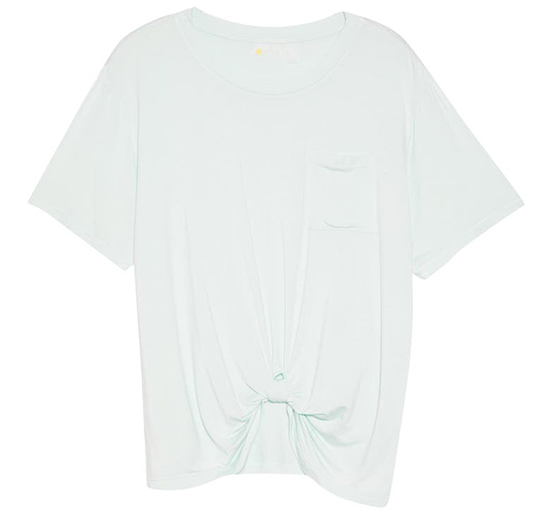 You may also want to take a look at my favorite leggings from Zella in this article on how to wear leggings over 40.
Stella Carakasi
If you haven't discovered Stella Carakasi, you may like to take a look. Many of my favorite pieces of clothing are from this brand. While you can see that the items in this article on Stella Carakasi are past season, they are timeless and still look just as good today.
The Stella Carakasi t-shirt (below) has a host of features that make it more interesting than your normal tee. There's the cowl neck, the asymmetry, and the print.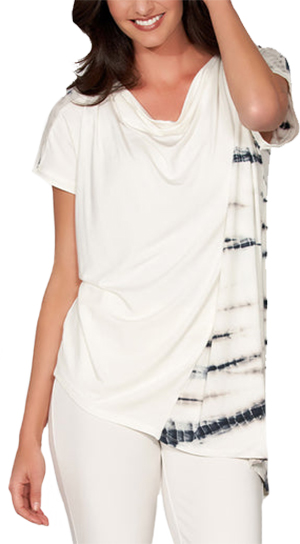 Stella Carakasi Island Hopper Top
karen kane
The Karen Kane t-shirt (below) also features some asymmetry on the hemline, as well as ruching around the belly.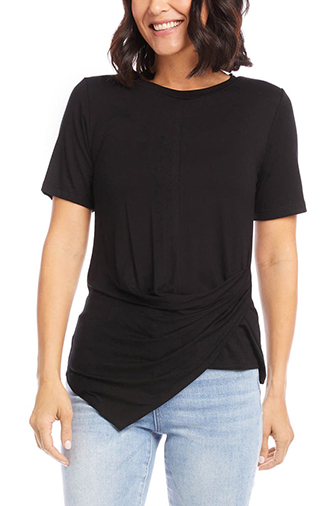 nic + zoe
A striped t-shirt is a classic that you can wear year after year. The asymmetry at the hem, and the way the stripes run diagonally at the bottom corner add interest.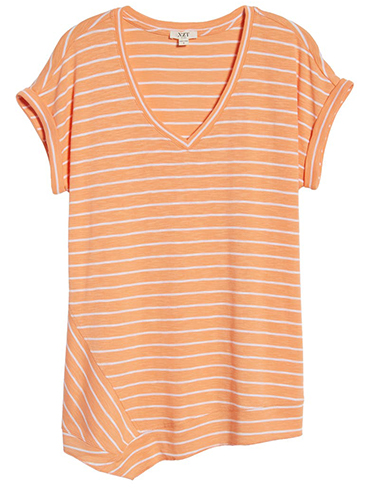 NIC + ZOE Stripe Asymmetric Hem Cotton Blend Top
jason wu
If you want to add a designer touch to your jeans and white t-shirt, you could try the Jason Wu t-shirt (below) which features asymmetric ruffling across the bust.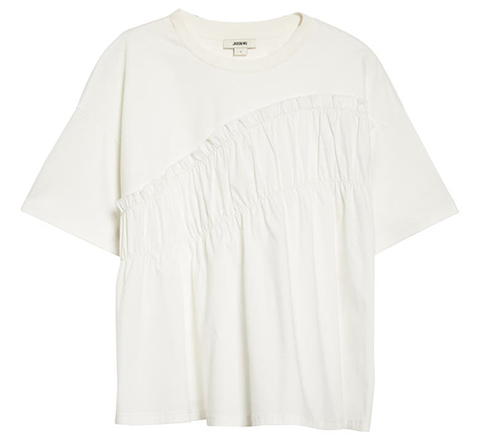 JASON WU Asymmetric Ruffle Cotton T-Shirt
treasure & bond
Tie details are a good idea to add interest to your t-shirt. The Treasure & Bond t-shirt below would be good with high-waisted pants or jeans.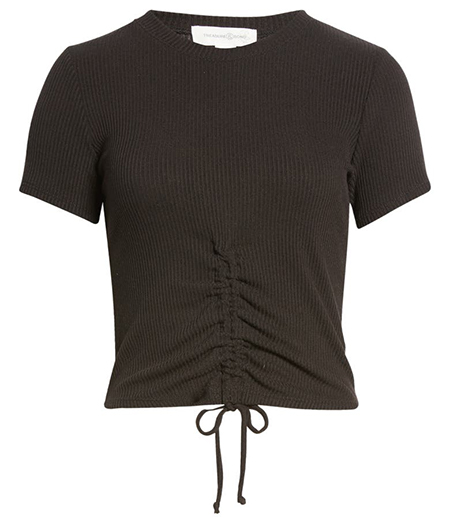 Treasure & Bond Cinch Tie Front T-Shirt
Chaus
Another tie option for you, the Chaus t-shirt (below) is in an on-trend green shade, and also features a flattering v-neck.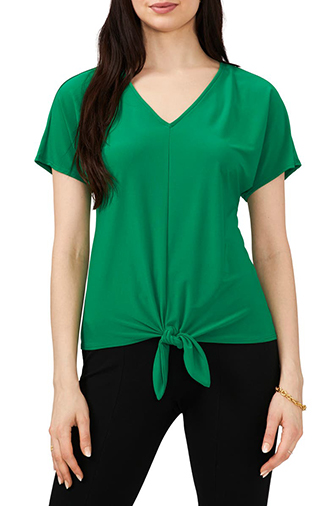 Good American
If you choose ruching or cinching on a t-shirt, you can choose one where the details best flatter your figure. The Good American t-shirt (below) features ruching down the sides and tie details at the hips.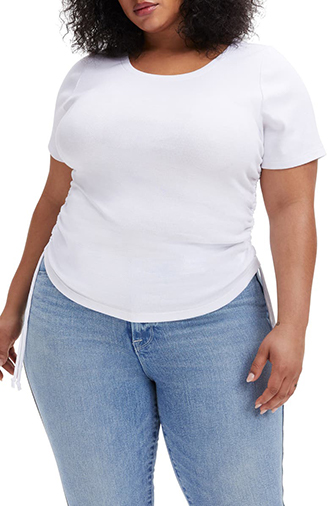 Good American Ruched Side Cotton T-Shirt
COS
COS's red t-shirt (below) has a boxy shape that will add modernity to your outfit.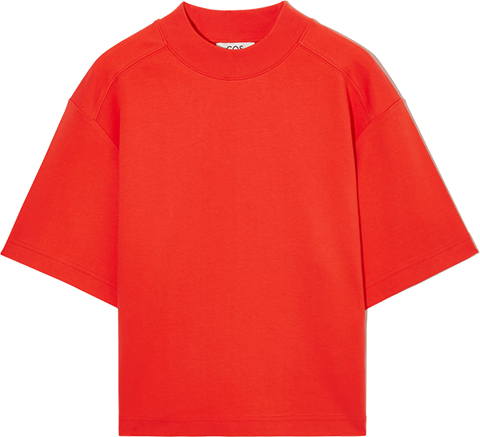 COS Boxy-Fit Mock Neck T-Shirt
Uniqlo
Uniqlo is always a good go to for basics. The t-shirt (below) features dolman sleeves which give it a point of difference.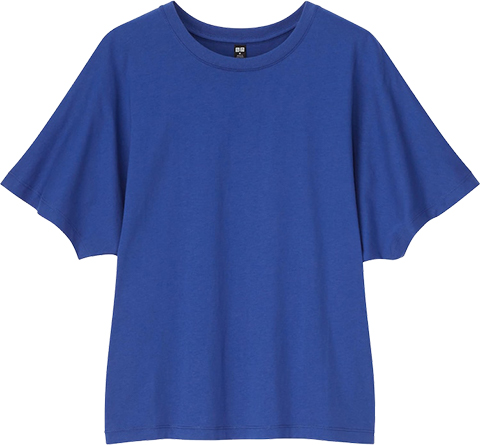 Uniqlo Dolman Short-Sleeve T-Shirt
Front-twist t-shirt
If you're a fan of a wrap top, then you may also want to try a front twist style like this tee below.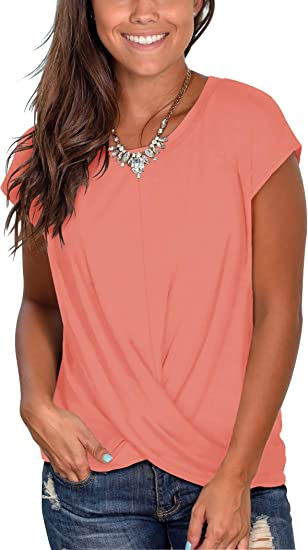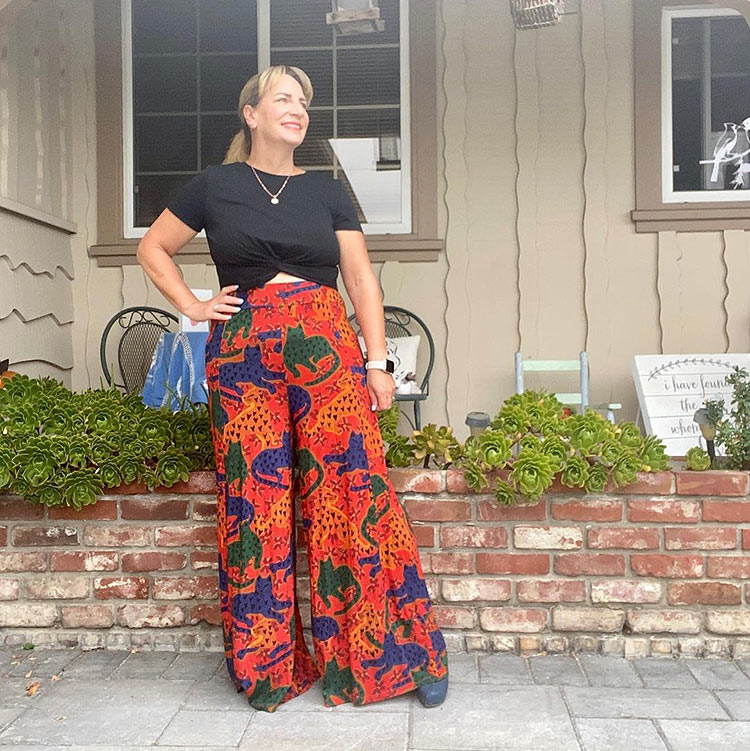 Robyn @robbiesue1970 above wears her twist t-shirt with high-legged palazzo pants.
Get her look with this similar t-shirt, printed wide leg pants (another option here) and necklace.
Swing tunic shirt
Opting for a draped style can add an extra element to your outfit, as well as being a great way to hide a belly, if that is an area of your body you prefer not to show.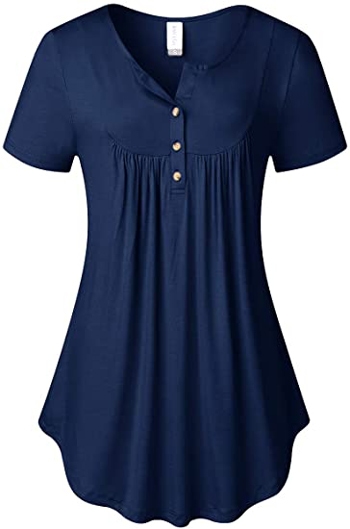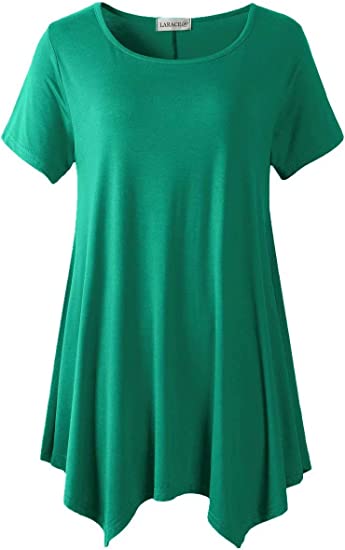 Also, take a look at the best tops to hide a belly for more inspiration.
Ruched dolman top
Another fabulously figure-flattering top is this ruched top below from Made by Johnny. The ruching ill hide a little bit of a tummy, while the sleeves cover upper arms, and the v-neck creates a flattering line.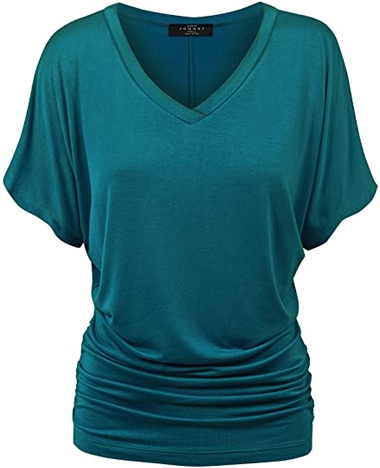 Classic wrap top
Just as the wrap dress is a timeless classic, so too is the wrap top. You can add instant elegance to your jeans.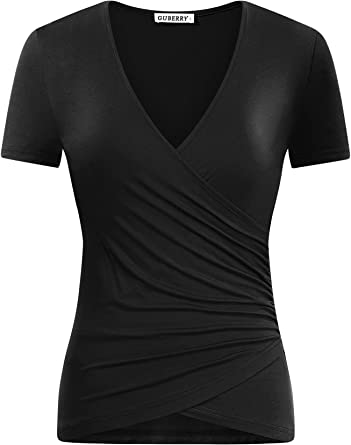 LilySilk silk blouse
Another way to add a beautiful point of difference to your t-shirt is to choose a tee in a luxurious fabric like silk or satin.
tie front top
Tie-front t-shirts like the Romwe shirt (below) tend to be shorter than average tees, so they work well with higher-waisted bottoms.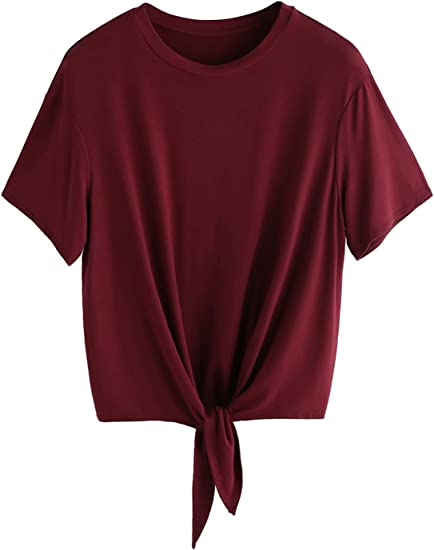 Also, take a look at how to wear asymmetrical tops and dresses for more inspiration if you are looking for the best t shirts for women over 40.
best stores for t-shirts
If you're looking for a new, flattering t-shirt, these are some of the best stores to try.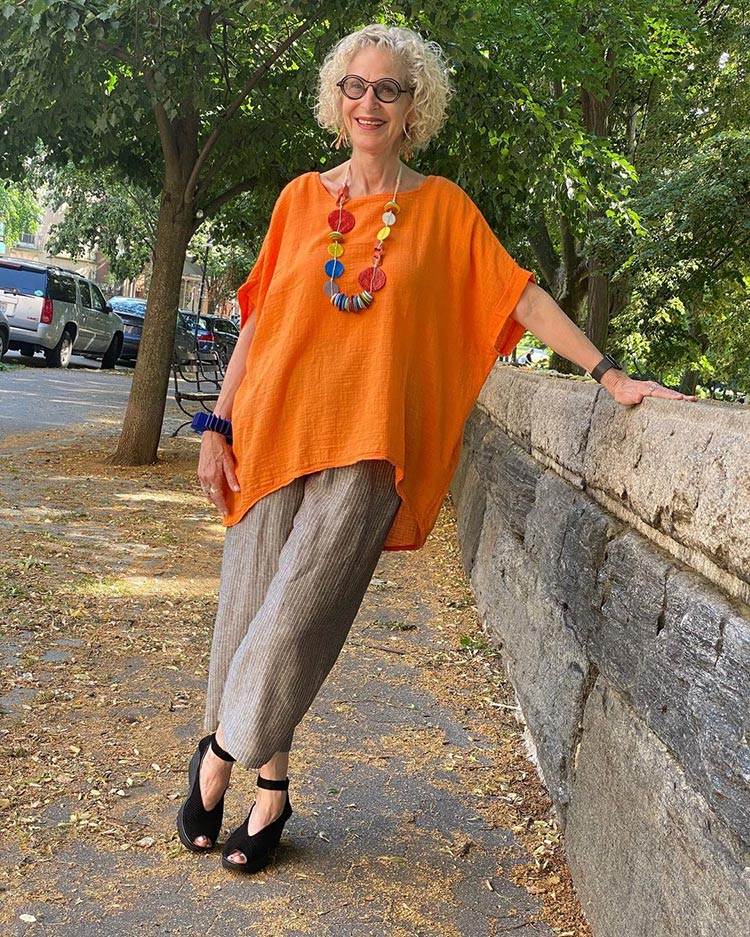 Dayle @artfulcitystyle above (read her style interview here) chooses a flattering oversized t-shirt in a bright orange shade.
Recreate her outfit with this similar top (another option here), pants (another option here), sandals and necklace.
What do you think the best t-shirts for women are? I'd love to hear your recommendations in the comments below.
shop some of best t shirts for women here:

Continue reading:
Like this post on the best t-shirts for women? Share it on Pinterest!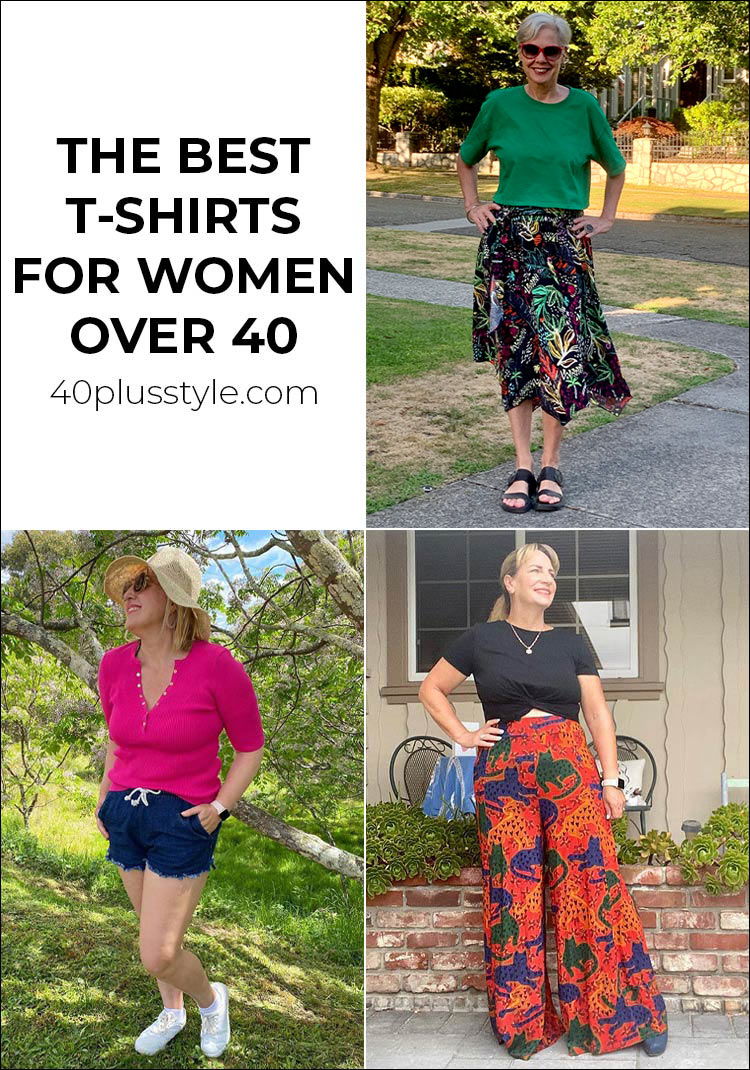 Want to get more articles from 40+style in your inbox, subscribe here.
You can also connect with 40+style on Facebook, Instagram or Pinterest.
Support 40+style by using the links in our articles to shop. As an associate for Amazon and many other brands, we receive a small commission (at no cost to you) on qualifying purchases which enables us to keep creating amazing free content for you. Thanks!