Diane von Furstenberg's famous wrap dress was first invented in 1974. And, given that the wrap dress is supremely flattering for all women, it's little wonder it has enjoyed such longevity. Below, you will find the best wrap dresses for women of all shapes and sizes, along with different wrap dress styles to choose from.
While Diane herself isn't always happy that her name is synonymous with the wrap dress, her designs have inspired thousands of other designers to create beautiful dresses which create balance for all body types.
What Diane von Furstenberg had to say about her famous creation
Diane von Furstenberg's name is always associated with the dress, something the designer has not always liked: "The wrap dress is the one thing that I owe everything to," the fashion designer said at a press preview for an exhibit which celebrated 40 years of her iconic creation.
"She paid for all my bills and as a matter of fact, in French, we call the wrap dress 'portefeuille,' which means wallet … but sometimes I resented the wrap dress because whenever my name is there, it's always 'Diane von Furstenberg, the wrap dress' and I always say 'but I do other things too.'"
That has not kept her from celebrating the iconic dress though and she still creates many new versions every season.
If you have always wanted a DVF wrap dress, you will find that many are now in the DVF sale. Given that the DVF wrap dress has been around since 1974, I think it's safe to say it will still be on trend for many years go come, so it should be a safe investment!

Celebrities who love the wrap dress
Kate Middleton, The Duchess of Cambridge, is also often seen in (variations of) a wrap dress.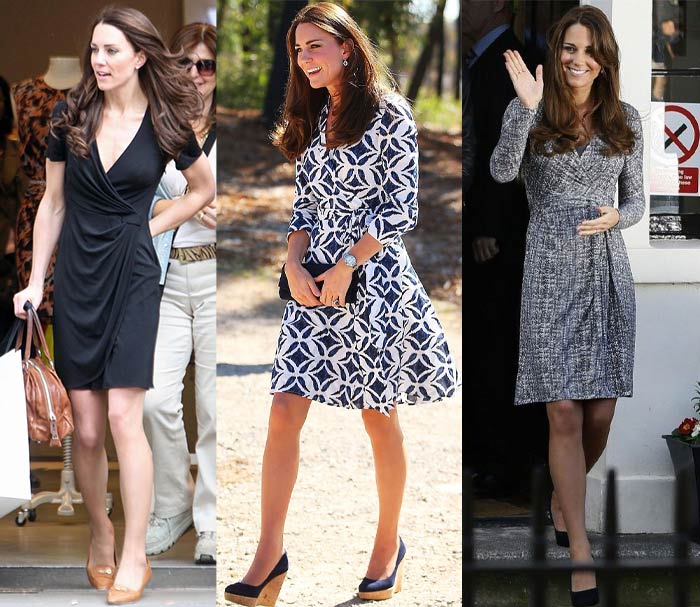 Source: Getty Images
Similar wrap dresses: Outfit 1: Amazon, Outfit 2: DVF, Outfit 3: Amazon
Why is the wrap dress such a flattering dress to wear?
Let's break down the elements of the wrap dress that make it such a flattering option for women of all shapes and sizes:
It accents your waist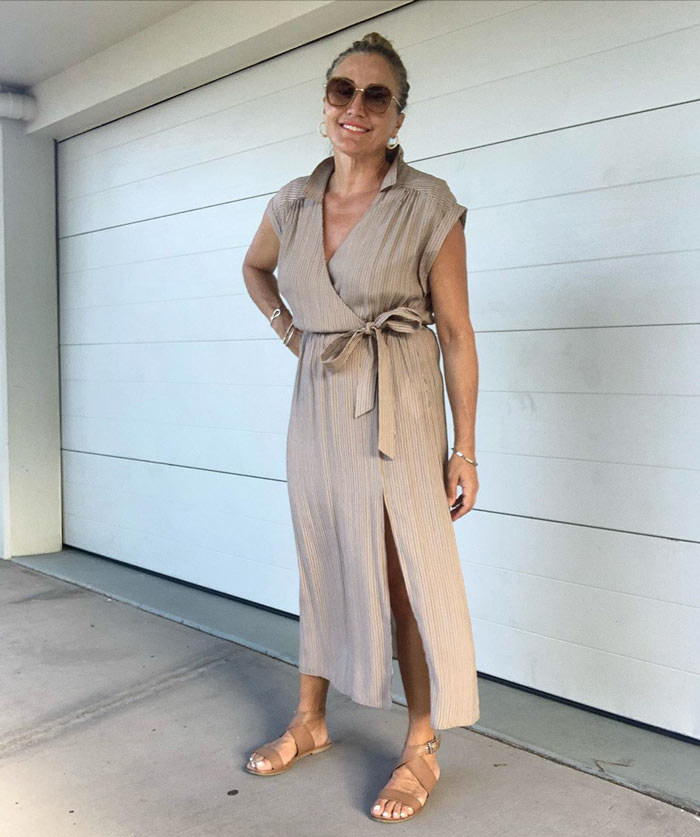 As the wrap dress hugs around the body and accents your waist, it works for all body types.
Melinda (above) cinches her waist with a beautiful bronze colored wrap dress and teams with neutral sandals.
Check out this collared wrap dress from Anne Klein and wear it with this similar pair of sandals, earrings and sunglasses.
It hides a belly
The layers of the wraps camouflage the tummy, even more so when you choose a printed version of the dress.
Suzie (above) opts for a pretty floral wrap dress which drapes across her tummy, and wears with on-trend shoe boots.
You can get her printed wrap dress from Banana Republic and wear it with this similar pair of booties.
The v-neck creates long lines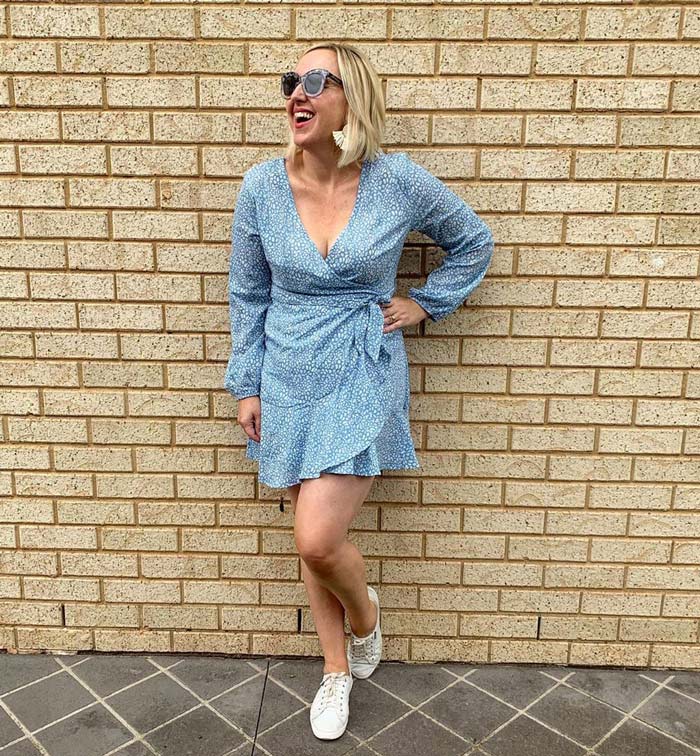 The V-cut neck adds to a flattering and womanly silhouette and is especially great for women with a larger bust. Plus the v shape can help to elongate the figure.
Kylie (above) chooses a short wrap dress. If you prefer to cover your legs, you could always wear a similar style with leggings.
Check out this similar mini wrap dress, sneakers and sunglasses.
It's easy to get the right fit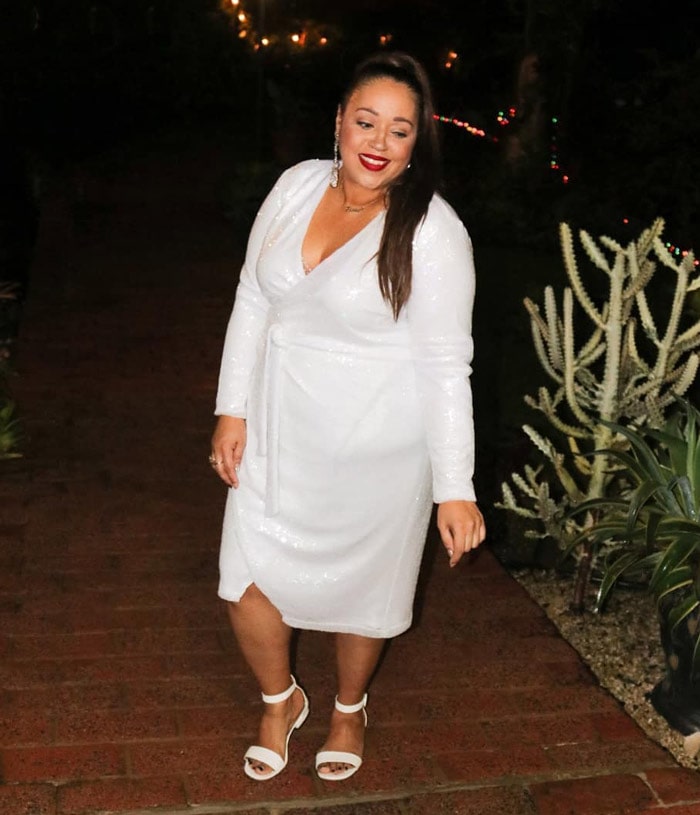 A wrap dress is always a great fit. This kind of dress does not mind a few extra inches on the waist line. Plus you can alter the fit with the way you tie the belt until you get the most flattering effect.
Sandra wears a beautiful all-white outfit.
Steal her look with this similar wrap dress, sandals and earrings.
A wrap dress works for formal and casual days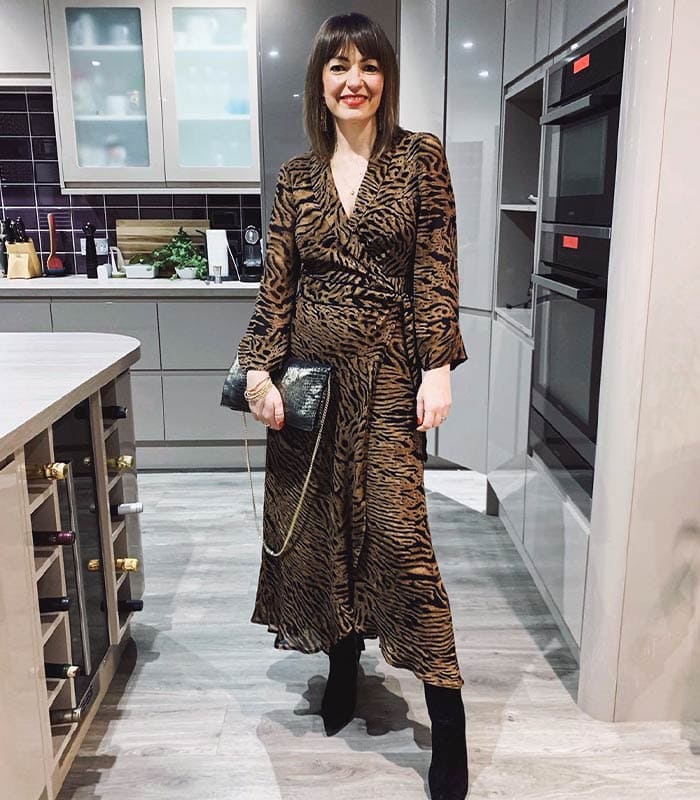 A wrap dress is both great for the office and for the evening. Just add some fancier shoes and a clutch!
Lizzi (above) dresses up her animal print wrap dress to create the perfect look for a dinner date.
Recreate her outfit with this similar printed maxi dress, booties and bag.
You can wear with any shoes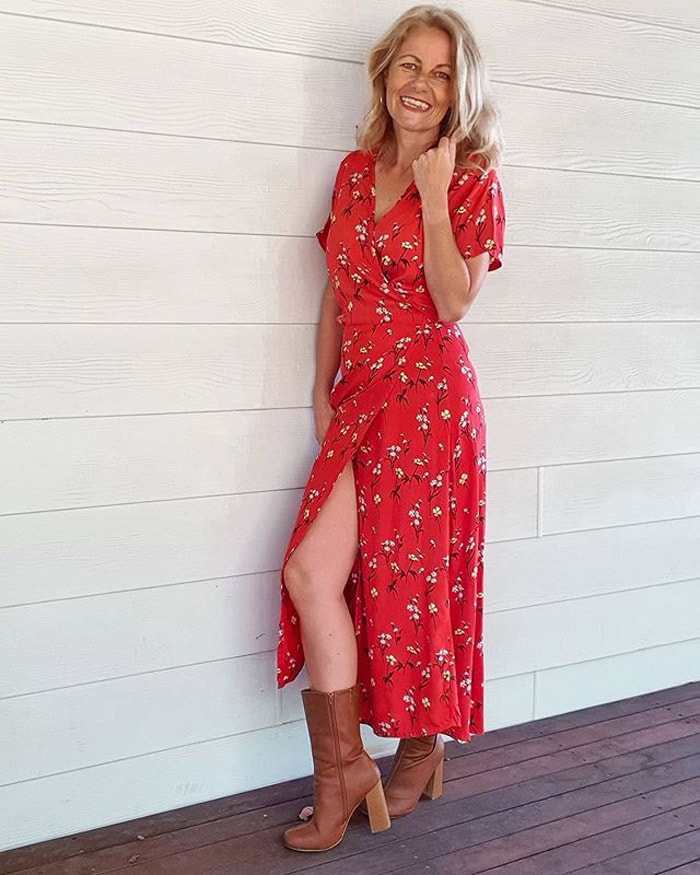 A wrap dress looks great with both flats and heels.
Shelley (above) adds a pair of booties to her wrap dress.
Check out this similar wrap dress and boots.
You can find a wrap dress with sleeves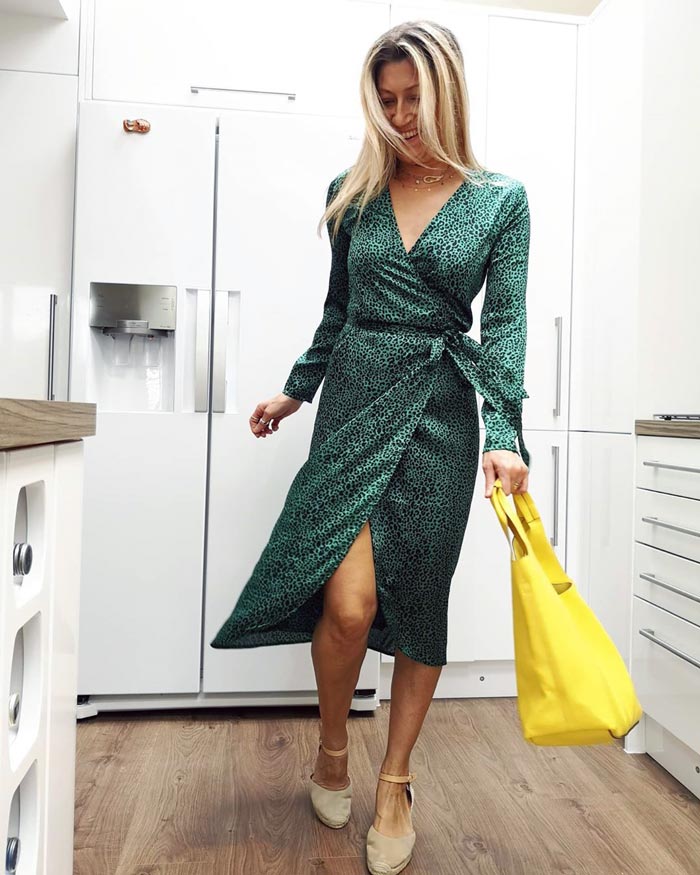 It's easy to find and wear this dress with long sleeves, which help keep you warm and gives coverage for the arms.
Abi (above) opts for a green wrap dress and gives it some summer flair with her espadrilles.
Check out this similar wrap dress, ankle strap shoes and handbag.
Take a look at the best dresses with sleeves for more ideas to hide your supper arms.
The best wrap dress styles in stores now
Now that you've considered all of the virtues of the wrap dress, below you will find the best wrap dresses and different wrap dress styles to choose this summer:
Striped wrap dress
You might not be able to travel at the moment, but this striped dress (below) from Rails definitely evokes the south of France.
It's a good choice if you prefer to cover your arms a little during the summer, rather than having a sleeveless style, as the capped sleeves provide a little coverage.
Rails stripe ruffle detail wrap dress
There are more dresses with sleeves options in this article.
Faux wrap dress
You don't necessarily have to tie your own wrap dress to get the same effect. You could look at wrap dress styles which already have the "wrap" built in.
This Karen Kane faux wrap dress is incredibly flattering, and is a great style if you are looking at ways to hide a belly.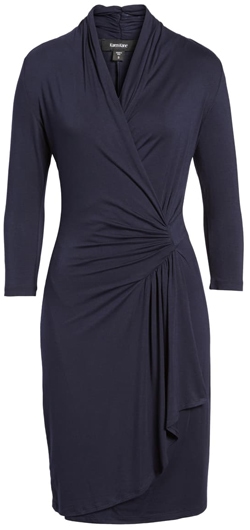 Printed wrap dress
How about adding a print to your closet with this blue and black wrap dress (below) from Lark & Ro?

Floral wrap dress
This Madewell wrap dress (below) could be styled in many different ways. The large daisies and russet shade may particularly appeal to you and fit in with the rest of your closet if you have a bohemian style.
Madewell daisy ruffle edge wrap dress
Two-tone dress
There were plenty of two-tone dresses on the designer catwalks for summer 2020, including on the runways of Roland Mouret and Ports 1961, and this style has now filtered onto the high street.
VERO MODA long sleeve shirtdress
Beach dress
You can also use a wrap dress to cover up on the beach. Pop this Elan wrap dress over your swimsuit if you are heading for lunch.

Polka dot wrap dress
Polka dots have been another big summer 2020 trend, particularly if you choose larger dots.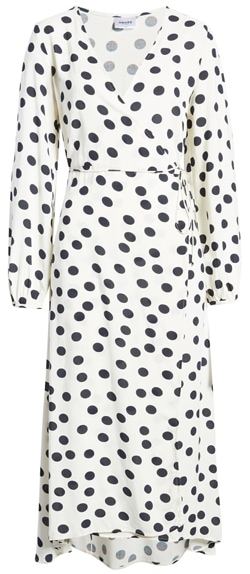 You can also take a look at how to wear polka dots this summer for more inspiration.
Colorblock dress
Another color block option for you, but this time also with a touch of white. If you like to emphasize your waist, this would be a great option as it features a white tie-waist belt.

Judith & Charles colorblock midi dress
Also take a look at my secrets on color blocking.
Boden wrap dress
Boden is a good go-to brand if you are looking for a wrap dress or a midi dress, particularly if you would like a dress in an unusual color.
This button detail dress is in classic navy, but the red edging adds an unexpected element.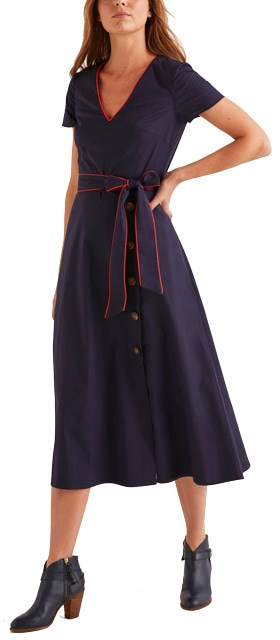 Maxi wrap dress
If you love the casual elegance that a maxi dress can bring, then there are plenty of color and pattern options to choose from with this Zattcas dress style.

Silk wrap dress
For an extra touch of glamour, you really can't beat adding a touch of silk to your outfit. This relaxed fit wrap dress (below) from COS comes in a beautiful shade of turquoise for summer, or you could opt for classic black.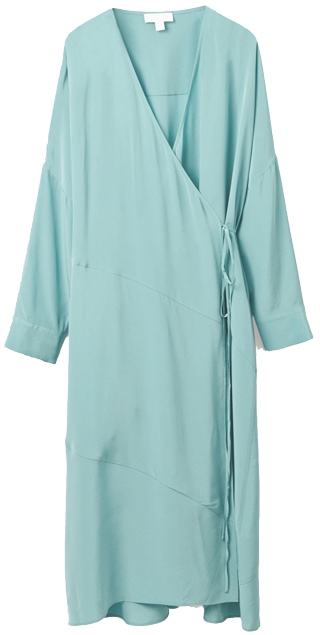 Sleeveless wrap dress
There is one school of thought – not one that I agree with – that you shouldn't combine navy with black. This dress from Club Monaco (below) is proof that navy and black work beautifully together. It also has a beautiful asymmetrical, handkerchief hem.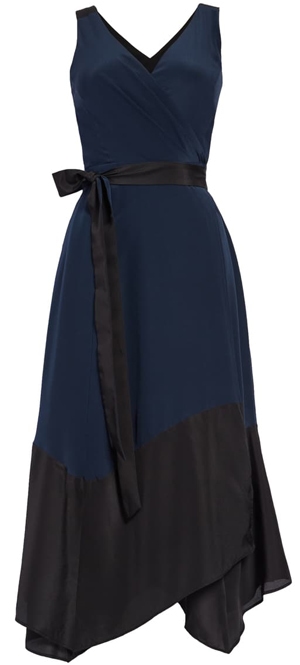 Club Monaco colorblock silk wrap dress
Pink wrap dress
Pink can be one of those colors that you either love or hate to wear. But it can be very flattering for many skintones.
If pink isn't your color, the this classic Lyrur wrap dress (below) comes in a choice of 11 different shades.
Green wrap dress
An asymmetrical or high-low hem can add a stylish, unexpected, element to your style. There are more ideas in this article on the best asymmetric tops and dresses to wear.
Eliza J floral high/low wrap midi dress
How to wear a wrap dress
Now that we've taken a look at some of the most stylish wrap dresses in stores, you will find plenty of ideas below on how to wear them, and what to wear your wrap dress with.
Laura (above) opts for a combination of red and pink, and adds a casual element to her outfit by teaming her dress with low-top sneakers.
Check out this similar dress, sneakers, blazer, scarf and sunglasses.
Kim (above) wears a faux wrap style with a fun fruit print.
Steal her look with this similar printed wrap dress, flats and sunglasses.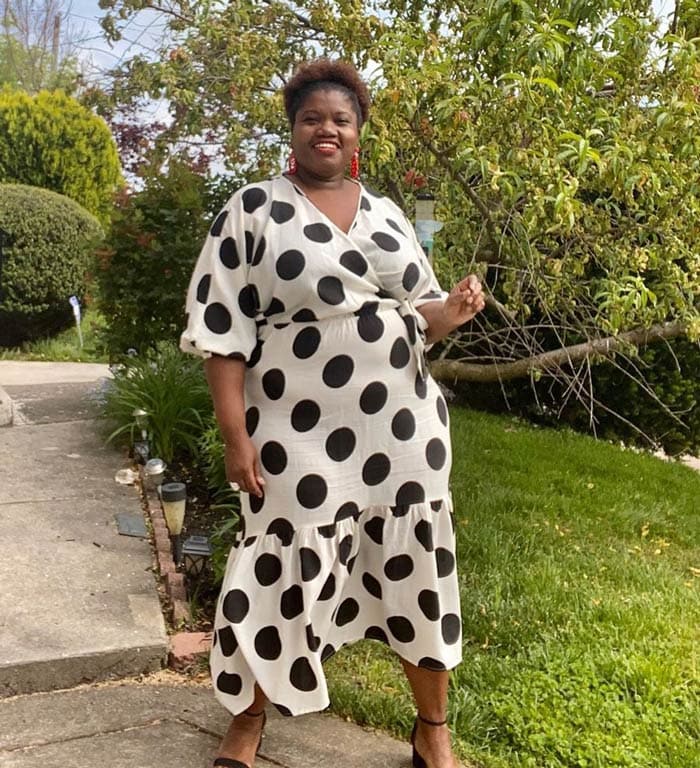 Georgette (above) looks beautiful in her on-trend polka dot wrap dress.
Recreate her outfit with this similar dress, sandals and earrings.
Tanasha (above) opts for a very stylish combination of green and white.
Check out this similar wrap dress, pumps, bag, earrings and sunglasses to complete her look.
Nic (above) opts a casual element to her wrap dress with a denim jacket.
Get her look with this similar wrap dress, denim jacket, booties and sunglasses.
Karen (above) shows how you can put unexpected colors together to very stylish effect.
Check out this beige dress from H&M and wear it with this similar pair of pumps and earrings.
Do you like to wear a wrap dress? Why do you like it so much?
Continue reading:
Like this post on how to wear a wrap dress? Share it on Pinterest!
Feature image by Lizzi
Want to get more articles from 40+style in your inbox, subscribe here.
You can also connect with 40+style on Facebook, Instagram or Pinterest.
Support 40+style by using the links in our articles to shop. As an associate for Amazon and many other brands, we receive a small commission (at no cost to you) on qualifying purchases which enables us to keep creating amazing free content for you. Thanks!