What do you think of the spring 2020 fashion trends? Have you been following the runway trends? How do they influence what you wear?
While this website and I would never suggest that you slavishly follow trends, adding a few trendy items can help to add an element of modernity to your looks.
In this article you will find the best spring 2020 fashion trends for women over 40. I will also show you how you cann wear them by incorporating them into your existing looks.
Spring 2020 fashion trends overview
What I love about the spring 2020 fashion trends is the amount of classic styles among them.
You may already have many of these trends in your closet. If you don't, and do decide to invest in something new this season, there are plenty of styles you could wear year-upon-year.
Take a look at the trends below. You'll see you could incorporate plenty of these into a classic capsule wardrobe.
If you like to know how to create your special spring capsule, be sure to read or article on how to create capsule wardrobe.
Don't forget to let me know in a comment below which of these are your favorites.
Fashion trends 2020: The long trench
It goes without saying that a trench coat is a style staple. But when it comes to trends, it's often about making little tweaks.
You may usually think about hemlines in terms of your dresses or skirts. The modern way to wear a trench coat is with a longer hemline.
Burberry – Bottega Veneta – Valentino

2020 fashion trends: Classic shirts
Another timeless item, the shirt, made plenty of appearances on the SS20 runway, both in shirt form but also as a shirt dress.
Wear with your jeans, or wear layered over a turtle neck. You'll see below that one way to update your shirt is to wear with the top buttons undone and add a statement necklace underneath.
Etro – Chloé – The Row

Spring 2020 fashion trends: Shorts suit
You usually see a suit jacket with a matching skirt or pants, but how about a pair of shorts?
This could be a stylish idea if you have a summer event. You'll see that short styles were long and worn with heels.
Bottega Veneta – Rejina Pyo – Chloé

Waistcoats
Waistcoats have been fashionable since the 17th century and, given the cyclical nature of fashion, it stands to reason that they would be back on trend again.
You can wear yours in a bohemian 70s style or as a very tailored look which would be beautiful if you are set to attend a summer event such as a wedding.
Chloé – Celine – Louis Vuitton

Polka dots
This is one trend that has definitely already made its way to the high street. I've noticed so many polka dots in stores right now.
The great advantage to this print is its timeless nature. Polka dots are on trend now and they will still be on trend for many years.
Wear as a summer dress or look out for a polka dot top and wear with your jeans.
Altuzarra – Michael Kors – Dries Van Noten

Tropical prints
Does anything shout summer more than a tropical print? You can opt to be as loud or as subtle as you want with this trend.
My favorite way of wearing this was Ermanno Scervino's take on the trend (center below) with a monochrome asymmetrical print and a leather jacket.
Valentino – Ermanno Scervino – Dolce & Gabbana

Crochet and crafts
There were plenty of "home made" looks on show from designers, which will definitely be making their way down to the high street.
Some were very overt crochet looks, but you may wish to opt for a more subtle approach such as a summer dress with some cut-out or tassel detailing.
Or, you could always look at wearing the crochet jacket (below right) with a pair of jeans or wide-leg pants.
Oscar de la Renta – Elie Saab – Dolce & Gabbana

70s revival
Most seasons, you will find that designers are inspired by decades gone by. This summer, inspiration came from the 70s.
You could wear it in a boho style, or you could opt for a more subtle take on the 70s trend with a long maxi dress in one block color rather than the patterns and prints usually associated with this decade.
Chloé – Saint Laurent – Missoni

Leather for spring and summer
Leather looks are thought of as being for winter and fall. Not only does leather tend to be warm, but traditionally, it comes in darker shades.
However, the leather on the runways featured in pretty pastels and brighter hues.
You'll see Sies Marjan (below right) ticked off several trends in one with a burgundy, reptile textured, leather trench.
Also take a look at how to wear a leather jacket.
Altuzarra – Tod's – Sies Marjan

Scarf prints and ties
There's no need to only wear your scarf style as a scarf! there were some stunning scarf style blouses and dresses on the catwalks.
You could easily wear a scarf-print blouse with jeans or pants, or choose this style in a summer dress for your vacation this year, worn with sandals.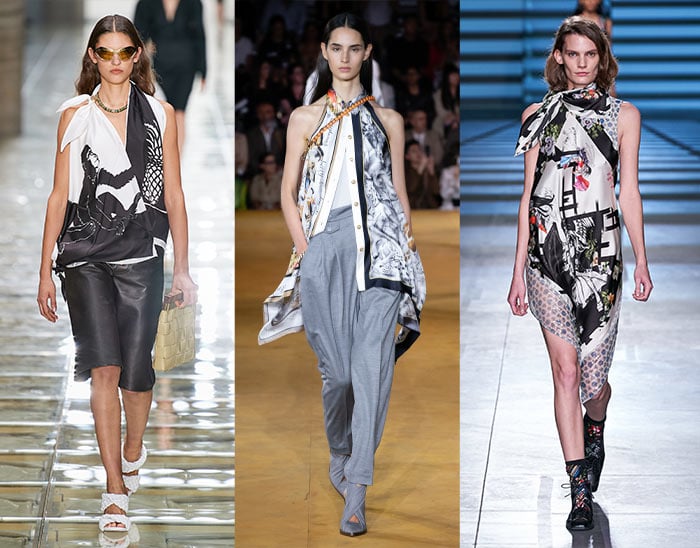 Bottega Veneta – Burberry – Preen by Thornton Bregazzi

Bold black and white
Is there anything more timeless when it comes to color combinations than teaming black with white?
This summer, the trend is for a very bold, monochrome look. You can always add a little color with your accessories if you don't want to stick entirely to neutrals.
Chloé – Balmain – Stella McCartney

Glossy satin
There were plenty of ways that I won't be wearing satin in the way that was shown on the runways, including satin crop tops.
However, there were also beautiful options to incorporate satin into your closet, such as a satin dress, blazer or trench.

Elie Saab – Tom Ford – Sies Marjan
Which trend is your favorite spring 2020 trend? What will you incorporate into your wardrobe this spring?
Continue reading:
Like this article on fashion trends 2020? Share it on Pinterest
All images from Vogue: Spring 202 RTW Fashion Shows
Want to get more articles from 40+style in your inbox, subscribe here.
You can also connect with 40+style on Facebook, Instagram or Pinterest.
Support 40+style by using the links in our articles to shop. As an associate for Amazon and many other brands, we receive a small commission (at no cost to you) on qualifying purchases which enables us to keep creating amazing free content for you. Thanks!