If your favorite style icon is Ali MacGraw in Love Story, then you almost certainly have a preppy style personality.
An all-American style which is inspired by prep school attire, this is a way of dressing which can transcend seasons, and generations.
What is preppy style?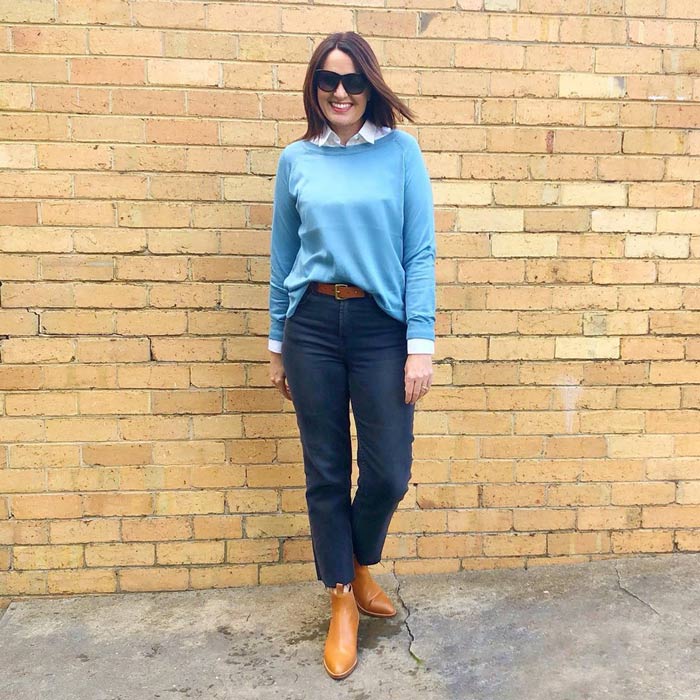 So, first, what exactly is preppy style? This collegiate-inspired style is casual in the main, but that doesn't mean that your closet will be totally full of denim and jeans.
You also love to wear skirts and dresses as well as classic blouses with pussy bows or Peter Pan collars.
Karen (above) shows off a classic preppy style trick, of wearing a sweater with the collar of a shirt peaking out.
Recreate her look with this similar collared shirt, sweater, jeans, booties, belt and shades.
How to tell if you have a preppy style personality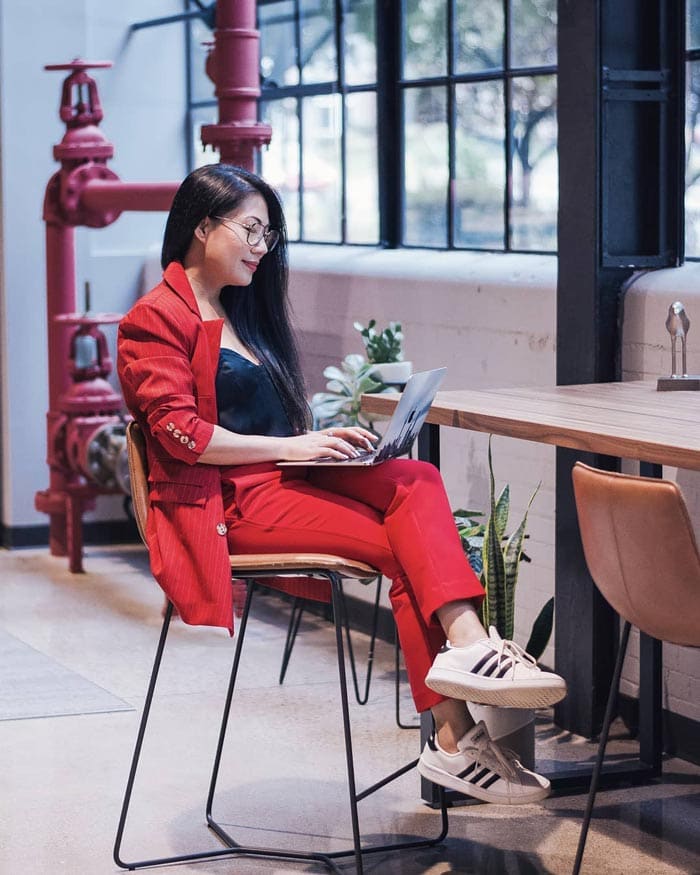 A preppy style has a lot in common with classic style so you may well find that you are drawn to elements of both. It can also draw inspiration from natural style.
As a preppy style personality, you love cozy knits, checks and stripes and prefer to wear flat shoes and natural fibers, including leather as well as wool.
If you aren't sure what your style is, you could take this fun style personality quiz to see which style you are most drawn to.
You appreciate clean-cut styles
I won't find you in distressed jeans or a moto jacket. Instead you prefer a blazer, a v-neck sweater and a classic jeans style like bootcut or straight-leg.
Grace (above) looks beautiful in her preppy-style suit, worn with sneakers.
Check out this similar blazer, pants, eyeglasses, and pair with these Adidas sneakers.
You aren't trend obsessed
It's much more important to you to have a good closet of essentials than to shop for a statement piece each season.
For more inspiration take a look at the 28 essentials every woman over 40 should have in her closet.
You have a love of stripes
If there's one pattern you have in your closet, it will be stripes. That's because as well as being college-inspired, the preppy look also has a nod to the nautical.
You don't have a preference for pants or skirts
While preppy style is generally comfortable, you are just as at home in a pair of pants as you are a skirt and you probably have equal numbers of each in your closet.
You love a dress or shirt with a collar
While you'll wear t-shirts and boat necks too, collared clothing styles such as the peter pan collar, classic button-down shirt or shirt dress and the polo style are among your favorite looks.
Preppy style women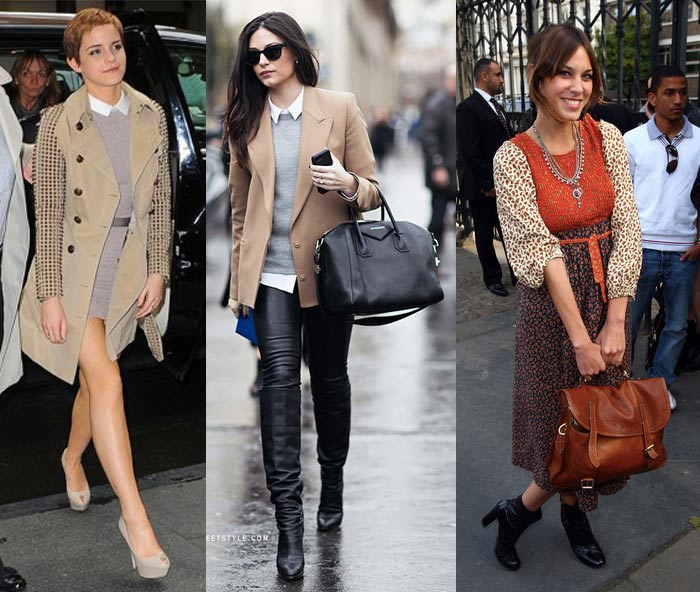 The preppy style is one that has been adopted by many younger celebrities in recent years, including Emma Watson and Olivia Palermo.
But it's also loved by Alexa Chung (above, right, who combines preppy with some bohemian), who is in her fourth decade, and Gwyneth Paltrow, who combines preppy with classic style. Reese Witherspoon is also often seen sporting a preppy look.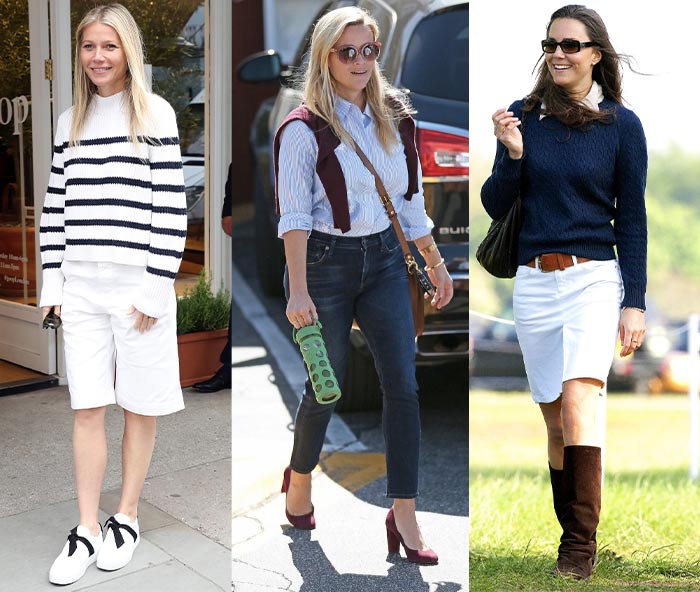 Kate Middleton also often dresses in a preppy style both off-duty and on. She loves blazers and pussy bow necklines.
Plus, there are plenty of women from years gone by who could show them all a thing or two. Fashion designer Lilly Pulizter epitomized preppy style, whereas no-one wore a twinset better than Jackie O or Grace Kelly.
Designers you like if you love preppy fashion
As the preppy style is really an all-American look, your preference tends to be for American designers including Ralph Lauren, Tommy Hilfiger and Thom Browne. Gucci and Prada have also increasingly been fans of the preppy style in recent seasons.
All of these designers will appeal to your love of a clean-cut, classic style with a little hint of "geek" chic.
Preppy clothes and accessories
Now, let's take a look at some of the best clothing, shoe and accessory styles to get a preppy look. Plus, read on and you'll find a capsule wardrobe especially put together for the preppy style personality this summer.
Tops to get the perfect preppy look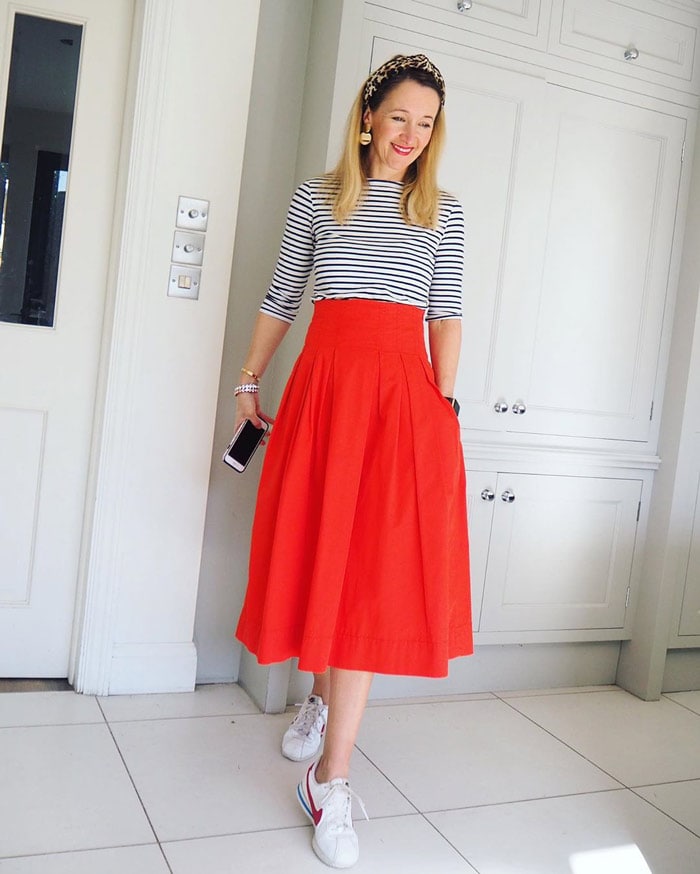 The preppy style personality really goes for two main options when it comes to tops.
You will want to make sure you have plenty of casual options in your closet, including a classic polo neck and Breton-striped top.
But, you also like ladylike, dressy blouses and will often choose to dress up your jeans with pretty blouses featuring Peter Pan collars or pussy bow detailing.
Karen (above) opts for a striped boat-neck top and teams it with other preppy essentials, including a full skirt and a headband.
Steal her look with this similar top, skirt, earrings, headband and a pair of Nike sneakers.
Nordstrom Signature stripe linen shirt – Gildan piqué polo – Frank & Eileen stripe linen blend shirt – VERO MODA bow top
Preppy style outerwear
A classic sweater and a cardigan is definitely vital to achieving a preppy style.
For a true preppy look, choose a v-neck and look out for details such as cable knit as well as varsity or cricket-style stripes.
For transitional months or cooler evenings, you can invest in a padded, yet fitted, vest which you can wear over your shirts and v-neck sweaters.
You will also want to add a classic blazer as well as a quilted coat. Plus, you could think about adding a classic pattern such as plaid.
Nadine (above) mixes up her style, adding elements of a preppy look as well as romantic style.
Check out this similar cardigan, skirt, booties, handbag and sunglasses.
YEMAK knit cardigan – 1.STATE plaid blazer – Michel longline sleeveless cardigan – Bellivera quilted lightweight puffer jacket
Jeans and pants for the preppy style personality
When choosing jeans and pants, you won't be looking for the very latest hem style or for jeans with holes in them.
Like the rest of your look, you like a clean cut look which could transcend decades.
You will want a classic jeans style as well as looking out for options with patterns such as checks and for pants which have a defined crease. A sailor style will also appeal to you.
Hild (above) chooses sailor style pants with her blazer.
Recreate her outfit with this similar top, blazer, pants, pumps and earrings.
Topshop crepe shorts – L'AGENCE high waist crop slim jeans – Vince chino pants – Halogen high waist crop pants
Preppy dresses and skirts
You will probably have an equal number of pants to skirts if I were to take a look in your closet.
Look out for styles featuring pleats which will go perfectly with your Peter Pan collars. As a preppy style, you could opt for a shorter skirt length if you are confident about your legs.
You can always wear a shorter skirt with opaque tights. Or you could choose a knee-length or midi option.
Sally (above) chooses a midi skirt with her blazer.
Check out this similar blazer, skirt, heels, handbag and necklace.
VETIOR midi swing dress – Oodji piqué polo dress – Chelsea28 pleated midi skirt – Boden belted midi skirt
Preppy shoes
Like the rest of your look, your shoes will be very classic styles. They will also, usually, be mainly flat.
You aren't too keen on heels and you definitely don't like to be uncomfortable. Instead, look out for loafers with bows or tassels, a pair of brogues or Oxfords and flat knee-high boots for the cooler months. For summer, you could look for sneakers or boat shoes. For more formal occasions, you might like Mary Janes, either flats or with a heel.
Ashley (above) opts for a preppy classic – a pair of loafers with a mule styling for summer.
Get her look with this similar tee, blazer, jeans and mules.
Jack Rogers sandal – The FLEXX quilted ballet flat – Tory Butch loafer – Sperry slip-on sneaker
Accessories to go with your preppy clothes
When it comes to accessories, you like to be understated rather than flamboyant.
You love a classic satchel, some well-made leather gloves which will last you for years and, of course, a long wool scarf. Headbands are particularly on-trend right now and are a key component of preppy style.
Your jewelry will be tasteful and understated, like the rest of your wardrobe, so you might only choose to add a pair of diamond or pearl stud earrings and a watch for your day-to-day outfits.
Patricia (above) gives her preppy style some added flair by adding a beret.
Recreate her outfit with this similar sweater, collared blouse, midi skirt, boots, beret, sunglasses, hoop earrings and handbag.
Dreubea tote – JOSEKO woven clutch – Ted Baker London skinny silk scarf – Brixton baker boy hat – Falari baseball cap – Belts.com skinny belt – PAVOI pearl necklace – Tory Burch pearl drop earrings – MHDGG knot headband – Ray-Ban aviator sunglasses
Here are 9 preppy outfits created from the wardrobe choices above
Below you will find many of the clothing and accessory options put together in a capsule wardrobe for summer. You could easily mix and match many of the tops and bottoms to create many different outfit options.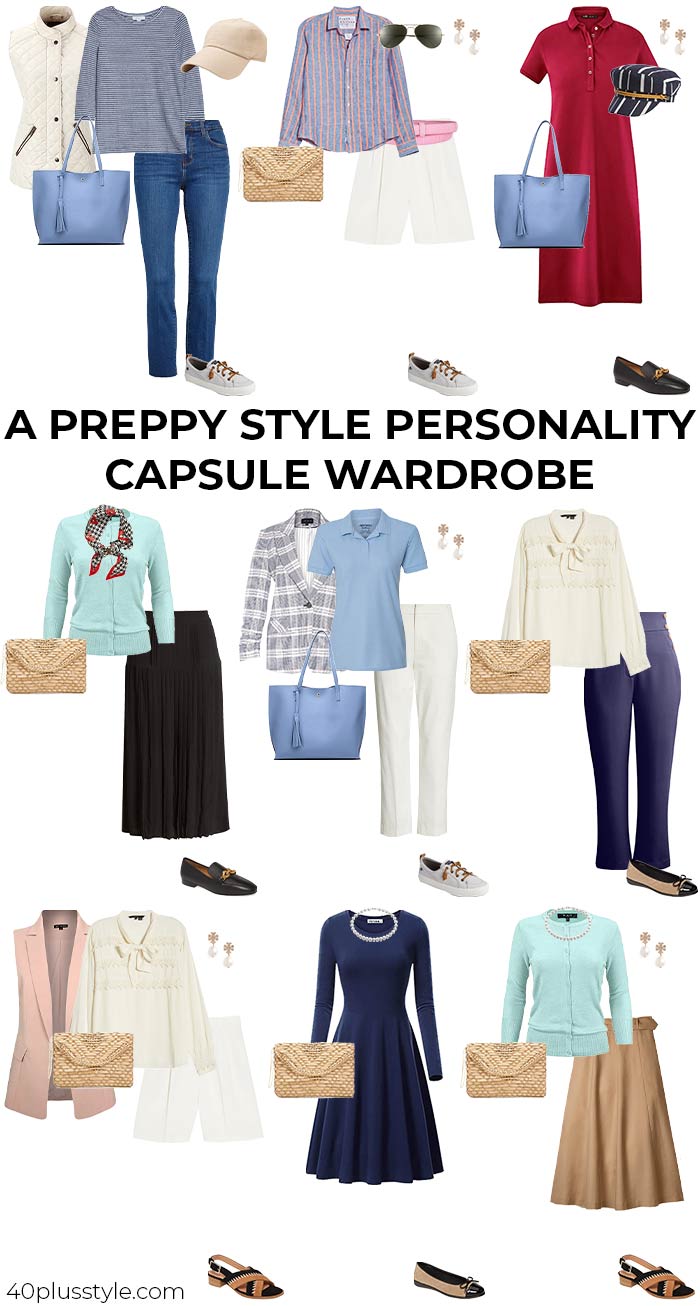 Also, read our ultimate guide to creating a capsule wardrobe that works best for you.
Take a look below at our previous season preppy capsule. You can see this is such a timeless style that all of the items featured would still look just as good this season and beyond.
Preppy brands
If you love a preppy style, then you're definitely in luck.
There are plenty of brands, both designer and from the high street which cater to the preppy aesthetic. These are some of my favorites. How about you?
Continue reading:
Like this post on the preppy style personality? Share it on Pinterest!
Feature image by Hild
Want to get more articles from 40+style in your inbox, subscribe here.
You can also connect with 40+style on Facebook, Instagram or Pinterest.
Support 40+style by using the links in our articles to shop. As an associate for Amazon and many other brands, we receive a small commission (at no cost to you) on qualifying purchases which enables us to keep creating amazing free content for you. Thanks!