Fall is one of the most exciting times of the year to get dressed! Beautiful fabrics, tactile textures, rich colors, new trends and plenty of opportunities to layer and accessorize. What more could you want? But what are the trends to look out for? Take a look at our Fall fashion trends 2023 round-up.
In this article, we take you through all the Fall trends we've spotted on the catwalks, so you can shop your closet or treat yourself to a few new pieces. Under the designer options, you'll see high street choices featuring the same trends. See which is your favorite.
Fall fashion trends 2023: Tailoring
Sharp tailoring has never been out of style. But it's even more on trend for Fall 2023 than ever. At one point, matchy-matchy suits fell out of favor, as they were seen as old-fashioned. But designers including Balmain, Zimmermann and Ferragamo have brought them bang up-to-date. In fact, most designers opted for at least one suit on their Fall catwalks.
Choose a pant suit rather than a skirt. Wear your suit for the office or for dinner, or dress it down with sneakers rather than heels. Or, wear a suit for a formal event rather than a dress. You can always wear your suit as separates on other days to create more looks.
Zimmermann – Ferragamo – Balmain

Dark florals
Usually the preserve of spring and summer, florals have been given a makeover for Fall with dark backgrounds against paler flowers. Choose a dark floral dress for evening or add a floral top to your favorite pants or jeans. If you've been wearing a floral dress for summer, you can always keep it among your Fall outfits by adding a moto jacket or blazer, tights and boots.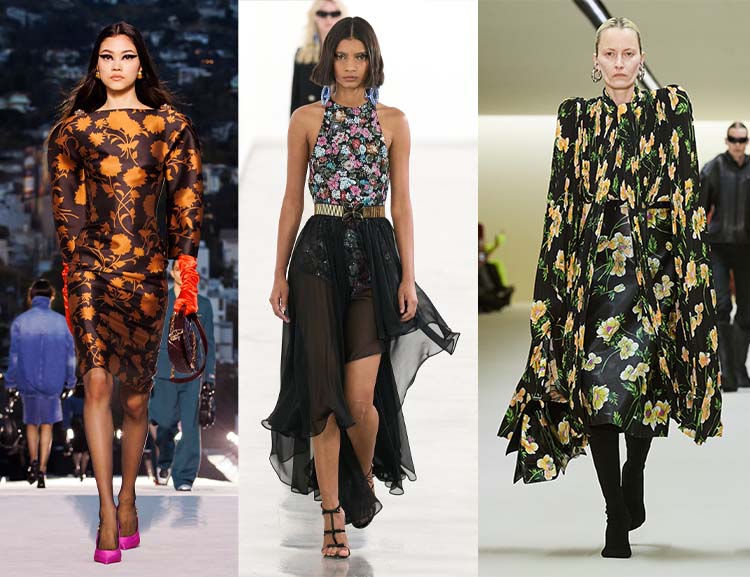 Versace – Giambattista Valli – Balenciaga

fall fashion trends 2023: Circle Skirts
They say fashion comes full circle and the 50s silhouette is back. The circle skirt was embraced by Christian Dior post-war and it's back in the Fall fashion 2023 trends. Opt for a midi or a maxi style. Wear your circle skirt for parties, or with a t-shirt or sweater for a more casual look.
A circle skirt can be flattering on many body shapes. If you're a pear, it can help to disguise wider hips and thighs. If you're an inverted triangle, it will balance out your wider shoulders. If you're a rectangle, it will create curves. And, if you're an hourglass, it wil highlight your waist.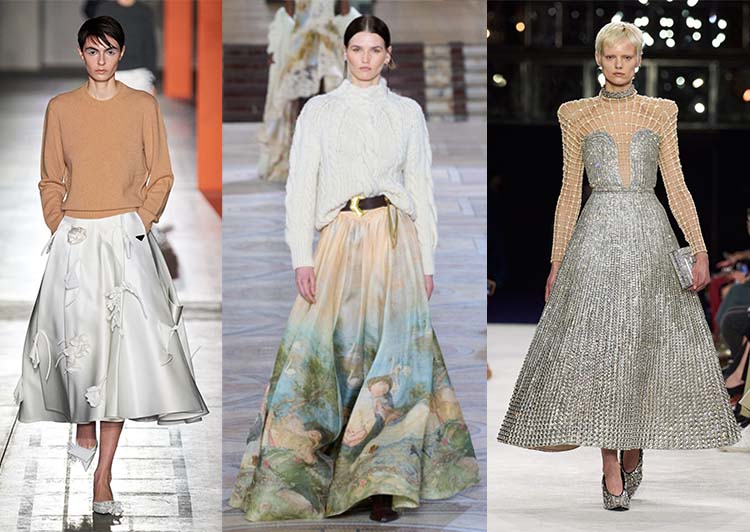 Prada – Zimmermann – Balmain

Wearable art
Fashion should, of course, be beautiful to look at. And designers took this mantra to heart for Fall 2023. Look out for clothes with prints that look just like a painting. Dresses and coats with art-style prints are particularly on-trend. For a more subtle take on the trend, wear a painting-print shirt with your jeans.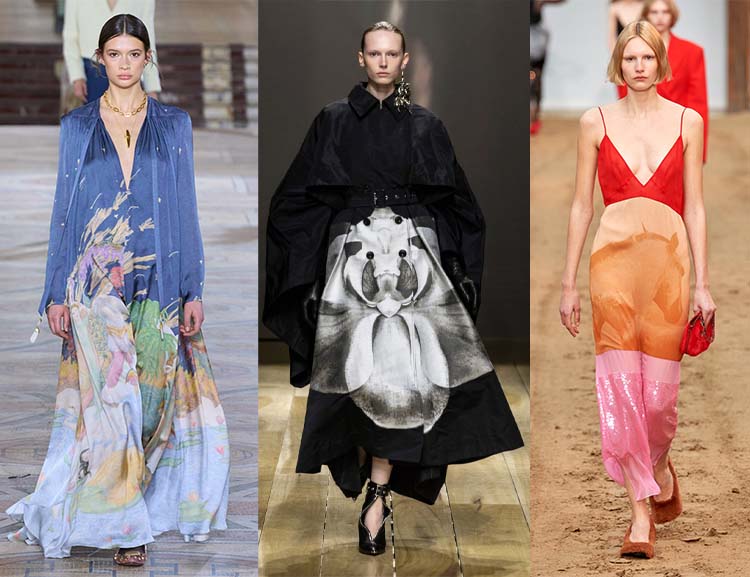 Zimmermann – Alexander McQueen – Stella McCartney

Tuxedo dressing
Take your inspiration from menswear this season, and wear a tuxedo rather than a dress for your parties. Opt for a full tuxedo for more formal events, and style with heels and a clutch bag. For a less formal take, wear a tuxedo jacket and camisole with your jeans for a dinner date.
Dolce & Gabbana – Dolce & Gabbana – Balmain

Denim re-imagined
Who says denim has to be casual? Designers for the Fall 2023 runways beg to differ. Denim skirts were back in fashion for summer, and the trend continues into Fall. Don't limit wearing denim to your jeans. Designers like Rokh, Balmain and Nina Ricci took denim and crafted it into very sophisticated complete-look shapes.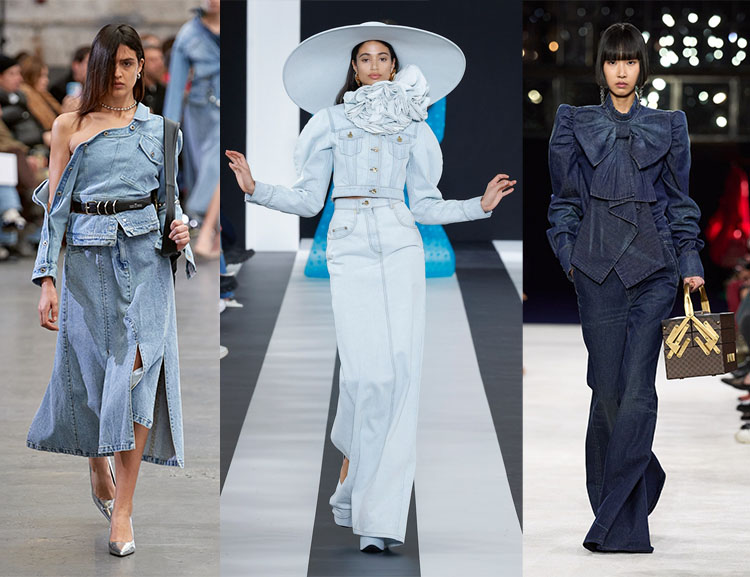 Rokh – Nina Ricci – Balmain

fall fashion trends 2023: Back to basics
As much as it's great to add a few new trends into your closet to keep it updated, it's also essential to have wardrobe basics that will act as the foundations to any outfit. So, we're pleased to see designers concentrating on basics for Fall 2023. Wear your white shirt with anything from your jeans to leather pants, or tucked into a full skirt. Designers also featured plenty of classic blazers and pairs of jeans.
Dolce & Gabbana – Gucci – Alexander McQueen

Also take a look at these 33 wardrobe essentials, and see if you think we've missed anything that should be in there.
80s shoulders
Power dressing is back! We're not suggesting you go as wide as the shoulders featured on the runways. However, adding a subtle shoulder pad can be a great way to balance your silhouette if you have narrow shoulders and want to create the illusion of more width, or if you are a pear shape and want to create the illusion of an hourglass shape, for example.
Bottega Veneta – Saint Laurent – Balenciaga

Everything in leather
Leather is a style staple every winter and fall, but this time around it definitely felt like there was more of it than ever on the catwalks. Designers sent everything from dresses to jackets to pants down the runways in leather; much of it in bright shades rather than the usual black or brown you might expect. Many designers also chose to give their leather texture with a mock croc style.
While leather isn't usually a material you would think of for evening dresses, Alexander McQueen created a beautiful, fitted, asymmetric neckline dress, and Bottega Veneta opted for co-ords. So, you can see you can wear your leather as formally or casually as you want.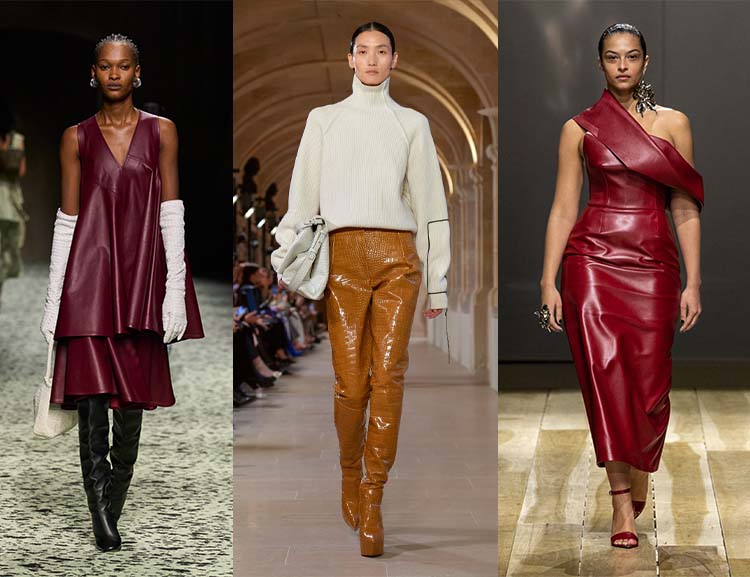 Bottega Veneta – Victoria Beckham – Alexander McQueen

Also, take a look at how to wear leather over 40.
Low-rise
Okay, some of the skirts and pants on the catwalks really are very low-rise – the kind of look we used to see from Britney Spears a couple of decades ago. But, given that high rises have been on trend recently, we wanted to show you that there is an alternative.
Obviously, you don't have to go as low as the designer looks. But, if you do have a shorter torso in comparison to your legs (check our article on your vertical body shape), then low-rise styles may suit you better than high-rise as they will create visual balance. Take a look at how to determine your vertical body type.
Isabel Marant – Stella McCartney – Vaquera

Fall fashion trends 2023: Velvet
Velvet is one of those fabrics that can be a bit old-fashioned. So, you really need to make sure you're wearing it in a modern way. Choose a velvet top to wear with your jeans, tuck a white shirt into a velvet skirt, opt for velvet pants and a blazer, or wear a velvet coat.
Dundas – Zimmermann – Etro

Sheer
Sheer is always a trend. But designers definitely took it to extremes for Fall. Rather than baring as much flesh as seen on the catwalks, wear a camisole under your sheer top, or choose a top or dress which has sheer sleeves rather than being see-thru all over. Dress up your jeans by wearing a sheer blouse.
Dolce & Gabbana – Prada – Balmain

Polka dots
Polka dots are one of those perennial prints that don't date as they're classic and elegant. Although, of course, at times they are more on trend than others. Fall 2023 is one of those times when they most definitely are. Designers including Miu Miu and Chanel opted for polka dots. Interestingly, Balmain chose the classic look of polka dots, combined with the circle skirt trend from above, and gave them an edge by making them into studs.
Channel your inner Julia Roberts (remember that brown polka dot dress in Pretty Woman?) or Marilyn Monroe in that pencil dress from the Seven Year Itch. The Princess of Wales is also a huge fan of polka dots. Choose a polka dot dress, or wear a polka dot shirt with your jeans.

Bold and subtle stripes
Another classic print, stripes won't go out of date. Vertical stripes are a great choice if you want to look taller and slimmer. Stripes look particularly good on rectangular body shapes as they work in harmony with your athletic figure.
Choose business-like pinstripes, or opt for broader, more dramatic stripes. We like how Dries Van Noten (below, right) paired menswear-inspired stripes with a feminine skirt.
Alexander McQueen – Nina Ricci – Dries Van Noten

Checks
Checks are often on trend for Fall, and the Fall fashion trends 2023 are no exception. Designers chose everything from a full-on top-to-toe check look to wearing a check blazer. Wearing a check blazer with jeans (seen at Zimmerman, below, centre) is our favorite way to style this print. Or, choose check pants with a plain t-shirt or shirt.
Chanel – Zimmermann – Stella McCartney

Ruching, draping and cinching
It's always flattering to look for clothes that don't cling, but instead have some draping to disguise parts of our body we want to downplay. Look out for tops and dresses which already have draping built in for party season. We also like the idea of creating our own draping by using a brooch, as seen at Coperni (below, right).

Fall fashion trends 2023: Preppy
Preppy styling has never not been on trend. But if you love this way of dressing, then you'll definitely be having a style moment this Fall. Lots of designers opted for preppy looks, including Coperni, Stella McCartney and Prada.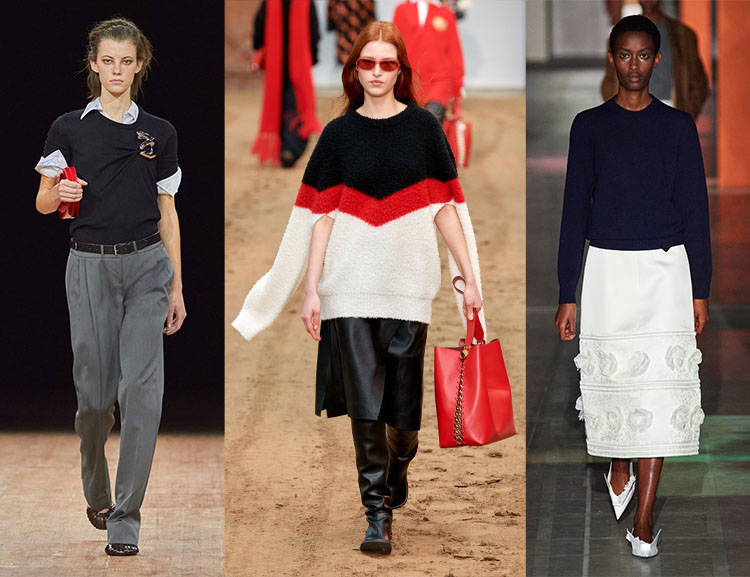 Coperni – Stella McCartney – Prada

We have a whole article on how to create a preppy style with a style capsule especially for the preppy style personality here.
Feathers and fringe
Winter and Fall are the perfect time to add some glamour and embellishment to your outfits. There were lots of feathered looks on the Fall 2023 catwalks, on everything from dresses and coats to pants. If you don't want to be quite so full-on with your feathers, you can get the trend by choosing feathered earrings or a feathered handbag.
Rokh – Bottega Veneta – Giambattista Valli

Which is your favorite from these Fall fashion 2023 trends? Which do you already have in your closet?
Continue reading:
Like this article on Fall fashion 2023? Share it on Pinterest!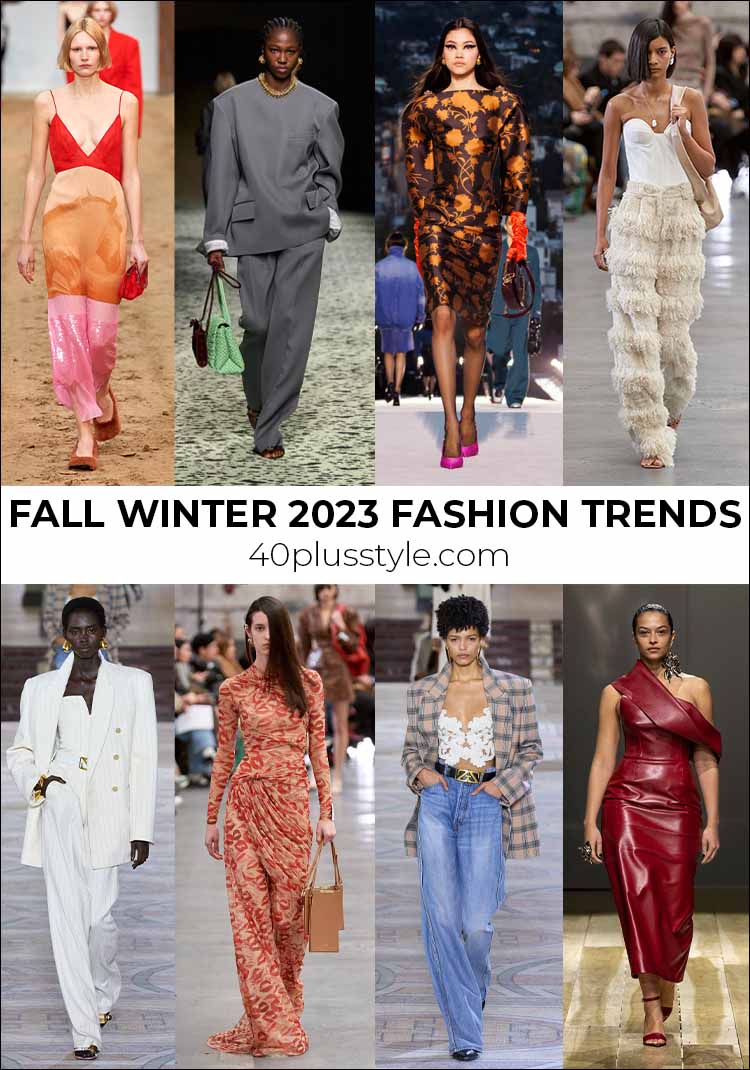 Images from Vogue
Want to get more articles from 40+style in your inbox, subscribe here.
You can also connect with 40+style on Facebook, Instagram or Pinterest.
Support 40+style by using the links in our articles to shop. As an associate for Amazon and many other brands, we receive a small commission (at no cost to you) on qualifying purchases which enables us to keep creating amazing free content for you. Thanks!