Wearing leather is still very popular.
Many women over 40 find leather challenging though, as it can seem like a too-young or edgy look. However, there are lots of ways to wear leather and be very chic indeed.
Let's look at some ways to wear leather with style over 40.
How to wear leather over 40
There are many ways to wear leather over 40 and you don't always have to go all-out leather.
Let' s have a look at ways that leather can enhance your style.
#1 Add leather to make your look a bit edgier
If you're like me and you don't want your look to be too girly, leather can be a great way to add a bit of an edge. A bold leather belt or a little skirt can make a statement.
#2 Add leather to make your look more interesting
Playing with different textures in your outfit can make it look more interesting and create interesting contrasts. For example you could wear a silk shirt with a leather skirt or combine it with cotton or denim
#3 Add a bit of luxury to your look with leather
A good leather bag or shoes can enhance any outfits. I prefer to choose leather for both shoes and bags as leather items will last you for your years!
The different ways to wear leather over 40
Leather elements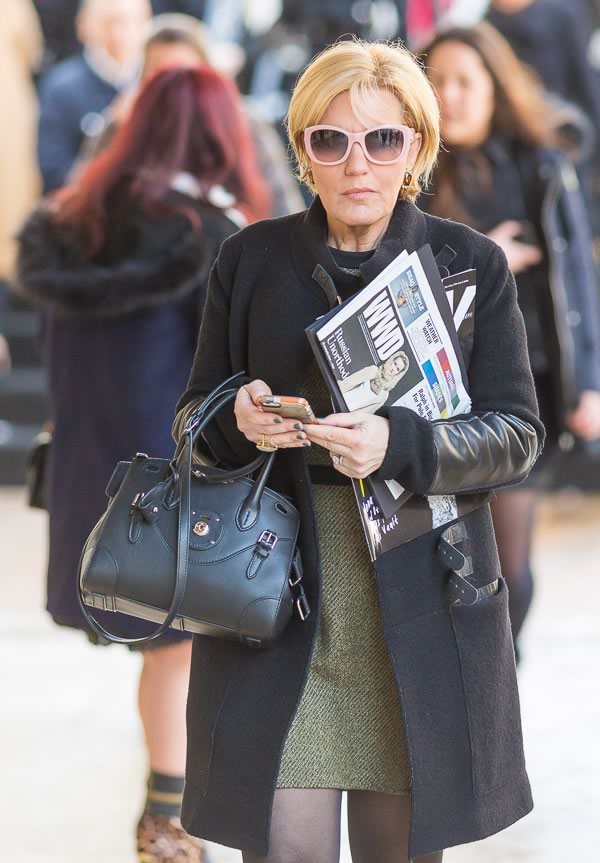 It is very easy to wear leather if you wear it in moderation.
The easiest way to achieve this, is to select garments that have elements of leather in them, like leather rims. The Micheal kors skirt and jacket is a great example.
If you like to emphasise the leather more, you could pair it with leather gloves or even leather jewelry. There are lots of garments on the market now incorporating some leather elements like cardigan and jacket above.
You may also like our article on how to wear gloves
Leather skirts
The second easiest option is to go for a leather skirt.
These will look good with the popular oversized jumpers right now or just a plain button front shirt.
This season you can wear both the pencil skirts and a-line variations. Both of these look very hip with tight fitting ankle booties but will also look great with high boots. You can make them as chic or edgy as you like.
Leather jackets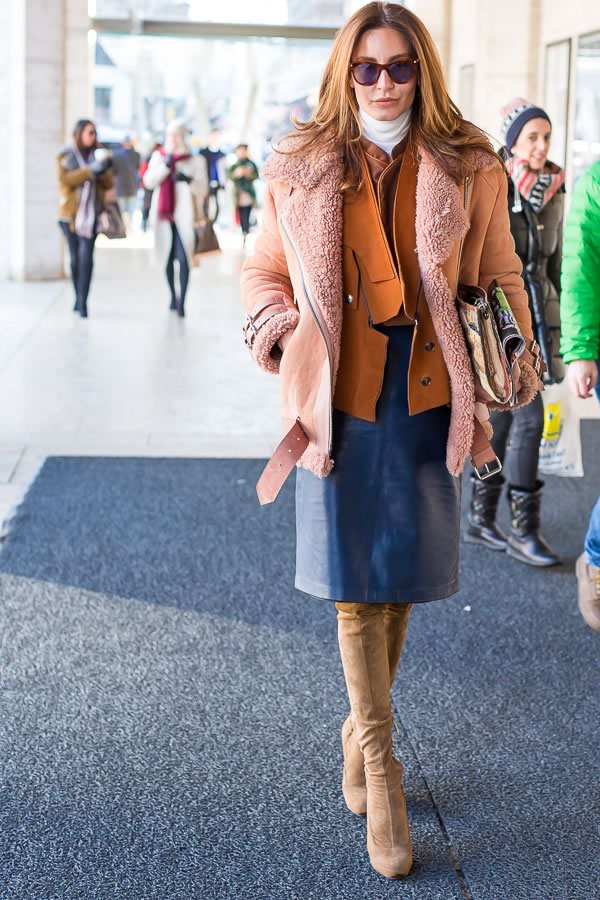 A leather jacket is a great basic in a fall and winter wardrobe. Great to wear both in and outdoors.
You can dress them up or down and pair them with jeans or a nice soft pencil skirt for great contrast.
Leather tops
Leather tops create a more edgy look. They look great with fitted pants, 7/8 pants and a-line skirts. Choose in a color that suits you and pair with softer materials to create a chic, edgy and balanced look. Or wear them under a blazer!
Leather pants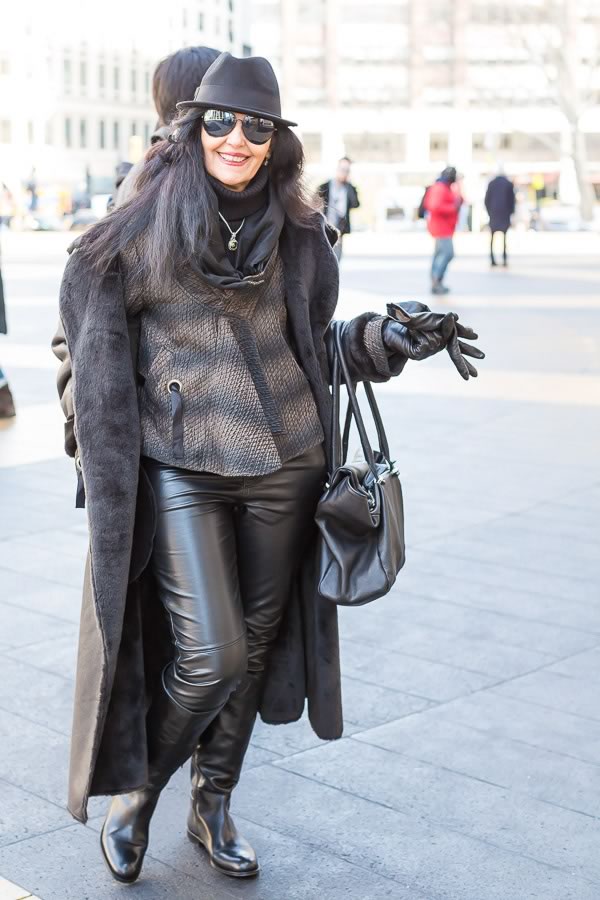 I prefer leather pants for women over 40, when they are worn with longer tops.
I also love the new more relaxed style pants. They would look great with oversized knitted jumpers for a casual chic look.
I would balance  your leather pants with a softer and lighter fabric on top.
Want more, go for leather overalls!
The leather dress
Long Sleeve Leather Shirtdress
The leather dress may be the most challenging to pull off over 40. I believe that the key is to select a classic or drapey style that fits your body type. Ideally the dress will come all the way to your knees. I also think that a different color than black may make the look a bit softer and more appropriate for most women over 40.
Leather accessories
Adding leather with accessories is of course the easiest option of all.
Combine you outfit with the latest hip shoes, a statement belt or a fabulous leather bag!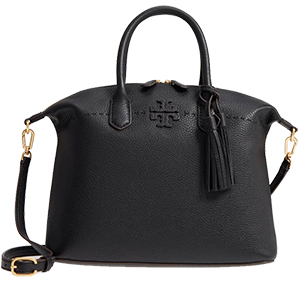 Previous 40+ Style interviewees show you how it's done!
Here are some great examples of previous style interviewees:
 Lissy (also showing her leather pants),
Lisa rocking the leather look.
Like this article? Save it on Pinterest!
Do you like to wear leather? Which is your favorite look?

Feature Image: @queenss_style_
Other photos by Denton Taylor
Any purchasing actions from the links above may result in a commission for 40+Style
Want to get more articles from 40+style in your inbox, subscribe here.
You can also connect with 40+style on Facebook, Instagram or Pinterest.
Support 40+style by using the links in our articles to shop. As an associate for Amazon and many other brands, we receive a small commission (at no cost to you) on qualifying purchases which enables us to keep creating amazing free content for you. Thanks!