Of course you can dress any which way you like. But i know that some of you worry that you look too young, or you feel that you may be trying too hard to stay young. I've also been getting questions on how to avoid appearing older than you are. So here are some of my guidelines on how to dress after 40.
Please note that these are just GENERAL guidelines and some of my own personal preferences. They certainly don't apply to everyone.
However, I do believe in dressing to your strengths and taking your body shape and style personality into account. So, if you would like to have some guidelines on how to dress after 40, then you can find them below.
HOW TO DRESS AFTER 40 – WHAT ARE SOME OF THE THINGS YOU SHOULD AVOID?
Below are a few general guidelines on what to avoid doing in terms of style after 40, style over 50 or any age above.
1. DON'T BUY CLOTHES THAT DO NOT FLATTER YOU, EVEN IF THEY ARE ON TREND THIS SEASON.
You may be tempted by a new trend but, when thinking about how to dress after 40, it's wise to be picky. Only choose those that suit your personality and your your body type. You can find guides on dressing all the different body types in these articles: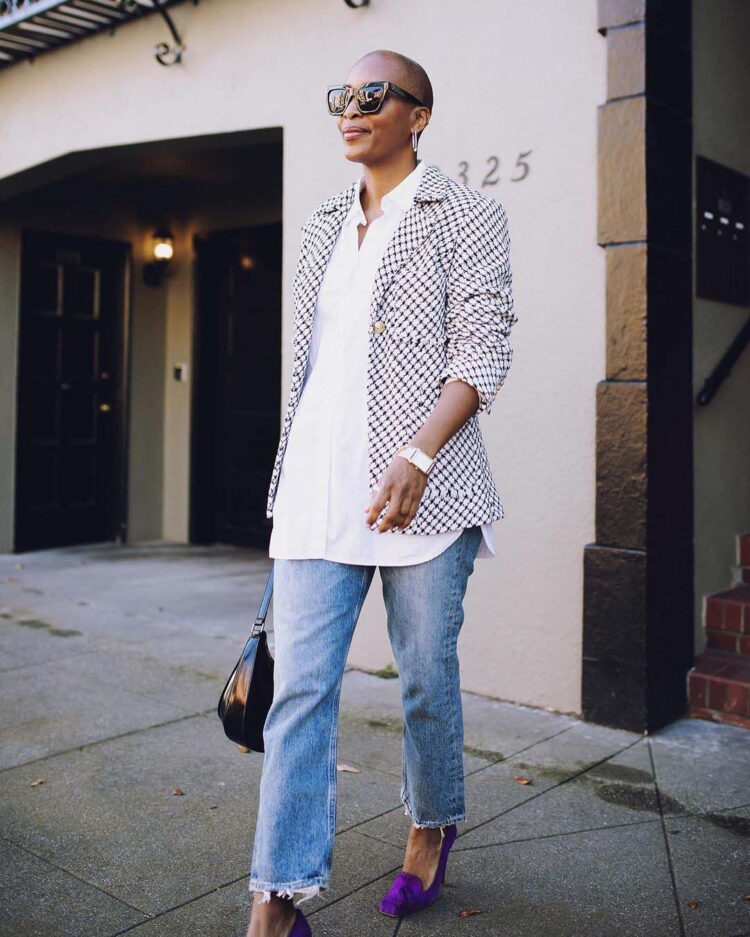 Kim @kimair above (read her style interview here) shows how a blazer and a pair of funky shoes can really elevate a simple outfit of jeans and a white shirt.
Check out this similar shirt, blazer, jeans, pumps, handbag, sunglasses and earrings.
2. TRY NOT TO BE TOO MATCHY-MATCHY OR TOO POLISHED
It's nice to mix things up and be a bit more playful. A 2-piece suit will quickly look old. Better to mix that jacket with another skirt or pants and look effortlessly chic. You could wear your blazer with jeans, for example, like in the look below.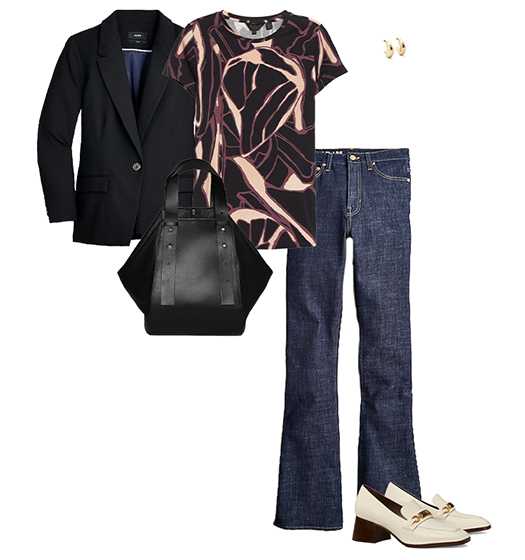 J.Crew Willa Blazer – Ted Baker London Chrissi Print T-Shirt – J.Crew Skinny Flare Jean – Tory Burch Perrine Loafer Pump – COS Large Leather Bowling Bag (another option here) – Massimo Dutti Gold-Plated Hoop Earrings (another option here)
3. AVOID BUYING FABRICS THAT LOOK CHEAP (OR ARE CHEAP AND POORLY MADE) AS THEY ARE USUALLY NOT FLATTERING OR WILL NOT LAST
As a young woman, you may have looked cute in a flimsy, poorly made t-shirt but as a woman over 40, you need something with a bit more substance.
You can see some characteristics of fabrics here. We also have a list of recommended shops here. Best to buy only the clothes that you love and that have a chance to last.
Look for beautiful natural fabrics like silk, cotton, linen and cashmere and you will enjoy them for years to come. Think about your purchase in terms of cost per wear rather than initial price.
Avoid fabrics that don't drape well or cling.
The silk shirt (below) is a classic that you can dress up or down.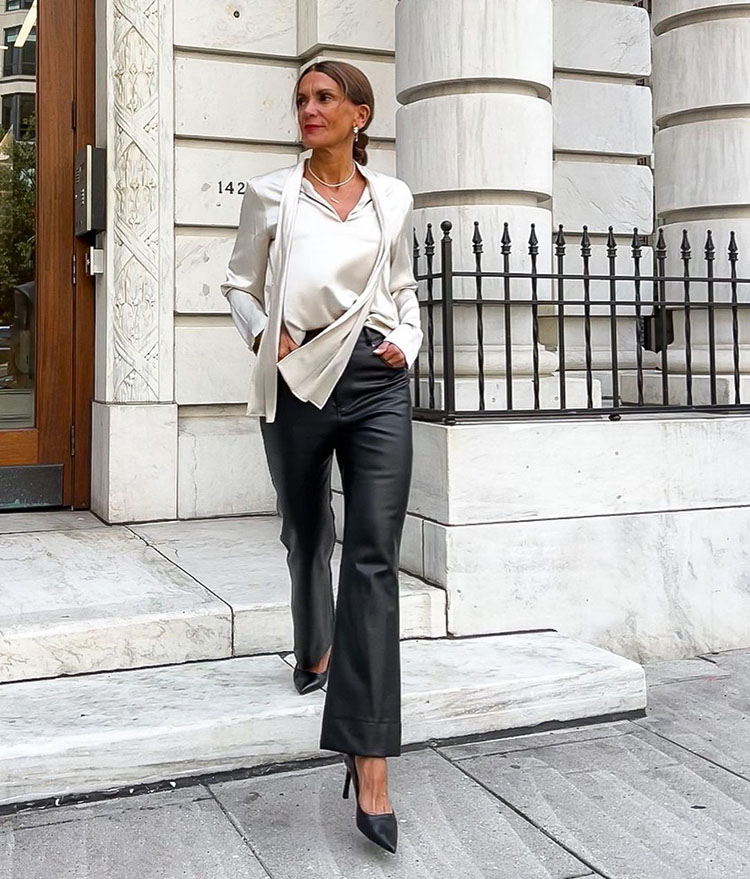 Sylvia @sylviacolella above (read her style interview here) wears a silk shirt with her leather pants.
Recreate her outfit with this similar silk top, pants, pumps, necklace and earrings.
4. WEARING TIGHT AND TIGHT TOGETHER
Of course there are many exceptions but in general tighter items like leggings look better when they are combined with wide pieces like a tunic or wider shirt.
That also applies to skirts. Aim to have either a tight skirt with a loser top or vice versa. You could wear a loose, tunic style shirt with leggings or your skinny jeans.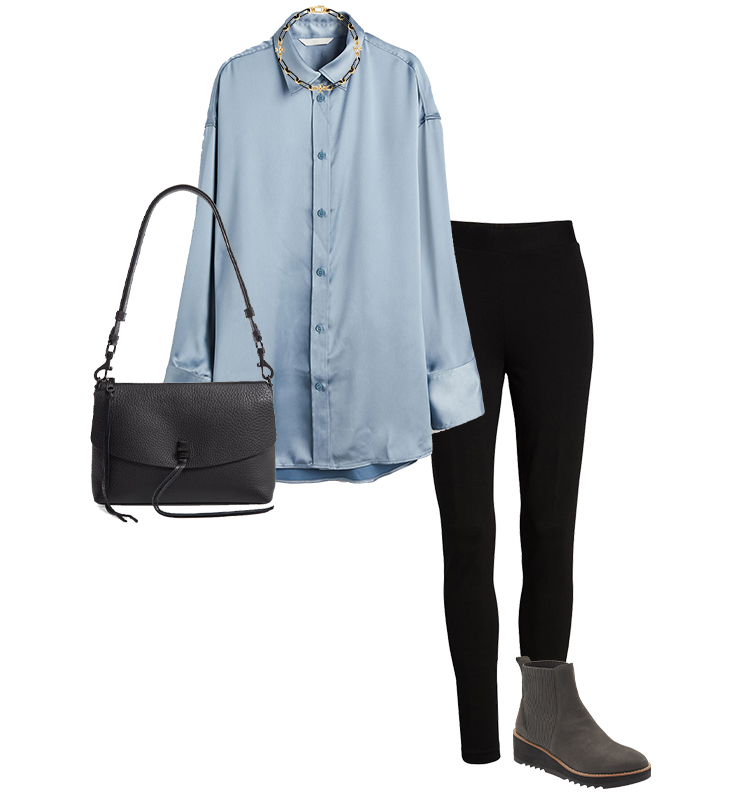 H&M Oversized Blouse (another option here) – Vince Camuto Ponte Leggings – Eileen Fisher Lilou Wedge Chelsea Boot (another option here) – Rebecca Minkoff Darren Leather Shoulder Bag – Tory Burch Roxanne Double-T Station Necklace
For more style inspiration on how to wear your pair of loafers, see our article on the best loafers for women over 40.
5. CHECK OUR GUIDELINES FOR THE FOLLOWING ITEMS:
DRESSING OVER 40: WHAT ARE SOME OF THE THINGS YOU SHOULD DO MORE OF?
1. KNOW YOUR STYLE!
Nothing is more important than dressing in a way that pleases and represents you. There's no such thing as one style of "fashion for older women" that suits everyone.
If you know your style and understand your body you can break any of the rules or add items from the 'don't list' as you please. My style guide will help with that.
Doing our style personality quiz will also give you a better idea of your style.
My style is comfortable, asymmetric, colorful and minimal. I identify the most with architectural and eurochic style personalties.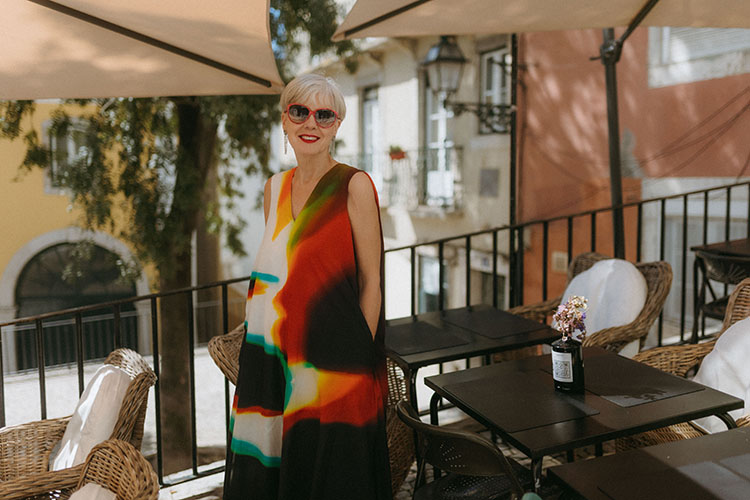 Dress from COS. Other options here and here
2. DETERMINE THE WARDROBE ESSENTIALS THAT ARE UNIQUE TO YOUR STYLE
Not everyone will have the same wardrobe essentials. This will depend on your lifestyle and your style personality.
But having a collection of wardrobe essentials in your closet will make dressing every day so much easier – and more stylish.
Personally, I love to have plenty of asymmetrical items in my closet.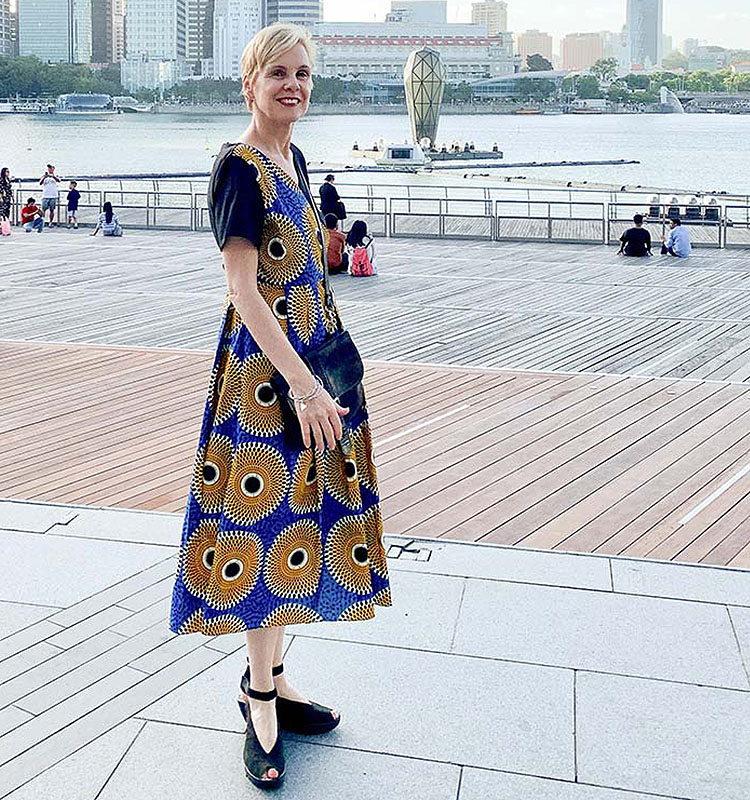 Where to shop the best midi dresses: COS, Nordstrom. Shoes: Fly London (similar). Bag: similar
3. HAVE MORE LASTING HIGH QUALITY ITEMS IN YOUR WARDROBE
These vary for each style personality but some important classics are:
Donna Karan New York Luxe Cotton Blend Longline Blazer
Sandra @lapecosapreciosa below shows how you could dress up a pair of cuff-leg pants by teaming them with a blazer and heels.
Get her look with this similar top, blazer, pants (other options here and here), sandals, belt and sunglasses.
4. LOOK EFFORTLESSLY CHIC
You know how they say that French women look so effortlessly chic. That's because they appear not to have spent a lot of time on their clothes, yet look amazing.
However, an effortlessly chic look takes time so you want to think carefully about the right combination of items, shoes and accessories.
On the other hand, you don't want to overdo your look. Don't add too many accessories, don't be too matchy-matchy and find the right combination of high end / low end and casual and chic.
Want to know how to create that effortlessly chic look take a look at our article on French style. Or go even more sophisticated and opt for Italian style.
5. Fashion over 40: MIX AND MATCH DESIGNER ITEMS WITH NON-DESIGNER ONES
Even if you have a closet of designer items, it's a great idea to mix a few designer pieces with high street options. That way, you can affordably add some on-trend clothes and accessories to your closet while keeping your timeless, designer classics part of your outfits too.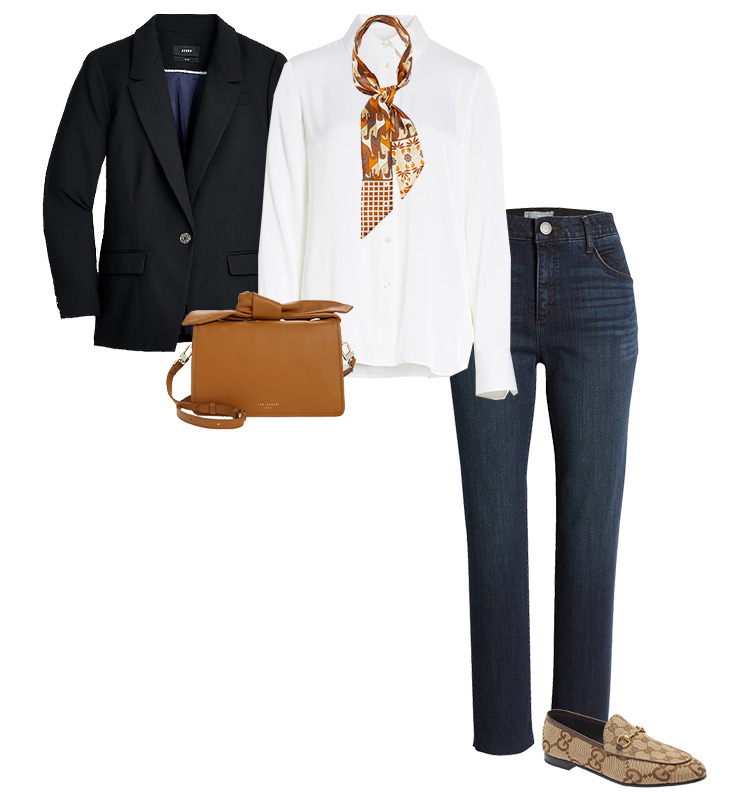 J.Crew Willa Blazer – Vince Slim Silk Blouse – Wit & Wisdom 'Ab'Solution Raw Hem Slim Straight Jeans – Gucci Jordaan Supreme Canvas Bit Loafer – Ted Baker London Nyalina Knot Bow Leather Shoulder Bag – LORO PIANA Regina Delle Ande Silk Scarf (another option here)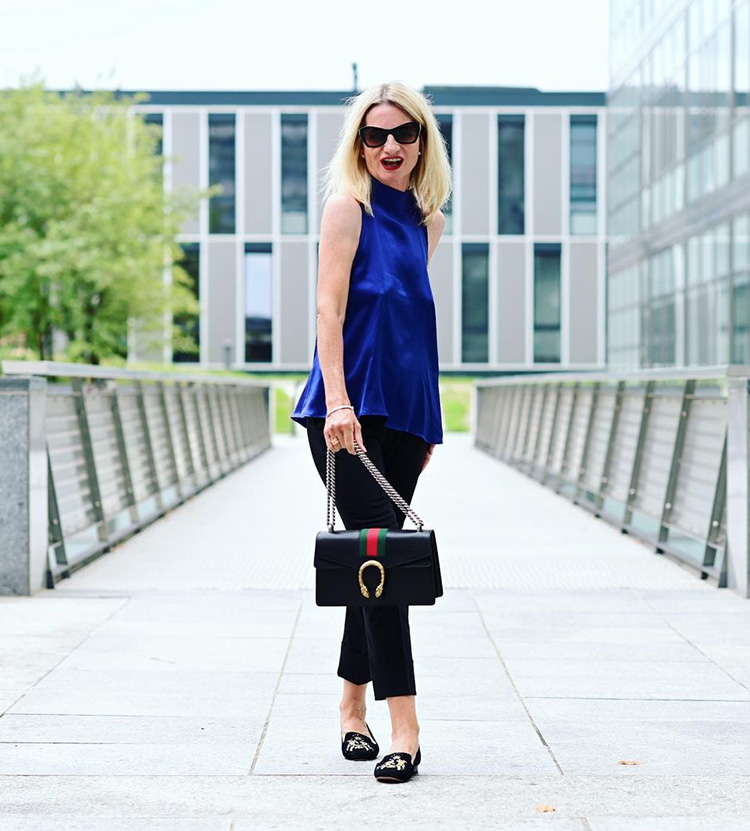 Yvonne @funkyforty above (read her style interview here) accessorizes with a Gucci bag.
Recreate her outfit with this similar top, pants, loafers, Gucci Dionysus bag and sunglasses.
6. Don't neglect your casual wardrobe
It's easy to be attracted to evening wear on the store rails or online. However, it's likely that you will actually wear your casual outfits much more.
So, don't neglect your day-to-day wardrobe. You could choose a drapey cardigan to add style and warmth to a simple jeans and t-shirt outfit. Or add a blazer to casual wear to elevate your look.
Check out some recent articles on casual style:
Massimo Dutti Nappa Leather Biker Jacket – COS Pleated Midi T-Shirt Dress – Tory Burch Good Luck Trainer – COS Large Leather Bowling Bag (similar option here) – Massimo Dutti Gold-Plated Hoop Earrings (another option here) – COS Oversized Checked Wool Scarf (another option here)
7. CHOOSE A SKIRT OR DRESS LENGTH THAT'S RIGHT FOR YOU
For many women dresses and skirts that are just above or on top of the knee are a great length for women over 40. Right now longer dresses are very much on trend as well and can be a great style for older women to choose.
Petite women may want to go a bit shorter with their skirt lengths to get the 1/3 – 2/3 silhoutte. Find out more about this rule of thirds in our article on how to wear capris.

For more inspiration, see this article on the perfect skirt length for women over 40.
Alison @wardrobe_oxygen above (read her style interview here) opts for a dress with an asymmetric hem.
Recreate her outfit with this similar dress (other options here and here) and high boots.
8. MIX YOUR OWN STYLE WITH A TREND YOU LIKE
Keep updated with the fashion trends and make sure you have a few current items in your wardrobe. For the best style over 40, only pick those trends that work for you!
9. Have fun with color
Don't be afraid of color. Women over 40 benefit from adding more color to their looks. Not only will it enhance your complexion, you also add a bit of pizazz to your style.
Your may like to take inspiration from our color guides.
I love color blocking with bolder colors and I'm enjoying this green and red combination. The addition of textured shoes and accessories adds to the fun.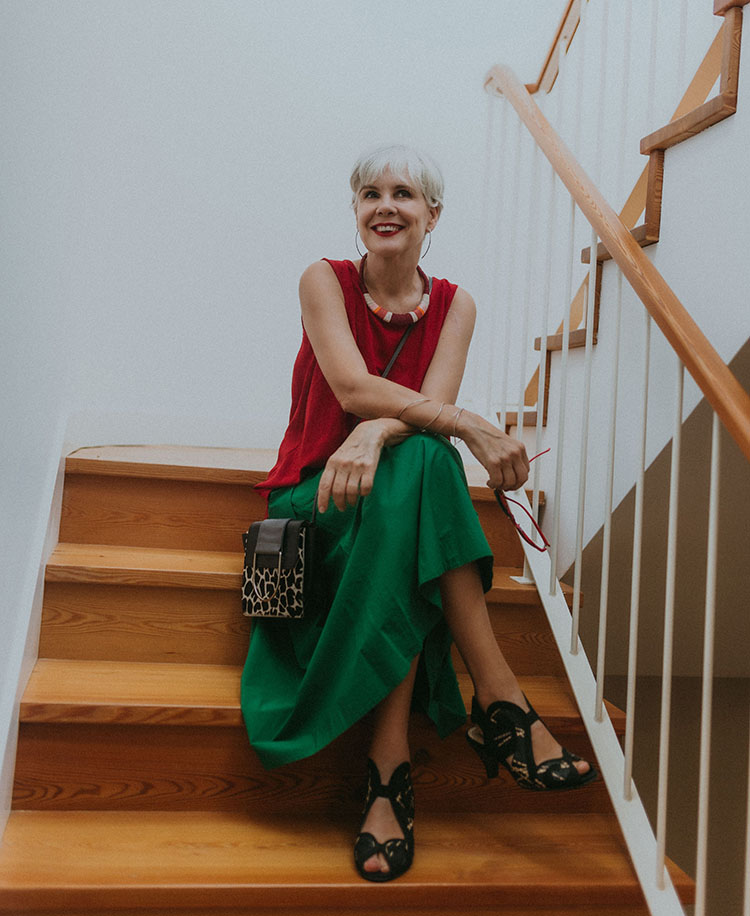 Similar top, skirt, sandals, bag, necklace and earrings
10. PLAY WITH ACCESSORIES
Wear accessories like belts, jewelry and scarves. They can make a real difference to your outfit. You could add a statement necklace to a block color top or dress.
Alexis Bittar Twisted Statement Collar Necklace
Read our article on how to wear accessories.
11. WEAR HIP AND CURRENT SHOES
These add an instant young and hip vibe to your outfits.
Make sure to choose shoes that you are able to walk in. Mid-high heels can look fabulous.
Massimo Dutti Leather High-Heel Mules
If you need more support I have a great list of arch support shoes.
Patricia @madamechicbcn above (read her style interview here) adds pops of red to her neutral outfit.
Check out this similar sweater, coat, trousers, pumps, handbag, scarf, sunglasses and headband.
12. Invest in a great pair of flattering jeans
Your jeans can be the mainstay of your closet as they go with so many other things, and can be dressed up or down.
Opt for a style which flatters your figure rather than the latest on-trend jeans shape. Bootcut jeans are back on trend, and tend to suit most body shapes.
PAIGE Manhattan High Waist Bootcut Jeans
Also, take a look at the most flattering jeans for every body type.
13. OPTIONAL: USE SHAPEWEAR
If you want to hide some of the bulges, then shapewear definitely helps. I personally only wear it on special occasions.
If you don't like shapewear, then learning how to skilfully hide with the right clothes will be preferable, like these tips in my article on how to hide your belly.
14. WEAR A GOOD BRA
Make sure you wear a good bra and invisible undergarments. A great bra will make sure that there is a clear distance between your chest and your tummy!
Wacoal Awareness Underwire Bra
More info in my article on how to find the perfect bra.
15. WEAR WHAT MAKES YOU FEEL AMAZING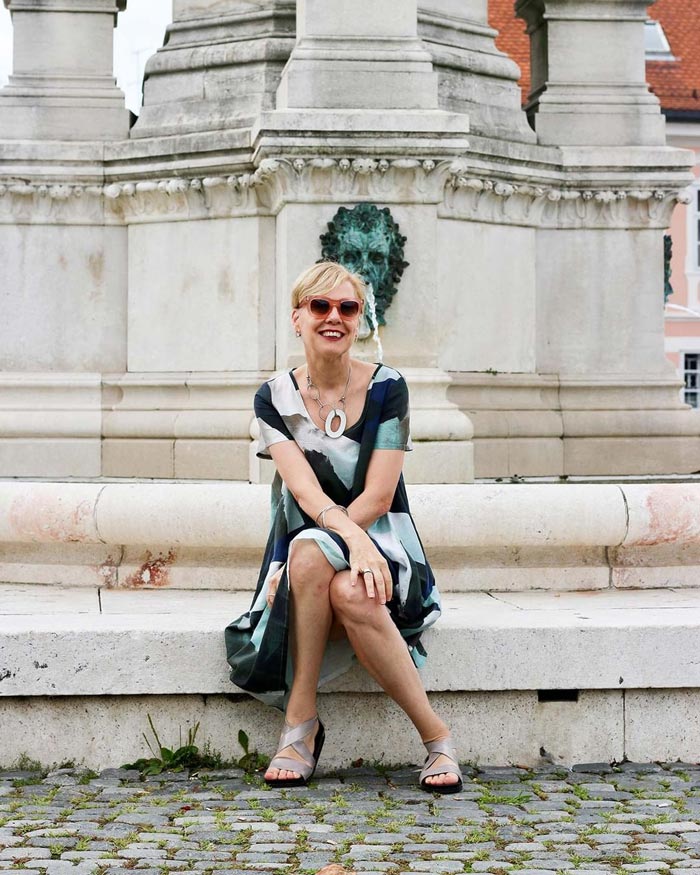 Similar dress, strappy sandals, necklace and sunglasses.
The most important style "rule" of all is to wear what makes you feel confident. That way, you'll have a spring in your step and you'll be ready for whatever the day brings.
WEAR WHAT FEELS RIGHT TO YOU!
I want to emphasize again that these tips on how to dress after 40 are not set in stone and it's up to you to decide what works best for you. But if you want to look young and hip, then these guidelines can certainly help.
The more you understand your body and your style, the more you can break these rules as you please.

Below is a capsule wardrobe we created that would suit the minimal or classic style personality.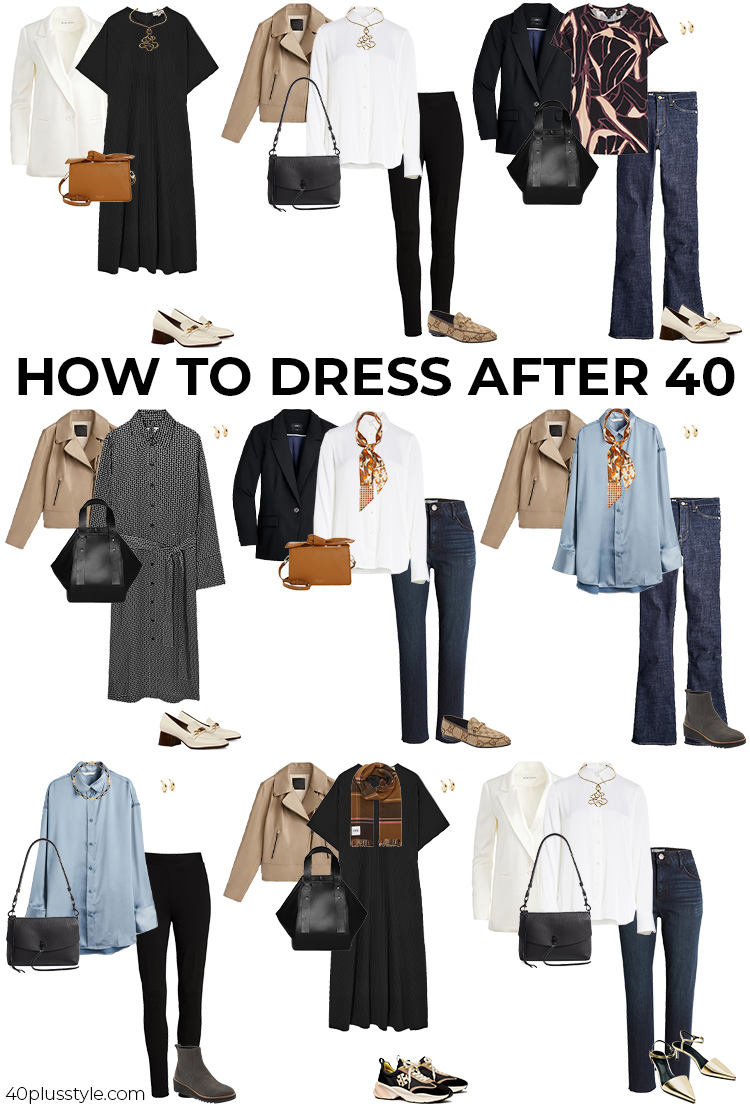 shop the items above here:

For all my best tips and a complete style course that will get you looking stylish in no time, I highly recommend my style course.
If you have any further tips then I would love to hear them. Enjoy!
What are your tips on how to dress after 40? Share them below.
Continue reading:
LIKE THIS POST on how to dress after 40? SHARE IT ON PINTEREST!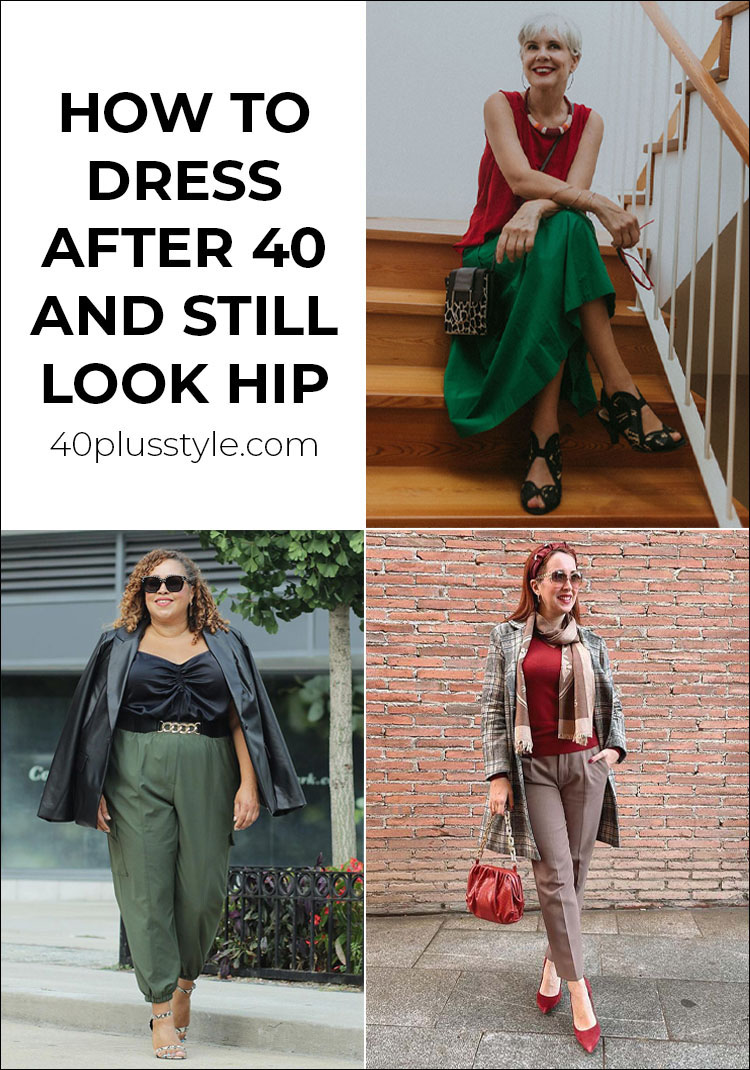 Want to get more articles from 40+style in your inbox, subscribe here.
You can also connect with 40+style on Facebook, Instagram or Pinterest.
Support 40+style by using the links in our articles to shop. As an associate for Amazon and many other brands, we receive a small commission (at no cost to you) on qualifying purchases which enables us to keep creating amazing free content for you. Thanks!