Rita Palazzi is a gorgeous 50+ woman who has the good fortune of living in my favorite country in one of the most beautiful cities in the world: Sienna. No wonder she oozes style! Of course I wanted to know more about her and discover her style secrets. Enjoy!

Can you tell us a little bit more about yourself?
My name is Rita, I'm a lively 50-something. Unconditional love for fashion has always been a part of my life but I also like the idea of making people feel good about their bodies.
I am a physiotherapist. I married a man that I adore and that supports me even in this amazing project.
As a point of reference which age group do you belong to or perhaps you are willing to share your age?
I'm a 50-something.
Can you tell us a bit more about your blog Not Only Twenty and why you created it?
I've always loved fashion, I grew up watching my mother and my aunt working in their couture workshop. It was very exciting for me, I liked the idea of giving shape to my creativity playing with fashion, but when I was younger I thought that maybe it was not my cup of tea… perhaps I was a bit too hazardous/eccentric…
So I decided to put aside this passion and, you know, life goes on. Until, not long ago, I figured out that the most important thing is to enjoy your life and appreciate who you are.
I decided that I deserve another chance to express my love for fashion… What better way than a blog to share my ideas and finding other people with the same interest?!
Everything started with a mannequin in our couture workshop and now here we are. The original idea was to allow people to leaf through a an online fashion magazine, something with many images.
Then I discovered that, after 40, we women become invisible (a trend that is changing very fast since I started blogging).
So now, I express my right to celebrate our diverse and ageless beauty and love of style.
How would you describe your own personal style?
My personal style comprises everything that makes me feel good. I like a combination of sporty, elegant, casual or a femme fatale influences, depending on my feelings and mood of that moment.
Obviously, I have some favourite clothes or accesories that I would never give away, for example: ruches, fringes, belts, earrings and…close-fitting dresses.
What would you consider the most important components of your style?
Be yourself, simply wear what you feel and, above all, "feel" what you wear.

Where do you live and how does that influence your style?
I think I'm very lucky to live in Italy, the home of fashion. Especially in Siena, a charming town close to Florence, where Pitti takes place, one of the most important events of Italian fashion.
I imagine that this has influenced a lot my style, although the architects of my passion have been my mom and my aunt, both seamstresses.
Do you feel you have a signature style?
We have Valentino, Dolce & Gabbana, Fendi, Gucci…how can we not love them? I love and wear luxury brands matched with cheap brands.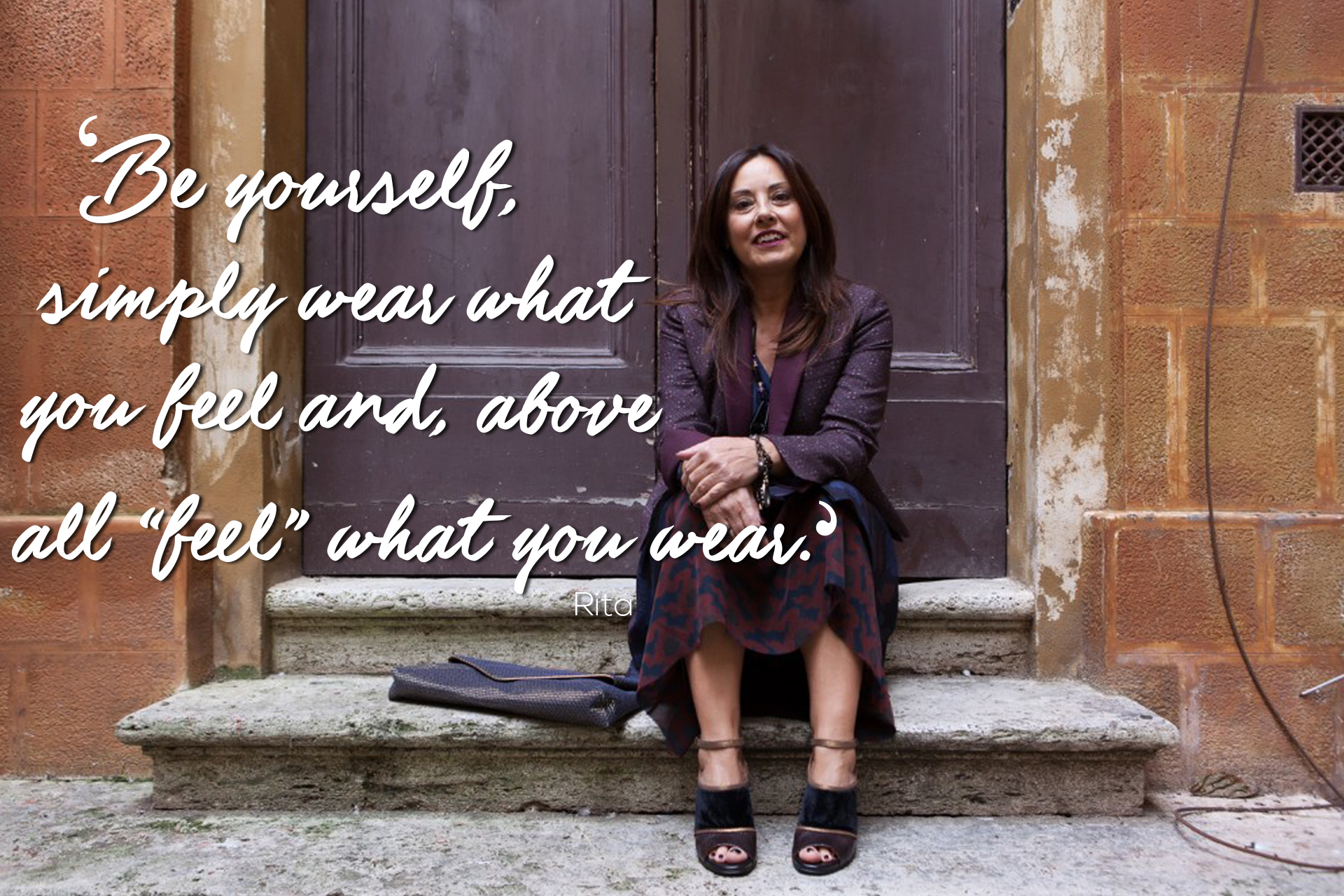 The looks that I propose are meant to provide style inspiration for other. I think that it will help people to find ideas and inspiration.
Then, people are able to adapt what they have seen to their particular taste, their style and their budget.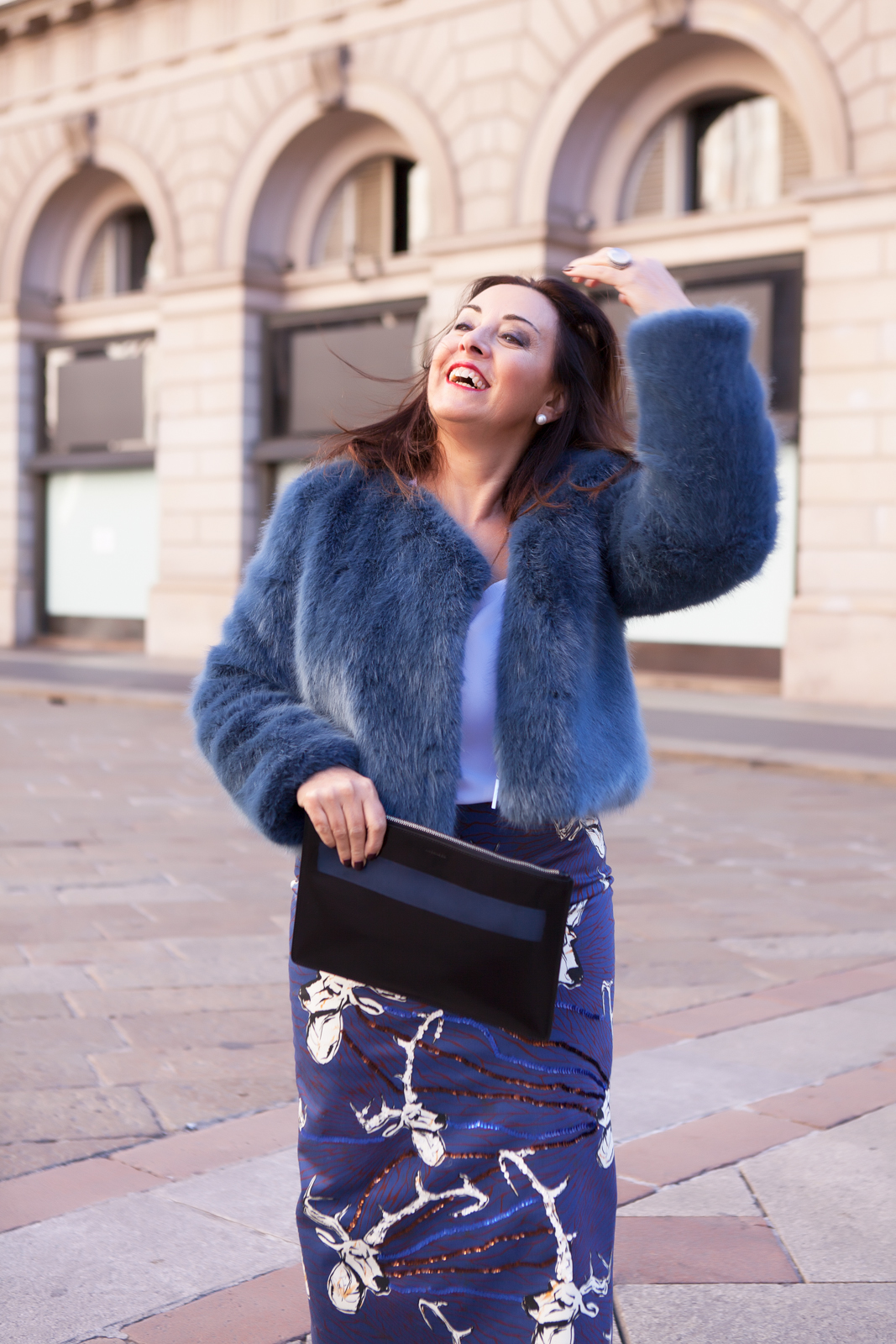 Do you take things like color profiling or body type into account when you dress?
I like all the different colors, shapes and lengths, although I make sure that they fit me perfectly. I don't preclude anything.
There are clothes that I thought I could never wear that, once tried, I liked a lot and, otherwise, I wore beautiful pieces that didn't do me any favors.
Has your style changed at all after turning 40?
Yes, I think so. The way I dress is more joyful and creative now. I give myself permission to play with my style, without making a disapproving or negative judgement. I've learned to love myself.
Do you believe in dressing 'age appropriately' and what does it mean to you?
I do not really like the idea of "age appropriately". What is appropriate depends on the person, it isn't about age. Take for example Iris Apfel. She is a great style icon.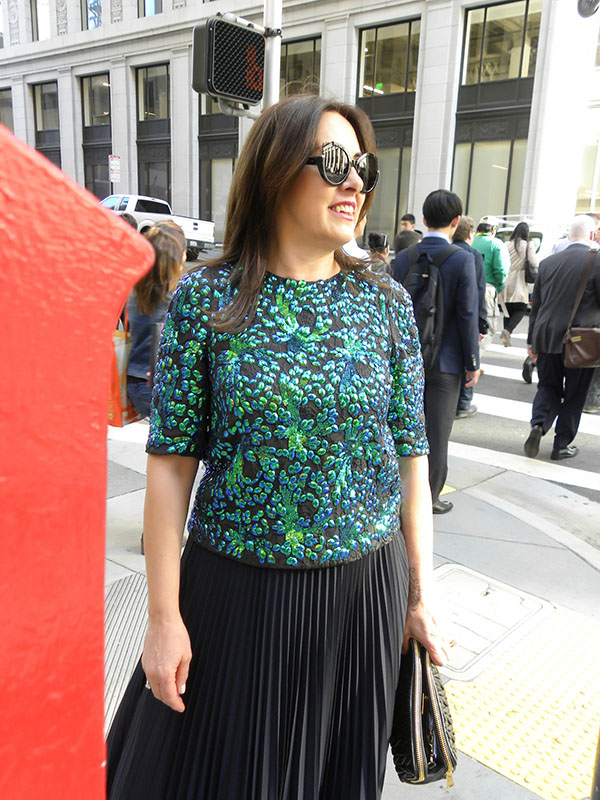 The only thing to avoid is the vulgarity.
Would you say that at this stage of your life you are now more, or less interested in fashion, style and the way you look?
I am interested in fashion in the same way, but at this age (in which you have nothing to prove to yourself) it is easier to take your time and enjoy yourself and wear many fabulous clothes!
Why is the way you look important to you?
Because it's the way I feel!
Do you follow trends? And if yes, which trends excite you at the moment?
Of course. I like to stay up-to-date with new trends. In my blog section "Focus on" I talk about news, some top-five lists and stuff like that. But everything I post is connected with who I am and with my taste.
The last object of desire I posted is a silver leather bomber jacket by Gucci. It isn't a jacket that immediately represents my style, but I would be happy to mix it with something more classic.
The end result would be perfect for me. I think that the secret is always be yourself without restricting yourself to a "comfortable zone".
Do you have any fashion and style tips for women over 40?
Be yourself, do not copy others' style and don't take into consideration people's judgment. And remember, you can't be yourself if you don't know, understand, and accept yourself first.

What are your plans for your blog and how do you see it develop over the coming years?
I hope to increase the number of followers and that many women will recognise themselves in what I share.
I also like the contributions of my female team. For example Valeria and Valentina who help me with blog management and Alice is my favourite photographer, I have to thank Elisa for some special outfits.
Anything further you would like to add?
I've learned that team work is a very good thing. It has brought significant improvements and my goal is to continue to improve.
I also love our blogger community which is so good at spreading the message about the importance of being visible and embracing fashion.
Thank you so much for this interview. I was a little nervous about it (since English is not my first language), but I hope that we as 40+ bloggers can stay united to support, motivate and inspire women of all style, ages and shapes.
Visit Rita on her blog at  Not Only Twenty and @RitaPalazzi for Instagram.

Like this post? Share it on Pinterest!
Want to get more articles from 40+style in your inbox, subscribe here.
You can also connect with 40+style on Facebook, Instagram or Pinterest.
Support 40+style by using the links in our articles to shop. As an associate for Amazon and many other brands, we receive a small commission (at no cost to you) on qualifying purchases which enables us to keep creating amazing free content for you. Thanks!