A lot of 40+ women recently came together at the launch of Ari Seth Cohen's new book: Advanced Style: Older & Wiser. 40+ photographer Denton Taylor and his wife Teresa were there to report back to you and show you all the fabulous style on display. Here is Denton's report. Enjoy!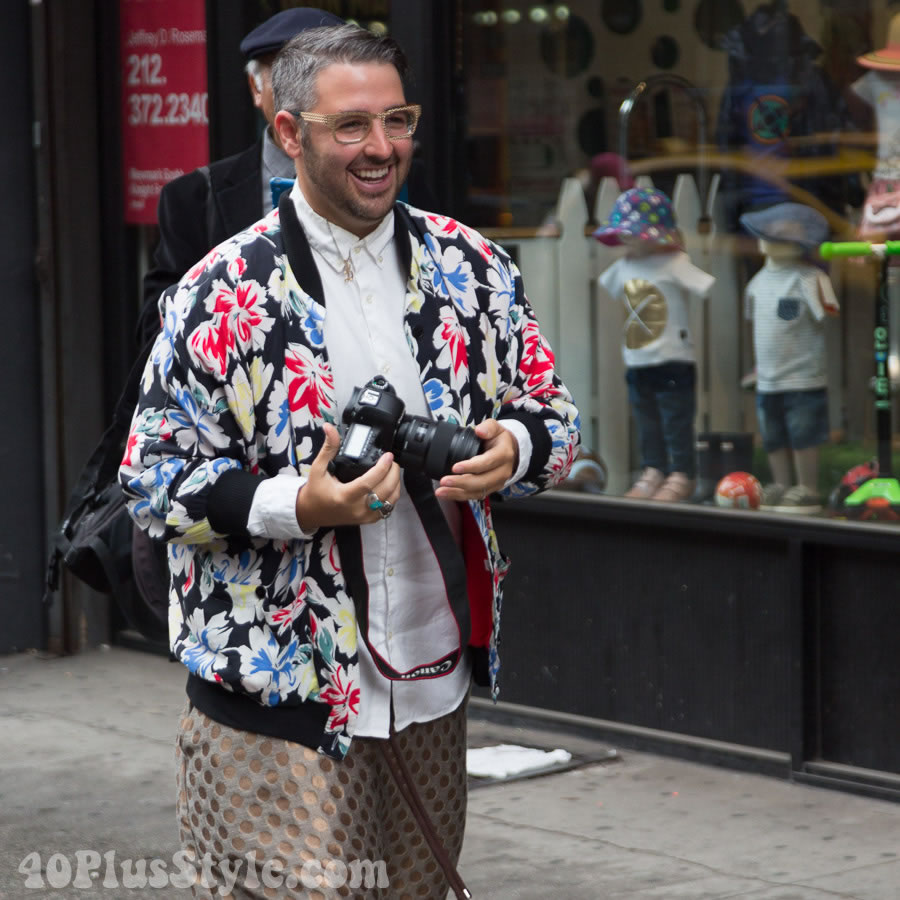 Ari Seth Cohen
For the last couple of months, Instagram, Facebook, and Twitter have been abuzz with talk about Ari Seth Cohen's new book, "Advanced Style: Older and Wiser".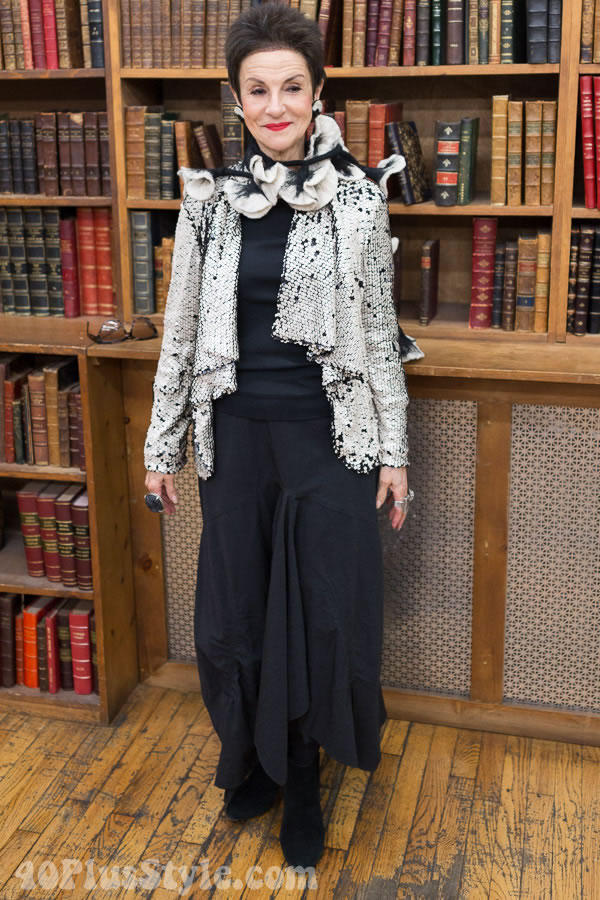 Diana Gabriel (style interview here)
With a book signing function scheduled at Manhattan's famous Strand bookstore, travel plans were being made by Advanced Style ladies from just about every continent. The pre-parties were planned. The post-parties were planned. The amazing Advanced Style women (along with a few men) have been flying in from Australia, Europe, Canada, Mexico, California, and other far-flung destinations.
Left is Maureen Gumbe, center is Colleen Heidemann
Ari, who of course writes the Advanced Style blog and who now resides in Los Angeles, chose to have his first signing party in New York City, the city that made him famous, a fact appreciated by the many lovely ladies featured in both of his books.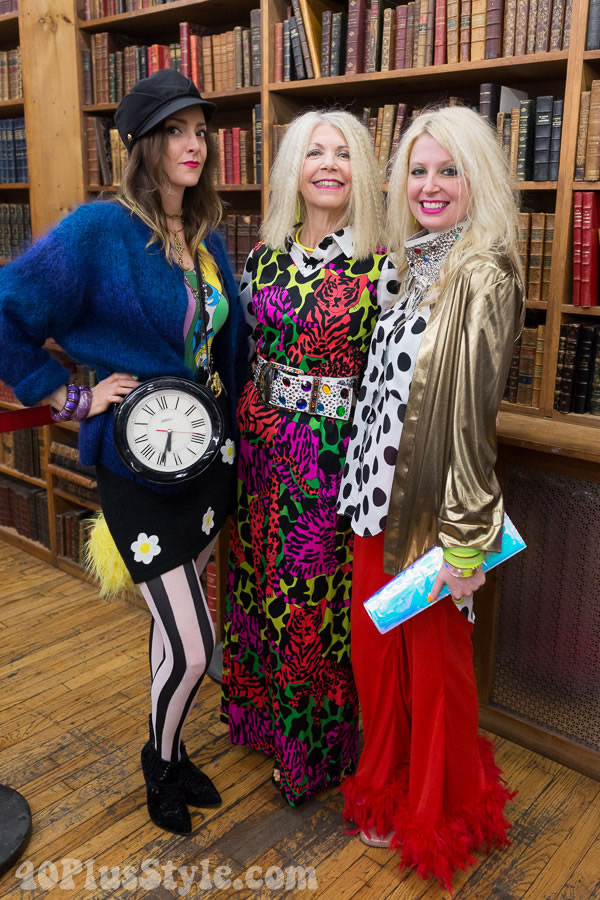 Left and righ: Megan and Amanda of the vintage store 'Spark Pretty', together with their mother who is featured in Ari's new book.
My wife Teresa and I are naturally huge fans of both Ari and his Advanced Style subjects, so we made arrangements to obtain entrance to and seating at the event. We wanted to make sure we could cover the party for 40plusstyle! And we have been fortunate enough over the last few years to become friends with many of the New York City ladies that have been featured on the blog.
Sue Kreitzman (style interview here)
As the event approached and women started arriving in New York City for the big event, one issue developed: What was the weather going to be like? The forecast called for rain and thunderstorms. Would the rain put a damper on the festivities and cause a bit of 'dressing down'?
Carol Markel (style interview here)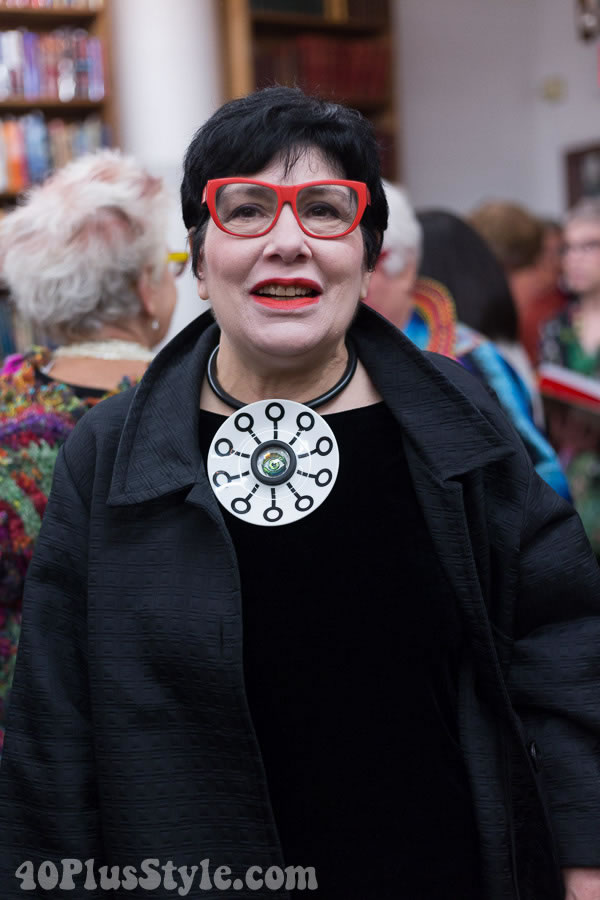 While the event was officially scheduled to start at 7PM, Teresa and I were aware that the real party would start 'on the street' before 5PM, so we made sure to be there early. When I got on the subway at 4 PM or so, it was raining. When I arrived at the Strand, almost miraculously, the rain stopped at 4:45 PM. Ari later attributed this to the divine intervention of his grandmother. Who are we to argue?
On the street in front of the Strand, photos were taken, video interviews were conducted, acquaintances were renewed, and both pedestrian and vehicular traffic on Broadway came to a screeching halt at the sight of such concentrated beauty and style.
From left to right Sarah-Jane Adams, Joyce Carpati, Beatrix Ost, Magda
After much ado, everyone finally made it upstairs to the Strand's Rare Book Room.
Joyce Carpati (style interview here)
The first segment of the evening was a discussion between Ari and Simon Noonan. Mr. Noonan, who holds the title of "Creative Ambassador-at-Large" for Barneys New York, and is also the author of several fashion-related books, proved to be an acerbic and witty interviewer who had the audience howling with laughter on several occasions. (He also wrote the forward to the book).
The next segment was devoted to some of the featured ladies of Advanced Style, who read excerpts that they had written for the book.
Beatrix Ost started by reading her piece, a poignant appreciation of love late in life.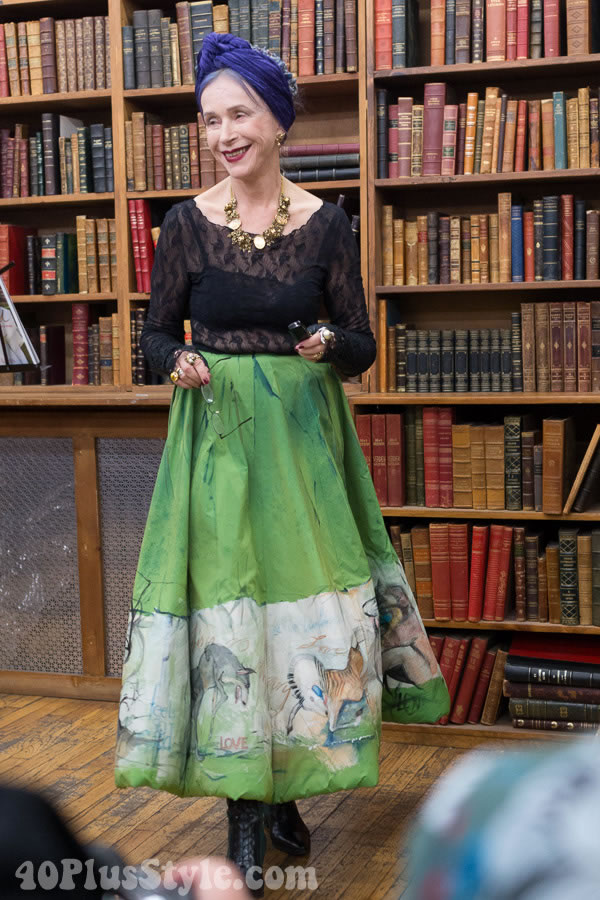 Beatrix Ost
Following her was Lana Turner, who gave us a brief history of fashion from the Harlem Renaissance to the current era.
Lana Turner
And last was the irrepressible 96 year old Ilona Royce Smithkin, who gave us all a lesson on how to live life joyously. And then taking her own advice, she finished it with a song.
Ari Seth Cohen and Ilona Royce Smithkin
After this Ari signed many, many books, while having time for a kind word and a brief chat with everyone. No one minded the length of the line as friendships were made and fashion was discussed.
Joy Venturini Bianchi
Teresa and I took many photos, and we certainly appreciate everyone who took a minute to pose and chat. We hope you will enjoy the photos of these beautiful and stylish women.
Ari Seth Cohen with Valerie (style interview here)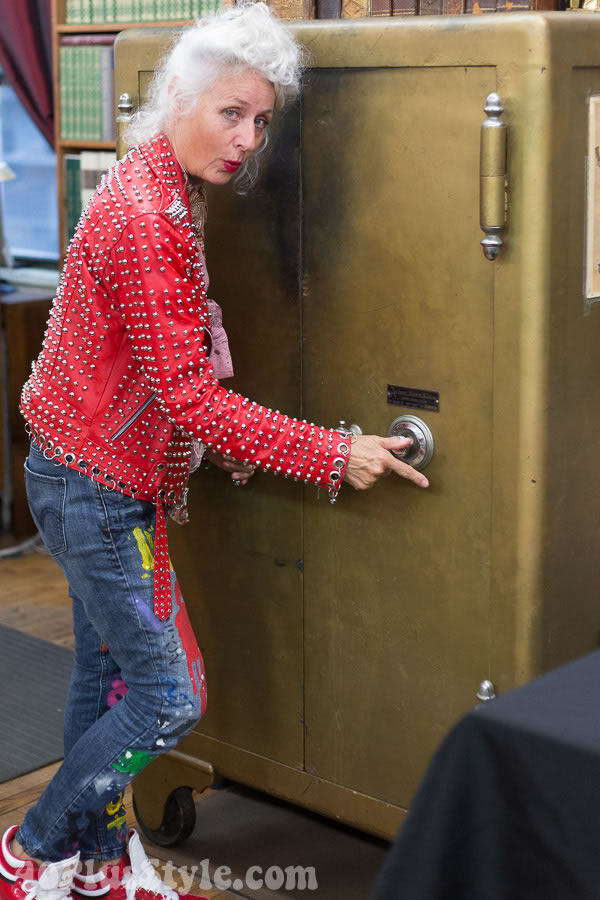 Sarah Jane Adams (style interview here)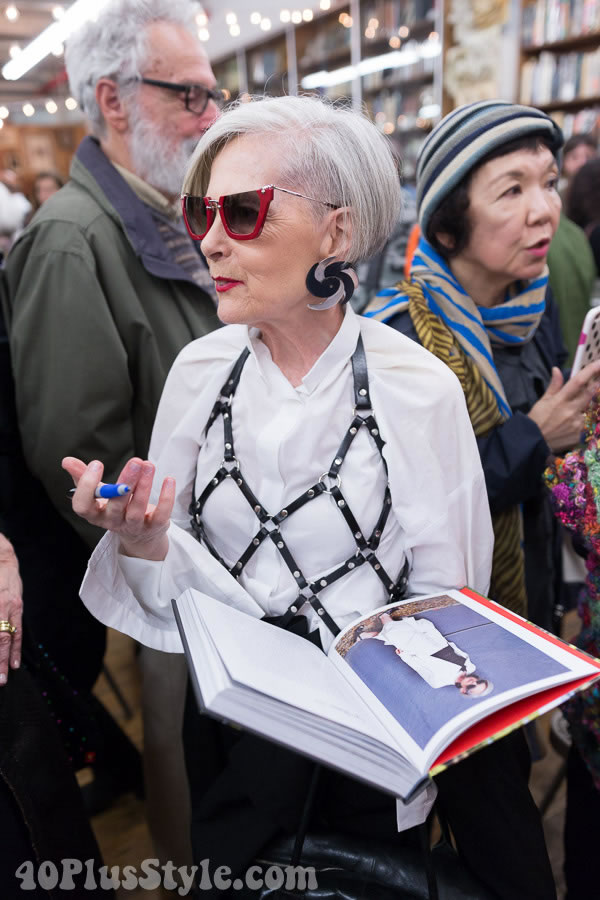 Lyn Slater (style interview here)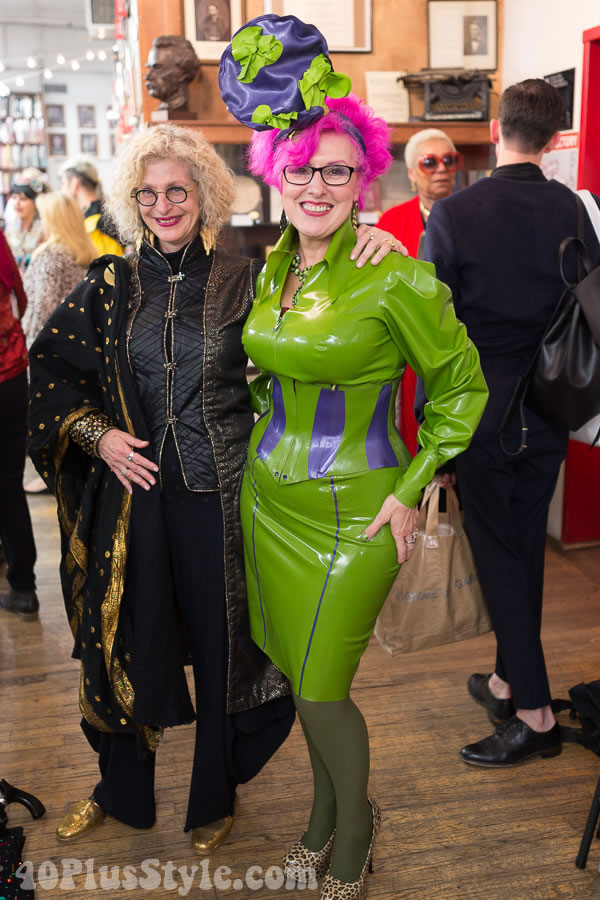 Left Dayle (style interview here)
Patricia Fox and Judith Boyd (style interview here)
Judith together with Richard
Bill and Eva
Thank you Denton and Teresa for the wonderful photos and making us a little bit a part of this event.
The book Advanced Style: Older & Wiser is now available and you can purchase it here at Amazon.
Which of the above is your favorite outfit?

Photography and article by Denton Taylor
Want to get more articles from 40+style in your inbox, subscribe here.
You can also connect with 40+style on Facebook, Instagram or Pinterest.
Support 40+style by using the links in our articles to shop. As an associate for Amazon and many other brands, we receive a small commission (at no cost to you) on qualifying purchases which enables us to keep creating amazing free content for you. Thanks!