I had the opportunity to spend time with Sue Kreitzman while I was in New York.
In this interview Sue talks about the big change in her life that occurred when she was 58 years old, her style inspiration and her art.
I will also show you some glimpses of her beautiful colorful apartment. You may like to start watching the short video below. Enjoy!
Can you tell us a little bit more about yourself?
I am a writer/artist/curator/collector and mentor. I divide my time between London and NYC although London has been my primary home for more than 31 years. I am an American expatriate, thoroughly integrated into London's Outsider Art scene. In fact, a whole art movement has sprung up around me.
As a point of reference which age group do you belong to or perhaps you are willing to share your age?
I am 75 years old. And guess what? That is not really old at all!
Can you tell us a bit more about your career as an artist and author over the years?
I was a food writer for many years. I wrote 27 cookbooks, appeared on the BBC for years cooking my special recipes, and I travelled the world teaching about food.
But the art thing happened without any prompting from me. I was zapped with a metaphorical bolt of lightening one day while I was quietly and innocently correcting the proofs of my 27th cookbook.
My hand picked up a coloured marker, and my hand drew a snake festooned mermaid on a piece of scrap paper. I had never done such a thing before. Couldn't draw, couldn't paint, couldn't even doodle worth a damn. But there she was. The mermaid looked at me, and I looked at the mermaid. BOOM!
I was no longer a cookbook author – I was an ARTISTE! I suddenly became another person entirely. Ever since then, I have been possessed, obsessed, driven by art. Was it a psychotic break? A visitation? Or perhaps it was the menopause. Whatever it was, it changed my life dramatically.
Since that fateful moment (about 17 years ago) I have produced a lot of art, I have curated many blockbuster exhibitions in odd environments, and I have also been a part of many invited gallery shows in London, Europe and NY; my work was in the largest window of Selfridges dept. store on Oxford St for two months; I have produced several 'zines and catalogues; I have been the 'cover girl' of several magazines including the London Sunday Times Style Magazine; and I was one of the stars of Fabulous Fashionistas.
Countless articles have been written about me, and many videos have featured me. And now I am working on a big, colourful 'coffee table book' on Wearable Art for a major publisher. Oh what fun I have! I have been very lucky. But my purpose in life – I was born to do it – is to inspire, mentor and encourage young (and a few old) untutored, raw artists. I am their champion. I make things happen for them.
My art is childish, colourful, shamanistic, wild and anarchic. Completely outside the margins of the art world. Raw and untutored.
I deal with the female landscape. I paint, I make art necklaces (it takes a brave individual to wear them!) and I make assemblages. I am basically an assemblage artist.
Even my paintings are embellished with stuff. I spend half of my time looking for sublime crap and profound junk, and the other half, putting it all together. I am my own audience. My art erupts out of my subconscious – aka my guts – and that's it. When other people look at it, 'get' it, like it, I am happy. But I do not do it for others and I do not do it for commerce.
You are known for your colourful art and interiors. Can you tell us a bit more about what inspires your art and the interiors of your homes?
I am inspired by tribal art and so called primitive art. The art of Mexico, Haiti and Africa. I am deeply moved by primitive or kitsch religious and tribal art of all kinds. Images and objects that have been created with passion take on immense power. And above all, I am inspired by colour. And my own rather wild imagination! I never know where it is going to take me.
How would you describe your own style?
I dress for art and for colour. I collect the art of my friends with dedicated passion. My collections surround and engulf me. When I leave the house, I am reluctant to leave the art and colour behind so I wrap myself in both and sashay forth into the world: a walking collage, a graffito: brash, glittering, bejewelled and multi coloured.
I make my own necklaces, and I also wear bespoke jewelry by Anothai Hansen, Amanda Caines, Fernanda Latif, Alicia Piller and Anne Sophie Cochevelou. I design my own kimonos, and Diane Goldie often reproduces (hand paints) my own art and my friend's art onto them. I don't so much as get dressed in the morning as curate myself. My art clothes and jewelry keep me strong, and ready to face whatever the world might throw at me.
How has your style developed over the years?
It has become wilder, more flamboyant, more about art than dressing 'appropriately', whatever that means!
What would you consider the most important components of your style?
Colour and art. And I am anti conventional fashion.
Where do you live and how does that influence your style?
I live in London most of the time, but also in NY, three times a year, a month or more each time. In London, I am much wilder. In London, I have a tribe. I mentor a flock of young anarchic artists and we light up the town. In NY, I tone it down a bit, but not too much!!
Do you feel you have a signature style?
Yes indeed. As I have said: art and colour. Very personal art. And big, strange jewelry.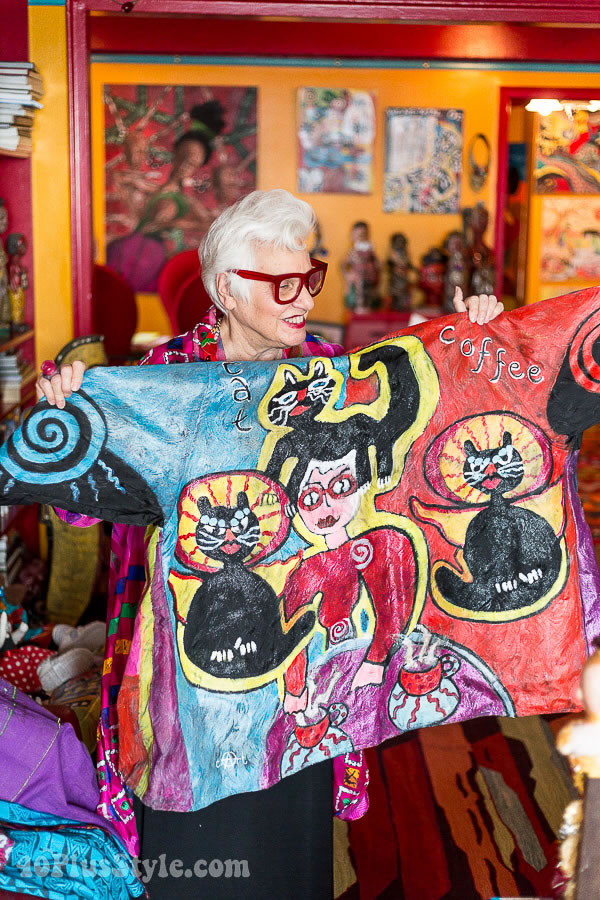 What inspires your outfit choices the most?
The same as what inspires my art. Getting dressed in the morning is pure pleasure.
Do you take things like colour profiling or body type into account when you dress?
I am not sure I understand what colour profiling is! I wear the colours that speak to me on any particular day. And yes, of course I dress for my body shape.
Has your style changed at all after turning 40?
As I said above: It has become wilder, more flamboyant, more about art than dressing 'appropriately', whatever that means! And the older I get, the more I dare to wear whatever I damn please!
Do you believe in dressing 'age appropriately' and what does it mean to you? Do you think Age Appropriate dressing exists any more?
No. The whole idea is ludicrous. As at any time of life, dress for your body shape, your taste, your style, the occasion, the weather…
Would you say that at this stage of your life you are now more, or less interested in fashion, style and the way you look?
Very interested in style, but not in fashion.
Why is the way you look important to you?
It is very important. It is part of my art persona, and as such, it defines me. And it is a powerful antidepressant. My wardrobe keeps the 'black dog' (depression) well away from me, as does my art and the art of my friends.
Do you follow trends?
Never!!
Do you have any fashion and style tips for women over 40?
As at any stage in adulthood, be true to yourself.
Anything further you would like to add?
Don't wear beige, it might kill you.
Where can we find you online?
www.suekreitzman.com
Instagram: Sue Kreitzman
Facebook: Sue Kreitzman as well as my facebook art page: Sue Kreitzman Art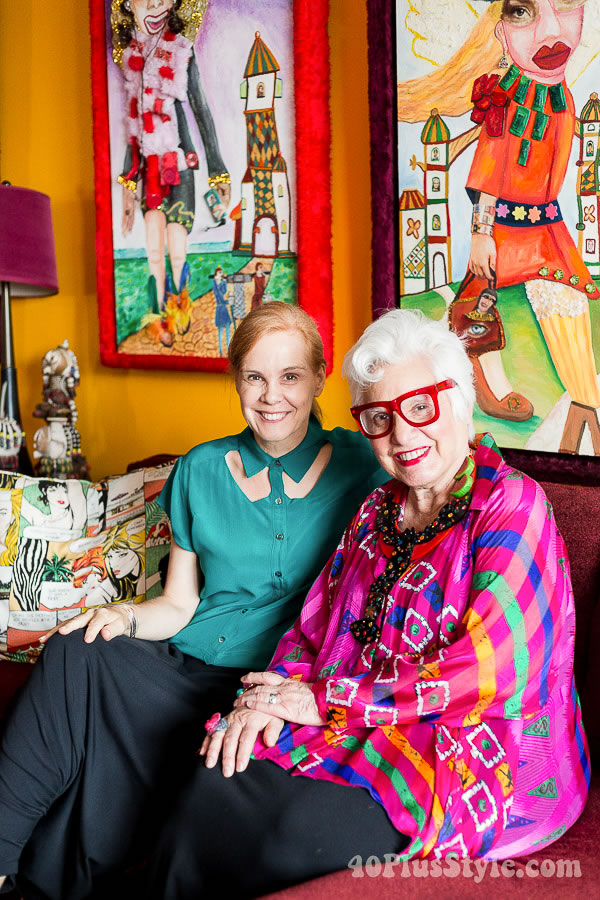 I had a wonderful time talking to Sue and admiring her art.
You see more of that below!
1. Painting by NYC artists, Eddie Pagan
2. Memory Jug by Sue Kreitzman: The story of Art Deco NYC
3. Necklace by Brooklyn artist: Jean Betancourt
4. Assemblage figure by Sue Kreitzman: tattooed Glamour Girl
5. Painting by Karin van der Plas
part of her Madness of Fashion series.
6. Memory Jug by Sue Kreitzman: Age, Tough Love, Love is in the Air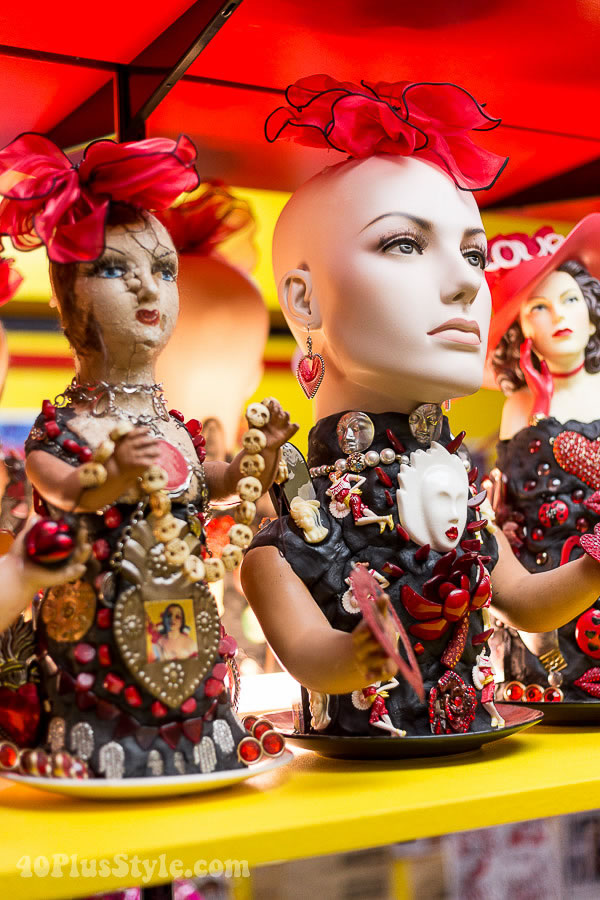 7. Assemblage figure by Sue Kreitzman: Tattooed Glamour Girl, memento mori
8. Memory Jug by Sue Kreitzman: Barbie Reincarnated to a Better Life
9. Memory Jug by Sue Kreitzman: Power Femme
10. Assemblage figure by Sue Kreitzman: Goddess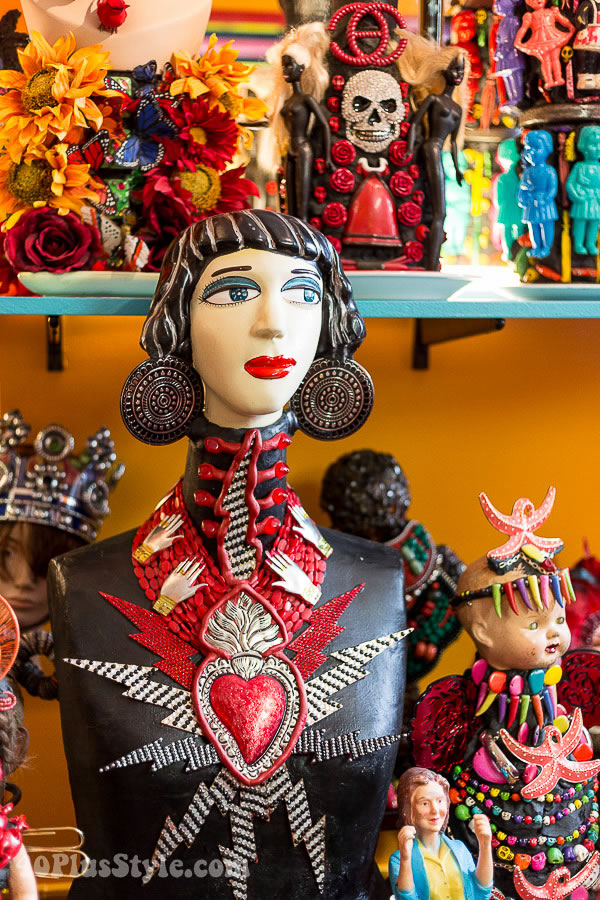 11. Painting by Karin van der Plas: part of her Madness of Fashion series
12. Thai folk art necklace by Anothai Hansen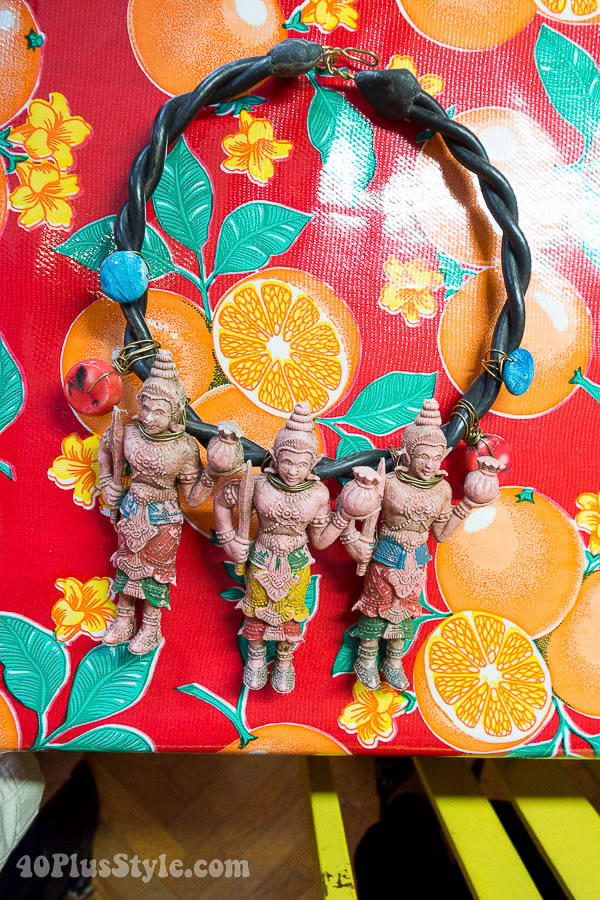 13. Cherub necklace by Anothai Hansen
14. Necklace by Anothai Hansen
15. Memory Jug by Sue Kreitzman: Wonder Woman is Angry
She and her sister sheros have been trying to save the world since the 1940s, but the world refuses to be saved. And they made her boobs much too big. She has had a backache for more than 70 years. No wonder she is fed up.
17. Memory Jugs by Sue Kreitzman: Powerful Women
18. Sue Kreitzman: Shelf of paintings, Shelf of memory jugs
19. Necklaces by Sue Kreitzman, Anothai Hansen and Jean Betancourt
20. View of my NY living room. Paintings by Karin van der Plas, Julia Sisi and BizZid among others.
21. Memory Jug by Sue Kreitzman: Glamour and Love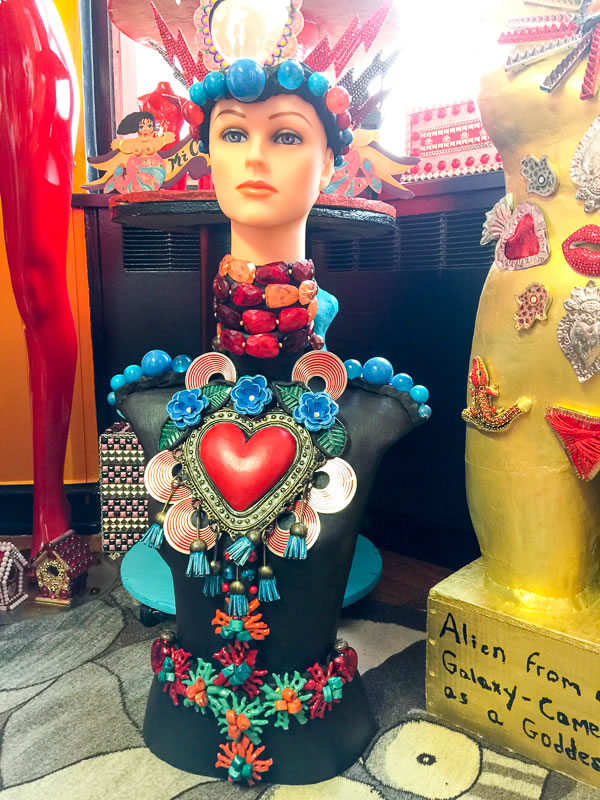 22. Assemblage figure by Sue Kreitzman
One of my all time favourite pieces: An Alien from a Distant Galaxy Comes to Earth as a Goddess to Talk to the Women of Earth.
23. Painting by Malcah Zeldis: Rita Hayworth – Put the Blame on Mame
24. Memory Jug by Sue Kreitzman: Eve in the Garden
Would you like to incorporate more art into your style?
Like this post? Share it on Pinterest!
Photography by Denton Taylor
Want to get more articles from 40+style in your inbox, subscribe here.
You can also connect with 40+style on Facebook, Instagram or Pinterest.
Support 40+style by using the links in our articles to shop. As an associate for Amazon and many other brands, we receive a small commission (at no cost to you) on qualifying purchases which enables us to keep creating amazing free content for you. Thanks!