Conny loves her jeans and pants and styles them in all sorts of ways. She creates beautiful photographs too and her style is comfortable and chic at the same time. Let's find out more about her through this style interview!
Can you tell us a little bit more about yourself?
There's very little to say. I'm a married mother of two children and I work outside the home. I work for a large radio station in Bavaria. However I'm not a host of a programme but work on a children's news programme. I like it very much. I also occasionally work in a tax consultant's office. However the "work" I love doing most of all is working on my blog….there I can write to my heart's delight about my favourite topic of fashion.
As a point of reference which age group do you belong to or perhaps you are willing to share your age?
I turned 41 years old in August 2015.
Can you tell us a bit more about your blog A Hemad und a Hos and why you created it?
On my blog I like to show wearable every day fashion and maybe prove that what we wear every day doesn't have to be boring or "normal". As a mother of two children it is also possible to have a certain right to one's own attire. I began blogging because I know that I'm not alone with my ideas and because I find that the internet has little to offer to the 40+ woman (or really the 30+ woman) ….however things are getting better – due in part to your wonderful platform which you offer us here, dear Sylvia.
How would you describe your own style?
Puhhhh – that's difficult because I don't like to tie myself down. Someone once said to me that I was a fashionable artist and I like this idea – that leaves everything open and sounds great……

What would you consider the most important components of your style?
I love colorful or animal print accessoires – scarves, shoes or belts. And the pants I love best are jeans…..not exclusively in blue…..also in lots of other colors.
Where do you live and how does that influence your style?
I live near Munich and the area has definitely influenced me. People are generally more tolerant in big cities and you can wear what you want – without getting "strange" looks. I come from a small town where that wasn't not so easy; you needed courage to break the fashion ranks.
Do you feel you have a signature style?
Hmmmm …. Maybe it is the layered look. I love this look and I'm always trying out new styles. Furthermore I just love wearing denim – in all varieties.
What inspires your outfit choices the most?
I get my inspiration from other bloggers. There are so many great and different women who love to wear fashion. Instagram and Pinterest offer more stimulation and ideas. There are simply so many amazing and creative people out there.

Do you take things like color profiling or body type into account when you dress?
I don't really pay attention to such things – actually I use my gut-feeling when choosing what to wear. However I am aware, for example, that I have a relatively long upper part of the body and therefore I try to draw attention to a somewhat higher waist. Sometimes I'm successful and sometimes I'm not. I love fashion so much that it is not (only) important to me that my proportions are perfectly styled.
Also, the color white doesn't really suit me. However, I still like black and white combinations but try not to wear white against my face.
Has your style changed at all after turning 40?
Maybe today, I express a bit better who I actually am. In the fashion sense I have come a little closer to the real me. In the past I compromised when something wasn't suitable – that doesn't happen today. Either something suits me straight away or I just leave it in the shop or send it back.
I think though that my journey hasn't come to an end yet and there are so many different styles waiting to be discovered since there are different sides to my multi-faceted character 😉 Who knows what I will come up with next.
Do you believe in dressing 'age appropriately' and what does it mean to you?
Maybe a bit – but I don't mean by that that women over 40 shouldn't wear sleeveless blouses. For me that has little to do with one's age and more to do with the trained condition of one's upper arm muscles. Sometimes it's even better if younger women relinquish one or two items of clothing.
The equation: Young = everything is possible is absolutely not true. Nevertheless I think that every woman, regardless of their age, should wear what she wishes and finds comfortable. You will radiate confidence and every outfit becomes something special.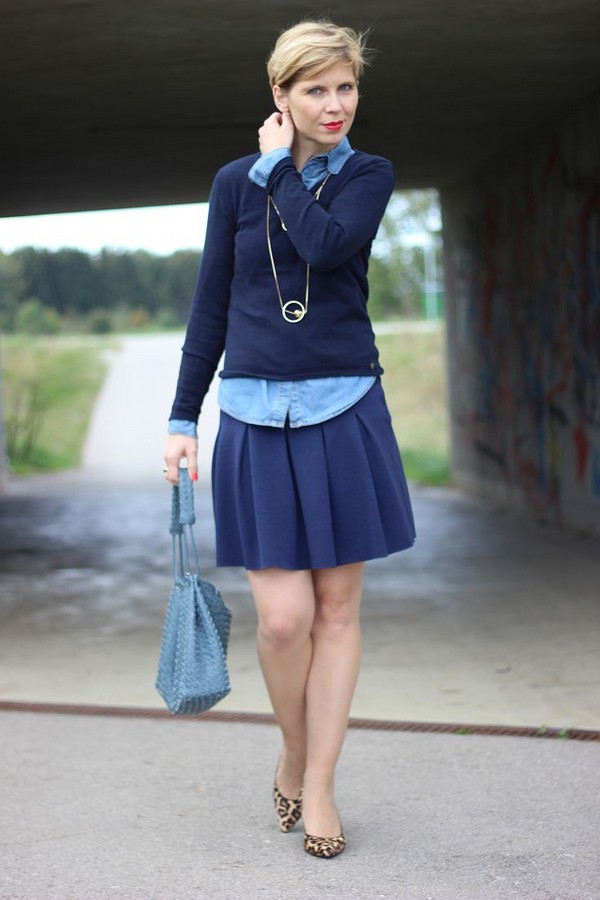 Would you say that at this stage of your life you are now more, or less interested in fashion, style and the way you look?
I was always interested in fashion – somehow. Maybe my environment didn't recognize that because my taste was maybe somewhat "different". In my youth I went through a black phase and I wore my long hair in my face. Looking back – that wasn't so beautiful … but it was the right thing for me then.
Why is the way you look important to you?
That's a good question … and it's not so easy to find an answer. Probably I'm trying to compensate for some childhood trauma – where I didn't get enough attention or something like that??? It's just such a nice feeling when a friend or sister asks me for styling tips and I can give my advice. I don't only have fun with clothes on myself. I also love to look at other people where it is obvious that they have given their outfit some thought….
Do you follow trends? And if yes, which trends excite you at the moment?
I don't really follow trends – but if I like something I attempt to integrate the "popular" item into my look. I still find, for example, that animal prints (especially the leopard look) are really sensational and have just bought a new pair of booties in this style.
Do you have any fashion and style tips for women over 40?
I don't have any one single tip – but I think that when you use color you can turn any outfit into an eye-catcher. Bright red or orange can be combined really well with grey or brown.
What are your plans for your blog and how do you see it develop over the coming years?
I don't have any specific plans. Who knows what will happen. It would be great if in the future I could be an inspiration to women in terms of style – that would make me happy. After all the success of my blog depends on the readers……
Anything further you would like to add?
Dear Sylvia – many thanks that I could take part in your series of interviews. Your blog here is a great inspiration for 40+ women all over the world and I was really pleased to get your interview request. Once again many thanks and all the best for the future….Affectionate regards – Conny
Don't forget to check out her blog at A Hemad Und A Hos.
Which of Conny's outfits is your favorite?

Like this post? Share it on Pinterest!
Want to get more articles from 40+style in your inbox, subscribe here.
You can also connect with 40+style on Facebook, Instagram or Pinterest.
Support 40+style by using the links in our articles to shop. As an associate for Amazon and many other brands, we receive a small commission (at no cost to you) on qualifying purchases which enables us to keep creating amazing free content for you. Thanks!