Spring is in the air, but there will still be plenty of days when you want to wear a coat or jacket.
Today let's have a look at some of the options available and what to look for in a spring or summer coat.
First of all, I think it's important that you see your coat as an important piece of your wardrobe. It will usually get a lot of wear and it's just as important to look and feel stylish when you are out and about in the streets than it is when you are indoors. If you like to wear a variety of styles in outfits you may like to have a few coat options as well.
The advantage of spring and summer is that your coats do not need to be as thick as winter coats and you can also use lighter jackets as your outerwear. Many jackets can do double duty as inner wear in the colder months.
Here are just a few options.
The Trench coat
Often listed as a must-have essential, the trench coat is always chic and a true classic. Both long and short versions look great with many outfits. This season there is a great variety of trench coats from classic cuts to more modern versions.
I especially like the lighter colored trench coat for its great versatility and the more colorful trench that creates a great dynamic between the classic and the hip.
Trench coats look very good over jeans and classic pants but can also easily be worn with a-line skirts. Shorter trench coats look younger and more sporty while longer trenches have a more classic look.
The coat I chose for the summer is a modern variation of the trench coat from Stella Carakasi.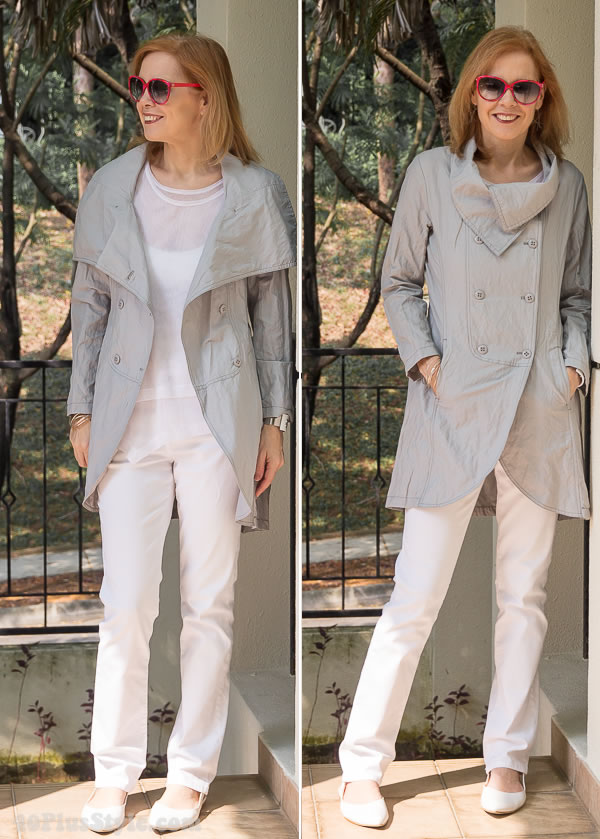 Stella Carakasi has similar versions of these jackets for this season. I showcased a sport one here.
The biker or moto jacket
Biker jackets are super hip right now and a great option when you want to add a bit of an edge to your look. You can buy these in lighter or heavier materials and they can be worn as outerwear but also as part of an outfit.
They look great and very modern over straight or A-line skirts as they make these more classical skirts more hip (see some examples below in the leather jacket section). They can also be worn with skinnies or straight jeans (have a look at how I wore a linen moto jacket over white skinnies further below).
The blazer jacket
On warmer days, all you may need is a blazer jacket to serve as your coat. I especially like blazers with more casual jeans, as they can make a very casual outfit more chic.
An extra benefit of the blazer is that you can wear it as part of your indoor looks too.
The jacket on the left is an old smoking style blazer from Zara while the jacket on the right is from Stella Carakasi.
The leather jacket
Also very current is the leather jacket. Especially if you combine the other trend of moto jackets into the mix. You can opt for lined or unlined versions, with the latter ones being very suitable for summer.
I'm planning to wear my unlined leather jackets on its own as inner wear as well as outer jackets to protect against the chill when I'm in Europe and the US this summer.  The jacket below is from Cigno Nero which are available here at Getdressed2.
The denim jacket
Another option this summer is the denim jacket.
I especially like to see those styled with lighter bottoms like white pants or with a more classical straight (printed) skirt as seen above. I feel that combining more dressy items with denim creates a great contrast and an interesting casual chic outfit. It's the perfect way for 40+ women to wear denim.
This summer you can also choose to wear denim on denim which is very trendy right now.
Another jacket to consider is a white denim jacket. I have had mine for years and it's a favorite every year. You can see me wearing it in this article on how to wear a white jacket.
The bomber jacket
Part of the sporty luxe trend, the bomber jacket will appeal to those with a more sporty style. It's fun to combine these with more formal pants and straight skirts for a nice contrast.
Of course they are great for an all-round casual vibe as well, but I usually feel they look better on 40+ women if you dress them up a bit.
The linen jacket
I love the linen jacket for summer. This moto jacket is from the brand Inizio.
Linen jackets are the perfect cover up for warmer summer days or slightly cooler evenings but these jackets are also great to wear on its own as I'm doing here. I also recently wore this an outer jacket with a draped dress.
Stay tuned for an image of that soon and a more in-depth article on linen jackets and how to wear linen this summer.
The sleeveless jacket
If the chill on your arms does not bother you then a sleeveless coat is a great trendy option. I especially love the long sleeveless coat or vest for the long lean line it creates which is slimming and elongating.
If you love to wear sleeveless jackets or a vest, I have some tips on how to wear them and a great list of options available online here.
I have listed some of the best summer coats and jackets available online below.

What kind of coat are you looking to add to your wardrobe this summer?

Want to get more articles from 40+style in your inbox, subscribe here.
You can also connect with 40+style on Facebook, Instagram or Pinterest.
Support 40+style by using the links in our articles to shop. As an associate for Amazon and many other brands, we receive a small commission (at no cost to you) on qualifying purchases which enables us to keep creating amazing free content for you. Thanks!